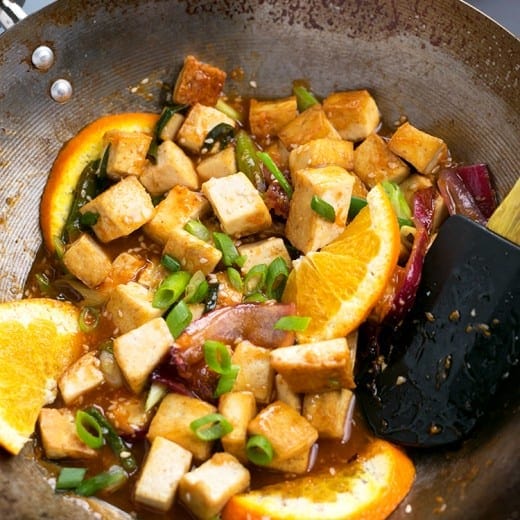 Pan-fried Orange Tofu
Asian Pan-Fried Orange Tofu recipe made with tofu, orange juice & zest, onions, sesame seeds, and more. A simple, healthy & delicious vegan lunch / dinner.
Prepare Tofu: Heat 1 Tablespoon of oil in a pan and lightly sear your tofu on all sides to create a crispy crust. You may need to do this in batches if your pan is not big enough, otherwise your tofu may end up stewing instead of searing.

Once all your tofu has been seared, set aside on a wire rack.

Prepare Orange Sauce: In a bowl, combine all ingredients for orange sauce and whisk to combine. Set aside.

In a large pan, heat 1 tablespoon of oil and sautee garlic, onion and chilli for a minute or two. Pour in prepared sauce mixture and stir well. Once sauce simmers and thickens, add tofu in and coat pieces in the orange sauce.

Immediately transfer to serving dish and garnish with cilantro and spring onion. Serve with a steaming bowl of jasmine rice.