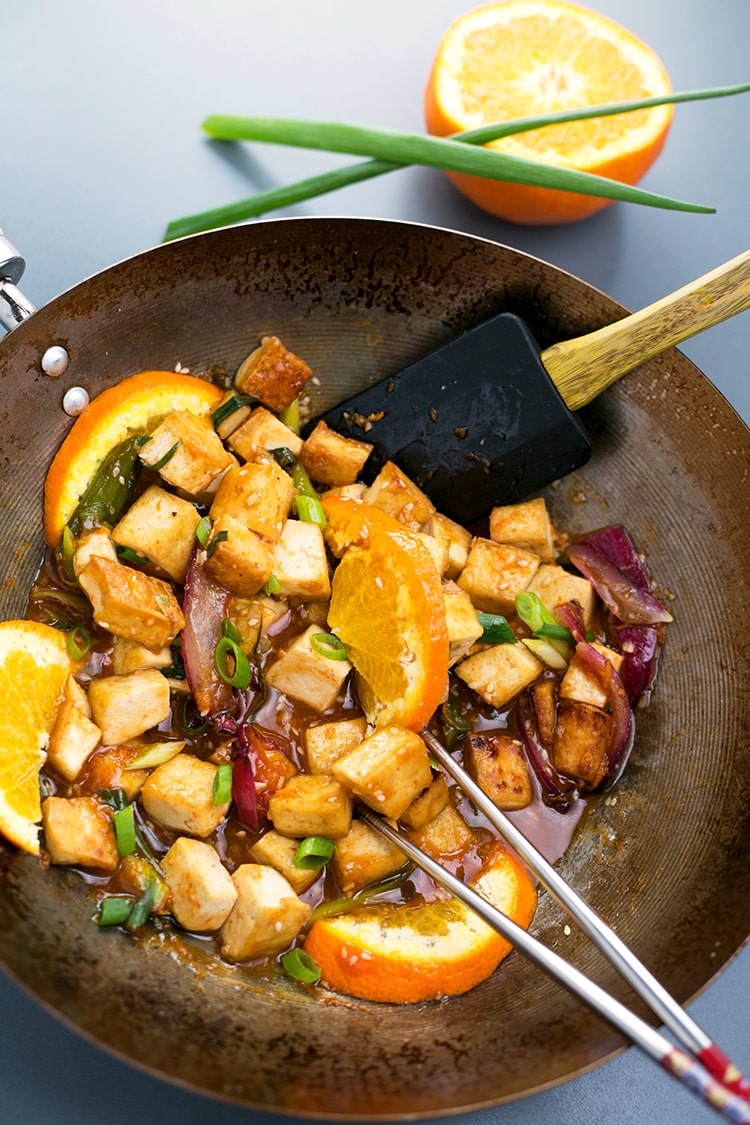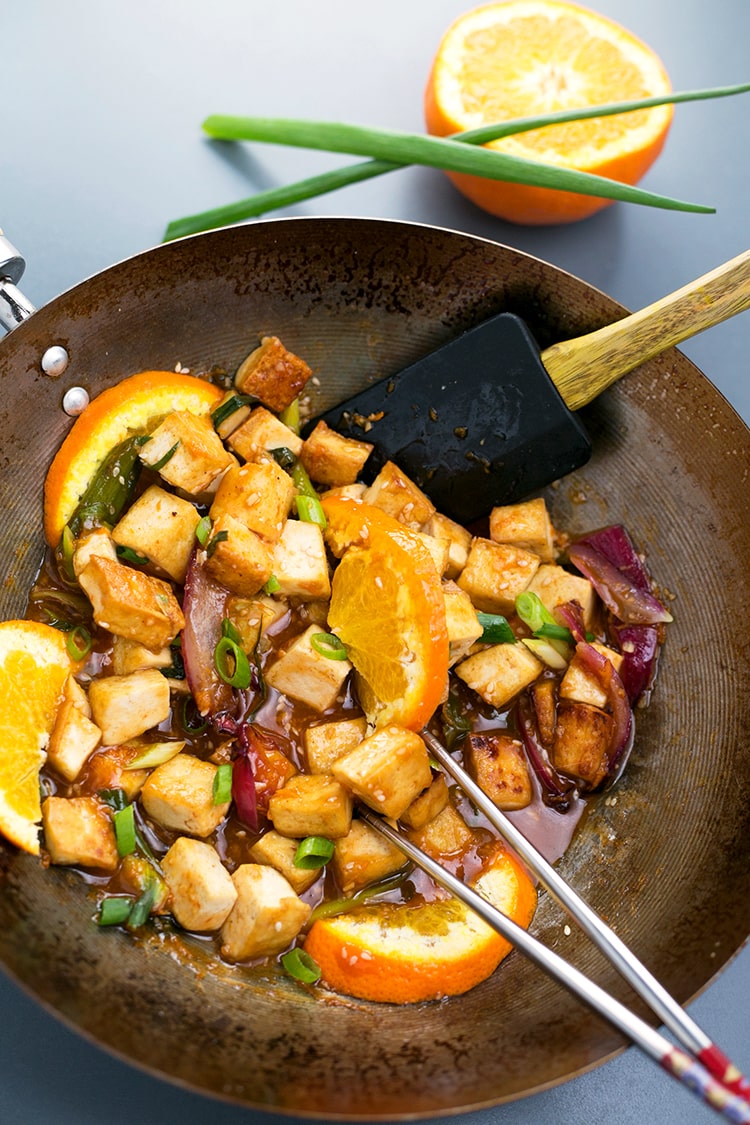 I'm here to tell you: being a vegan does not mean having to give up lots of foods I used to enjoy. Ages ago, as a child, I used to love Chinese Orange Chicken Stir Fry – especially the one I had at Panda Express in the states. You'd think being vegan, one would have to give all that up. But, a-ha, all is not lost! 'Cause I have managed to create an equally tasty and guilt-free vegan alternative: an exquisite original vegan recipe for Pan-Fried Orange Tofu. This damn dish is so tasty that even fussy-pots like me can't complain!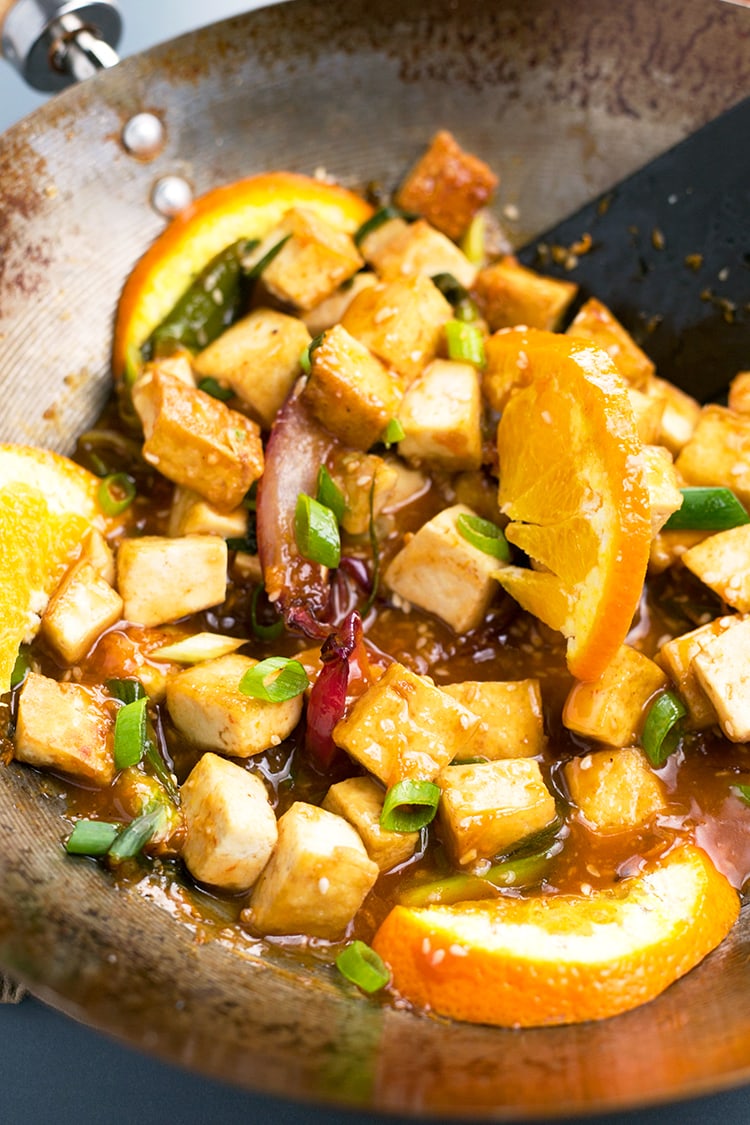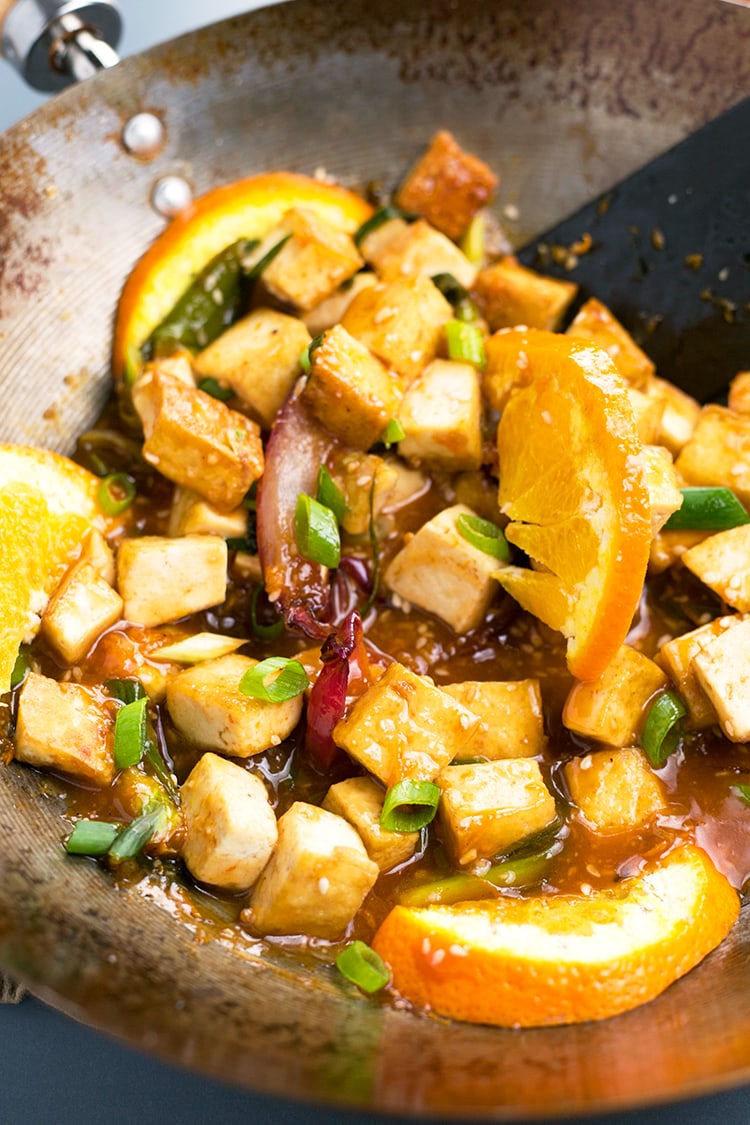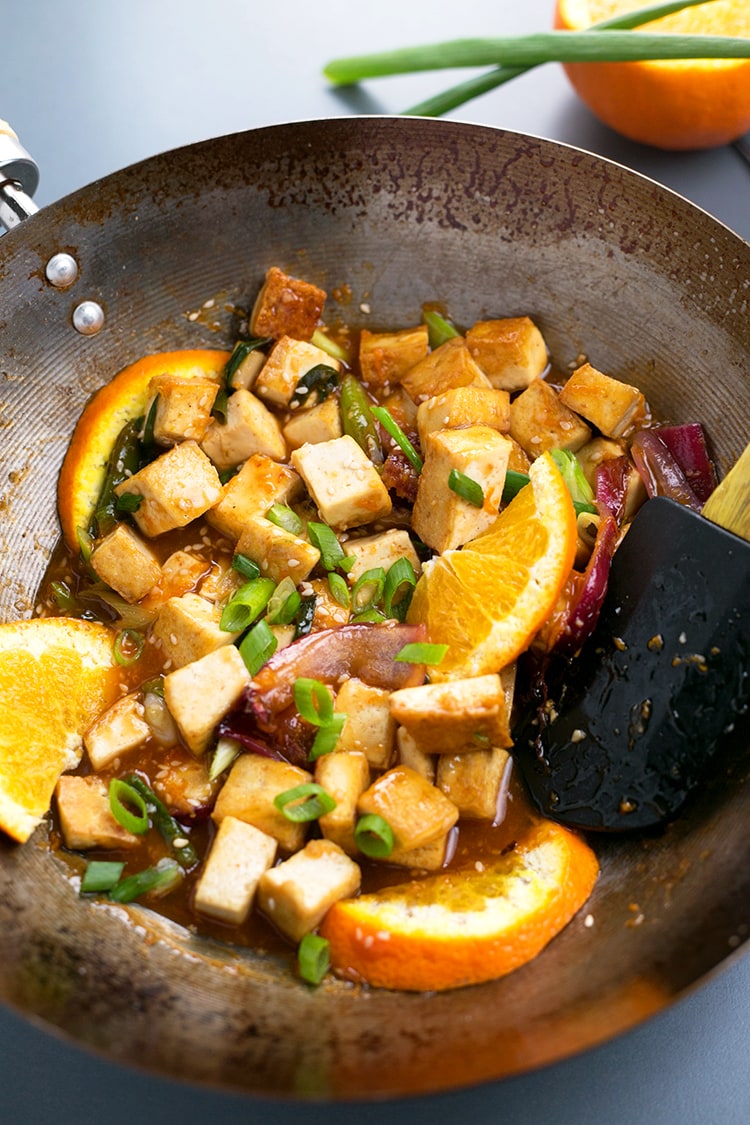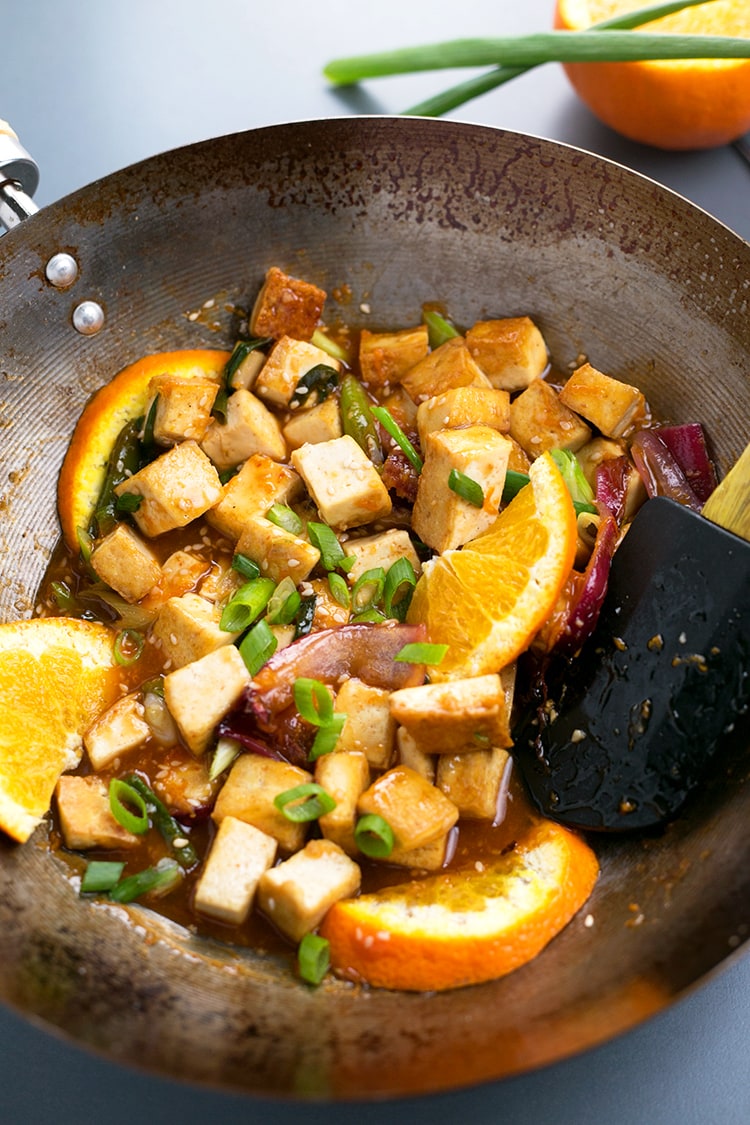 FREE EBOOK SERIES! 5 SECRETS FOR FOOLPROOF VEGAN DESERTS
First off, I must say that I'm a big fan of oranges! Oranges are a man and woman's best friends. Oranges are sweet, tangy, and juicy, kind of like getting to third base on your first date… only sexier, and without the STDs! In fact, I'm willing to bet that (almost) any cooking recipe which uses oranges as an ingredient is destined for culinary success. And, of course, this simple Pan-Fried Orange Tofu recipe is no exception. Made with tofu, orange juice, orange zest, onions, sesame seeds and other yummy ingredients, this recipe creation completely 'hits the spot' for me: it's saucy, sweet, savory, soft, crunchy, healthy, filling… basically, a delicious orchestra of taste and texture that makes for one awesome orange tofu recipe. Mix it all up with a bowl of steaming fragrant rice and, before you know it, you will think you've magically teleported to China. Or Panda Express.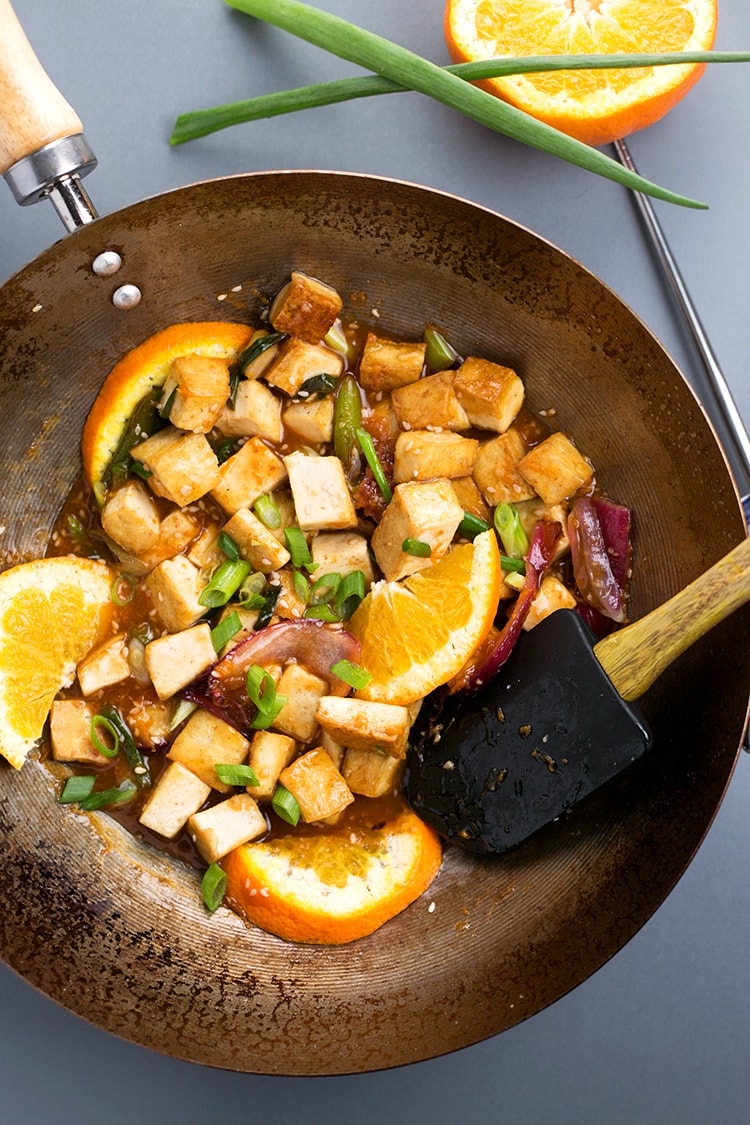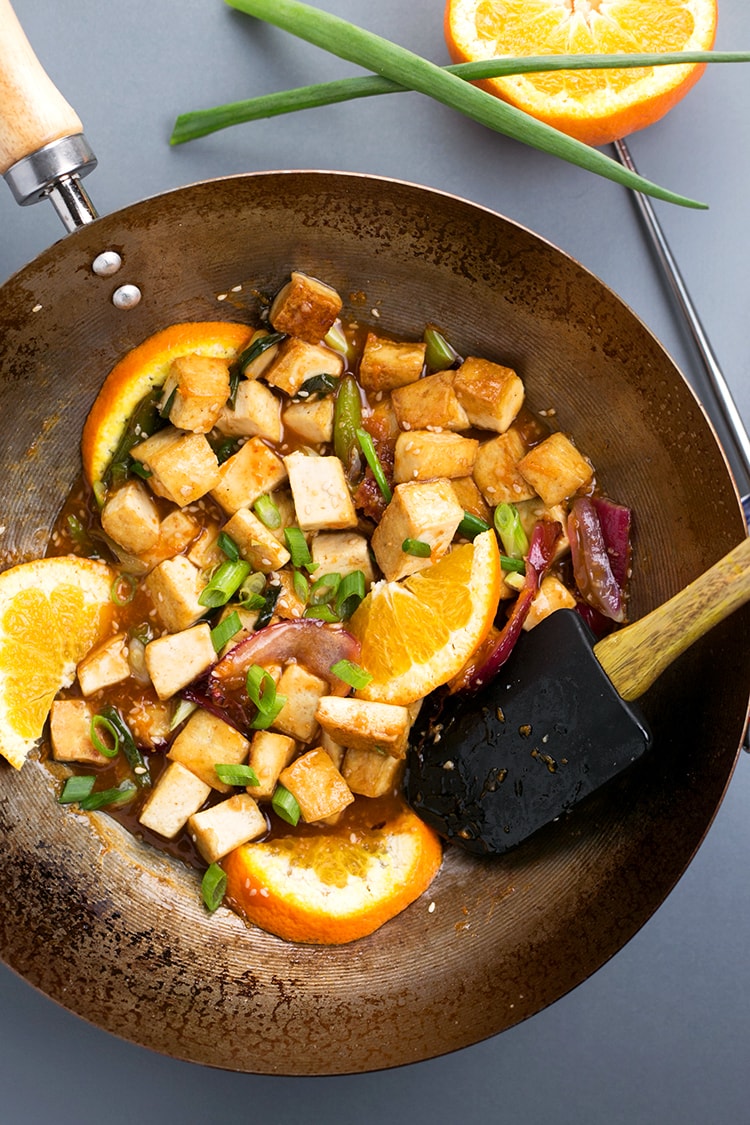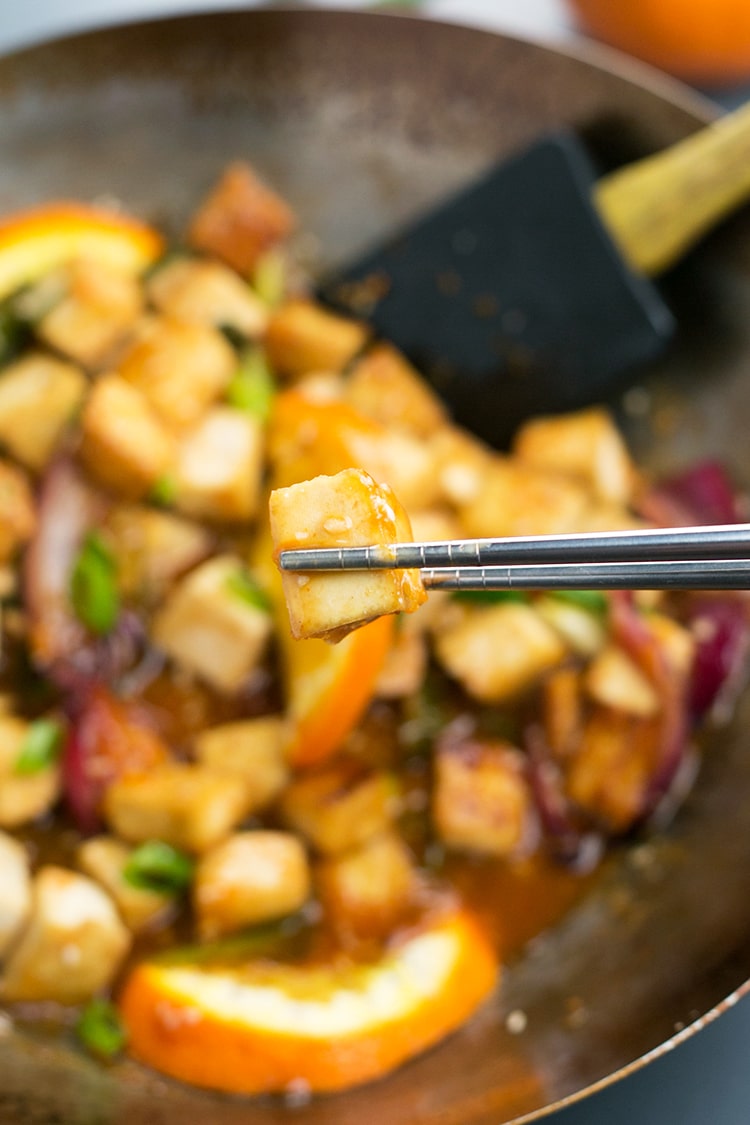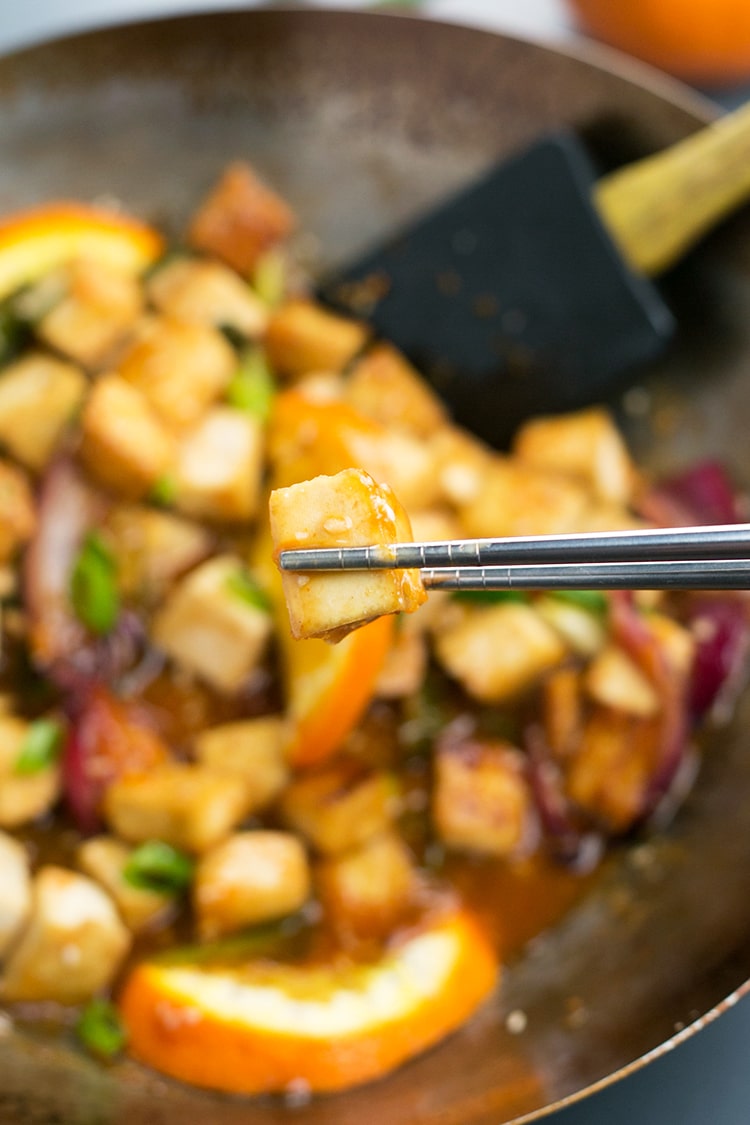 Verdict: No more testicular insecurities for you men. Stop stuffing your pants with oranges and try cooking this vegan Pan-Fried Orange Tofu recipe instead! I promise you won't regret it. Yum!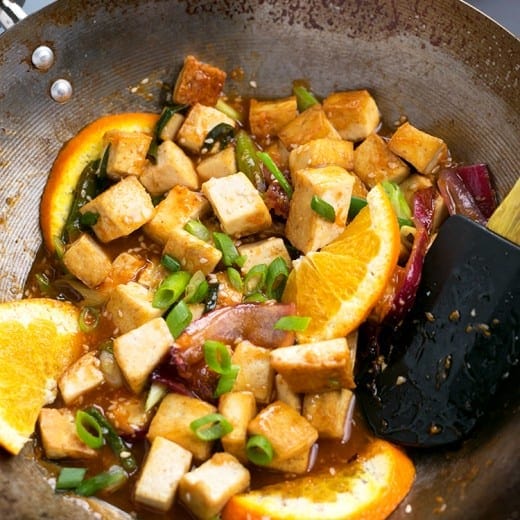 Pan-fried Orange Tofu
Asian Pan-Fried Orange Tofu recipe made with tofu, orange juice & zest, onions, sesame seeds, and more. A simple, healthy & delicious vegan lunch / dinner.
Ingredients
250

grams

Organic Firm Tofu

cubed

1 2/3

tablespoons

Peanut Oil

1

small Red Onion

sliced

1

teaspoon

minced Garlic

1

tablespoon

Peanut Oil

1/2

a red Chilli

sliced

For Orange Sauce:

Zest and Juice of 1 large Orange

1

Tablespoon

Sriracha

4

teaspoons

Sugar

1

teaspoon

Cornstarch

1 1/2

teaspoons

Apple Cider Vinegar

1

Tablespoon

White Wine

1/2

teaspoon

White Pepper

4

teaspoons

Tamari

1

teaspoon

Sesame Seeds

For Garnish:

Spring Onion

sliced
Instructions
Prepare Tofu: Heat 1 Tablespoon of oil in a pan and lightly sear your tofu on all sides to create a crispy crust. You may need to do this in batches if your pan is not big enough, otherwise your tofu may end up stewing instead of searing.

Once all your tofu has been seared, set aside on a wire rack.

Prepare Orange Sauce: In a bowl, combine all ingredients for orange sauce and whisk to combine. Set aside.

In a large pan, heat 1 tablespoon of oil and sautee garlic, onion and chilli for a minute or two. Pour in prepared sauce mixture and stir well. Once sauce simmers and thickens, add tofu in and coat pieces in the orange sauce.

Immediately transfer to serving dish and garnish with cilantro and spring onion. Serve with a steaming bowl of jasmine rice.