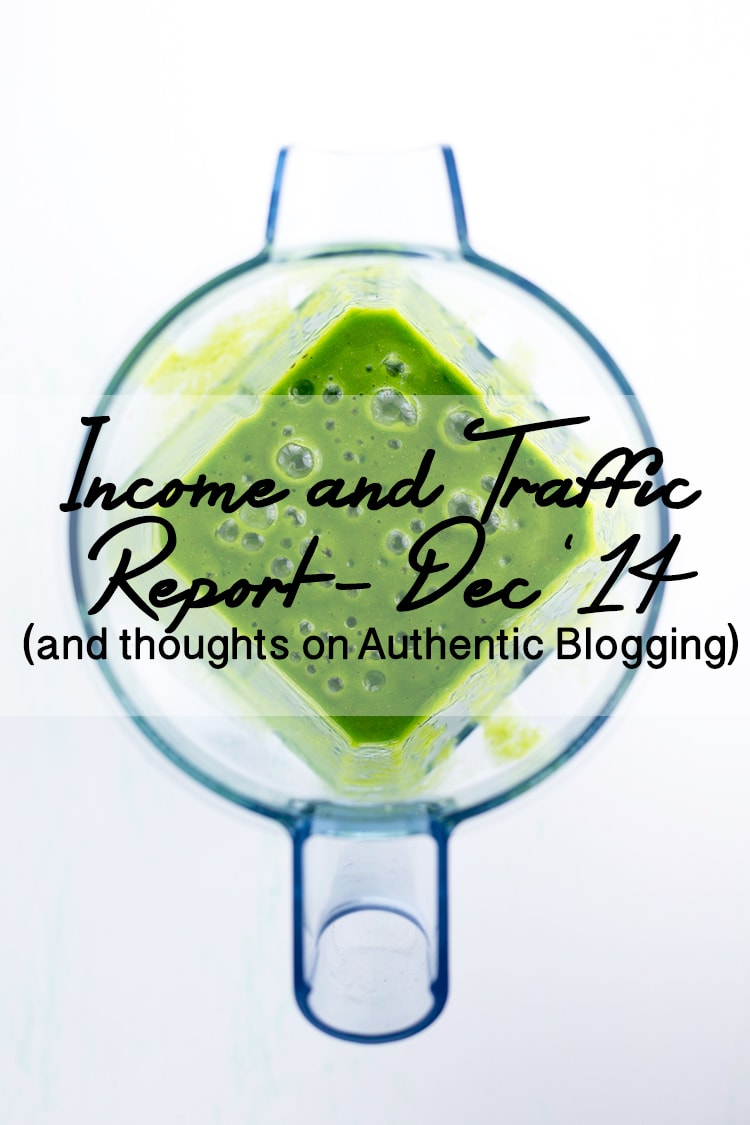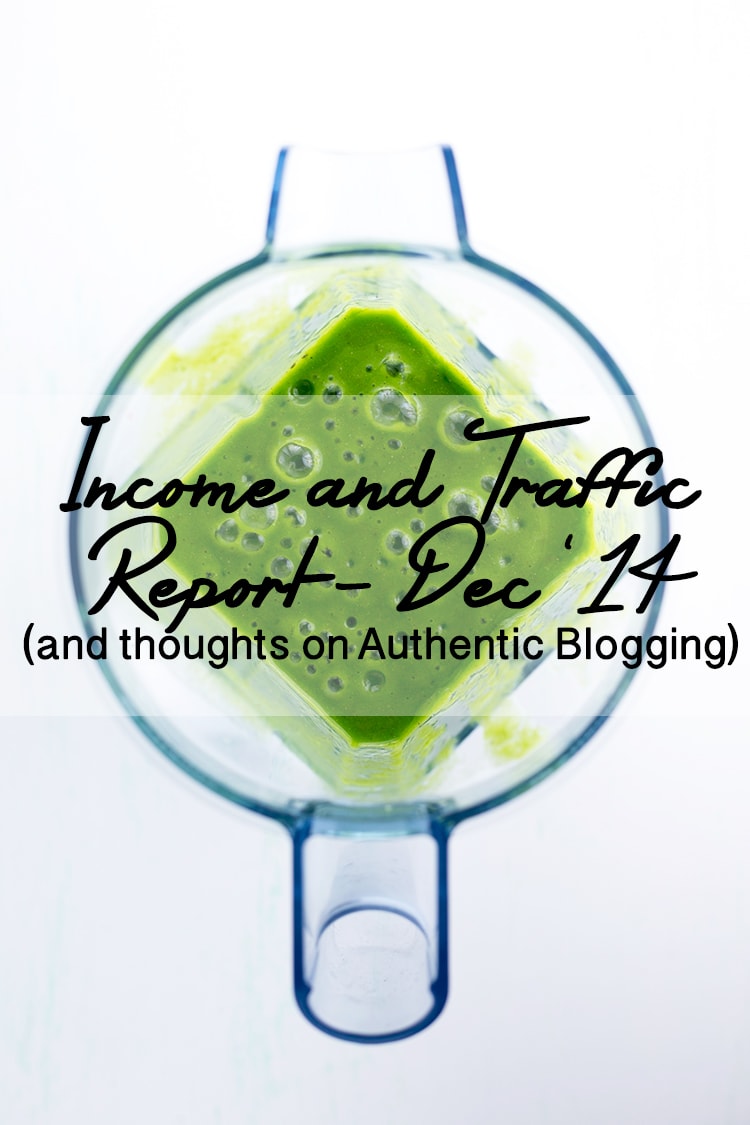 Hey there, it's Levan, your resident geek! I run the technical side of things for Crazy Vegan Kitchen. Here's where I lay bare all the 'behind-the-scenes' stuff with our readers: blog income reports, traffic stats, strategies, and more!
Why Share?
We believe honesty is always the best policy, and it is our hope that this little space will eventually grow to become a helpful resource for all aspiring food bloggers with blogging dreams of their own. We are not 'expert bloggers' by any measure – just fellow comrades stumbling, learning, and trying to improve our craft through patience, commitment, and open communication.
In addition to sharing this month's traffic and income reports, I also wish to talk a little bit about authentic blogging, and why I believe this simple yet elusive ideal has been a key ingredient to our slow and steady growth over the past few months.
FREE EBOOK SERIES! 5 SECRETS FOR FOOLPROOF VEGAN DESERTS
But I'll keep all that heavy stuff for later. First, let's run riot with the numbers!
Disclaimer: This post contains some affiliate links, meaning we earn a tiny commission if you purchase anything through them. However, we only ever promote products we absolutely love and have tried-and-tested ourselves. None of the bad stuff!
---
Blog Income Report, December 2014:
$506.xx (US dollars)
Here's our income breakdown for December 2014!
AdSense: $131.34
Gourmet Ads: $118.23
*Glam / Mode Media: $8X.XX
Sponsored Post: $100
Swoop: $11.52
StudioPress: $45.48
How to Monetize Your Food Blog: $15
*Glam / Mode Media does not permit us to disclose exact revenue amounts. 
December was a good income month for us… by our noob standards anyway! Over the last three months we've made a jump from $48.87 to $27x.xx and now to $506.xx a month. This has surpassed our wildest expectations – well, partly because we had really low ones to begin with! We're still a little giddy with this whole blogging thing and are just happy to be making a little side income.
Numbers-wise, we enjoyed about a 683.8% jump in ad network revenue from October to December. Part of the reason for this was due to increased traffic. However, as I covered in our last income report, the biggest reason for this revenue increase was due to us implementing Kiersten Frase's simple ad network 'waterfall' strategy as discussed in her eBook How to Monetize Your Food Blog. Using this strategy helped us make every single visit and page impression count – no exceptions! Not to sound like a broken record, but if you're a food blogger hoping to improve your income stream, Kirsten's book is the way to go  – bar none, I BS you not! If you're interested, you can read my no-frills review of her book here. Best $15 we ever spent, blogging-wise. You can also click on the banner below to find out more and/or purchase your own copy.
---
(Anticipated) Epic Fail
Although December was a nice blog income month for us, I am 100000% certain we're set to experience a dip in ad revenue by the end of January. 🙁 This can't be helped given that the start of the year is notorious for its low revenue payouts. Advertisers are always blowing their budgets in December, only to leave January a rather dry period . That sucks harder than a lunatic baby on a pacifier! Still, to compensate for this anticipated drop, I intend to set up a brand new 'Blogger Resources' section in mid-Jan with some honest product reviews and affiliate links. Stay tuned for more!
---
Blog Traffic Report, December 2014… well, kinda. 🙂
I know many peeps like to stick to strict month-by-month traffic reports. Personally, I prefer longer timelines because it allows me to better track the general growth trend of our blog. Here's the breakdown of our traffic from the final week of September till December's end.

Apart from a sudden upsurge of traffic in November (thanks to one of our posts unexpectedly going viral on StumbleUpon), our blog has been seeing fairly steady growth over the past few weeks. No thunderbolts or lightning (very very frightening me!) – only a slow trek upwards. At the moment we're just a shy school girl blush away from that 15000-peeps-a-week target we set for ourselves back in October. It may not be a big target to hit compared to what some mega-blogs are used to, but it means something big for tiny baby us!
Here are our top ten sources of traffic in December: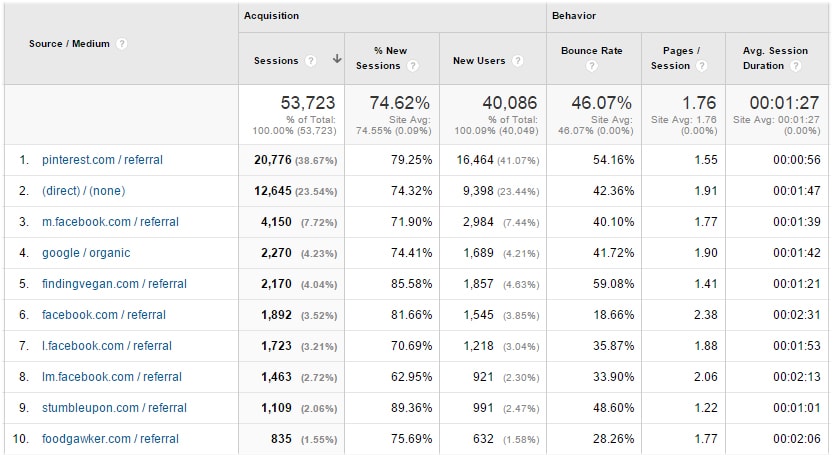 Most of our traffic continues to come from Pinterest & Facebook, although our organic search hits are verrrryyyyyy slowwwwlllyyyy inching upwards (we are currently getting between 70-110 or so organic hits a day now). You may also notice that Twitter traffic is nowhere to be found. I gave up on advertising our posts extensively on Twitter a few weeks ago. I don't like that platform; it feels like everyone's shouting and nobody's talking – although I did make a few wonderful blogging friends from there! 🙂
Random Blogging Tip
Ever wondered how your site / blog is doing in relation to everyone else's? Head to Alexa.com and key in your own URL there. Don't be alarmed if your ranking is in the millions. Remember, there are more than ONE BILLION sites on the Internet. So you're already doing a great job! 🙂 Also, engagement is far more important than any ranking anyway! Still… I'm sure we are all a little curious. Hee hee.
---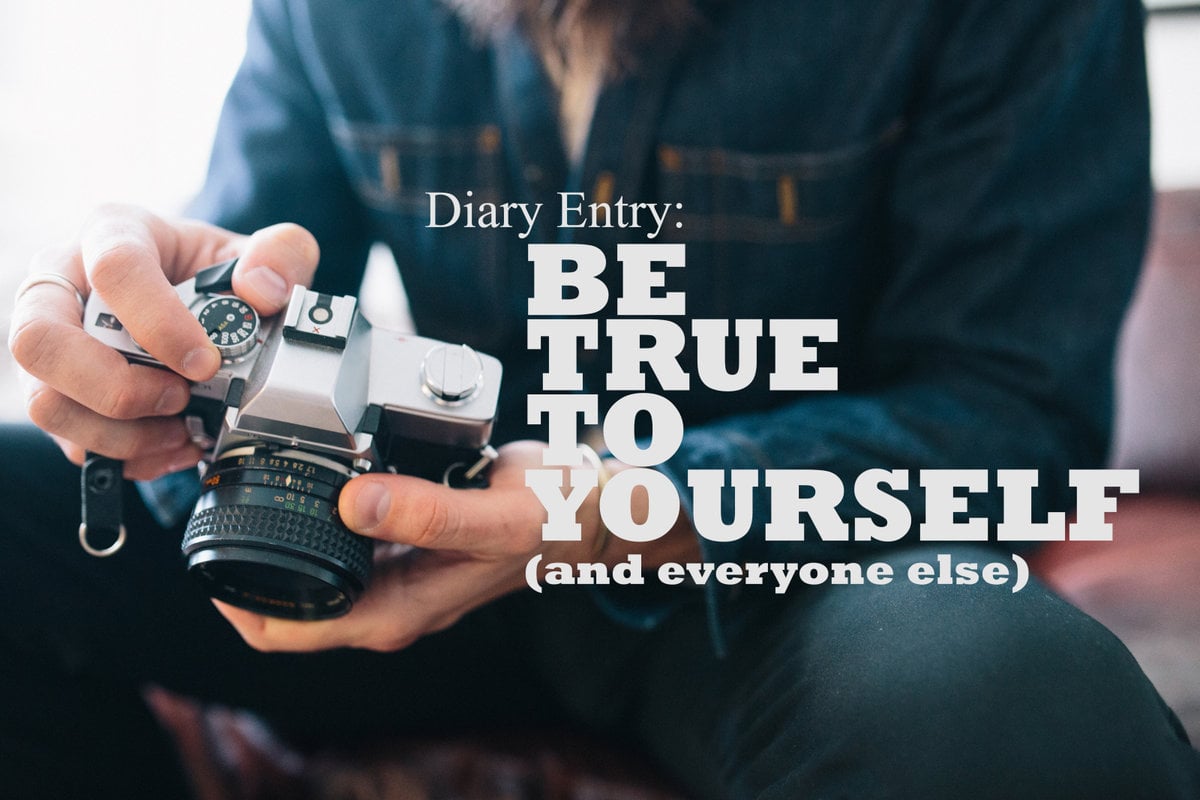 I'd like to take some time now to reflect on 'self-authenticity', and why I believe this ideal has been so important to our blog's humble growth so far. Super successful author / blogger Joy Deangdeelert Cho writes:


(Cho 2012:32, Blog, Inc.: Blogging for Passion, Profit, and to Create Community
)
Wise words from a wise woman! However, I admit that when I first read that passage, I wondered: "What does 'being true to yourself' really mean?" I mean, all of us have heard this mantra repeated time and time again – in the media, amongst friends, in advertisements, etc. So much so that the whole notion of 'self-authenticity' feels a little blurry, a bit imprecise, maybe even contrived.
Nonetheless, Amrita and I have discovered that the more we blog, the closer we come to understanding what it really means to be 'true to ourselves' as food bloggers – and more importantly, why this is such a crucial thing for the readership growth of Crazy Vegan Kitchen, or any blog for that matter! 
Here are three big lessons we've learnt about 'self-authenticity' over the past few months:
#1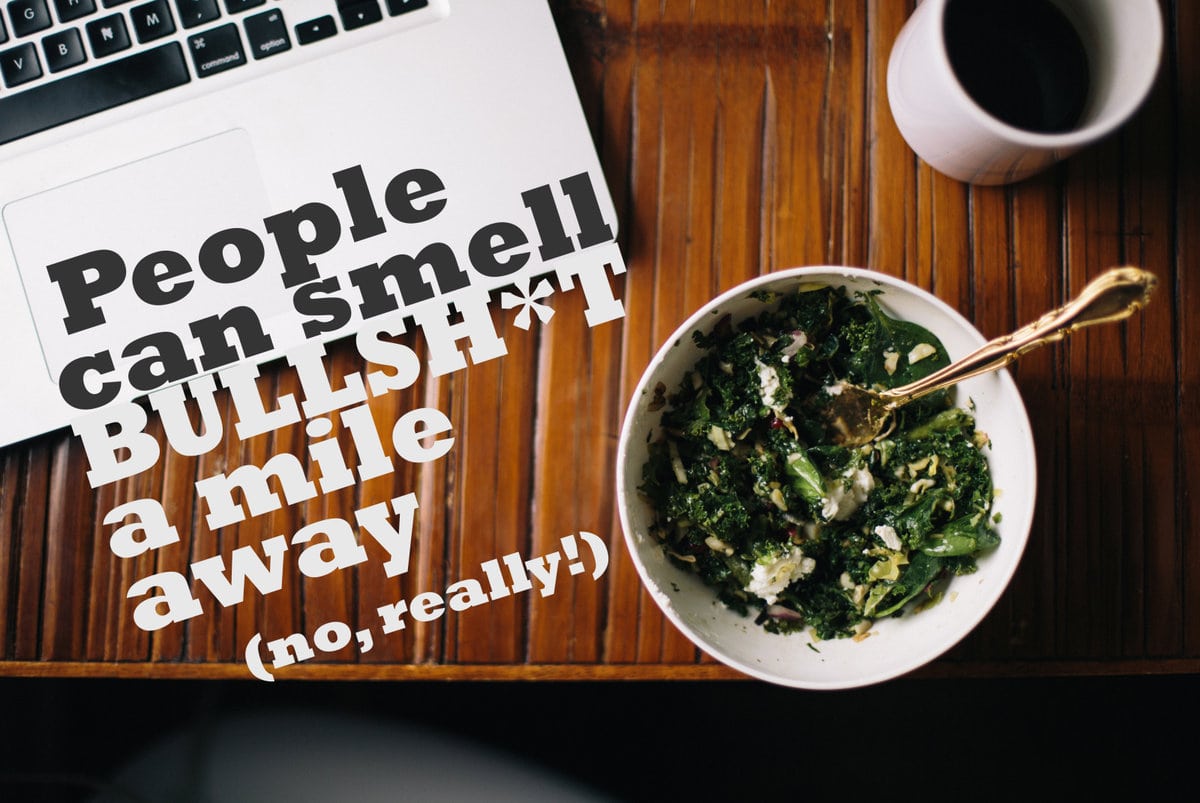 Human beings are amazing creatures. Throughout thousands of years we have evolved in many wonderful ways. We see, we touch, taste, hear…. AND have also honed our ability to smell bullsh*t from a mile away! A used-car salesman trying to sell you a broken down tin can? Bullsh*tter. 'Friends' who smile at you on the outside and sneer from the inside? Bullsh*tters. This man and this woman. Bah-Bah-Bah-Bullsh*tters! 😉
Argh! Everyone hates bullsh*tters. And, sadly, the world is full of them, the Internet included.
Now, um… we'll be totally honest here. Amrita and I are totally guilty of bullsh*tting our way through some of our earlier posts on this blog. Rewind a couple of months ago to this post for example. In it I described our Jalapeño Biscuits as if they were the greatest human invention everrrr!!!!! Better than toasters, better than candy floss machines, better than clowns with smiling faces! THOSE JALAPEÑO BISCUITS ARE THE BEST DAMN THING IN THE HISTORY OF EVERYTHING!!!!
*Slap me with a smelly baby pacifier* What was I thinking writing like that?!
Don't get me wrong! Those Jalapeño Biscuits are in fact delicious. I'd highly recommend anyone to try out the yummy recipe! But the main point I'm trying to make here is, back then, we were trying way too hard to come across as enthusiastic, sunshine-smiling, feel-good, picket-fence food bloggers. In some ways we were desperate to fit into some vaguely-defined status quo, forcing ourselves to imitate how we thought food bloggers are 'supposed' to write. 
However, from the very get go, writing in such a fashion felt wrong to us. We felt like sellouts, charlatans, pretentious idiots. The smell of our own bullsh*t was immensely suffocating. Something had to change, quickly.
So, one-and-a-half months into blogging, we decided to shake things up. We began using memes (which we love!), talking about wrestling and TV shows (also love!), and introduced our cats (love, love, love!) into our recipe posts. We became self-depreciative, goofy, dweebish, random, and stupid in our writing style, which isn't far from what we're really like outside of blogging.
In short, we stopped pretending to be other people, and started expressing ourselves as the 'sh*tty chic* people we really are (i.e. a little bit chic, a whole lotta sh*t!).
Not only did doing this make food blogging immensely more enjoyable, interestingly, we started to realise that the more we wrote as our real selves, the more people started reading our blog.
I think part of the reason for this is because, like I said, people have an innate ability to sniff out insincere bullsh*t. And, thus, the less we tried to pander and suck up to some imaginary 'food blog stereotype', the more people seemed willing to stay and interact with us. 
Of course, it's impossible to please everyone. Some readers may find our food blog childish, lame, idiotic, excessive, random, etc. At the same time, many others have welcomed this change, even reaching out to us on different social media platforms to stay connected. These are the people we choose to focus on. These are the people who make authentic blogging worth it! 🙂
WHAT WE LEARNT: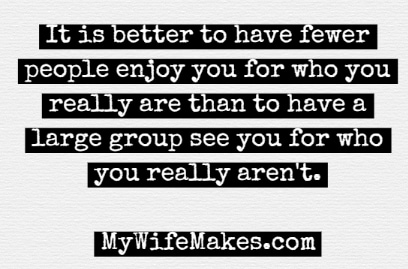 In the long run, authenticity always trumps BS, even with something as trivial as blogging. Find YOUR voice and your audience finds YOU.
---
#2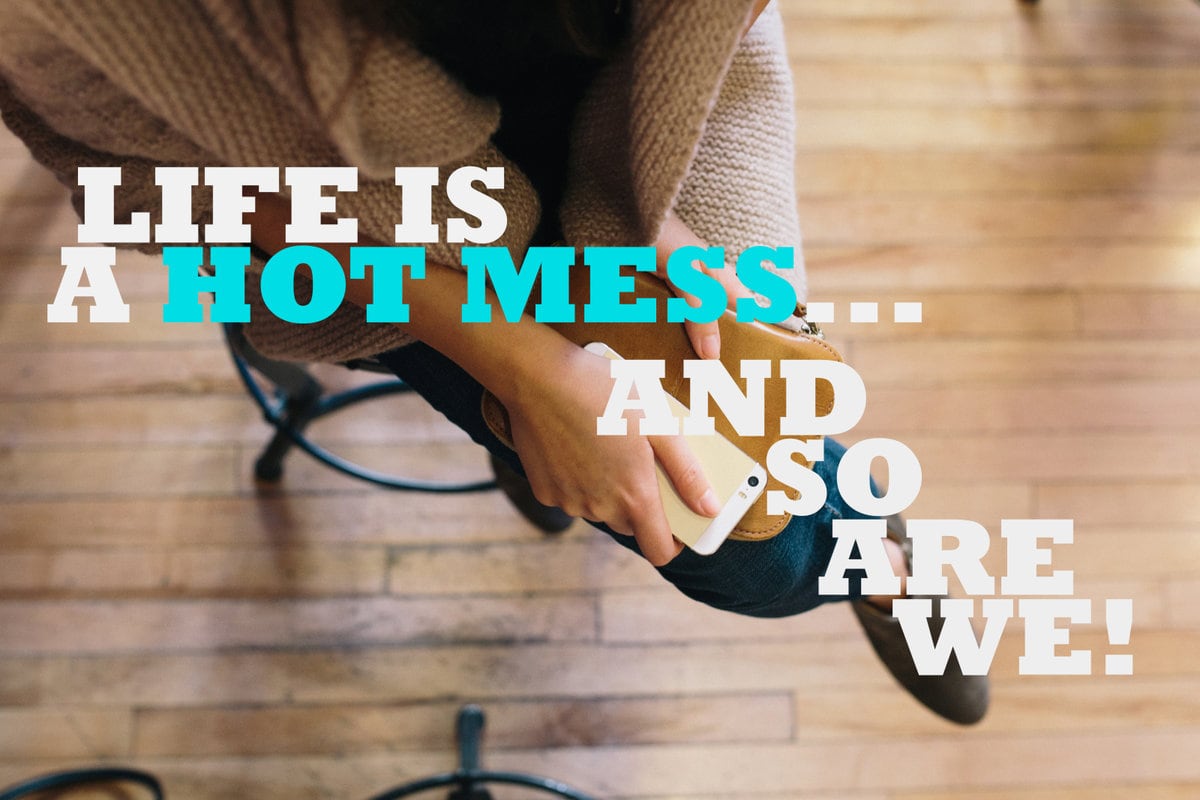 Life is a funny thing, ain't it? The ups and downs, the highs and lows – and through it all we keep trying to figure out what the heck all of it means. Existential Crisis 101. 🙂
However, in many spheres of life (i.e. work, school, etc.) we are often conditioned to show only one particular side of ourselves, usually our most prim-and-proper, socially acceptable version.
The same goes with food blogs. For example, it is very easy to come across food bloggers who write like this (I'm paraphrasing here):
Oh so today the sun was out shining and it was a a perfect day. And when I opened my fridge I had a wonderful surprise! Inside was the cookie dough left over from the wonderful party I had with my five thousand wonderful friends over Christmas. I wonder which wonderful person put them there? Oh wait, I did, silly me! I'm so wonderful. Anyway, I decided to whip up some perfect cookies cause I love cookies (and also every human being on earth!!!) And let me tell you: these cookies were PERFECT! They were so WONDERFUL and SOFT! I gave them to my perfect friends on a cute little pink tray full of smiling happy faces. And everyone loved it! I was so happy and it was a perfect day and — oh, look, a Carebear!
(cue 80's sitcom music) 
Of course, there is absolutely NOTHING wrong with writing like you're on a permanent trip on the Magical Mystery Tour. It is not a moral crime. To each his/her own, I say.
However, let's get real here: there's far more to life than Carebears and wonderment – and presenting only the 'perfect' side of reality gets real boring, really quick. It's also more than a little inauthentic. And also nauseating.
That's why, after weeks of bullsh*tting ourselves, Amrita and I decided to adopt a different approach. We didn't want to do the whole scrubbed down, Mickey Mouse, airy fairy version of food blogging anymore. Instead, we began sharing little commentaries on our 'messy' behind-the-scenes food tests, our immense struggles with photography, amongst other un-pretty kitchen missteps and disasters. We've also chosen to speak openly with others about some of the petty 'couple's quarrels' we've had since starting MyWifeMakes. And trust me, there have been a few.
Long story short, we want to be real people for the real people who are reading our blog.
WHAT WE LEARNT: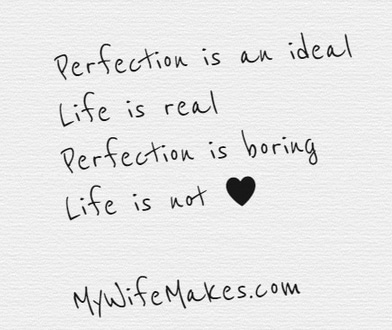 Like life, food blogging is tiring, fun, challenging and rewarding, all at the same time! That's what makes food blogging so immensely interesting. And we feel that it's important to share these things with you because, for us, being true to who we are means being true to life – and that includes all the good, bad, and ugly stuff which makes our existences meaningful and real.
---
Last but not least… #3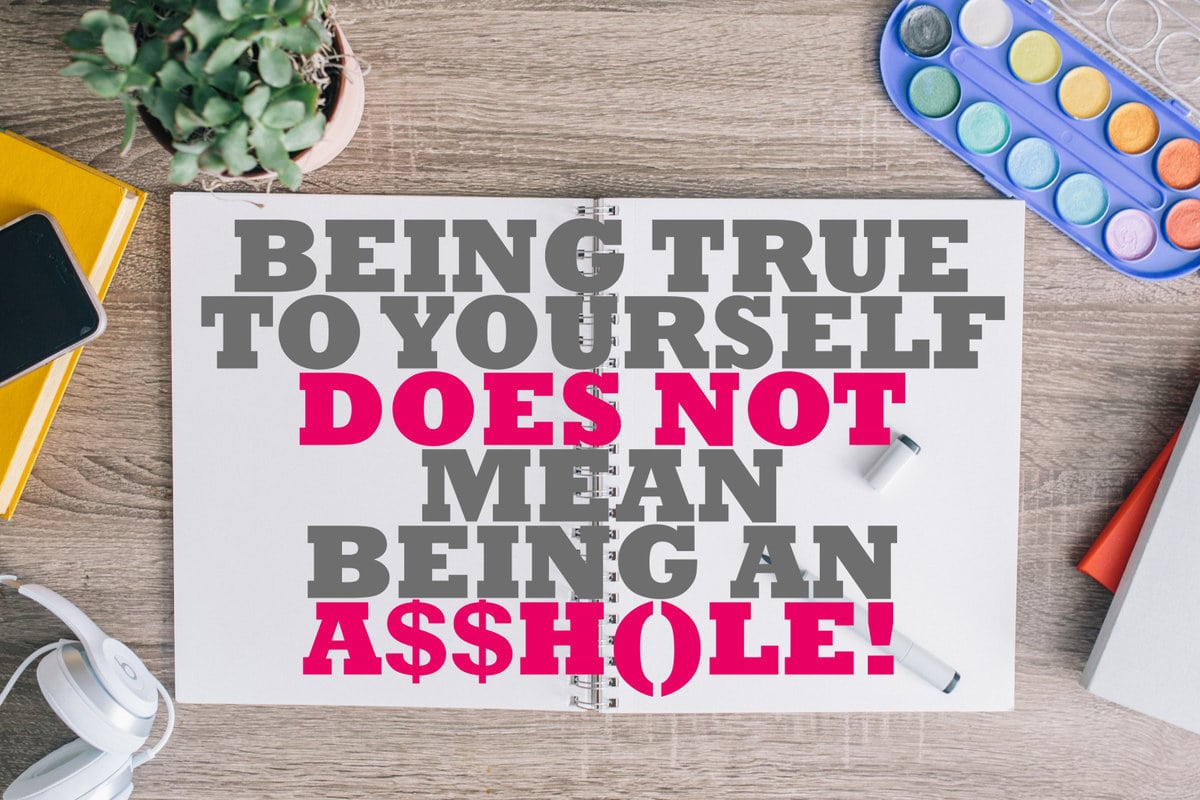 Sometimes people abuse the idea of 'being true to myself' as a license to be egotistical, vain, and a$$h()lic. These are the people who go "me, me, me!" instead of "we, we, we!" They are the ones who often talk at you and not with you, making everything about themselves, not others.
A small number of food bloggers suffer from such delusions of grandeur. Some even go to the extent of calling their readers 'fans' (whilst barely taking the effort to engage with them). There are even those who consider themselves 'tribe leaders' to their 'minion' tribe mates (i.e. their readers). It all feels like a bad episode of Survivor.
Personally, I think it's all rather silly. I mean, a food blog is a food blog is…. a food blog. A blog is not a boy band nor a member of The Rolling Stones (or One Direction. Whatever floats your boat! :P)
Amrita and I don't see our readers as 'fans' – a sickening word that a$$h()les use to diminish the individuality of a person. We are also nobody's 'tribe leader' (another irritating idea). Instead, we see Crazy Vegan Kitchen as simply a humble means to share our love for food with others. Blogging has also given us an opportunity to meet and talk to many incredible and interesting people with a similar joyful passion for recipes, writing, photography, etc. This is really the best part about blogging!
So, at the end of the day, authentic blogging for us is really about being part of a community of like-minded individuals from around the world. I emphasize individuals for a reason, because everyone is a unique person, not a generic fan or nameless tribe minion. There are no leaders here, no hierarchy, no rockstars. There's you, there's us, and then there's food. And that's more than enough to make us truly happy to be doing this. 🙂 It's more than enough to keep things real.
WHAT WE LEARNT:
'Being true to yourself' is a great thing – but it doesn't have to mean 'being true to yourself… by elevating yourself over others, like an egotistical a$$h()le'. 'Fans' fan an ego; people nourish our hearts and souls. As the famous sociologist Erving Goffman once wrote:


(Goffman 1961:41, Encounters: Two Studies in the Sociology of Interaction)
Through YOU, we come alive. 🙂
---
That's it for now! Phew, that was a long one. Anyhow, please feel free to leave us your comments and feedback below. We'd very much love to hear your blogging stories and experiences. Till the next blog traffic and income report, remember, keep it realllllllllllllllllll-lalalalalalalala!