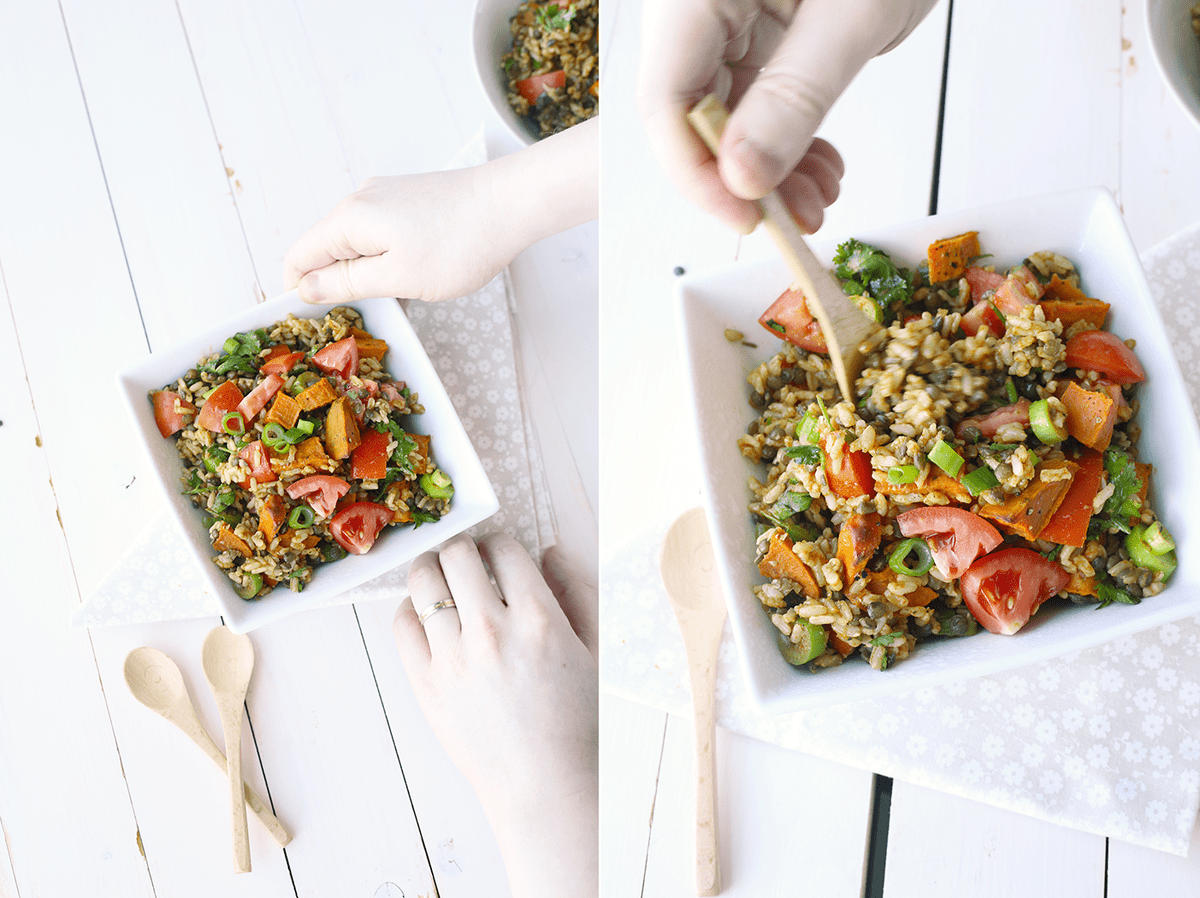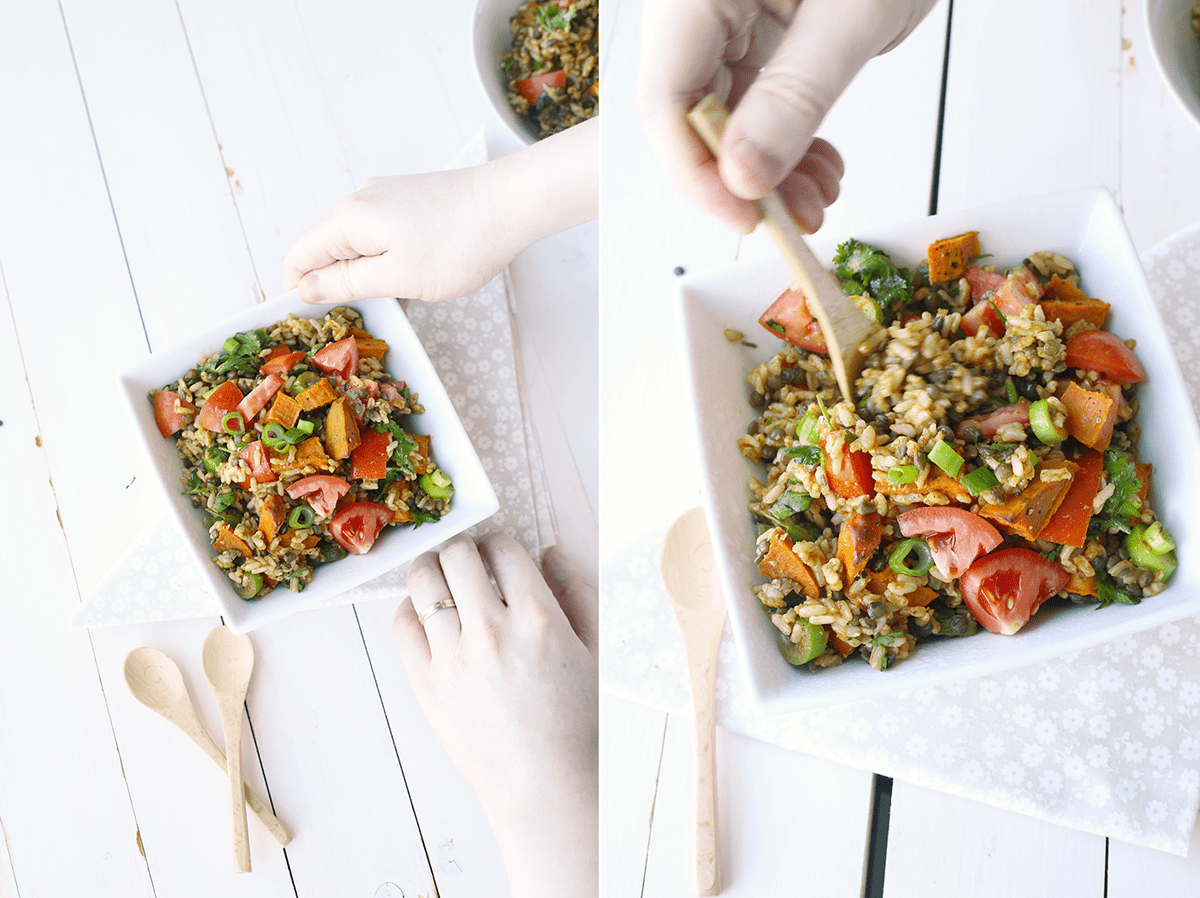 Happy Monday to everyone! Levan and I are super excited about today's post because last week, we caved and purchased a Canon EOS 50D Mark 3. After a long grueling wait of one week, it finally arrived in the mail and I ripped the packaging open like a maniac the second I got my hands on it. Well, I do everything like a maniac because I am a nut. Anyway….initially, I was using a Canon 60D that I purchased almost 3 years ago for all my food photos – and although I absolutely loved my camera – we decided it was time to upgrade to something a little more fancy because I was less than keen on how my photos were turning out. On top of the camera, we also purchased a Manfrotto Tripod and Tripod Head, and this snazzy NEEWER Round Multi Disc Light Reflector!
(Pssst! Please note that some of the links here are Amazon affiliate links and we will earn a small commission if you purchase items through them, at no extra cost to you. We only recommend products we have personally tested ourselves and love – no exceptions!)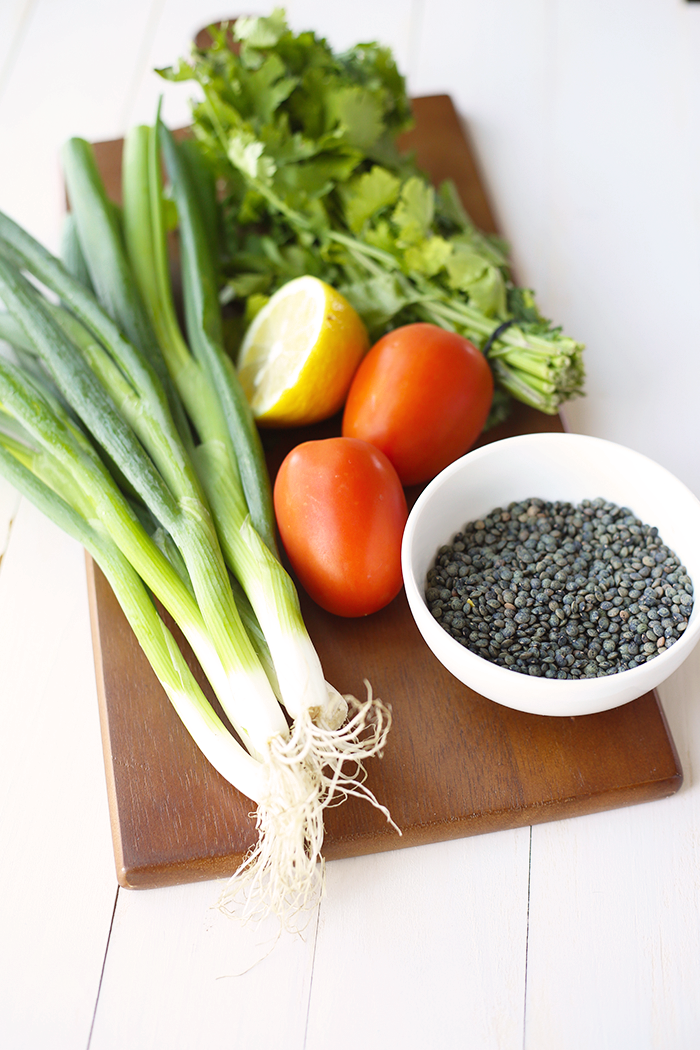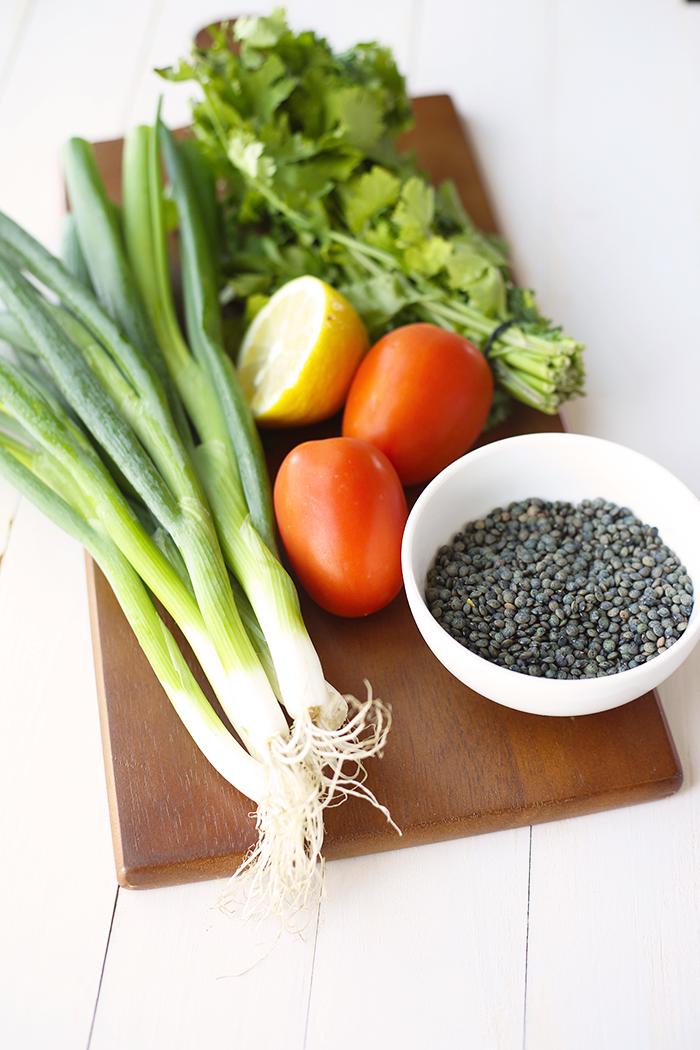 We instantly knew that we wanted to make something really colorful to test our new baby out, so I decided to blog-hop and came across this lovely recipe for a Vegan Brown Rice and Black Lentil Salad by the even lovelier Vanessa of Vegan Family Recipes. Vanessa's blog is full of amazing, vibrant and spectacular Vegan recipes, and you should definitely have a look at her extensive index of recipes. We love looking through her website whenever we need some food-spiration. This recipe is simple, delicious and is a breeze to whip up in under an hour. Besides being vegan, it is also gluten free and my personal adaptation of the recipe also qualifies it as low-fat 🙂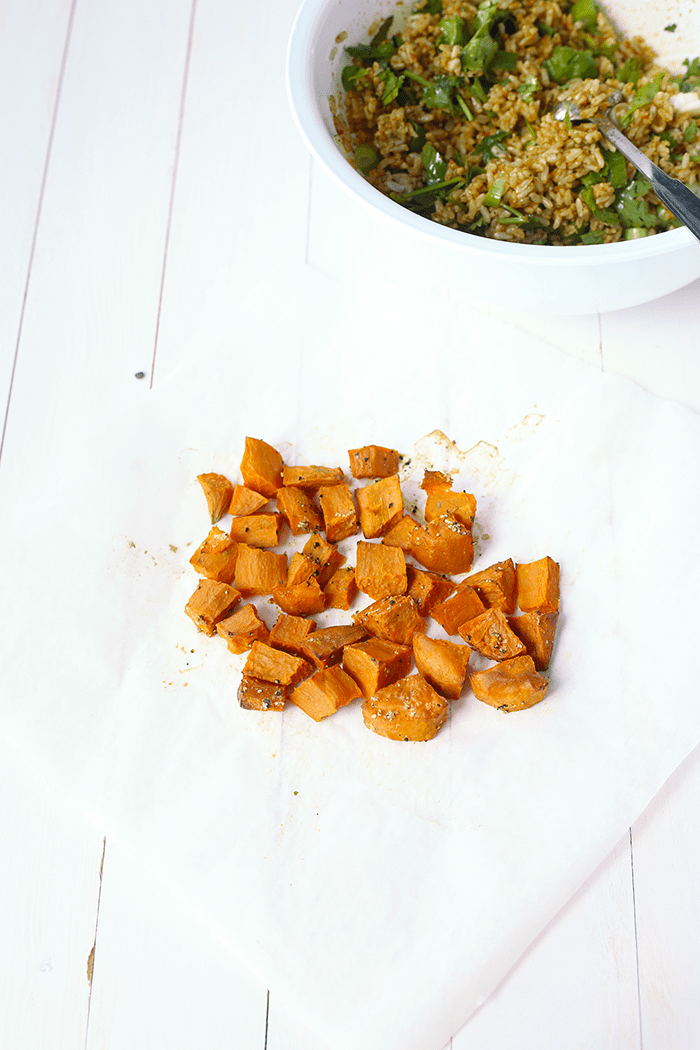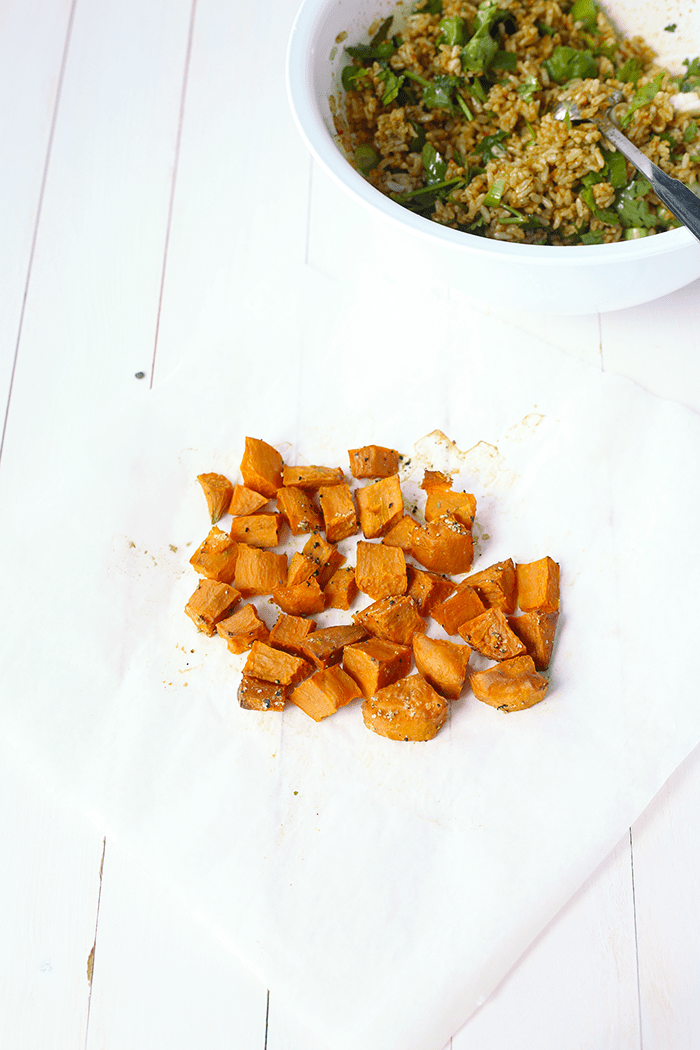 We adapted it by adding a little maple syrup, adding roasted sweet potato and amping up the cayenne for a little kick. We also used just 1 Tablespoon of oil for a double recipe, but feel free to use the original amount. We just personally prefer little to no oil in our food. Okay, no, Levan actually loves deep fried things…fries, churros, fritters, fried bananas…the list goes on and on. I on the other hand, hate the sight of oil on food. I'm one of those annoying people who uses a paper towel to dab the life out of everything.
FREE EBOOK SERIES! 5 SECRETS FOR FOOLPROOF VEGAN DESERTS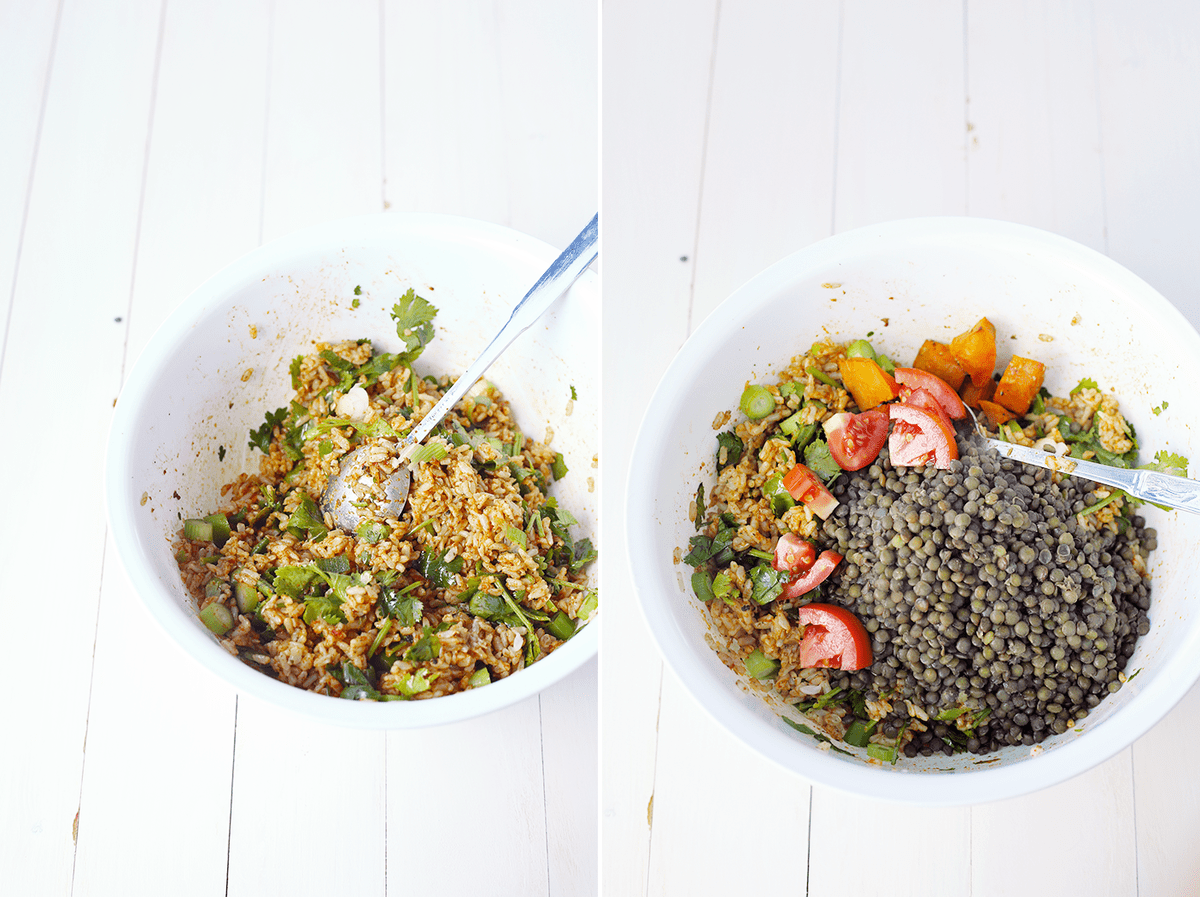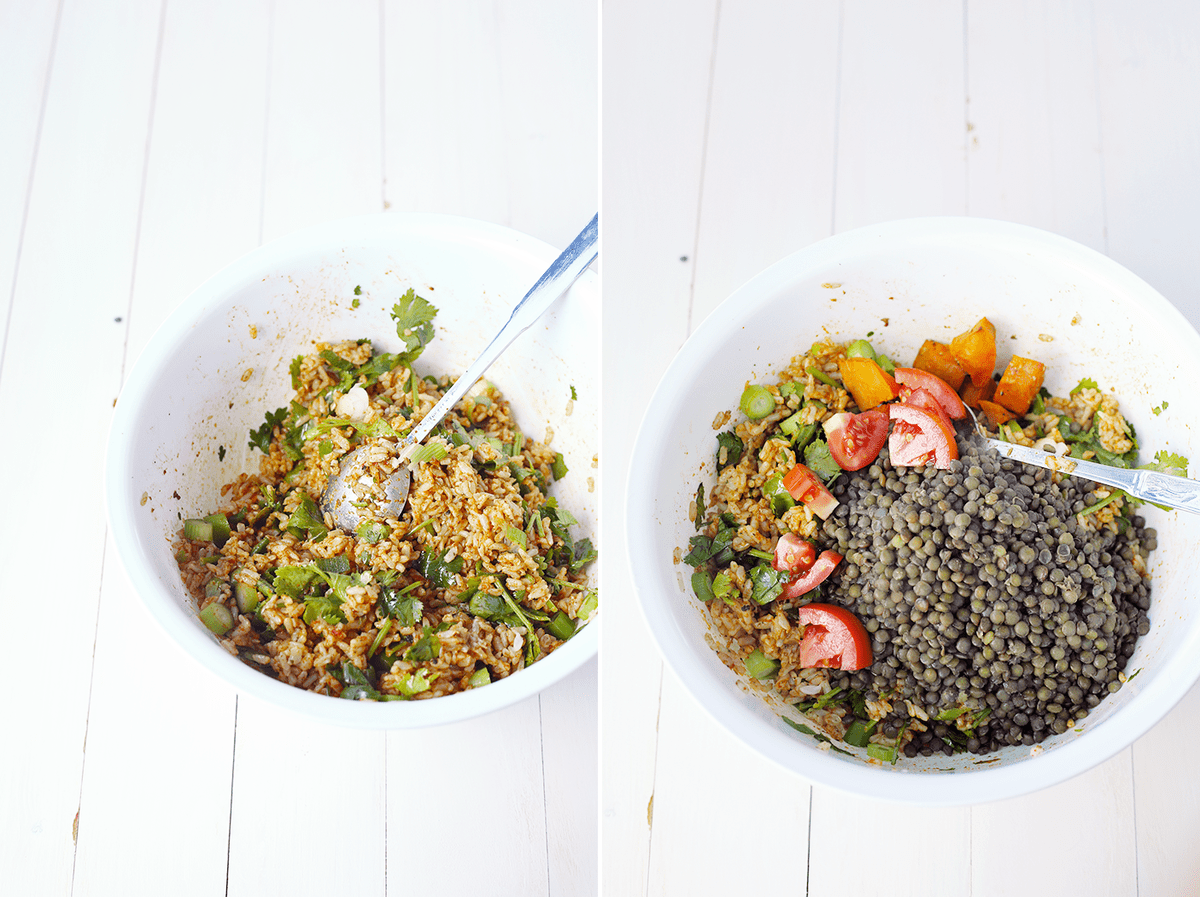 This was our first time actually trying Black Lentils (shame on us), and we quite liked how it held its robust texture even after being cooked, unlike yellow or red lentils that tend to get a little mushy sometimes. The final product tasted really light and fresh, yet was intensely flavored at the same time. Okay yes, that sounds slightly contradictory, but hey, most food descriptions are often rather silly and make no sense, haha! Nevermind, I'm going to shut up and just tell you that you really should make this salad and have it for lunch at work because it stores really well and lasts about 3 or 4 days in the refrigerator. No more pseudo-healthy, oil drenched salads from the supermarket. No more, I say.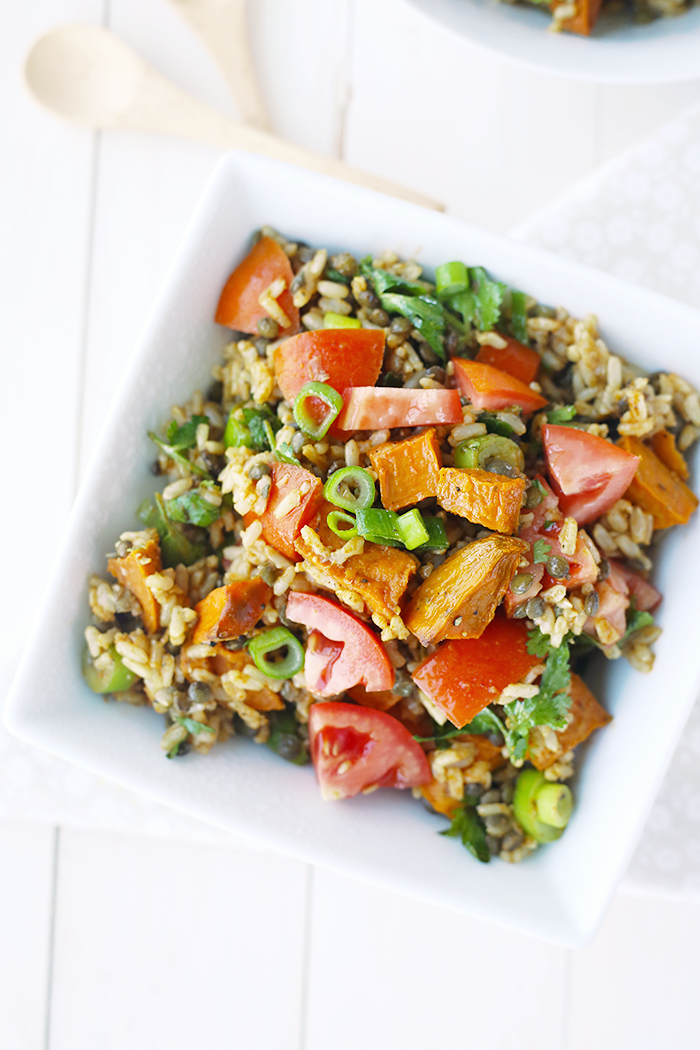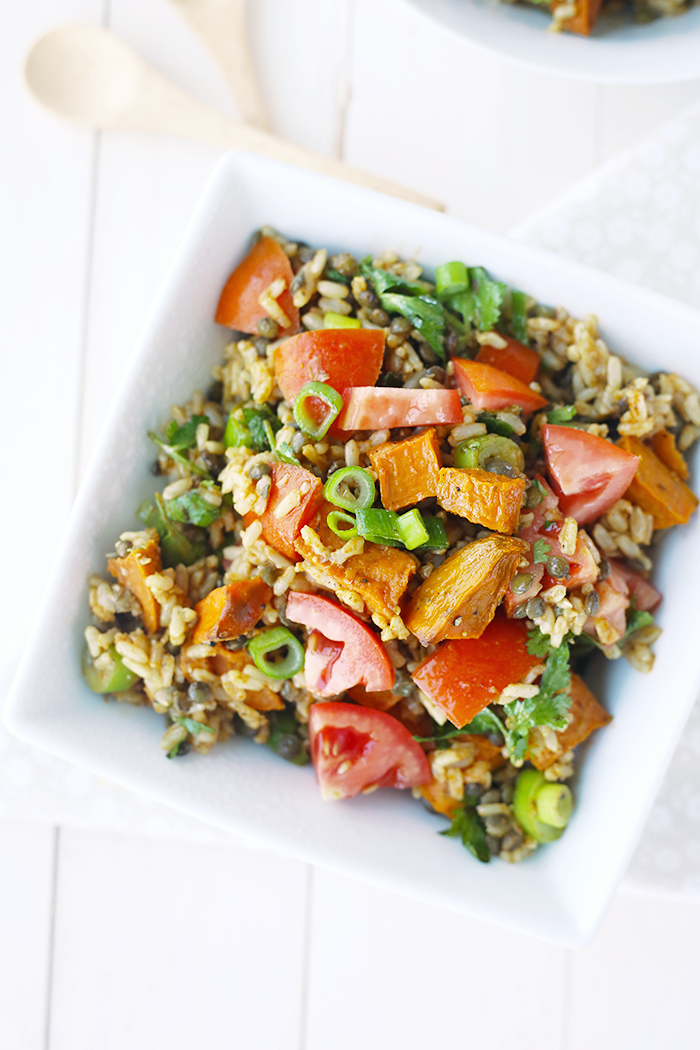 As for the camera and tripod – I'm still trying to figure both of them out and I definitely need a lot more practice and reading up, but I am very happy with the improved quality of our images. Overall, even though a hefty sum, it was definitely worth the investment and I'd recommend anyone else to get it as well.  Even Levan took some of the images you see on this post (how amazing is that!) Do share with us or drop us a comment  if you have any tips on photography or the new camera we're using, because we'd love to learn more. After all, we eat with our eyes first!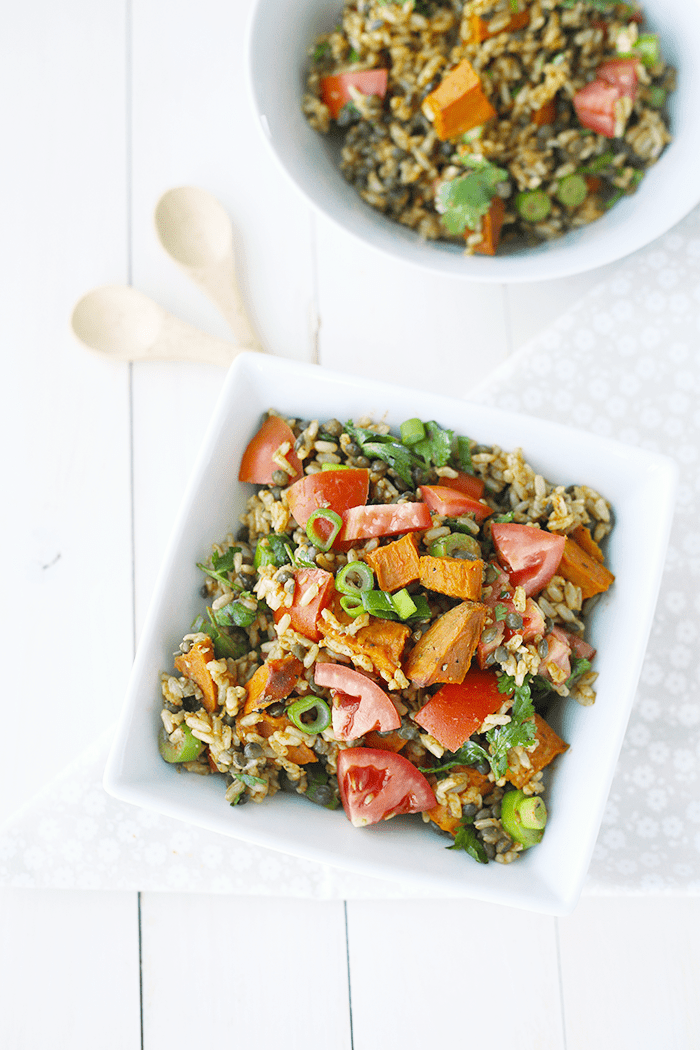 And me,  well…I'm feeling a little sleepy after all that cooking and washing up, so I'm going to take a nap with my fatty catty Bingo.  I'll leave you with my adaptation of Vanessa's recipe for Vegan Brown Rice Black Lentil Salad below. Enjoy!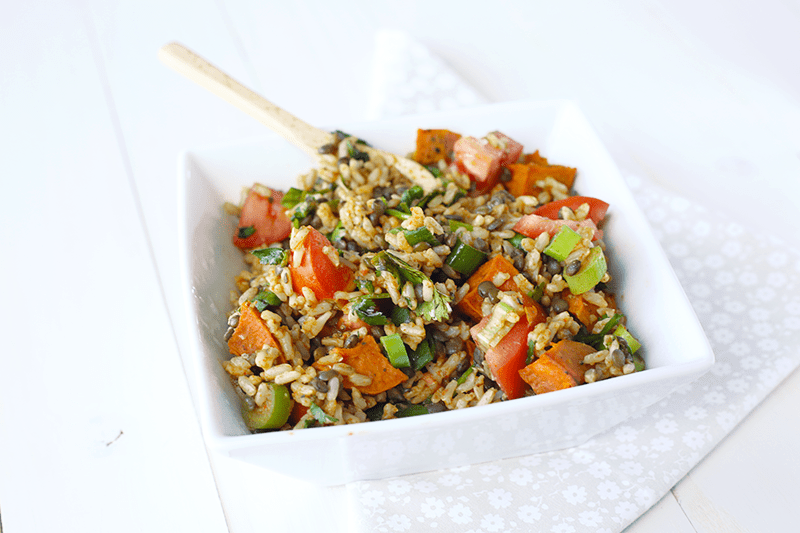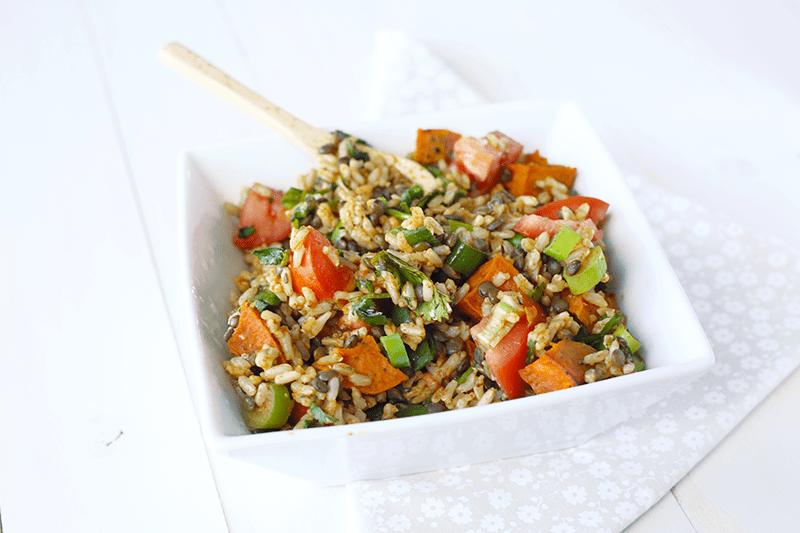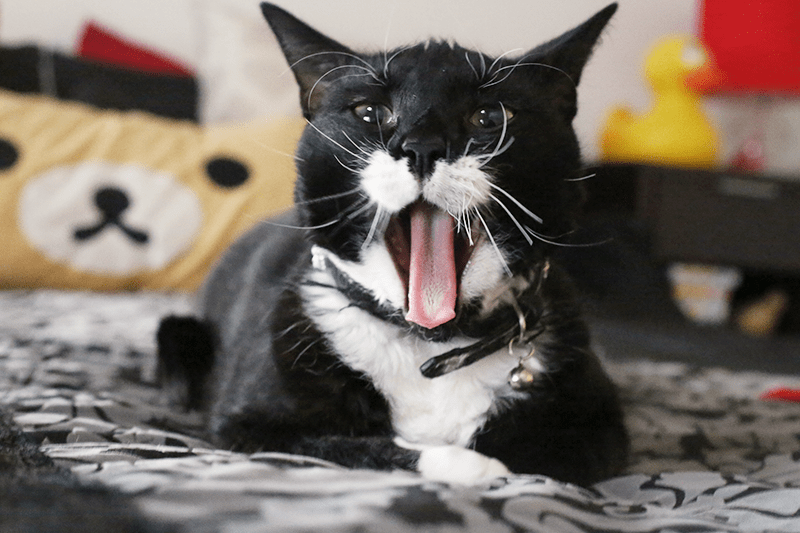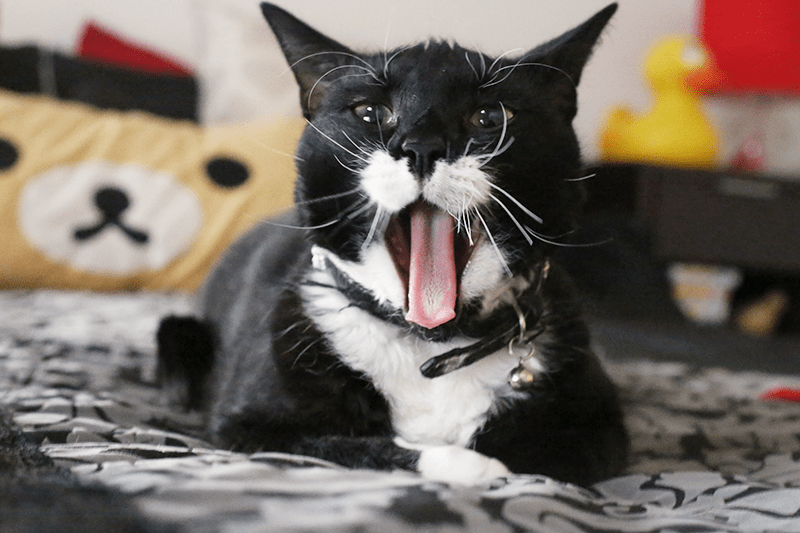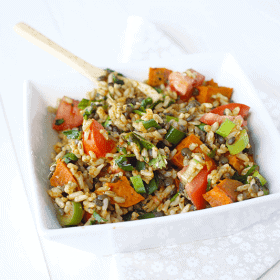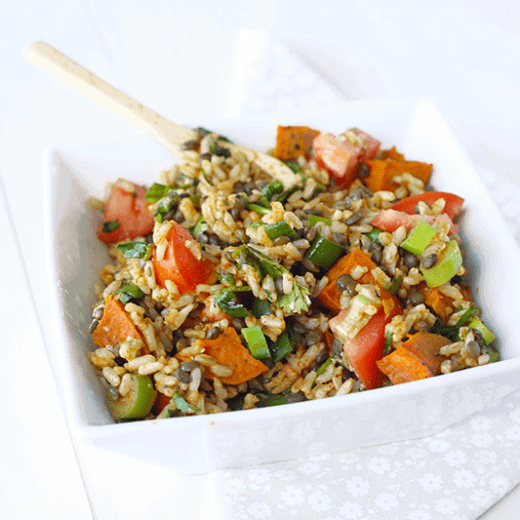 Brown Rice Black Lentil Salad
Ingredients
1

cup

uncooked Brown Rice

1/2

cup

uncooked Beluga or Black Lentils

1

Sweet Potato

peeled and diced

2

Garlic Cloves

crushed

2

teaspoon

Paprika

1/2

teaspoon

Cayenne Pepper

1

teaspoon

Cumin

1/2

teaspoon

Coriander

1

teaspoon

dried Marjoram

1

Tablespoon

Maple Syrup

1

tablespoon

Extra Virgin Olive Oil

2

tablespoons

Lemon Juice

2

Roma Tomatoes

diced

2

Scallions

ends removed, sliced

1

cup

fresh Cilantro

chopped

Salt and Pepper to taste
Instructions
Start by roasting your sweet potato. Preheat oven to 200 degrees Celsius. Spray diced sweet potato with cooking spray and season with salt and pepper. Roast in the oven for 30-45 minutes, or until sweet potato is tender. Set aside.

Cook rice and lentils according to instructions on packaging.

Place spices and herbs into a small bowl and whisk together with olive oil, maple syrup and lemon juice. Pour over cooked and drained lentils and rice.

Add roasted sweet potato, chopped tomatoes and scallions and mix all ingredients together.

Add salt and pepper to taste.

Before serving, garnish with more chopped scallions and cilantro.