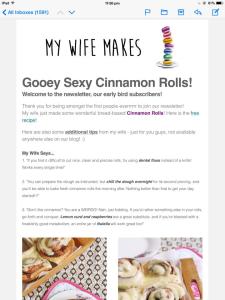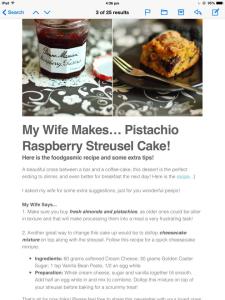 Sample Screenshots of Our Newsletter
Like a recipe you saw on this blog? Want to get an 'inside scoop' on how to improve your baking and cooking? Then join 4000+ other food lovers now by grabbing our FREE newsletter! Sign up now and receive:
A

LIFETIME

of my wife's free food recipes & tips – all bonus content

exclusive

to the newsletter, not available even on this blog (Sent out once every one-and-a-half to two weeks).
My wife's special recommendations/reviews on the best food products & ingredients she uses. All tried and tested first-hand just for you!
A FREE copy of a mini eBook my wife and I are currently writing (coming soon, we're still putting it together!). We'll be sure to put in tons of pictures!

NO

spam,

NO

advertising – only useful food-related content.
Interested? Simply fill out the email form below – it's that easy! You can opt out anytime you want as well – zero commitment. Upon signing up, please remember to add us to your address book (mywifemakes@gmail.com) to ensure the newsletter arrives in your main inbox. 🙂
[mc4wp_form]
Subscribe for Recipe Updates
Join my mailing list and get weekly recipe updates. Free. Free sh*t's always good!