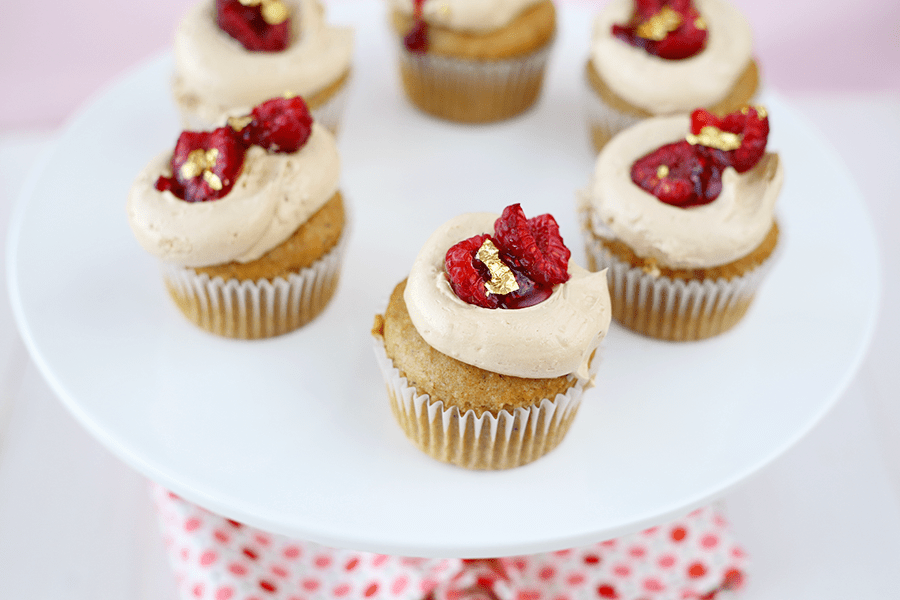 Hi everyone! Amrita here today with a brand  new recipe to share with you! Behold my yum yum Hazelnut Raspberry Cupcakes! These were made on a whim, and turned out to be one of the best cupcake recipes I've ever made! They were so good that even the cats tried to devour them when no one was looking……tried being the keyword here – they were sent into the room as soon as I caught them trying to eat my cupcake frosting. Raspberry Cupcakes are not for cats. Or dogs. Or diabetics. Haha, fukkers.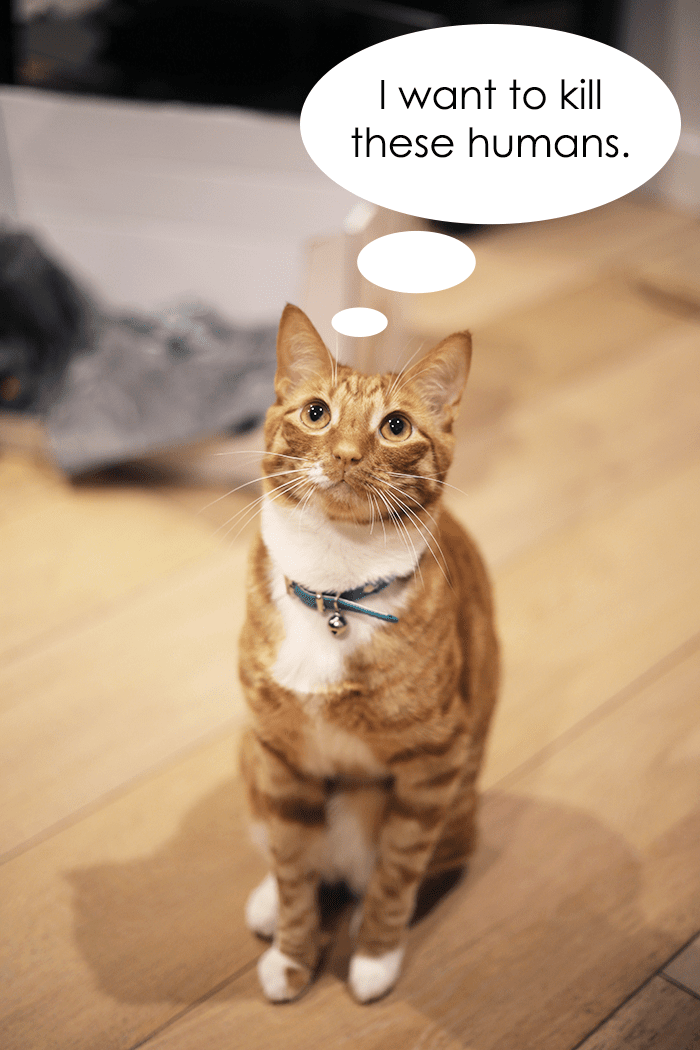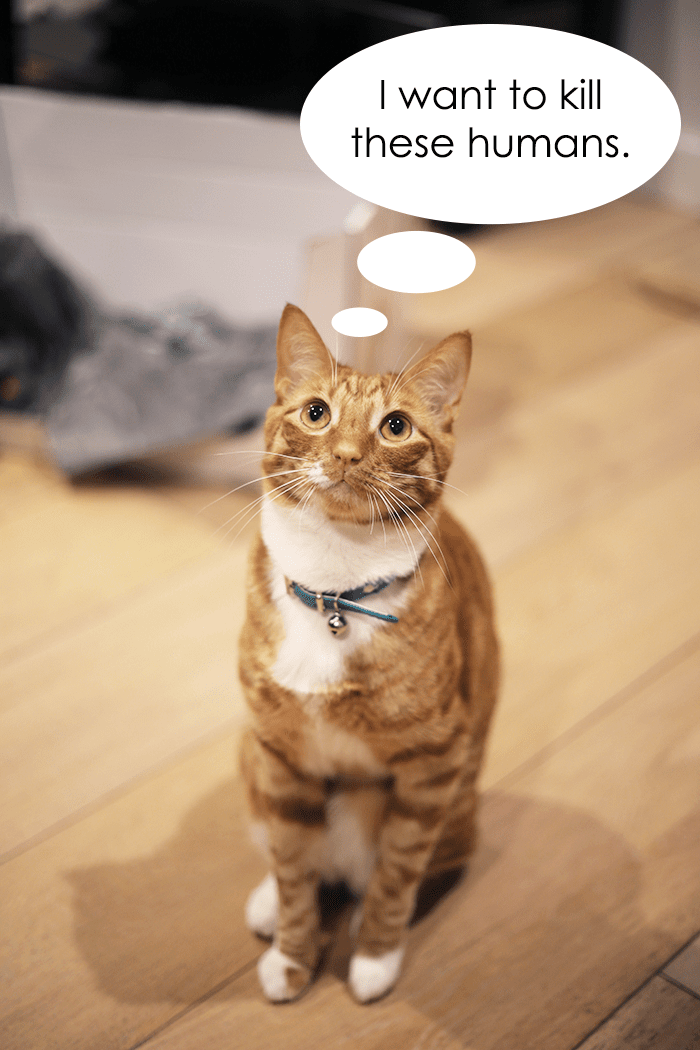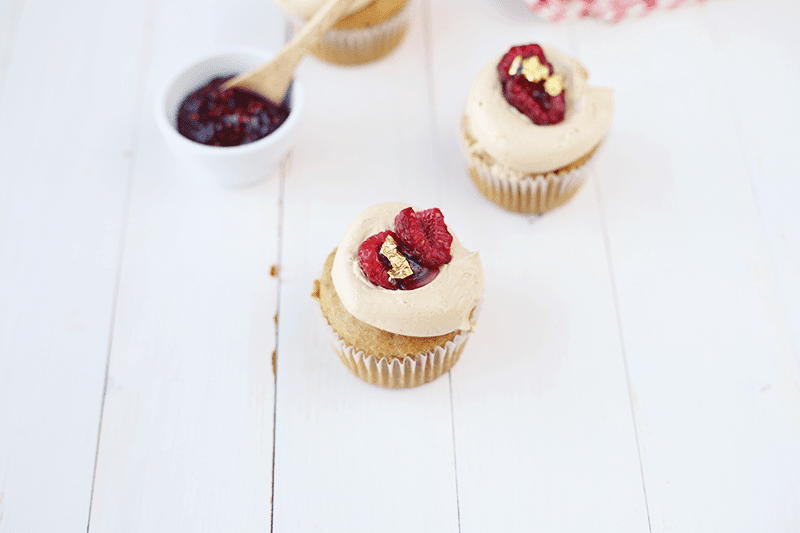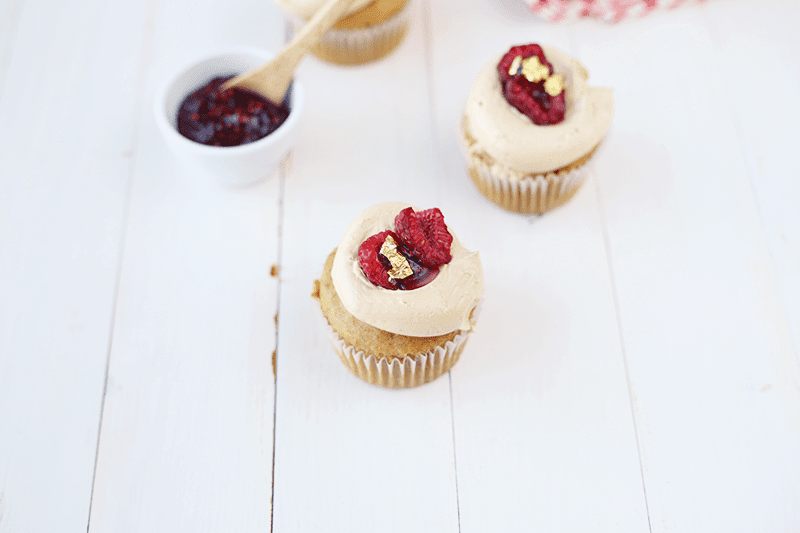 Back to these delicious Hazelnut Raspberry Cupcakes, perfumed with hazelnut flavor and bursting with homemade Raspberry Jam. Has anyone made jam before? It's amazing what you can do with a pot of fruit and sugar. I started off making some very simple Hazelnut Cupcakes, which consisted of a mixture of your usual cupcake ingredients sans the eggs/milk/butter, and with the addition of Hazelnut Meal and Hazelnut Extract to really boost the cake's flavor to a whole new level.

FREE EBOOK SERIES! 5 SECRETS FOR FOOLPROOF VEGAN DESERTS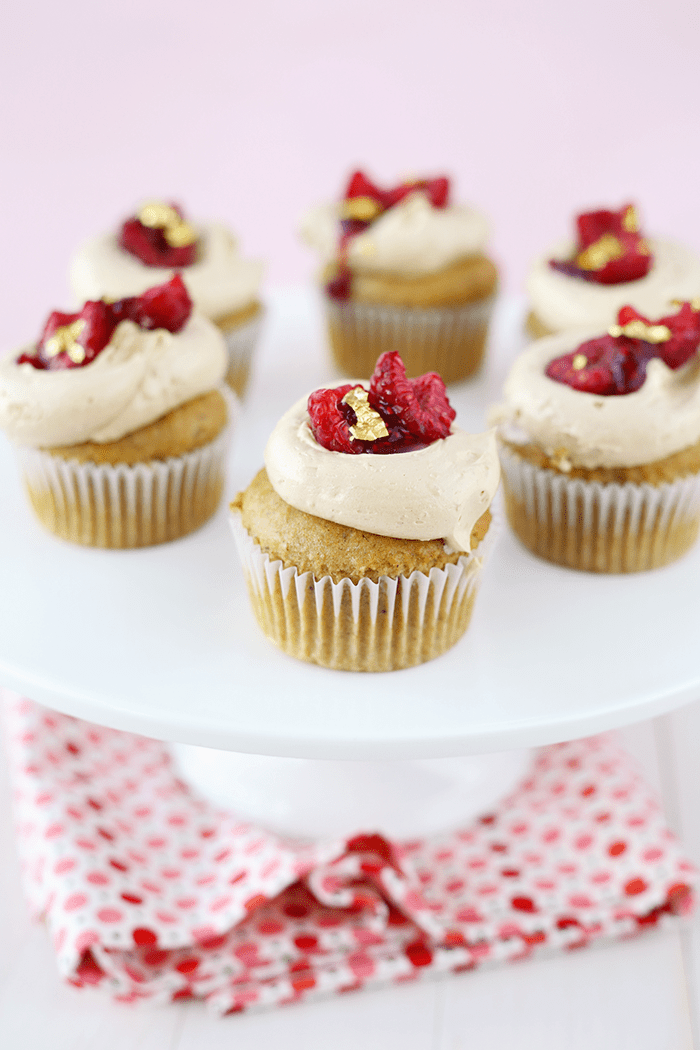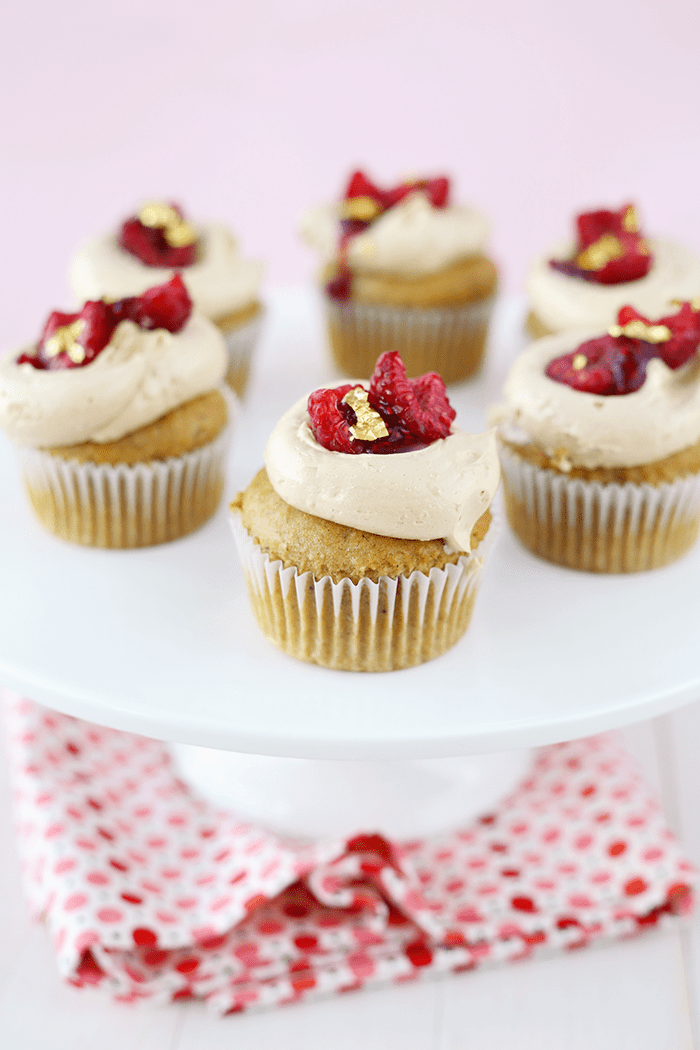 Now I don't know about you, but  I am not a very huge cupcake fans. After all, commercial cupcakes tend to have way too much sugar and a frosting to cupcake ratio that is almost always sickeningly cloying. YUK! I've always seen cupcakes as a "fad dessert", and I think in recent years it's gone from an "it" thing to a complete fashion faux pas. What a shame, because cupcakes, when done right like these Hazelnut Raspberry cupcakes ones, can actually be quite amazing.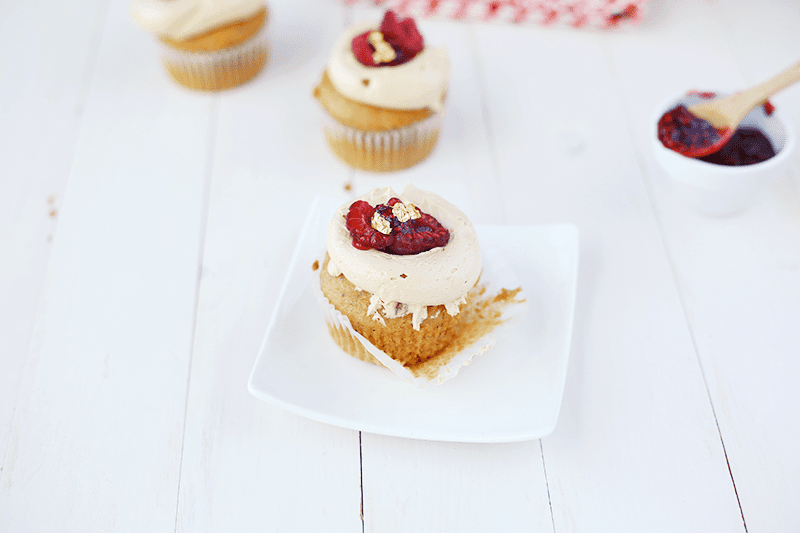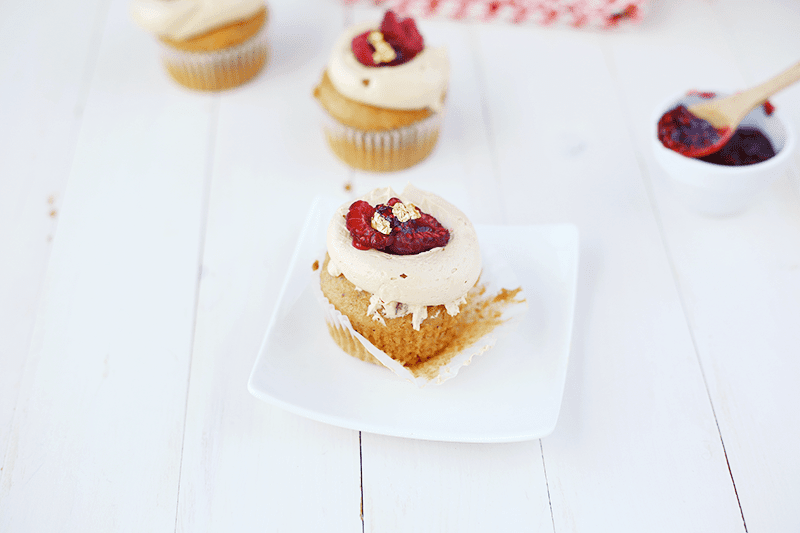 I adapted an Isa Chandra recipe for the Hazelnut Cupcakes –  I know there are a ton of Vegan Cupcake recipes already floating on the internet, but her recipe is awesome. I've added a few of my own changes to it, but I haven't diverted too far from the original recipe. The center of my cupcakes are filled with a deliciously sweet homemade Raspberry Jam that can be made in less than 15 minutes but tastes like something you'd buy at a gourmet/fine-food store. In fact, it tastes like the nectar of the gods (not really). Did you know my name "Amrita" actually means Nectar of the Gods? ……Anyway, the icing on the cake, literally, is a very simple Praline Buttercream made with Vegan Butter and then sweetened ever so slightly with a little icing sugar.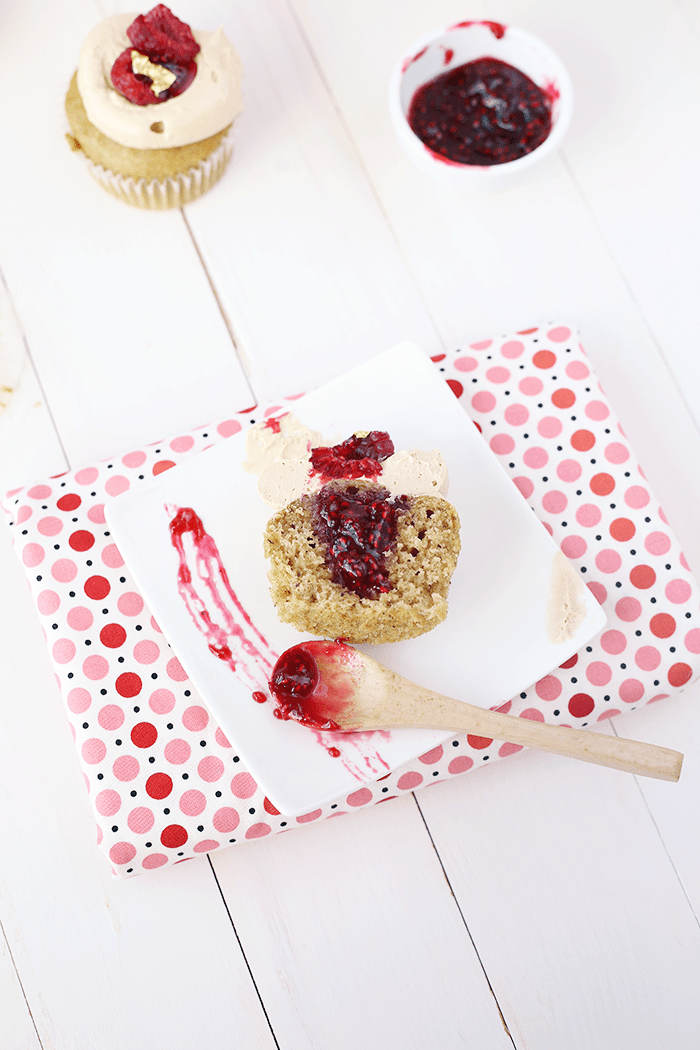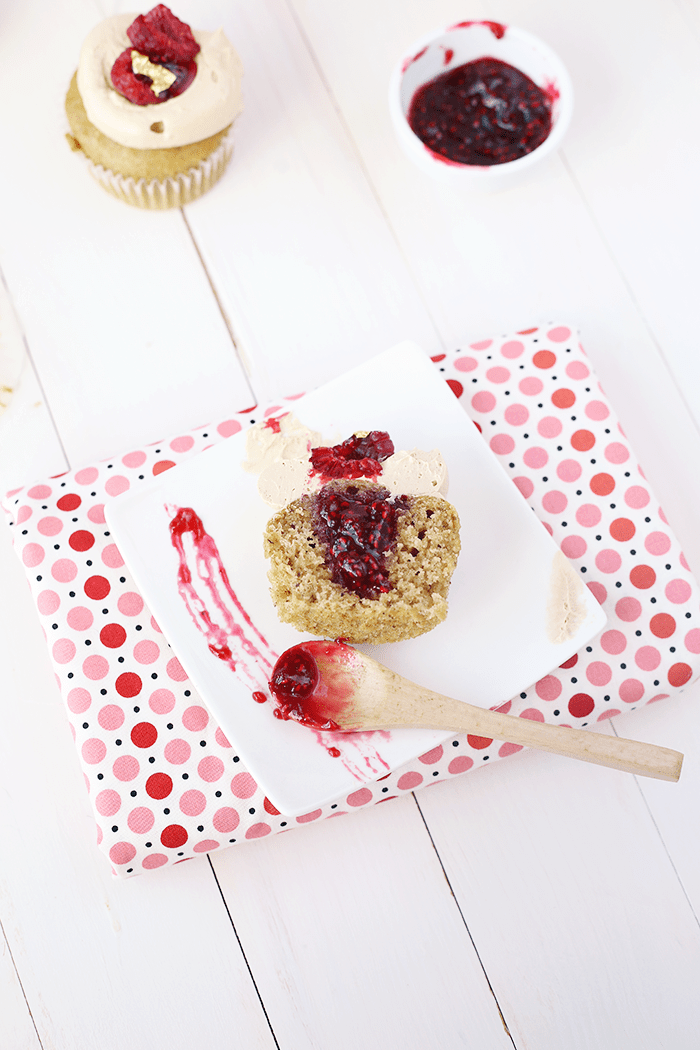 Are these raspberry cupcakes HEALTHY? No, they're not. They are, however, absolutely divine. These Hazelnut Raspberry Cupcakes will mend a broken heart, shut the noisy kids up for a while, or even snag you a boyfriend. Okay, maybe the last part is a bit of an exaggeration. But trust me, boys like baked goods. Keep on baking or cooking for them and I promise nothing but greatness will come out of it. I speak from experience. Not kidding. 
I do hope you try out this Hazelnut Raspberry Cupcakes recipe – you won't regret it. I mean, I even gave some to people at the GYM and they couldn't resist them. That's how good they are.  And as always, give us a shoutout in the comment box! We'd love to hear what you have to say about… well, anything in the world!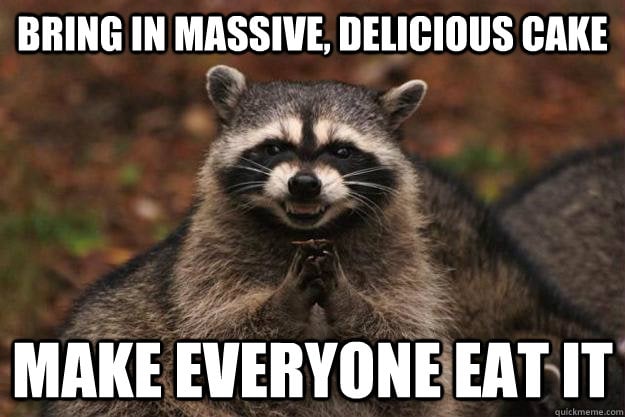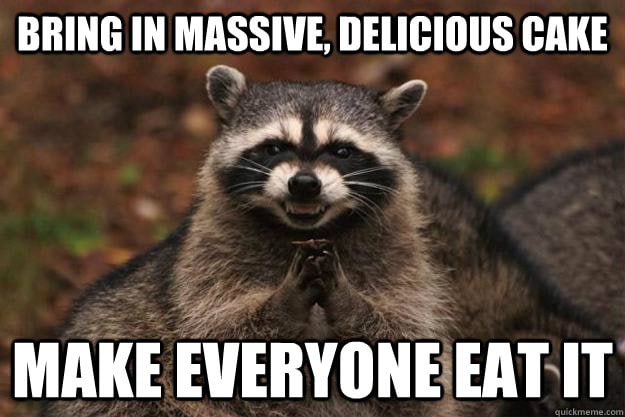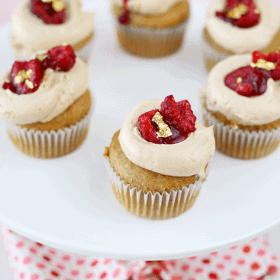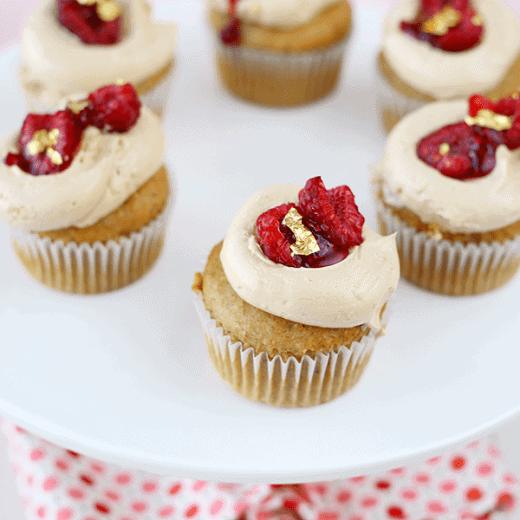 Hazelnut Raspberry Cupcakes (v)
Ingredients
For Hazelnut Cupcakes:

1

very heaped cup Pastry Flour

1/2

cup

Ground Hazelnuts

1

Tablespoon

Flaxseed Meal

1

teaspoon

Baking Powder

1/2

teaspoon

Baking Soda

1/2

teaspoon

Pink Himalayan Sea Salt

3/4

cup

Soy Milk

1/2

cup

Canola Oil

5

Tablespoons

Maple Syrup

1/2

cup

Dark Brown Sugar

2

teaspoons

Vanilla Bean Paste

2

teaspoons

Hazelnut Extract

For Raspberry Jam:

1

cup

Frozen Raspberries

Scant 1/2 cup Caster Sugar

2

teaspoons

Lemon Juice

For Praline Buttercream

2/3

cup

Vegan Butter

1/4

cup

+ 1 Tablespoon Praline Paste

1/2

cup

Icing Sugar

1

teaspoon

Vanilla Bean Paste
Instructions
Make Jam: Combine raspberries and sugar in a pot, and stir over low heat till raspberries release their liquid and have combined with the sugar.

Once fully combined, leave to boil for about 5-8 minutes, or till thread-stage is achieved on a candy thermometer. I just test the jam by placing a small drop on a cold plate - it should firm up into a jam-like consistency when cooled. If not, let cook longer till this is achieved.

Remove from heat and pour into a clean bowl. Leave to cool and then refrigerate. Once cold, mix in lemon juice. Set aside.

Make Cupcakes: Line cupcake tin with 10 cupcake cases and preheat the oven to 175 degrees Celsius.

In a large bowl, sift together flour, hazelnut meal, flax seed meal, baking powder, baking soda and salt. Set aside.

In another large bowl, combine soy milk, canola oil, maple syrup, brown sugar, vanilla bean paste and hazelnut extract. Whisk to combine.

Add wet ingredients to dry, whisking till no lumps remain. Spoon batter into liners - you should fill them slightly more than half way.

Bake for between 20-25 minutes or till a skewer inserted through the center of the cupcake comes out clean. Let cool in tin for 5 minutes before removing cupcakes and letting them cool on a rack completely.

Make Praline Buttercream: Combine vegan butter and praline paste in the bowl of a stand mixer. Whisk till light and fluffy.

Add icing sugar and vanilla bean paste to mixture and then whisk for a few more minutes or till aerated and lightened in color. Transfer to a pastry bag fitted with a piping tip.

Assembly: Cut a cone out of each cupcake top and fill it with prepared jam. Trim the cut out piece so that just the circular top remains, and place it on top of the filled cupcake to seal the jam inside.

Pipe with prepared buttercream and decorate with fresh raspberries.