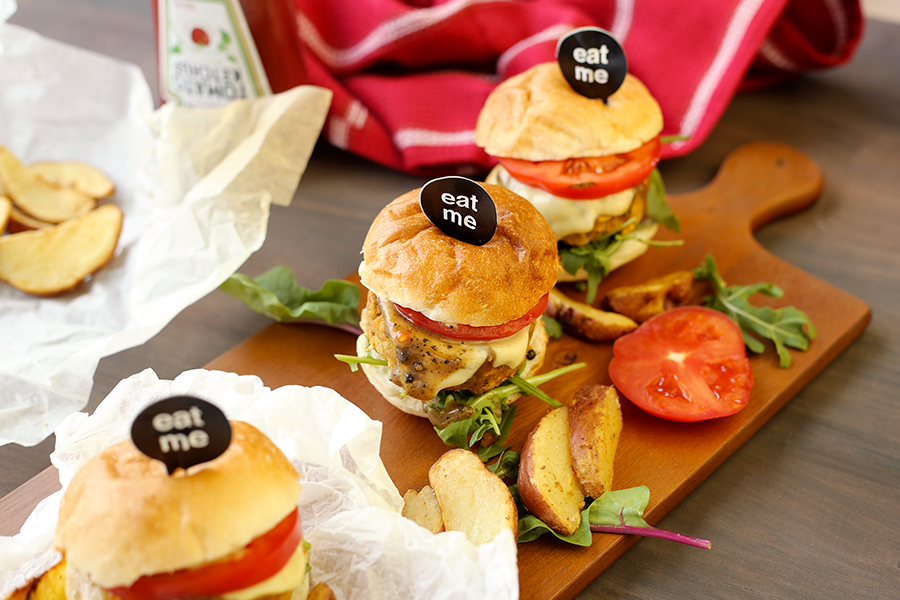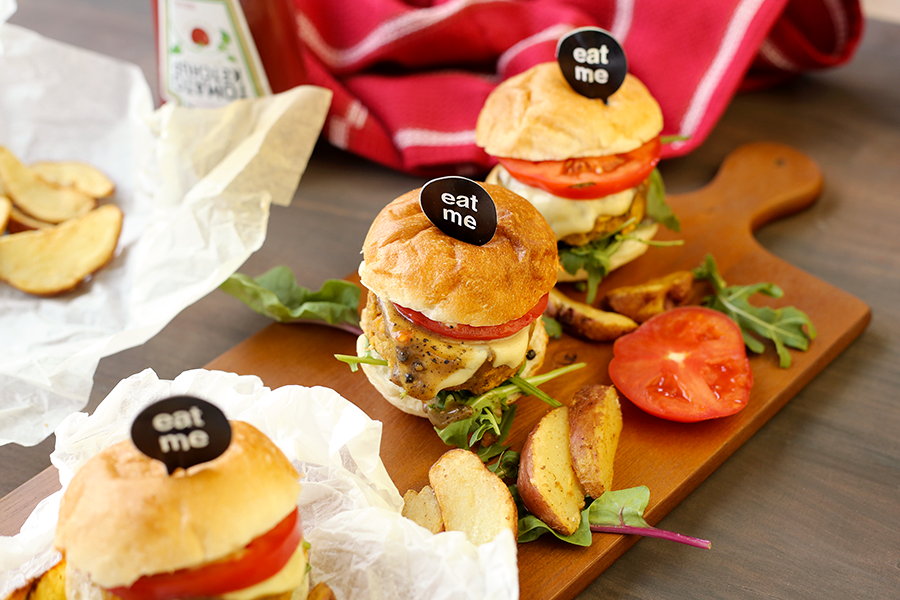 So the day begins like this: wake up, moan and b*tch about having to clean, clean anyway, make some freaking burgers.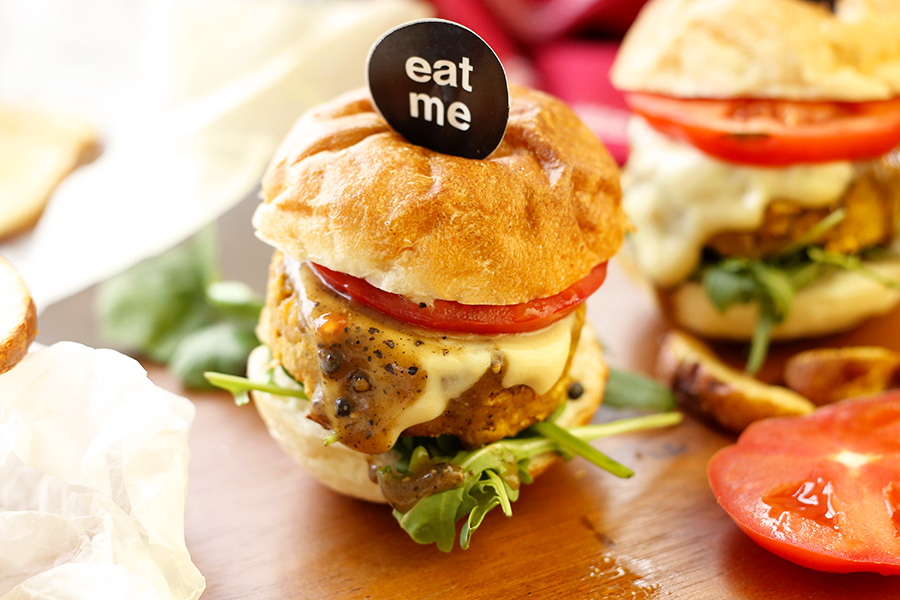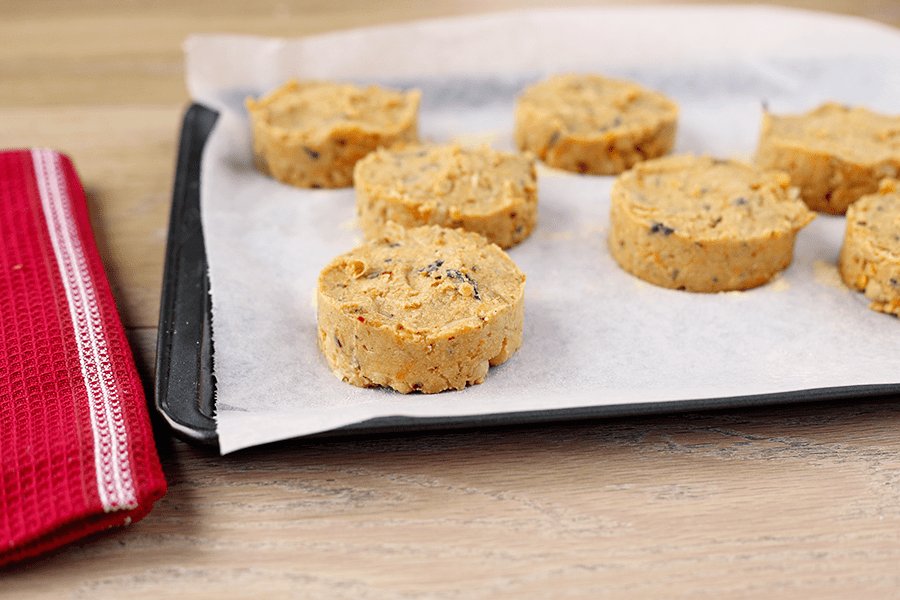 And so, the Vegan Black Pepper Burger was born. "Oh dear, not another Veggie Burger post on my INTERNETZ!!!" you must be thinking…."get these darn veggie burgers AWAY FROM ME!!!!!". Oh but let me tell you – these burgers are absolutely amazing and pack a real punch! They consist of a patty made out of lentils, chickpeas and carrot, and are then topped off with a FIERY black pepper sauce AND a Dijon Mayonnaise. All vegan, of course! And here's a little tofu nugget of information: Levan, who grew up eating lots of regular meat-based burgers ACTUALLY prefers this burger to normal ones. So they MUST be good!
FREE EBOOK SERIES! 5 SECRETS FOR FOOLPROOF VEGAN DESERTS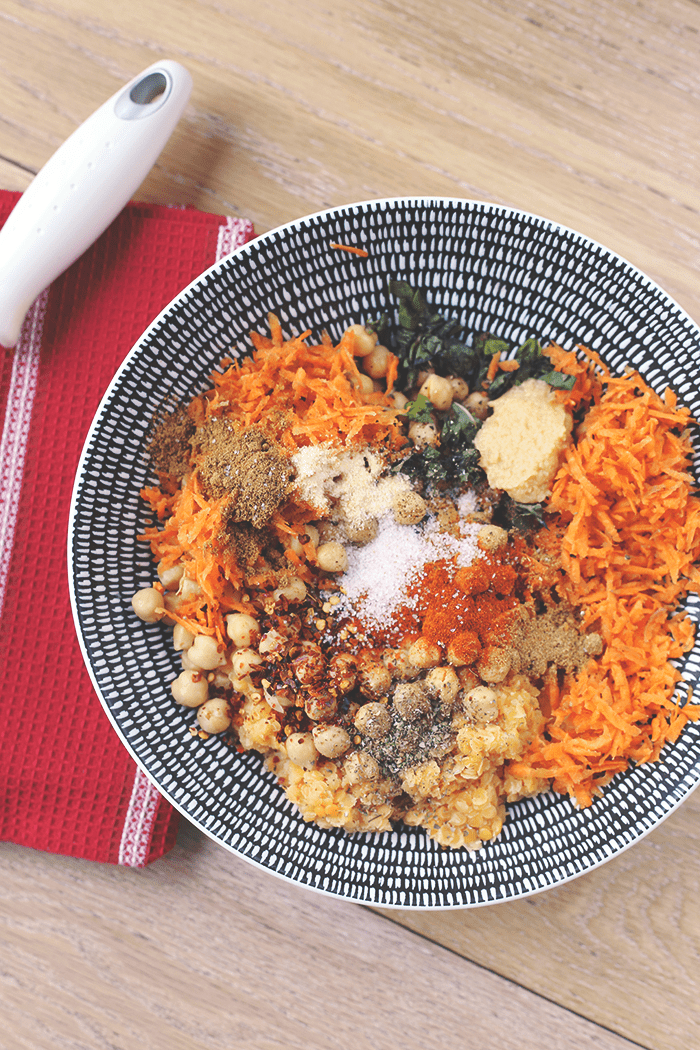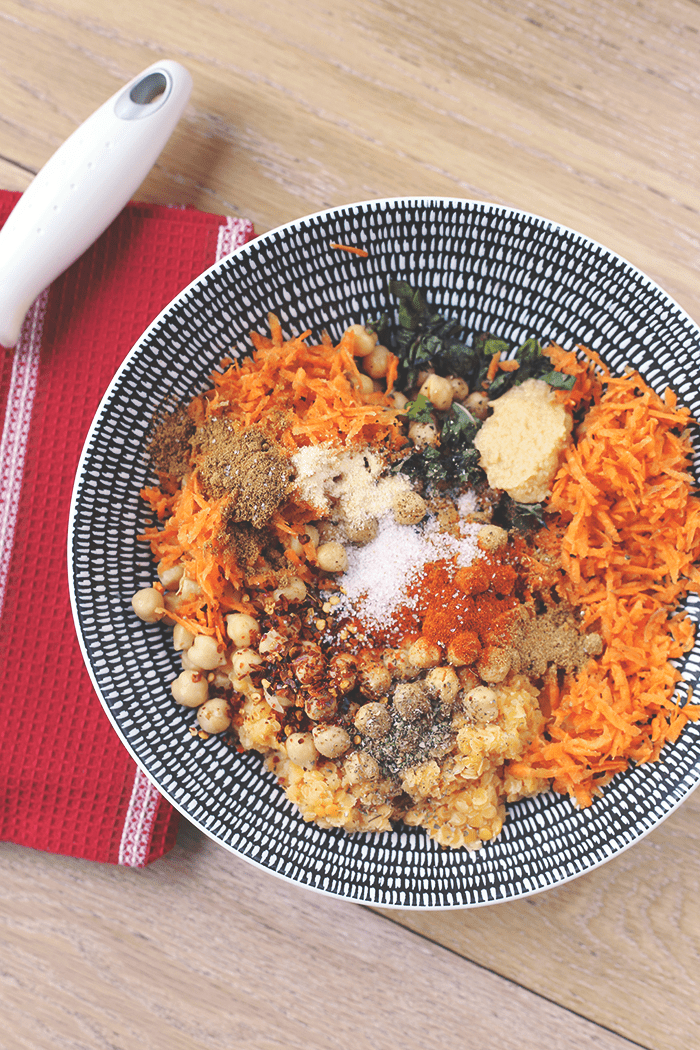 These burgers couldn't be any easier to make. You cook some lentils up, mix in some aromatics and spices, throw in a can of chickpeas and a dash of chickpea flour to bring everything together, and then MASH AWAY! You can form them into any shape you want..dinosaurs, lions, perhaps even the shape of your mother's left thigh. After shaping, they're popped into the oven to ensure they're cooked through, and then at this point you can let them cool and freeze them, or keep them in the refrigerator for tomorrow's dinner. Sear them in a skillet with a touch of oil when you're ready to eat them, sandwich between a bun and then top it all off with homemade black pepper sauce and BOB'S YOUR UNCLE! WHO IS BOB and why IS HE EVERYONE'S UNCLE? WELL REGARDLESS IF YOUR UNCLE'S NAME IS BOB OR NOT, YOU'LL STILL LOVE THIS DELICIOUS VEGAN BLACK PEPPER BURGER !!!!!!!!!!!!!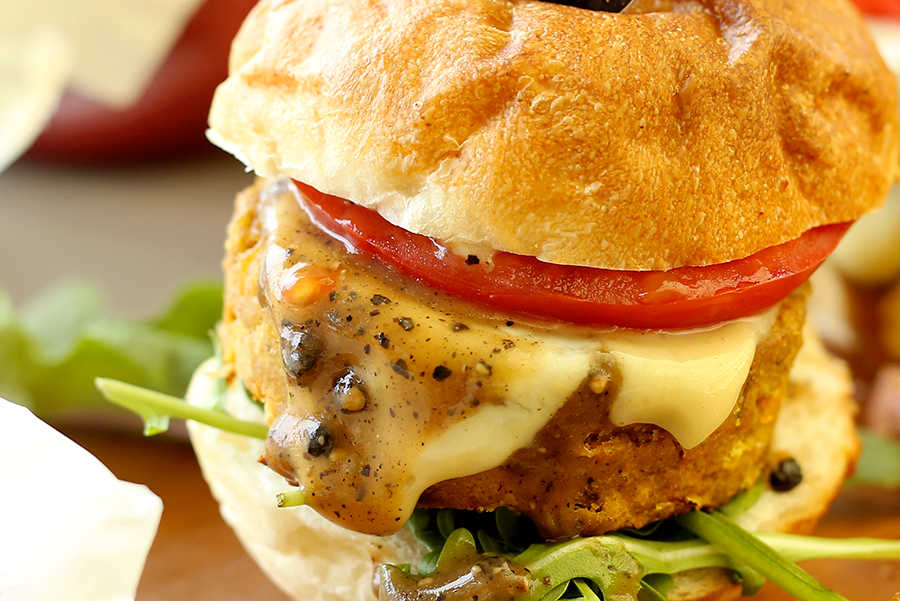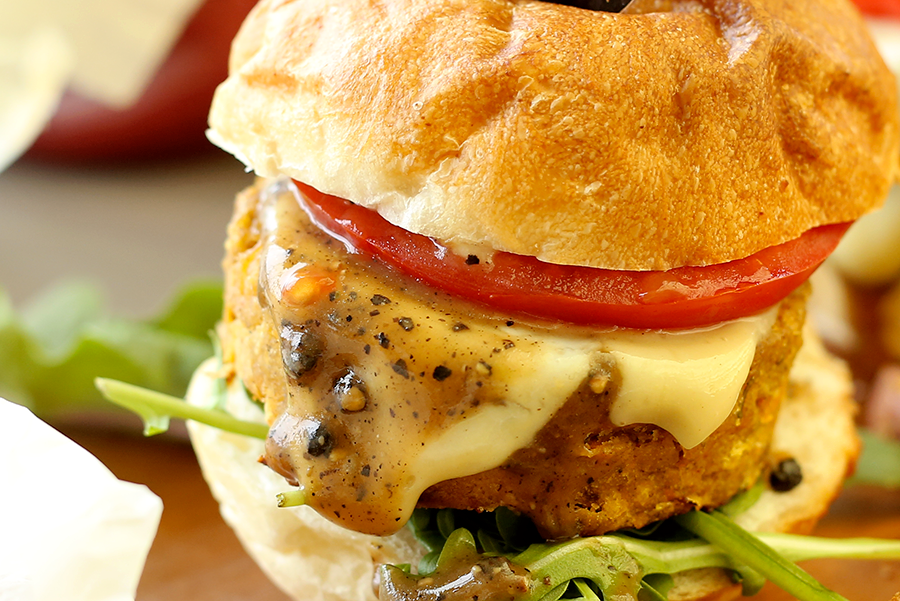 Look at that ooey gooey spicy goodness! Let's talk about the black pepper sauce now – this stuff is addictive. It also blows your brains into a million little pieces because it's THAT intense. I err on the cautious side when it comes to the amount I put on a burger, but Levan PILES it on because he's a huge fan of spice. Feel free to cut down on the amount of pepper you use, or perhaps just use a little less of it if you're intolerant to spicy things like I am. (I find Doritos spicy too….so yeah.) The black pepper sauce pairs perfectly with some Vegan Dijon Mayonnaise and a thick, juicy slice of ripe tomato. Heavenly!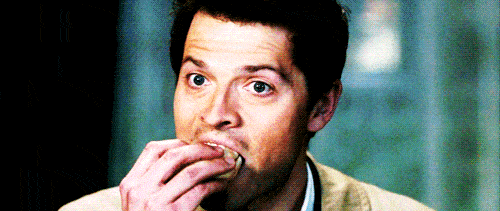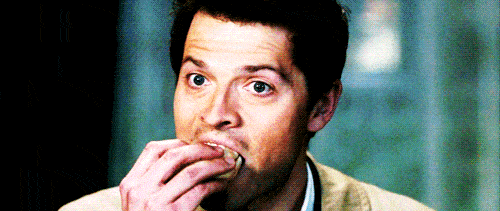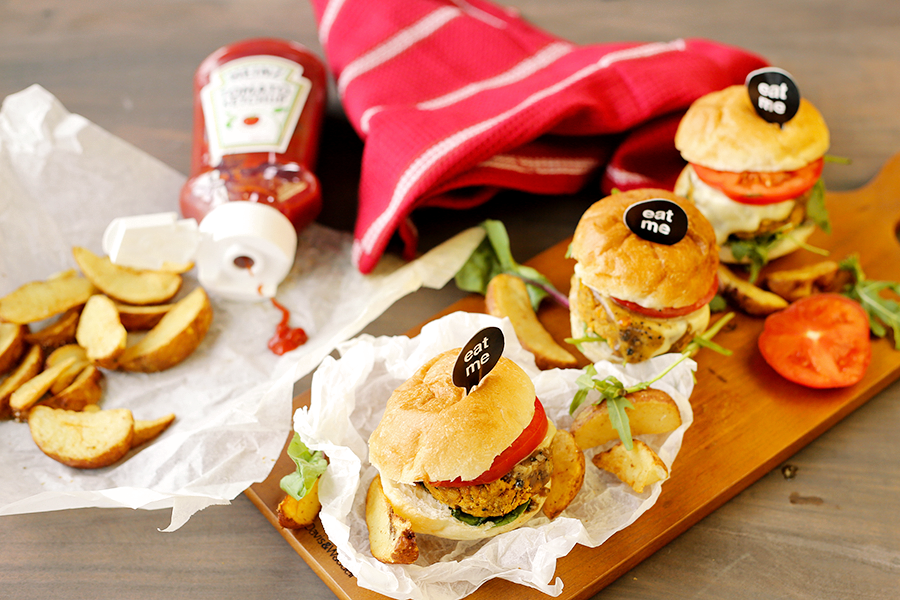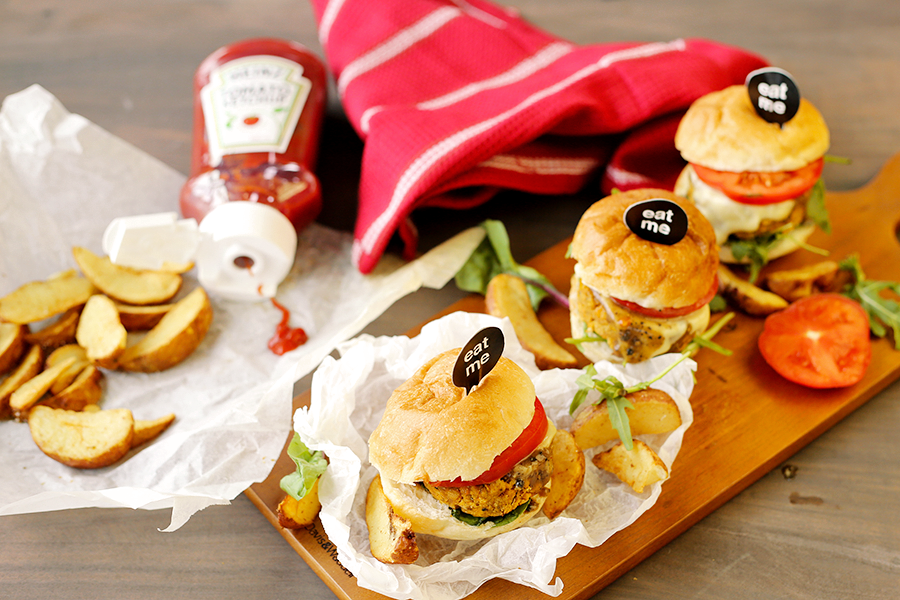 One great thing about this burger is that it is very healthy and has the potential to be practically fat-free. There is no fat added to the patties, they're baked, and when you fry them to create that delicious, crispy crust before serving, you can always use zero calorie cooking spray. We use FAT FREE vegan mayonnaise for the Dijon Mayo, and only 1 Tablespoon of Vegan butter in the recipe for the black pepper sauce (the recipe also makes WAY too much sauce for the number of burgers you will make, so you can always keep it in the refrigerator and use it in tons of other dishes or just as a side for some potato wedges!)
 So if I haven't already convinced you, to make these Vegan Black Pepper Burgers, let me entice you with a few more photos.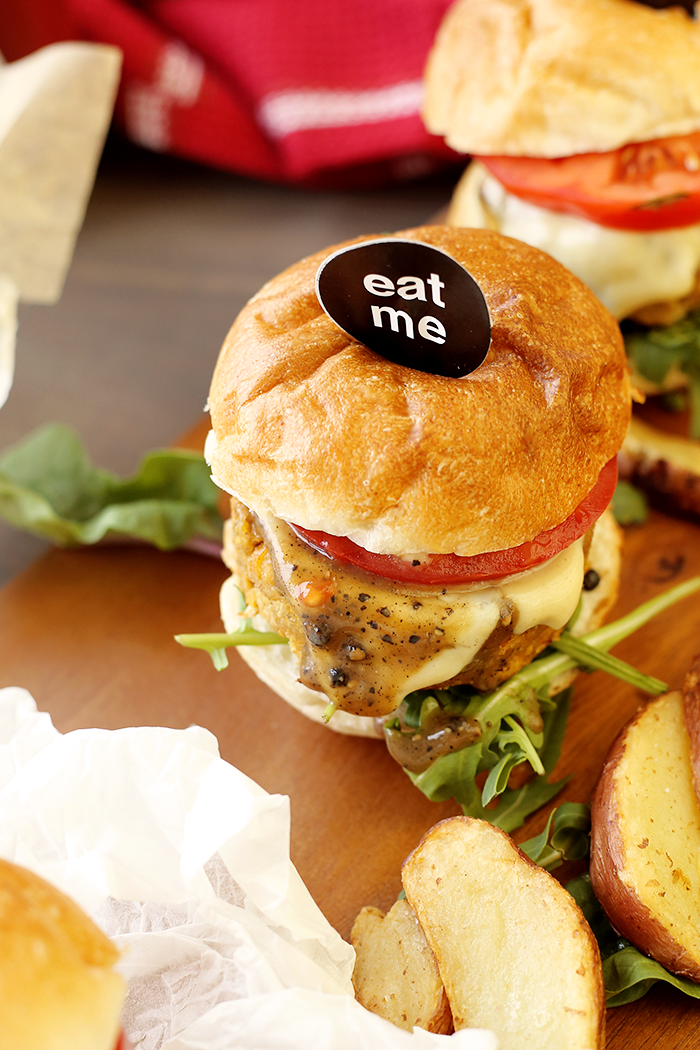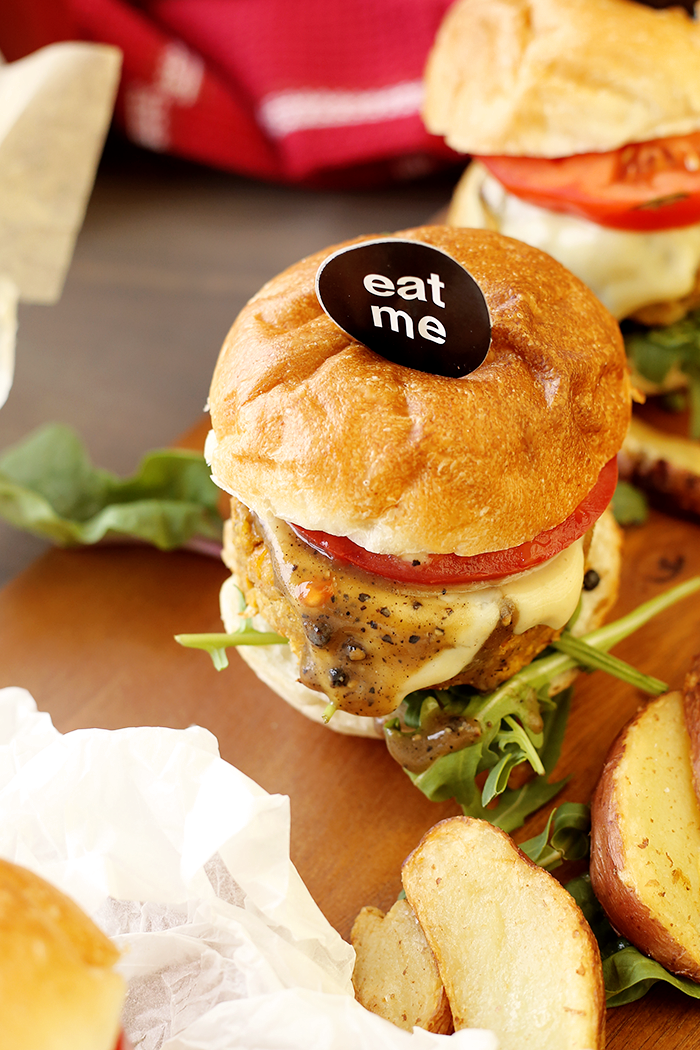 Is your mouth watering yet? Because ours are just looking at the photos even though we just devoured a whole bunch of them (yes we still have 2 left! yay!). We'll leave you with the recipe for our Vegan Black Pepper Burgers and we guarantee you that you'll love them if you make them because: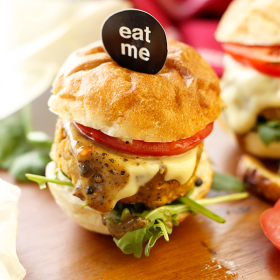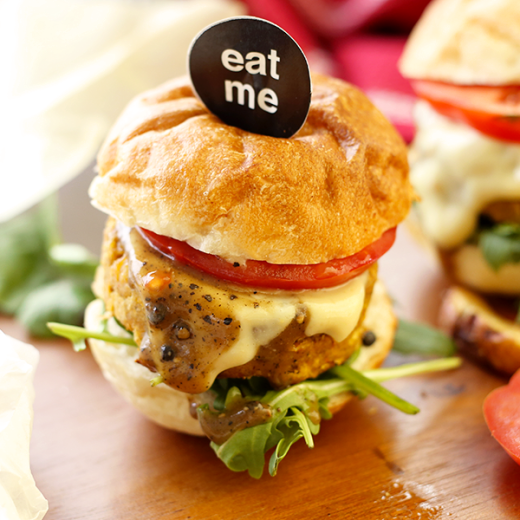 Vegan Black Pepper Burgers
Ingredients
For the Burger Patties:

1

can of Chickpeas

drained

1/2

cup

of Dry Red Lentils + 1 cup of water

1

Carrot

grated

2

teaspoons

finely chopped Thai Basil

2

teaspoons

Ground Coriander

2

teaspoons

Ground Cumin

1/2

teaspoon

Cayenne Pepper

1

teaspoon

Red Chilli Pepper Flakes

1/2

teaspoon

Onion Powder

2

teaspoons

Minced Garlic

2

teaspoons

Paprika

1/3 - 1/2

cup

Chickpea Flour

Salt/Pepper to taste

For the Black Pepper Sauce:

1

Tablespoon

whole black Peppercorns

1

cup

Vegetable Stock

2

Tablespoons

Rice Milk

1

Tablespoon

Sugar

1/4

teaspoon

Salt

1

Tablespoon

Sweet Dark Soy Sauce

for color and sweetness

2

teaspoons

Regular Dark Soy

1

Tablespoon

Cornstarch

1

Tablespoon

Vegan Butter

For Dijon Mayonnaise:

1/3

cup

Vegan Mayonnaise

1

Tablespoon

Spicy Dijon Mustard

To serve:

Bread rolls

Rocket, Spinach, Tomato
Instructions
Prepare Black Pepper Sauce: Using a spice grinder, freshly grind your peppercorns and then transfer it to a bowl. Add Vegetable stock, rice milk, sugar, salt, sweet dark soy, regular dark soy and cornstarch into the bowl. Whisk to combine.

Transfer mixture to a small saucepan and add your knob of vegan butter. Whisk over low heat till butter has melted, and then bring to a boil so that the sauce thickens. Once thickened, pour into a bowl and set aside.

Prepare Dijon Mayonnaise: Mix mayo and mustard together. Set aside.

Prepare Burger Patties: Cook lentils in water till tender. (Bring to a boil, and let simmer covered for about 15 minutes. Add more water if necessary). You want your lentils to be a little on the mushy side, to help bind the burger.

Preheat oven to 180 degrees Celsius.

Combine cooked lentils, chickpeas, carrot, thai basil, ground coriander, ground cumin, cayenne pepper, chilli pepper flakes, onion powder, minced garlic, paprika, chickpea flour and salt/pepper in a large bowl.

Using a potato masher, mash ingredients together well. Leave some chickpeas slightly unmashed to create texture in the burger patty.

You should have a mixture that will form into patties. If it is too wet, add a little more chickpea flour.

Form your mixture into 7 patties (we made mini burgers) and place on a non-stick paper lined baking tray. Bake patties for 30 minutes.

At this point, you can let them cool and wrap them up individually for freezing or refrigerating. If you're going to serve them immediately, let them cool for a short while and then sear them in a hot, lightly oiled pan to create a nice crust on the outside.

Serve in a warm, toasted split bun and top with rocket, spinach and a tomato slice. Drizze both sauces on and enjoy!