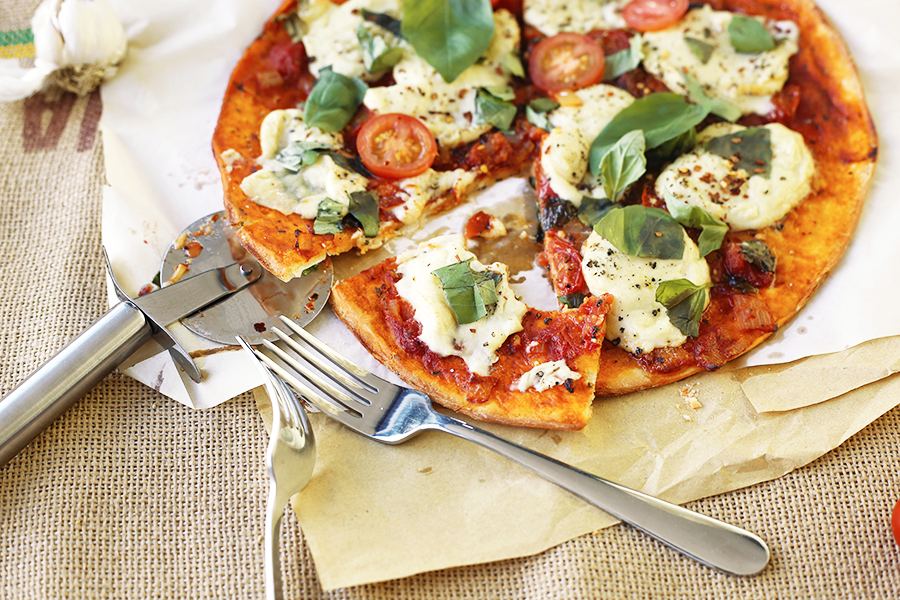 Hello everyone! Before we start today's post on our delicious Vegan Pizza Margherita, we just want to let you know that our cat Richard Parker sends his heartfelt appreciation to each and every one of you for your great response to the post he authored last week. However, Richard feels like he just isn't that interested in Food Blogging (neither does he care for vegan pizza recipes), and thus he has decided to retire from the food blogging scene. Three cheers for Richard Parker, you will be missed!!!!!!
Anyway…. before moving on to our vegan pizza recipe, I'm just wondering… Has anyone ever come across PIZZA CAT? Pizza cat is adorable. Pizza cat is amazing. Pizza cat is CAT MIXED WITH PIZZA.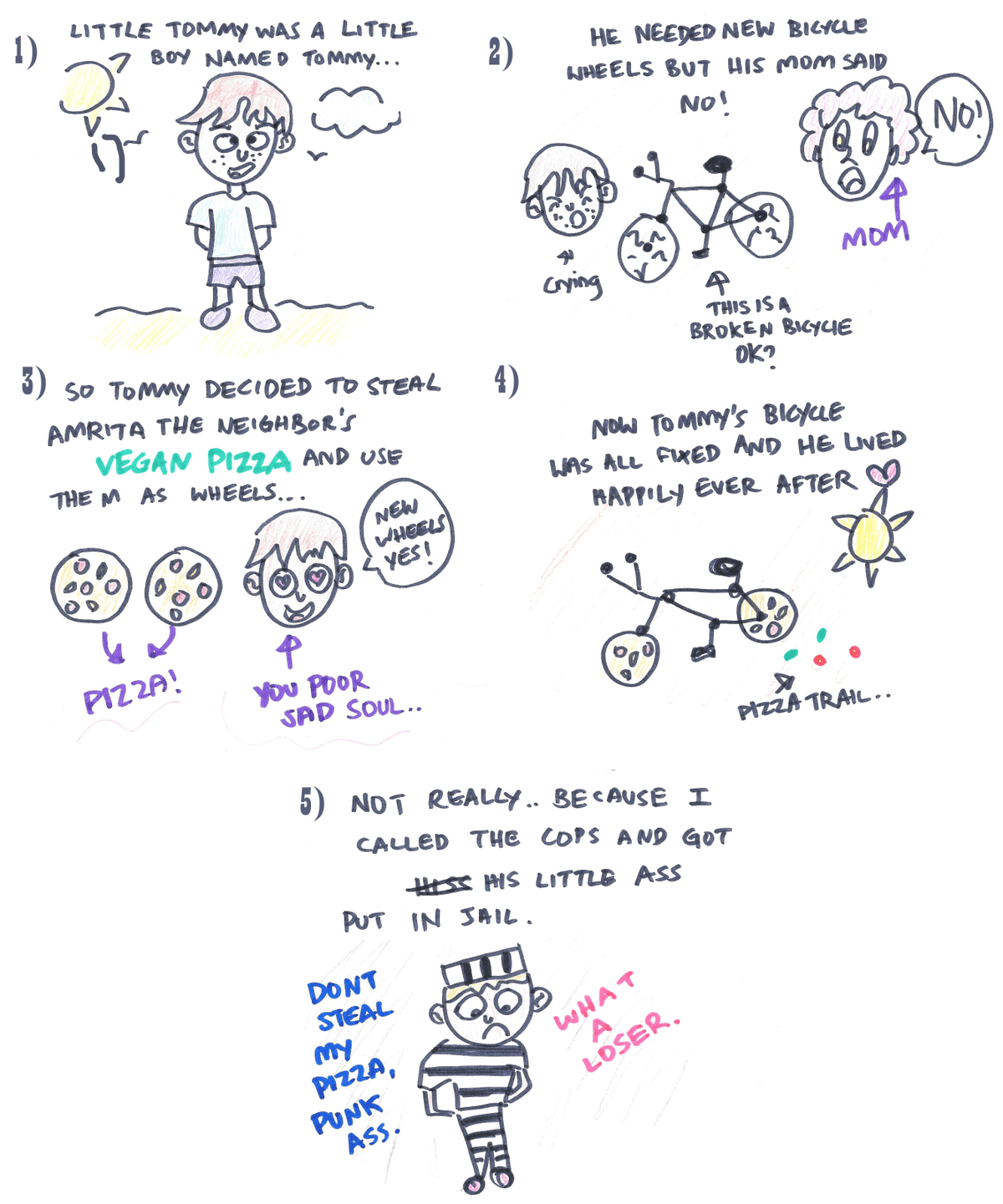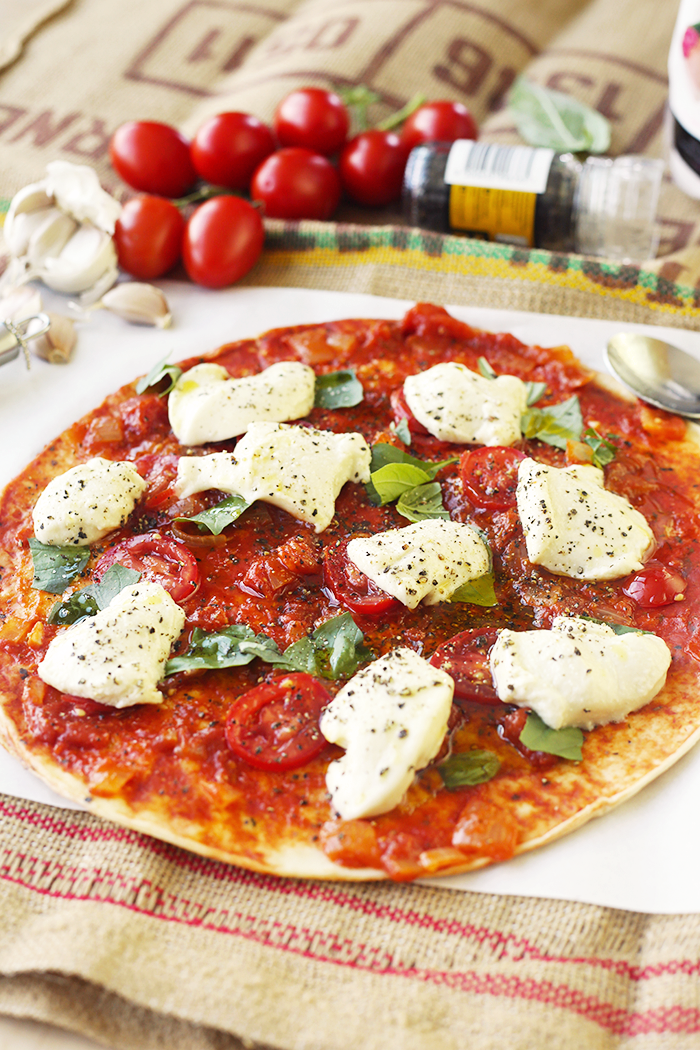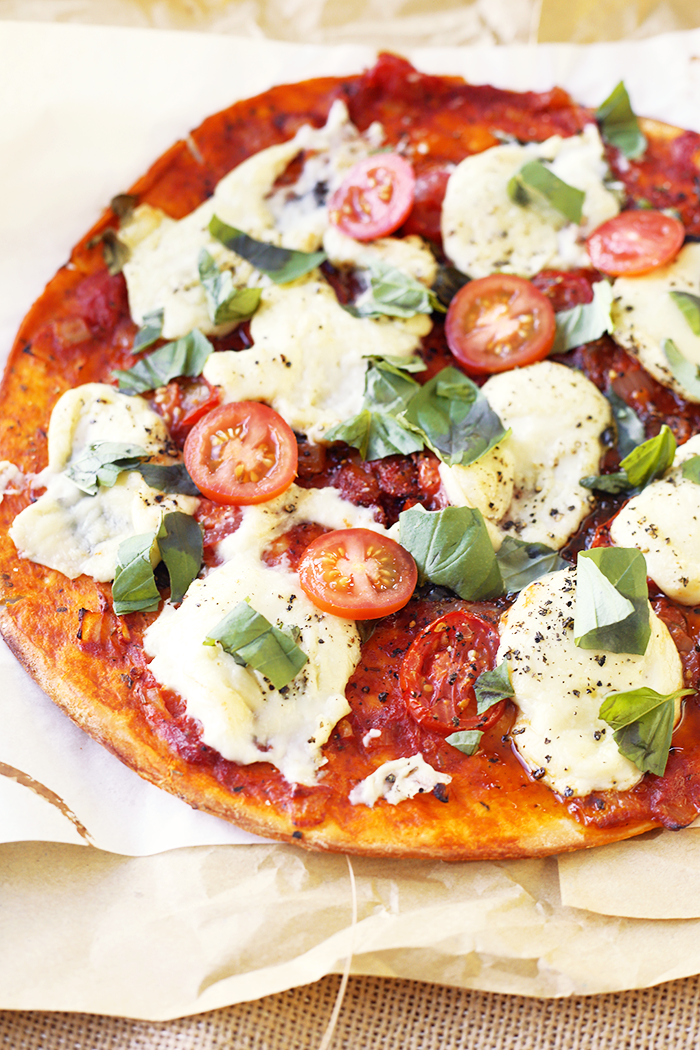 After looking at thousands of photos of Pizza Cat, I decided that it was time I cooked up a delicious Vegan Pizza Margherita for this humble blog of ours. I mean, who doesn't like Vegan Pizza? Even bad vegan pizza is good vegan pizza. Okay, maybe not, that's stretching it! But, anyways, our simple, homemade pizza was so good that even Little Tommy couldn't lay his filthy hands off it!  See, that's how good this Vegan Pizza Margherita recipe is. Sadly, Tommy is now in jail. Scumbag thief that he is.
FREE EBOOK SERIES! 5 SECRETS FOR FOOLPROOF VEGAN DESERTS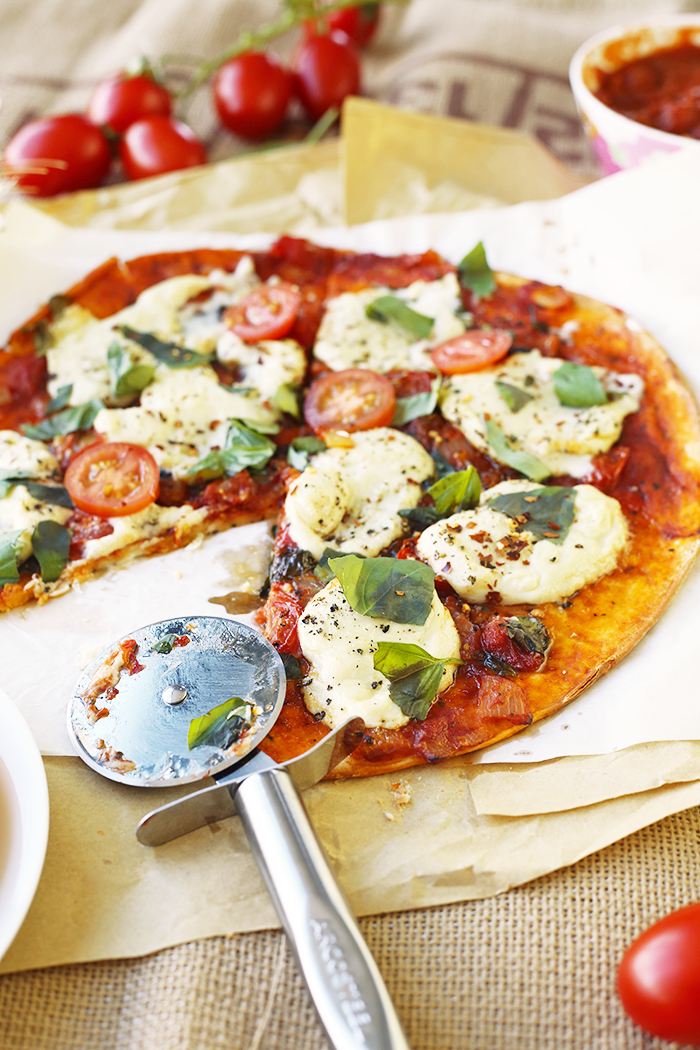 We bought a crispy vegan Pizza Base from an Italian Deli at the South Melbourne Market, then topped it off with Homemade Tomato Sauce and Homemade Vegan Mozzarella. Feel free to make your own base if you want, but it's Humpday and we don't have time for that. Plus, anything made in an Italian Deli is sure to be better than anything I could make at home. All this being said, I'm sure some of you might be thinking… Vegan pizza? YUCK! Rabbit food much? Well, I'm here to tell you that you're completely wrong and NOT YUCK! I promise you this vegan pizza recipe is just as tasty as any non-vegan pizza you may have had. In fact, you can hardly even tell it's Vegan (whatever that means).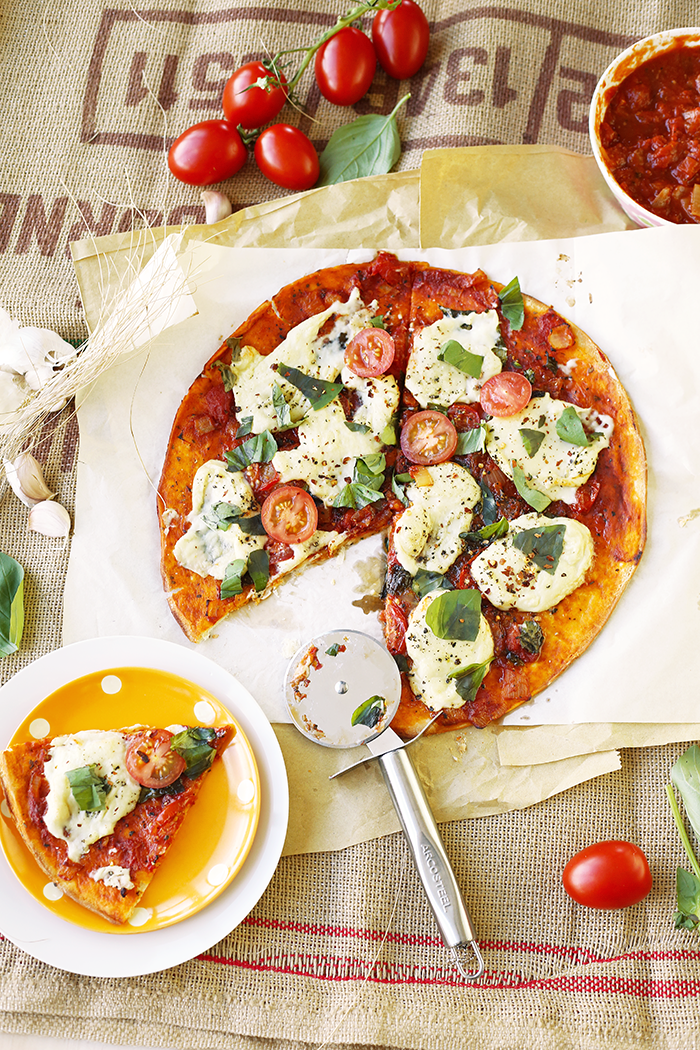 The delicious Vegan Mozarella or "Moxeralla" as it's known online was a recipe I found on Vedged Out and adapted to my taste. And oh my, was it amazing. It's made from a teeny portion of cashews, water, nutritional yeast, salt, apple cider vinegar and the key ingredient: tapioca starch. Once everything is cooked together, you end up with a super nice, stretchy, gooey, delicious ball of cheese which could replace normal Mozzarella in almost all uses. Plus, Moxarella is SO much healthier for you than normal cheese – it doesn't have the copious amounts of fat and grease than dairy cheese has and it is so cheap and simple to make. You need to try making this asap! Thr original recipe and quantities can be found on VedgedOut's Blog, and in our version we replaced lemon juice with Apple Cider Vinegar and added 1 Tablespoon of Nutritional Yeast to the mix.
I'll leave you with the recipe for my simple homemade tomato sauce, a rough estimation of a recipe my neighbour Carlo gave me. Yes, he's Italian. Trust the Italians, they make the best pizzas and tomato sauces ever. Please let us know in the comment box if you're planning to try this vegan pizza recipe out… because you really should. Okay, maybe after Christmas. I know you're busy. Till next time!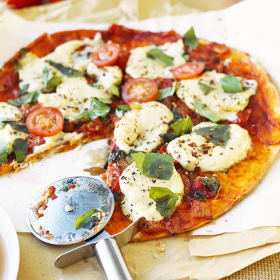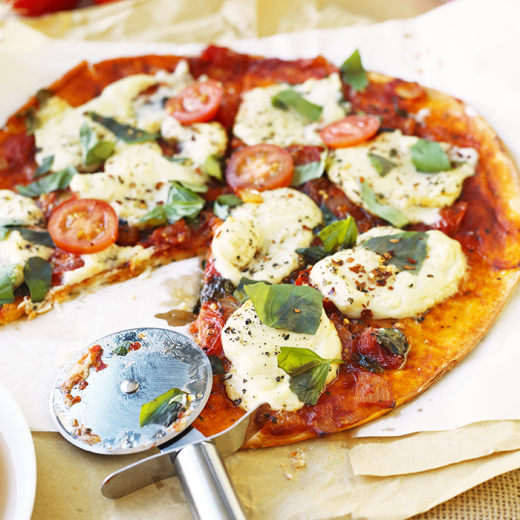 Vegan Pizza Margherita
Ingredients
1

Storebought Vegan Pizza Base

For Simple Tomato Sauce:

1

Tablespoon

Olive Oil

1

White Onion

diced

2

cloves

Garlic

minced

1

tin Crushed Tomatoes with Paste

1

teaspoon

Sugar

1

Tablespoon

Dried Mixed Italian Herbs

Salt/Pepper to taste

For Vegan Mozarella: - Foxy Moxy by Vedged Out

- 1 tablespoon Nutritional Yeast

- 2 teaspoons Apple Cider Vinegar instead of Lemon Juice

Toppings:

Cherry Tomato Slices

Basil

Extra Virgin Olive Oil

Dried Chilli Pepper Flakes
Instructions
Prepare Tomato Sauce: In a pot, heat olive oil up and then sautee garlic and onions for 10 minutes or till transluscent. Add tomatoes, sugar, mixed herbs, salt and pepper in and stir to combine. Bring to a boil, then turn down to a simmer and cook for 25 minutes, uncovered.

Prepare Vegan Mozarella:Combine all ingredients in a high power blender and blend till smooth. Transfer to a saucepan and heat over low heat, whilst continiously stirring.

Stir until cheese has thickened into a sticky, stretch mass. Set aside.

Assemble Pizza: Preheat oven to 250 degrees Celcious. If you have a pizza stone, go ahead and use it. Otherwise, no worries.

Spread tomato sauce on Pizza Base and then top with dollops of Mozzarella. Scatter sliced cherry tomatoes and basil all over the pizza, and then drizzle the entire surface lightly with extra virgin olive oil and dried chilli pepper flakes.

Bake for 12-15 minutes, or till pizza base is cooked and cheese is bubbly.

Top with more fresh basil leaves once out of the oven. YUM!