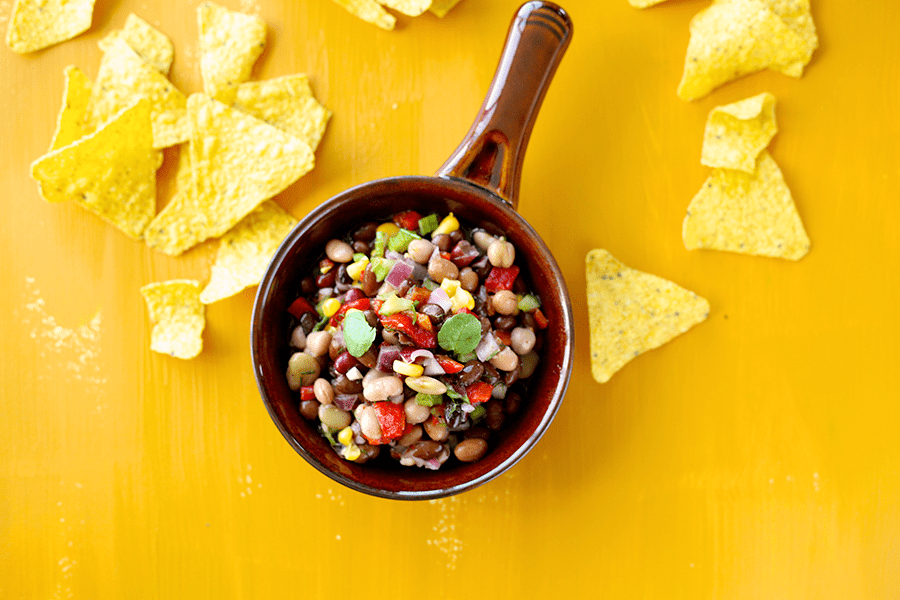 Happy Sunday, folks! I wanted to make something really light for the weekend, and then I remembered a recipe I bookmarked a while ago from Greg and Georgia's blog, Full of Beans (How many of us are guilty of bookmarking 4 trillion recipes and then never making them in the end? I usually religiously open 30 tabs at a time which causes my macbook to completely stop functioning altogether…yet I still continue doing this……interesting).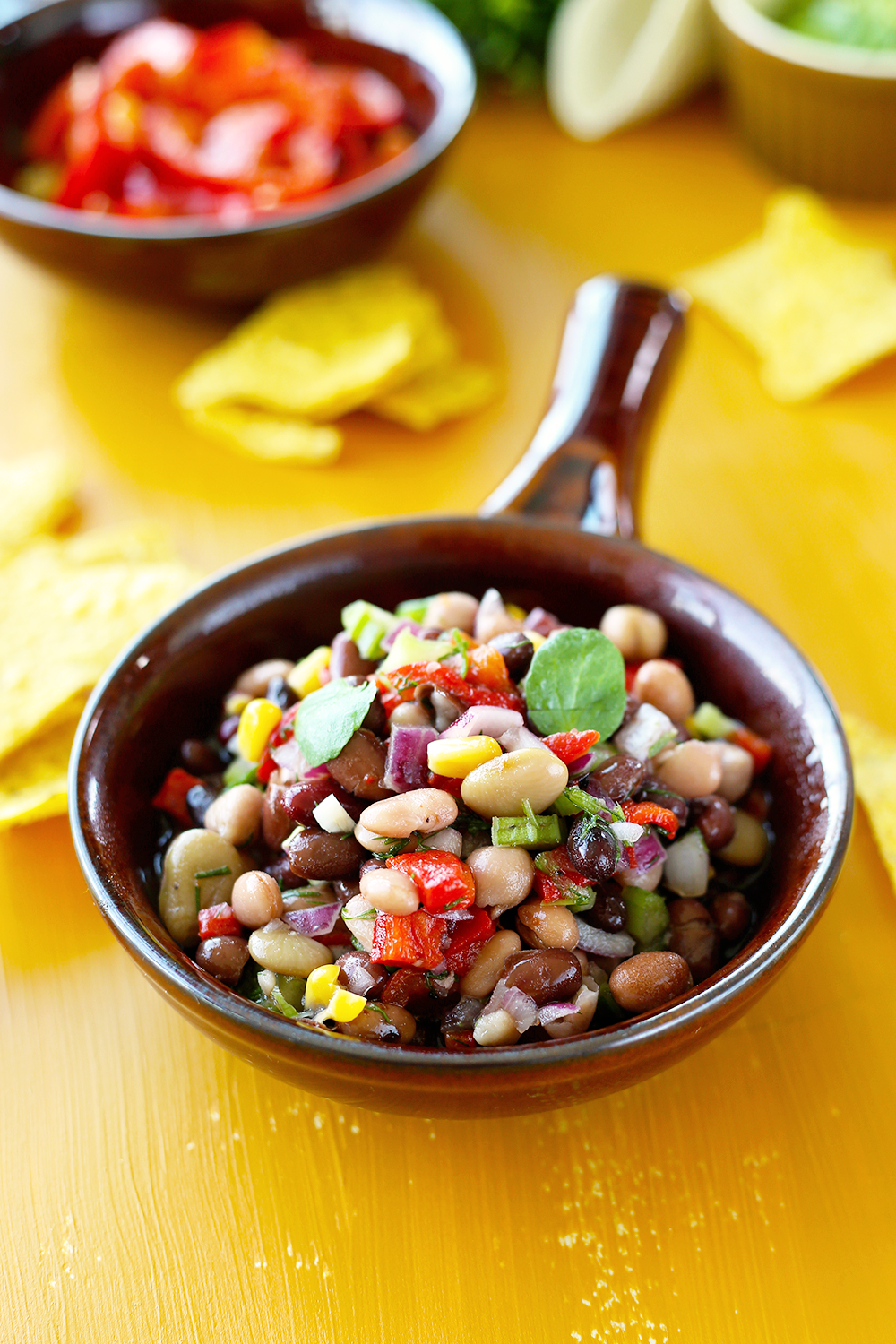 A couple of weeks ago, I came across Greg and Georgia's bean dip recipe which immediately fascinated me because I personally have never seen a bean dip that isn't smashed, crushed or pureed. Perhaps I'm living under a rock – oh wait, I am. Anyway, Georgia and Greg were raving about it and I promised myself that I'd give this bean dip recipe a try sometime soon… and guess what?!?! I DID! (if you're slow and haven't already realized that).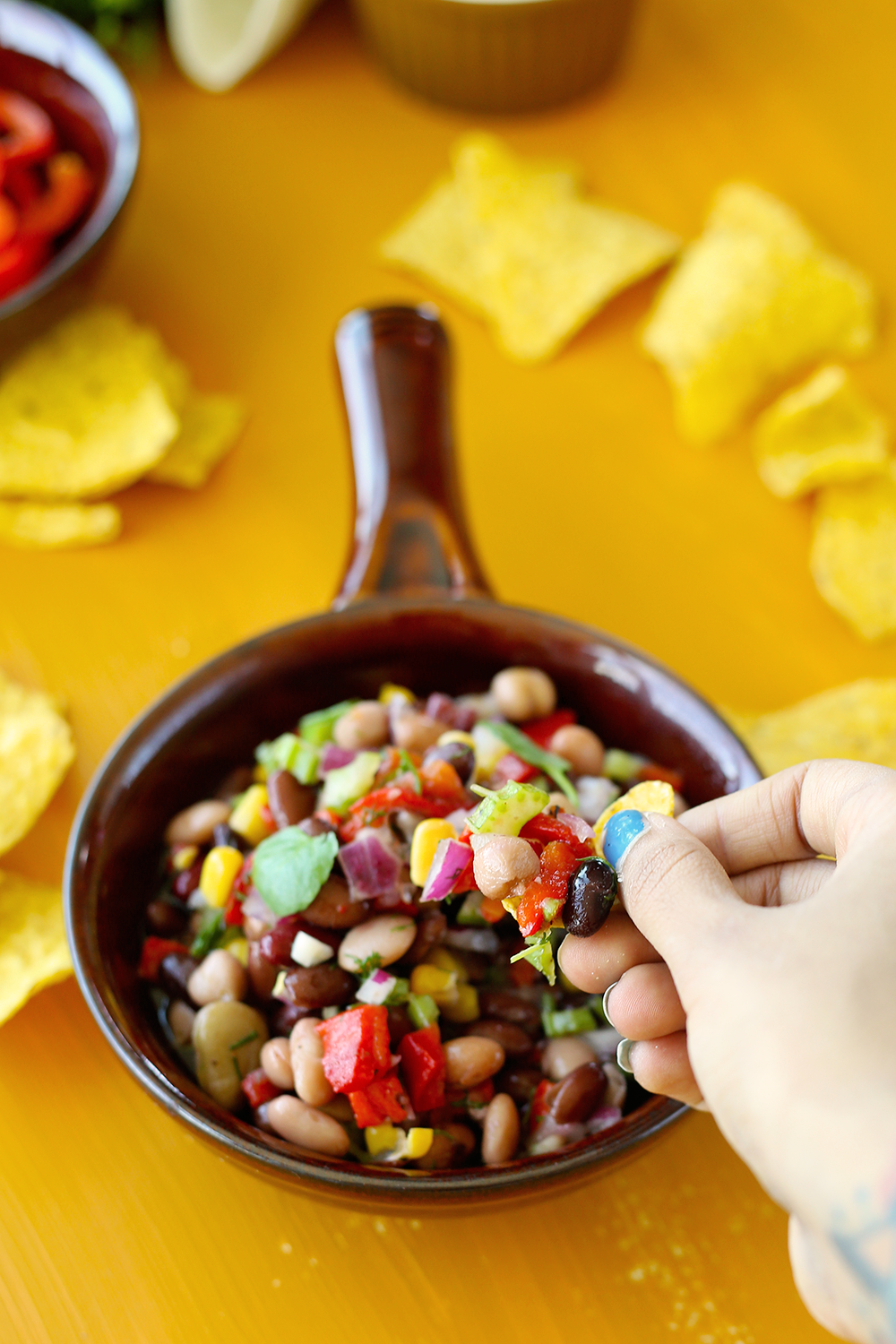 This bean dip recipe most definitely lived up to expectations – tons of mixed beans, corn, roasted red pepper and red onion all tossed in a delicious sweet/sour dressing made with apple cider vinegar and sugar. It benefits from sitting in the fridge overnight because all the flavors have a chance to mingle and it also helps mellow the sharp kick from the raw red onion.
FREE EBOOK SERIES! 5 SECRETS FOR FOOLPROOF VEGAN DESERTS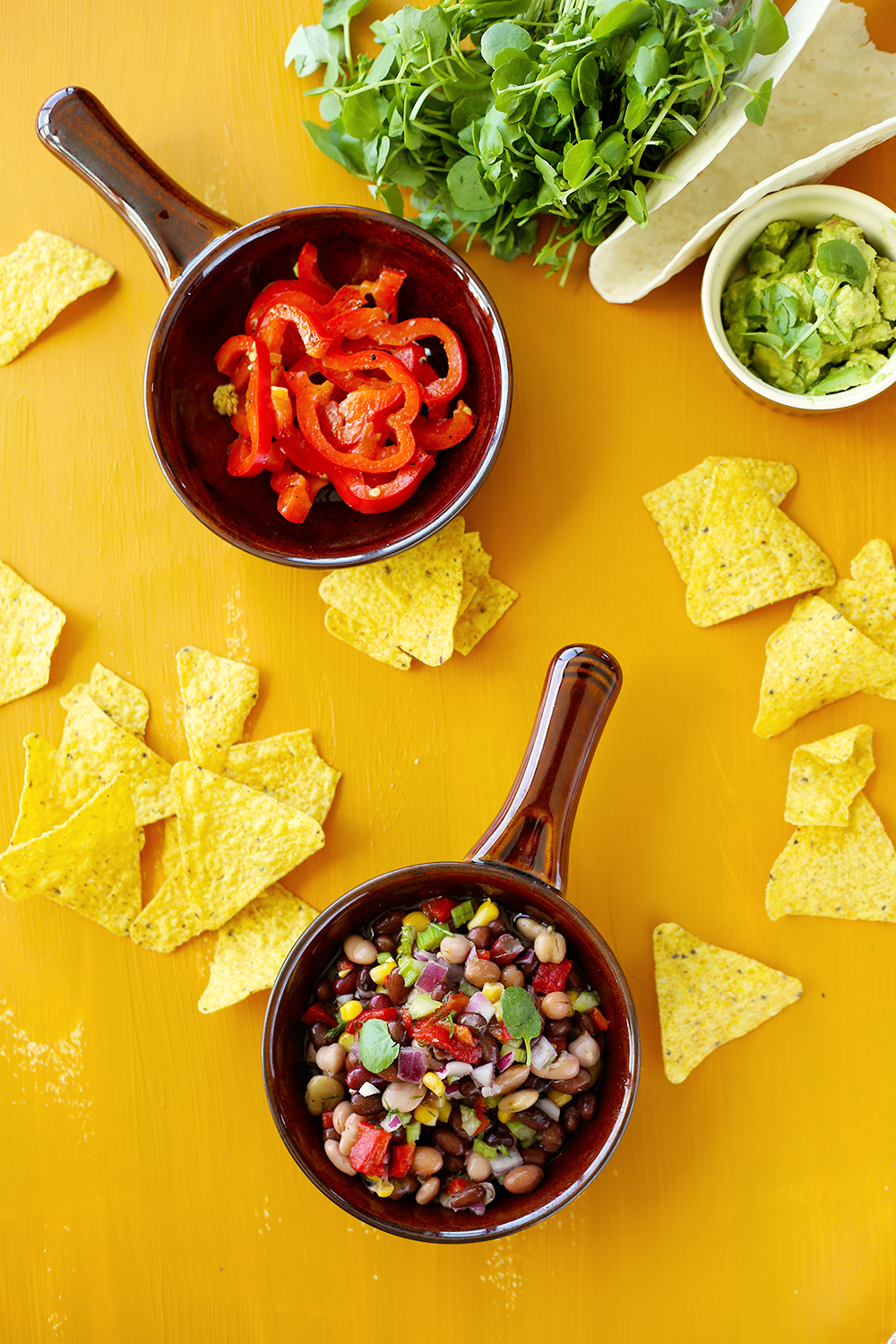 Greg and Georgia's  bean dip is delicious on its own out of the bowl, but you most definitely need to try it in a wrap with some sautéed red pepper, smashed avocado and watercress. I made a bunch of wraps with the bean dip and gave some to my non-vegan neighbors who inhaled them in record time. A word of caution: do not over-fill your wraps – you'll end up crying when everything spills out and all your efforts have turned to dust. Don't ask me how I know this.
Back to the recipe – the only changes I made to the Greg and Georgia's original bean dip recipe was to halve the dressing quantities and add a touch of dill and balsamic vinegar to the mix. I also completely omitted the oil – but that's just a personal choice. Do whatever floats your boat. PS: The Black Eyed Peas in the original recipe had to be replaced with a 5 bean mix simply because I haven't seen Black Eyed Peas anywhere in Australia. (it must be because Will.I.Am is flying solo now)…HA HA HA get it?…Nevermind.
Anyway, hop on to Full Of Beans to get the recipe for this bean dip – it's vegan, gluten free, and MUCHO DELICIOSO. Don't stop at just the bean dip though – check out some of Greg and Georgia's other recipes…they even make YouTube videos which are pretty rad.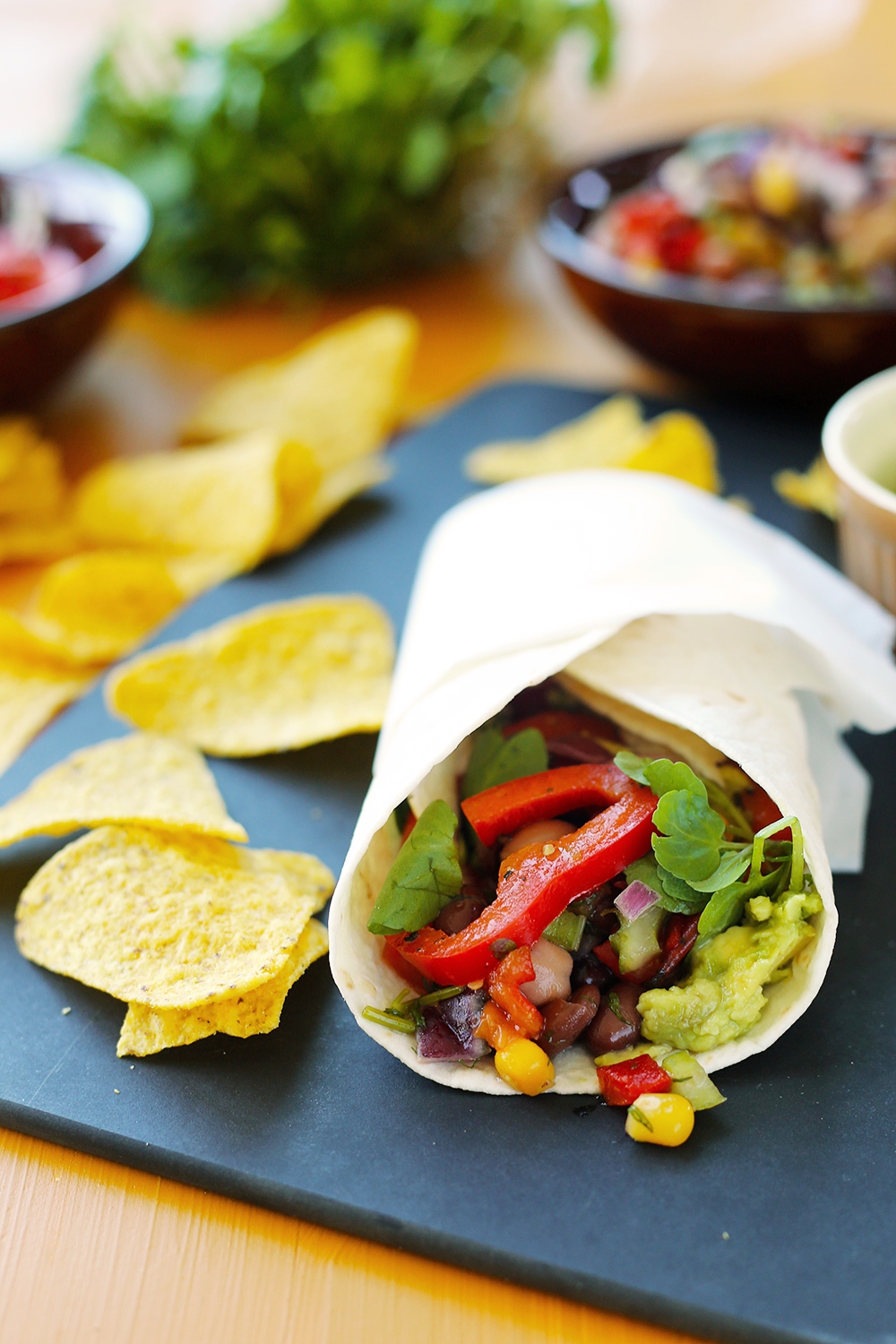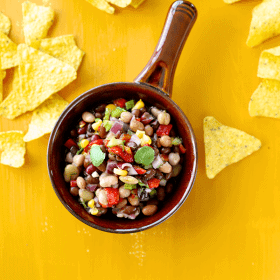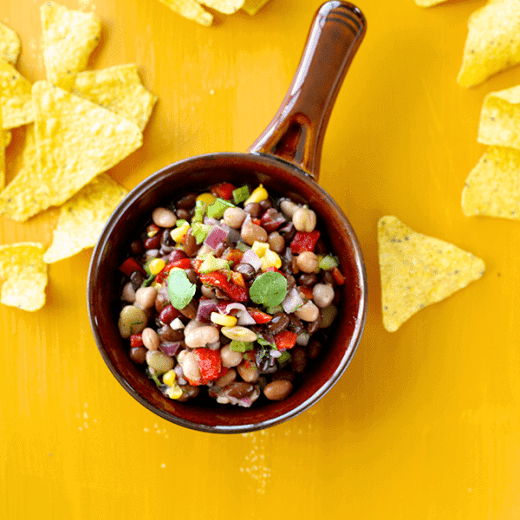 Addictive Bean Dip & Wrap
Ingredients
6

Soft White Wraps

1

Large Red Pepper

sliced

1

Tablespoon

Olive Oil

2

Avocados

Juice of 2 Limes

Watercress

1

Bean Dip Recipe

Corn Chips

to serve
Instructions
Sautee red pepper in olive oil till softened, season and set aside. In another bowl, smash avocado with lime juice and season with salt and pepper.

Heat wraps to soften and fill with sauteed red pepper, smashed avocado, watercress and bean dip.

Wrap up and enjoy.