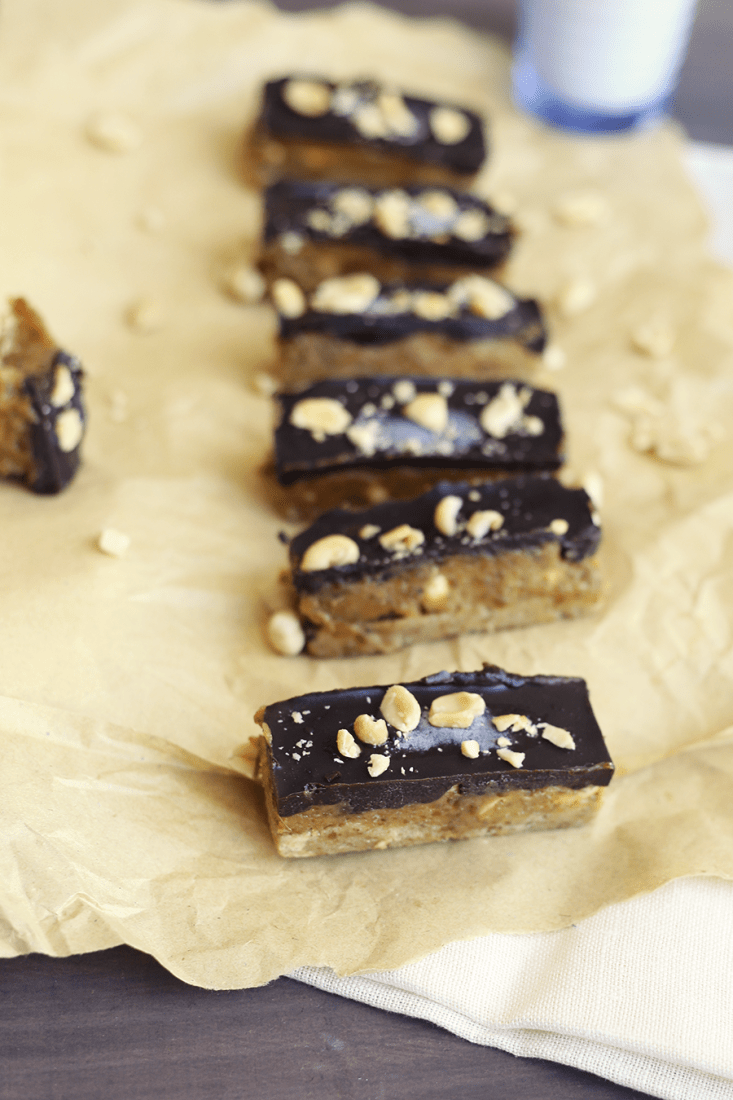 I have SO MANY THINGS TO DO THIS WEEK! Therefore, this post is going to be a short one 🙂 Let's talk about Snickers – it has got to be my favourite candy bar of all time. Sadly, Snickers is no where near Vegan and thus, I have not had one in a long time. A couple of months ago, I purchased a Vegan candy bar that was supposed to taste like Snickers – however, upon reading the ingredient list, I was immediately put off. It was loaded with white sugar and copious amounts of chemicals that I couldn't pronounce. Always a bad sign. It was basically Vegan junk food. Not for me, no thanks! I'd much rather make these Homemade Snickers Bars at home (I can pronounce all the ingredients in this one and I'm sure you can too… unless you're illiterate!).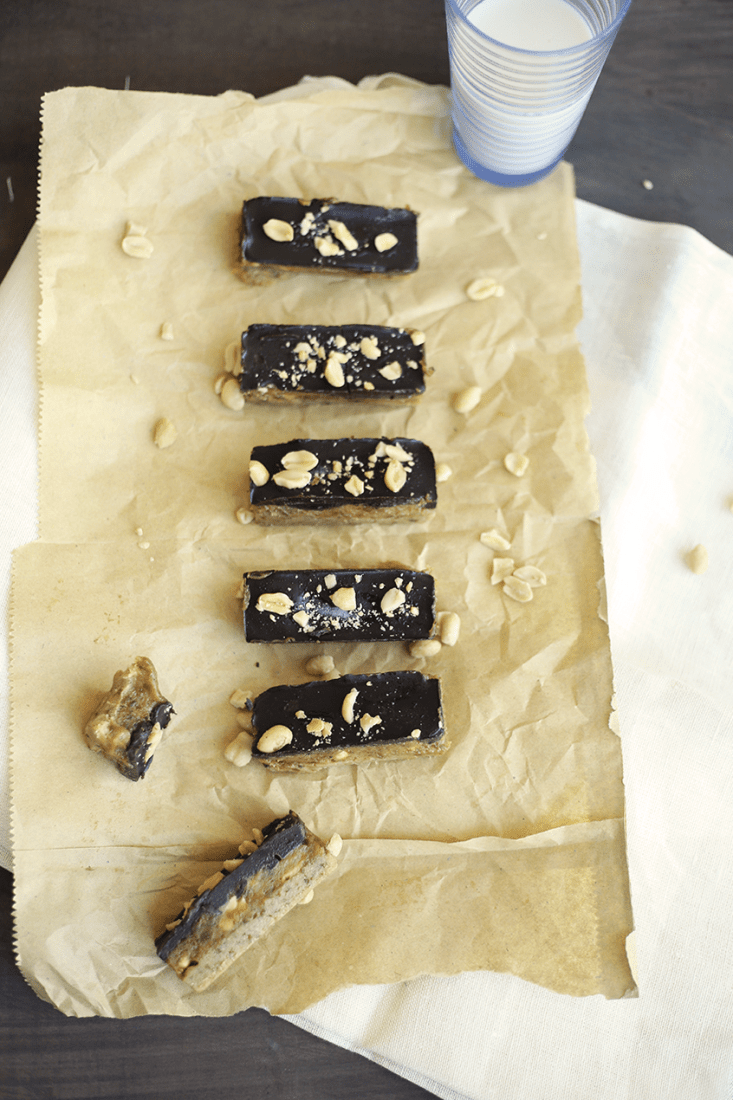 Homemade Snickers Bars That Are Also Guilt-Free! Your Gut Will Thank You.
My Homemade Snickers Bars are 100% Vegan/Gluten Free/Refined Sugar Free, and loaded with lots of natural fruit and nuts. The base of this homemade Snickers is made of almond meal and gluten-free oat flour, which all suspiciously tastes and feels a lot like Nougat…. (I know you probably don't believe me. But no, this is not crazy Vegan talk.. it really did taste like nougat!) Anyway, on top of the "nougat" base sits a lovely date-caramel, infused with a little peanut butter and finally everything is topped off with a simple chocolate glaze made with coconut oil and raw cacao. And there you have it: homemade Snickers!
FREE EBOOK SERIES! 5 SECRETS FOR FOOLPROOF VEGAN DESERTS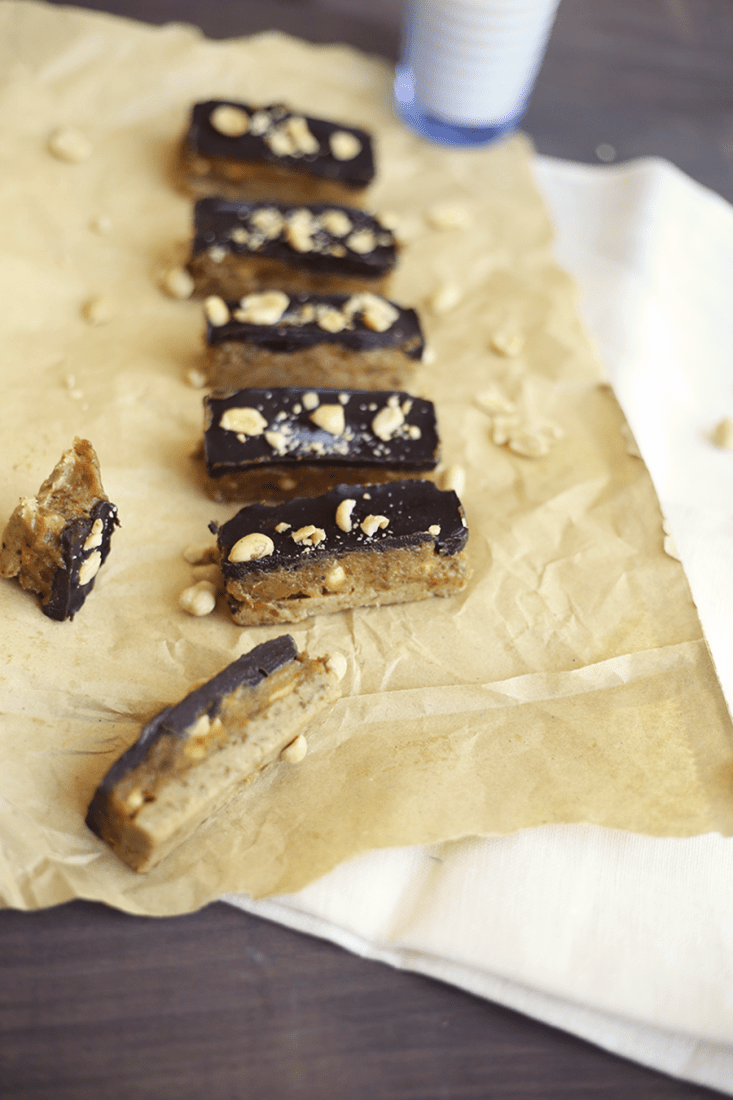 I kept these Homemade Snickers Bars in the freezer, and somehow, they never become rock solid (perhaps the natural sugars in the dates are preventing it from hardening… I don't know and I don't care). Either way, they taste even more like regular Snickers bars when cold – right down to the crisp layer of chocolate that you crack into with your teeth.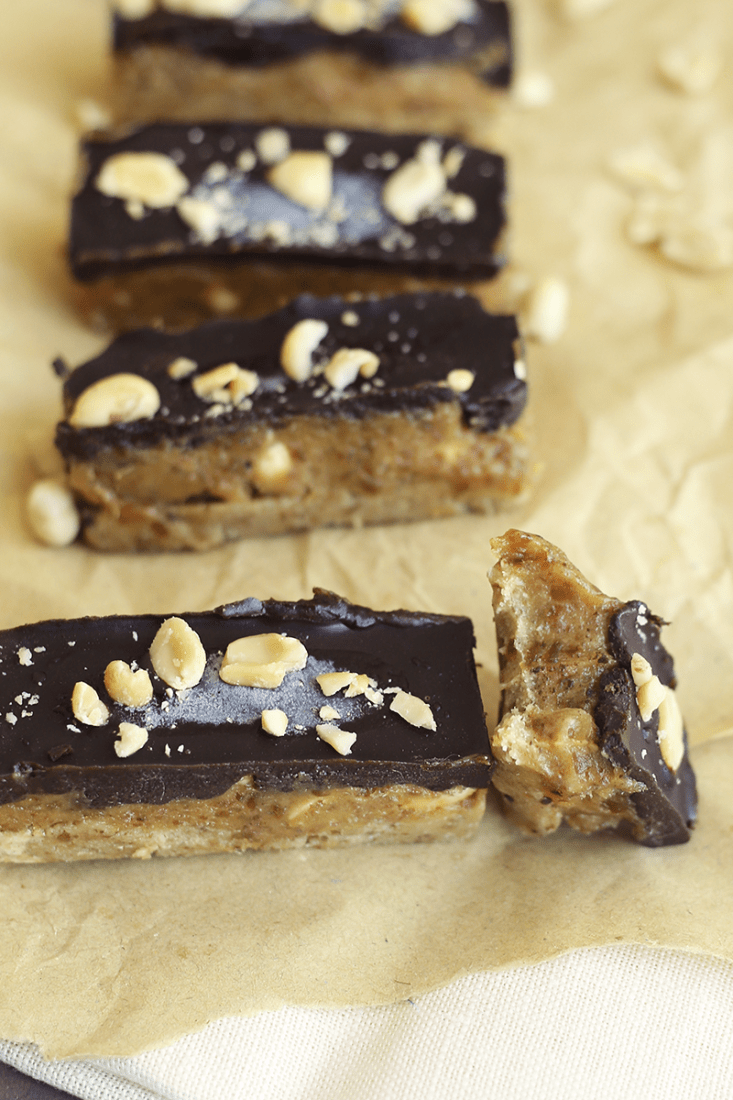 Anyway, I really have to GO, so I'll leave you with the recipe for these yummy-scrummy Homemade Snickers Bars – they're easy to make and definitely a much healthier treat to have in the afternoon as opposed to a regular Snickers / chocolate / candy bar . Since they're frozen, they also keep forever – if you can control yourself that is. Don't worry if you can't – no one will know.
Till next time, enjoy your homemade snickers!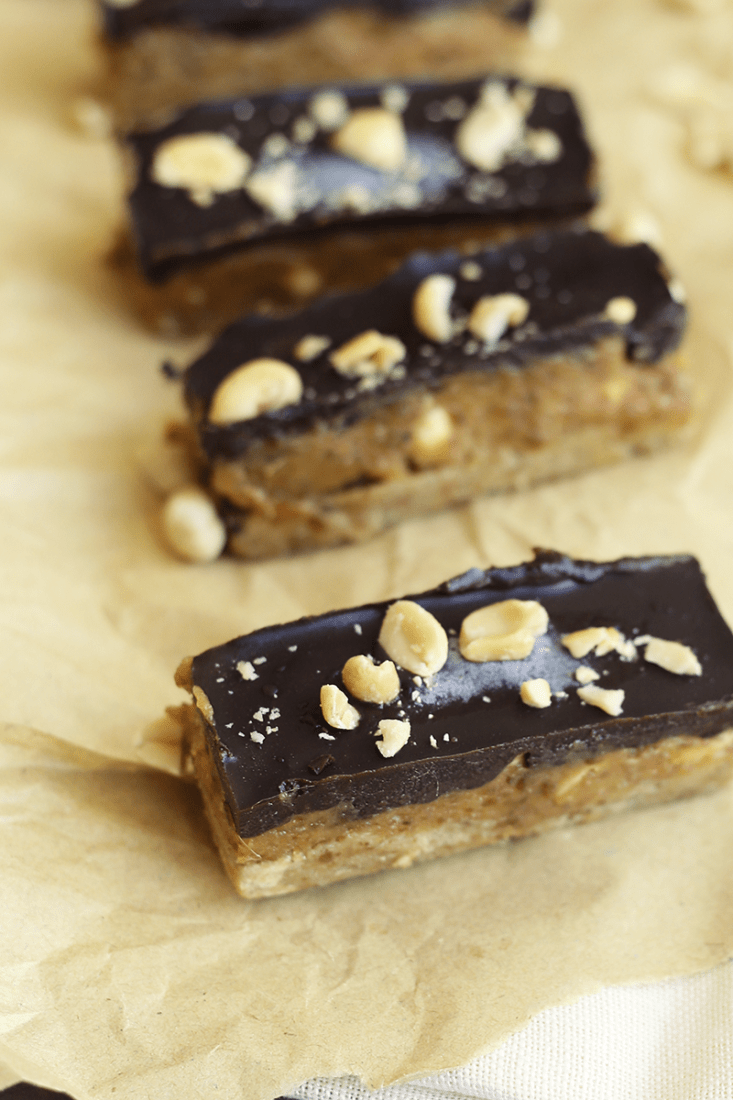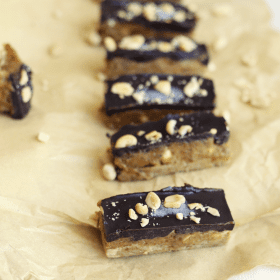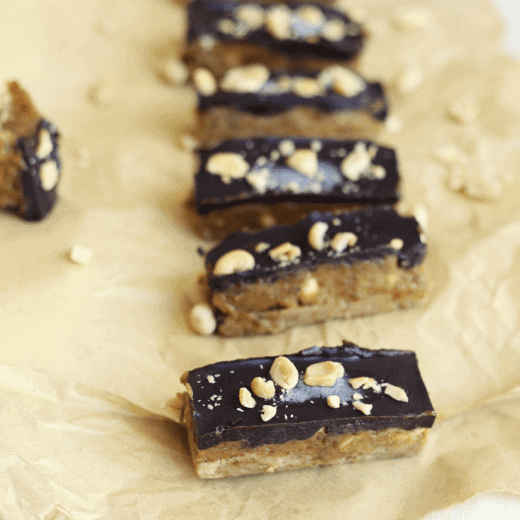 Homemade Snickers Bars
Ingredients
Nougat Base:

7

large Medjool Dates

6

Tablespoons

Almond Meal

6

Tablespoons

Gluten Free Oat Flour

Seeds of 1/2 a Vanilla Pod

Tiny pinch of Sea Salt

Peanut "Caramel" Layer:

14

large Medjool Dates

Seeds of 1/2 a Vanilla Pod

4

Tablespoons

Natural Peanut Butter

4

Tablespoons

Almond-Coconut Milk

or any other non-dairy milk

2

teaspoons

Maple Syrup

1/2

cup

chopped Peanuts

Chocolate Coating:

7 1/2

Tablespoons

Coconut Oil

5

Tablespoons

Raw Cacao Powder

4

Tablespoons

Maple Syrup

Small pinch of Sea Salt
Instructions
Make Nougat Base: In a food processor, combine all ingredients until a "dough" forms. If it's too dry, add 1/2 a teaspoon of water at a time until it forms a dough. Pat into the base of an 8 inch plastic lined tin. Place in freezer whilst making filling.

Clean out food processor.

Make Peanut Caramel Layer: In the clean food processor, combine dates, vanilla, peanut butter, milk and maple syrup. Process till you get an almost smooth, thick "caramel". Scrape down sides in-between if dates stick to the side of the processor bowl.

Pour "caramel" into a bowl and fold in chopped peanuts. Spread mixture onto nougat base and place into the freezer for 1 hour to set.

Make Chocolate Coating: Combine all chocolate coating ingredients and whisk till smooth. Pour over your nougat/caramel base and then top with more chopped peanuts before placing into the freezer to set. Let your bars freeze for 5 - 8 hours, or overnight.

Once frozen, pull out plastic wrap to release mixture from the tin, and cut into rectangles. Enjoy!