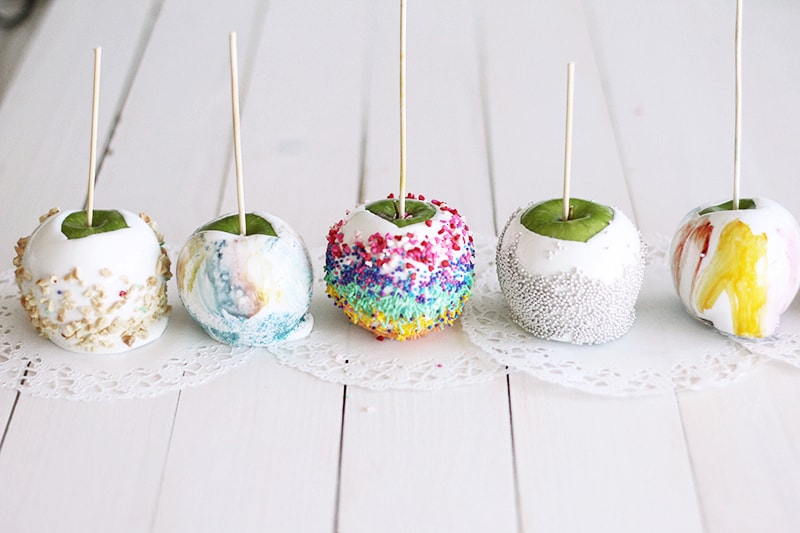 It's 11:00 pm and Amrita and I are running to the supermarket like two maniacs in the night. Why?! To buy boat loads of sprinkles and sugar for making colored candy apples, of course! This was a real spur of the moment dessert (technically, a snack?) we whipped up. I woke up in the morning thinking, "I'd love some candy apples…" – and lo and behold, here are the colorful candy apples we made!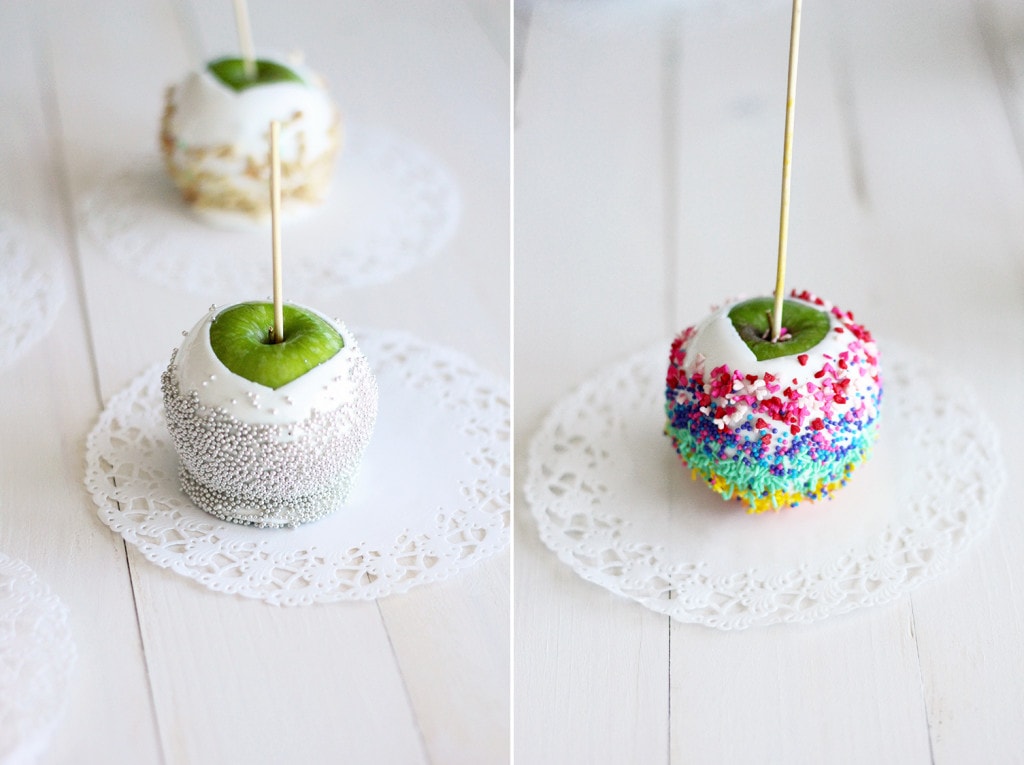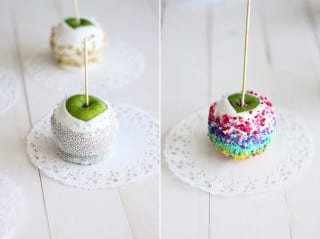 Now, how do you make colored candy apples? To be honest, it's really quite easy. First, you cook sugar/glucose syrup to a hard-crack stage with whatever food coloring you desire. Then, you dip your skewered apples in. However, it is crucial you do these steps QUICK! The sugar hardens within SECONDS, leaving you little time to get your sprinkles/nuts 'stuck' on. However, don't freak out if this happens. To make your colorful candy apple sticky again, just spray or brush a little bit of water on the hardened sugar, and then try to put your decorations on again. Simple, but it works like a charm!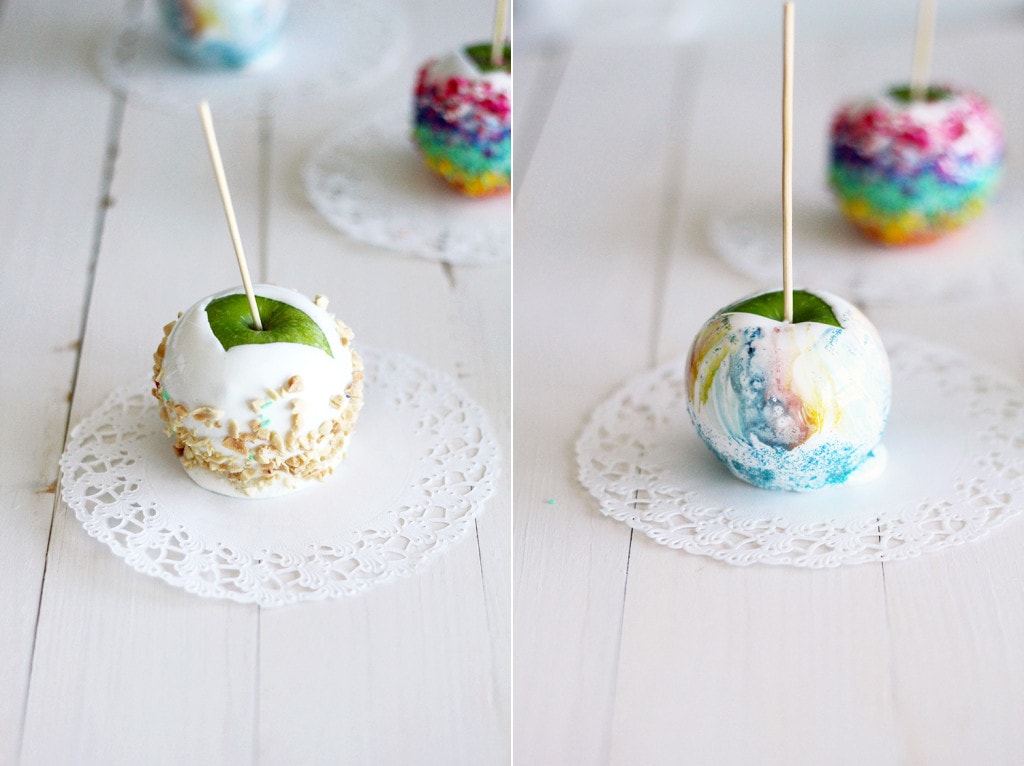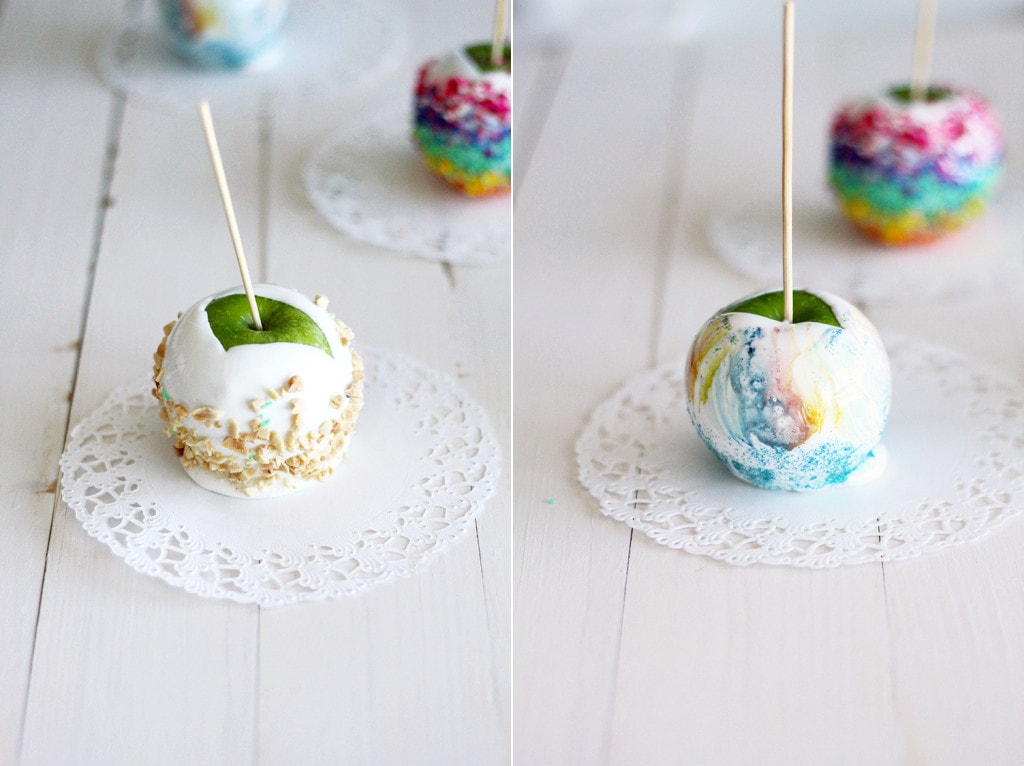 FREE EBOOK SERIES! 5 SECRETS FOR FOOLPROOF VEGAN DESERTS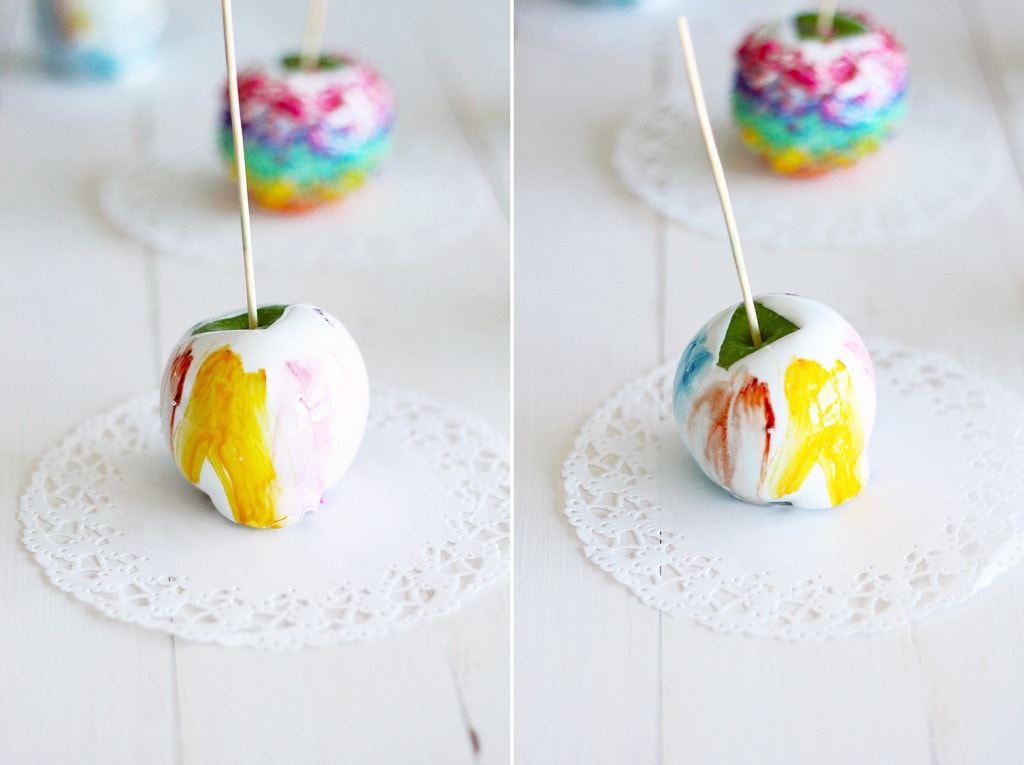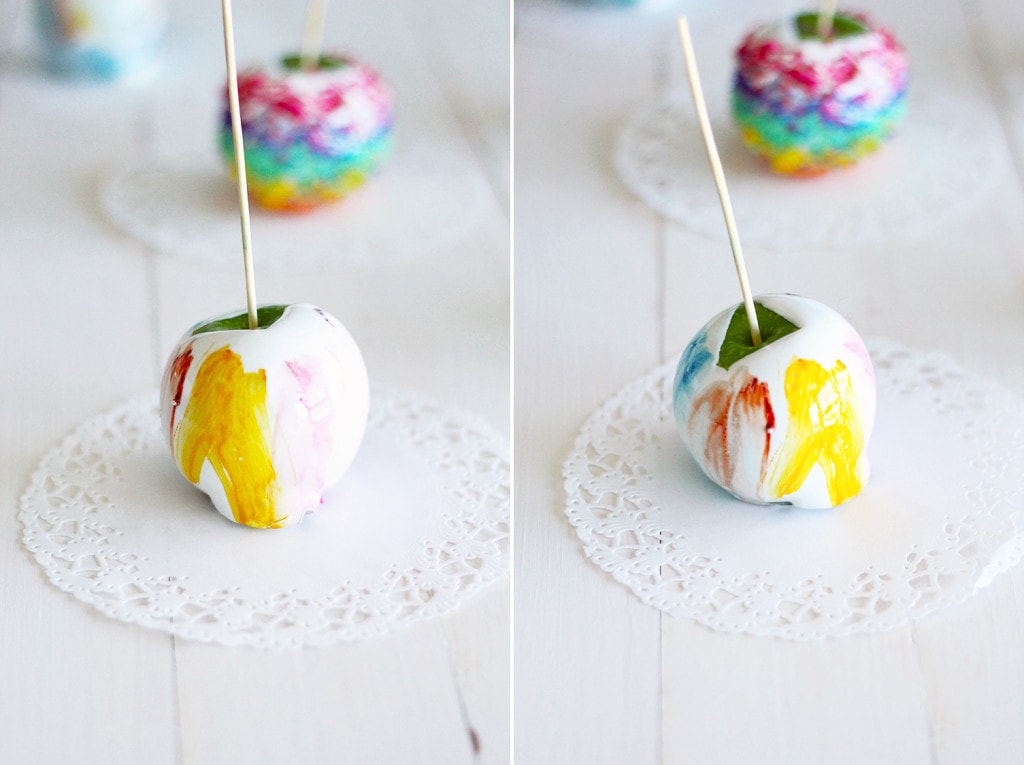 I'll be the first to admit that colorful candy apples are not my favorite desserts / snacks in the world. However, they really are tons of fun to make! My wife and I had a ball of a time (at 12 midnight?!) making them for the next day. We used silver sprinkles, multi colored sprinkles, disco dust and crushed peanuts for some, and then painted the rest with watered down luster dust and powdered food coloring for a nifty 'impressionist' painting effect. Looks pretty cool.
Candy apples are awesome because customizing their base colours is a breeze. We decided to use an elegant white sugar colouring, just for fun – but you can of course use whatever colour you so desire. However, if you love subtle pastel shades, we recommend you mix a strong color in with a healthy dose of white into your sugar/water mixture before boiling it.
We'll leave you with a few more photos of our colored candy apples, along with the recipe we used. Feel free to go crazily creative with your own candy apple creations! They're beautiful, very fun to make, and kids love them.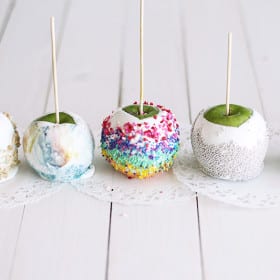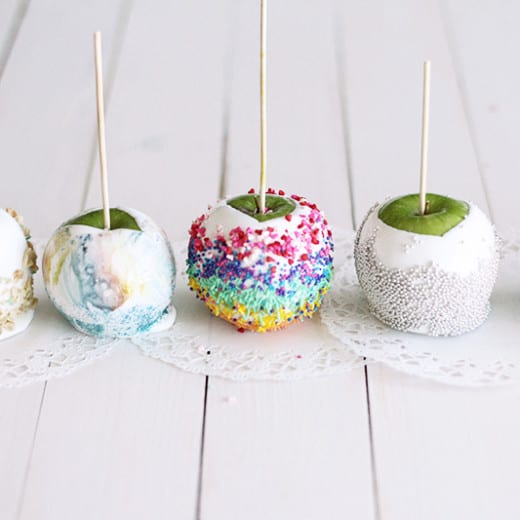 Colorful Candy Apples
Ingredients
10

small Granny Smith Apples

washed and skewered with a wooden stick

125

g

Liquid Glucose

400

g

Caster Sugar

180

g

Water

Food Coloring

Extras: Jimmies

Sprinkles, Crushed Nuts, Crushed Candy, Luster Dust, Disco Dust, Paint Brush
Instructions
Combine glucose, sugar and water in a deep pot. Add food coloring into this mixture and stir to distribute. Insert candy thermometer and bring to a boil.

Boil to 143 degrees Celsius (hard crack stage). This will take a while, but remember to never stir the sugar whilst its boiling as it WILL crystalize on you. You can wash down the edges of the pan with a clean wet brush to further prevent any crystallization.

Once syrup has come to temperature, take off the head immediately. Once the bubbling subsides, tilt pot and dip your apples in. Swirl to cover the entire surface of the apple, and then quickly let excess sugar drip off.

Immediately dip into sprinkles and sit the apples on silicone or non stick paper and allow them to set.

If you're too slow or the sugar hardens too quickly, don't fret. You can let the sugar set on the apple, and then brush a very thin layer of water on the candy apple to help glue sprinkles on.

For a water color effect, mix some luster dust or powder food coloring with the tiniest amount of water and paint onto your apples.