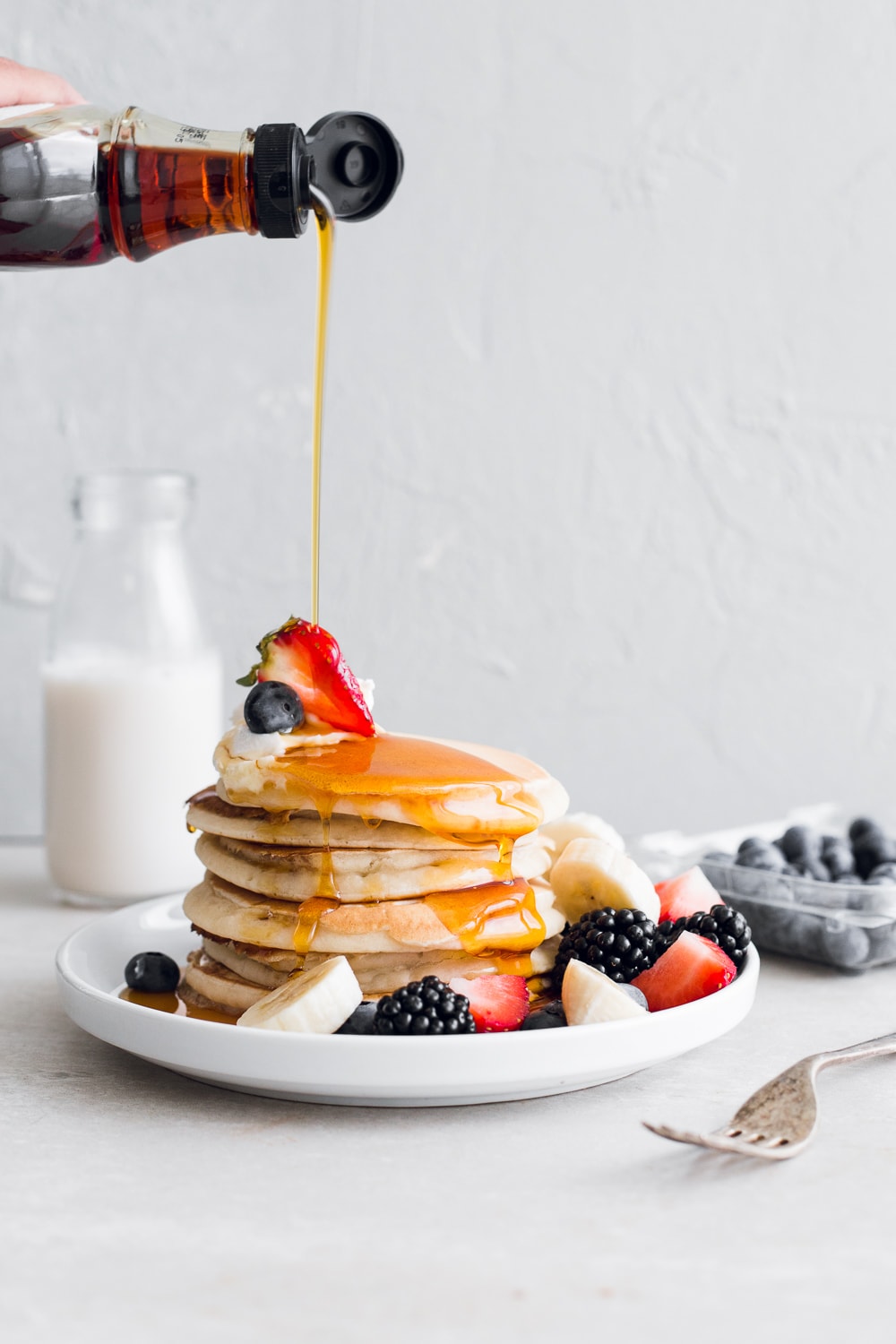 I've always had a fascination with pancakes. They were definitely my favourite breakfast item on the McDonald's morning menu when I was younger, and now, at the age of 28, they still do it for me. There is just something about warm and fluffy carb frisbees soaked in copious amounts of Maple Syrup (or my guilty pleasure of Maple *flavored* syrup because I ain't no syrup snob) that makes me feel like I'm 6 again. Pancakes also remind me of the movie Practical Magic. I too, demand a man who can flip pancakes! But since I'll probably die alone, I'm glad I have this recipe for the Easiest Vegan Pancakes.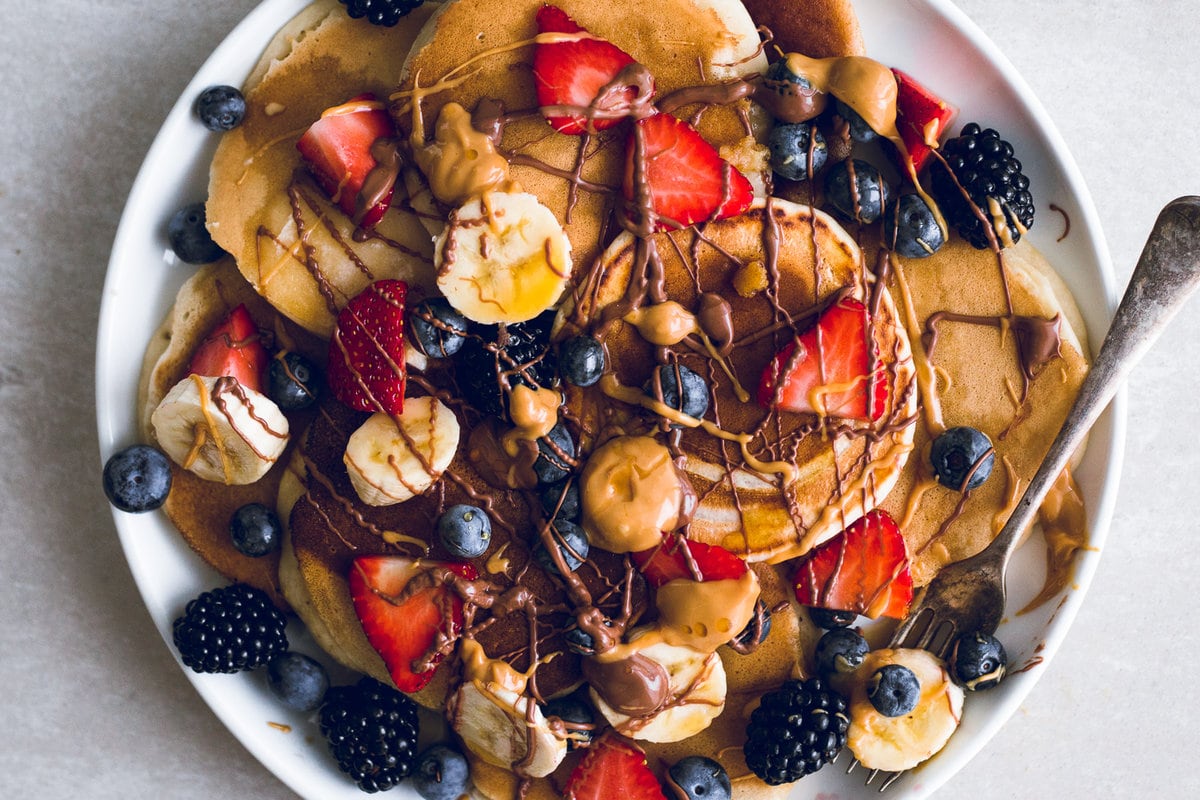 I love this recipe for my Vegan Pancakes because it is possibly the easiest recipe I've ever used, in all of my pancake flipping history. You don't need any Plant Milk, Eggs (obviously, please refer to blog name) or fancy, obscure ingredients to make these pancakes. All you need is a touch of Flour, Baking Powder, Sugar, Water, Salt and a dash of Oil. Couldn't be simpler than that. Chances are you already have everything in your pantry, and if you don't, you probably need to do a better job of stocking your pantry with the basics. 😉
If you're looking for some healthy *Chia Buckwheat Maca Spirulina Banana Raw Cacao* type pancake recipe, you are going to be sorely disappointed. However, if you're looking for some Sunday morning, let's watch cartoons and then fall into a coma type Vegan Pancakes, this is certainly the recipe for you. A simple recipe needn't too much literature attached to it, so I'll leave you to scroll down and grab the recipe for yourself. As always, follow me on Instagram and tag me in any of my recipes you have tried out (and hopefully succeeded at!).
FREE EBOOK SERIES! 5 SECRETS FOR FOOLPROOF VEGAN DESERTS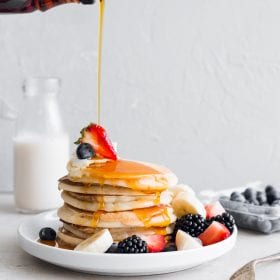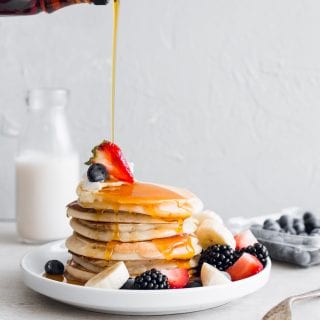 Easiest Vegan Pancakes
A quick and simple recipe for the Easiest Vegan Pancakes. Light and fluffy, ready in under 10 minutes and made with everyday pantry ingredients.
Ingredients
1

Cup + 3 tablespoons

All Purpose Flour

1

tablespoon

Cornstarch

2

tablespoons

Sugar

2 1/2

teaspoons

Baking Powder

1/2

teaspoon

Salt

1 1/2

tablespoons

Oil

1 1/4

cups

Water
Instructions
Literally whisk everything in a bowl till you achieve a nice batter. No need to sift, no need for anything fancy. Just whisk.

Pour 1/4 cup of batter into a lightly oiled or non-stick fry pan. Pancakes are ready to be flipped when bubbles form on the surface.

Flip, and continue cooking for 40 seconds or so. Transfer to a plate and repeat the process until you run out of batter.

Serve with Maple Syrup, Fruit, Whipped Cream, Chocolate Sauce and anything else your young heart desires.
Nutrition
Serving:
1
pancake
Calories:
167
kcal
Carbohydrates:
31
g
Protein:
4
g
Fat:
3
g
Saturated Fat:
1
g
Trans Fat:
1
g
Sodium:
281
mg
Potassium:
38
mg
Fiber:
1
g
Sugar:
3
g
Calcium:
80
mg
Iron:
2
mg