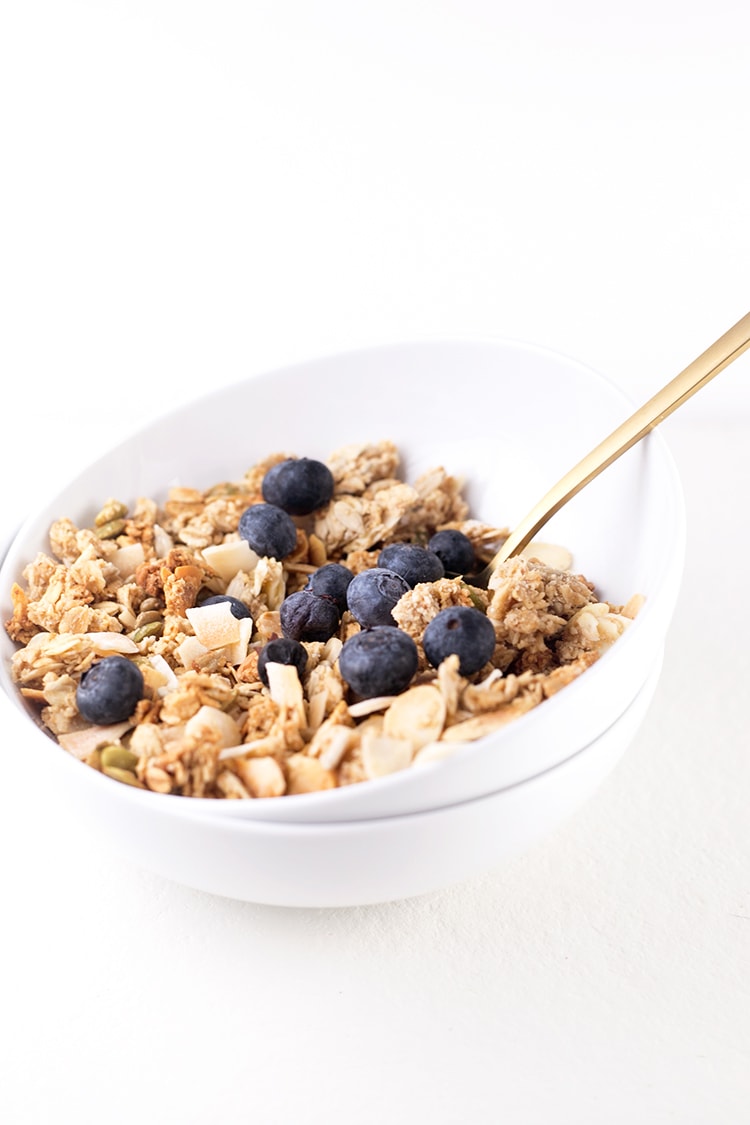 I'm a granola making virgin. I know, I know, it's  blasphemous for someone who has gone to culinary school to have never made Granola. Truth be told, I've always just found it easier to buy granola since I only feel like having it maybe one or twice a year. In Singapore, they sold a bunch of awesome Granola varieties from America, but sadly, in Australia, people seem to prefer Muesli. Shelves in the grocery store are bursting with a million different kinds of Muesli, aka a million kinds of yuck. I abhor Muesli. It's dry, flavorless, and tastes like cardboard. So a girl's gotta do what a girl's gotta do in a world full of Muesli – make her own Vegan Granola.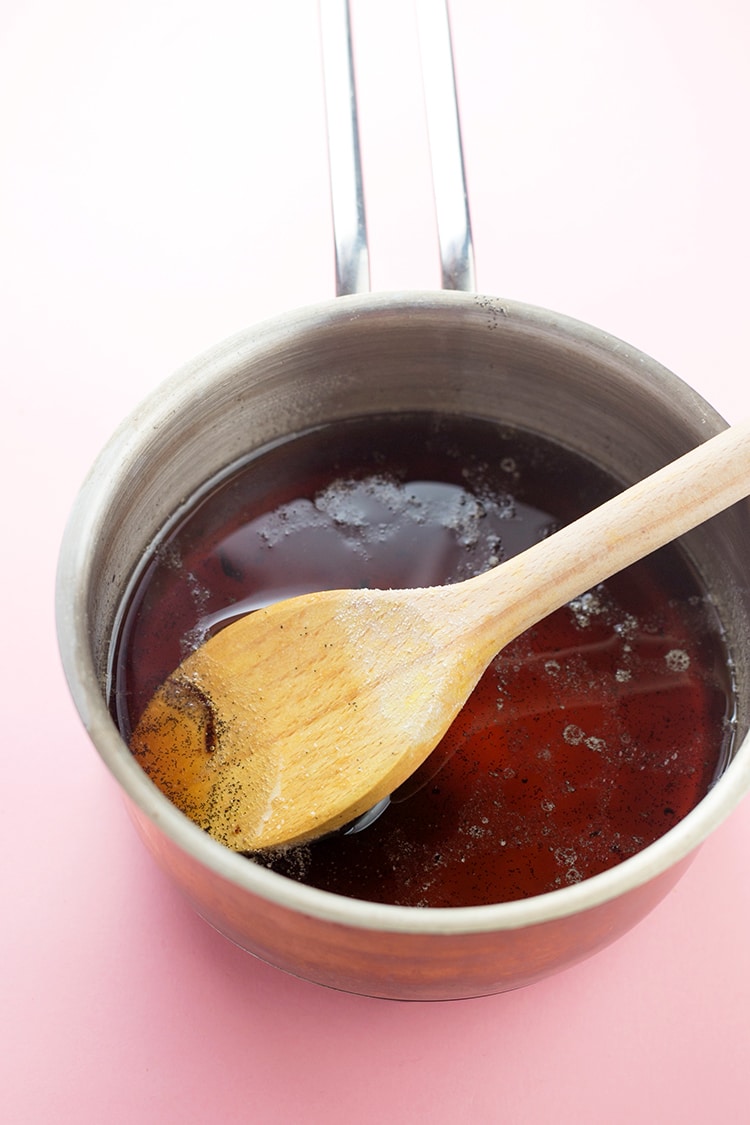 Since I was the master of my own Granola, I had to make sure that the Vegan Granola I made had nice, big clusters scattered throughout. I mean, what the f*ck is Granola without clusters? Granothanks! Grafu*kno!  I achieved this by grinding half of my Rolled Oats into Oat Flour, and using a mixture of both Brown Sugar and Maple Syrup to sweeten. I find that when it comes to oaty treats, liquid sweeteners alone tend to make oats a little chewy and hard…something you definitely do not want in your granola clusters. Using half brown sugar solves this problem,  so try this trick with any Granola, I guarantee you'll end up with a clusterfu*k of goodness.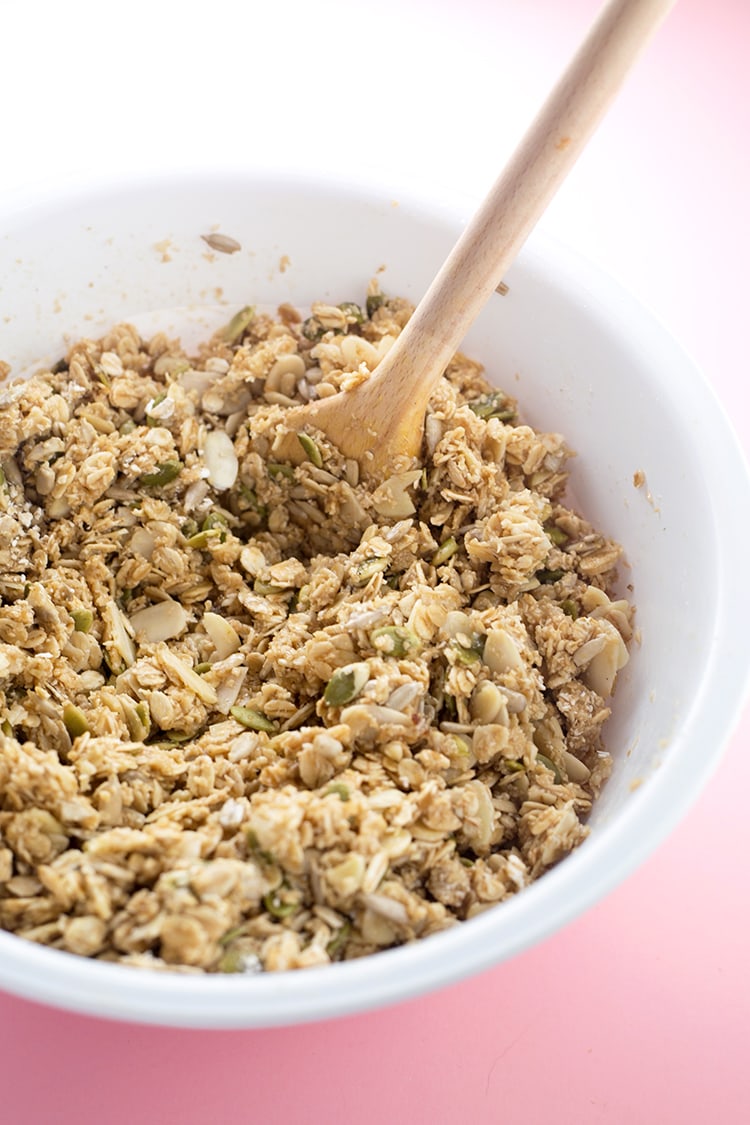 I start off by combining my Rolled Oats, Oat Flour, Pumpkin Seeds, Sunflower Seeds and Split Almonds in a large mixing bowl. I then bring some Brown Sugar, Maple Syrup, Vanilla Bean Seeds, Water and Canola Oil to a boil in a small saucepan and then pour it all over the Oat mixture. Stir well, spread onto a large baking tray and bake away! You can always substitute Coconut Oil for Canola Oil if you want, but for god's sake, do not use applesauce or fruit puree instead of oil. Granola needs a little oil, trust me on this. It's what helps your oats crisp up – something fruit purees just cannot do. Don't try it, please!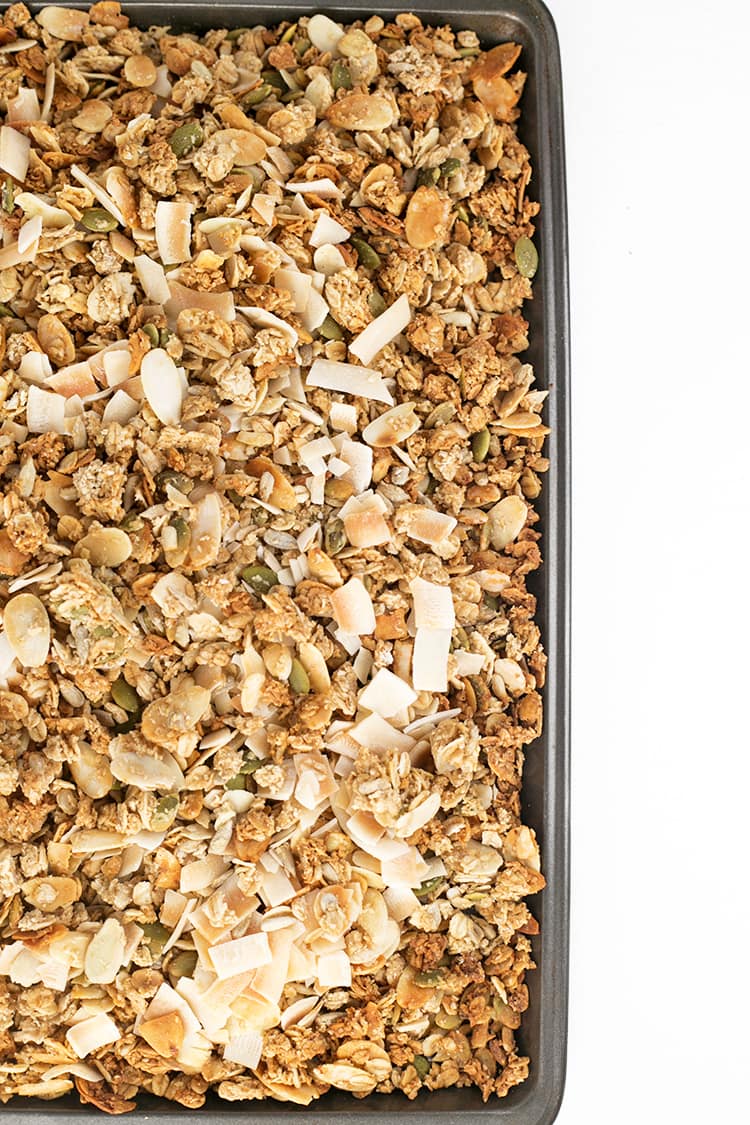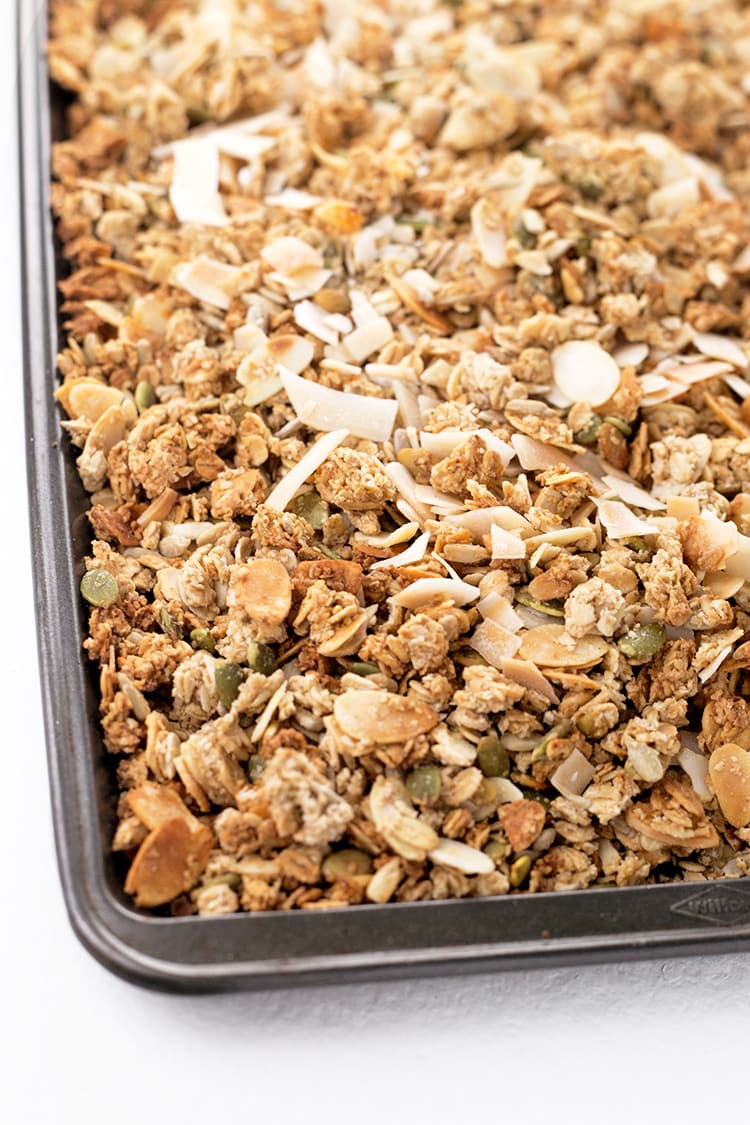 This recipe for my Vanilla Almond Vegan Granola requires you to mix your granola once, half way through baking to break the clusters up. I just chucked it into the oven on a low temperature, watched a TV show for half an our, went back to the oven to stir, had my monthly shower and hey presto, the granola was done! All in all it took about an hour to bake and made 8 cups of clustery Granola goodness.  PS: If you're really pressed for time and looking for a recipe that doesn't require any stirring at all, check out my friend Georgia's Maple Sesame Seed Vegan Granola recipe – another Granola winner.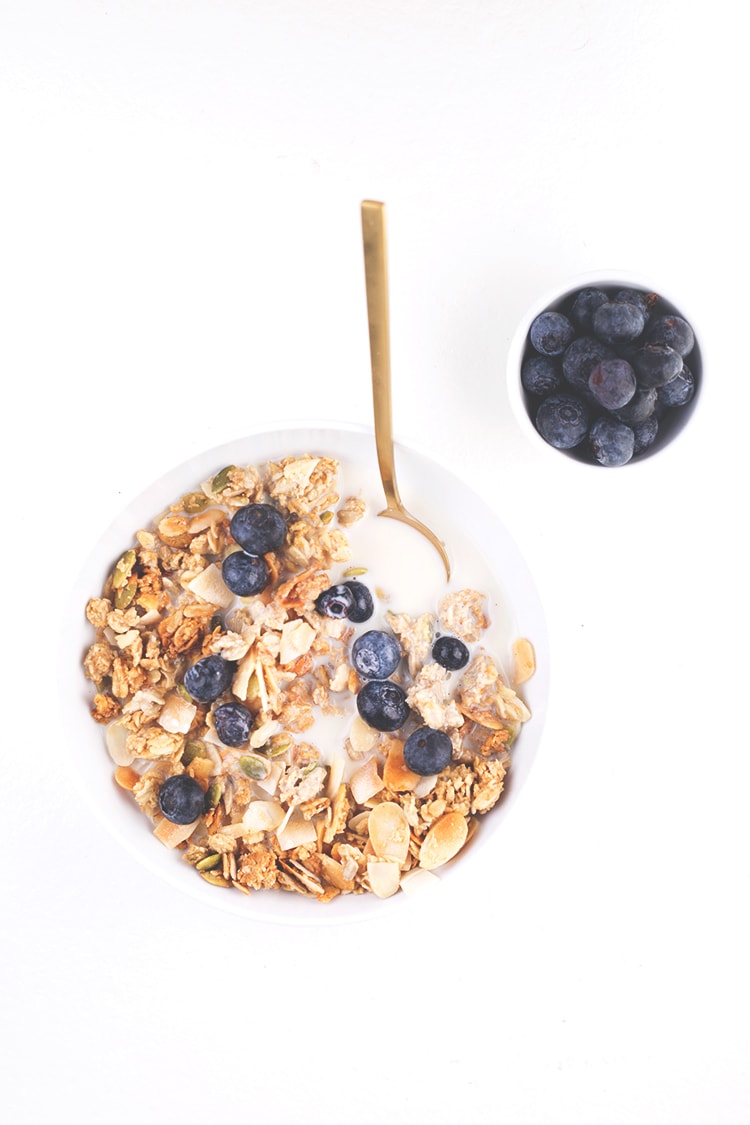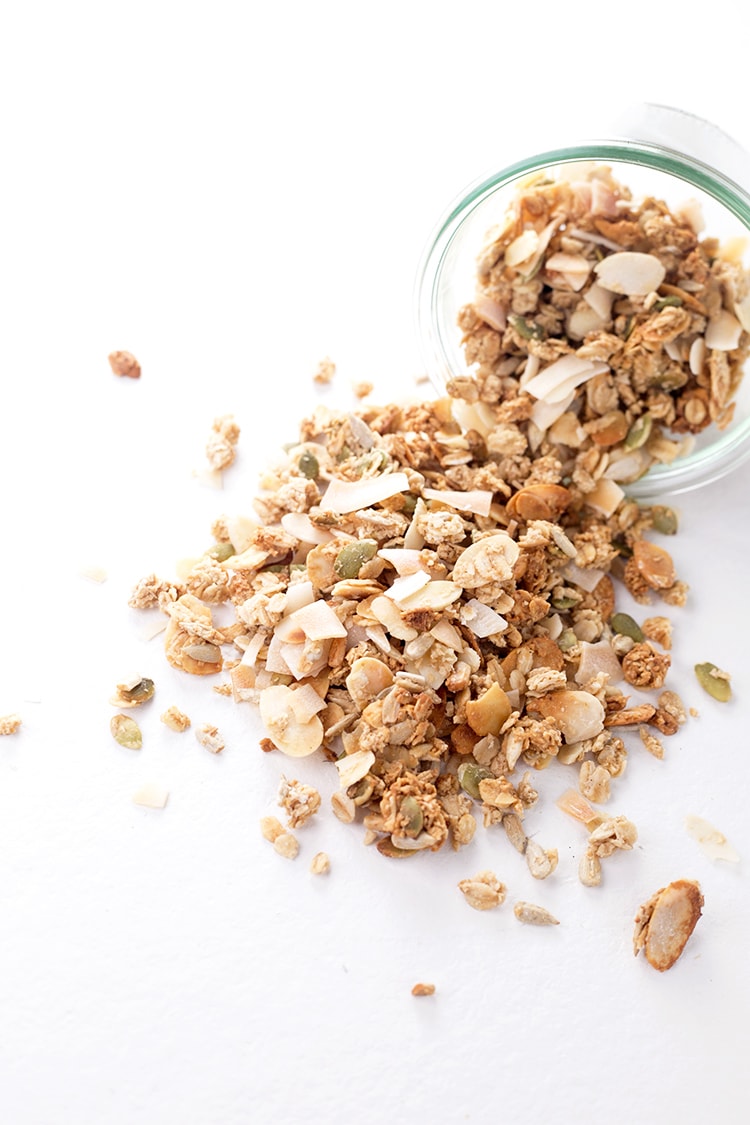 So, the most important bit: the final result. My Vanilla Almond Vegan Granola was absolutely fan-fu*king-tastic. Crunchy, light, perfectly sweetened and full of texture from the Almonds, Sunflower Seeds and Pumpkin Seeds, you'll be shoving handfuls of this Vegan Granola down your face.  You won't be able to stop. You'll eat the entire pan at once, though I don't recommend it. Eating 8 cups of anything will make you feel ill. I enjoy eating my granola with a little almond milk and fresh blueberries, but that's just me. . As always, scroll down for more photos and the full recipe for my Vanilla Almond Vegan Granola. Cheers, mofos.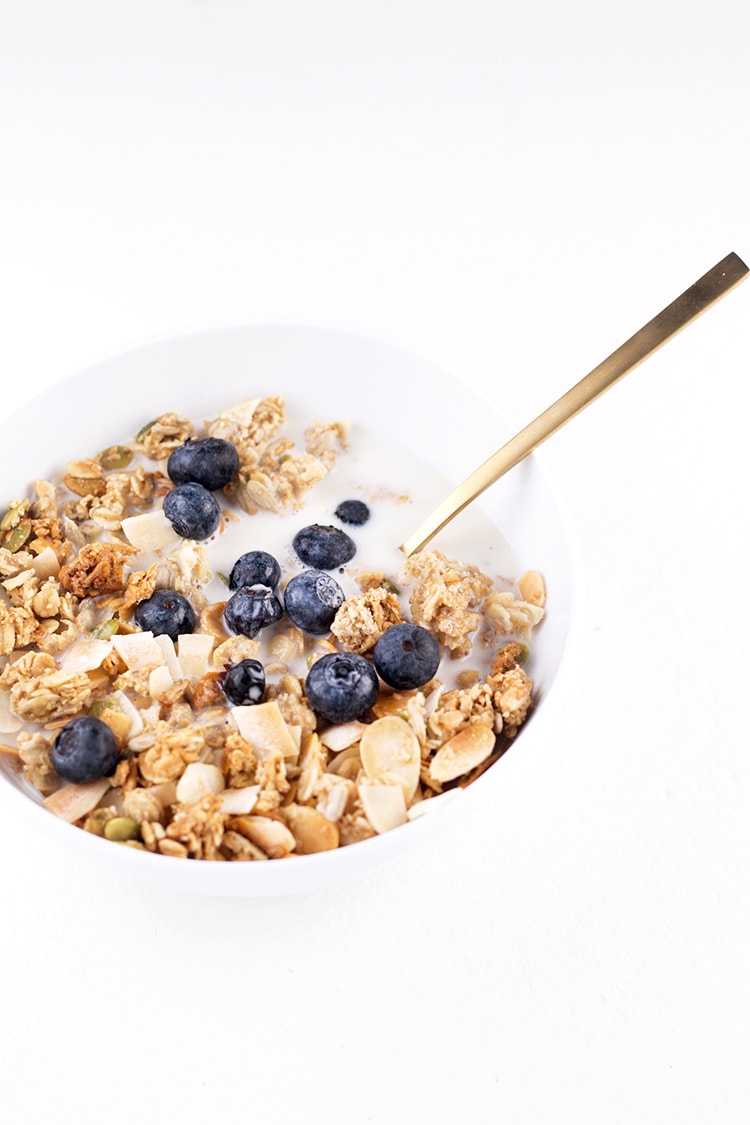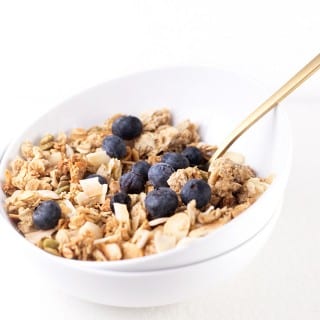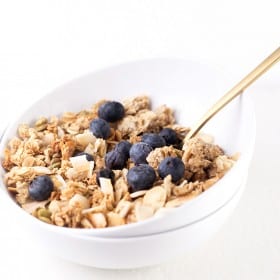 Vanilla Almond Granola
Vanilla Almond Vegan Granola - delicious Vegan granola loaded with clusters, flavored with Almond and Vanilla.
Ingredients
4 1/2

cups

Rolled Oats

GF if Gluten Free

1/2

cup

Pumpkin Seeds

1/2

cup

Sunflower Seeds

1

cup

Almonds

Split

1/2

cup

Maple Syrup

1/2

cup

Brown Sugar

packed

1/2

teaspoon

Sea Salt

1

Vanilla Pod

1/2

cup

coconut oil

1/3

cup

Water

1

cup

Coconut flakes
Instructions
Preheat oven to 160 celsius and have a cookie sheet on hand.

Process 2 1/4 cups of your Rolled Oats in a food processor till you end up with Oat Flour. Mix oat flour with Rolled Oats, Sunflower Seeds, Pumpkin Seeds and Split Almonds. Set aside.

In a small saucepan, combine Maple Syrup, Brown Sugar, Sea Salt, Vanilla Beans, Oil and Water. Bring to a boil, take off the heat and pour onto Oat mixture.

Stir well till all of your oats, nuts and seeds are coated with the mixture and spread out on baking tray in a single layer.

Bake for 30 minutes, and then stir mixture. Bake for another 30 minutes.

Once baked, removed from oven and let cool thoroughly. Once cooled, stir in Toasted Coconut.

Store in an airtight container.
Notes
* You can add any dried fruit of choice or chocolate chips into your Granola after it has baked and cooled.
Nutrition
Serving:
1
serving
Calories:
286
kcal
Carbohydrates:
32
g
Protein:
6
g
Fat:
16
g
Saturated Fat:
7
g
Trans Fat:
1
g
Sodium:
78
mg
Potassium:
220
mg
Fiber:
4
g
Sugar:
13
g
Vitamin A:
3
IU
Vitamin C:
1
mg
Calcium:
56
mg
Iron:
2
mg