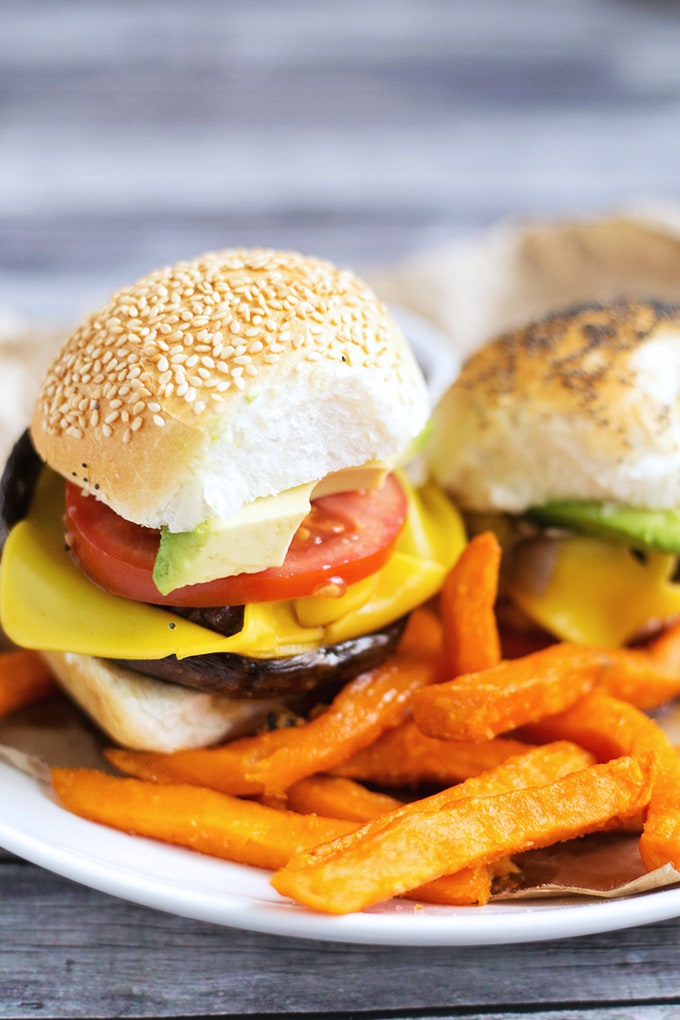 Hi hoes, let's go. Today's recipe is for the Easiest Vegan Portobello Mushroom Burgers. These vegan burgers are one of the easiest ones out there because they do not require you to make a Veggie Patty – the whole, meaty texture of Portobello Mushrooms alone are enough to be used as meat or veggie patty replacement. Cool story bro.
I start off with some de-stemmed Portobello Mushrooms, marinating them in a mixture of Oil, Balsamic Vinegar, Agave Nectar, Garlic, Black Pepper, Onion and Tamari. Whilst the mushrooms for your Vegan Mushroom Burgers are marinating, I cook up a batch of Red Onions nice and slow in a frying pan with a touch of Sugar, Salt and Thyme. This mixture cooks down to something very similar to Caramelized Onions, and provides so much fujking flavas to your burger. Some fancy sh*t there mate.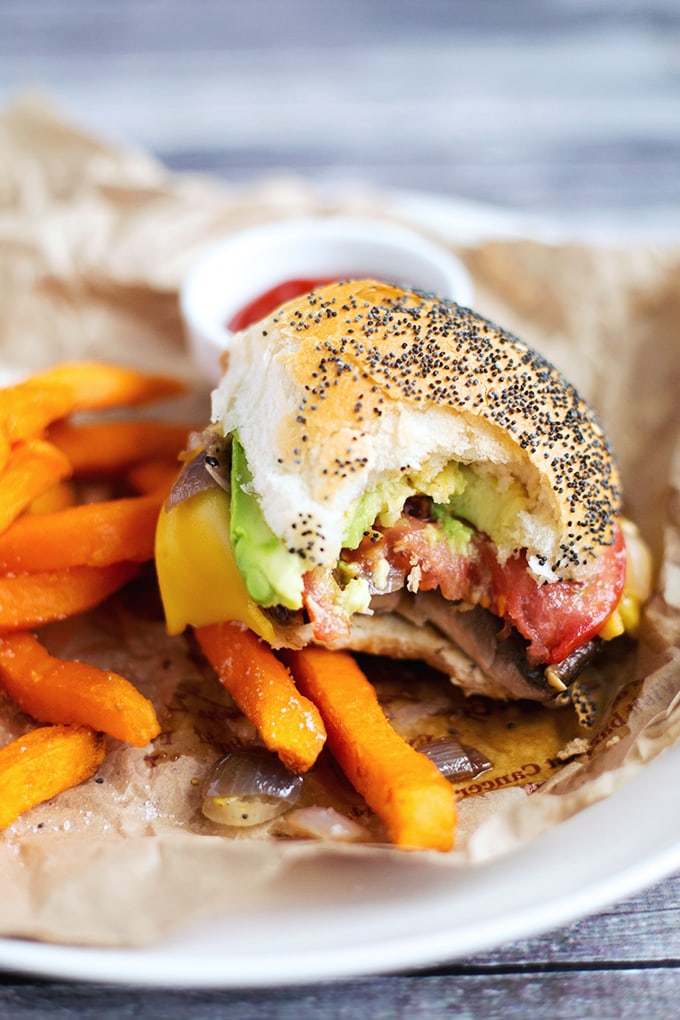 After your Mushrooms have sat and soaked up that lovely marinade, it's time to bake them in the oven for 15 minutes. After 15 minutes, top with Vegan Cheese (I use BioCheese Cheddar), grill to melt, and voila, your god damn Vegan Portobello Mushroom Burgers are ready. Serve tucked in a toasted bun with Avocado, Tomato, Your Sweet Onion Mixture and a side of Sweet Potato Fries and you're set. So if you're keen like Tom Keen (does anyone watch The Blacklist? He's so damn hot..), scroll down and grab the full recipe for my Vegan Portobello Mushroom Burgers. Ciao!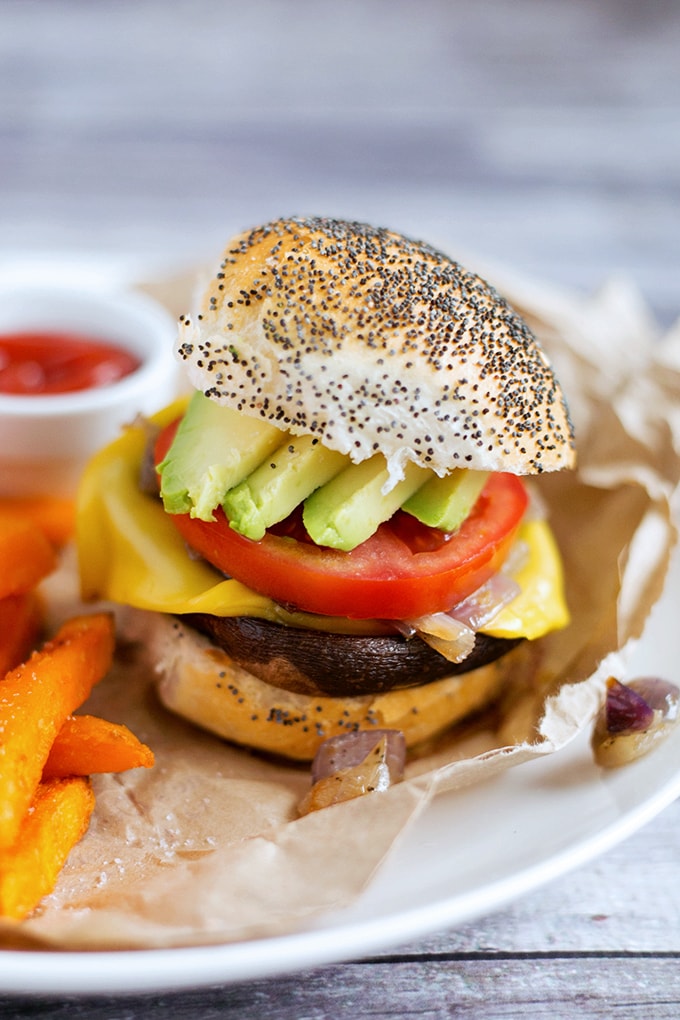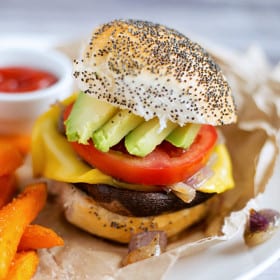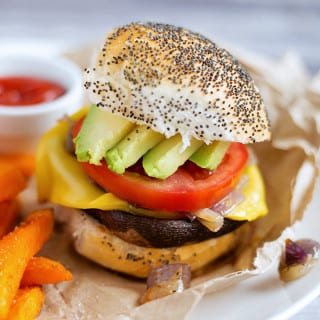 Vegan Portobello Mushroom Burgers
Simple Vegan Portobello Mushroom Burgers with Sweet Onions, Avocado, Tomato and Vegan Cheese. Inexpensive, Simple To Make And Full Of Flavor.
Ingredients
6

Large

Portobello Mushrooms

de-stemmed
Marinade:
1/2

large

Onion

finely diced

1

Garlic Clove

minced

3

tablespoons

Tamari

4

tablespoons

Olive Oil

1

tablespoon

Agave Nectar

1 1/2

Tablespoons

Balsamic Vinegar

1

teaspoon

Pepper
Sweet Fried Onions:[
1

tablespoons

Olive Oil

1 1/2

large

red Onion

diced

2

teaspoons

Sugar

1

teaspoon

salt

1

teaspoon

Thyme

dried
To Serve:
6

slices

Vegan Cheese

6

burger buns

toasted

1

cup

Tomato Slices

1

cup

Avocado Slices
Instructions
Preheat oven to 180 degrees Celsius. Line baking tray with a layer of tin foil and place de-stemmed mushrooms gill side up on the tray.

To marinade mushrooms, combine finely diced Onion, minced Garlic, Tamari, Olive Oil, Agave Nectar, Balsamic Vinegar and Black Pepper in a bowl. Whisk well to combine and then drizzle evenly into the cavity of each Portobello Mushroom. Leave to marinade for 30 minutes.

Meanwhile, make Sweet Fried Onions.

In a frying pan, heat up Olive Oil on low heat. Add diced Red Onion, Salt and Pepper to the pan. Cook whilst stirring until Onions turn translucent.

Once translucent, add sugar to the pan and stir well. Continue cooking onions on low/medium heat for 15-20 minutes or until lightly browned and sweet. Taste and check for seasoning, then set aside to keep warm.

Pop tray of Mushrooms into oven and bake for 20 minutes. After 20 minutes, remove tray from oven and drain excess liquid. Place Vegan Cheese Slices on the mushrooms and return to the oven. Bake until cheese has melted.

Serve Portobello Burgers hot, sandwiched in toasted buns and filled with sliced Tomato, Avocado and a generous serving of Sweet Fried Onions.
Nutrition
Serving:
1
serving
Sodium:
901
mg
Calcium:
19
mg
Vitamin C:
4
mg
Vitamin A:
19
IU
Sugar:
8
g
Fiber:
2
g
Potassium:
397
mg
Calories:
164
kcal
Trans Fat:
1
g
Saturated Fat:
2
g
Fat:
12
g
Protein:
3
g
Carbohydrates:
13
g
Iron:
1
mg
Like these Vegan Portobello Mushroom Burgers? Don't forget to follow me on Instagram, Pinterest and Facebook!