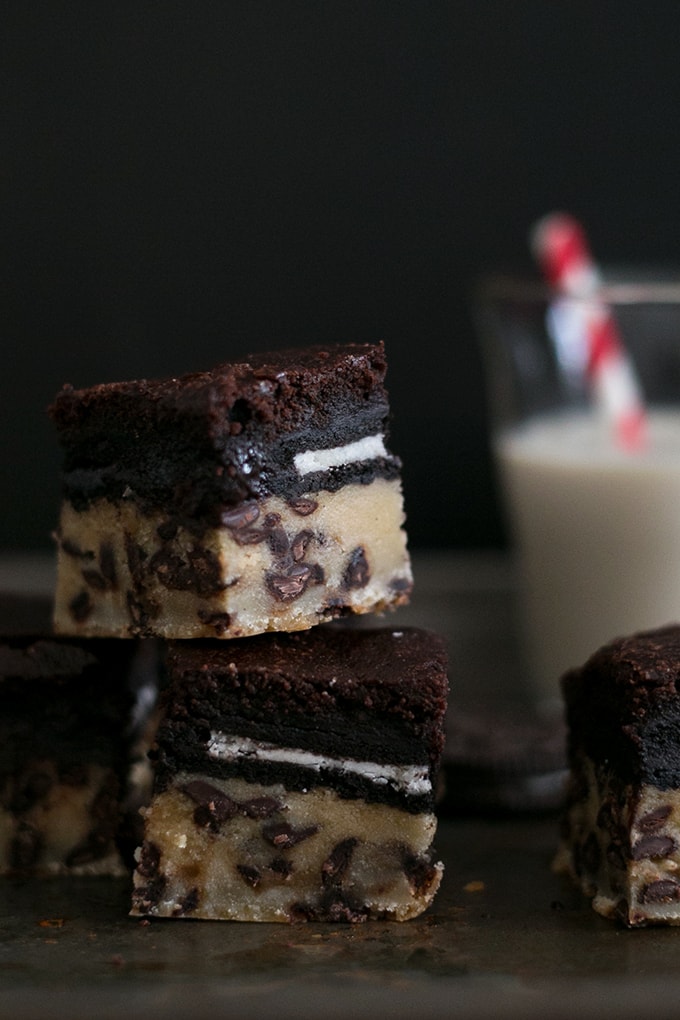 If you're not already acquainted with the Sluty Brownie, let us take a journey into educating you on the way of the Sluts. Slutty Brownies are a popular bar cookie that is layered as follows: Chocolate Chip Cookie Base, Chocolate Sandwich Cookies, Decadent Chocolate Brownie. Pretty filthy! This Vegan Sluty Brownie recipe is equally disgustingly good, sans any animal products. I reckon they're a close runner up to my favourite dessert, Chlamydia Cake. To be honest, this recipe really describes me to a tee. I'm brown, some people call me Cookie, and I'm pretty slutty. It's a shame my sluttiness amounts to no actual action or attention though, but that is a story for another day.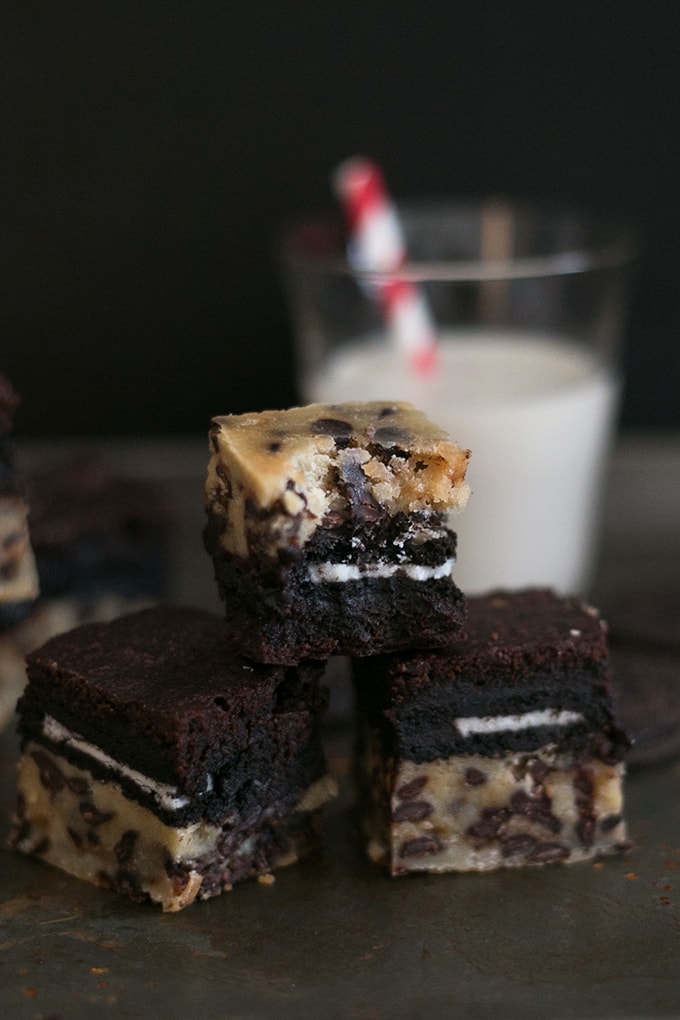 I start my Vegan Sluty Brownie recipe with a simple Chocolate Chip Cookie Base – all your basic cookie ingredients are in it, with a boat load of Vegan Dark Chocolate Chips thrown in. Once the cookie mixture is spread on the base of a baking tin, you layer on a nice decent layer of Chocolate Sandwich Cookies and then top it all off with a simple Chocolate Brownie batter. Everything comes together in 15 minutes, and then bakes for 30 minutes. Vegan Slutty Brownies, easy as f*ck!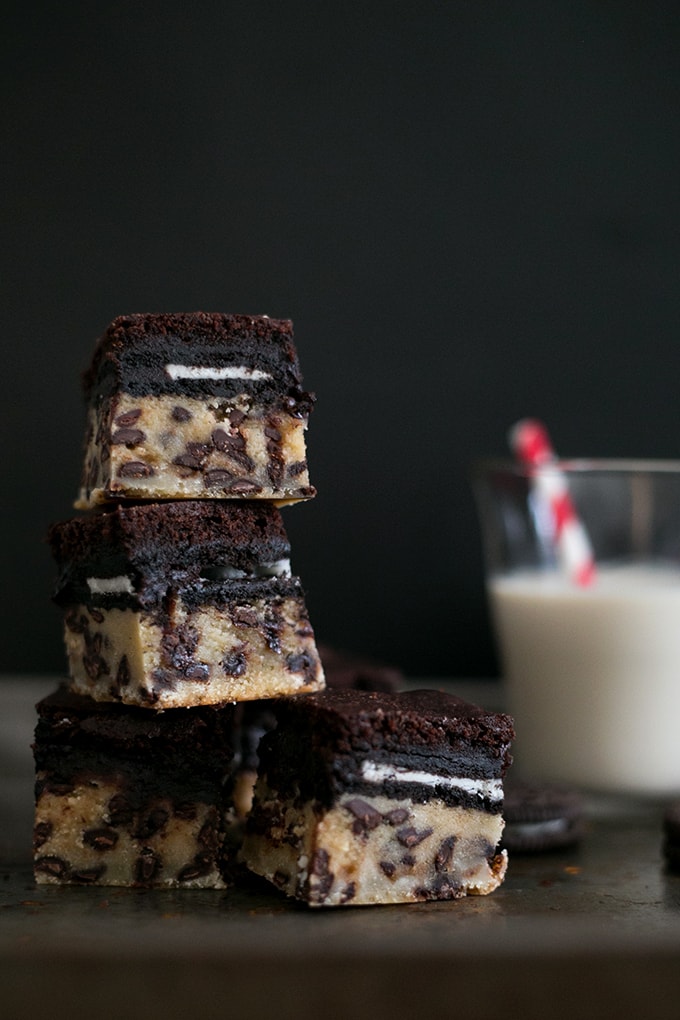 The result of this feral concoction is a chewy cookie base, a creamy sandwich cookie middle and a moist chocolate brownie top. Pretty delicious! I like to let my Vegan Sluty Brownies cool thoroughly before cutting them, but feel free to have them warm. I like to cool any type of bar cookie down thoroughly to ensure clean and neat slices when I cut them. But if you're the kind that prefers it dirty, go ahead and swallow your Slutty Brownies warm. Scroll down for the full recipe and get your slut on!
FREE EBOOK SERIES! 5 SECRETS FOR FOOLPROOF VEGAN DESERTS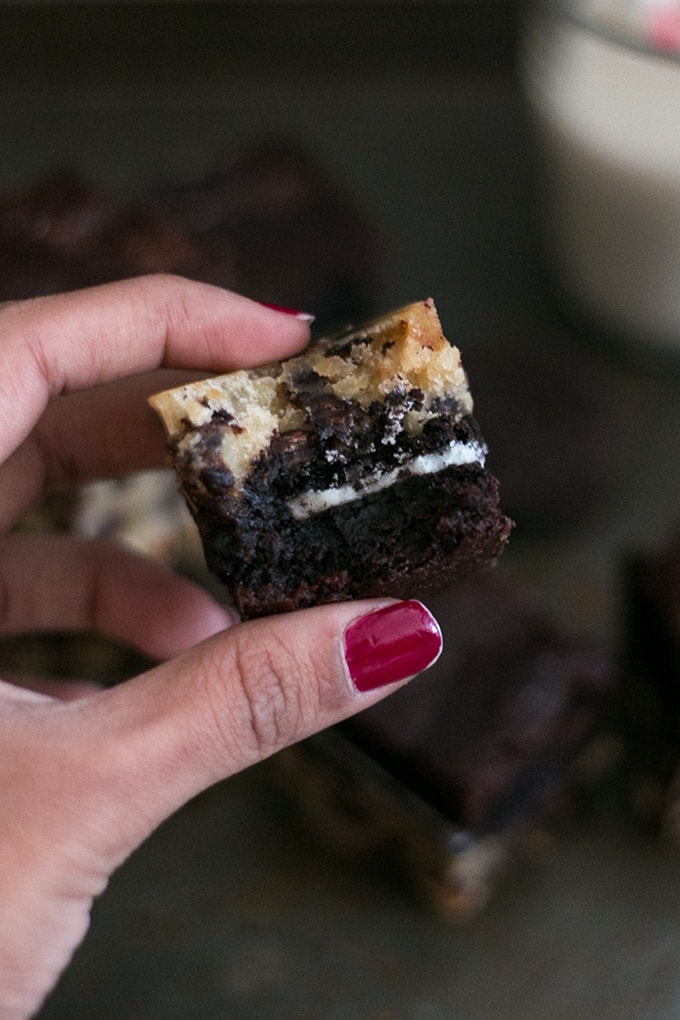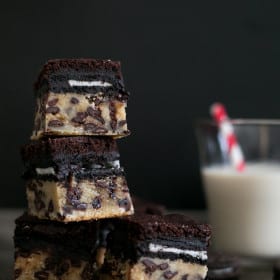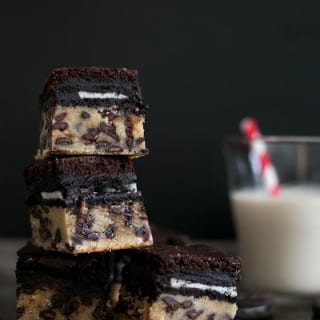 Vegan Slutty Brownies
Vegan Slutty Brownies - Chocolate Chip Cookie Base stuffed with a Vegan Sandwich Cookies and topped with Vegan Brownie Batter. Simple, Decadent, Slutty!
Ingredients
For the cookie base
1/2

cup

Vegan Butter

125 grams

6

tablespoons

Brown Sugar

packed

6

tablespoons

Caster Sugar

1/2

teaspoon

Salt

1/3

cup

Non Dairy Milk

1/2

teaspoon

Vanilla Bean Paste

1

cup + 6 tablespoons

Flour

1

cup

Chocolate Chips

12

Chocolate Sandwich Cookies
For the brownies
1

cup

Flour

1

cup

Sugar

6

tablespoons

Unsweetened Cocoa Powder

1/2

teaspoon

Salt

1/2

cup

Oil

1/2

cup

Water

1/2

teaspoon

Vanilla Bean Paste
Instructions
Preheat oven to 175 degrees Celsius. Line a 8x8 inch square baking tin with nonstick baking paper.

In a large bowl, start preparing Chocolate Chip Cookie base. Cream Vegan Butter, Brown Sugar, Caster Sugar, Salt, Non Dairy Milk and Vanilla Bean paste with an electric mixer till light and fluffy. Add flour in and mix until well combined. You should achieve a sticky mixture.

Pour in Vegan Dark Chocolate Chips and stir to disperse throughout. Using a spatula, spread sticky cookie dough mixture onto the base of the lined tin.

Layer your 12 Chocolate Sandwich Cookies evenly on the surface of the Chocolate Chip Cookie Dough.

In another clean bowl, prepare Brownie batter. Combine Flour, Sugar, Cocoa Powder and Salt. Whisk to combine dry ingredients and get rid of lumps.

Add Oil, Water and Vanilla Bean Paste to dry ingredients and whisk till smooth. Pour brownie batter over layer of Sandwich Cookies.

Bake for 30-35 minutes. Remove from oven and let cool thoroughly in baking tin. Once cool, slice and serve.
Nutrition
Serving:
1
serving
Calories:
259
kcal
Carbohydrates:
46
g
Protein:
4
g
Fat:
7
g
Saturated Fat:
2
g
Trans Fat:
1
g
Sodium:
238
mg
Potassium:
93
mg
Fiber:
2
g
Sugar:
21
g
Vitamin A:
289
IU
Vitamin C:
1
mg
Calcium:
20
mg
Iron:
2
mg
Like these Vegan Slutty Brownies? Don't forget to follow me on Instagram, Pinterest and Facebook!