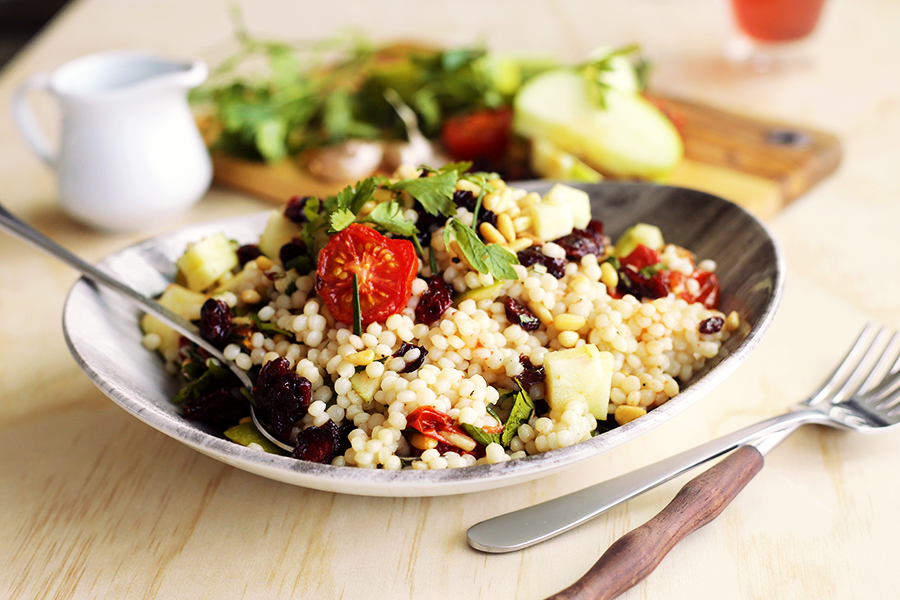 I am not a Salad guy. I mean woman. But I am a fan of anything that resembles little balls. And thus, a compromise was reached in the form of this Israeli Couscous Salad. Look at those lovely, perfectly round balls. This was our first time trying to create a freshly made Israeli Couscous recipe because we are really lazy people and we much prefer just boiling a kettle of water and pouring it over instant couscous over turning the stove on.
So I was watching Food Network re-runs the other day (because Australia is famous for showing decade old recordings of American television..) and I came across Giada making a salad with Israeli Couscous, Apples and Cranberries. Now, I can't lie about this: I can't stand her and her over the top descriptions of food…..but the salad she made looked pretty damn good, and I used it as inspiration to make my own Israeli Couscous Salad. A vegan version of course!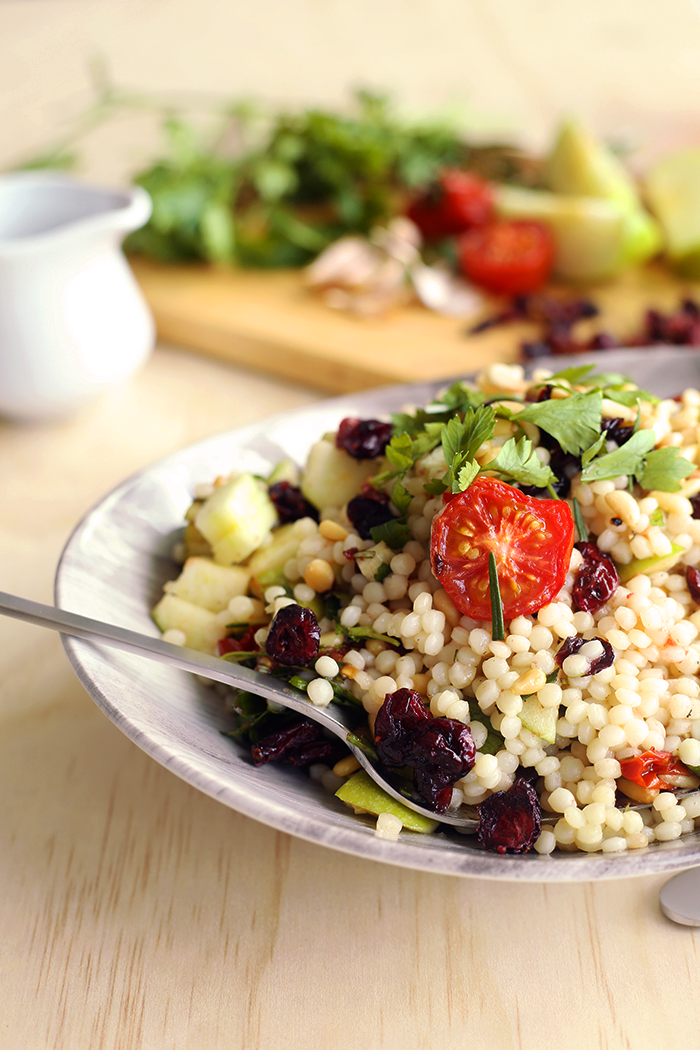 I cooked my Israeli Couscous in vegetable broth, used Orange Craisins, Rosemary, Parsley, Dried Mint, Oven Roasted Tomatoes and Garlic, Green Apple and then finished everything off with some amazing toasted Pine Nuts. I loveeee toasted Pine Nuts! They are so rich and flavorful, just like George Clooney. (The other day I saw a girl popping one after another into her mouth after buying them at the grocery store and I couldn't help but cringe. YOU IMBECILE, YOU ARE WASTING THEM!……..)
FREE EBOOK SERIES! 5 SECRETS FOR FOOLPROOF VEGAN DESERTS
Ahem, anyway, I loved how well the Green Apple went with the other ingredients – Crunchy! Tart! Yummy! And those Cranberries….you could just use normal ones, but I love how the Orange Craisins add a zesty kick when you bite into them. That sounds like such pretentious food blog recipe writing, I'm going to pat myself on the back with a large dagger.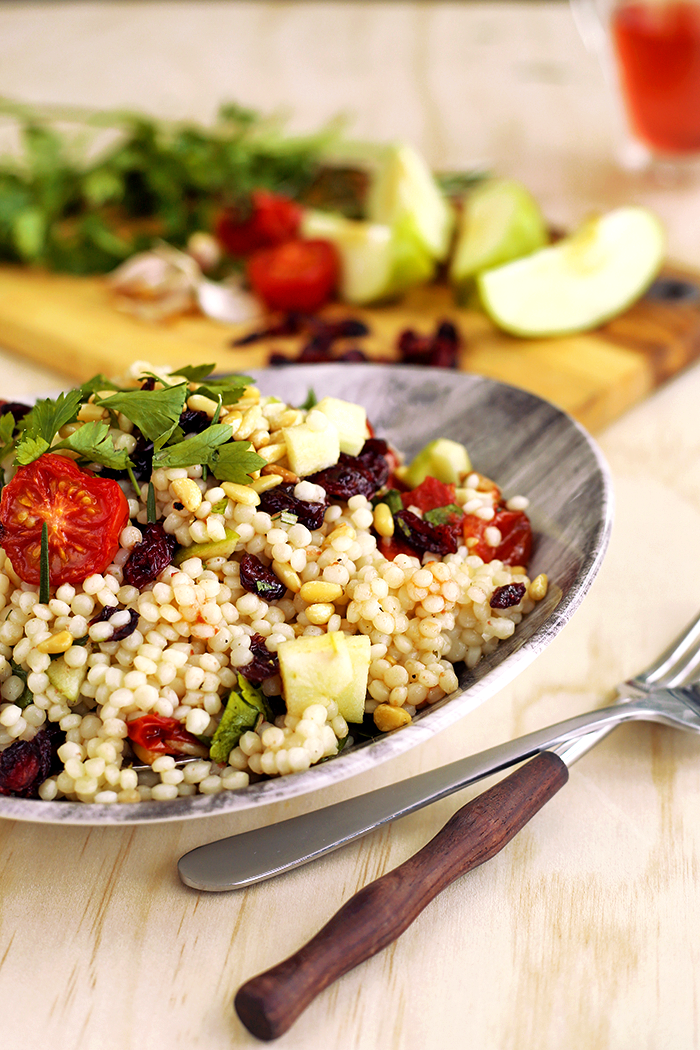 Verdict: I talked to myself in the mirror… "I usually hate Salads…makes me feel like a caterpillar..even though there is nothing wrong with being a caterpillar. I never turned into a Butterfly though. Anyway, this salad….is good balls".
Anyway, this salad is:
Balls-ey
Vegan-ey
Isreali-ey
Healthy-ey
Israeli Couscous-ey
Best eaten on a cold, rainy, friendless, – fake check into a hip club on Facebook when you're actually at home stuffing your face kind of night-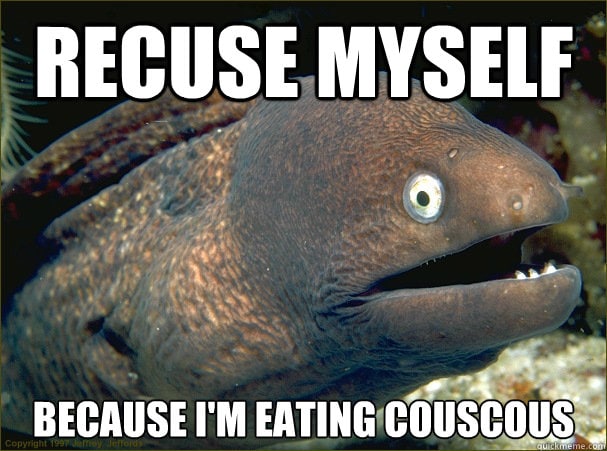 I hope you guys try out my Vegan Israeli Couscous Salad recipe out – I think it's a perfect healthy start to the New Year. Alternatively, you could have a large slice of Chocolate Cake after eating this and fool yourself into believing you've been kind of healthy for the day because like, I ate SALAD! Hello! Giggles! As usual, we always love to hear any feedback or comments in our comment box below, so don't be shy! Till next time =)
PS: Wishing everyone a SAD New Year so that 2016 WILL BE A HAPPIER ONE! JUST KIDDING! Have a healthy, happy new year and thank you for all the support you've given me these past few months 🙂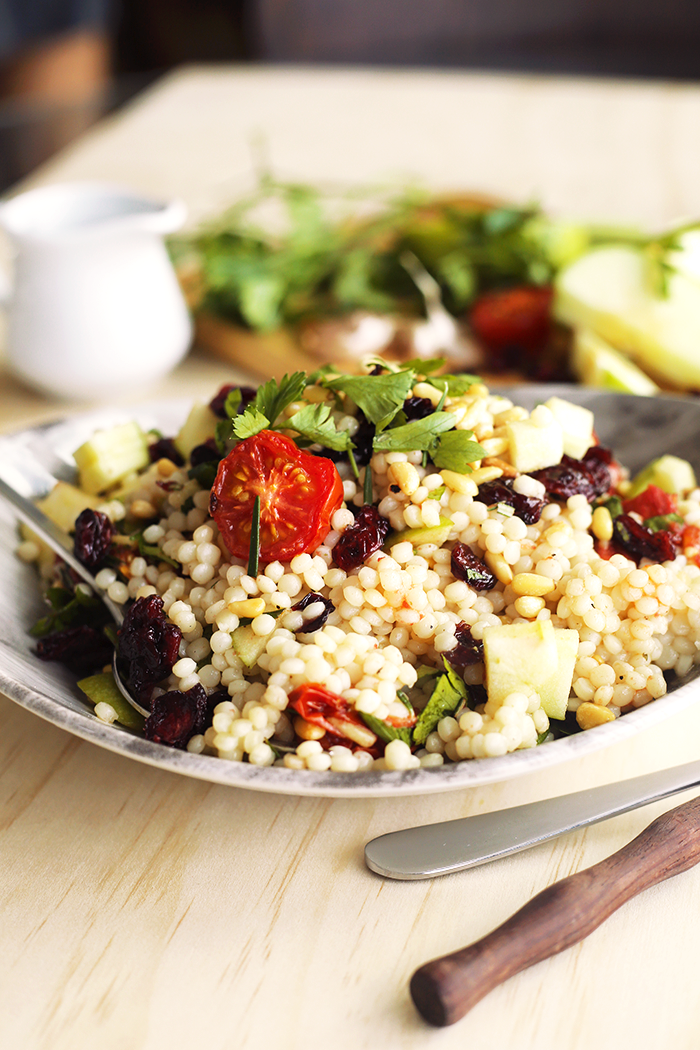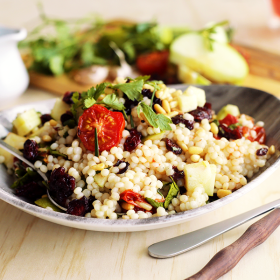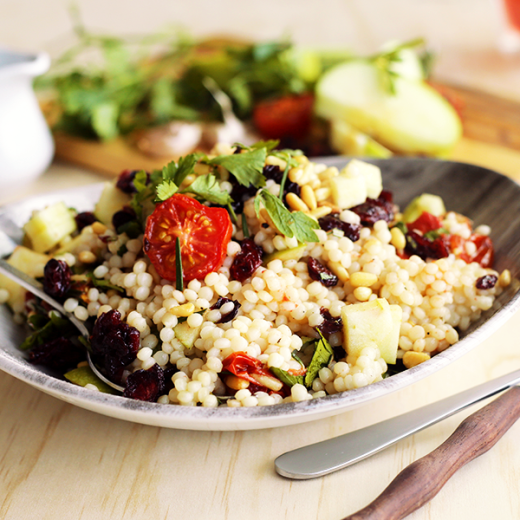 Israeli Couscous with Cranberries and Apples
Ingredients
For Salad:

1

cup

Israeli Cousous

1

teaspoon

Extra Virgin Olive Oil

1 1/2

cups

Vegetable Broth

1

cup

halved Cherry Tomatoes

4

cloves

Garlic

skin left on

1

teaspoon

Olive Oil

1/2

cup

Orange Flavored Dried Cranberries

1/2

cup

Chopped Parsley

1

tablespoon

Chopped Rosemary

1

teaspoon

Dried Mint

1/2

cup

Toasted Pine Nuts

1

Granny Smith Apple

diced finely

For Dressing:

1

Tablespoon

Maple Syrup

1 1/2

Tablespoons

Extra Virgin Olive Oil

2

Tablespoons

Apple Cider Vinegar

1/4

teaspoon

Sea Sat

Zest of 1/2 an Orange

Freshly cracked Black Pepper

to taste
Instructions
Prepare Roasted Tomatoes and Garlic: Preheat oven to 200 degrees Celsius. Toss tomatoes and garlic in olive oil and season to taste. Spread garlic out on baking sheet and roast for 15 minutes. Add tomatoes onto baking sheet and continue to roast everything for another 15 minutes. Set aside to cool.

Prepare Dressing:

Whisk all ingredients well until oil has emulsified fully into the dressing. Set aside.

Prepare Couscous: In a saucepan, heat oil up and lightly fry Couscous for about 5 minutes or until fragrant and slightly toasted. Add vegetable broth into pot, bring to a boil and leave to simmer, uncovered, for about 15 minutes or until couscous is al dente. Most of the liquid should have evaporated off, but you may drain if necessary. Transfer to a large bowl and leave to cool.

Once cool, add cranberries, parsley, rosemary, dried mint, toasted pine nuts and diced apple to the mix. Toss well.

Squeeze roasted garlic out of its skin and add to the salad, along with the roasted tomatoes.

Pour dressing on and toss gently.

Garnish with more chopped herbs and pine nuts and serve!