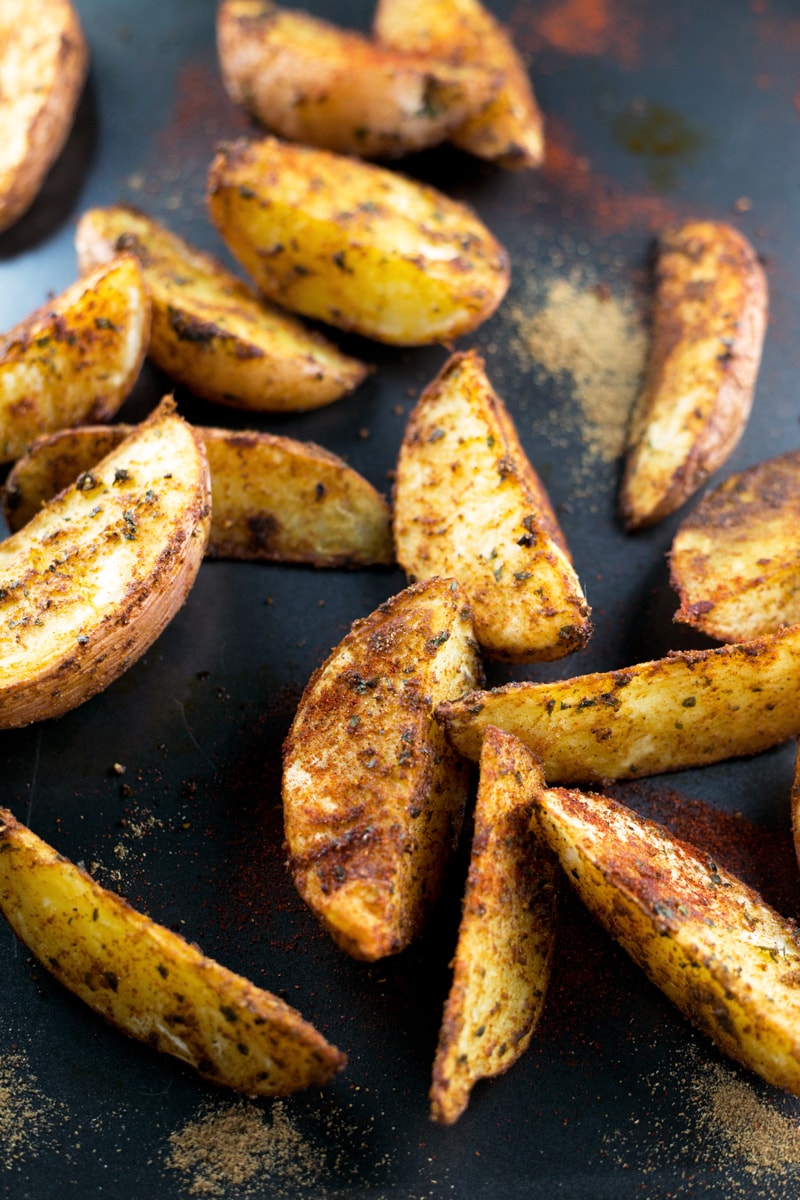 Who doesn't like a little potato in their lives? Both of us here are suckers for anything that involves the humble potato – Mash, French Fries, Rösti, Roasted Potatoes – basically anything that you can make with a potato. A couple of nights ago, I realized that I had nothing left in the house besides a couple of potatoes and that's when I came up with these Mexican Wedges with Vegan Nacho Cheese Sauce. We didn't just stop at the delicious Nacho Cheese Sauce, because I also made a batch of Homemade Vegan Sour Cream to slather on our cheese flooded wedges before we shoved them into our disgusting fat gobs.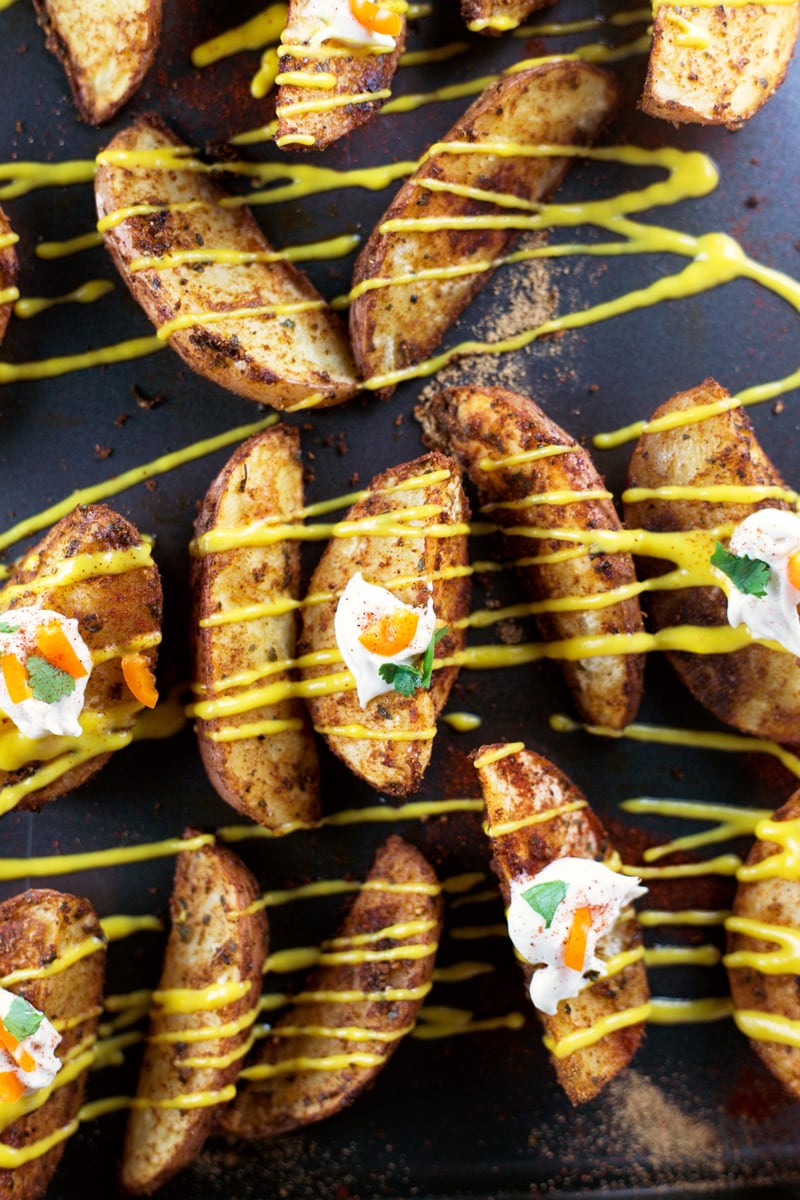 LOOK AT THAT! That looks pretty delicious if I say so myself. To be totally honest – I am the pickiest eater you'll find in the southern hemisphere. A lot of things just don't do it for me….which was why I was a little afraid of making this recipe in the beginning. "This is gonna taste too damn vegan". Poisonous, negative thoughts filled my mind (okay, now I'm just talking sh!t). Turns out, I fkn love my Mexican Wedges with Vegan Nacho Cheese Sauce. (Uh, did that sound like an innuendo.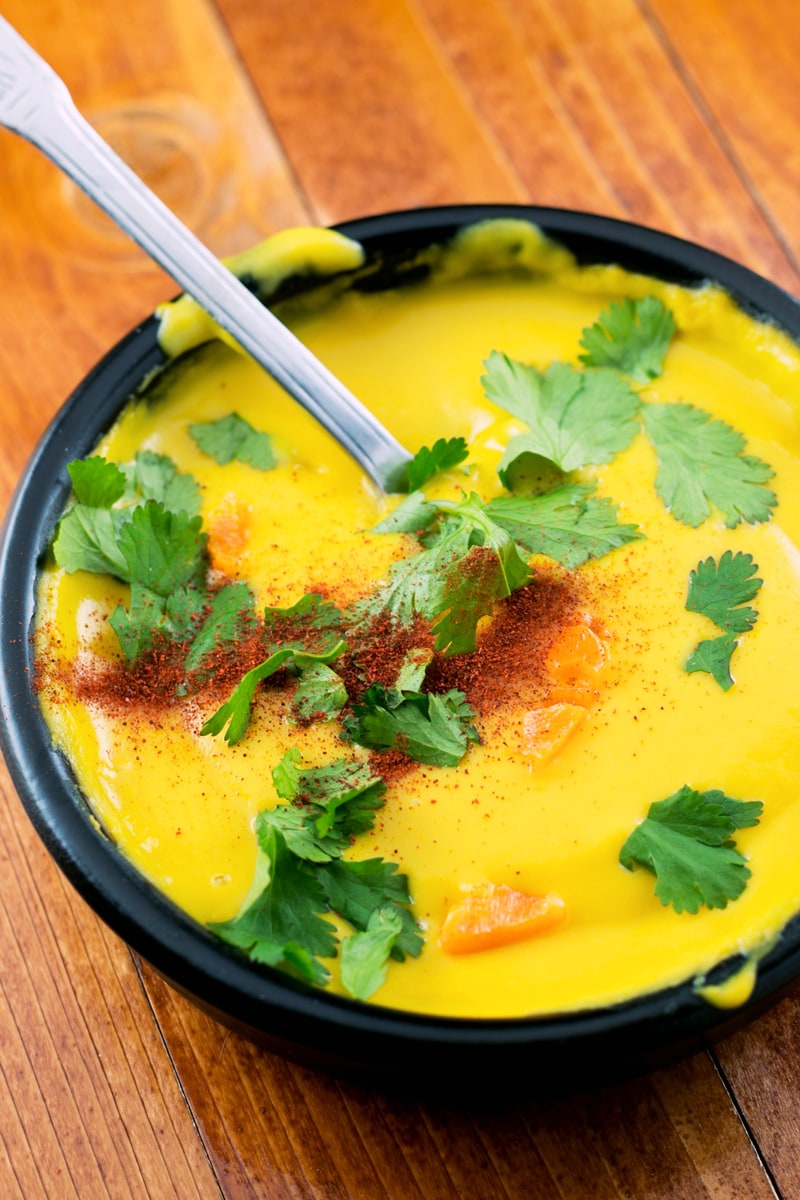 Okay, let's talk about the Vegan Nacho Cheese Sauce. This is a recipe that caught my eye when I was scrolling through the Full of Beans blog last week. If you're a regular reader, you'll know that I've made their Bean Dip recipe in the past, and based on how great that was, I just needed to try another one of their recipes out. I'm glad I chose to try their Vegan Nacho Cheese Sauce because it is definitely going to be a staple at our household from now on.
FREE EBOOK SERIES! 5 SECRETS FOR FOOLPROOF VEGAN DESERTS
Made with Potatoes, Carrots, Nutritional Yeast and a few other seasonings, I myself was surprised at how much it really did taste like regular Nacho Cheese Sauce, but obviously sans the saturated fat and nasties. The recipe for their Vegan Nacho Cheese Sauce makes a sh!t load of product, but fret not, it'll be gone in no time. Want to channel your inner baby and drink it from a sippy-cup whilst someone tickles your bottom? Go ahead. Unfortunately, I'm not really into fetishes so I used the leftovers on some Mexican Rice the next day and it was flipping good.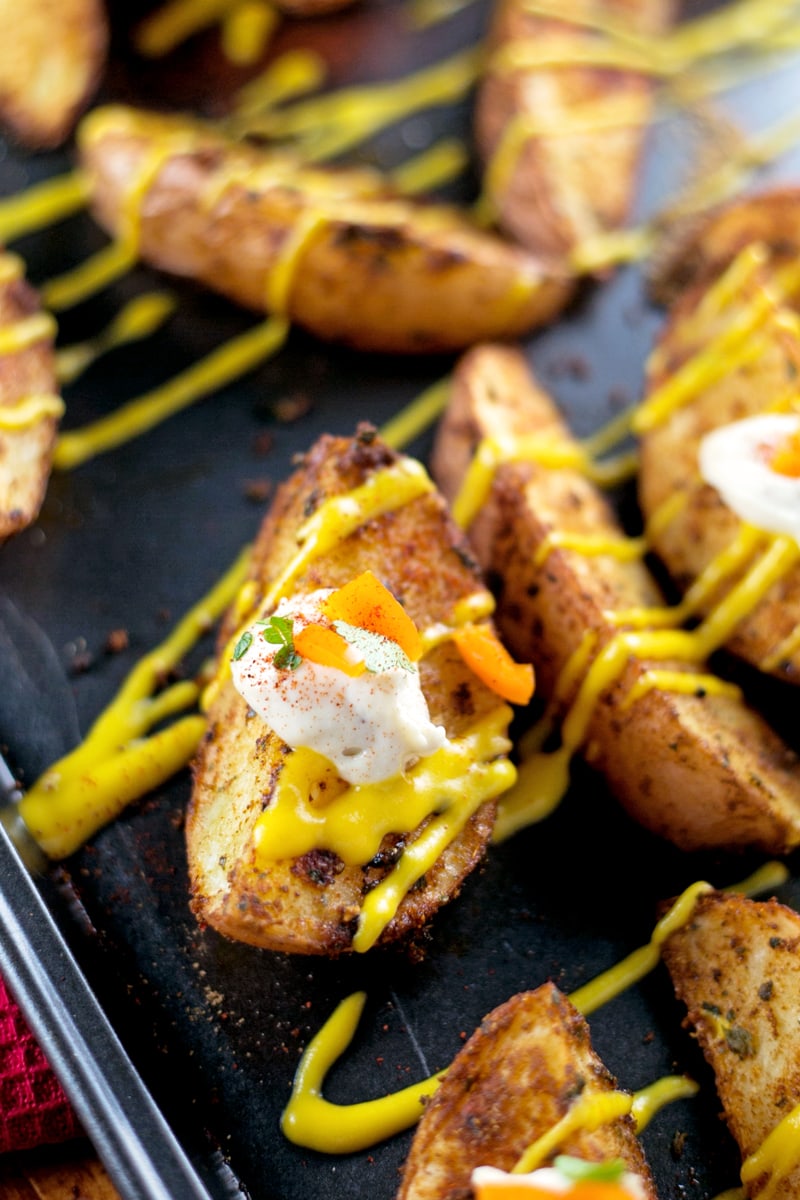 My wedges are super easy to make – all you need is a couple of spices, nice creamy potatoes, the slightest amount of oil and an oven! Staying true to the Mexican theme, I used Ground Coriander, Ground Cumin, Cayenne, Paprika in the seasoning mix and tossed it all with only about 1 teaspoon of oil before baking. They are really really tasty on their own, but if you're looking for something to knock your socks off, I highly recommend making the Vegan Nacho Cheese Sauce and Homemade Sour Cream. The Vegan Sour Cream is the same recipe I used in my One Pan Mexican Quinoa and this has got to be the 10th time I've made it since I posed that recipe months ago.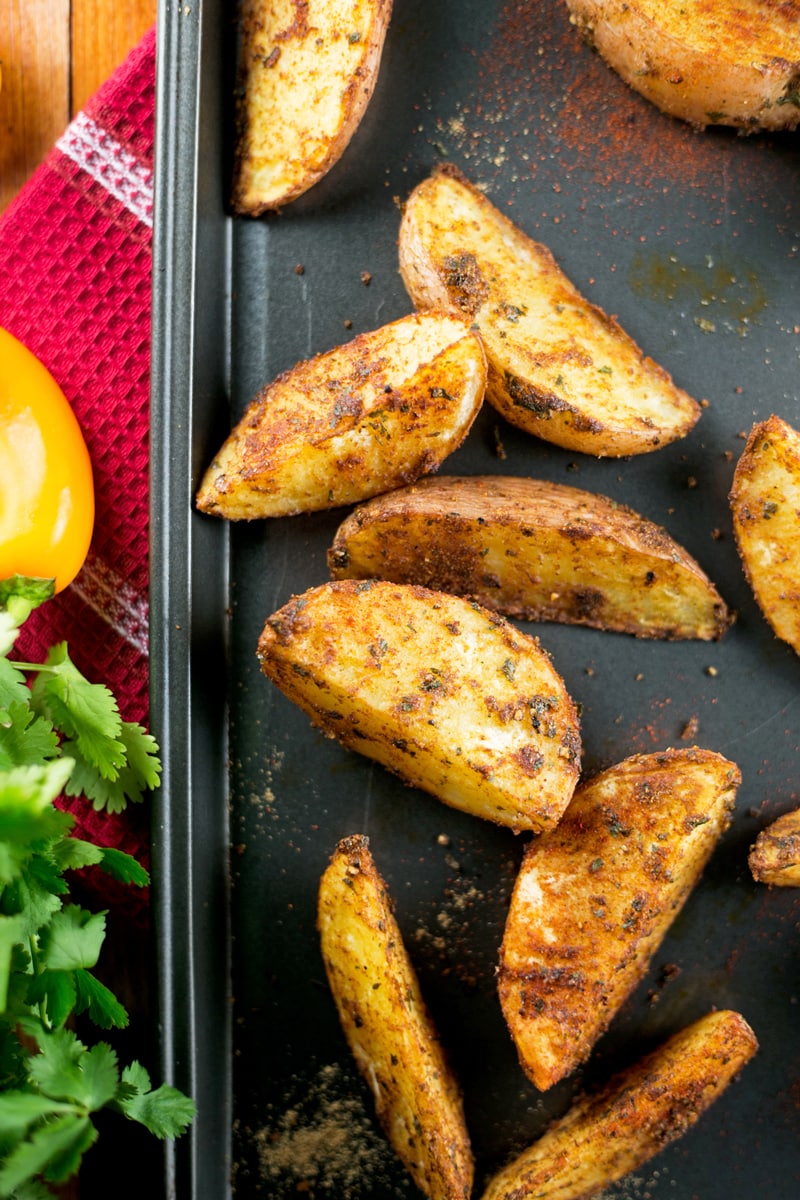 I guess it's time I stop rambling and leave you with the recipe for these Mexican Wedges with Vegan Nacho Cheese Sauce and Sour Cream. Boy, is that a long title. But don't let that scare you off – all the components are a breeze to whip up and the sauces can be made whilst your Wedges are in the oven. I'm all about that multi-task, baby. Also, FYI – Carbs and Potatoes don't make you fat. Too many calories and sitting on the couch all day does! Don't hate on the poor potato and remember to scroll down for the full recipe – till next time!
PS: Our awesome friends Greg and Georgia over at Full of Beans (look at them down there…how hot are they?) have recently started selling some beautiful t-shirts for both men and women on their website. Their shirts are quality handmade, silkscreen produced and are also locally made. The shirts come in a variety of different colors, so if you're interested in getting some Vegan inspired t-shirts, go grab them on their website. I've already ordered mine! #eatforpeace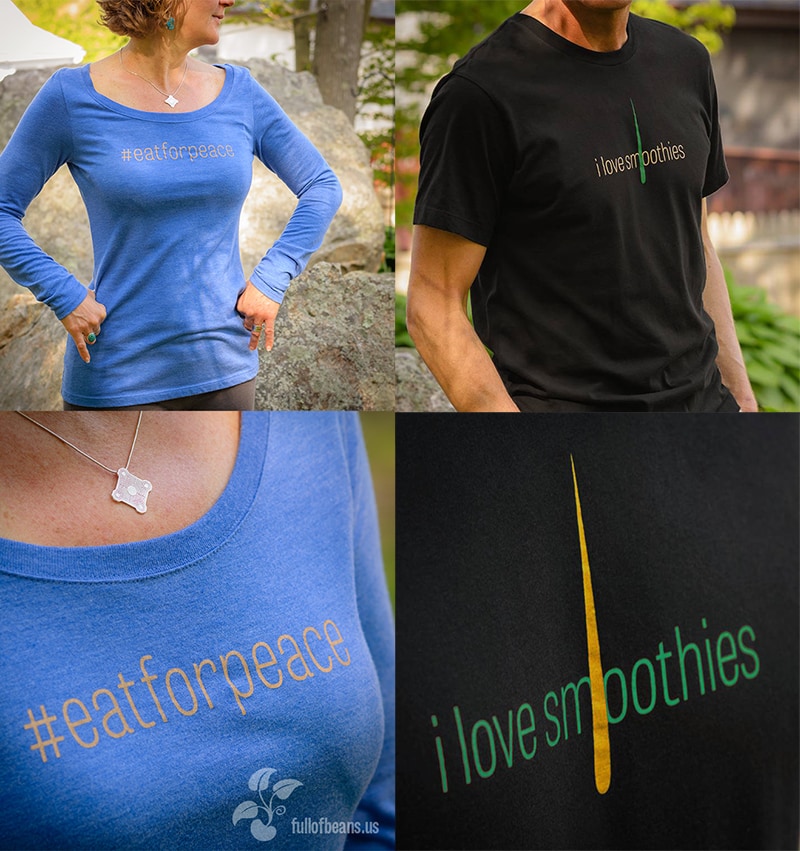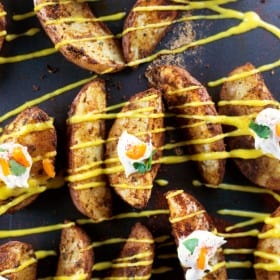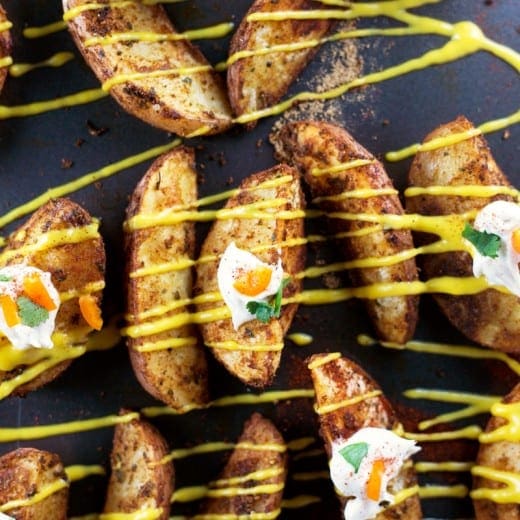 Mexican Wedges with Vegan Nacho Cheese Sauce
Spiced Mexican Wedges with homemade Vegan Sour Cream and Nacho Cheese Sauce. Creamy, Cheesy, Spicy and Simple to make.
Ingredients
Potato Wedges:

3

Large Potatoes

peeled and cut into wedges

1 1/2

teaspoons

Oil

1 1/2

teaspoons

Ground Cumin

1

teaspoon

Ground Coriander

1

teaspoon

Paprika

1/2 - 1

teaspoon

Cayenne

depends on how spicy you want them to be

1

teaspoon

Dried Parsley

Salt/Pepper

to taste

1

recipe b][Vegan Nacho Cheese Sauce[/b]

1

recipe b][Homemade Vegan Sour Cream[/b]

[br

Extras:

Cilantro

for garnishing

Diced Red Pepper

for garnishing
Instructions
Make Potato Wedges: Preheat oven to 180 degrees Celsius and have a baking sheet ready.

In a large bowl, combine your potato wedges with oil, cumin, coriander, paprika, cayenne and dried parsley. Season liberally with salt and pepper, and then toss everything until all the seasoning has been evenly distributed on the potato wedges.

Once everything has been mixed well, transfer wedges to baking sheet and make sure they are placed on the baking sheet in a single row. You want your wedges to roast, not steam!

Pop into the oven for 35 minutes, giving the wedges a turn halfway through the cooking process.

Whilst the wedges are in the oven, prepare your Vegan Nacho Cheese Sauce and Homemade Sour Cream.

After 35 minutes, check that your wedges are done, check that they are cooked through and tender. If they arent, let them bake for another 10 minutes. When they are done, serve with prepared sauces (drizzle them on if you wish) and garnish with coriander and diced pepper.
Disclaimer: Some of the links above are Amazon affiliate links. This means that we earn a small commission if you purchase anything through them, at no extra cost to you. We only recommend products we love and trust.