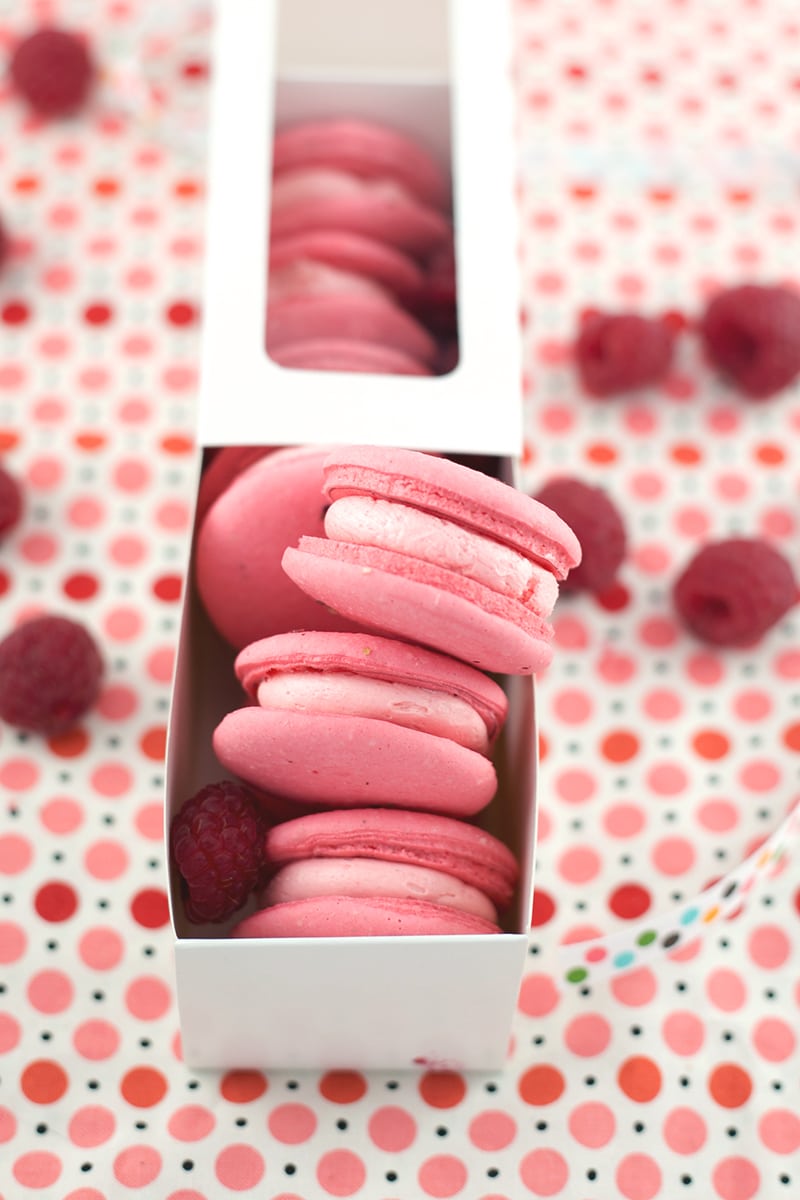 Macarons – who doesn't love the ubiquitous macaron? Macarons have taken the world by storm ever since they became trendy a few years ago, and although in my opinion overrated, I do think they are pretty tasty little morsels when done right. (Don't get me started on how so many places sell the most terrible fu*king macarons ever… blasphemous!). Before I get into talking about my recipe for Raspberry Rose Vegan Macarons, let me share a story about my history with the great ol' macaron. I started trying to make Macarons when I was 14 years old – um, 10 years ago. Damn it. I remember failing time and time again (I reckon around 20 times), but when I did eventually get it right, the ones I made were AWESOME. Back then I was just a Vegetarian, so obviously I mastered egg-based Italian Meringue and French Meringue Macarons. The possibility of Vegan Macarons never even crossed my mind – not till now anyway!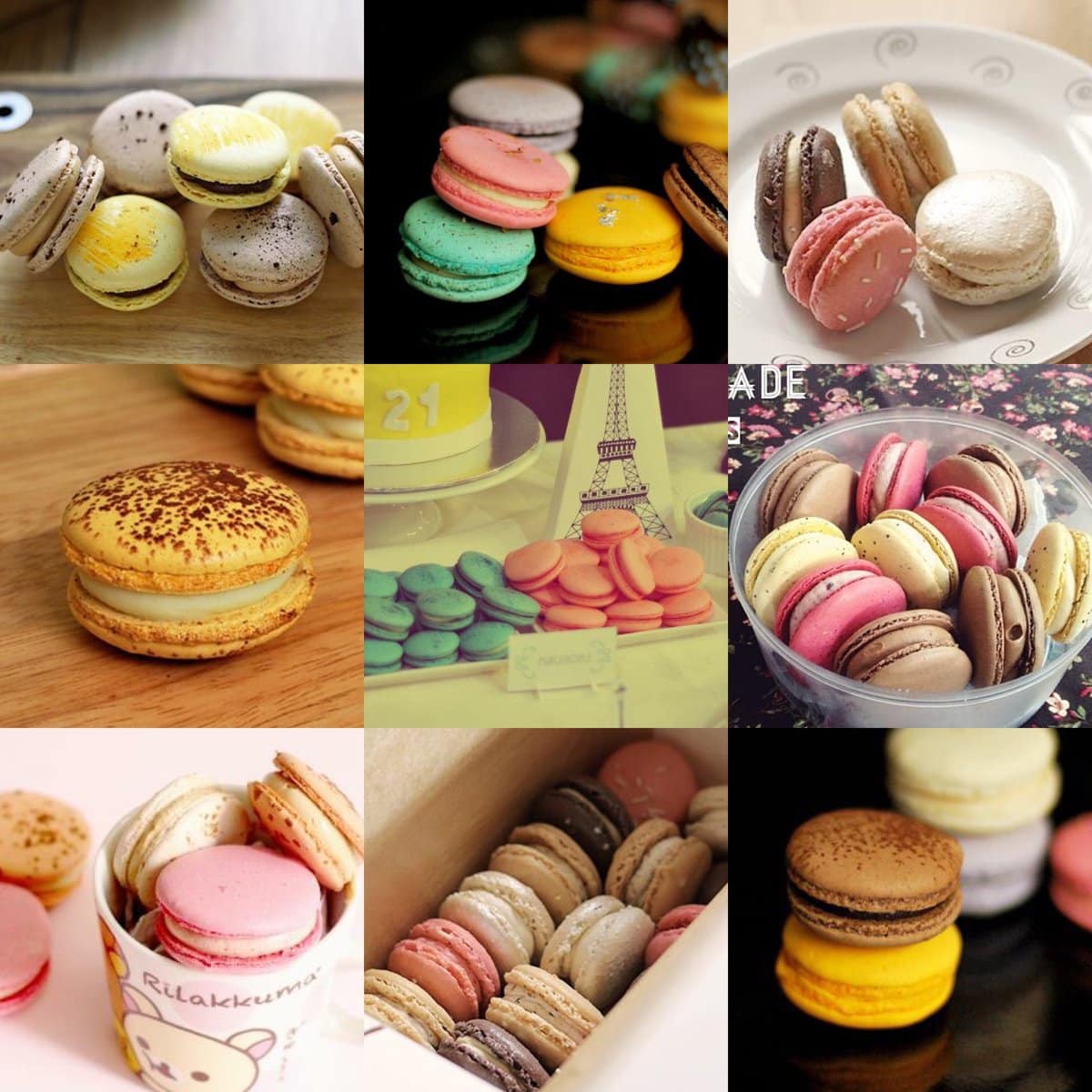 Pictured above is a collage of the stuff I used to make and sell. If there is one thing people back home know me for, it has to be my Macarons. People used to buy them in the hundreds from me (I hardly got any sleep on those days) and most people I ran into said the ones I made were the best they'd ever had. When I was a student of Le Cordon Bleu, we made hundreds of them for tea parties, in all shapes and sizes. Below are photos of some of the stuff I personally was in charge of making during my time at Le Cordon Bleu. Pardon the Instagram shots. Instagram is so cool.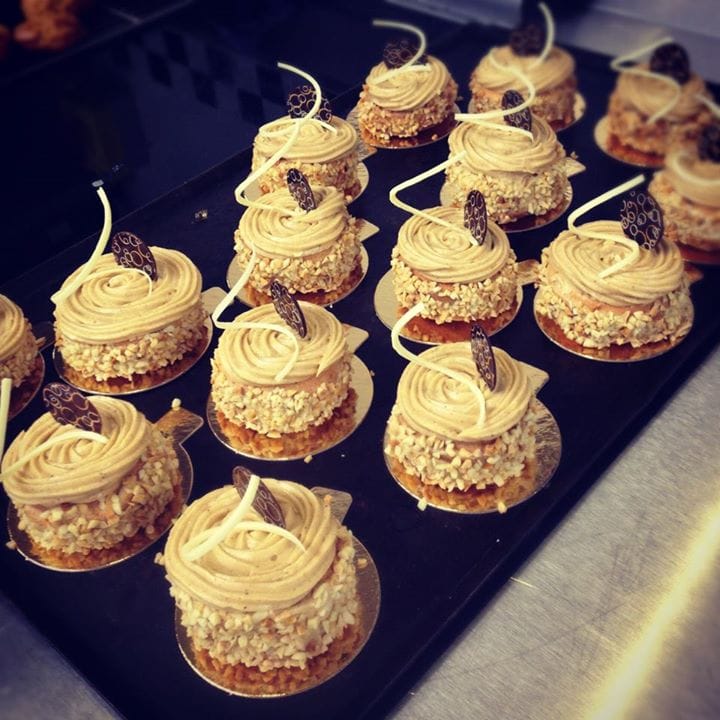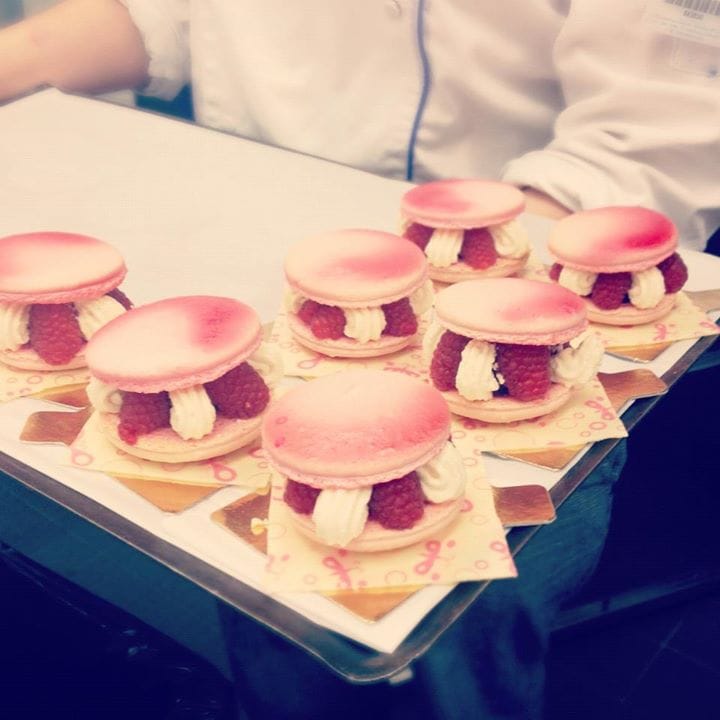 After going Vegan, I figured that I had seen the last of my macaron making days, to the ultimate dismay of many people. SUCKS FOR THEM! … That was of course, until I read about how people were making macarons with Aquafaba. I've had success in the past using Aquafaba in my Chocolate Mousse Recipe, so I figured it was time to roll my sleeves up and attempt to use it in my Raspberry Rose Vegan Macarons. I'm glad to say that it was a great success, and the Macarons turned out much better than I expected them to.  They are virtually indistinguishable from normal, non-vegan Macarons (I'd say they're 95% identical, but that's just because I'm a nit-picky, snobby piece of sh!t). The only problem I faced was that the feet were slightly uneven in rising, but I am dead certain this is the fault of my compact oven which isn't the best oven for baking. Back home, I never encounter this problem with both my full sized SMEG ovens. Such is urban city apartment life. Le sigh.
FREE EBOOK SERIES! 5 SECRETS FOR FOOLPROOF VEGAN DESERTS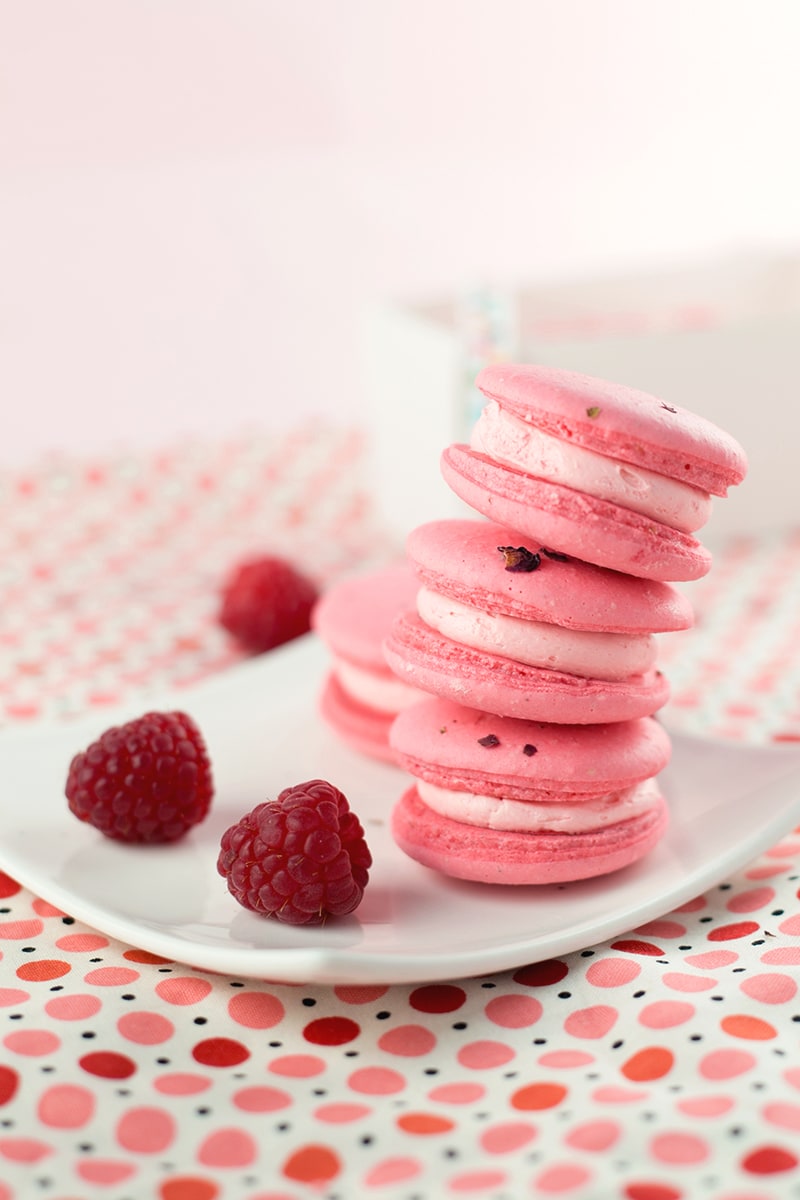 The method for making Vegan Macarons is pretty straight forward – you reduce Aquafaba on the stove to the point where it thickens significantly and then refrigerate it overnight. A lot of recipes online don't call for refrigeration, but I personally think it's a good step to ensure that your Aquafaba "egg whites" are of similar viscosity to regular egg whites.
Everything from there on is pretty much the same as making normal Macarons. First you whisk your Aquafaba till it froths; you then incorporate sugar and whisk till an almost stiff meringue is formed; fold almond meal/icing sugar mixture into meringue till the mixture resembles and drops like thick lava (also known as macaronage); pipe onto Silpat
 lined trays; leave to rest for 2 -3 hours and then bake and fill.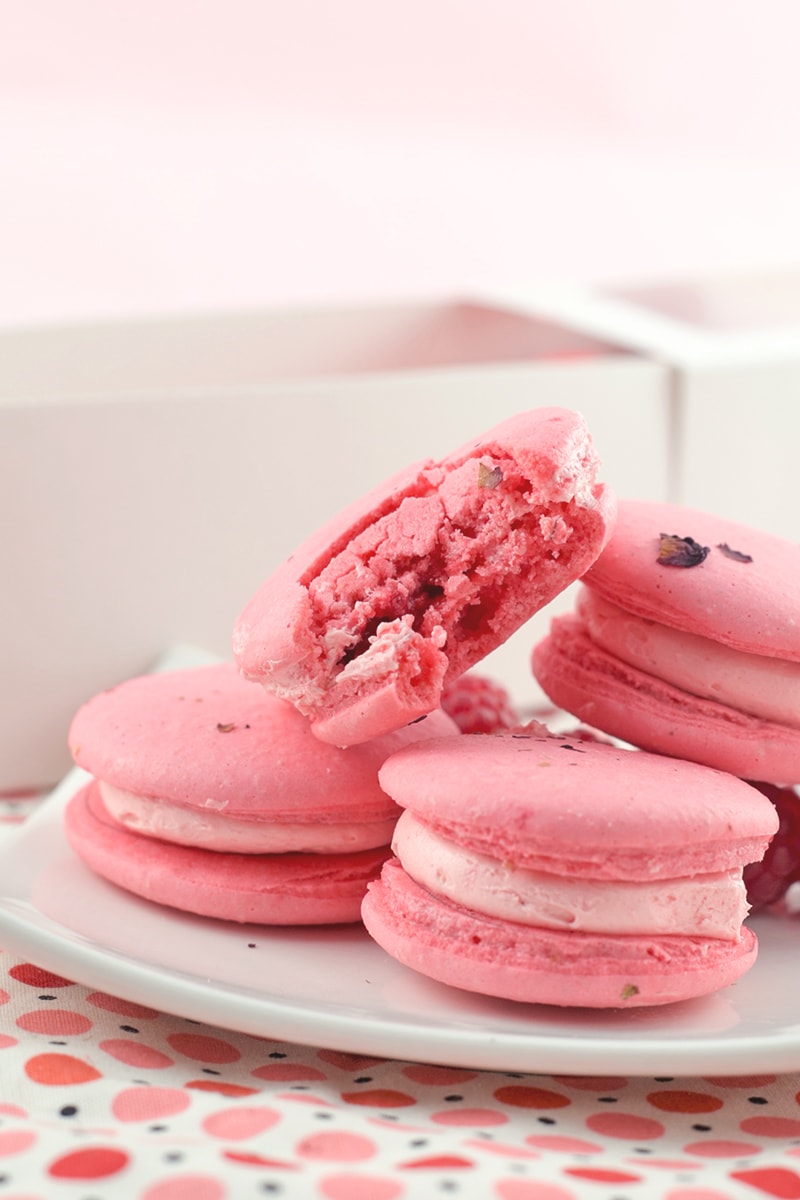 The only difference with Vegan Macarons is that they MUST sit for at least 2 hours so that the surface of your unbaked Macarons turn matte and no longer stick to touch. They also have to bake at a slightly lower temperature of 120 degrees celsius so that your Aquafaba doesn't turn back into liquid again. You have to leave your filled Macarons in the refrigerator overnight – no buts about this. This is when osmosis takes over and the shells absorb humidity from the filling, creating a more uniform texture between the filling and the shells. Another secret of mine is to use a spray bottle and apply a thin mist of water to the base of all my Vegan Macarons before I fill them (a MIST, not a flood) so that they soften up better overnight, since Vegan Macarons tend to be firmer in general than regular Macarons.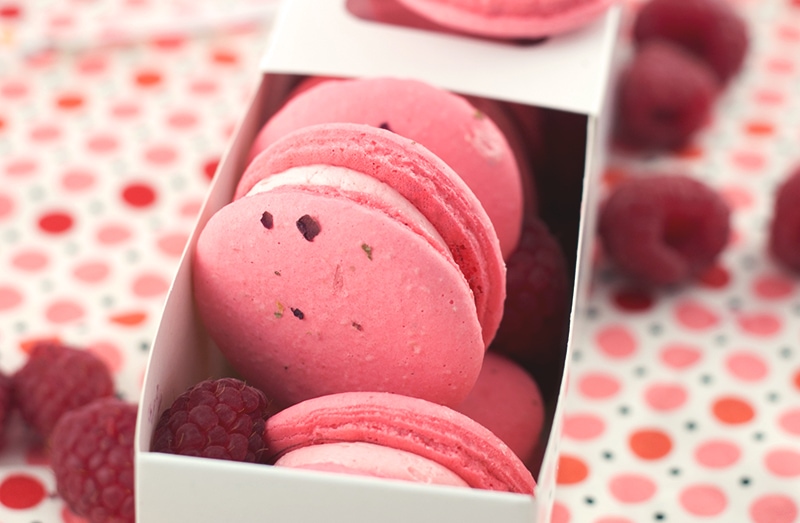 I flavored the shells and buttercream for my Raspberry Rose Vegan Macarons with Organic Rose Extract, and popped a whole raspberry in the center of each. The random bits and bobs on the macaron shells are just dried rose petal fragments which I sprinkled on before resting the macarons prior to baking them. Raspberry Rose was actually one of the first few macaron flavors I made 10 years ago – and it's still one of my freaking favorites! The flavor possiblities are endless, and you can customize it to your liking. Use whatever the fu*k you want. (I'd definitely recommend giving my Raspberry Rose Vegan Macarons a try though – they're slightly floral, fruity and creamy – everything you wan't in a good Macaron).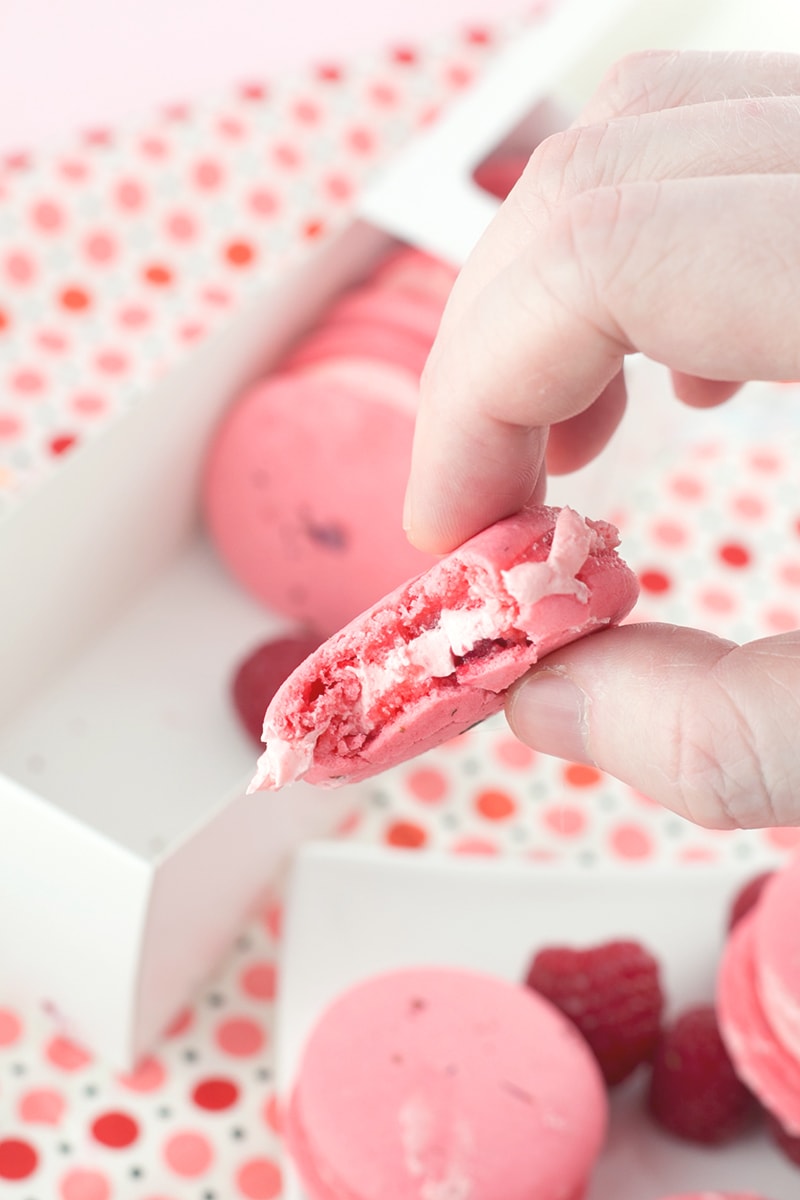 Scroll down for the recipe for my Raspberry Rose Vegan Macarons. It is simply a non-vegan French Meringue Macaron recipe that I veganized, and I hope you enjoy it and have fun in the process of making your macarons. I warn you – it's a tiring task and you may just drop dead in the midst of making them! I feel like I'm about to drop dead after writing this epic long post too.  I'll be sharing more Vegan Macaron flavors in the upcoming months – so do let me know in the comment box if there are any particular flavors you would like to see me make. I may also post a video, but that really depends on whether you guys want to see my ugly mug on camera or not – you be the judge of that! ALSO, look at how tiny our new cat Ebichu is. She doesn't look grumpy at all.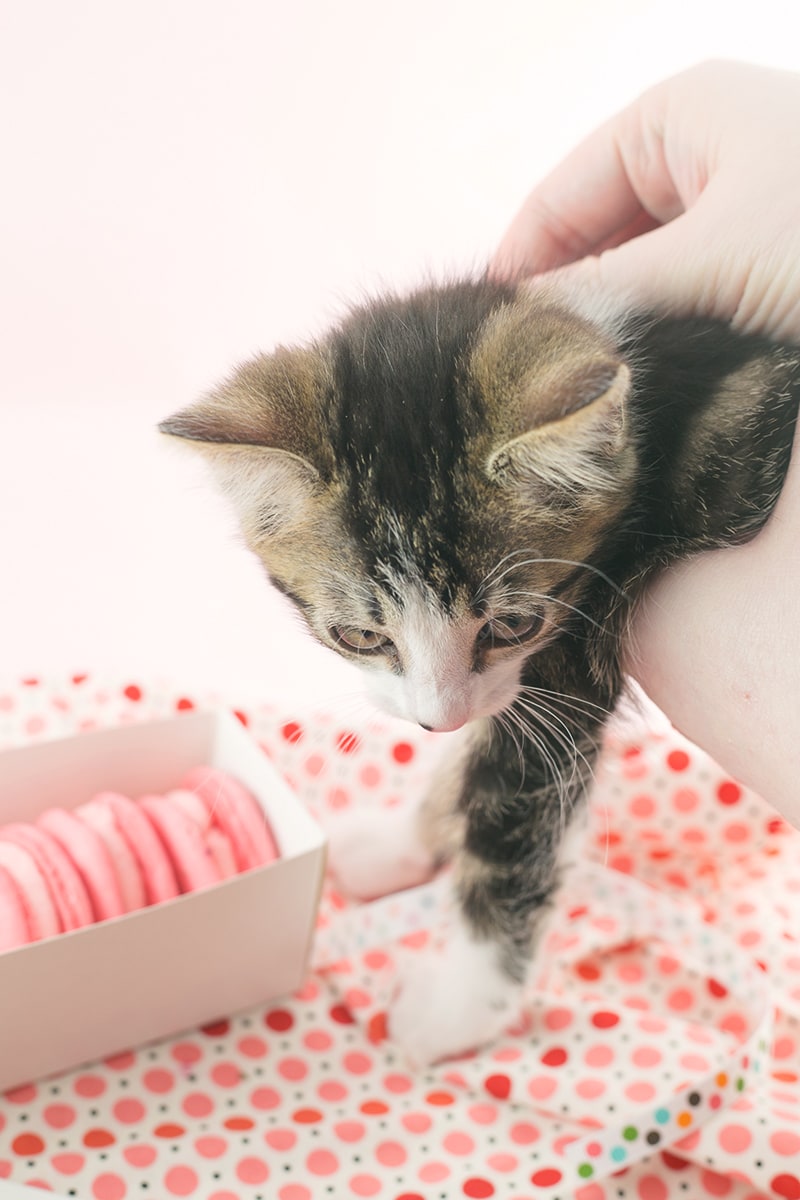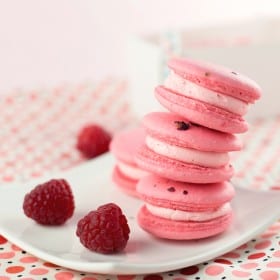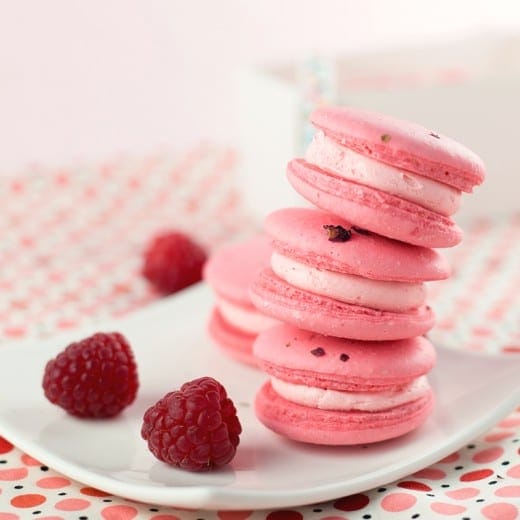 Raspberry Rose Vegan Macarons (Using Aquafaba)
Fruity, creamy and sweet Raspberry Rose Vegan Macarons made with Aquafaba. Gluten Free | Vegan
Ingredients
Macaron Shells:

250

grams

Aquafaba

1/8

teaspoon

Cream of Tartar

Pinch

of Salt

150

grams

Ground Almonds

130

gram

Pure Icing Sugar*

110

grams

Superfine/Caster Sugar

A drop of Vegan Red Food Coloring

A few drops of Organic Rose Extract

Raspberry Rose Buttercream:

125

grams

Vegan Butter Substitute

55

grams

Icing Sugar

A few drops of Organic Rose Extract

A few drops of Vegan Red Food Coloring

25

Raspberries

Extras:

Piping Bags with a Round Tip attached

Silpat Mats or Silicone Baking Paper

Baking Trays

Spray Bottle filled with Water
Instructions
The night before you want to make your Macarons, prepare your Aquafaba. In a small saucepan, bring 250 grams of Aquafaba to a simmer. Let this simmer away until it has reduced to 110 grams of Aquafaba. (I pour it out and weigh it on a kitchen scale a few times in-between to check). Once it has reached 110 grams, pour it into a bowl to cool and then refrigerate overnight.

Macaron Shells: Process Ground Almonds and Icing Sugar in a food processor and then sieve into a bowl, making sure there are no lumps in your mixture. Set aside.

With a stand mixer fitted with a clean bowl and with clean beaters, whisk Aquafaba, cream of tartar and salt on high till it turns foamy and resembles frothed up egg whites. Make sure there is no more liquid left at the bottom of the bowl before moving on to the next step.

Gradually add caster sugar in, bit by bit, whilst your mixer is turned on. Add your food coloring and Rose Extract in and then continue whisking on high for another minute. You should end up with a thick, glossy meringue.

Tip in half of your almond/icing sugar mixture into the meringue, and fold gently with spatula until it has incorporated with the meringue. Add the second half of your almond/icing sugar mixture, and continue to fold it into the batter. You don't have to be too gentle with this, but you don't want to go crazy either.

Once your mixture has been incorporated, continue folding until you end up with a mixture that resembles thick lava. Do not over-mix or your batter will be too runny and you will end up with macaron UFOs. You will know that you have reached the right consistency when you dollop a tablespoon of batter onto a flat surface and it gradually smoothens out into a nice round shape, without any "nipples" forming on top.

Fill a piping bag fitted with a round nozzle with macaron mixture and pipe into 2 inch rounds on a Silpat or Silicone Baking Paper lined mat. This recipe makes enough to make 50 individual macaron shells, so you may need to have 3 or 4 trays ready.

Once piped, slam the tray down on your kitchen counter to eliminate any air bubbles in your piped macaron mixture. Leave your trays to rest in a cool area for 2-3 hours. They are ready to bake when they have turned matt and you are able to gently touch the surface of the shells without anything sticking to your finger.

Preheat oven to 120 degrees Celsius*. Bake each tray of macarons individually for 28-30 minutes, without opening the oven door inbetween. Smaller macarons or ovens may take slightly more or less than 30 minutes. It's all about trial and error.

Once 30 minutes is up, leave your macarons in the oven for another 15 minutes without opening the door. After 15 minutes, open the oven door slightly and leave macarons in the oven with the door ajar for a further 15 minutes. Remove tray from oven and leave to cool thoroughly before peeling macaron shells off from Silpat/Silicone paper.

Repeat baking process with remaining trays of macarons.

Filling: In a stand mixer, whisk Vegan Butter with Icing Sugar, Rose Extract and food coloring. Whisk till fluffy and then transfer to a piping bag fitted with a round nozzle. Wash and dry your raspberries and keep them aside.

Assembly: Once you have gently peeled off all your macarons from your Silpat/Silicone Paper, place them on a kitchen counter with the bottom side up (rounded side down). Using your spray bottle, lightly mist the bottoms of the macarons with water and leave for 5 minutes before filling.

To fill, pipe a ring of buttercream around the base of a macaron and place a whole raspberry in the empty circle inside your buttercream. Sandwich with another macaron shell and repeat the process till all your shells have been sandwiched.

Place macarons into a box and leave in the fridge overnight, or ideally for 2 nights so that they have time to mature and form the right texture.

Macarons are best served at room temperature or 10 minutes out of the refrigerator, not straight out from the fridge.
Disclaimer: Some links contained in this post are Amazon affiliate links. We earn a small commission if you buy anything through these links at 

no extra cost

to you. We only recommend products we own and love.