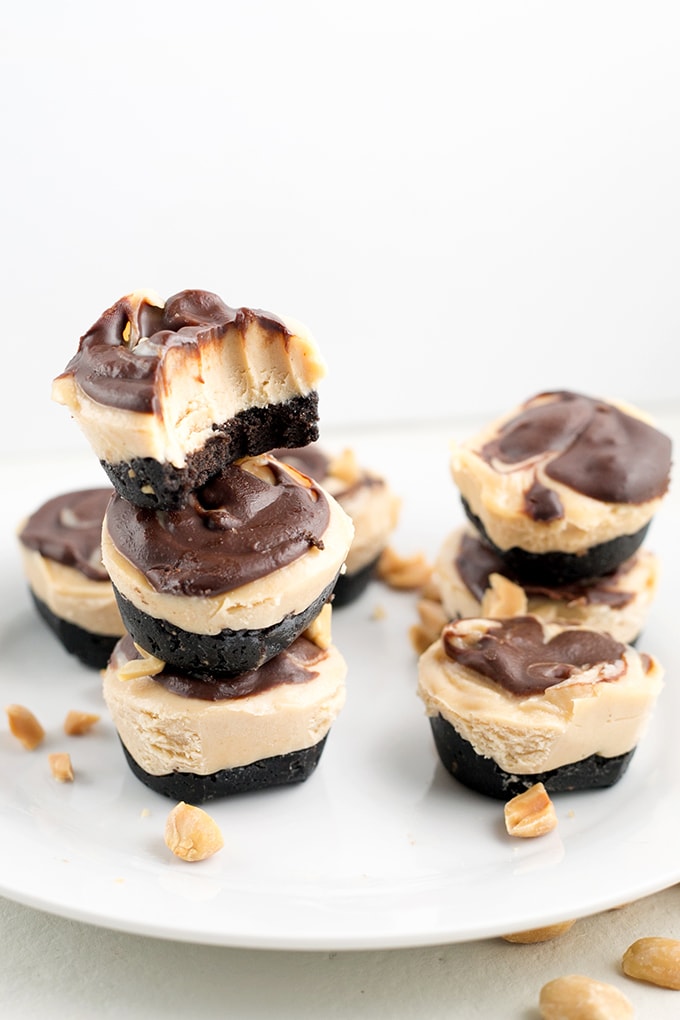 Meet my Mini Vegan Peanut Butter Cheesecakes with Chocolate Ganache. So each recipe always starts with some sort of inspiration, right? Well, the inspiration for this recipe came from my friend who always calls me "Peanut" because he reckons my brain is the size of a peanut. There you go, inspirational.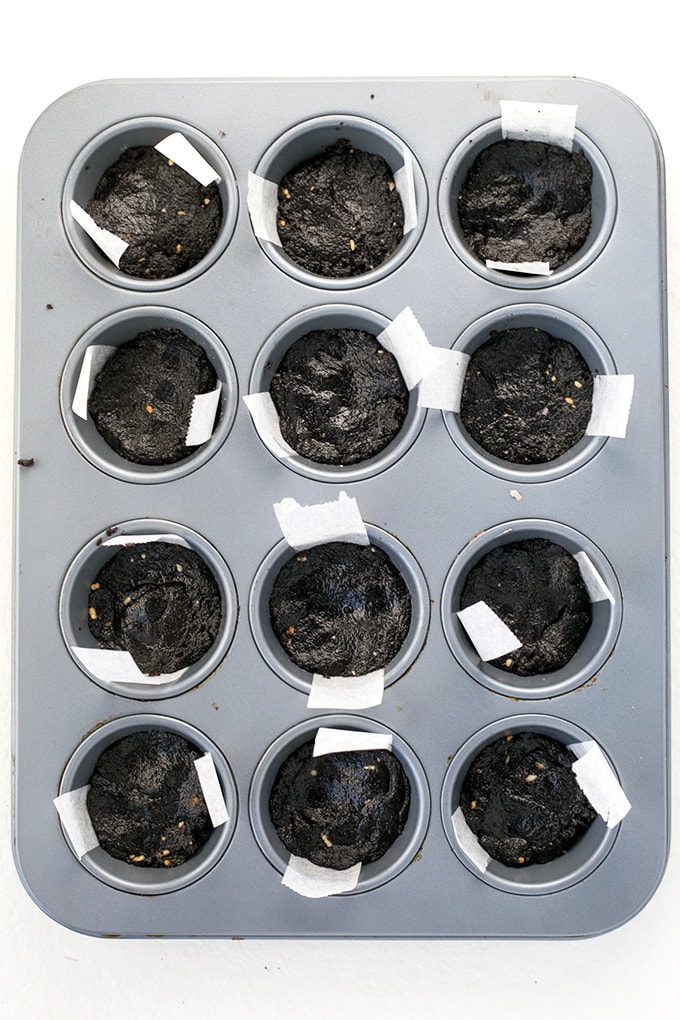 These Vegan Peanut Butter Cheesecakes are super simple to make, require no baking and only utilize a handful of ingredients. Vegan Chocolate Sandwich Cookies, Vegan Butter, Peanut Butter, Lemon Juice, Cashews, Maple Syrup, Coconut Oil, Almond Milk are used for the Peanut Butter Cheesecake, and a simple Chocolate Ganache of Coconut Milk, Vegan Dark Chocolate, Instant Espresso and Salt tops it all off. Notice I said Vegan Sandwich Cookies and not Oreos. So, all you fu*cking Oreo hating psycho Vegan hippies, ha ha no chance! Troll on someone else's blog!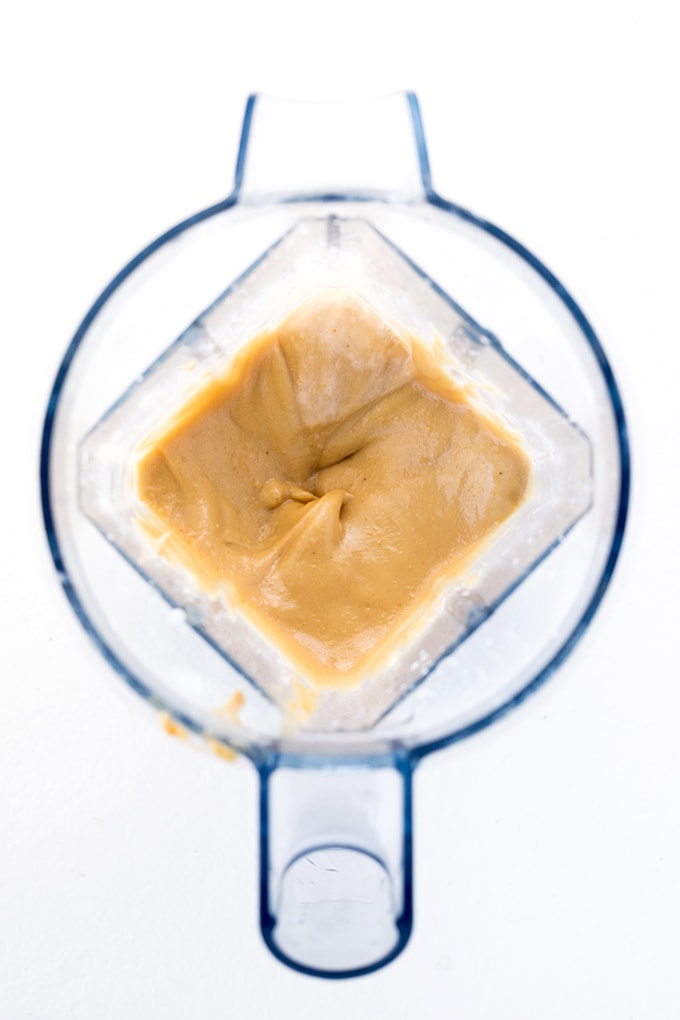 FREE EBOOK SERIES! 5 SECRETS FOR FOOLPROOF VEGAN DESERTS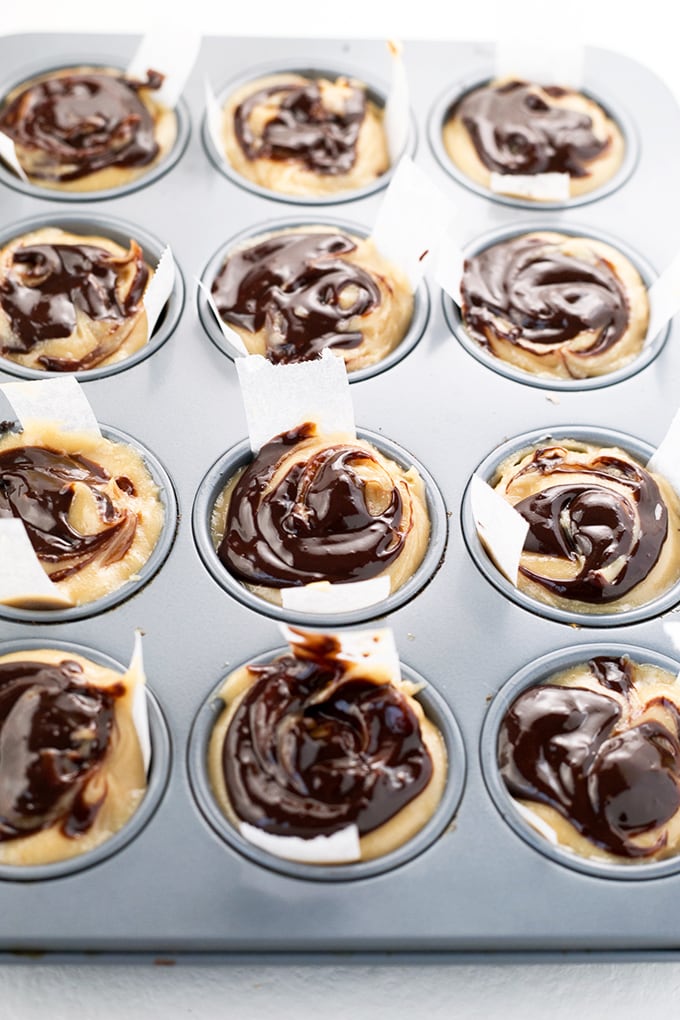 I use Natural Crunchy Peanut Butter in these Vegan Cheesecakes, but feel free to use the processed version if you prefer eating trash. Most of the time I use processed, but the natural one was on discount this week, so the cheapskate in me took over. Either way, it doesn't really matter because these Mini Chocolate Peanut Butter Cheesecake fat bombs aren't exactly healthy anyway. That's why they're mini. Try not to eat all 16 of them. Try your best, I have faith in you.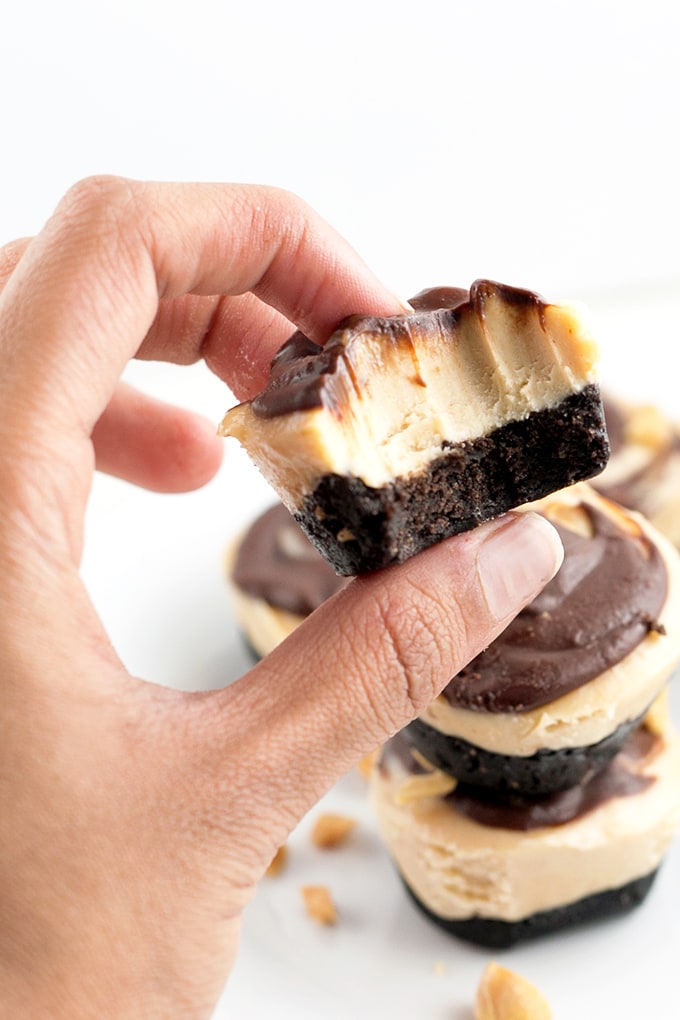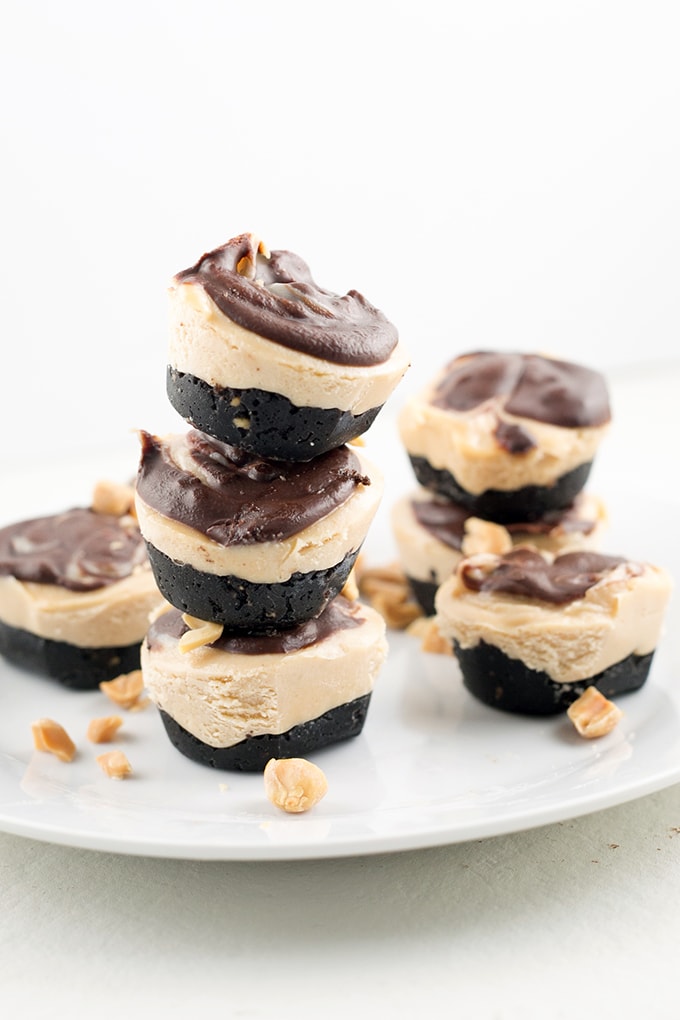 Scroll down to catch a glimpse of my simple, foolproof, idiot, and cretin friendly Mini Vegan Peanut Butter Cheesecake with Chocolate Ganache Swirl. They're not healthy, but they are hella good, like most of the things in life that are bad for you. I love Coke…zero.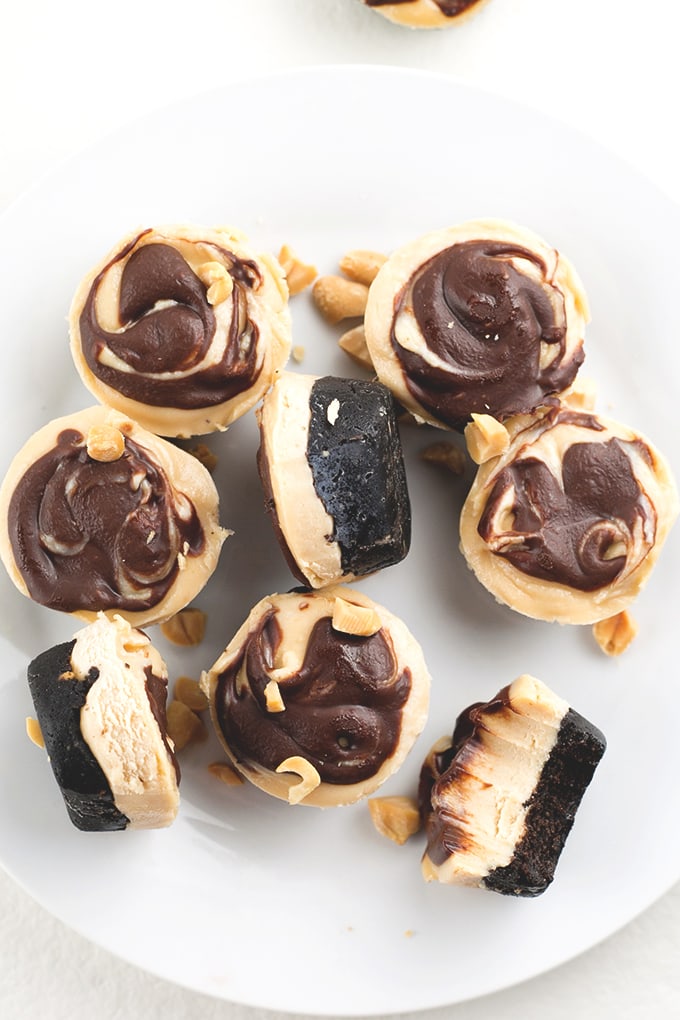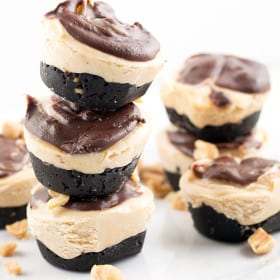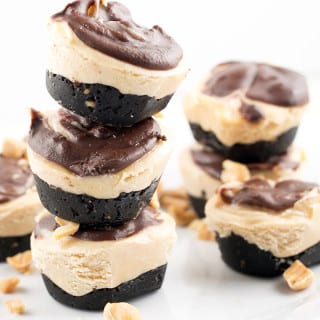 Vegan Peanut Butter Cheesecake
Mini Vegan Peanut Butter Cheesecakes With Chocolate Ganache - Chocolate Sandwich Cookie Base, Peanut Butter Cheesecake Filling and Chocolate Ganache Topping.
Ingredients
Cookie base:
4

oz

Chocolate Sandwich Cookies

120 grams

3

tablespoons

vegan butter

melted

2

teaspoons

peanut butter
Peanut butter filling:
1/2

cup

Cashews

Raw

2 1/2

tablespoons

Lemon Juice

1/4

cup

Peanut Butter

Natural

1/4

cup

Coconut Oil

Melted

1/4

cup

Maple Syrup

1/3

cup

Almond Milk

1

Pinch

Sea Salt
Ganache topping:
3

oz

Dark Chocolate

90 grams

3

tablespoons

Coconut Milk

1

teaspoon

Salt

1

teaspoon

Espresso Powder
Instructions
Before preparing anything, line 16 mini muffin tin cavities with a strip of non stick parchment paper so that the paper hangs up the side of each cavity (see photo of cookie base in post).

To prepare cookie base, in a food processor, process Sandwich Cookies till they turn into fine crumbs. Add melted Vegan Butter and Peanut Butter to the cookies, and process until evenly distributed. The cookie mixture should be the texture of wet sand.

Evenly distribute and pat down cookie base mixture into the bottom of your 16 lined mini muffin tins.

Place into the freezer whilst making the Peanut Butter Cheesecake Filling.

To prepare the PB cheesecake filling, place all ingredients in a high power blender and blend till smooth. Use the tamper that comes with the blender to assist in moving the mixture around so it blends evenly.

Evenly spoon filling over the 16 frozen crusts and smoothen the top. Leave whilst preparing Chocolate Ganache.

To prepare the Chocolate Ganache, combine all ingredients in a bowl and microwave for 10-15 seconds or until warm. Stir till smooth, and then dollop about 1/2 a teaspoon of ganache on the top of each mini cheesecake.

Using a skewer, swirl Chocolate Ganache into Peanut Butter filling.

Place in the freezer for 4-6 hours, or until firm.

To serve, remove from freezer and let sit at room temperature for 5 minutes. Pop Mini Cheesecakes out of the tin by pulling upwards at the two parchment paper collars.
Nutrition
Serving:
1
serving
Calories:
182
kcal
Carbohydrates:
13
g
Protein:
3
g
Fat:
14
g
Saturated Fat:
7
g
Trans Fat:
1
g
Cholesterol:
1
mg
Sodium:
230
mg
Potassium:
135
mg
Fiber:
1
g
Sugar:
8
g
Vitamin A:
103
IU
Vitamin C:
1
mg
Calcium:
22
mg
Iron:
2
mg