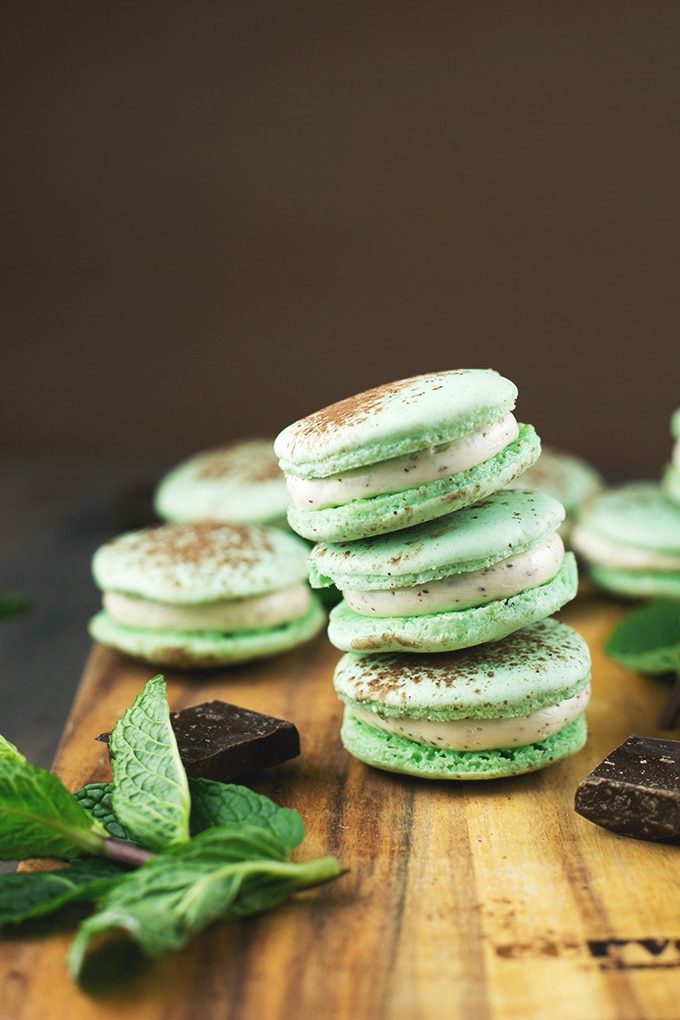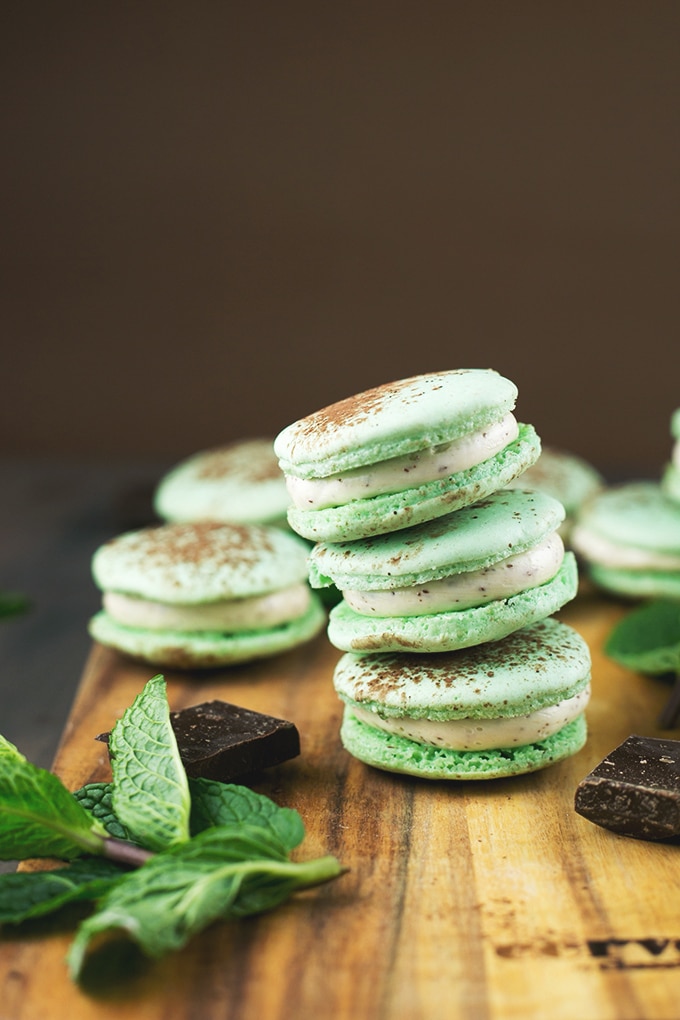 Well look what he have here – another vegan macaron post. Is there such a thing as too many different macaron recipes on the internet? I'm not sure. Based on the the response I got for my Raspberry Rose ones a couple of weeks ago, I think not! People went friggin bonkers for it, and I received tons of requests from readers for different future flavor combinations/recipes. (I'll try my best to oblige all of them, I promise!) As for today's recipe, I decided to make Mint Chocolate Chip Vegan Macarons because that was by far the most requested flavor. Everyone loves a lil' mint chip even if they don't want to admit it.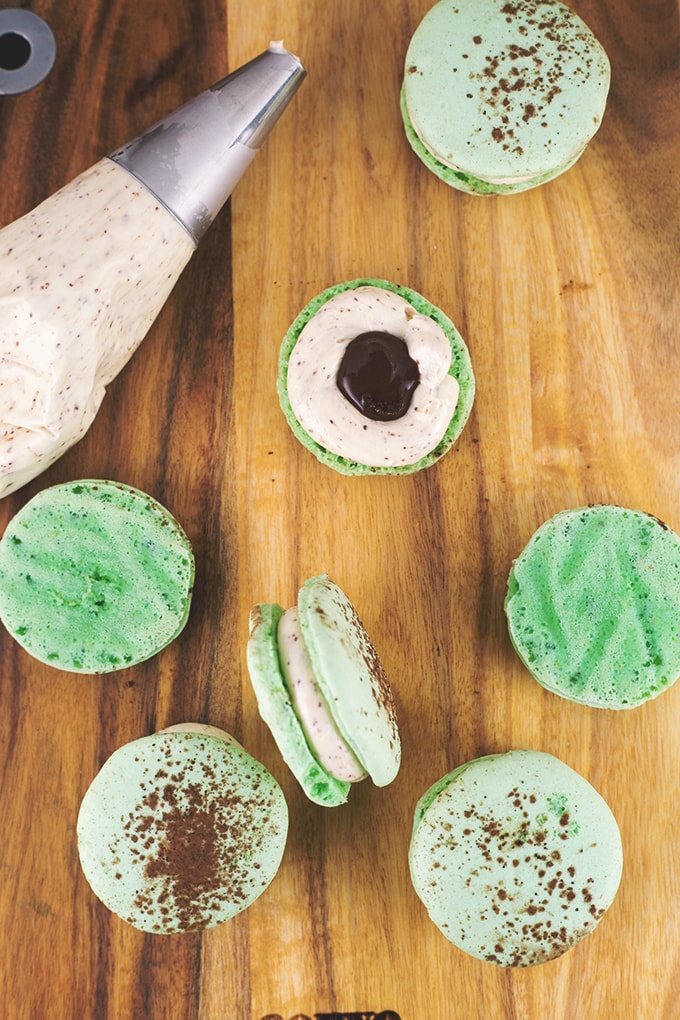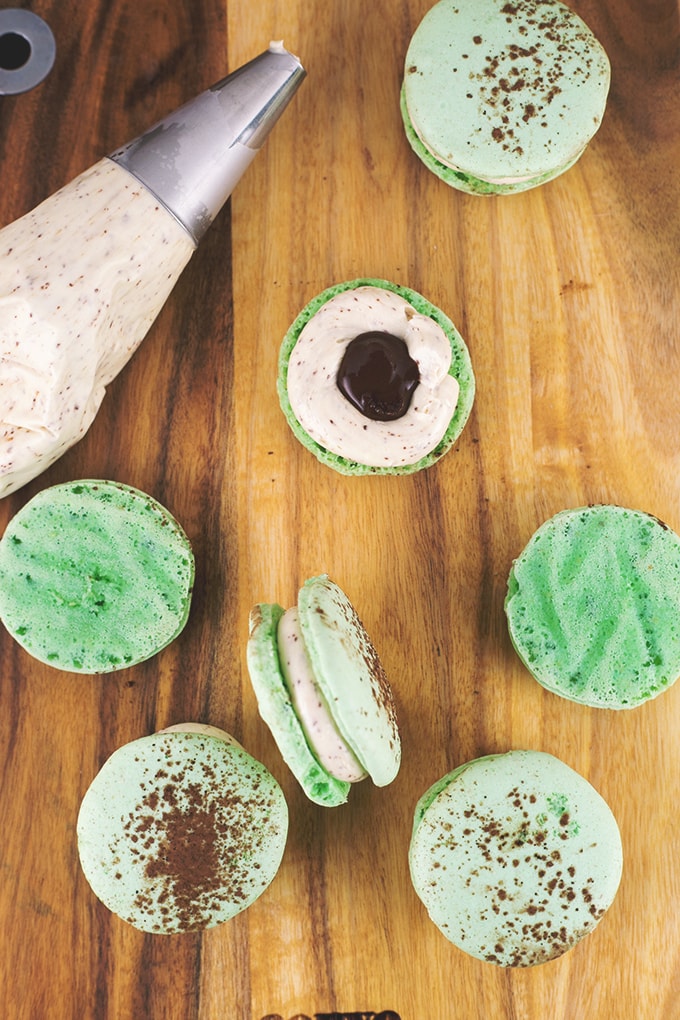 This time round, I flavored my vegan macaron shells with Mint Extract and filled them with a Mint Chocolate Chip Buttercream and Mint Chocolate Ganache center. I love adding little surprise centers in Macarons because it adds dimension just brings the macaron to a whole new level. No boring macarons here.
For this batch of vegan macarons, I channeled my inner Willy Wonka and decided to experiment with baking times and temperatures. Unlike the previous batch, I tried baking the vegan macaron shells at a higher temperature of 135 degrees Celsius for just 22-25 minutes, and f*ck yeah, it worked out perfectly. I also completely omitted the whole step of leaving the macarons in the oven for half an hour after they were done baking. This omission didn't seem to make any difference in the final product, so I'm definitely sticking to this faster, new and improved method from now on!
FREE EBOOK SERIES! 5 SECRETS FOR FOOLPROOF VEGAN DESERTS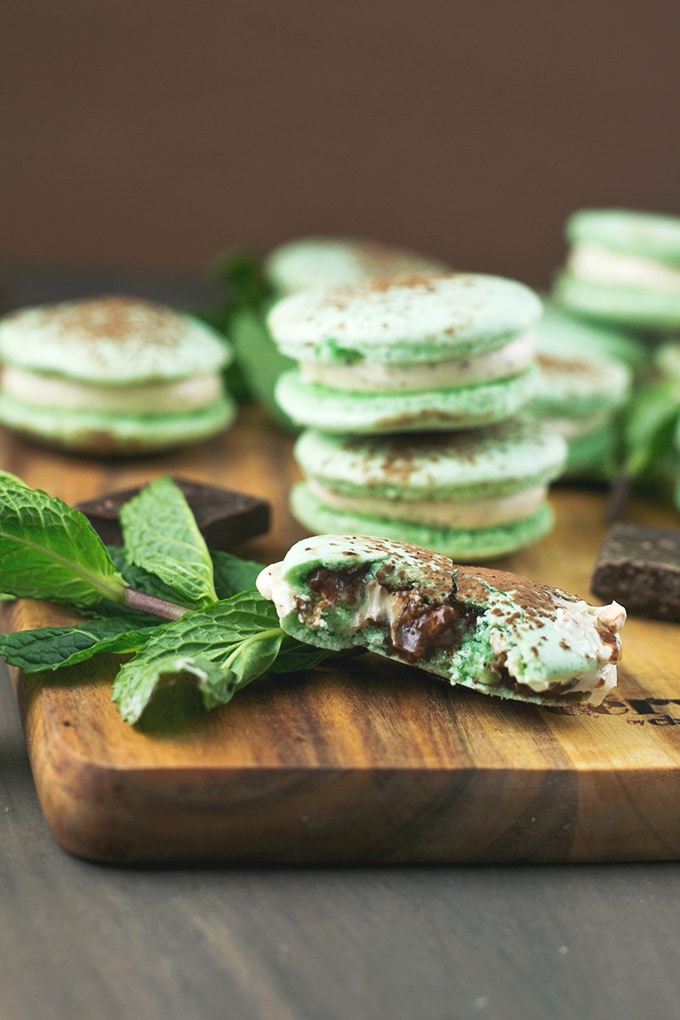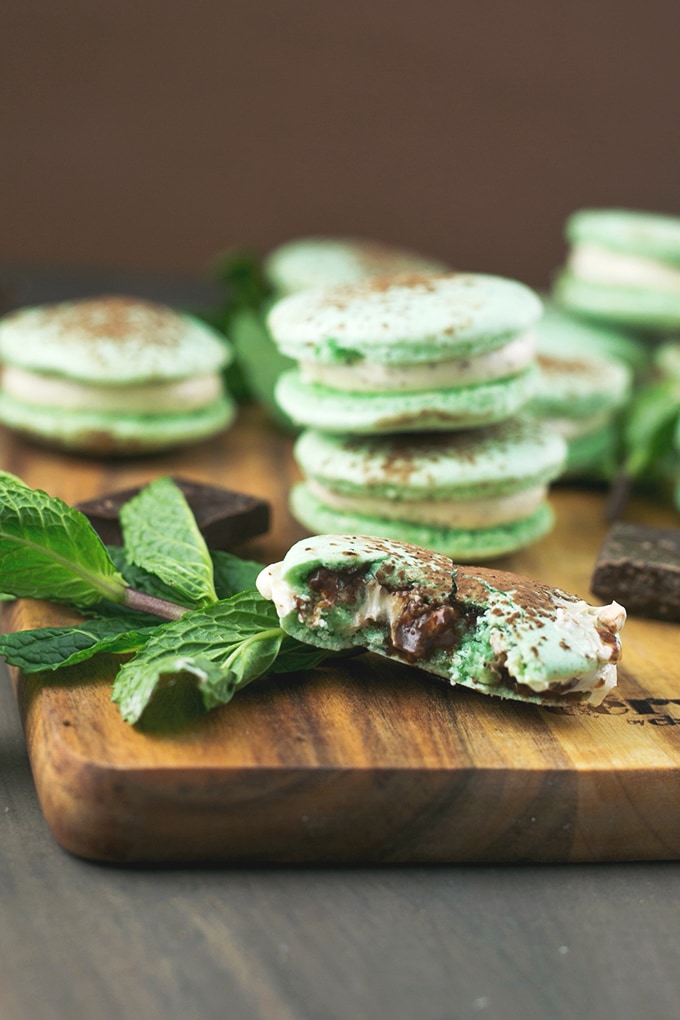 On to what they taste like: As you bite in, you will encounter a crisp, sweet and slightly minty vegan macaron shell. Your eyes will widen with pleasure. You will want more. Soon enough, you will find a deep, dark, handsome river of mint chocolate ganache oozing into your mouth, seducing your tongue with its pulsating richness. You will climax. Relief then flows through your veins, and you are comforted by a blanket of sweet, sweet Mint Buttercream. You are thoroughly satisfied. You fall asleep. You then wake up in your dingy apartment and realize it was all a dream. In your disappointment you head to the refrigerator to eat your sorrows away. What else is one to do in such situations? You open the door and…behold…..Mint Chocolate Vegan Macarons sit on the first shelf. Wh…what? It wasn't a dream? Or is this a dream in a dream? Inception?!…Guess I'll STFU now before I get carried away.
Scroll down for my Mint Chocolate Chip Vegan Macarons recipe, with new and improved baking instructions 🙂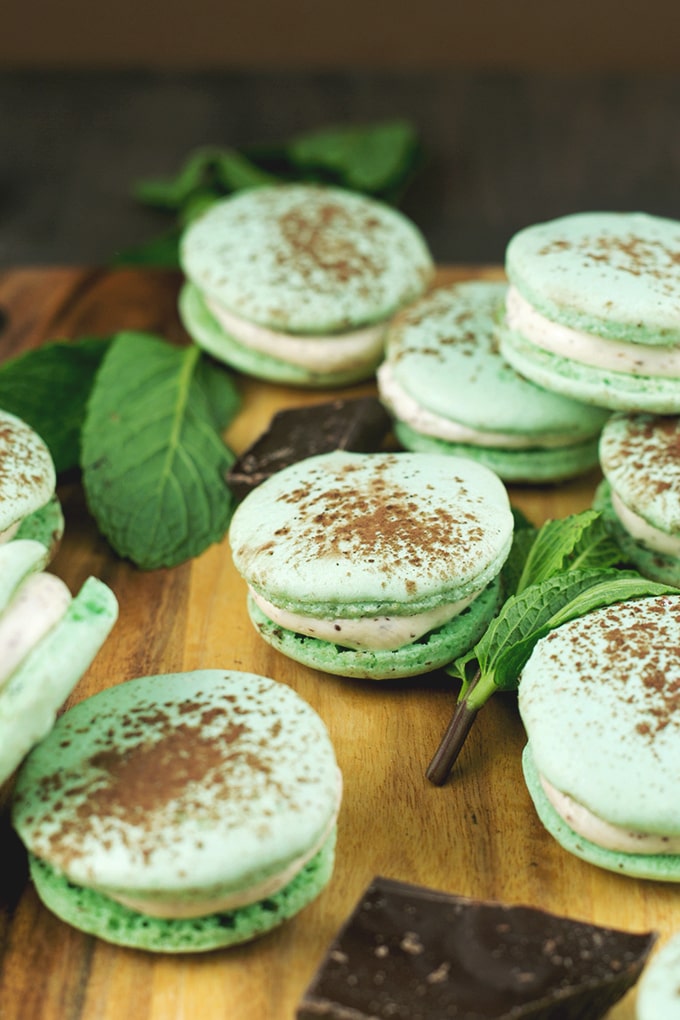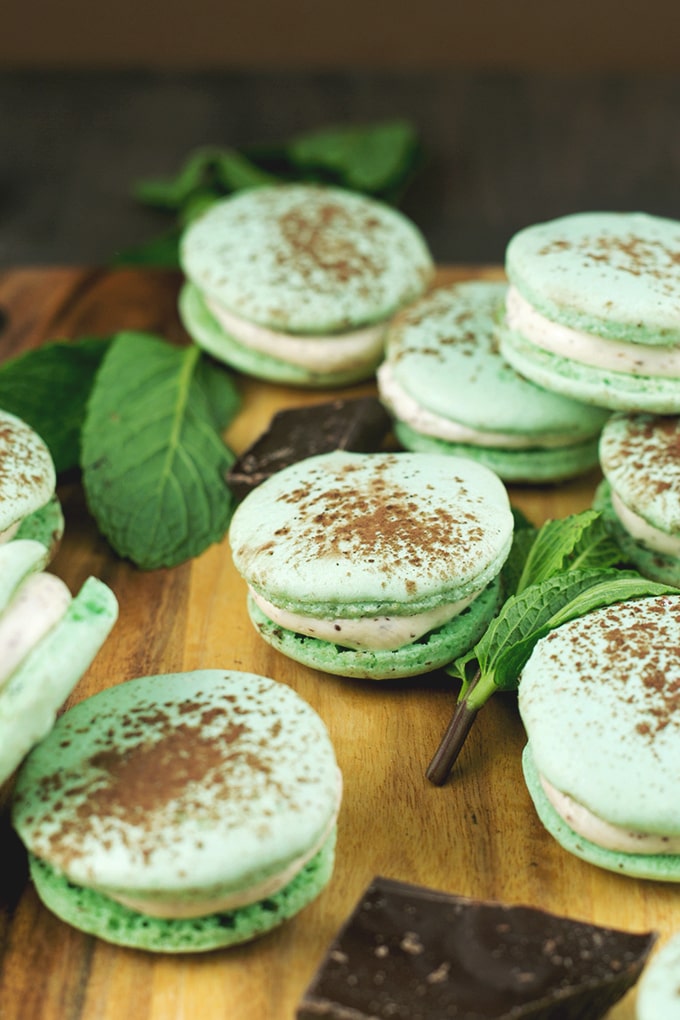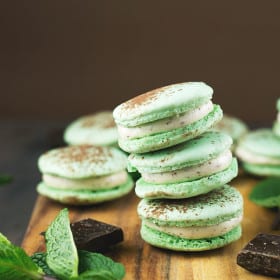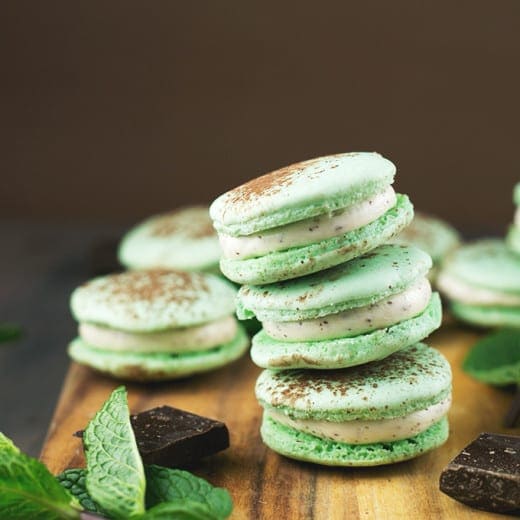 Mint Chocolate Chip Vegan Macarons (Aquafaba)
Mint Chocolate Chip Vegan Macarons using Aquafaba (Chickpea Brine). Sweet, Minty, full of Chocolate and 100% delicious.
Ingredients
Macaron Shells:
250

grams

Aquafaba

1/8

teaspoon

Cream of Tartar

Pinch

of Salt

150

grams

Ground Almonds

130

gram

Pure Icing Sugar*

110

grams

Superfine/Caster Sugar

A drop of Green Food Coloring

A few drops of Organic Mint Extract

Cocoa

for dusting
Mint Chocolate Chip Buttercream:
135

grams

Vegan Butter Substitute

55

grams

Icing Sugar

1/2

tablespoon

Non Dairy Milk

A few drops of Organic Mint Extract

30

grams

Vegan Dark Chocolate

grated
Mint Chocolate Ganache:
50

grams

Vegan Dark Chocolate

40

grams

Non Dairy Milk

I used Soy

Few drops Organic Mint Extract

Tiny pinch of Salt
Extras:
Piping Bags with a Round Tip attached

Silpat Mats or Silicone Baking Paper

Baking Trays

Spray Bottle filled with Water
Instructions
The night before you want to make your Macarons, prepare your Aquafaba. In a small saucepan, bring 250 grams of Aquafaba to a simmer. Let this simmer away until it has reduced to 110 grams of Aquafaba. (I pour it out and weigh it on a kitchen scale a few times in-between to check).

Once it has reached 110 grams, pour it into a bowl to cool and then refrigerate overnight.

Macaron Shells: Process Ground Almonds and Icing Sugar in a food processor and then sieve into a bowl, making sure there are no lumps in your mixture. Set aside.

With a stand mixer fitted with a clean bowl and with clean beaters, whisk Aquafaba, cream of tartar and salt on high till it turns foamy and resembles frothed up egg whites. Make sure there is no more liquid left at the bottom of the bowl before moving on to the next step.

Gradually add caster sugar in, bit by bit, whilst your mixer is turned on. Add your food coloring and Mint Extract in and then continue whisking on high for another minute. You should end up with a thick, glossy meringue.

Tip in half of your almond/icing sugar mixture into the meringue, and fold gently with spatula until it has incorporated with the meringue. Add the second half of your almond/icing sugar mixture, and continue to fold it into the batter. You don't have to be too gentle with this, but you don't want to go crazy either.

Once your mixture has been incorporated, continue folding until you end up with a mixture that resembles thick lava. Do not over-mix or your batter will be too runny and you will end up with macaron UFOs. You will know that you have reached the right consistency when you dollop a tablespoon of batter onto a flat surface and it gradually smoothens out into a nice round shape, without any "nipples" forming on top.

Fill a piping bag fitted with a round nozzle with macaron mixture and pipe into 2 inch rounds on a Silpat or Silicone Baking Paper lined mat. This recipe makes enough to make 50 individual macaron shells, so you may need to have 3 or 4 trays ready.

Once piped, slam the tray down on your kitchen counter to eliminate any air bubbles in your piped macaron mixture. Dust some cocoa on the shells. Leave your trays to rest in a cool area for 2-3 hours. They are ready to bake when they have turned matt and you are able to gently touch the surface of the shells without anything sticking to your finger.

Preheat oven to 135 degrees Celsius*. Bake each tray of macarons individually for 22-25 minutes, without opening the oven door inbetween. Smaller macarons or ovens may take slightly more or less than 25 minutes. It's all about trial and error.

Remove tray from oven and leave to cool thoroughly before peeling macaron shells off from Silpat/Silicone paper.

Repeat baking process with remaining trays of macarons.

Filling: In a stand mixer, whisk Vegan Butter with Icing Sugar, non dairy Milk, Mint Extract and food coloring. Add in grated chocolate. Whisk till fluffy and then transfer to a piping bag fitted with a round nozzle.

Mint Chocolate Ganache: In a small pot, heat Non Dairy Milk till it comes to a simmer. Pour over your Dark Chocolate and then add in Salt and Mint Extract. Stir until you have a smooth, glossy ganache. Leave in the fridge to thicken, stirring once in a while until ready to use.

Assembly: Once you have gently peeled off all your macarons from your Silpat/Silicone Paper, place them on a kitchen counter with the bottom side up (rounded side down). Using your spray bottle, lightly mist the bottoms of the macarons with water and leave for 5 minutes before filling.

To fill, pipe a ring of buttercream around the base of a macaron and place some Mint Chocolate Ganache in the empty circle inside your buttercream. Sandwich with another macaron shell and repeat the process till all your shells have been sandwiched.

Place macarons into a box and leave in the fridge overnight, or ideally for 2 nights so that they have time to mature and form the right texture.

Macarons are best served at room temperature or 10 minutes out of the refrigerator, not straight out from the fridge.