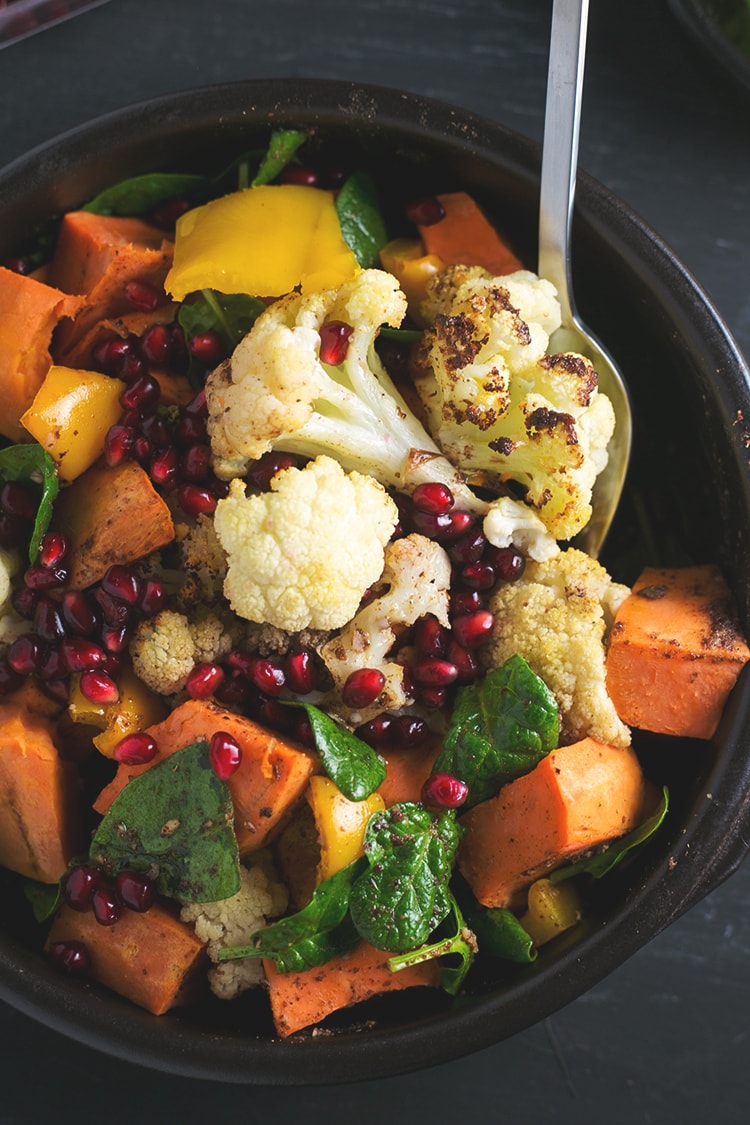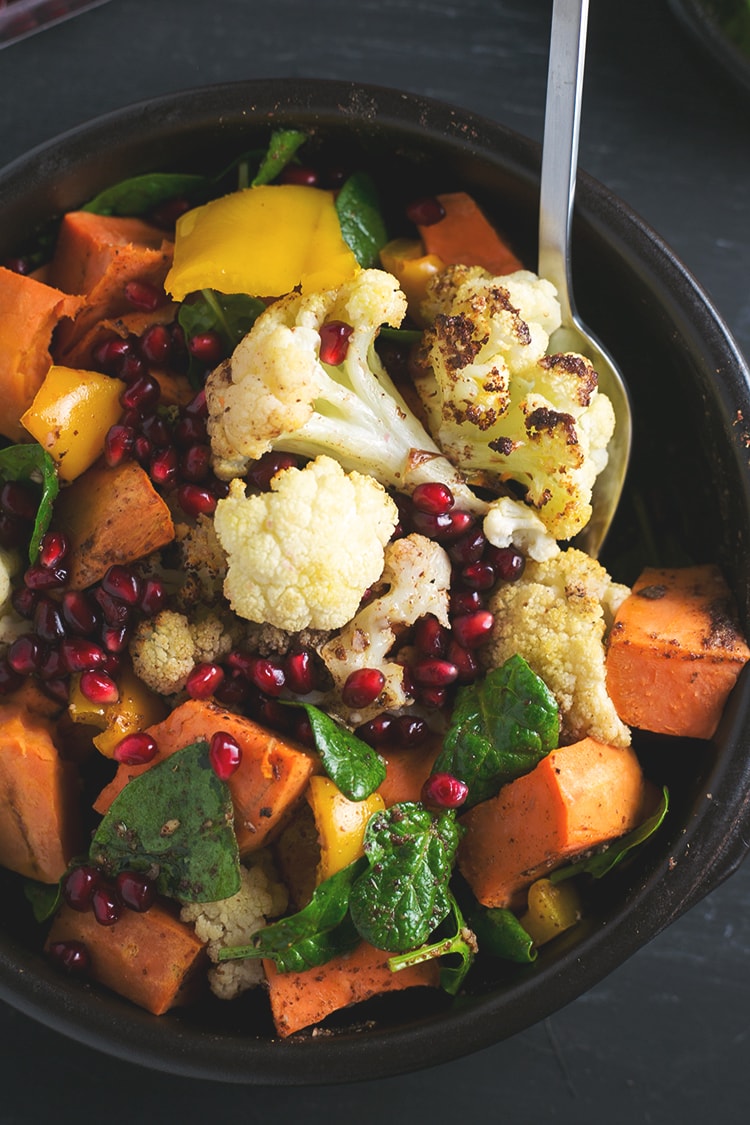 You know when you're in love with a product and all of a sudden they decide to just stop selling it? That's one of the most crippling feelings ever. I mean, I'm sure breaking both your knees at the same time is more crippling a feeling, but you know what I mean. The grocery store used to sell an awesome Vegan Eggplant, Freekeh and Sweet Potato salad tossed in a Cumin Sumac dressing. I was in love, and then subsequently heartbroken when they stopped selling it. Freaks. I figured I would only find solace in trying to recreate it at home, so I did. Instead of Freekeh, I lightened the recipe up by using some Roasted Cauliflower along with some Roasted Sweet Potato, Roasted Yellow Pepper, Spinach and Pomegranate arils. Everything is then tossed in an awesome Cumin Sumac Dressing (with a splash of Pomegranate Molasses – how trendy) and then devoured like a beast in under 10 minutes.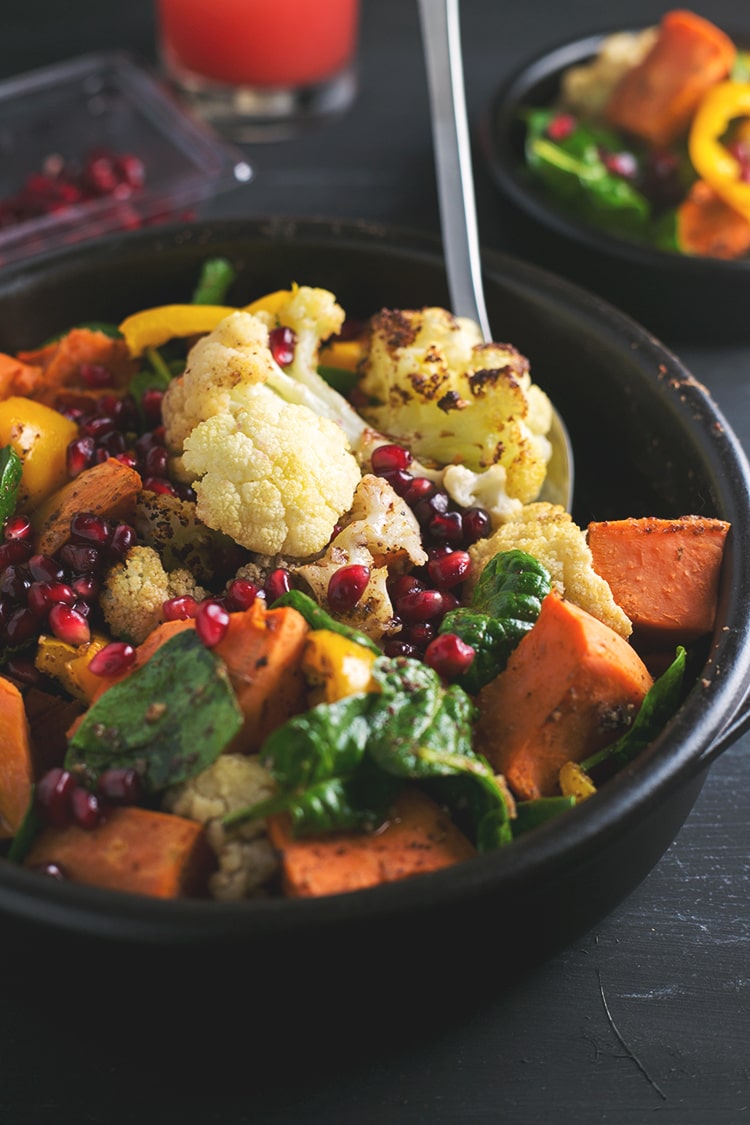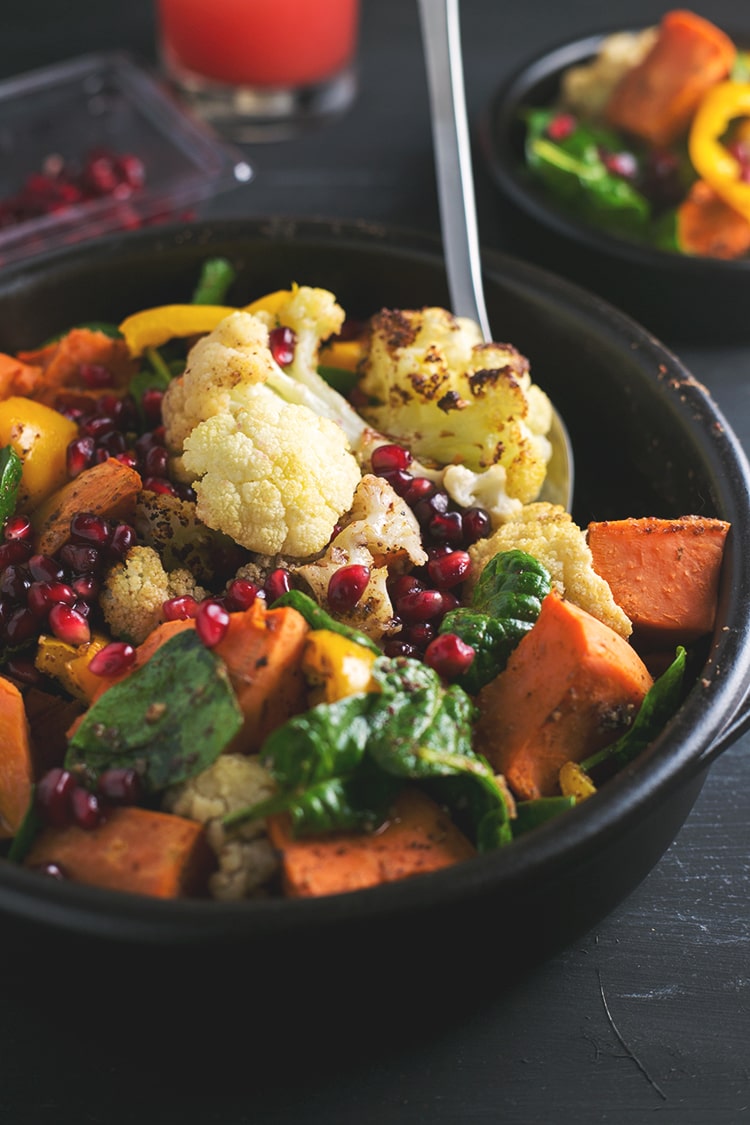 Call me unadventurous, but this was actually my first time making Roasted Cauliflower. I tend to avoid making things that are plastered all over the internet – especially when it comes to Cauliflower. You see, I'm not a very big fan of cauliflower. It stinks, it has no taste, and it's just pathetic compared to Broccoli. Since everyone raves about Roasted Cauliflower, I figured, what the hell, I might as well try it because there's no way I could hate it more than I already do. Well, surprise surprise, I actually ended up enjoying the Roasted Cauliflower, as ashamed as I am to admit it. Let's stop talking about this now. The embarrassment is too much for me to handle.
This Roasted Cauliflower and Sweet Potato Salad with Cumin Sumac Dressing is Vegan, Terribly Good for you, Gluten Free, Low in Fat and full of zesty flavor, thanks to the use of Apple Cider Vinegar, Sumac and Pomegranate Molasses in the dressing. The addition of Pomegranate arils that burst with little bits of sweetness in your mouth really does compliment the hearty roasted veggies, if I have to say so myself. So with that said, enough talk, just scroll down for the recipe 🙂
FREE EBOOK SERIES! 5 SECRETS FOR FOOLPROOF VEGAN DESERTS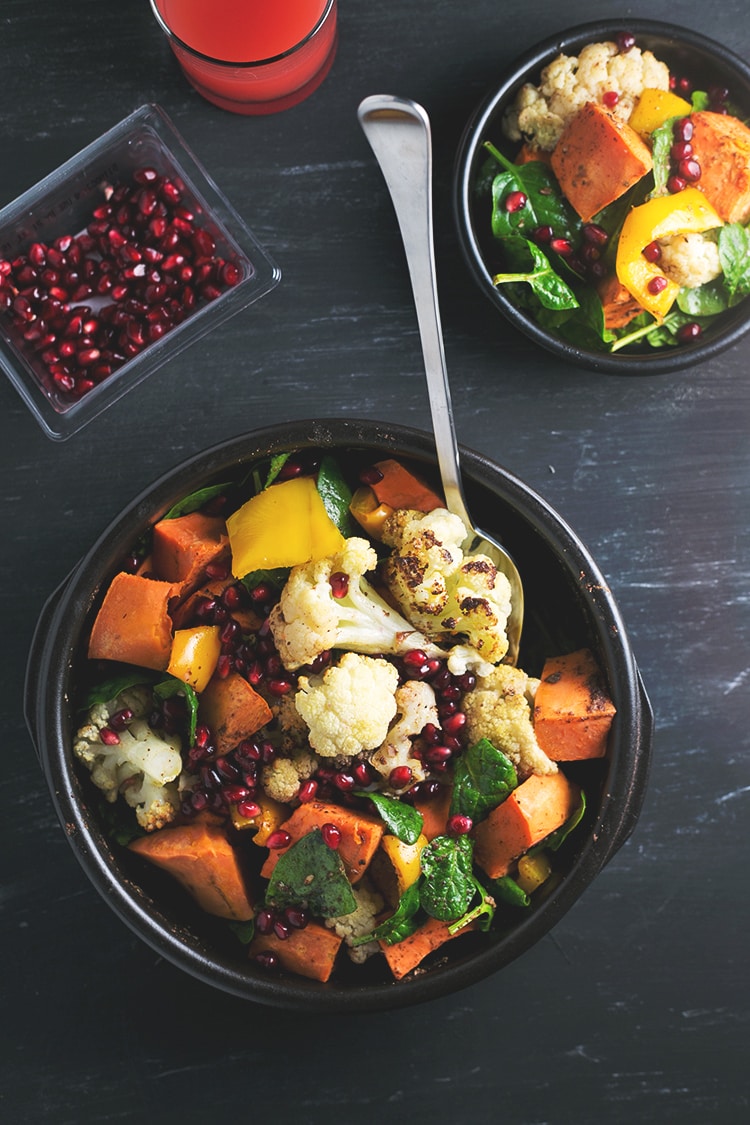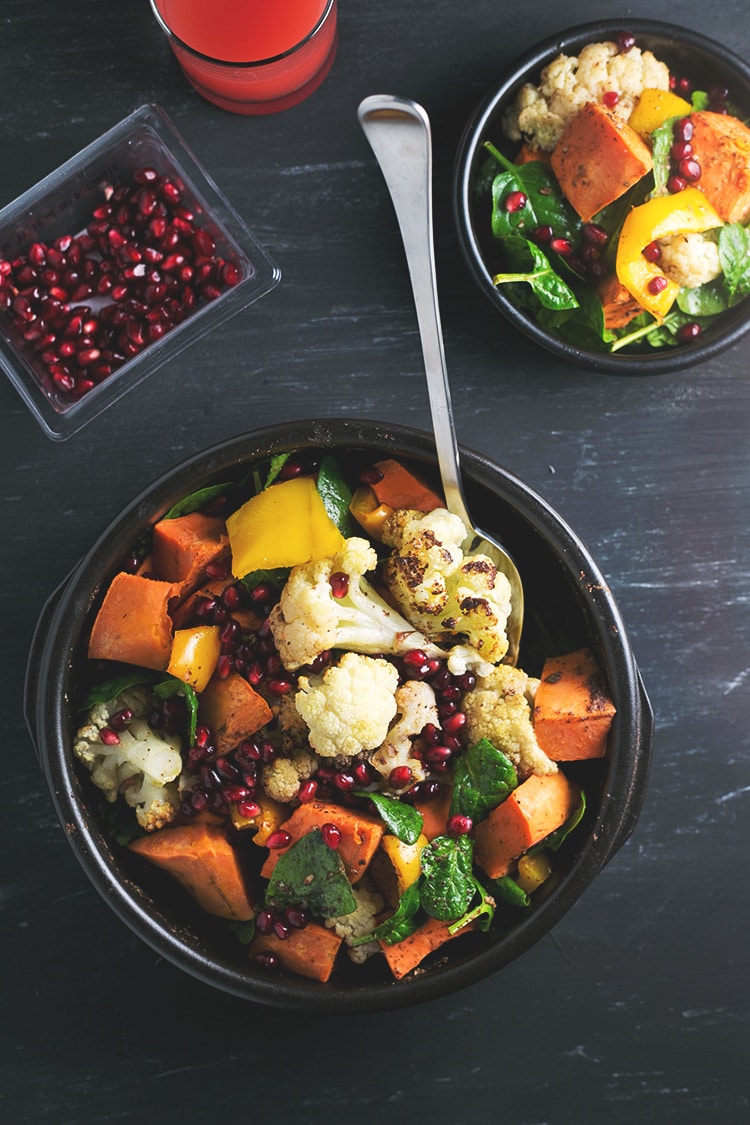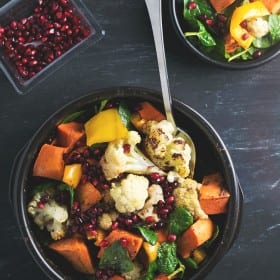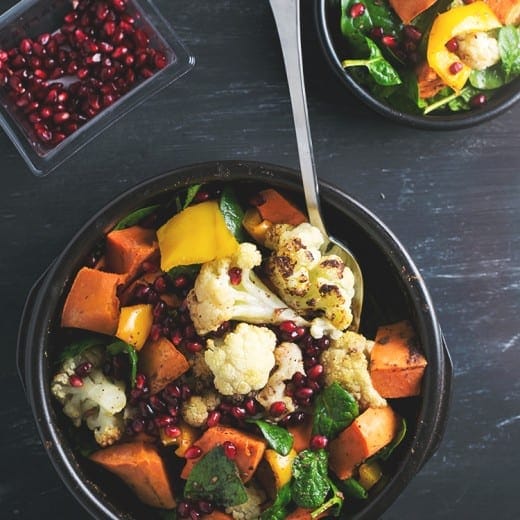 Roasted Cauliflower and Sweet Potato Saladwith Cumin Sumac Dressing
Tender Roasted Cauliflower and Sweet Potato Salad with Cumin Sumac Dressing. Vegan | Gluten Free | Low Fat
Ingredients
1

large Sweet Potato

Cubed

1/2

a head of Cauliflower

broken into florets

1

Yellow Bell Pepper

cut into large chunks

Salt/ Pepper

to taste

1

cup

Baby Spinach

1/3

cup

Pomegranate arils

Cumin Sumac Dressing:

1 1/2

teaspoons

Sumac

1

teaspoon

Ground Cumin

1

teaspoon

freshly minced Garlic

2

tablespoons

Apple Cider Vinegar

1

tablespoon

Extra Virgin Olive Oil

1

tablespoon

Pomegranate Molasses

1

teaspoon

Maple Syrup

2

tablespoons

Warm Water

Salt/Pepper

to taste
Instructions
Preheat oven to 185 degrees Celsius. Lightly steam sweet potato and cauliflower until almost tender, and then place on baking tray in a single layer along with yellow bell pepper pieces. Season with salt and pepper and then roast in the oven for 30-40 minutes, or until cauliflower is lightly browned.

Combine roasted vegetables with baby spinach and pomegranate arils in a salad bowl.

To prepare dressing, place all ingredients in a small jar. Seal the jar and shake to combine. Why not take the opportunity to do a Salsa dance too.

Pour dressing over prepared veggies and toss to coat. Enjoy!