Here's a recipe for an awesome Chocolate Raspberry Raw Vegan Cheesecake. These taste absolutely delicious and are a great vegan treat. They can be kept in the freezer for months, and take a matter of minutes to thaw and enjoy. I used a cooked compote topping, but if you are fully raw, feel free to top it off with a raw raspberry coulis!
FREE EBOOK SERIES! 5 SECRETS FOR FOOLPROOF VEGAN DESERTS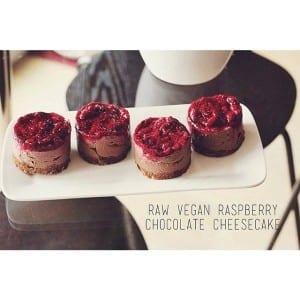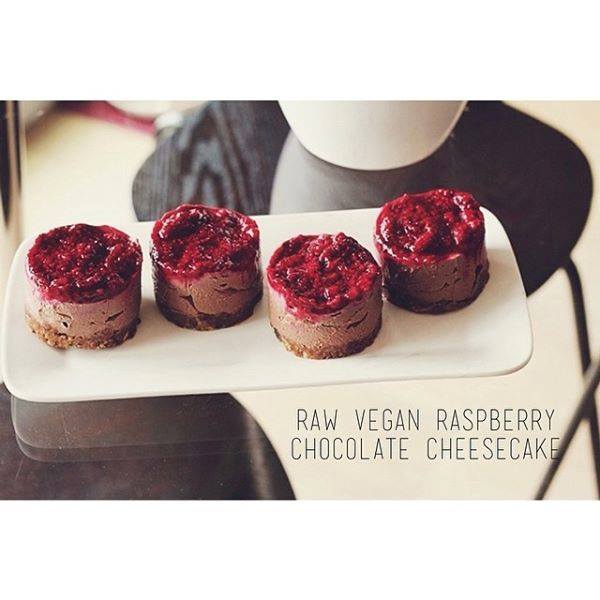 Raw Vegan Cheesecake
Ingredients
Base:

1/2

cup

pitted Medjool Dates

1/2

cup

Walnuts

Small pinch of Salt

Raspberry Compote:

3/4

cup

fresh Raspberries

2

tablespoons

Raw Sugar

Chocolate Cream Filling:

3/4

cup

Cashews

soaked for a few hours beforehand, then drained

3

tablespoons

Maple Syrup

4

tablespoons

Almond Milk

3

pitted Medjool Dates

soak this in the almond milk above for half an hour to soften

1

teaspoon

Vanilla Extract

Pince of salt

3

tablespoons

melted Virgin Coconut Oil

1 1/2

tablespoon

Cocoa Powder

unsweetened
Instructions
Blend base ingredients in a food processor till it forms a ball (but you don't want the nuts to be chopped too much or they get oily!)

Press into 4 small cake rings and place in the fridge whilst you prepare your filling and compote.

Raspberry Compote: Place in a pot, and simmer till it forms a jam like consistency. Cool before using You can adjust the sugar to taste.

For Filling: In a blender or food processor, process cashews, maple syrup, almond milk, dates, coconut oil, vanilla, salt and cocoa powder until very smooth. This may take a while! Once blended, proceed to assemble.

Assemble: On the pre made bases, spoon 1 tsp of raspberry compote. Fill with chocolate cream mixture and then top off with more compote.

You need to freeze this for a couple of hours before you can unmold them. Once unmolded, let thaw for 10 minutes before eating.