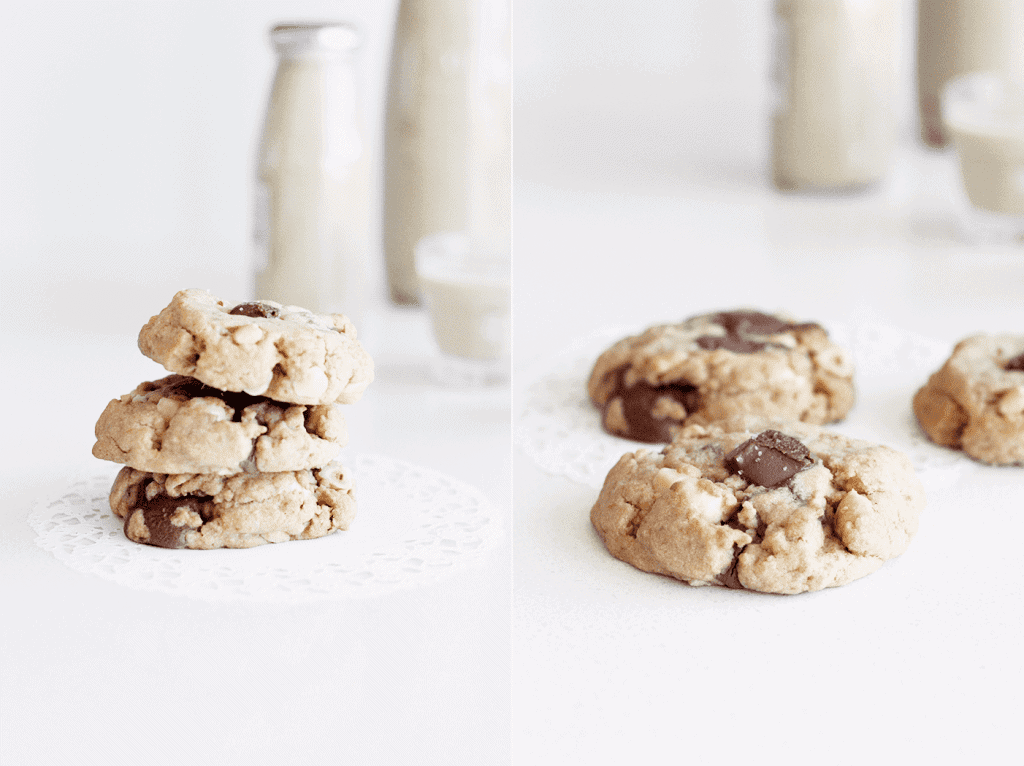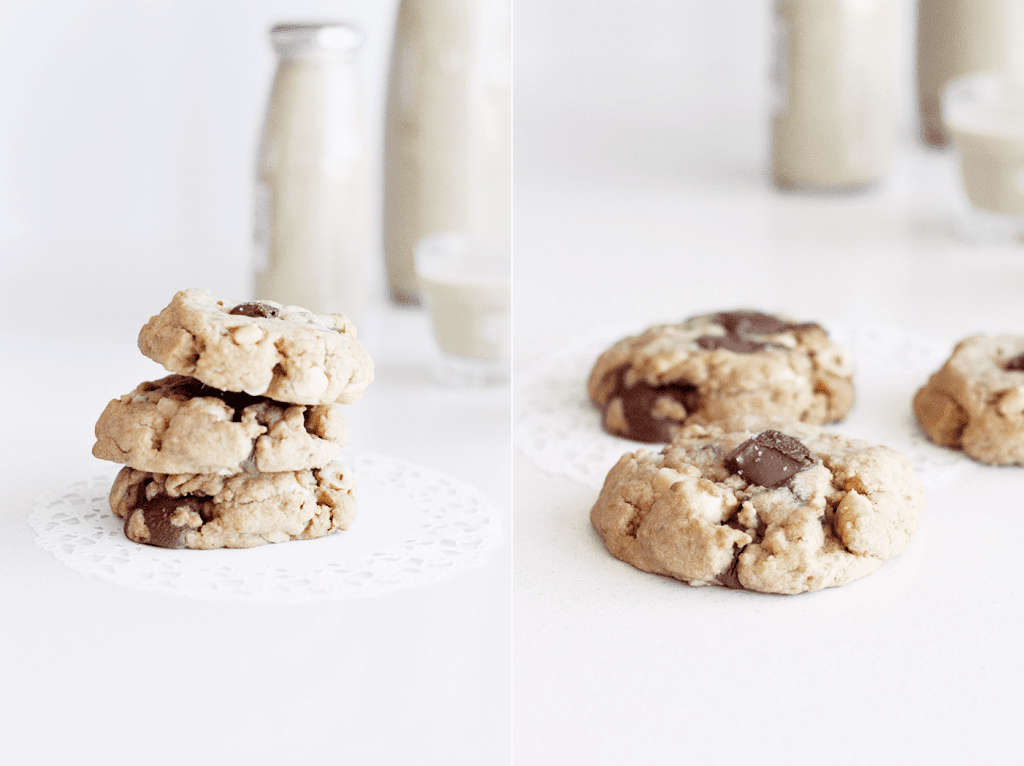 Hey there everyone! Today I have a special double recipe post for all you food lovers out there. Last night made some absolutely fuc*king delicious Vegan Hazelnut Chocolate Chunk Cookies….and of course, you can't have cookies without milk, so I had to make a sweet, creamy, jade tinted Pistachio Date Milk for dunking these lovely cookies into! Vegan Milk and Cookies!!! 😀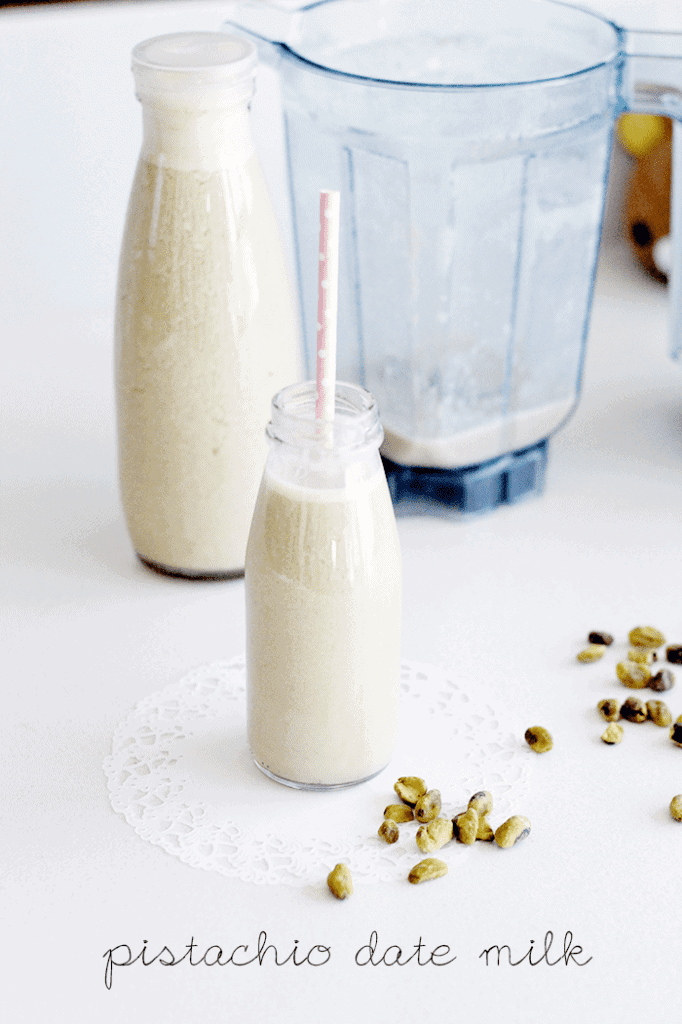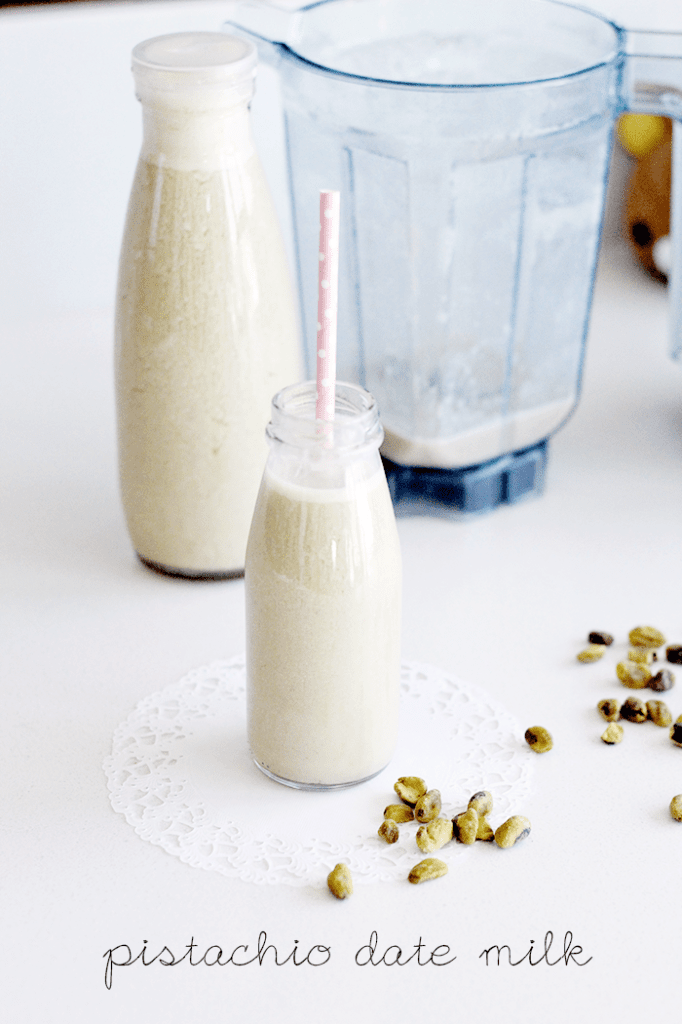 Check out our all new (experiment) 30 second video clips below – we've included step by step details on how to make this delicious vegan milk! Pistachio milk has got to be one of the best nut milks I have ever tasted: creamy, delicious, sweet and reminiscent of molted pistachio gelato from Italian Gelaterias. Absolutely scrummy but without all the cream, milk and guilt!
http://youtu.be/nduSc2HC-cM
If you don't have a Vitamix (although we highly recommend getting one – it's a great investment!!!), you will have to soak your dates and nuts overnight to let them soften up. You may also have to strain your nut milk after blending, if you want a smoother texture. Pistachio milk blends much easier than Almond milk, so straining is an optional step, depending on how smooth you like your milk to be!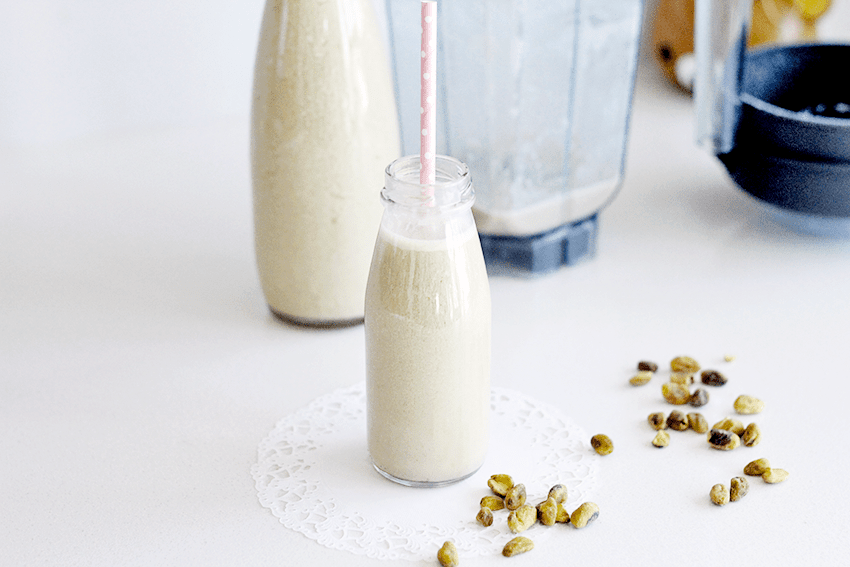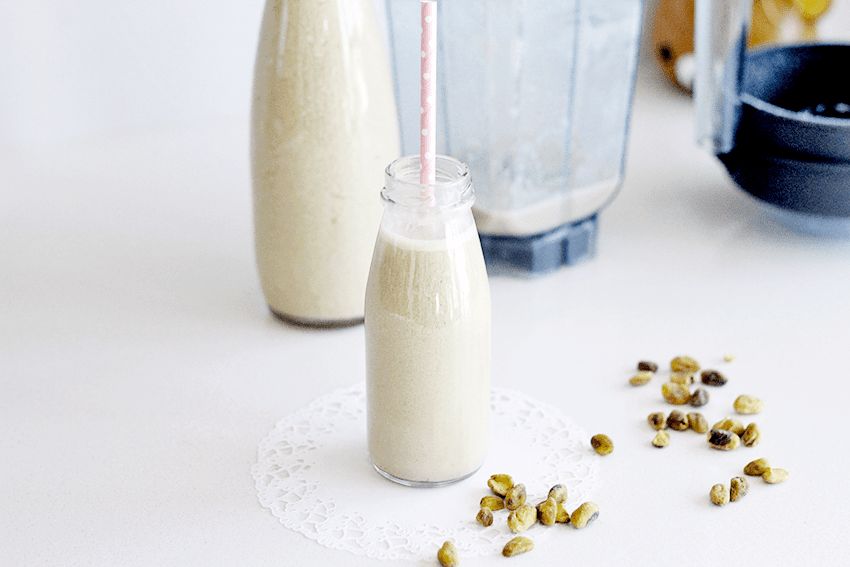 Now, even though this milk is absolutely AMAZING on its own, what is a glass of milk without some cookies?! I adapted a Salted Chocolate Chip Quinoa Cookie recipe from My Darling Vegan – the recipe originally uses Quinoa flour, but since neither of us here are gluten-intolerant, I have just used good old plain flour instead.
FREE EBOOK SERIES! 5 SECRETS FOR FOOLPROOF VEGAN DESERTS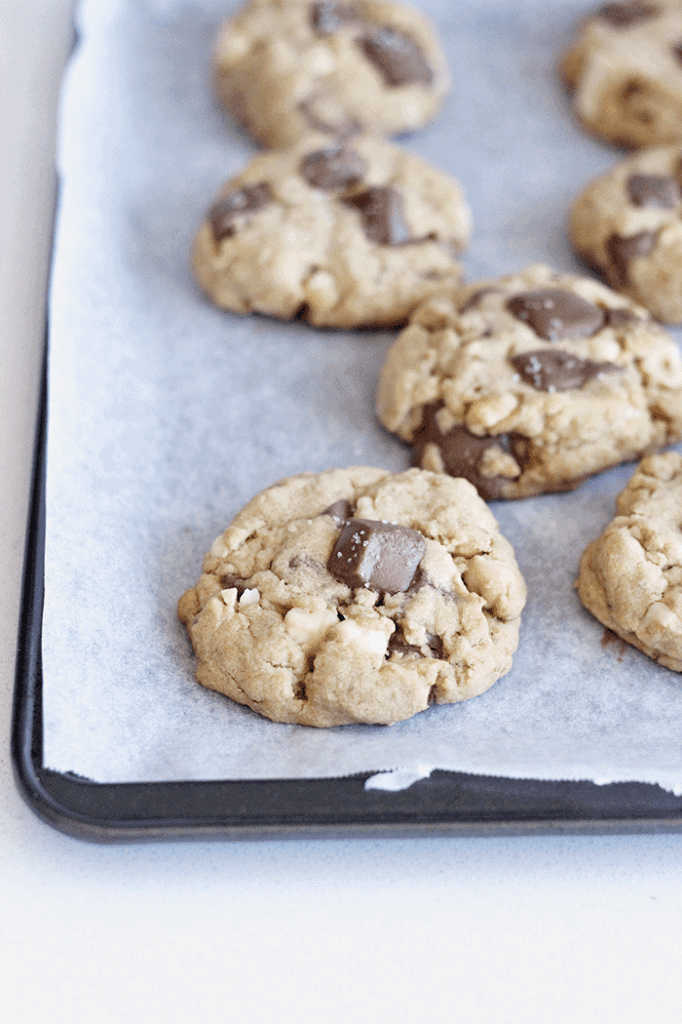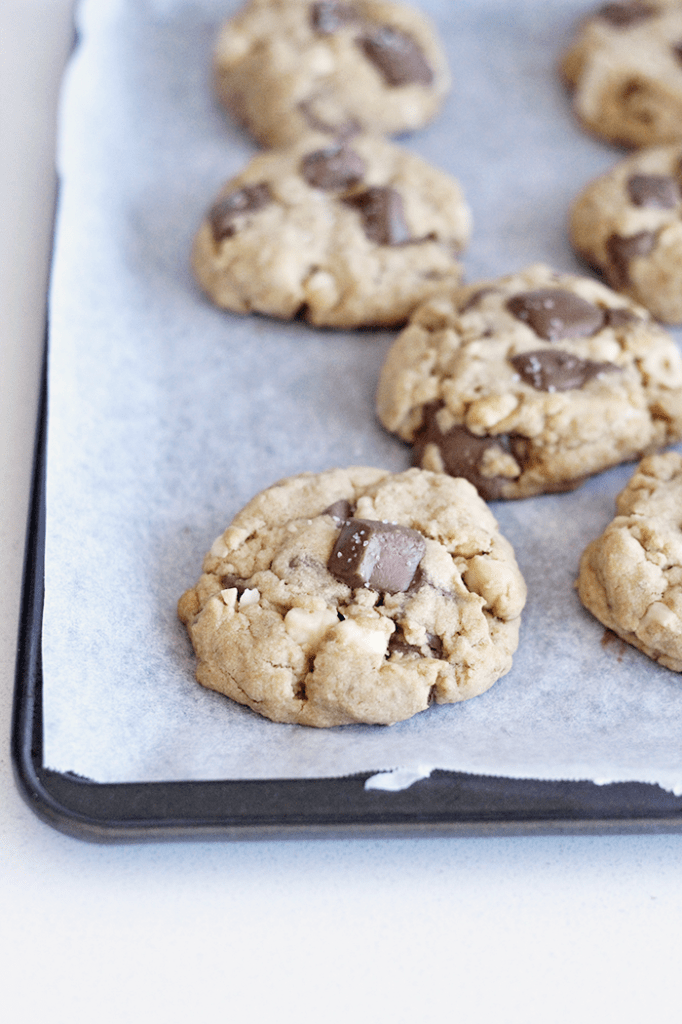 These cookies rely on Virgin Coconut oil as its fat base instead of butter, and flax seed gel in place of eggs. Both ingredients are highly nutritious and you will hardly be able to tell it apart from butter/eggs. The coconut oil does lend a slight coconutty flavor to the cookie, but magically disappears after sitting in a box for one night! Speaking of sitting in a box, these cookies also develop a much better texture after sitting overnight. Straight out of the oven, they are tender and cakey in texture – but after one night, they become sturdier and a little chewy. I love chewy cookies!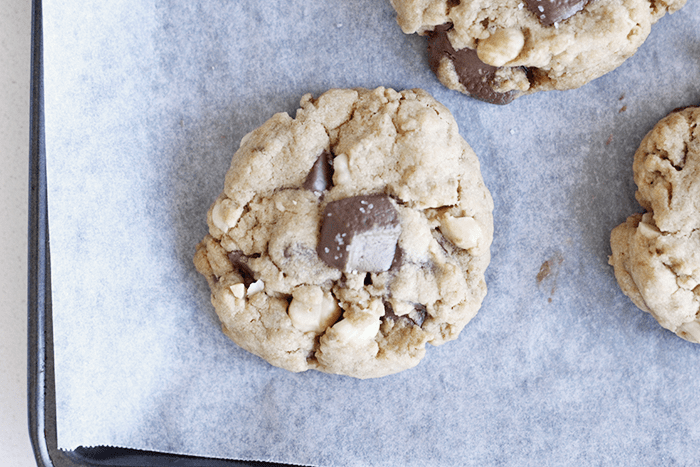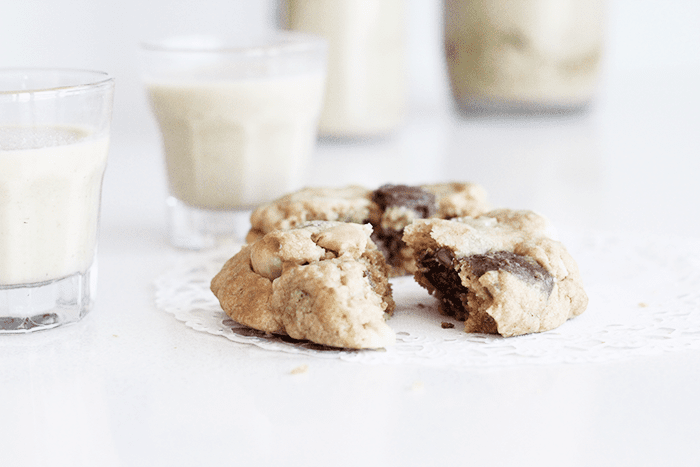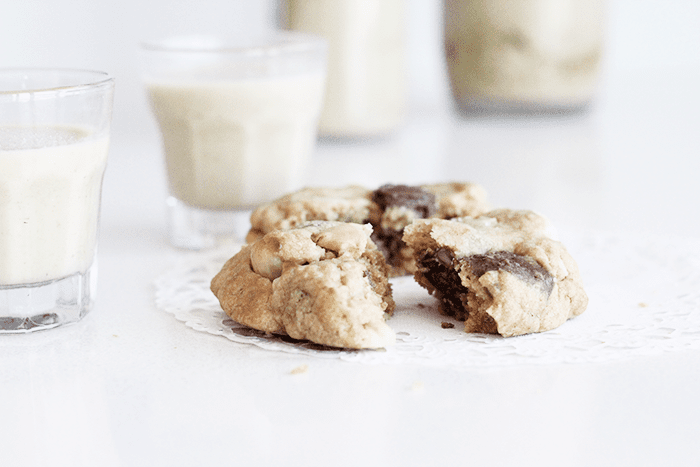 Try these two recipes out for yourself at home, I can promise you non-vegans won't be able to tell the difference! 🙂  Also, feel free to share any of your vegan cookie and milk recipes from your blogs in my comment box below – I love to check out new recipes, blogs and ideas!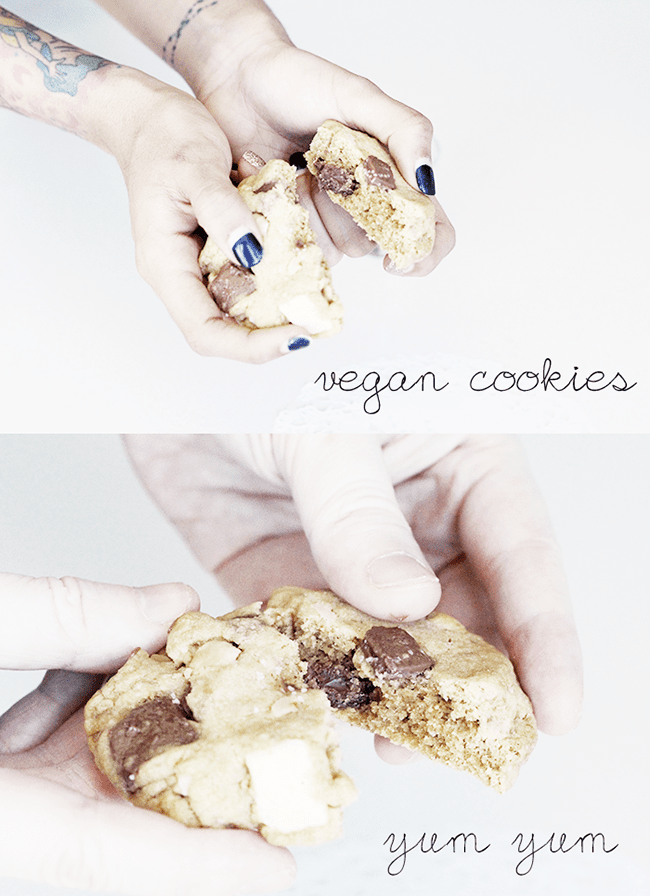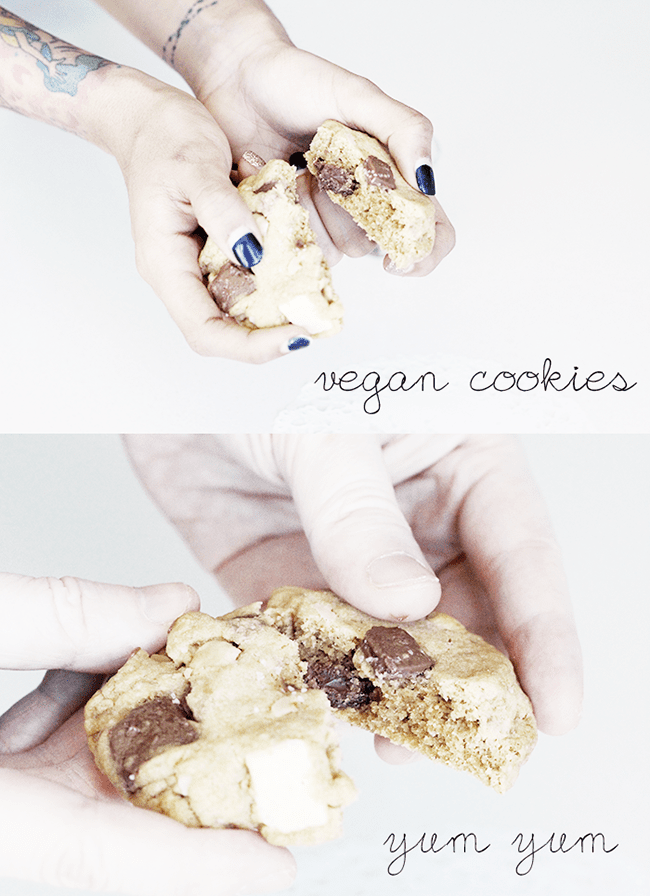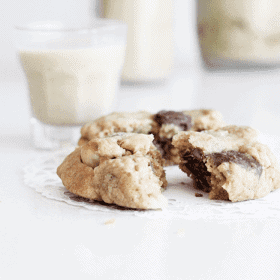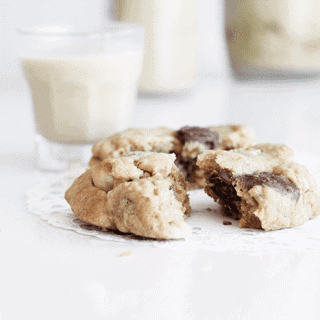 Hazelnut Chocolate Chunk Cookies Pistachio Date Milk
Ingredients
1

cup

All Purpose Flour

1/2

tsp

Baking Soda

1/2

tsp

Baking Powder

1/4

tsp

Salt

1/3

cup

+ 1 Tablespoon Virgin Coconut Oil

melted

1/2

cup

Brown Sugar

packed

1

Tablespoon

Caster Sugar

1

Flax Egg*

2

Tbsp

Peanut Butter

1/2

tsp

Vanilla Bean Paste

3/4

cup

Vegan Chocolate Chunks*

1/3

cup

Dry Roasted Hazelnuts

Good sea salt for sprinkling on top

40

grams

Unsalted Raw Pistachios

4

large Medjool Dates

pitted

1/4

teaspoon

Pink Himalayan Sea Salt

700

mls Cold Filtered Water
Instructions
Preheat the oven to 175C. Line to baking sheets with parchment paper and set aside.

In a small bowl combine the flour, baking soda, baking powder, and salt.

In a separate bowl, whisk together the melted coconut oil, brown sugar, caster sugar and flax egg. Add the peanut butter and vanilla extract and stir to combine.

Gently fold the dry ingredients into the wet. Once fully incorporated stir in the chocolate chunks and chopped hazelnuts.

Scoop cookies onto the baking sheet (about 2 tablespoons per cookie), flatten slightly and sprinkle a little sea salt on each cookie. Bake for about 11 minutes until slightly brown on the edges. They will feel slightly underdone but will continue to harden while they cool.

Let cool 5 minutes on the baking sheet then transfer to wire racks to cool completely.

Combine all ingredients in a Vitamix. Start on Variable Speed 1 and work your way up to High. Blend for 2 minutes and voila, you have pistachio milk.

If you are not using a Vitamix, soak your pistachios and dates overnight in some filtered water first, and then proceed with blending all the ingredients together the next morning. You may need to strain your blended milk before pouring it into bottles, depending on how smooth you would like your finished products to be.
Notes
To make a flax egg combine 1 tablespoon of ground flax seeds with 3 tablespoons of water. Whisk together until thick and gelatinous.
I use Sweet Williams Vegan milk and white chocolate for these cookies. Just buy them in bars and chop them up yourself.