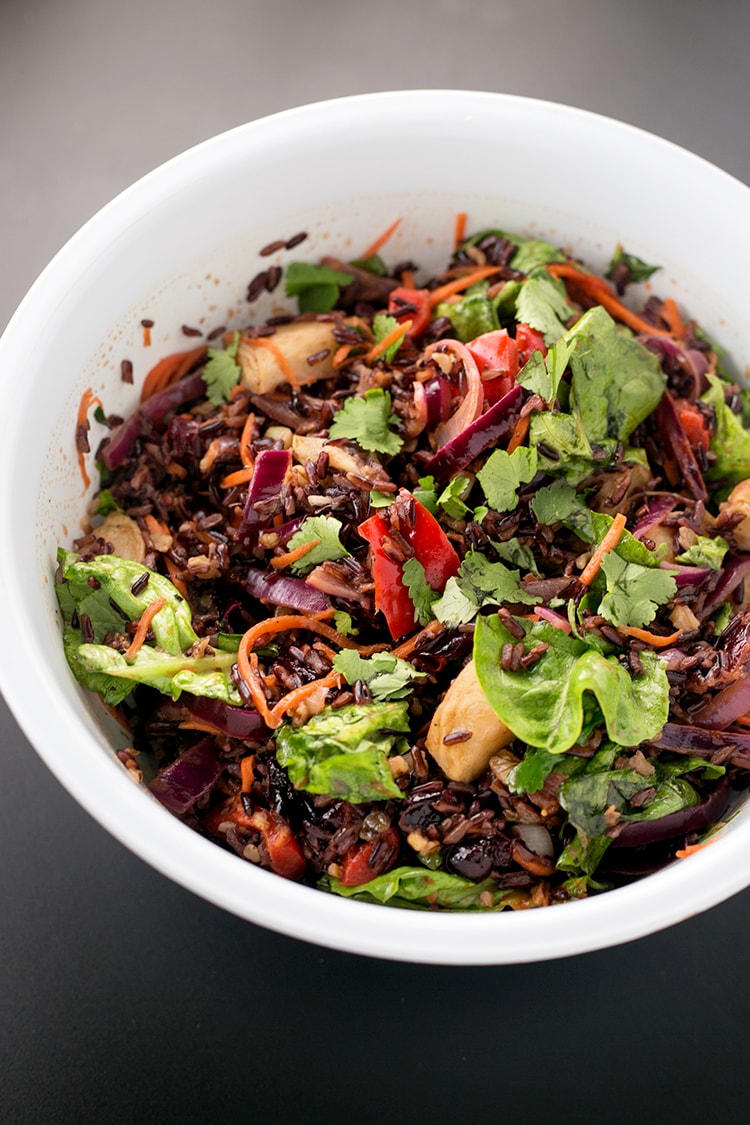 I'm a huge fan of Salads. Especially when they're manly, hearty salads. No sissy leaves and dressing for me, thank you. Enter this amazing Black Rice Salad. Crunchy, nutty, sweet, acidic, salty – it had every texture and taste one would expect in a wonderful salad.
Forbidden Rice, also known as Black Rice, forms the starch base of this salad. Back rice is high in nutritional value and is a source of iron, dietary fiber, vitamin E and antioxidants. If you've never tried it before, I would best describe it as a slightly nuttier and bolder cousin of Brown Rice. Apparently, in ancient times, Emperors reserved this rice for their own consumption because they believed it would extend the length of their lives. No one else was allowed to consume it without permission – hence the term "forbidden". (God knows I want to live forever……)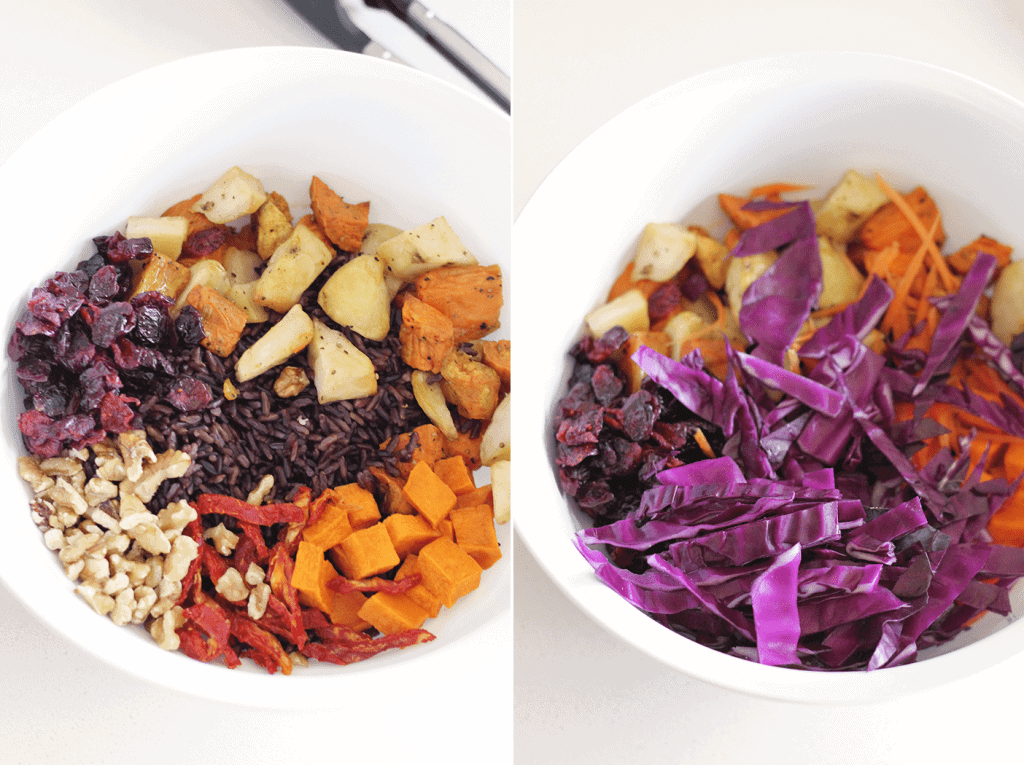 We start by cooking off some lovely Black Rice and Roasting some Squash, Sweet Potato and White Potatoes. Once everything is cooked, the black rice and starches are tossed with some Red Cabbage, Walnuts, Sun Dried Tomato, Cranberries and a delicious Apple Cider Vinegar Dressing. F*cking yum. The final result is a delicious Black Rice Salad loaded with different textures and flavors. It is definitely one of my favorite salads to have – hearty, filling and nutritious.
FREE EBOOK SERIES! 5 SECRETS FOR FOOLPROOF VEGAN DESERTS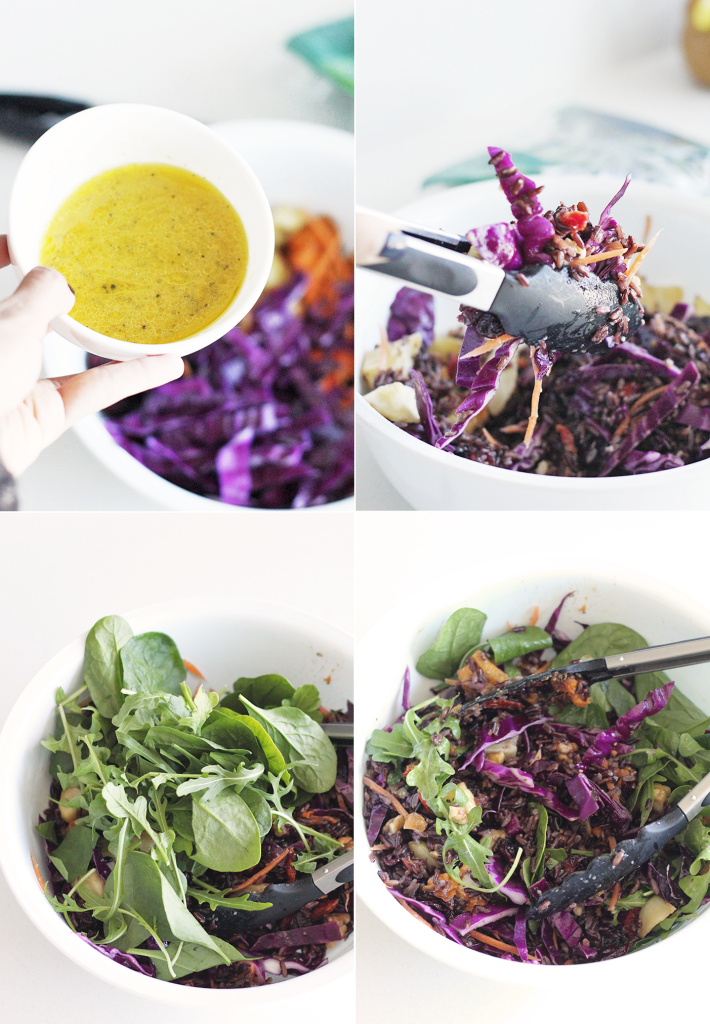 Anyway, I'll leave you with the recipe for my Vegan Forbidden Black Rice Salad below. Vegan, Gluten Free and made with a minimal amount of oil, it is perfect for warm, cold or in your fu*king lunchbox! Do let me know if you try the recipe out – would love to hear your feedback on it!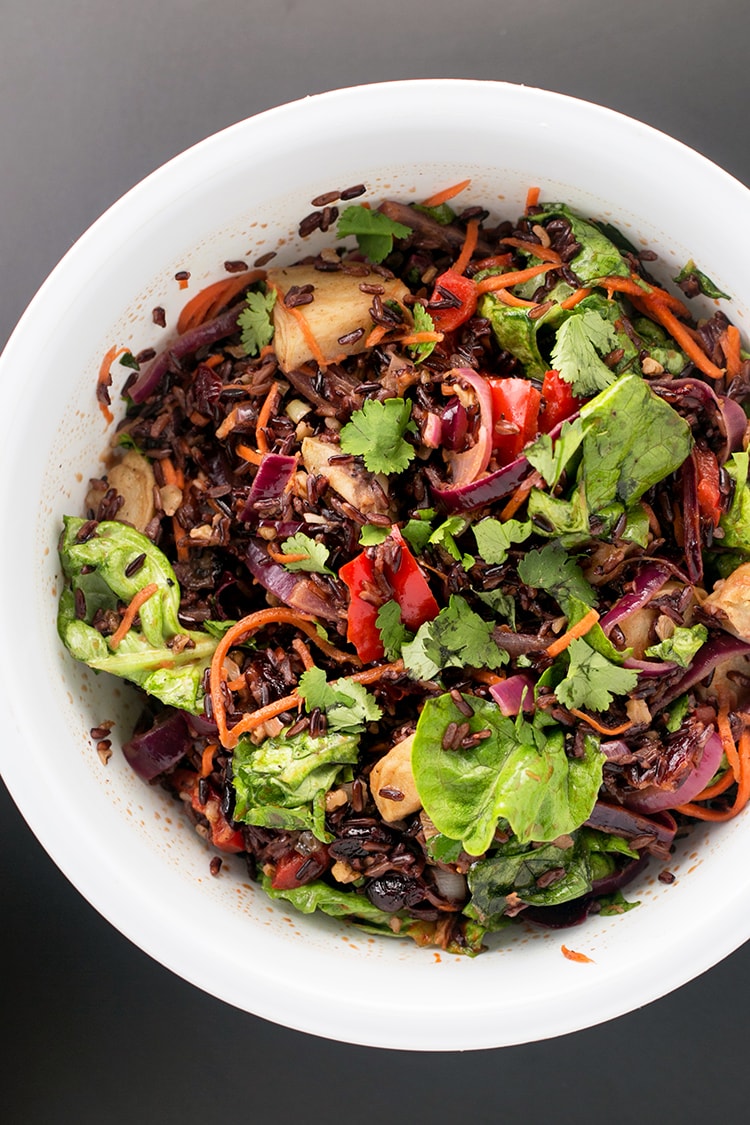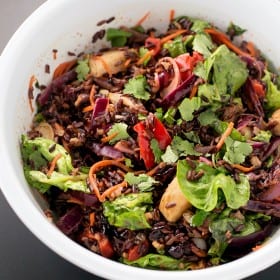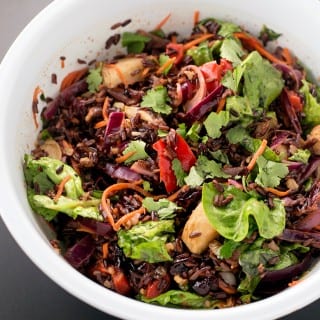 Vegan Forbidden Rice Salad
Vegan Forbidden Black Rice Salad - Black Rice Studded with Roasted Veggies, tossed with an Apple Cider Vinegar Dressing. V/GF
Ingredients
100

grams

diced Sweet Potato

100

grams

diced Potato

100

grams

diced Butternut Squash

1

Tablespoon

Olive Oil

Salt/Pepper

3/4

cup

Forbidden Black Rice

1 1/2

cups

Water

2

Tablespoons

Sun-Dried Tomato strips

1/4

cup

Chopped Walnuts

1/2

cup

Dried Cranberries

1/2

a small Carrot

julienned

1/8

th a head of Red Cabbage

julienned

1

large handful of Arugula and Baby Spinach

For Dressing:

1/4

cup

Apple Cider Vinegar

2

teaspoons

Agave Nectar

1 1/2

teaspoons

Dijon Mustard

1

Tablespoon

Extra Virgin Olive Oil

Salt/Pepper
Instructions
Begin by roasting your diced potato, sweet potato and butternut squash. Toss in olive oil, salt, pepper, and baked on a parchment lined baking tray in an oven preheated to 200 degrees Celsius for 45 minutes. Give it a toss half way through baking. Let cool slightly.

In a deep saucepan, combine your black rice and water. Bring to boil, then turn down to a simmer, cover with a lid and let cook for 30 minutes.

Once 30 minutes has passed, turn the stove off and leave the rice in the covered pot for another 15 minutes. Do not open the lid!

Tip rice into a large bowl, and combine with sun-dried tomato, walnuts, cranberries, and carrot. Toss to mix well.

Add red cabbage, arugula and baby spinach to the salad and toss to combine. Don't do this too early as you don't want the residual heat of the rice to wilt your greens.

To make your dressing, combine apple cider vinegar, dijon mustard, salt/pepper, agave nectar and extra virgin olive oil in a small jar.

Cover with a lid and shake to combine and emulsify dressing. Pour over your salad and toss to combine.

Enjoy!
P.S: Say Hi to the Kitties! You can always drop them a line on my Instagram page – I promise to pass the messages on!