I really miss the soft, fluffy breads and rolls that we get back home so I decided to try my hand out at making some of our own buns at home. A lot of eggs, cream and dairy is used in Asian bread and since I'm vegan, I decided to try my hand at making a healthier, vegan version of what we get back home that tastes just as good if not better. I'm not a bread baker by any means… in fact, I don't really find the entire process of kneading, waiting, and then waiting some more very appealing. Knowing that most people probably share the same sentiments, I set out to make something pretty simple and straight forward – vegan pumpkin buns!
Being the deviant being I am, I insisted on making pumpkin flavored buns. No arguments about it!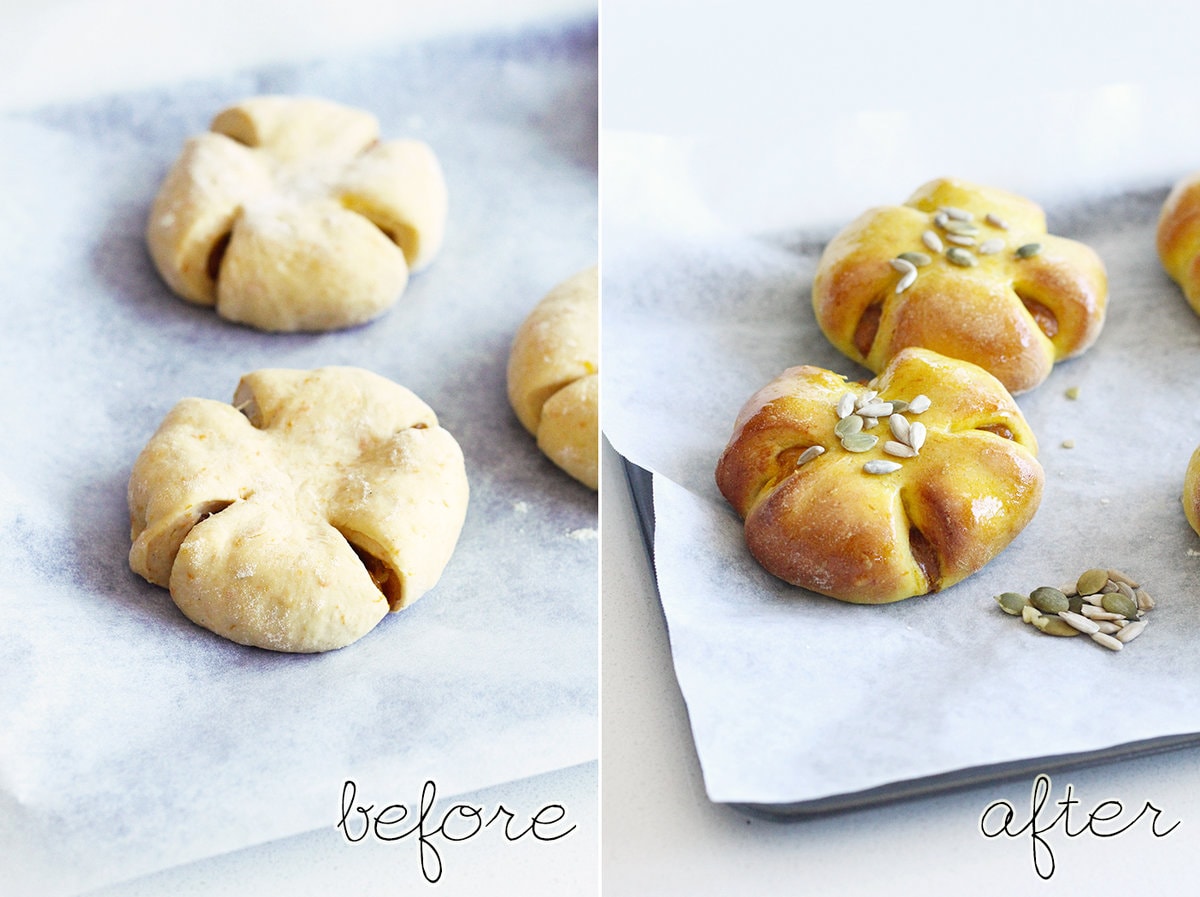 FREE EBOOK SERIES! 5 SECRETS FOR FOOLPROOF VEGAN DESERTS
Based on the finished product, you'd never be able to wonder how such a simple recipe could produce such satisfying results. Soft, fluffy and subtly sweet pumpkin bread with pumpkin filling that melts in your mouth – could it get any better than that? I think not! And Levan- Mr Pumpkin Hater, grinch of Squash Land, loves it too – even more reason for you to try making this in your own home.
I'll leave you with more photos and my pumpkin bun recipe, along with notes attached that will tell you how to make the dough the night before if you want to devour these for breakfast but aren't too keen on waking up at 4am to start making them. That is, unless you have cats. Cats wake you up at 4 am everyday anyway. And then again at 7am, 9am, 10am…etc. Trust me, that's why I'm always so cranky.
I hope you try making these simple vegan pumpkin buns in your own kitchen – your family will thank you ( and if you live alone, you may have to lock the pantry to stop yourself from eating them all!) Enjoy 🙂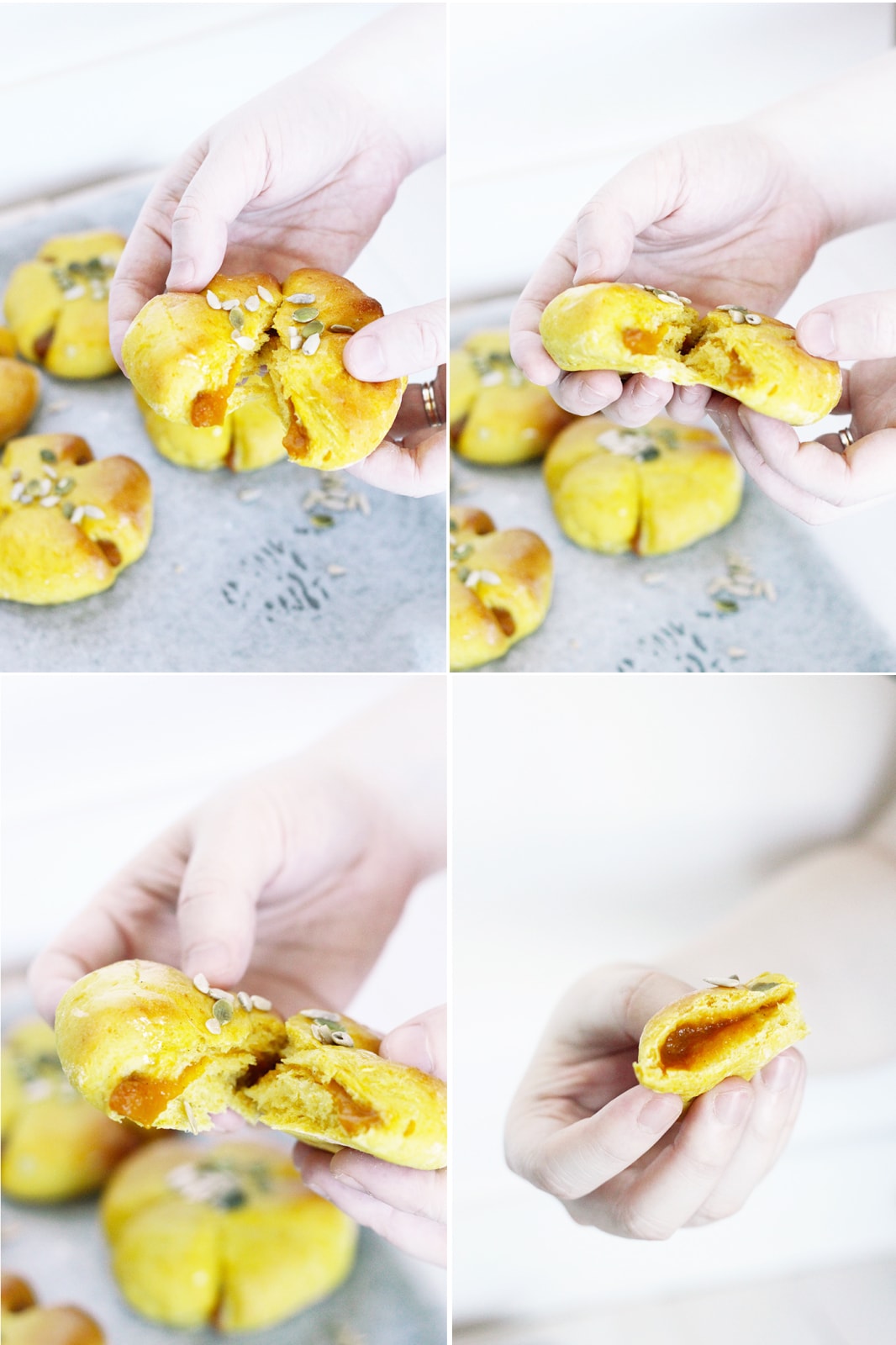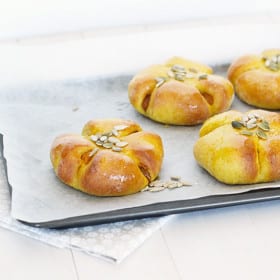 Pumpkin Buns
Vegan pumpkin buns- The BEST easy recipe!
Ingredients
Pumpkin Vanilla Bean Filling:
400

grams

Pumpkin

weighed without skin or seeds

80

grams

Sugar

2

teaspoons

Vanilla Bean Paste

4

teaspoons

Cornstarch

4

teaspoons

Water
Pumpkin Vanilla Bean Dough:
300

grams

Bread Flour

30

grams

Sugar

130

grams

Pumpkin

Mashed

5

grams

salt

110

grams

soy milk

2

teaspoons

Vanilla Bean Paste

5

grams

Instant Yeast

30

grams

Vegan Butter

softened
Vanilla Bean Syrup:
50

grams

Sugar

85

grams

Water

1

teaspoon

Vanilla Bean Paste

1

tablespoon

Pumpkin seeds

to garnish
Instructions
Make Pumpkin Filling: Steam your pumpkin till tender. Using an immersion blender, puree the pumpkin and then transfer it to a deep saucepan. Add sugar and vanilla bean to saucepan.

Over a low heat, stir pumpkin and sugar for 10 minutes till slightly thickened.

In a separate bowl, whisk cornstarch and water together. Add this to your pumpkin/sugar mixture and stir till thickened and boiling. Remove from heat, transfer to a bowl and cover with cling wrap. Let it cool to room temperature and then pop it into the fridge to harden till you need to use it.

Make Bread Dough: In a stand mixer attached with the dough hook, combine flour, sugar, mashed pumpkin, salt, rice milk, vanilla bean paste, instant yeast and vegan butter.

Turn machine on and let it knead dough for 15 minutes. If the dough seems too wet, add a little more flour. If it seems too dry, add a little more vegan milk to moisten.

After 15 minutes, transfer dough into a lightly oiled bowl and cover with a damp tea towel. Set somewhere warm for 1 1/2 hours to double in volume.*

Once doubled in volume, punch dough down to release air. Knead for a few minutes and then divide into 70 gram portions. Roll each portion into a ball and set aside. Cover with a tea towel and leave it alone for 10 minutes.

After 10 minutes, working with each ball of dough, roll it into a flat disk and fill with pumpkin filling. Seal the dough, roll it to form a ball again and then place on baking tray lined with baking paper.

Using your palm, flatten your ball of filled dough and then press the middle of the flattened disk of dough down again with your fingers. Using kitchen shears, create 4 slits on the sides of your bun. Repeat with remaining dough and filling. Cover with a damp tea towel and let increase in volume for an hour. Meanwhile, make syrup.

Make Syrup: Combine sugar, water and vanilla bean in a pot. Bring to a boil and boil for 1 minute. Take off heat and let cool.

Baking: Preheat oven to 200 degrees Celsius. Brush the tops of your risen buns with a thin layer of soy/rice milk to encourage browning. Bake pumpkin buns for 14 minutes.

Once baked, immediately pull out of the oven and brush with vanilla bean glaze. Using the glaze as a glue, stick pumpkin and sunflower seeds onto the surface of your buns.
Notes
*If you want to prepare the dough the night before, punch dough down after the first rise and then cover bowl with a damp tea towel and leave the dough in the fridge overnight. In the morning, remove the dough from the fridge and proceed as per the recipe. Don't worry if your dough has risen even more in the refrigerator. It may take a while longer for your buns to double in size after you have shaped and filled them. Overnight proofing actually develops a much more complex flavor which I prefer.
Nutrition
Serving:
1
serving
Calories:
188
kcal
Carbohydrates:
37
g
Protein:
4
g
Fat:
3
g
Saturated Fat:
1
g
Trans Fat:
1
g
Sodium:
184
mg
Potassium:
196
mg
Fiber:
1
g
Sugar:
16
g
Vitamin A:
3892
IU
Vitamin C:
5
mg
Calcium:
27
mg
Iron:
1
mg
____________________