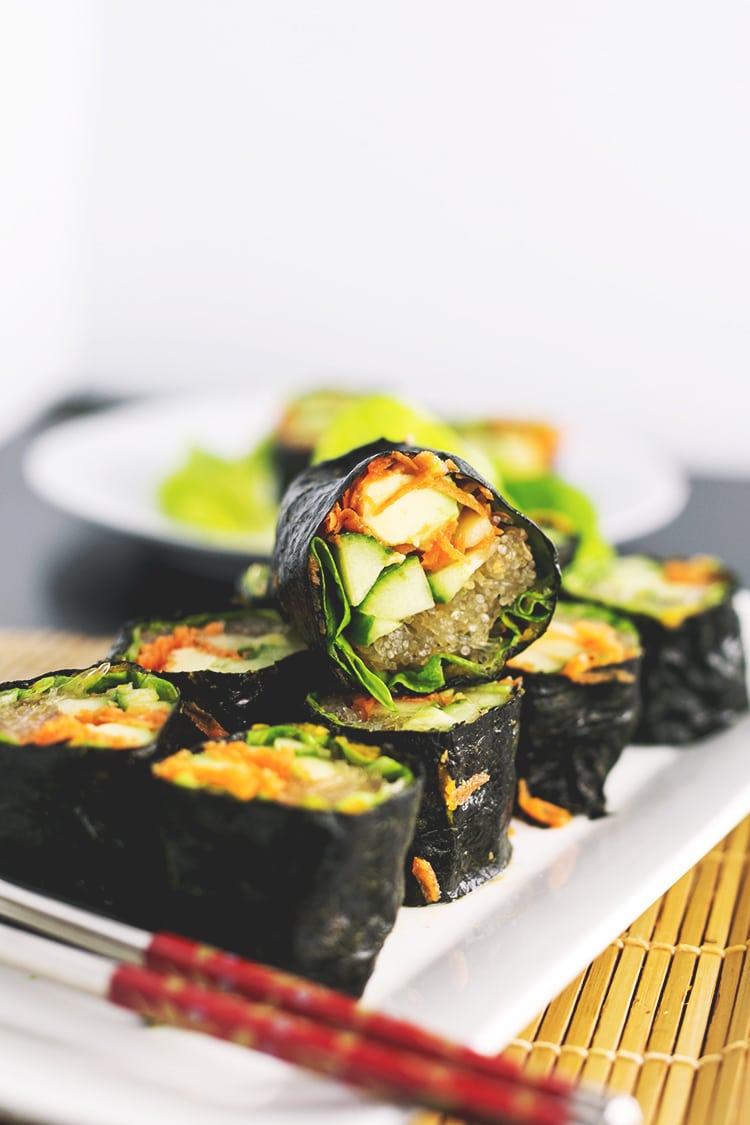 Hey everyone, today's post is going to be a quick one! Let's dive right into it. A couple of years ago, when I ordered my first ever bag of Kelp Noodles online, I found myself completely clueless as to what to do with them. I didn't want to make any sort of stir fry, and after a little experimenting, I came up with these Raw Sushi Rolls with a Tahini Soy Dipping Sauce.  If anyone doesn't know what Kelp Noodles are, here is what a Google definition says: "At only 20 calories a serving, kelp noodles are a low calorie, raw substitute for pasta. Kelp noodles are made from kelp (a brown seaweed), sodium alginate (a salt derived from seaweed), and water. Kelp is an edible seaweed that is high in nutrients.". There ya go, now you know what Kelp Noodles are. You learn something new everyday!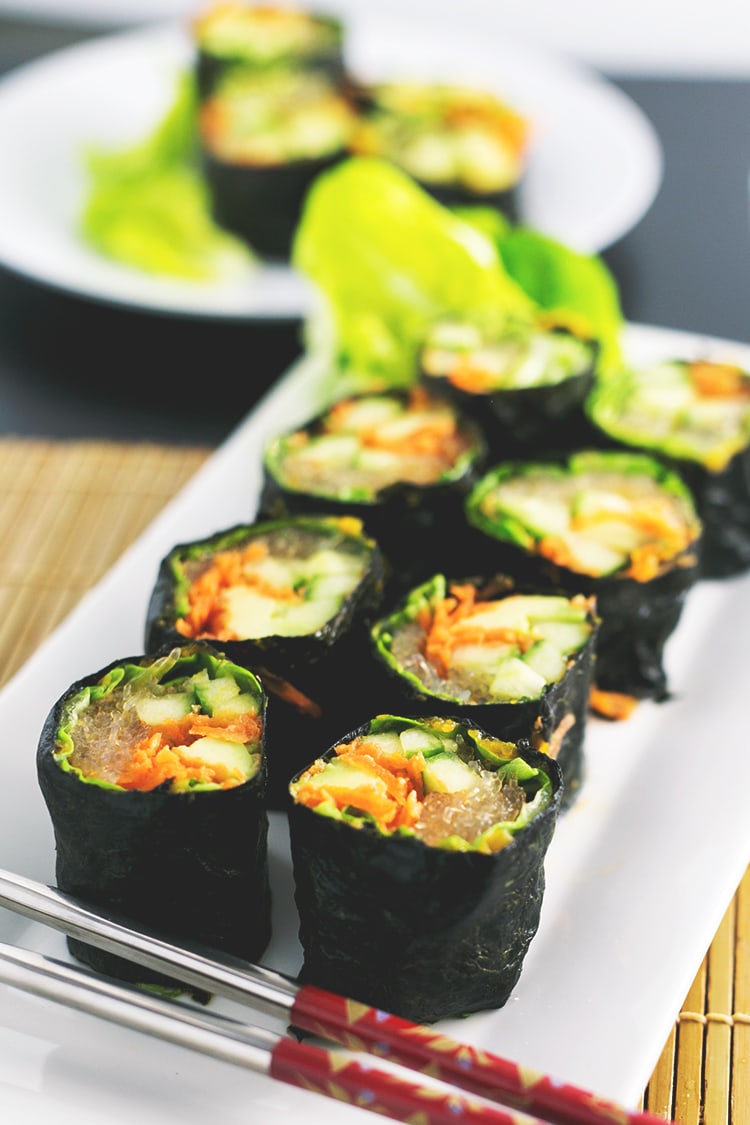 Working with Kelp Noodles can be a tricky task. Kelp Noodles are naturally VERY bouncy and almost rubber band-like in texture. Now, unless you've been on an episode of My Secret Addiction, I'm going to guess you don't enjoy eating rubber bands. Yup. Thought so. Before you click close on your internet browser after reading that, STOP and listen to me! There is a very easy way to soften these noodles – a 15 minute soak in a Lemon Juice/Water/Salt mixture. So easy, yet so effective. Sometimes I soak in that mixture too. But we'll save that for my future fetish blog. Anyway, the Kelp Noodles soften significantly in this mixture and become very palatable and easy to chew – almost like Asian glass noodles. They end up the perfect texture to be used in my Raw Sushi Rolls.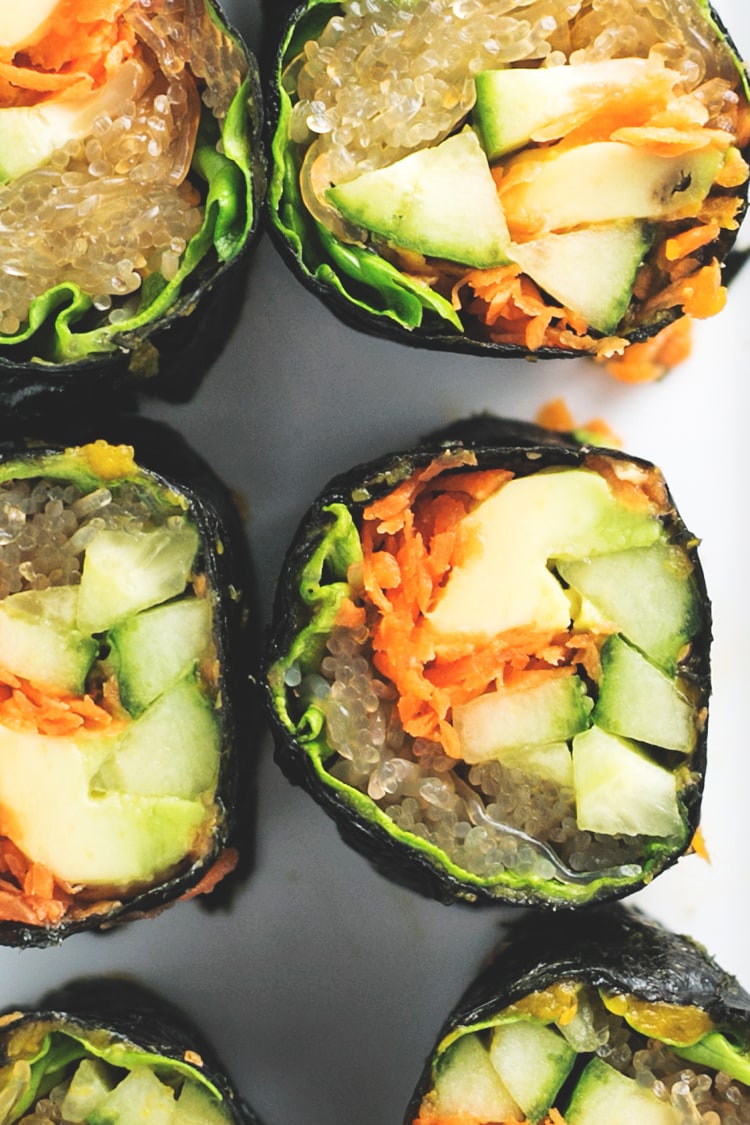 Honestly, these Raw Sushi rolls are the easiest thing you'll make all summer. With no cooking involved, all you need to do is chop up some veggies and roll them up – I use Pureed Raw Pumpkin, Avocado, Cucumber, Lettuce, Carrot and of course, the Kelp Noodles. Everything is snugly wrapped in a sheet of Nori and served with a delicious Tahini Soy Dipping Sauce (which I forgot to take a picture of – shoot me.)  Picture or no picture, it was delicious.  Pinky promise. This recipe is Raw, Gluten Free, Vegan, low in Fat and Calories, and perfect for your post 4th of July binge!
FREE EBOOK SERIES! 5 SECRETS FOR FOOLPROOF VEGAN DESERTS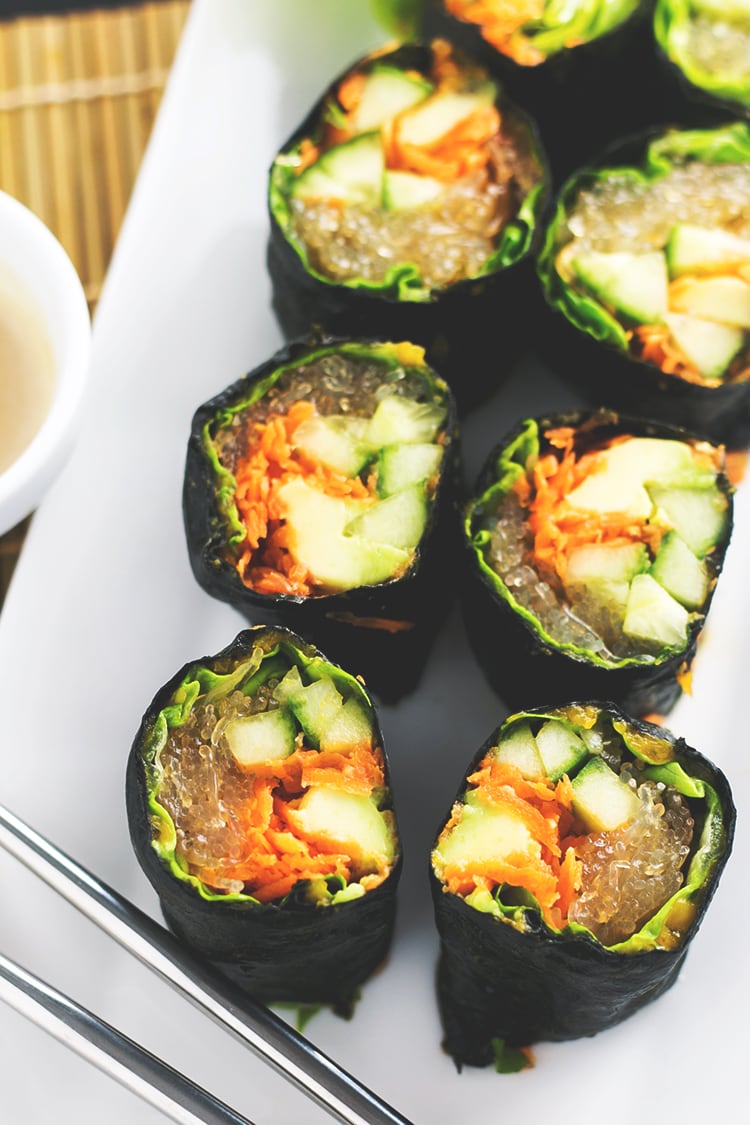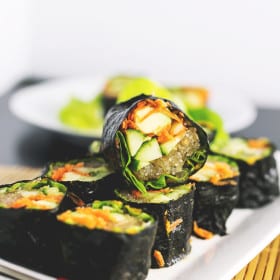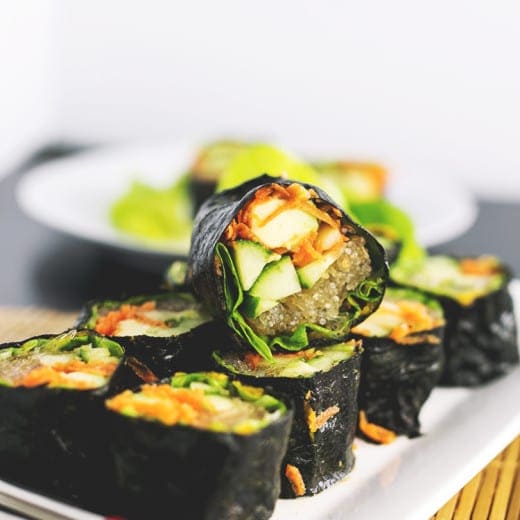 Raw Sushi Rolls with Kelp Noodles and Tahini Soy Dipping Sauce
Raw Sushi Rolls filled with Kelp Noodles, Avocado, Cucumber and Carrot, served with a Tahini Soy Dipping Sauce.
Ingredients
4

Sheets of Nori

3/4

of a package of Kelp Noodles

Juice of 1 Lemon

2

teaspoons

of salt

Water

2

teaspoons

Tamari

1/2

teaspoon

Sesame Oil

1/2

cup

diced Pumpkin

Salt/Pepper

1

Avocado

sliced

4

large Lettuce leaves

1

small Cucumber

sliced into long strips

1

Carrot

Shredded

Tahini Soy Dipping Sauce:

1

tablespoon

Tahini

1 1/2

teaspoons

Tamari

1/2

teaspoon

Maple Syrup

1/4

teaspoon

grated Ginger

Water
Instructions
Prepare Kelp Noodles: Soak noodles in lemon juice, salt and enough water to fully submerge it. Leave for 15 minutes and then rinse thoroughly. Once rinsed and drained of excess water, season with 2 teaspoons Tamari and 1/2 teaspoon Sesame oil. Set aside.

Prepare Raw Pumpkin Puree: Puree pumpkin with an immersion blender and then season with Salt and Pepper.

Roll Sushi: Using a bamboo mat or plastic wrap, lay a sheet of Nori on it, shiny side down. Lightly spread pumpkin puree in a very thin layer all over the sheet of nori.

Immediately place a lettuce leaf on the sheet of Nori and then use it as a base to build up with strips of Avocado, Cucumber, Carrot and 1/4 of your Kelp Noodles. Roll, sushi style. Repeat with leftover ingredients.

Slice each roll into 4 pieces.

Prepare Tahini Soy Dipping Sauce: In a bowl, combine Tahini, Tamari, Maple Syrup and Ginger. Mix to combine. Gradually at a little water at a time and stir until the sauce is smooth and thinned down. You want it to be creamy and not watery - so add the water in very cautiously.

Serve Raw Sushi Rolls with prepared sauce.
Notes
This is best served immediately after rolling, similar to Summer Rolls - the moisture in the veggies makes it go soggy very quickly.