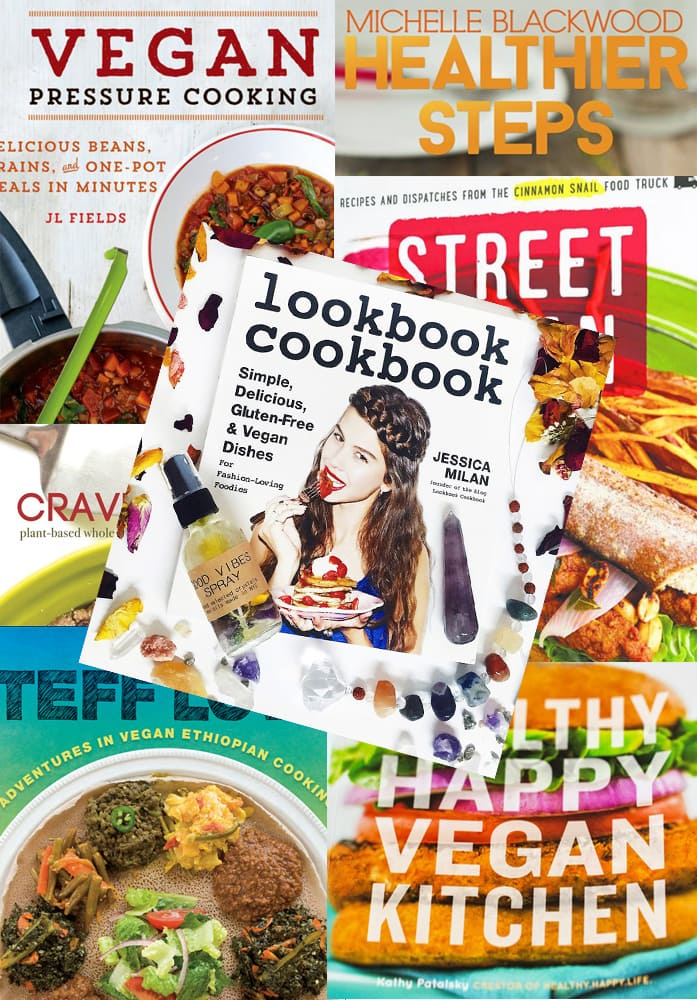 EDIT: This Giveaway Contest is now CLOSED. Congratulations to our lucky winner, Cecil H. from the UK! We will be shipping your prize out to you in the coming days. 🙂 An epic big THANK YOU to everyone who participated! Fret not if you didn't win this time around; we will be holding ANOTHER big Giveaway soon on this blog – so stay tuned! More prizes await you.
Hello everyone, and welcome to our first ever giveaway! We've been wanting to do this for a while, but we couldn't really decide on exactly what we were going to give away – An ice cream maker? Meh. Health food? Double meh. We finally agreed upon giving readers/the winner the choice to choose any 2 cookbooks that they fancy out of the 8 cookbooks we are going to review today. And no, these aren't just any random Vegan cookbooks we came across on the internet – these are what we personally think are the best Vegan cookbooks of 2015. So let's jump straight into the reviews, in no particular order. All instructions on the giveaway terms and conditions will be stated below after said reviews!
1. Lookbook Cookbook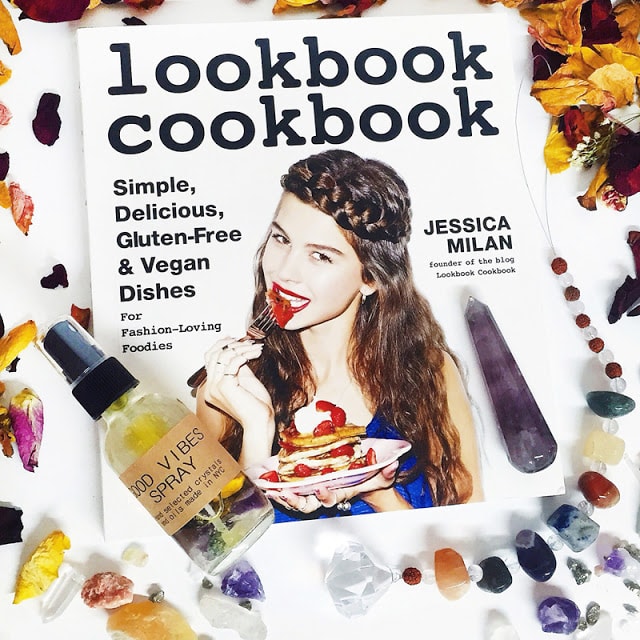 I'm sure you've heard of Lookbook. It was all the rage a while ago with the hipsters and wannabe fashionistas. Penned by Jessica Milan, fashion model turned foodie, Lookbook Cookbook hosts a wide array of Vegan, Soy and Gluten free recipes. There are TONS of recipes in this book, along with a hell of a lot of photos of pretty girls eating stuff in there too. I was kind of wishing I'd look as good as them if I made some of the recipes…. that did not happen. Two of my favorite recipes in this book are the Apple Caramel Tarts and the Strawberry Creamcake. They were flipping delish.
FREE EBOOK SERIES! 5 SECRETS FOR FOOLPROOF VEGAN DESERTS
2. Healthy Happy Vegan Kitchen
Do we really need to tell you who Kathy is? For those who don't know, Kathy Patalsky is the ingenious creator of Finding Vegan, an (even more) awesome Vegan equivalent of Foodgawker. Filled with stunning photos, Kathy's recipes are the definition of Food Porn. Our favourite recipe is her Party Jalapeño Poppers, especially since Levan is a sucker for anything with Jalapeño in it. The name of the dish alone is enough to inspire you to do the Jalapeño dance. This super afforable book is worth every penny, and is something I refer to quite a few times in the week when I'm deciding on what to make for our meals.
3. Vegan With a Vengeance – 10th Anniversary Edition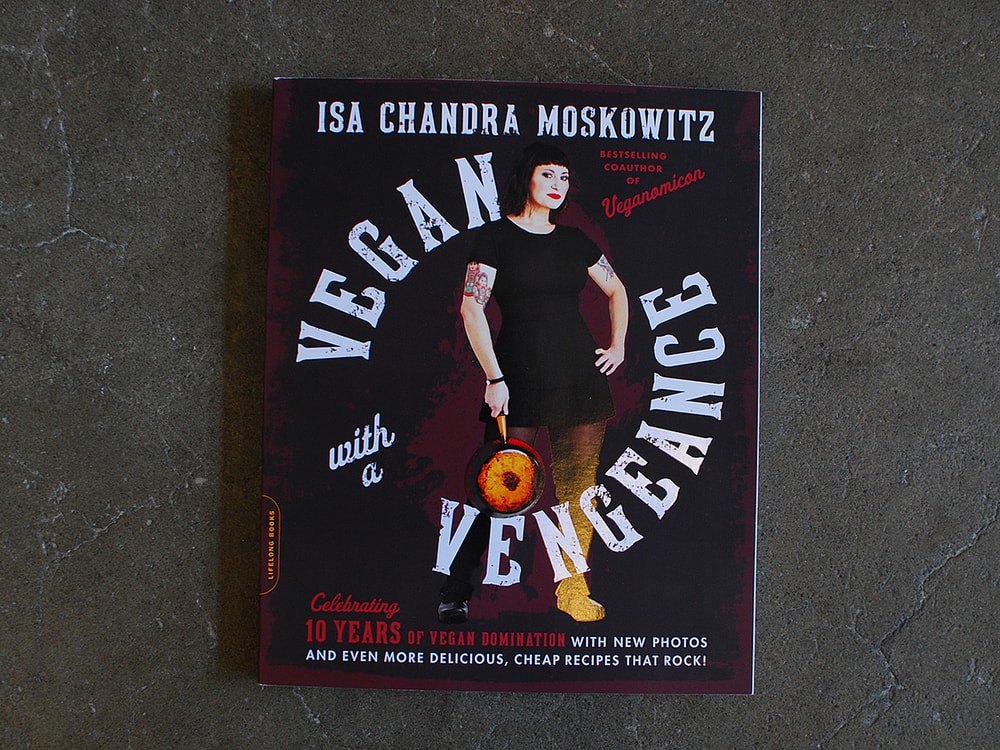 I love Isa Chandra Moskowitz. Hers were some of the first Vegan cookbooks I ever purchased early in my transition. She's fun, she's a foodie, and her tattoos rock. Her cookbooks rock even more. The 10th anniversary edition of Vegan With A Vengeance is an updated, fresher version of Isa's legendary first edition. I'm in love with her Brooklyn Pad Thai and Lemon Poppyseed Muffins. Go get this book. Please.
4. Teff Love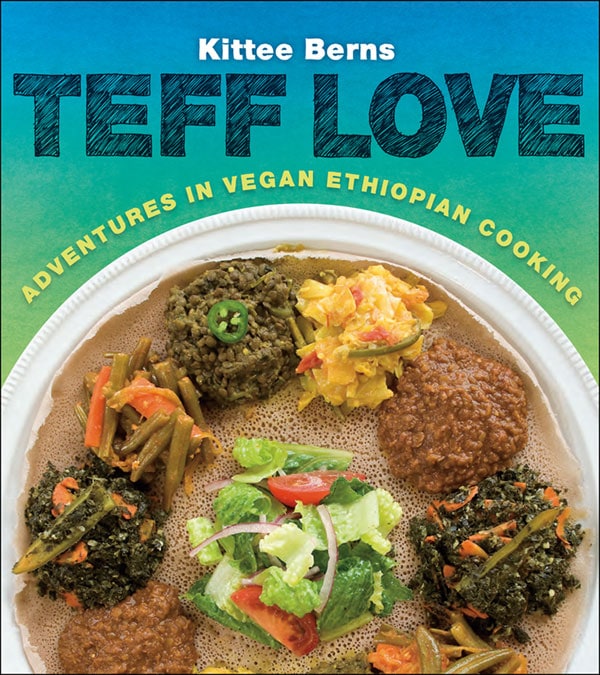 I'll admit – we'd never ever tried Ethiopian food till I bought this book. The reason I bought it was because it all sounded so darn exotic, and I was keen on learning something new about a different culture's recipes, ingredients and traditions. This book ticked all the boxes for me. There are so many recipes in here that I don't even know which ones to pinpoint – I've tried about 5 out of the gazillion recipes in this book and every single one of them has been a hit. Now I just need to learn how to pronounce everything.
5. Street Vegan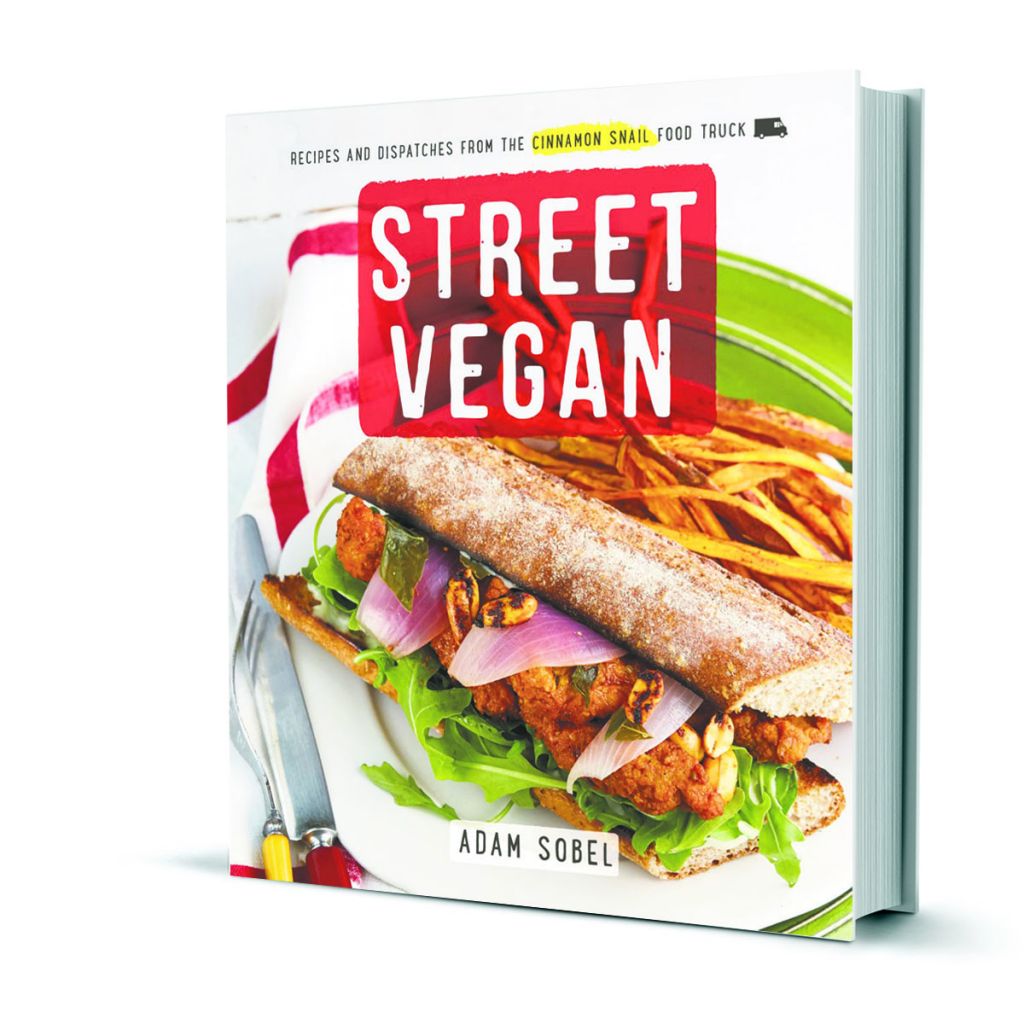 Adam Sobel is the talented chef and owner of the award-winning vegan food truck The Cinnamon Snail. Now, he divulges some of his most mouthwatering breakfast, lunch, dinner, and snack recipes in one very affordable, recipe-packed vegan cookbook. The Gochujang Burger was #OhMyGodGood. This book is definitely a must-read for food truck loving vegans. I wish we had Vegan food trucks here. Darn.
6. Crave Eat Heal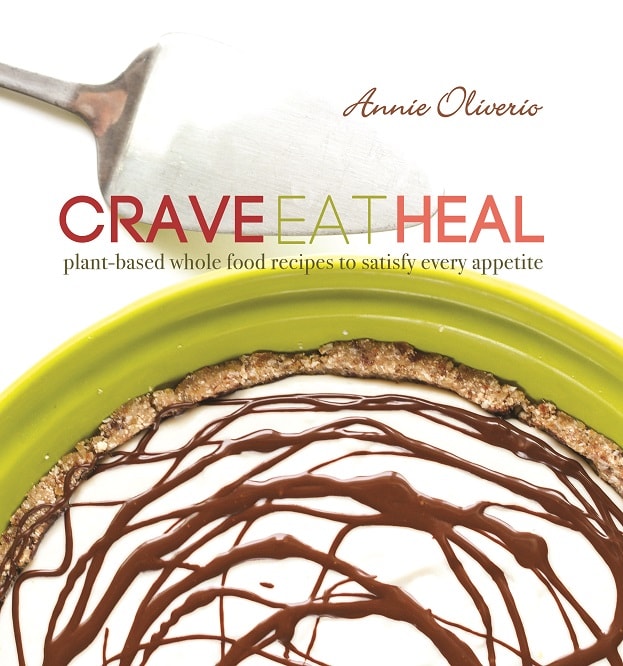 We love Ann Oliverio aka An Unrefined Vegan! She is one of our awesomesauce blogging friends and, oh, she's also an amazingly talented vegan cook and photographer. In her newest cookbook 'Crave Eat Heal,' Ann shares her tasty vegan recipes that are salty, sweet, spicy, comforting, crunchy, and everything else in between. Try her Lemon Garlic Baked Tofu. Really. Her recipes are healthy, but will leave you satisfied and not feeling weighed down. Awesome.
7. Vegan Pressure Cooking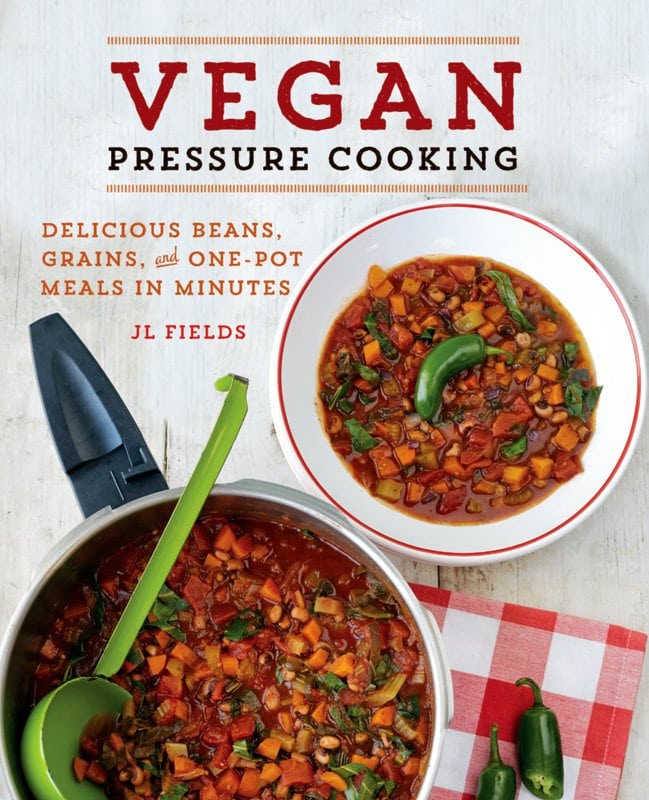 This one is something I purchased just a few weeks ago on Kindle. It all started when I won a free pressure cooker (I still don't know how that happened). I had no clue on how to use one – I'd only seen my grandmother use one a couple of times – so I needed some HELP! I logged onto Amazon and bought Vegan Pressure Cooking, read through it, and then got down and dirty with the Pressure Cooker. Turns out cooking in a Pressure Cooker is pretty fun, and not just for grandmas. My favourite recipe? The Root Veggie Tagine, hands down. J.L Fields really has created something special with this book filled with no-mess, simple, tasty recipes.
8. Healthier Steps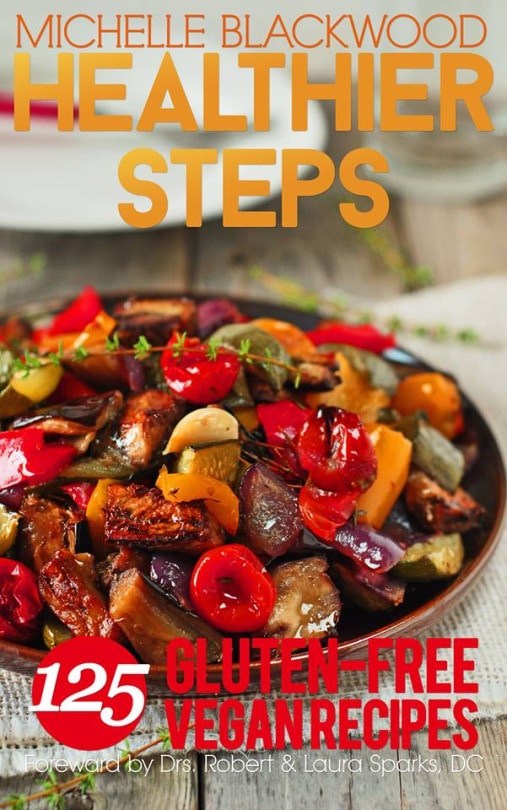 Healthier Steps is a fantastic cookbook by yet another Blogger friend of ours, Michelle Blackwood. Michelle has a whopping 125 Gluten Free/Vegan recipes in this killer book, ranging from Tacos to Sponge Cake. Michelle's recipes are a collection of dishes she prepared from her travels to Europe and the Caribbean – and all come with an immense amount of detail about ingredients, substitutions and sources for unfamiliar ingredients. Oh, the mouth watering colorful photos will drive you into a crazed hunger too. Don't chew your arm off – not Vegan.
And now for the Giveaway:
Edit: Giveaway Contest is now CLOSED.
If you want to stand a chance to win any 2 of these Vegan Cookbooks (you get to choose which ones you want!) first and foremost, Step 1: you must subscribe to the Crazy Vegan Kitchen Newsletter with the same name and email address you used to enter the main competition (scroll down to 'Never Miss A Recipe' to fill in your details). Be sure to check your email in order to confirm your newsletter subscription.
Once Step 1 is done, you can then go on to Step 2 and complete at least one of the tasks in the widget below! You can choose to follow us on either Instagram or Pinterest for 2 giveaway points each. If you choose to follow us on both, you'll get 4 points and will also unlock a third sharing option which will garner you another 3 points if you are interested (it will greatly increase your chances of winning). Remember, both Step 1 and Step 2 are required to qualify for winning. Winners will be picked at random using the computerized widget. This contest is open to US and International audiences alike!
The winner will be notified via email and asked for the two books they want delivered to them. All prizes will be delivered via Amazon shipping. The books won will be physical copies and all delivery fees will be covered by us. 🙂 Don't you just love free sh!t?
The giveaway is now
OPEN

 and ends at

11:59PM Pacific Time | 15th July 2015

. Don't forget to drop us a comment in our comment box! Good luck and may the force be with you!

Additional Note: If you are already a subscriber to our newsletter, but did not originally key in your name, simply open any past newsletter we sent you, scroll down, and click on Update Subscription Preferences to key in your name. We require your name to match your email with the winning entry, so that we may contact you. Similarly, if you are already following us on Pinterest and / or Instagram, just manually unfollow us and then re-follow us directly through the widget below. That way you'll be able to earn more recorded points to increase your chances of winning. 🙂

This giveaway is sponsored by yours truly, Amrita & Levan. We will be conducting even more giveaways soon as our special THANK YOU to our lovely readers. Bigger, better prizes await you!