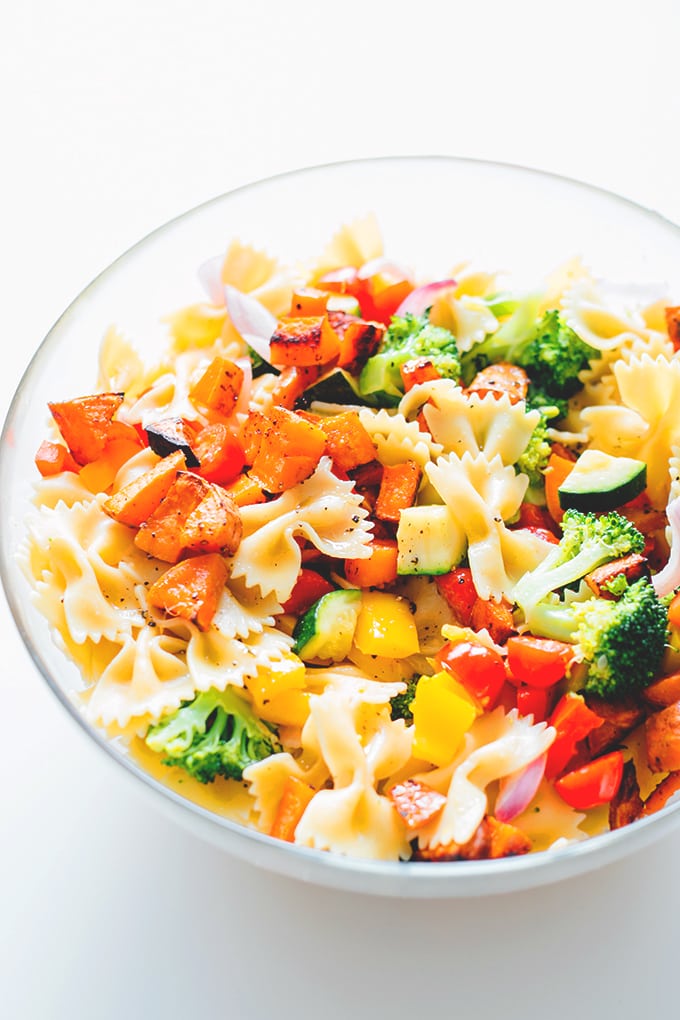 Hello Bijes, welcome back to another episode of crazy lady cooks vegan sh*t in the kitchen. Let's cut straight to it, shall we? Today's recipe is for a hippy dippy Trippy Vegan Rainbow Pasta Salad. Now, a Rainbow Pasta Salad is just a Vegan Pasta Salad that is tripping balls on acid with a few of its vegetable friends. It's just a bunch of vegetables chilling out in a bowl of pasta, enjoying life and staring intently at the technicolored flashing Boy George poster that is hanging on the bedroom wall. I do not speak from experience. I am also a liar.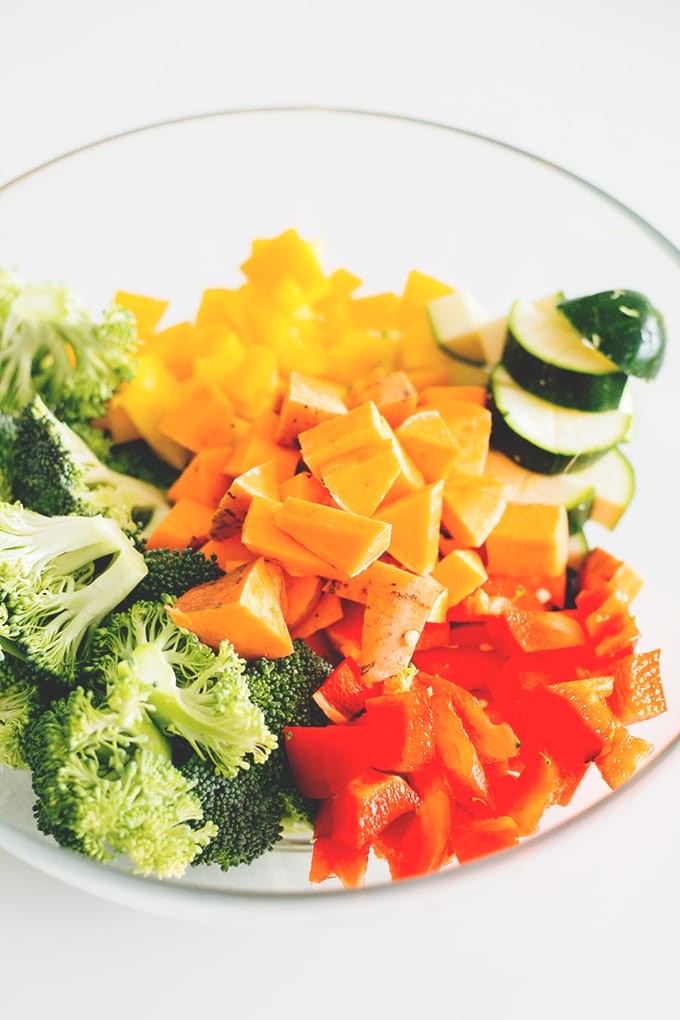 This is a no-fail recipe, so even if you have the IQ of a cockroach, I promise you that you can't go wrong with this Vegan Rainbow Pasta Salad (I know his sentence probably offends the cockroach activists in the world – I am not sorry if you are butthurt by my comments). If you do fail at making this recipe for some reason, please do tell me – I would love to sigh and shake my head. Teehee! Anyway, I cook up some Bowtie Pasta (Farfalle for the fancy bitch in you) this time round, and whilst that is boiling, sauté a medley of vegetables in a big ol' pan. Into a large pan goes Olive Oil, Garlic. Zucchini, Broccoli, Bell Peppers and Red Onion. Cook all that crap down until they are tender and set aside. On top of that, whilst all this magic is happening, ya'll gonna roast some chopped Sweet Potato in the oven to add to my Vegan Pasta Salad. Almost done!
Once the pasta has cooked, combine it with the sautéed rainbow veggies and roasted sweet potato in a big ass mixing bowl. Now to add a little freshness, dump in some halved Cherry Tomatoes and we are almost there. Obviously any pasta salad needs a bloody dressing and this one is no exception. I'm different and I don't follow the norms of society, but I'm not THAT different. A simple dressing made of White Balsamic Vinegar, Agave Nectar, Olive Oil, Salt, Pepper, Garlic and Dried Mixed Herbs is what we shall drown the pasta mixture in. Simple.
FREE EBOOK SERIES! 5 SECRETS FOR FOOLPROOF VEGAN DESERTS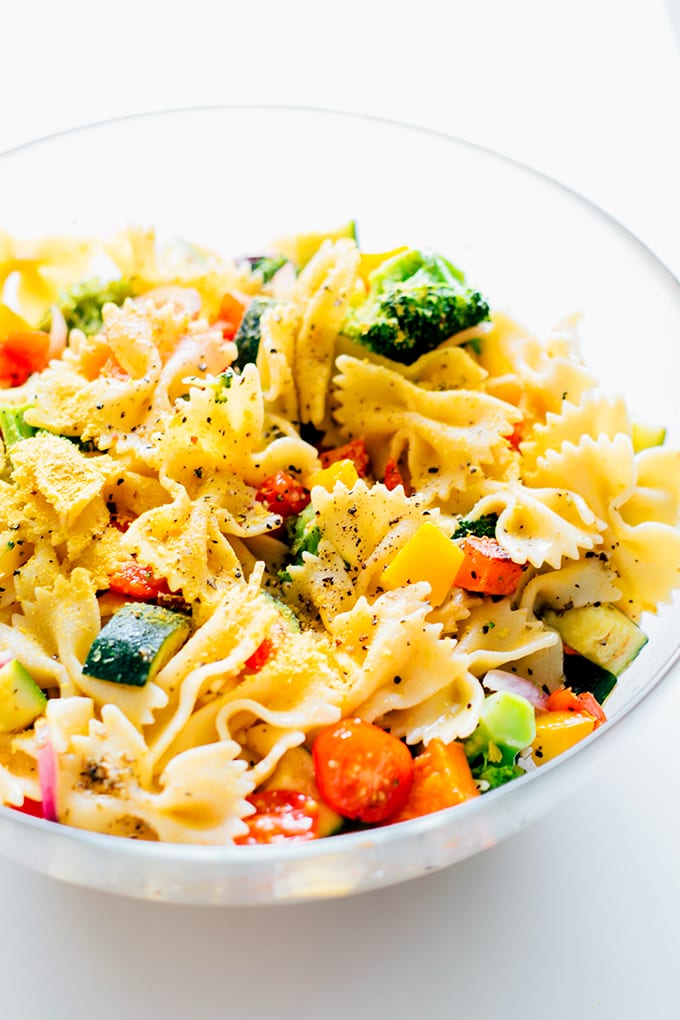 Finally, dress this bitch of a pasta salad up and she's ready to be eaten out like groceries. I like eating this Vegan Rainbow Pasta Salad when its still kind of warm, but feel free to eat it cold or bring it to work the next day. I am unemployed and have never worked a day in my life, so what the hell do I know about packed lunches. Don't listen to me. I top this with Nutritional Yeast just because as well. Feel free to do whatever you want! Scroll down, have a look at the glorious ads along the way and grab the recipe for this Vegan Rainbow Pasta Salad at the bottom of the page. CHEERS!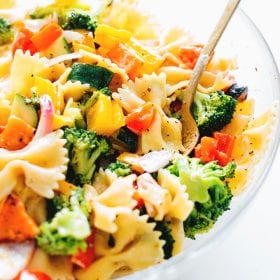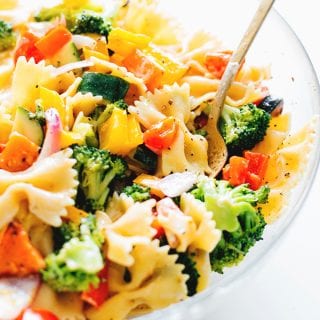 Rainbow Pasta Salad
A delicious veggie packed Vegan Rainbow Pasta Salad dressed with a White Balsamic Vinegar Dressing. Healthy, Quick, Simple.
Ingredients
8

oz.

Bowtie Pasta

250 grams

1/2

large

Sweet Potato

cubed

1

tablespoon

Olive Oil

1

teaspoon

salt

1

tablespoon

Olive Oil

1

clove

Garlic

minced

1

head

Broccoli

separated into small florets

1

large

Zucchini

chopped into small pieces

1

large

Red Bell Pepper

cut into small pieces

1

large

Yellow Bell Pepper

cut into small pieces

1/2

Red Onion

cut into thin slices

1

cup

Cherry Tomatoes

halved
For the dressing
1

clove

Garlic

minced

6

tablespoons

Extra Virgin Olive Oil

3

tablespoons

White Balsamic Vinegar

2

teaspoons

Agave Nectar

1

tablespoon

Dried Mixed Herbs

1

teaspoon

Pepper

2

tablespoons

Vegan Mayonnaise

optional, but it helps round out all the flavors
Instructions
Bring a large pot of water to a boil and preheat oven to 175 degrees celsius. When water is boiling, add a liberal amount of salt to it and pour dry pasta in to cook.

Whilst pasta is cooking, toss Sweet Potato with 1 tablespoon of Olive Oil, Salt and Pepper. Scatter on a parchment lined baking sheet and pop into the oven to roast for 15-20 minutes or till tender.

In a large pan, heat 1 tablespoon Olive Oil and add minced Garlic, Broccoli, Zucchini, Red Pepper and Yellow Pepper to the pan. Season with a liberal amount of Salt and Pepper. Cook veggies for 8-10 minutes, or until tender. Before turning the heat off, add sliced Red Onion to the pan and cook for a minute.

Turn heat off and transfer Veggies into a large mixing bowl.

Once the pasta is al dente, drain and add to the veggie filled mixing bowl.

Add halved Cherry Tomatoes to pasta, along with your cooked Sweet Potato. Mix to combine.

To prepare dressing, combine all ingredients in a jar, cover with a lid and shake well. Pour dressing onto pasta salad and stir well. Add Vegan Mayonnaise to the pasta salad and stir to incorporate.

Check for seasoning and alter accordingly. This recipe can take quite a bit of seasoning so don't be shy. Serve warm, room temperature or even cold!
Notes
Inspired by Gimme Some Oven
Nutrition
Serving:
1
serving
Calories:
379
kcal
Carbohydrates:
78
g
Protein:
15
g
Fat:
2
g
Saturated Fat:
1
g
Sodium:
675
mg
Potassium:
1274
mg
Fiber:
10
g
Sugar:
16
g
Vitamin A:
8700
IU
Vitamin C:
299
mg
Calcium:
133
mg
Iron:
3
mg
Like tripping out on this Vegan Rainbow Pasta Salad? Don't forget to follow me on Instagram, Pinterest and Facebook!