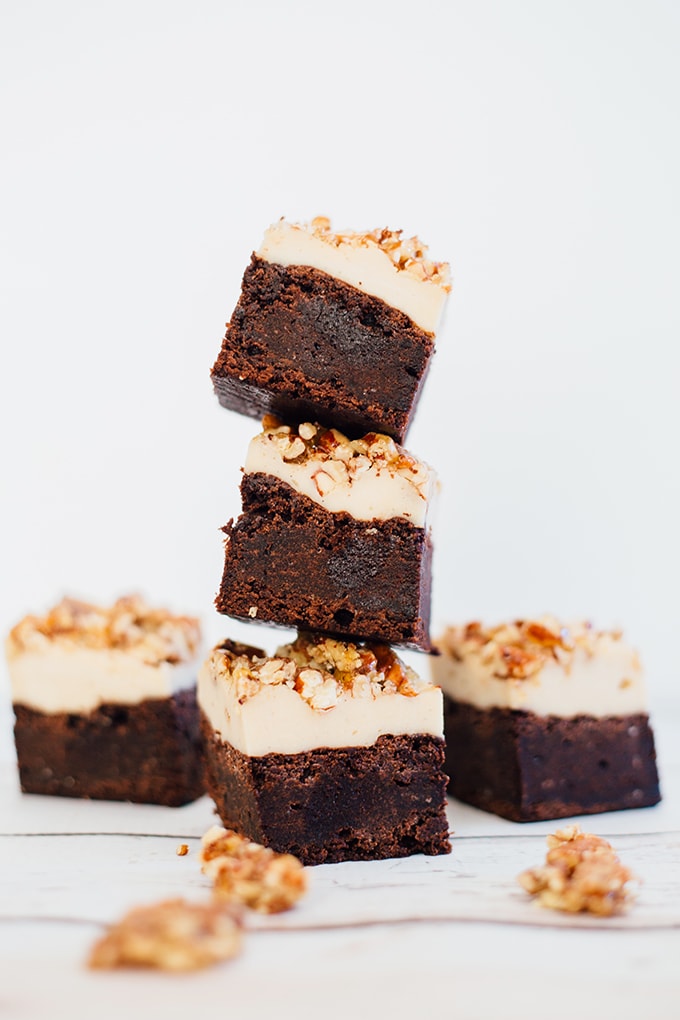 Yay, another blog post! Winning at life. Let's cut straight to the chase – today's recipe is winner winner not chicken dinner. I'm quite excited to share the recipe for these Vegan Cheesecake Brownies with Pecan Praline topping. WHY? Because they are fukking delicious, that's why! What could be better than a Fudgy Vegan Chocolate Brownie topped with a creamy Vanilla Bean Cheesecake layer and then finally crowned with homemade crunchy Pecan Brittle? Nothing, that's what. Well, okay, I lie. Jared Leto in my bed would be better.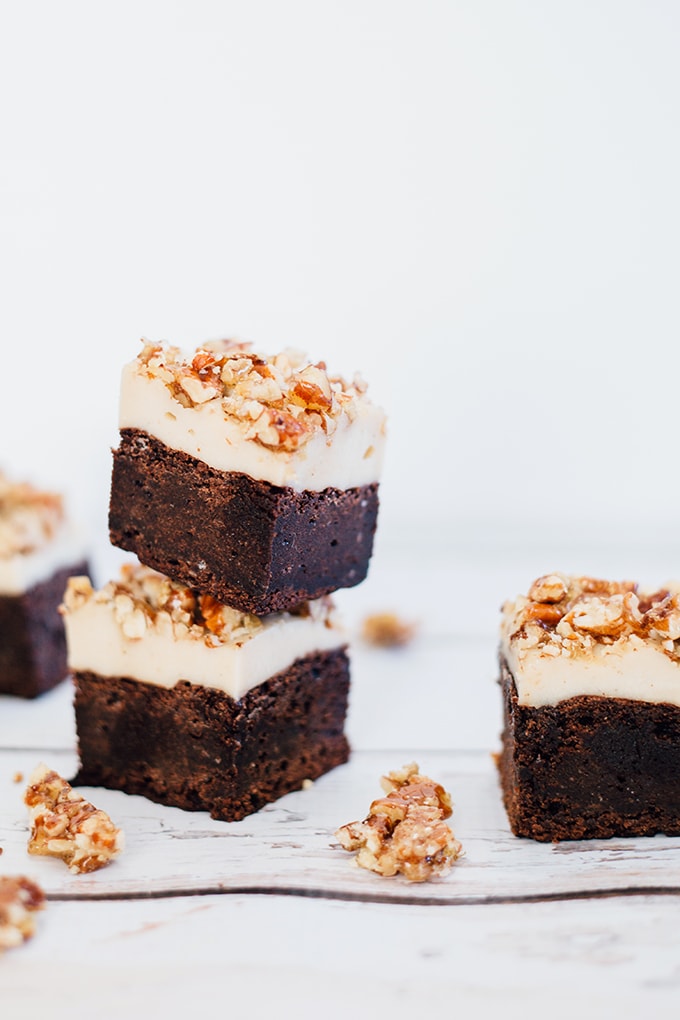 FREE EBOOK SERIES! 5 SECRETS FOR FOOLPROOF VEGAN DESERTS
I start this Vegan Cheesecake Brownies recipe off with the same Vegan Brownie recipe I use in my popular Slutty Brownies recipe – this brownie recipe is the best Vegan Brownie recipe I've tried. I'm sure there are better but I'm very happy with this one so just let me live in my land of fantasy, okay? I make a batch and half of it in and bake it in an 8 inch tin. Simple dimple. Once the brownies are out of the oven, you have to let them fully cool down before layering the Vanilla Bean Cheesecake on top of it. Truth be told, I made the Brownies a few days before making the cheesecake layer because I am a lazy kunt.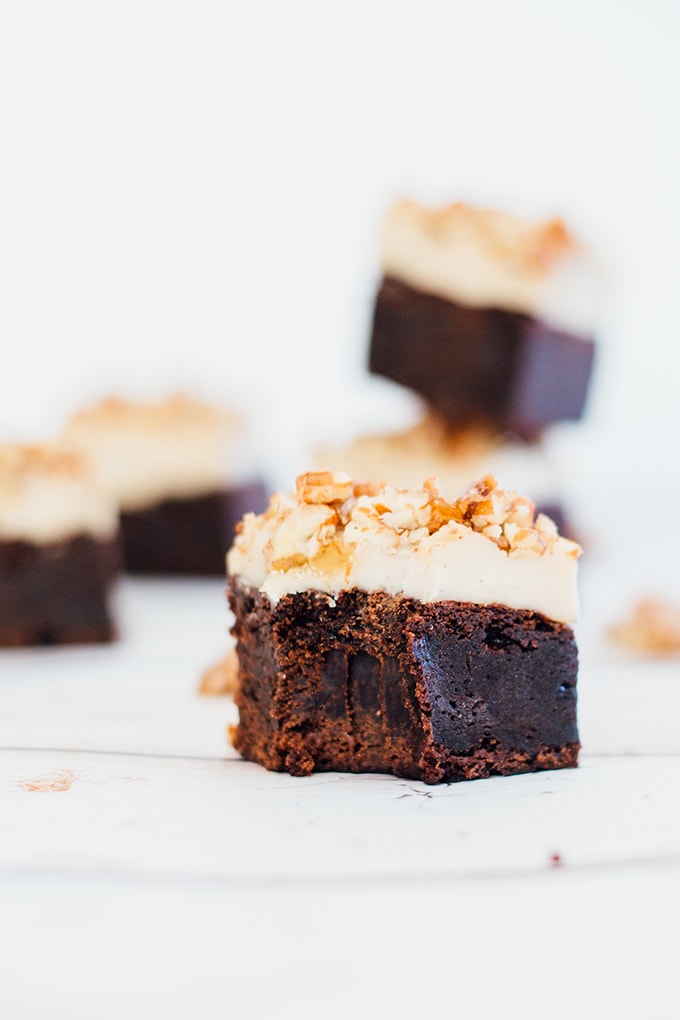 The Vanilla Bean Cheesecake layer is made from a simple mixture of Cashews, Refined Coconut Oil (always use refined unless you want to impart a coconut-ty flavor to your desserts), Agave Nectar, Vanilla Bean Paste, Lemon Juice and Soy Milk. Once all that shyt is blended to a smooth and creamy mixture, you layer it on top of your Chocolate Brownie and then proceed to make your Pecan Brittle which is simply Pecan Nuts stirred into hot Caramelized Sugar, left to set and then chopped up finely. Next up, we sprinkle that brittle on top of the cheesecake layer and once all of that is done, the entire tray of Vegan Cheesecake Brownies is left in the freezer to set for 4-6 hours.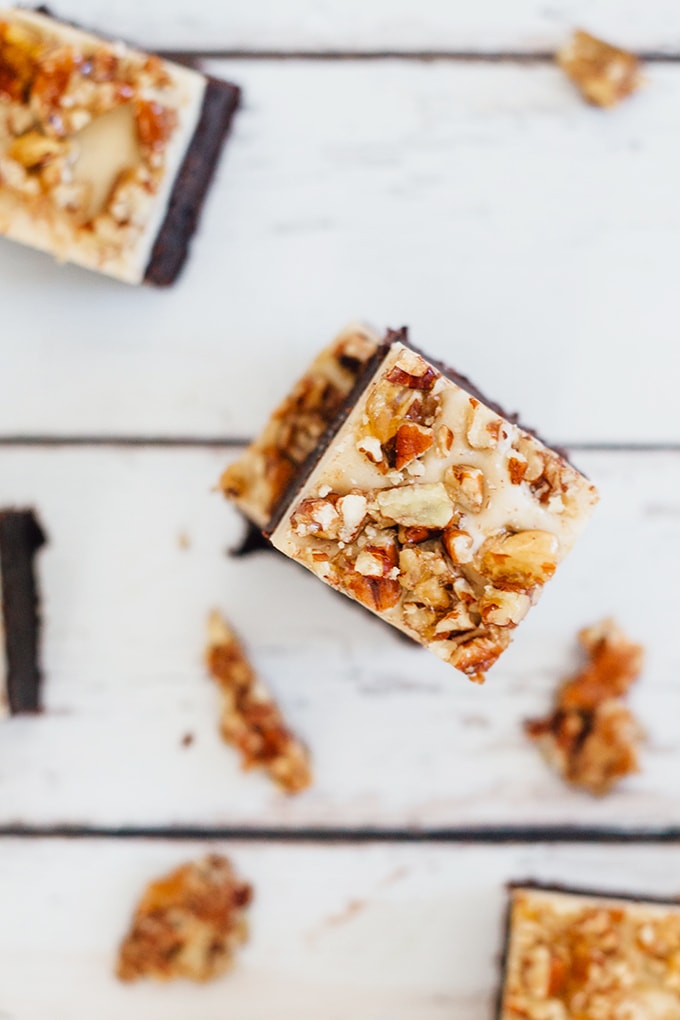 Once the Vegan Cheesecake Brownies have set, I trim the edges off (edges always tend to be dry and I have a habit of throwing them away – entirely up to you!), and cut into 16 neat squares. I personally like leaving these Cheesecake Brownies in the freezer and allowing them to thaw for 10 minutes before enjoying. This way, they are extremely fudgy, cold, delicious and will last ages in the freezer (if they last that long – probs not yo). Another option would be to just keep them in the fridge, but seriously I urge you to just listen to me and keep them in the freezer. Anyway, enough talking, scroll down for the full recipe and thank me later!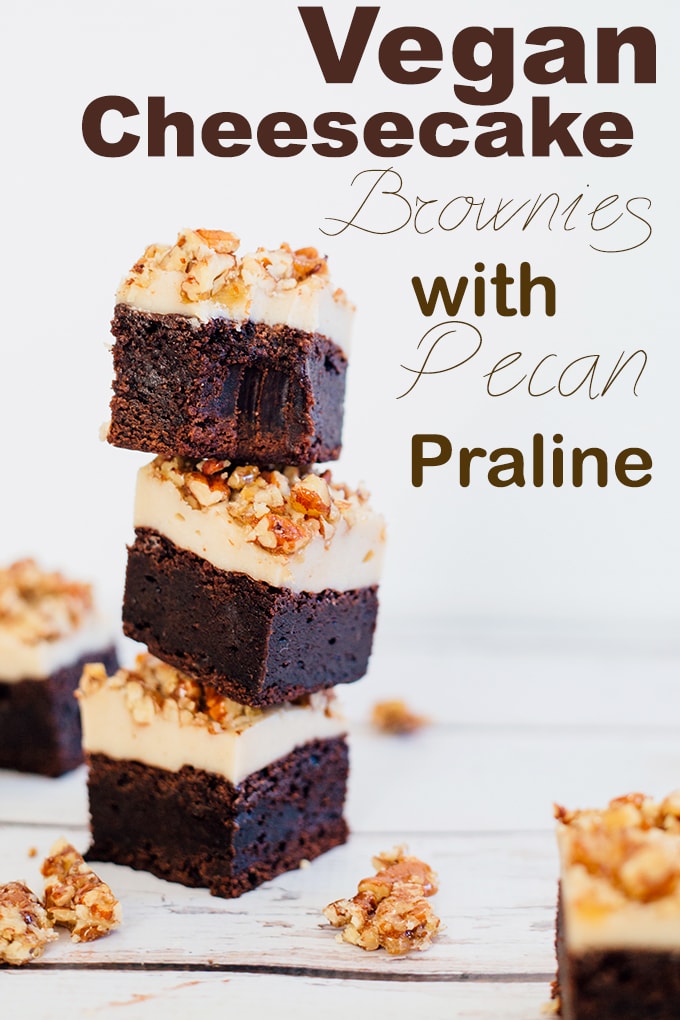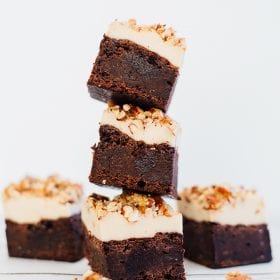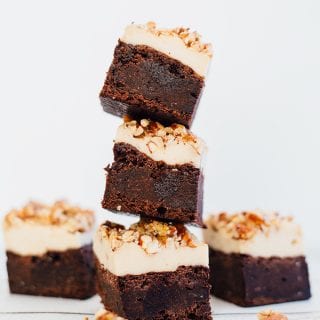 Vegan Cheesecake Brownies
Vegan Cheesecake Brownies with Pecan Praline - Vegan Fudge Brownie, Vanilla Bean Cashew Cheesecake and Pecan Praline Brittle topping
Ingredients
For the brownies
1 1/2

cups

All Purpose Flour

1 1/2

cups

Fine Sugar

9

tablespoons

Unsweetened Cocoa Powder

I use Dutch Processed

1

teaspoon

Salt

3/4

cup

Vegetable Oil

3/4

cup

Water

1

teaspoon

Vanilla Extract
Vanilla Bean Cheesecake Layer:
1 1/4

cups

Cashews

Raw, do not soak

3

tablespoons

Lemon Juice

1/3

cup

Coconut Oil

melted

1/2

Vanilla Bean Pod

1/4

cup

Agave Nectar

1/3

cup

Soy Milk
For the Pecan Praline
1/2

cup

Sugar

3

tablespoons

Water

4

ounces

Pecans

chopped
Instructions
Preheat oven to 175 degrees celsius. Line an 8 inch baking tin with non-stick baking paper.

Prepare Brownie batter. Combine Flour, Sugar, Cocoa Powder and Salt. Whisk to combine dry ingredients and get rid of lumps.

Add Oil, Water and Vanilla Bean Paste to dry ingredients and whisk till smooth. Pour brownie batter into prepared baking pan and bake in oven for 35 minutes. Remove from oven and let cool completely.

Once brownies are cool, prepare Vanilla Bean Cheesecake layer. In a high power blender, combine all ingredients and blend till nice and smooth. You may have to help it along the way with a tamper or by stirring once or twice so things don't get stuck in the blender.

Once smooth, pour over cooled brownie layer and set aside whilst making Pecan Praline.

To make Pecan Praline, combine sugar and water in a heavy bottomed saucepan. Bring to a boil and continue boiling till you achieve a light amber caramel. Take off heat immediately and stir in chopped Pecan Nuts with a wooden spoon.

Immediately pour mixture out onto a sheet of non stick baking paper. Place another sheet of baking paper on top of the mixture and use a rolling pin to roll the praline mixture as flat as possible. Work quickly and be careful!

After a few minutes, your praline should have set. Chop into small pieces and then sprinkle pieces onto entire surface of cheesecake layer.

Place your Cheesecake Brownies into the freezer for 4-6 hours or until cheesecake layer is frozen solid.

Pop entire brownie out of the tin, and trim sides off with a sharp knife. Cut into 16 neat squares. Store in freezer and let thaw for 10 minutes before enjoying.
Nutrition
Serving:
1
serving
Calories:
343
kcal
Carbohydrates:
42
g
Protein:
4
g
Fat:
20
g
Saturated Fat:
13
g
Sodium:
151
mg
Potassium:
133
mg
Fiber:
2
g
Sugar:
28
g
Vitamin A:
19
IU
Vitamin C:
1
mg
Calcium:
17
mg
Iron:
2
mg