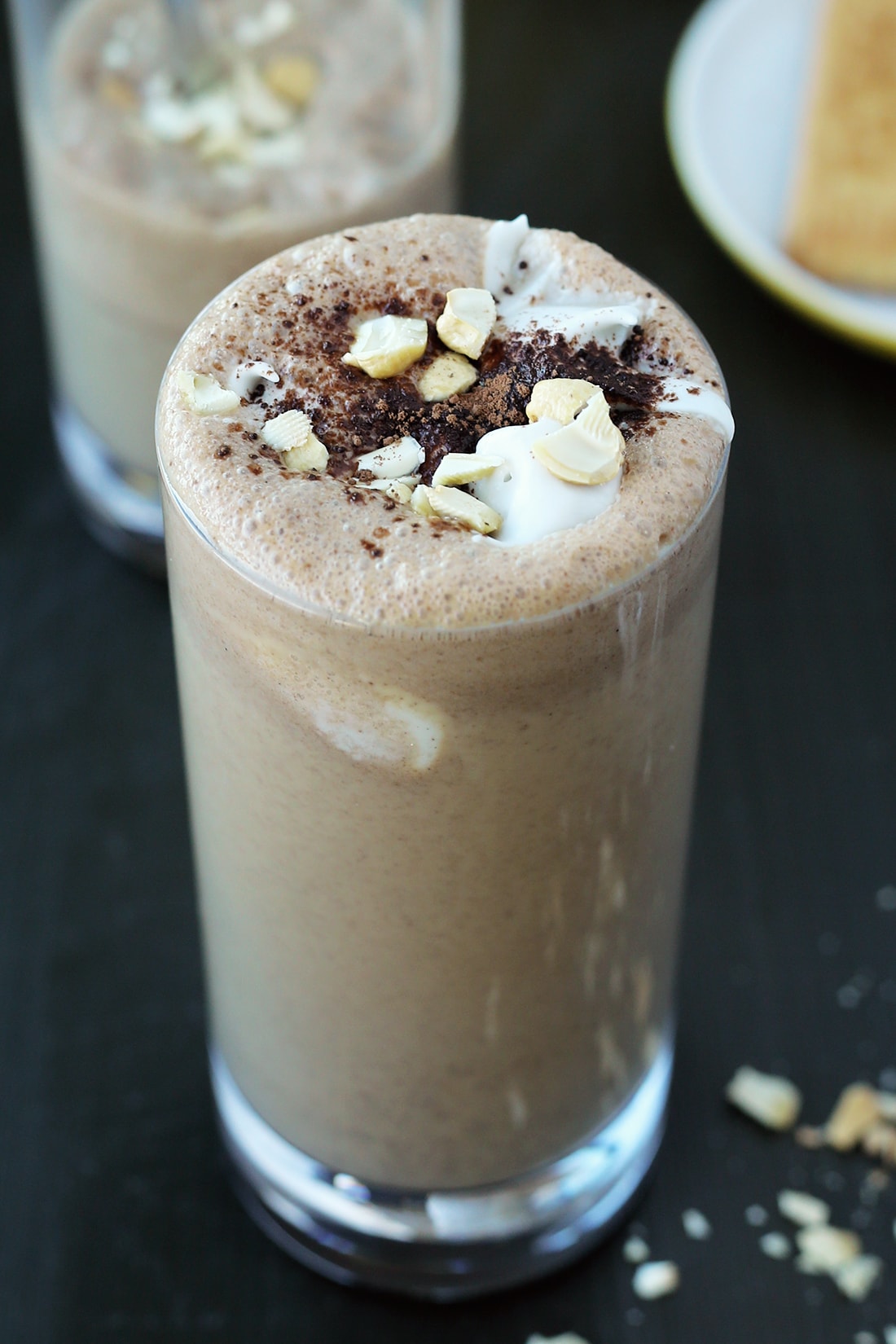 Greetings, Amrita here today! Ever get kind of annoyed when you go out and all you want is a delicious mocha/latte/frappe but the only vegan option you've got is a boring-a$$ soy latte? I hate soy lattes with a passion. I hate most things with a passion 🙁 I need help! Anyway… I figured since I can't get anything decent anywhere I might as well come up with my own version of a Vegan Iced Mocha and save myself the coffee deprived sadness.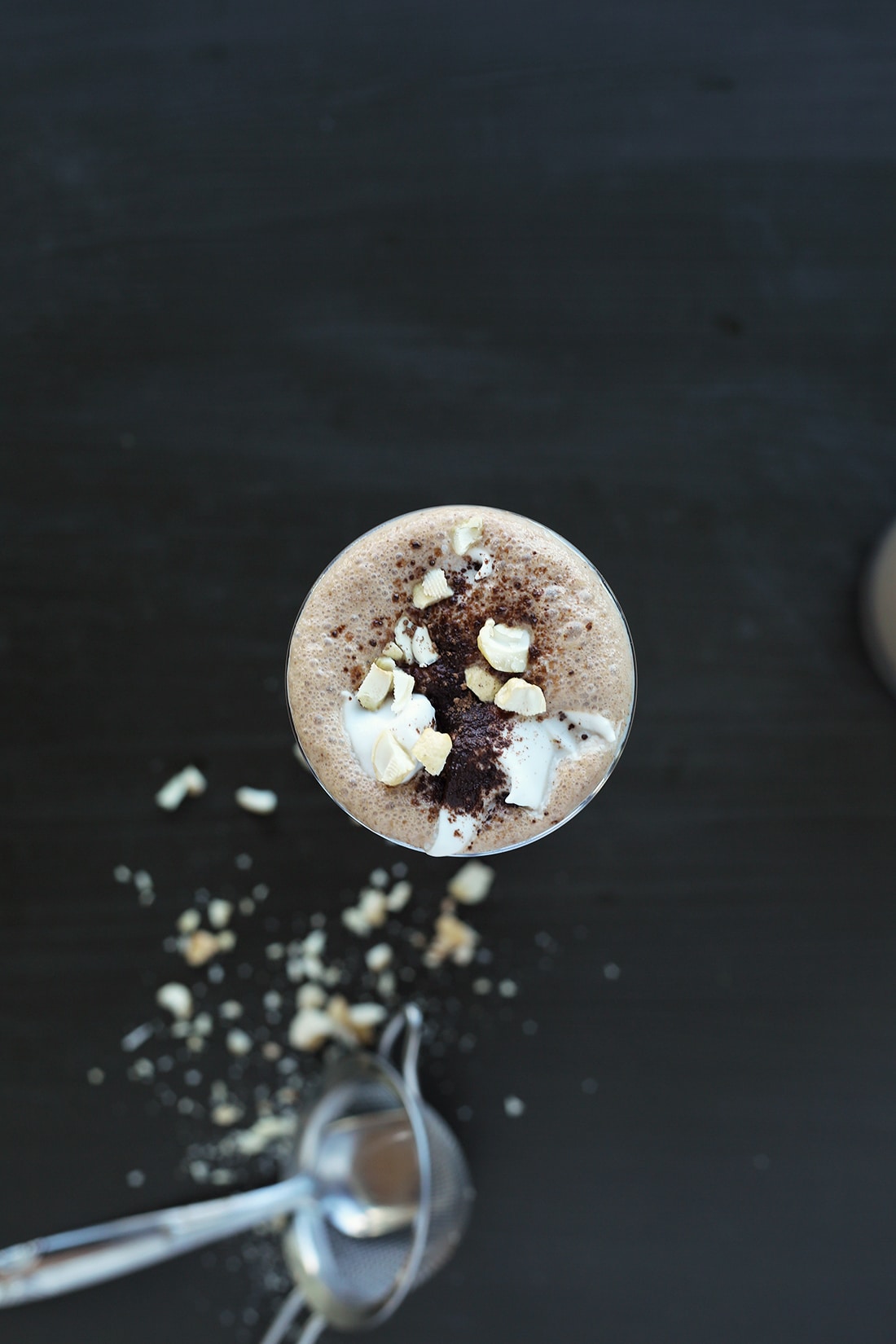 Obviously, I was not gonna use soy milk (kill!) in my Vegan Iced Mocha, so I utilized my homemade cashew milk instead since I personally think cashew milk is the most neutral and versatile non dairy milk in terms of flavor and thickness. I also got a little cheeky by adding in a splash of Kahlua into the mix along with a nice dollop of Coconut Whipped Cream on top. Hey, I'm still in boob recovery… give me a break. I can feel your castings of judgement seep into the depths of my wretched soul.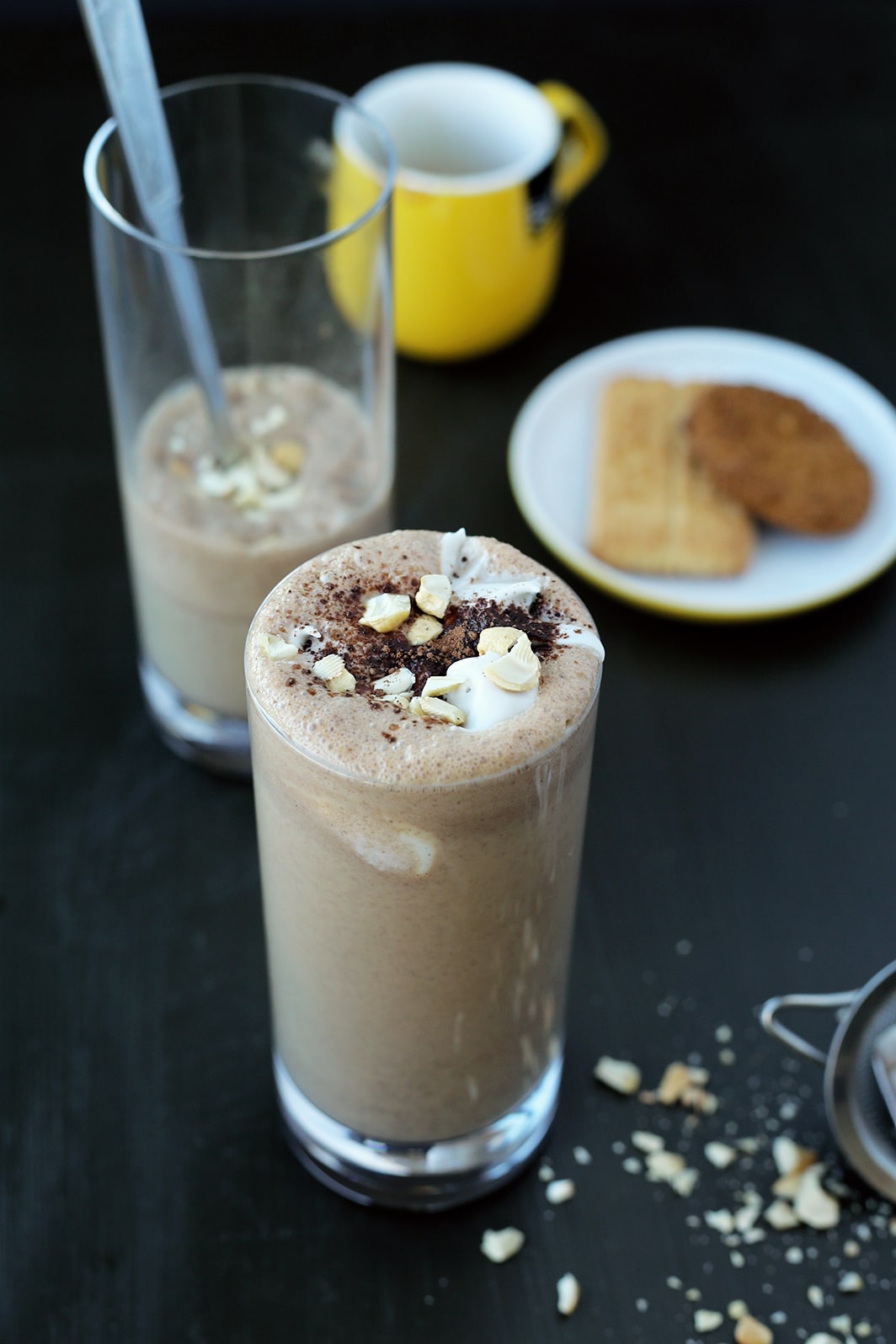 All in all, what I ended up with was a kick-a$$ Vegan Iced Mocha that tastes even better than the dairy based mocha frappes you get at so many coffee joints these days. To be honest, coffee joints in general aren't for me, they're full of ridiculous hipster punks that look like wannabe owls, pretending to read books they don't actually read. They make me lose my temper. I think it's time for me to take Yoga up. Or not.
FREE EBOOK SERIES! 5 SECRETS FOR FOOLPROOF VEGAN DESERTS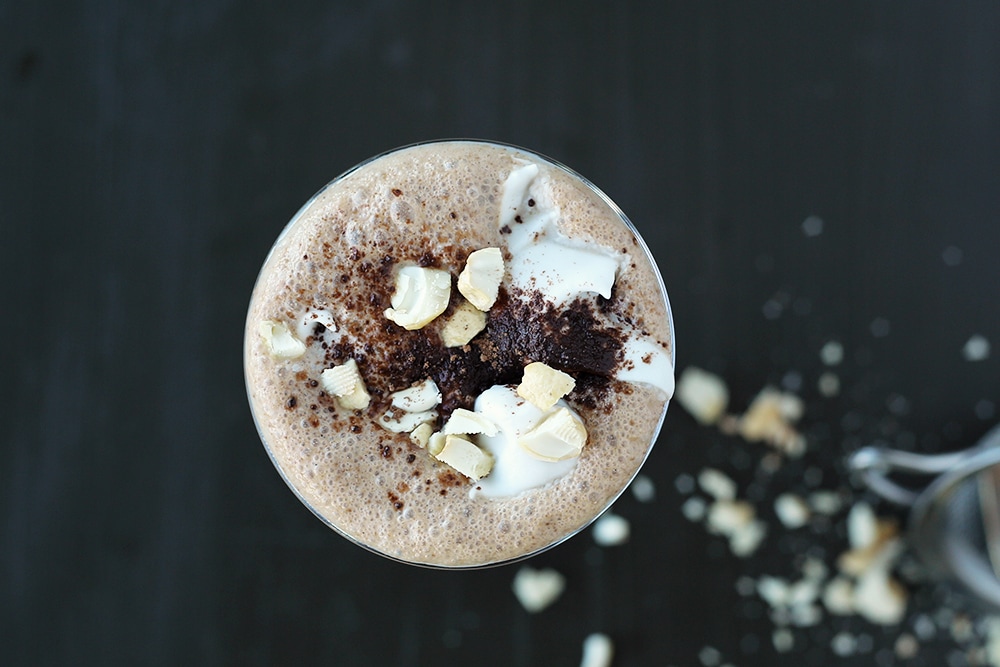 Well, I'll leave you with the recipe for my Vegan Iced Mocha, along with the instructions on how you can make your own homemade cashew milk and coconut whipped cream. You should definitely try your hand out at these very simple recipes because I'm pretty sure you'll love it. And if you don't… well, then that really sucks for you 🙂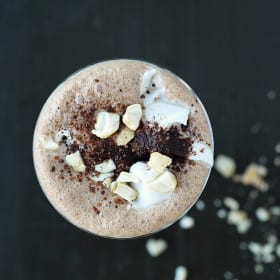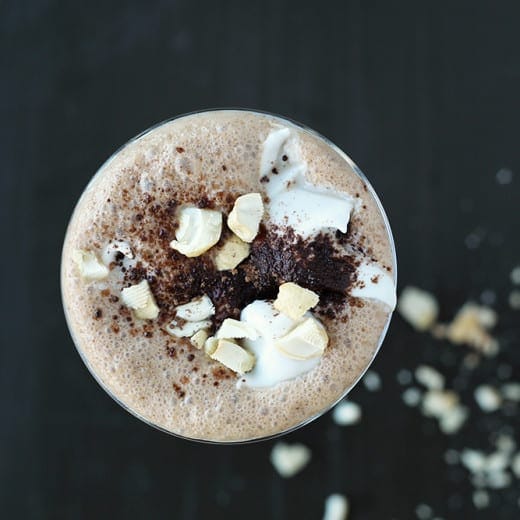 Vegan Iced Mocha
Delicious creamy Vegan Iced Mocha made with homemade cashew milk, coconut whipped cream, and a decadent dash of Kahlua. Simply satisfying!
Ingredients
Homemade Cashew Milk:

1/2

cup

Raw Cashews

soaked overnight and then drained

2

cups

Distilled Water

Coconut Whipped Cream:

1/2

cup

Coconut Cream

chilled overnight

1

Tablespoon

Sugar

Vegan Iced Mocha:

2

cups

Homemade Cashew Milk

1/4

cup

Vegan Chocolate Chips

2

Shots Espresso

2

Tablespoons

Kahlua

2

scoops Vegan Vanilla Ice Cream
Instructions
Prepare Cashew Milk: In a high speed blender, combine soaked and drained cashews and distilled water and blend till smooth. Pour into a jug and chill till cold.

Prepare Coconut Whipped Cream: Whisk chilled and hardened coconut cream with sugar till it resembles whipped cream. Store in the fridge for later.

Prepare Vegan Iced Mocha: In a high speed blender, combine all ingredients and blend till smooth. You can choose to blend it to a point where there are still little flecks of chocolate in it too, it's just as delicious.

Pour into glasses and top with a generous dollop of coconut whipped cream. Dust with cocoa and enjoy!