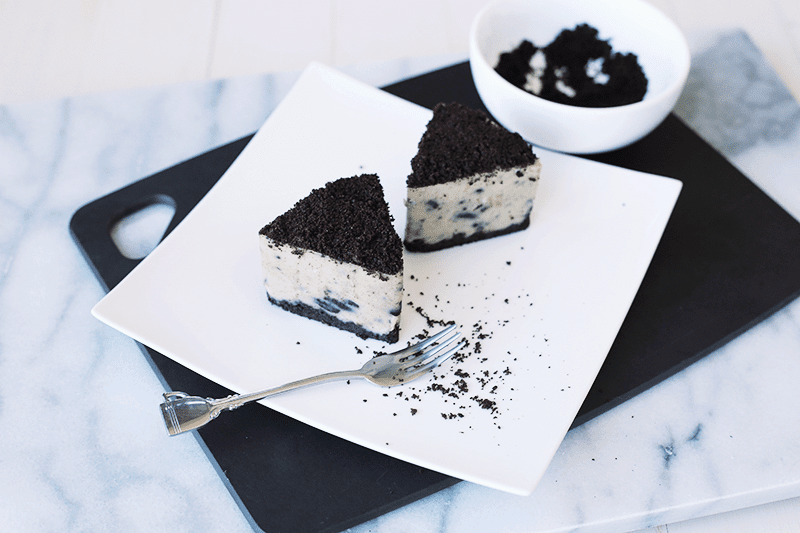 Hi Everyone! Welcome back to another episode of Crazy Vegan Kitchen (with tears and screaming in the background) – why the crying and screaming? Well, today's recipe was INSANELY DIFFICULT to photograph. I spent 2 hours, took 300 shots, uploaded them and realized they all looked like something that I'd scoop out of my cats' litter boxes. After giving up, Levan saved the day. He told me to take a chill pill and helped me set up the entire shoot all over again, but with different composition this time round. Thankfully it all worked out in the end, (kind of…) but with that I must say, this will be the first and last Oreo based recipe I share. Monochrome is just not my thing. Nothing against Oreos, they're awesome.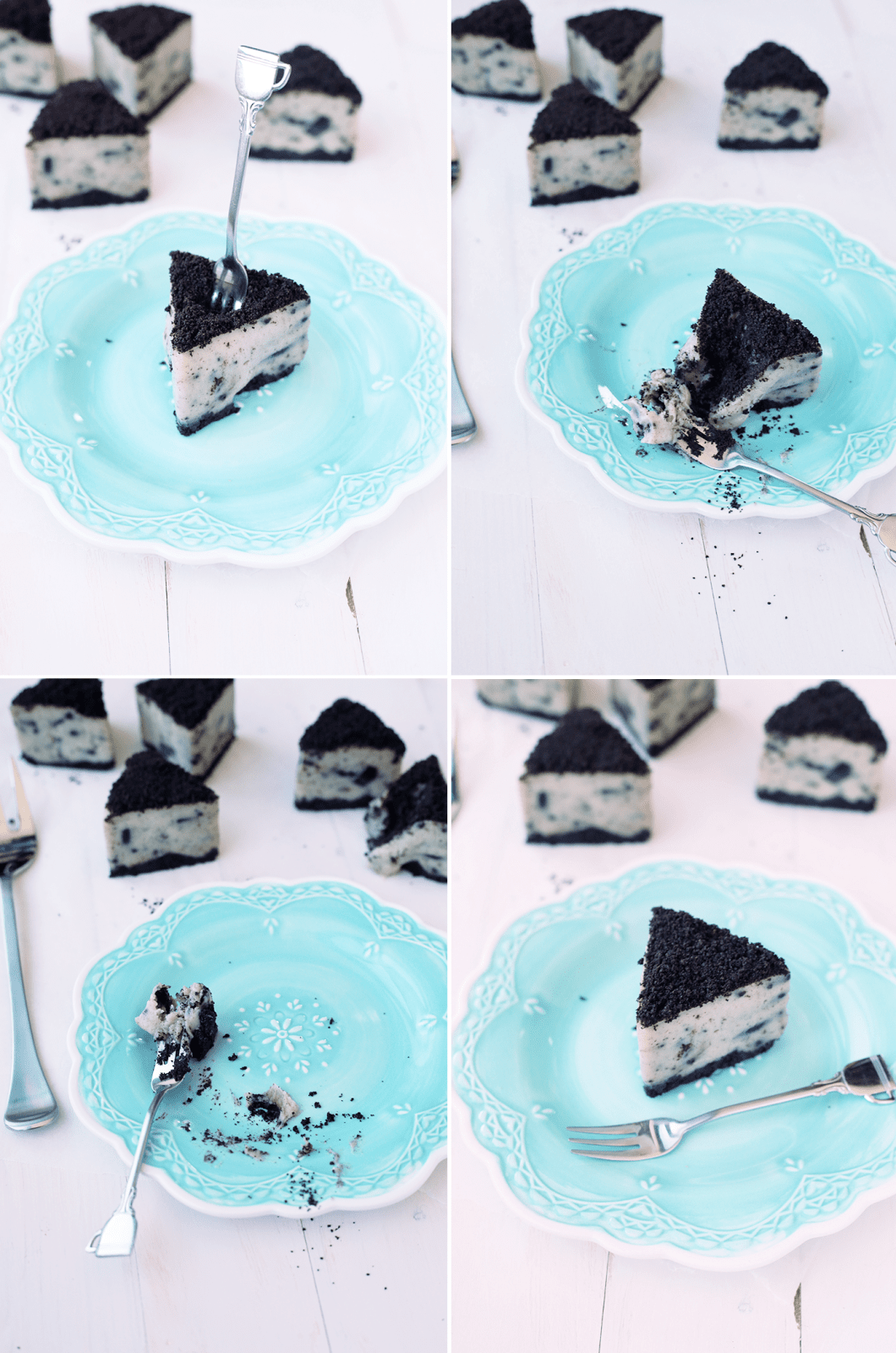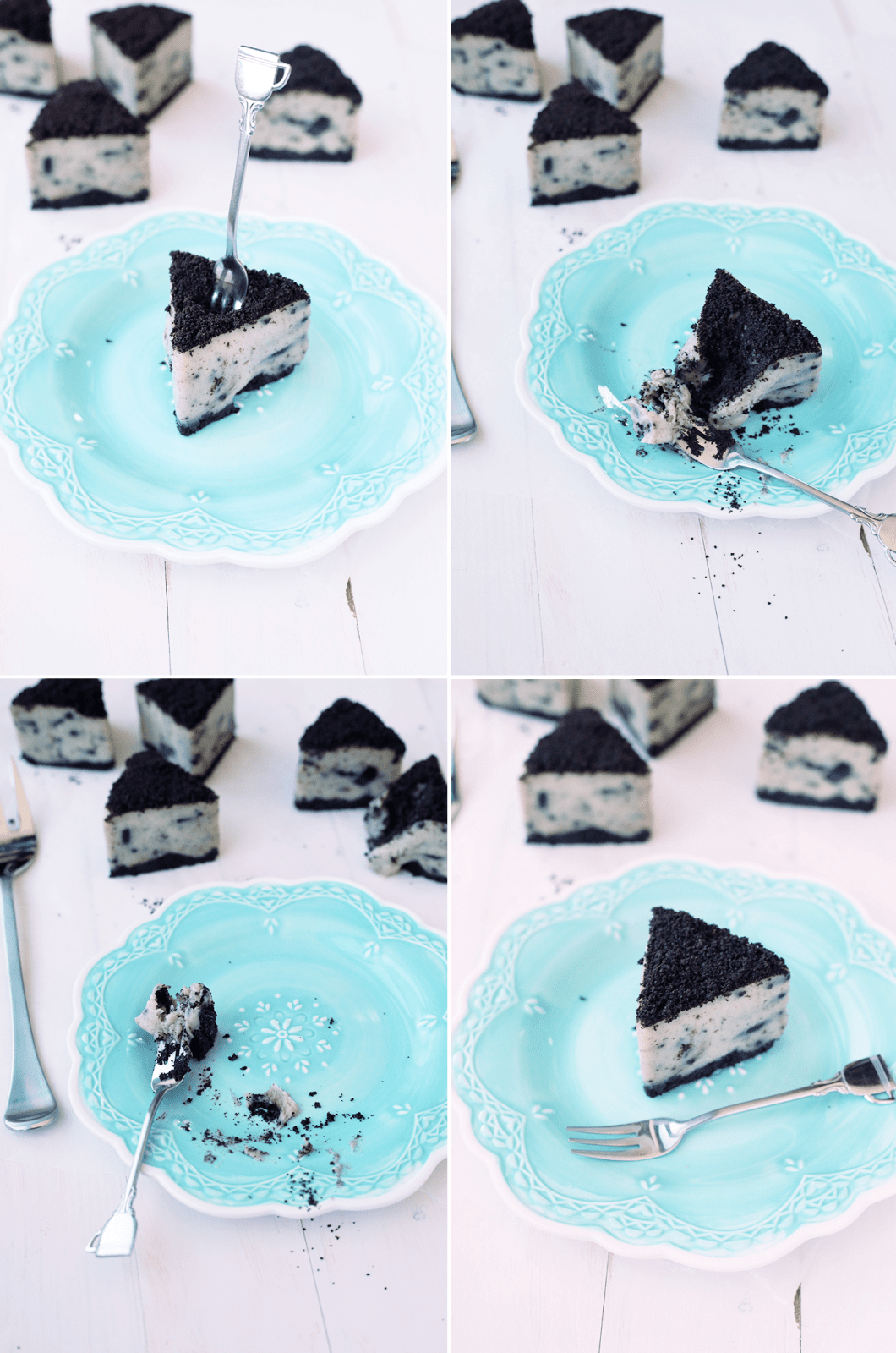 Now onto the cake. I used to make a KILLER Cookies and Cream Ice Cream before going Vegan – and up till this day Levan still thinks it's one of the best Ice Creams ever. Ever since going Vegan, my ice cream maker has been left in the cupboard to collect cobwebs and dust. I reckon I should try my hand out at making vegan ice cream…lest I digress. Since Levan told me he quite missed my ice cream, I decided to make something relatively similar to it – a Vegan Oreo Cheesecake. I made a Raw Vanilla Bean White Chocolate cheesecake mixture using a combination of vanilla bean paste, coconut oil, soaked cashews, cocoa butter, lemon juice and salt. Once everything was blended well, I threw in a copious amount of chopped Oreos in and poured the mixture onto a simple Oreo crust I made beforehand.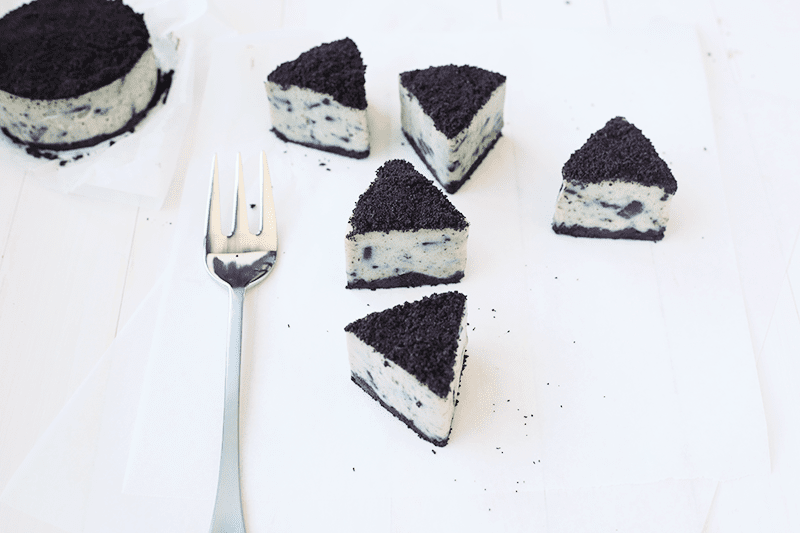 One thing I don't usually like when it comes to Raw Cheesecakes is Extra Virgin Coconut Oil. I find that Coconut oil is really overused these days. GIGGLES. First of all, it makes everything taste like coconut – which doesn't work with other flavors half the time. Secondly, it is extremely sensitive to heat which means your cake turns into mush as soon as it's left out for more than half an hour – not good. Cocoa Butter on the other hand, an ingredient used in almost every commercial chocolate bar, is a lot more resistant to slightly higher temperatures than its coconut counterpart. A great bonus would be that it lends a lovely white chocolate taste to everything you use it in. Who doesn't like white chocolate? Yum!
FREE EBOOK SERIES! 5 SECRETS FOR FOOLPROOF VEGAN DESERTS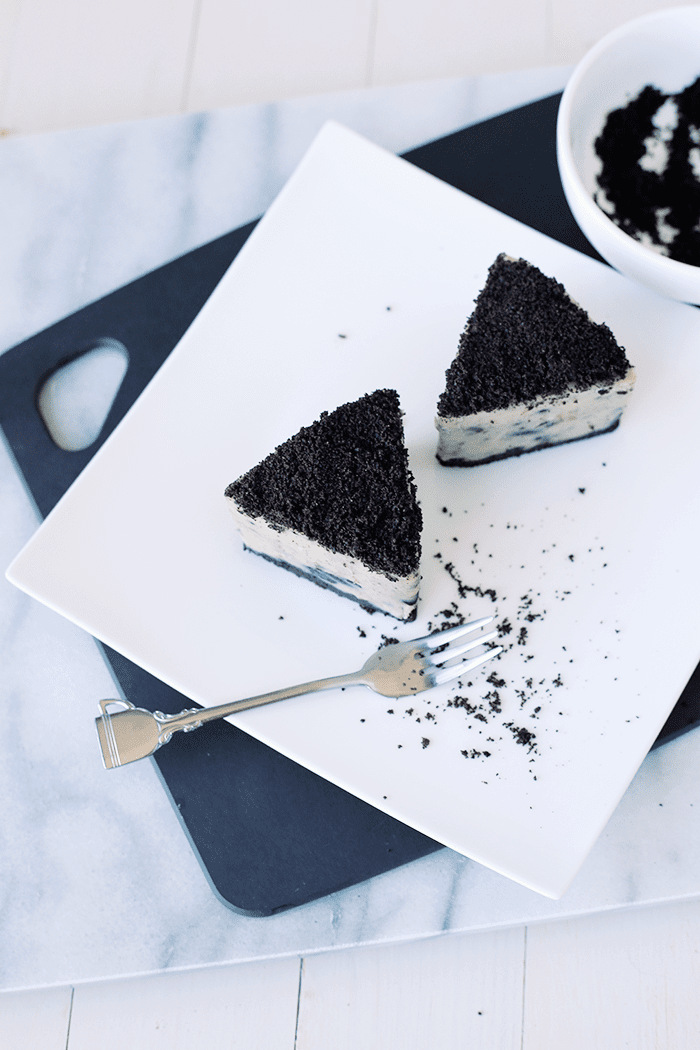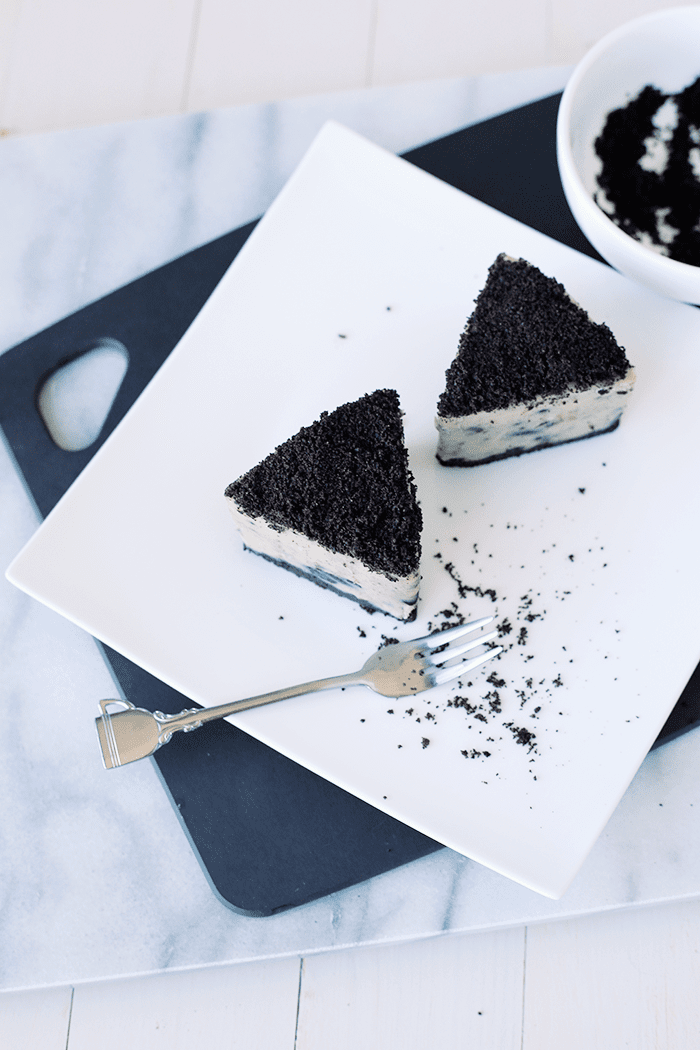 For this recipe, I used a small amount of Extra Virgin Coconut Oil and topped up the rest of the liquid fat component with melted organic Cocoa Butter. The ratios I used ensured a lovely vanilla flavor instead of coconut and a semi-firm texture that was very reminiscent of real Cheesecake. Easy Peasy Cheesy!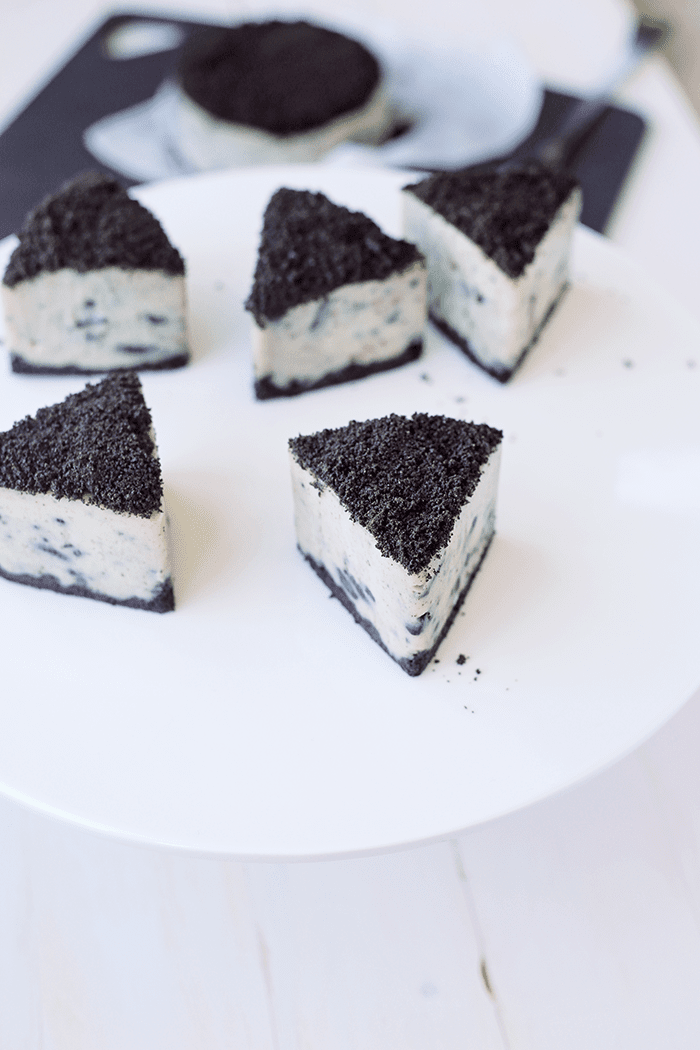 Verdict: The final product was absolutely lush. The cheesecake mixture was silky smooth and caressed my tongue the way a dashing young businessman would a beautiful blonde woman in a 70's Erotica novel. The Oreo crust was beautiful….sensational…a treat to all the senses. Yes, all your senses – did you not know that Ears are capable of tasting too? Crust….cheesecake…more oreos swimming in a sea of irresistible sin – to die for. The flavors practically glow in your mouth like a pregnant woman.
Okay, no, actually, all I wanted to say was it tasted really delicious. Above was my attempt at pretentious, exaggerated food blogging. We dislike that over the top, bombastic…..nonsense!??? Hilarious! No thank you! Pass me the sauce!
I'll leave you with the recipe for our Vegan Oreo Cheesecake – hope you give a try – we all need to be caressed by a young businessman once in a while! Mmmmm….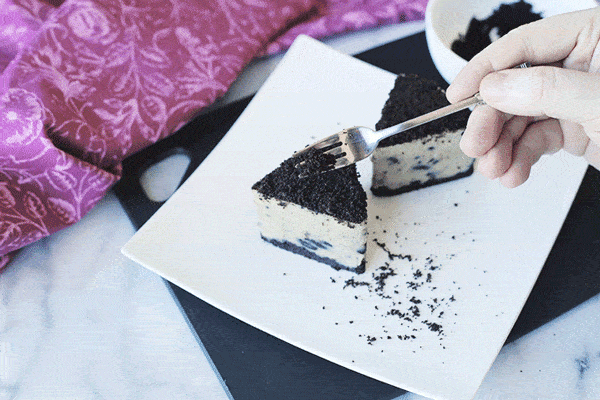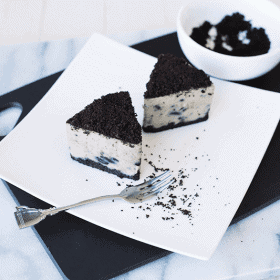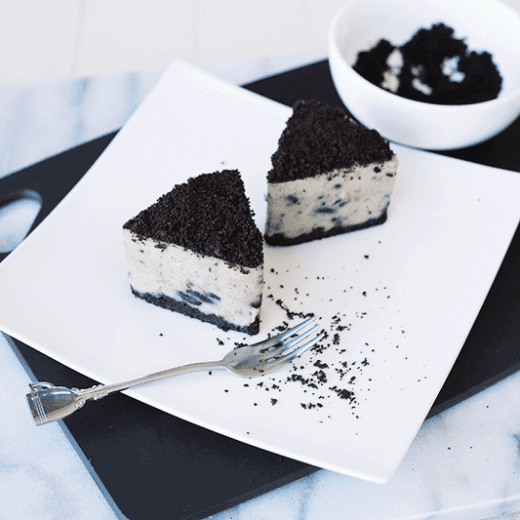 Vegan Oreo Cheesecake
Ingredients
For Base:

10

Oreos

crushed finely

2

tablespoons

Melted Cocoa Butter

For Cheesecake:

1 1/2

cups

Raw Cashews

soaked overnight in water and drained

3

tablespoons

Lemon Juice

2

teaspoons

Vanilla Bean Paste

1/8

tsp

Pink Sea Salt

7

tablespoons

Agave Nectar or Maple Syrup

4

tablespoons

melted Extra Virgin Coconut Oil

7

tablespoons

melted Organic Cocoa Butter

12

Oreos

chopped into pieces
Instructions
To make the base of the cheesecake, combine finely crushed Oreos with melted cocoa butter. Pat into the base of a 7 inch springform tin. Set in the freezer to harden whilst making filling.

To make filling, in a high power blender like a Vitamix, combine pre soaked cashews, lemon juice, vanilla bean paste, sea salt, liquid sweetener of choice, coconut oil, and cocoa butter. Blend till smooth. This may take a while, but as the motor heats the mixture up a little, it will eventually come together.

Once smooth, pour mixture into a large bowl. Tip your chopped oreos into the bowl and mix well. Once fully mixed through, spoon mixture into prepared base. Level off and freeze for 3 hours or overnight. This cake doesn't take very long to harden up!

Before serving, thaw cake in the fridge for 30 minutes. Leftovers can be kept in the freezer for up to a year. Enjoy!