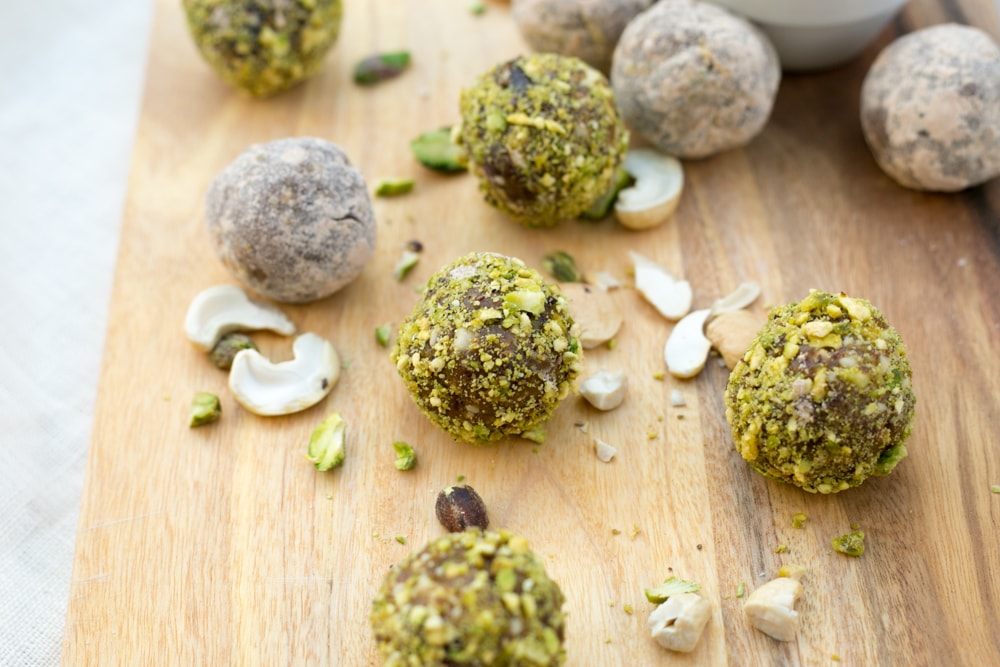 If you're a fan of bite sized DELICIOUS snacks, you'll love my Vegan Pistachio Lemon Truffles. Loaded with Cashews, Pistachios, Medjool Dates, Lemon Zest and Lucuma Powder, these Vegan Pistachio Lemon Truffles are the perfect balls to bite into.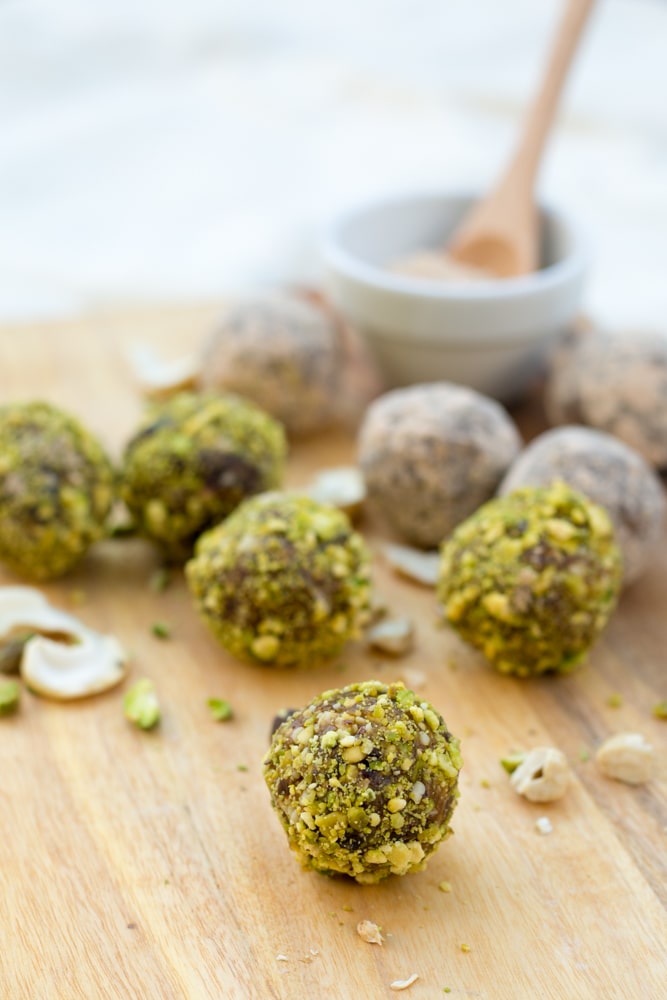 Now, if you haven't heard of Lucuma, let me briefly explain to you what this crazy sounding ingredient is.  Lucuma is a sub-tropical fruit that is usually grown in Ecuador and Peru.  It has high levels of Antioxidants, B Vitamins (hello Vegans!) and long story short, it tastes f*cking awesome. Oh, it's also a great way to sweeten sh!t up because it's LOW GI. Lucuma is used in loads of different recipes, but one of the most popular ways of using it in Peru is as an Ice Cream flavoring because it has a gorgeous, almost caramel-like flavor. When added to my Vegan Pistachio Lemon Truffles, they transform a boring raw date ball into something mega creamy and moreish.  I personally use Navitas Naturals Organic Lucuma Powder
which I found to be the best brand available, bar none! You can purchase the lucuma powder by clicking on the image below. 🙂
FREE EBOOK SERIES! 5 SECRETS FOR FOOLPROOF VEGAN DESERTS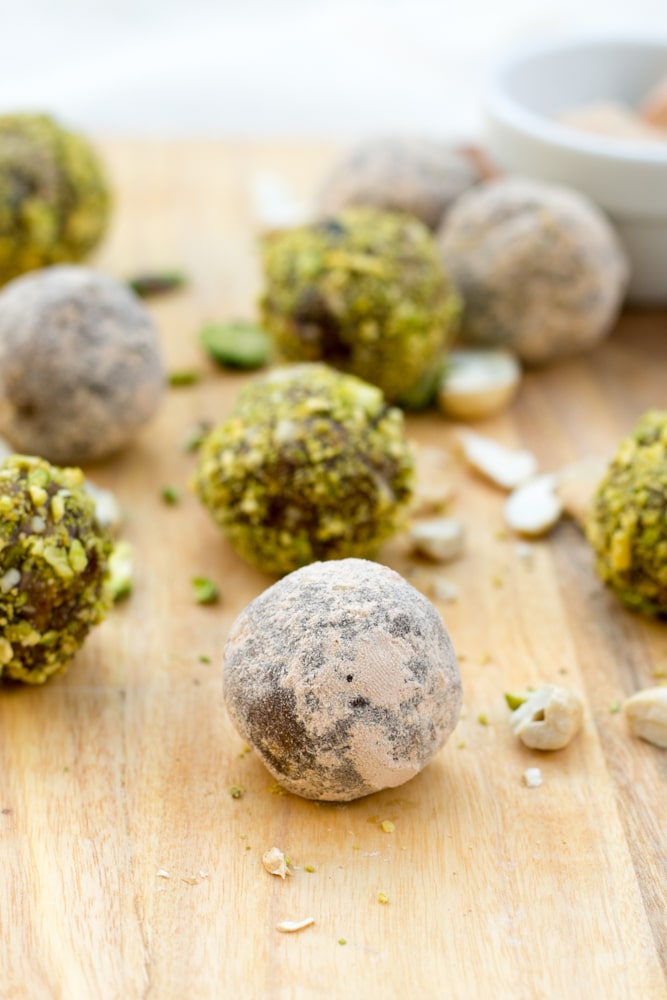 And if you're wondering, yes, these Vegan Pistachio Lemon Truffles are indeed raw. How did I come up with the recipe? I just threw whatever the f*ck I had in the cupboard into a mini food processor and hey presto, Vegan Pistachio Lemon Truffles were born! I rolled some of my balls in crushed pistachio nuts (giggle), and then coated the rest with Lucuma powder. They taste great either way.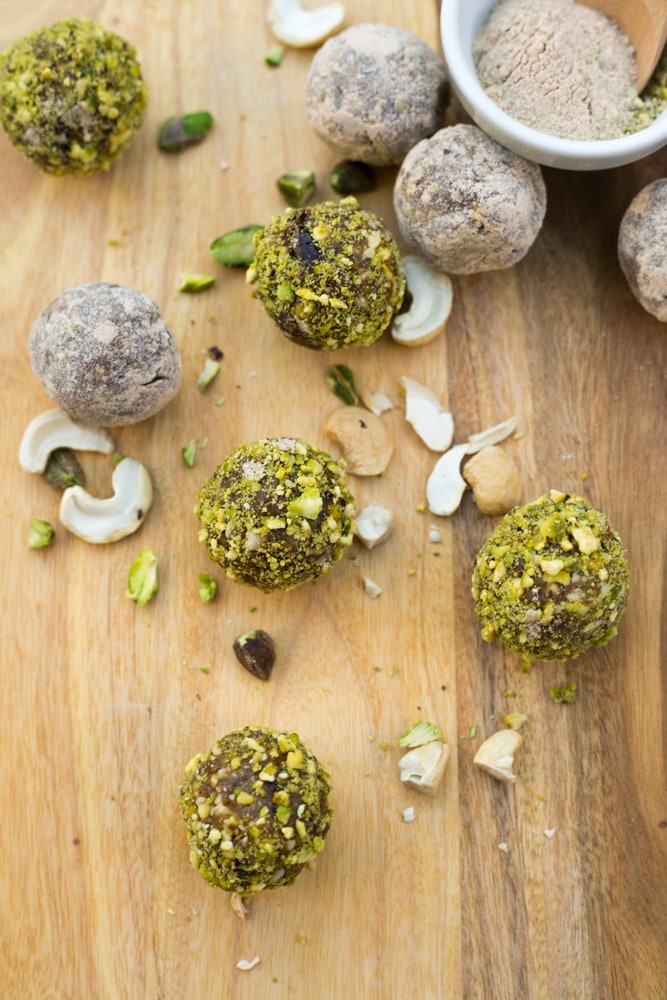 Initially I wasn't sure if I was going to post these Vegan Pistachio Lemon Truffles on the blog because the internet is just so full of these types of recipes… but after we tried them, we just knew that they HAD to be featured on the blog so that we could share it with you crazy people. It's pretty awesome how just a few simple ingredients can mingle with each other and create something that tastes pretty rad! Anyway, I'll stop talking and leave you with the recipe for our Vegan Pistachio Lemon Truffles 🙂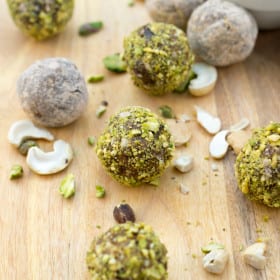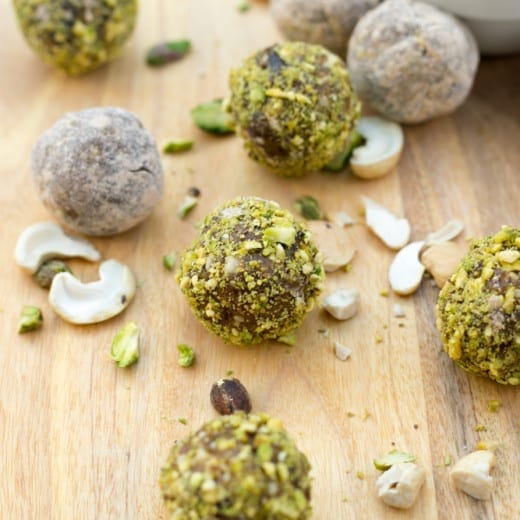 Vegan Pistachio Lemon Truffles
Delicious Pistachio Lemon Truffles, made with Medjool Dates, Lemon Zest, Cashews, Pistachios and Lucuma Powder. 100% Raw, Vegan and Gluten Free.
Ingredients
1/2

cup

Raw Pistachios

1/4

cup

Raw Cashews

2

Tablespoons

Lucuma Powder

1/8

tsp

Himalayan Sea Salt

Zest of 1 Lemon

8

large Medjool Dates

pitted

1

teaspoon

of Water
Instructions
In a small food processor, process Pistachios, Cashews, Lucuma, Salt and Lemon zest till nuts are finely chopped up. Don't over process them or they will lose their texture.

Add pitted dates and water into the processor and pulse initially for even distribution of the dates. Once distributed, process as per normal until you end up with a mixture that forms into a ball in the food processor. If it is too dry and crumbly, add a little more water and then process again.

Once ready, roll mixture into balls and coat with chopped pistachio or more Lucuma powder. Store in an air tight box and keep in the fridge.