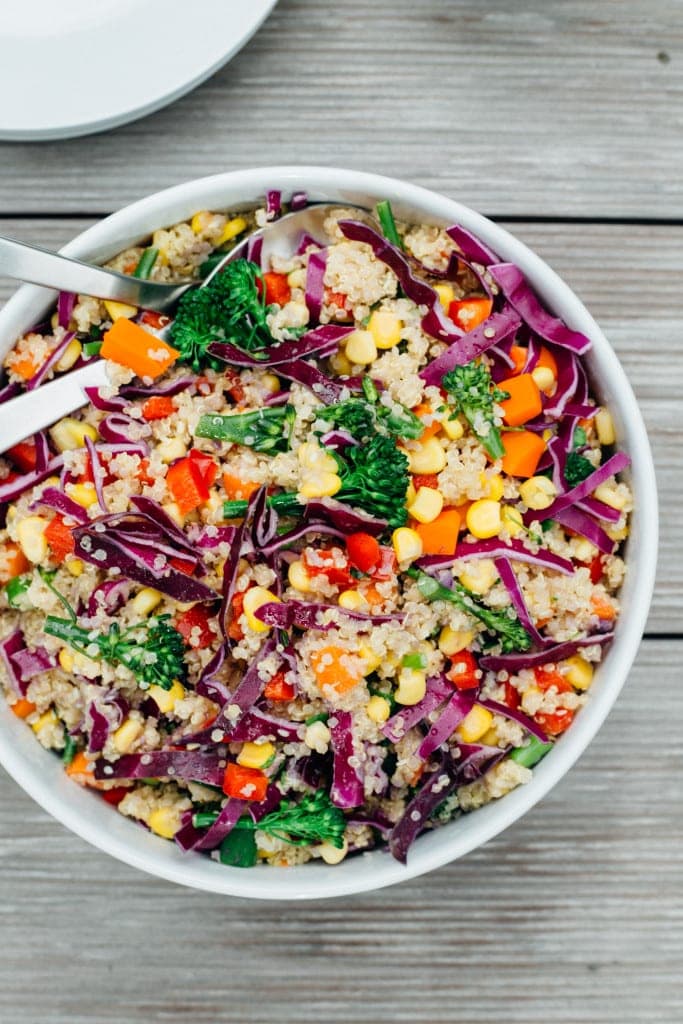 It is a gloomy, dark Saturday night and Miss Unicorn is fast asleep. All of a sudden, she is awoken from her deep slumber by the tempting scent of a nearby rainbow. "I can smell it, I know it's here….I MUST get to the rainbow" she thinks. She musters up whatever energy she has and gallops toward the source of this delightful smell. Ee-yor ee-yor ee-yor she runs, but it is too late… she is already gushing in her nether regions, so moist for the rainbow. She carries on as unicorn juice drips down her hooves, and finds herself standing outside an apartment door on all fours. "Should I just go in? … What if this rainbow is too much for me to handle…After all I'm just an innocent rainbow virgin…" she ponders. Alas, she musters up the courage to open the door, and there she sees it – Amrita…..tossing.. turning…. caressing… a large bowl of Rainbow Quinoa Salad with Tahini Ginger Dressing. Amrita catches sight of Miss Unicorn and bellows, "Get the F*CK outta here you imbecile!". The end.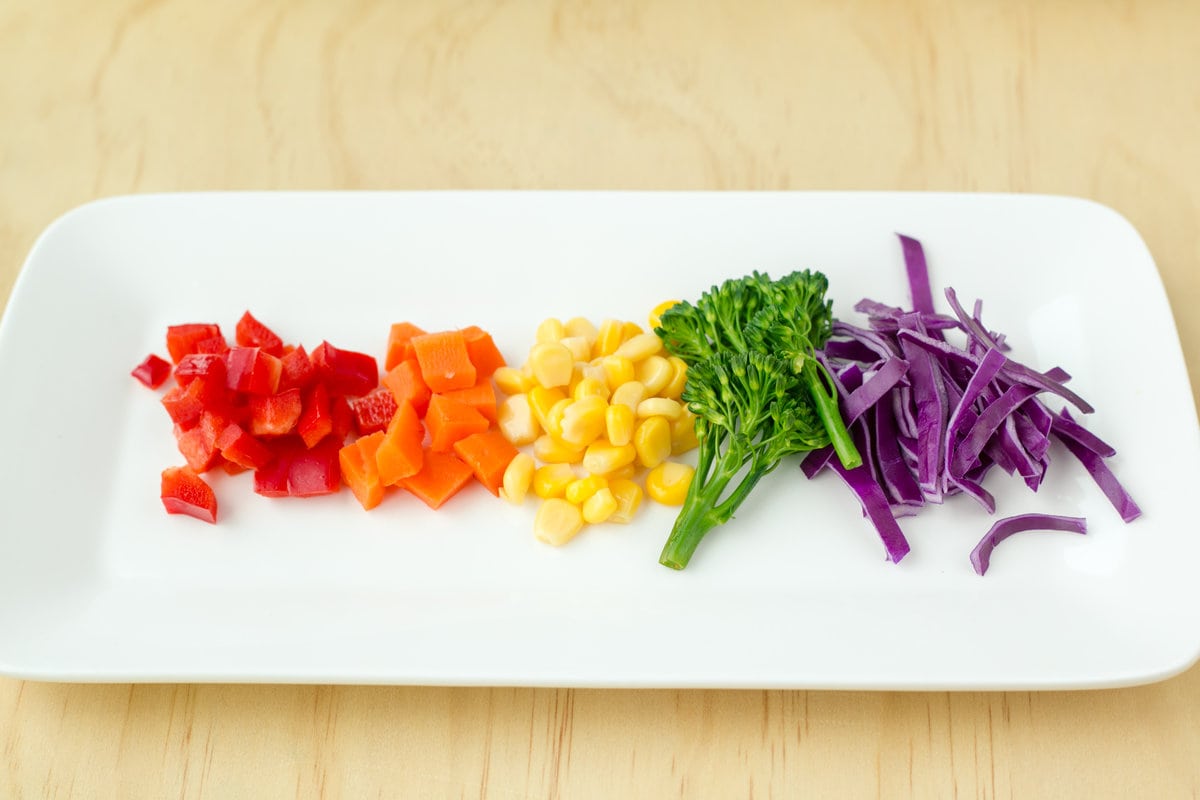 Anyway, that BS aside, hello! How's everyone doing? Today I have an easy peasy recipe to share with you guys, something I just whipped up with a bit of thisssss and a bit of thatttttt last night. I decided to make a Rainbow Quinoa Salad with Tahini Ginger Dressing because who doesn't like tahini, and who doesn't like rainbows? Winner!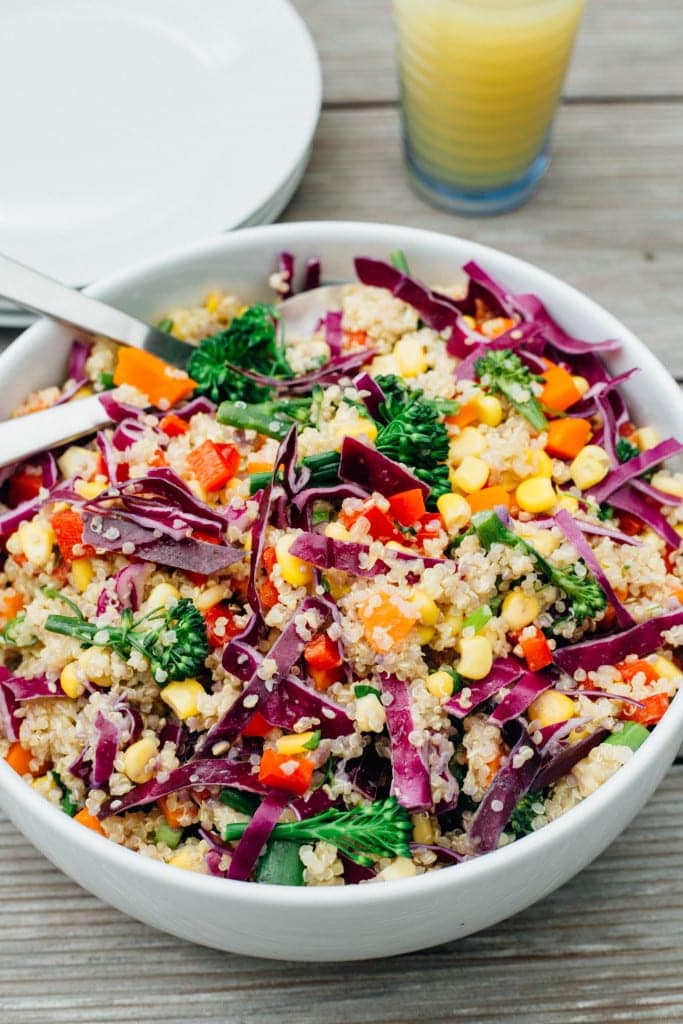 I had about a cup of quinoa left in the cupboard and bunch of veggies in the crisper that were calling out to be slaughtered. The last time we made quinoa, we did it Mexican style, so this time round, I thought I'd jazz my quinoa up with a few asian flavors. Is Tahini asian? Probably not, but when paired with Sesame Oil, Fresh Ginger, Sesame Seeds and Rice Vinegar, it sure does end up tasting like a schizophrenic Chinese Dragon dance in a bowl. Not that I know what a mentally ill Dragon [my grandfather] tastes like…. but let's move on. 
FREE EBOOK SERIES! 5 SECRETS FOR FOOLPROOF VEGAN DESERTS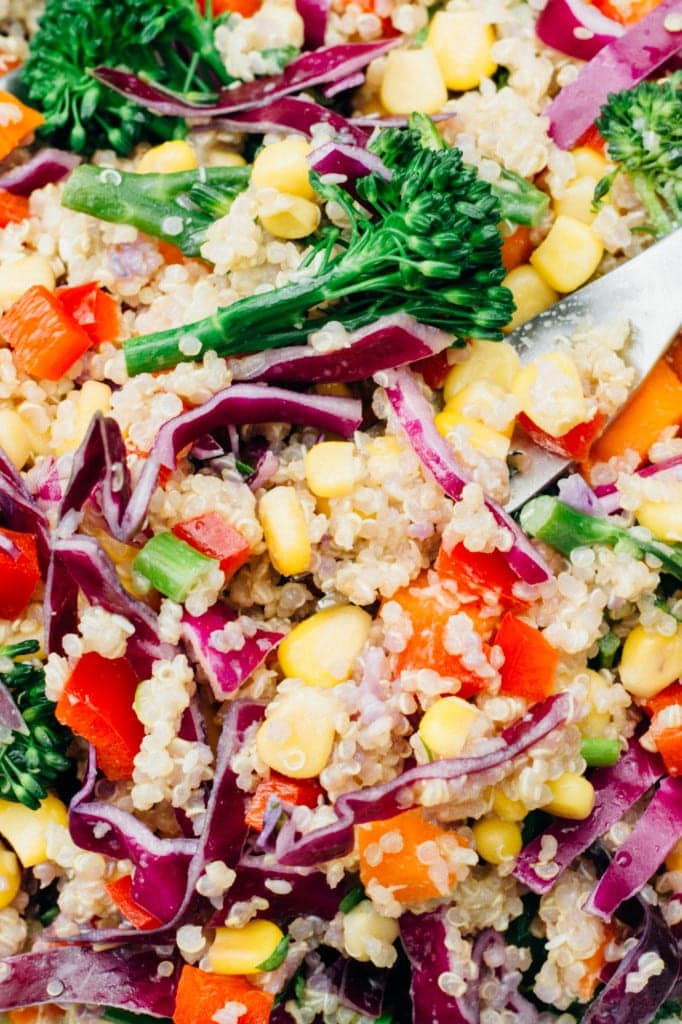 This Rainbow Quinoa Salad with Tahini Ginger Dressing is loaded with lots of crunchy vegetables, and I chose rainbow themed veggies (red pepper, carrot, corn, baby broccoli, red cabbage) because well, we f*cking love rainbows. We also love f*cking rainbows. It really depends on the day. Back to the damn quinoa. This dish can be eaten both warm and cold (perfect for lunchboxes), but I personally think it tastes the BEST when it's warm. When warm, the flavors of the dressing really shine through – something that somehow ends up being muted when cold. Kinda like the idiots you see on the beach in the summertime.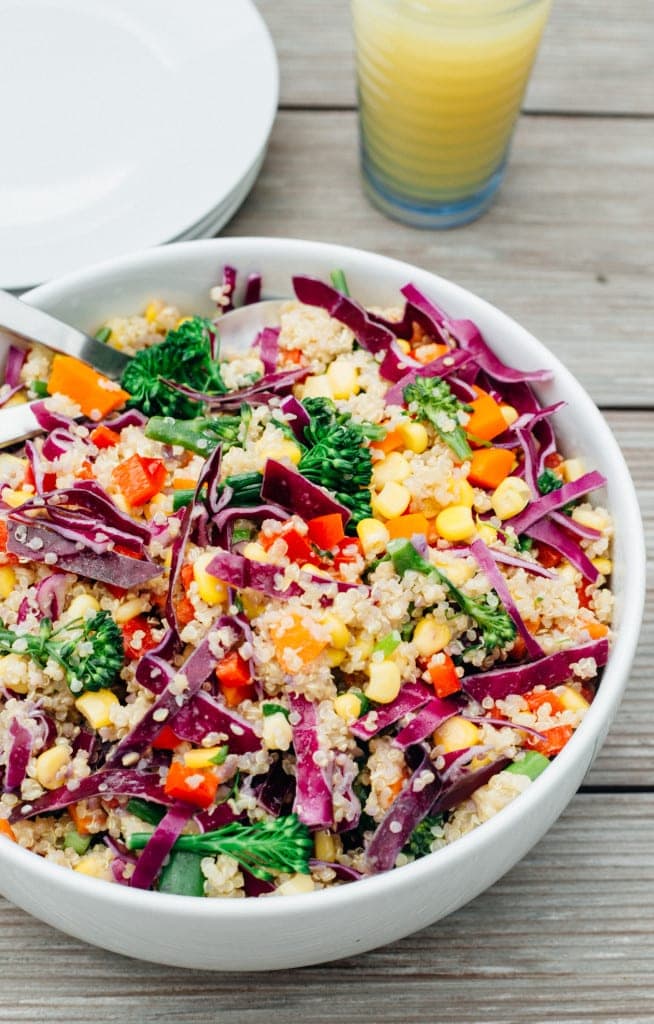 I'll leave you with the recipe for our Rainbow Quinoa Salad with Tahini Ginger Dressing. It's Gluten Free, Vegan and pretty fkn delicious, but don't take my word for it… try it yourself! (You may want to have a boyfriend or girlfriend or husband or wife or best friend or mom or dad or sister or cousin or brother or turtle or….) around to help with the eating because this recipe makes a sh!t ton of food.) Till next time, stay colorful like Cheer Laundry Detergent!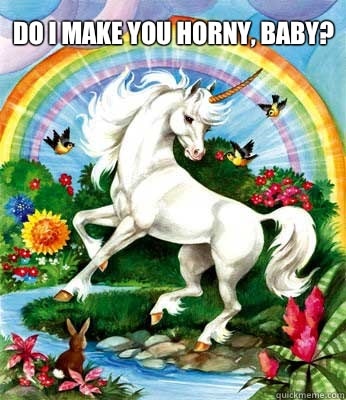 (Don't forget to Like my Facebook page. Remember to scroll over the Like button a second time and select 'See First' so that my new recipes will always appear at the top of your feed!)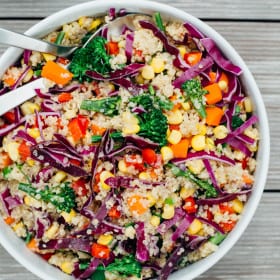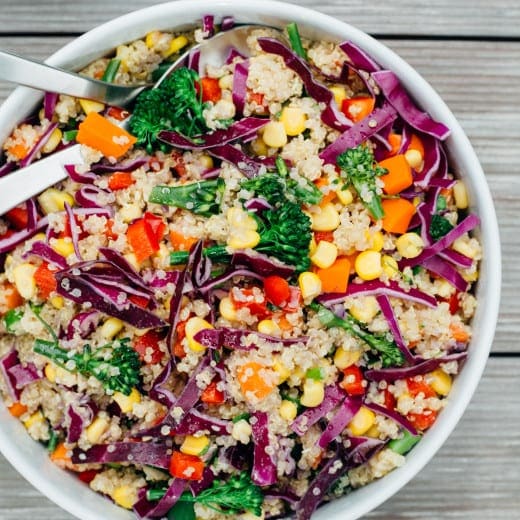 Ginger Salad Dressing
An Asian inspired Quinoa salad recipe bursting with the colors of the rainbow! Peppers, Corn, Baby Broccoli, Red Cabbage, Carrot and Quinoa, tossed in a Tahini Ginger Dressing.
Ingredients
1

cup

Quinoa

rinsed

2

cups

Water

1/2

teaspoon

Pink Himalayan Sea Salt

1

cup

Red Cabbage

shredded

1

cup

Corn Kernals

cooked

1

Red Pepper

diced

1

Carrot

diced

1

bunch Baby Broccoli

de-stemmed

For Dressing:

2

tablespoons

Sesame Oil

1 1/2

tablespoons

Tahini

3

tablespoons

Rice Vinegar

2

teaspoons

Coconut Sugar

1

tablespoon

freshly minced Ginger

1/2

cup

Vegetable Broth

1/4

teaspoon

Pink Himalayan Sea Salt
Instructions
In a small pot, combine quinoa, salt and water. Bring to a boil, turn down to a simmer and cover. Let cook for 15 minutes.

Meanwhile, lightly steam carrot and broccoli - make sure they still remain slightly crunchy.

Once quinoa is cooked, transfer to a large mixing bowl and add in Red Cabbage, Corn, Red Pepper, Carrot and Broccoli. Toss to combine.

In a small bowl, whisk dressing ingredients together.

Pour dressing into quinoa a little at a time, and toss with each addition. Do this until all the dressing has been used.

Enjoy your warm, delicious quinoa!
Notes
This salad is best served warm as it allows the flavor of the dressing to really shine through.