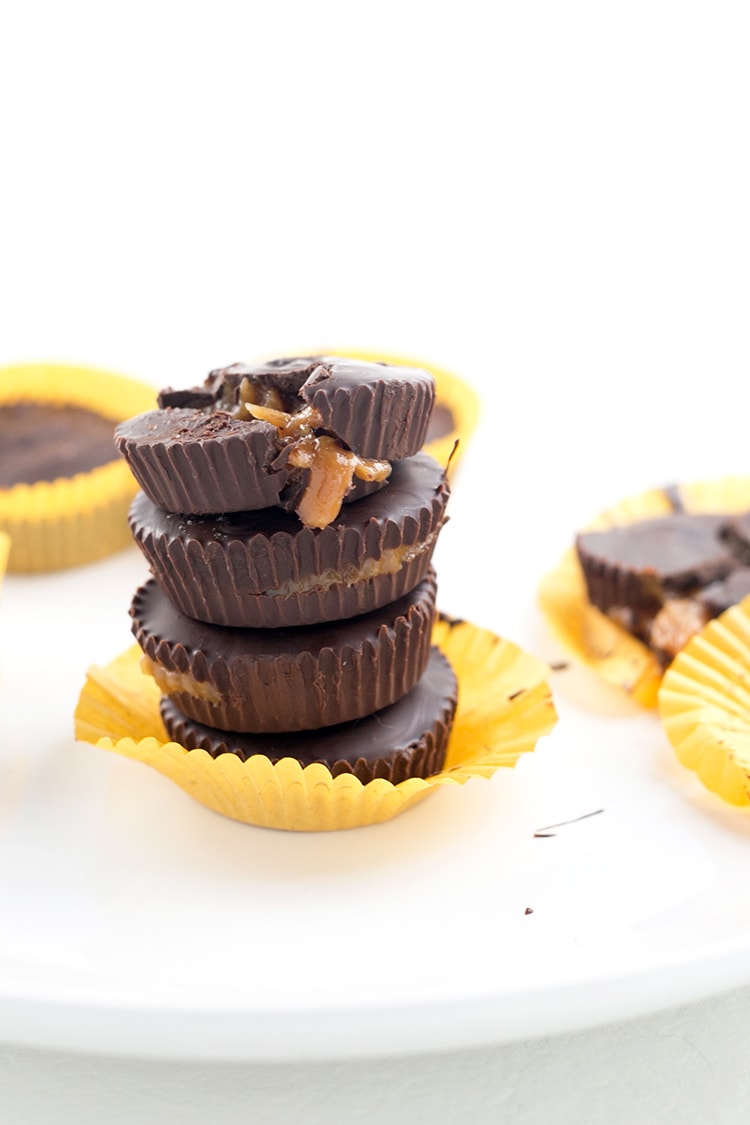 3 words. Peanut Butter Cups. Those were one of my favorite American candies back in the day. I remember eating a few in one sitting at school before lectures and then freaking out at how terrible they were for me…..the rest of the day then resulted in me drinking gallons of diet coke instead of eating, hoping it would make up for all those terrible empty calories I had just consumed. That was then. Thankfully, after going Vegan, most candy bars are pretty much off limit. Somehow my bottom still hasn't shrunk, but oh well. I was surfing the net the other day and I came across some pretty pictures of Peanut Butter Cups – inspiration struck. I decided to try making my own Peanut Butter Cups, vegan style, but with a caramel surprise in the center. And so these Vegan Caramel Peanut Butter Cups were born.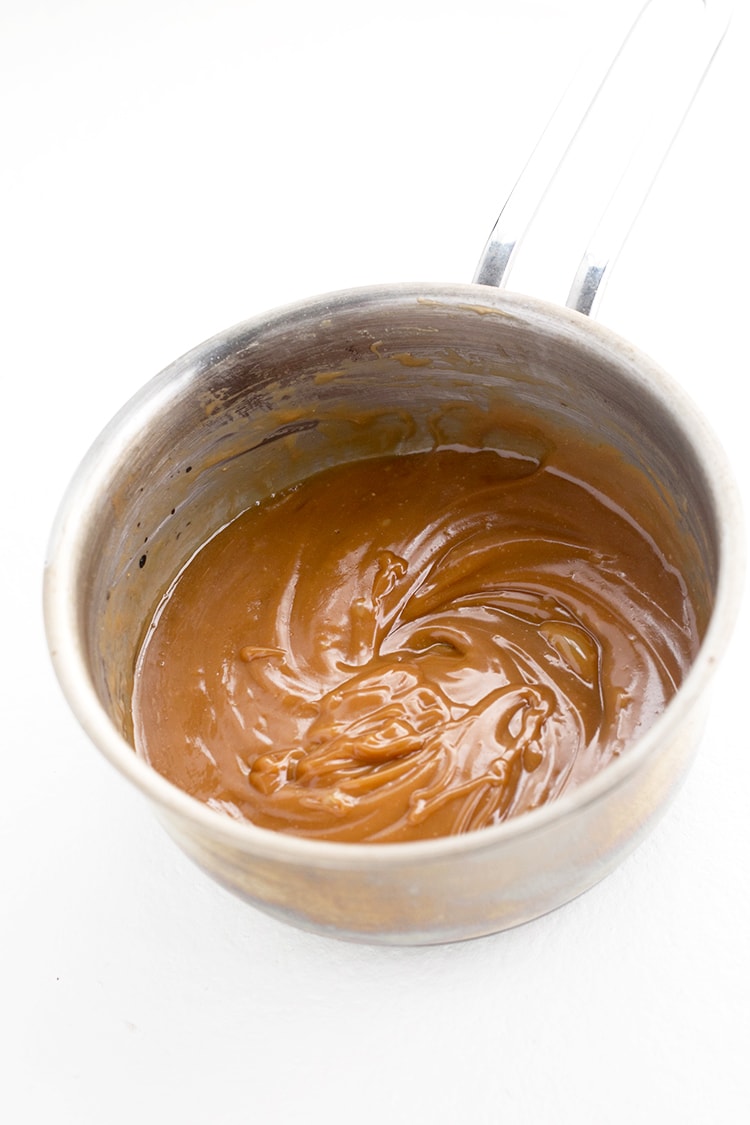 Now don't get me wrong – these Caramel Peanut Butter Cups aren't exactly health food. They're an occasional treat, as with any other dessert. They are, however, completely Vegan, Dairy Free and Gluten Free. That makes them healthier, right? Maybe. Healthy or not, this recipe is a winner. Unlike a lot of dumba$s recipes that claim to have just 5 ingredients in them but in actuality  are "4 ingredients, and 1 ingredient made up of 10+++ ingredients", everything you need to make these PB cups are probably already in your pantry. All you need is Peanut Butter (I use the trashy kind because I'm trashy and I like it, but feel free to use natural PB), Cane Sugar, Coconut Cream, Fleur de Sel and Dark Chocolate.
FREE EBOOK SERIES! 5 SECRETS FOR FOOLPROOF VEGAN DESERTS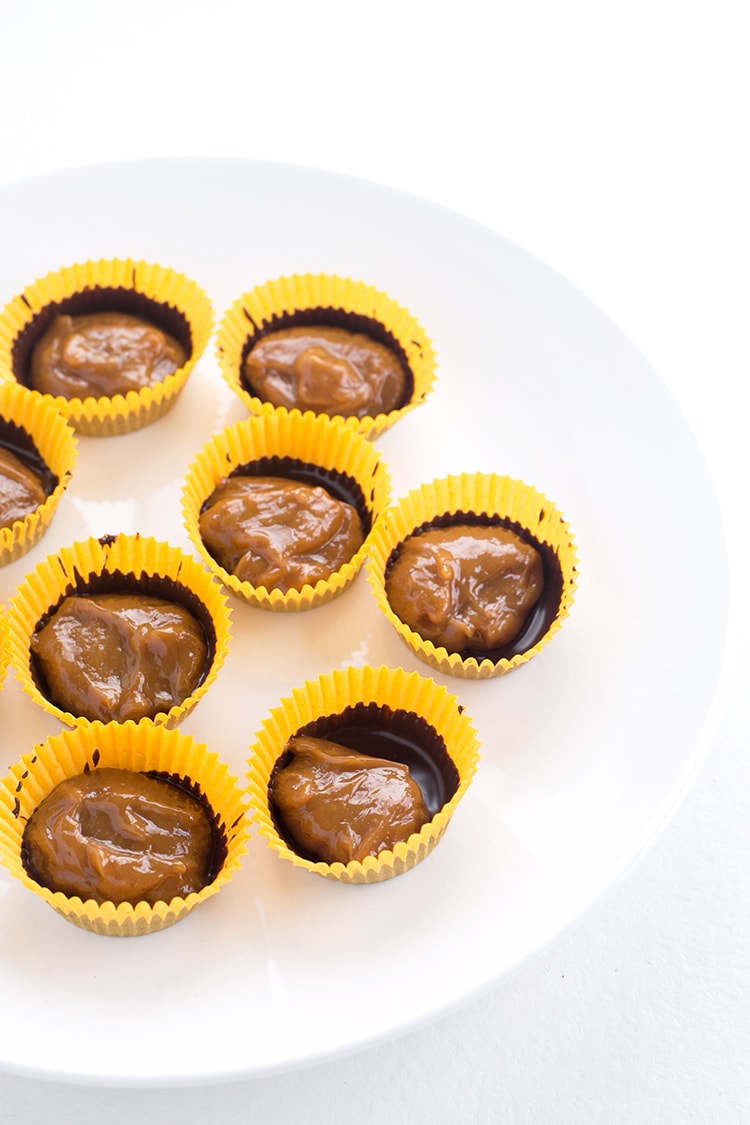 The main component of these Vegan Caramel Peanut Butter Cups is the Coconut Caramel. Believe it or not, this is the first time I've made caramel with Coconut Cream. Ever since going Vegan, I've always relied on Date Caramel, simply because it's easy to make. But lets cut the crap out here – date caramel tastes like frikkin' dates, no matter how many adjectives you utilize when you're trying to sell your bullsh!t to people. I'm not saying Date Caramel is not delicious, because it really is. But I didn't want the taste of dates in these Caramel Peanut Butter Cups, so I decided to make a caramel out of Sugar, Coconut Cream and Peanut Butter. The final result was a bowl full of way too much Peanut Butter Caramel – always a good thing.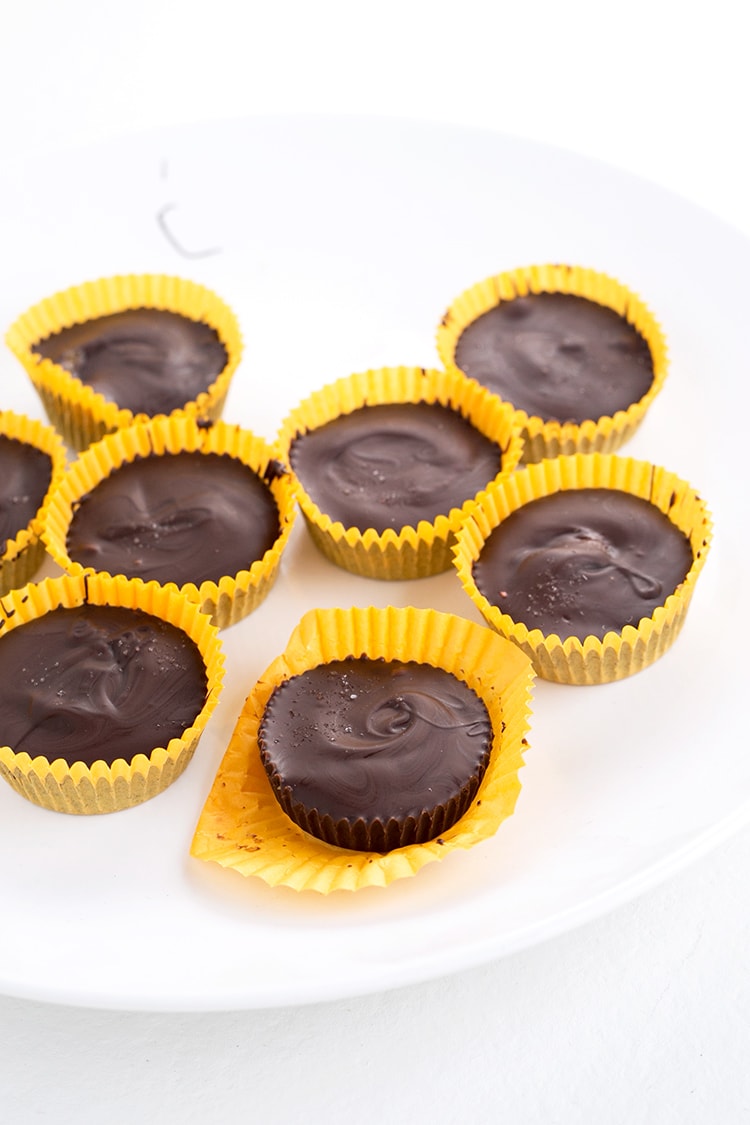 After your Coconutty Peanutty Caramel has been made, you chill it for a couple of hours to let it thicken up. Once ready, coat the bottom and sides of a mini cupcake liner (or patty liner or whatever the hell it's called) with some Vegan Dark Chocolate. It's a messy job. You'll get chocolate everywhere. Promise. Keep the dogs and cats away, please. Anyway, once the chocolate has set for a couple of minutes in the refrigerator, it's time to fill it up with your better than all forms of sex Peanut Butter Caramel. Once that bit is done, spoon a little more chocolate on top of the caramel and then leave everything to set for 15 minutes in the refrigerator. Child's play.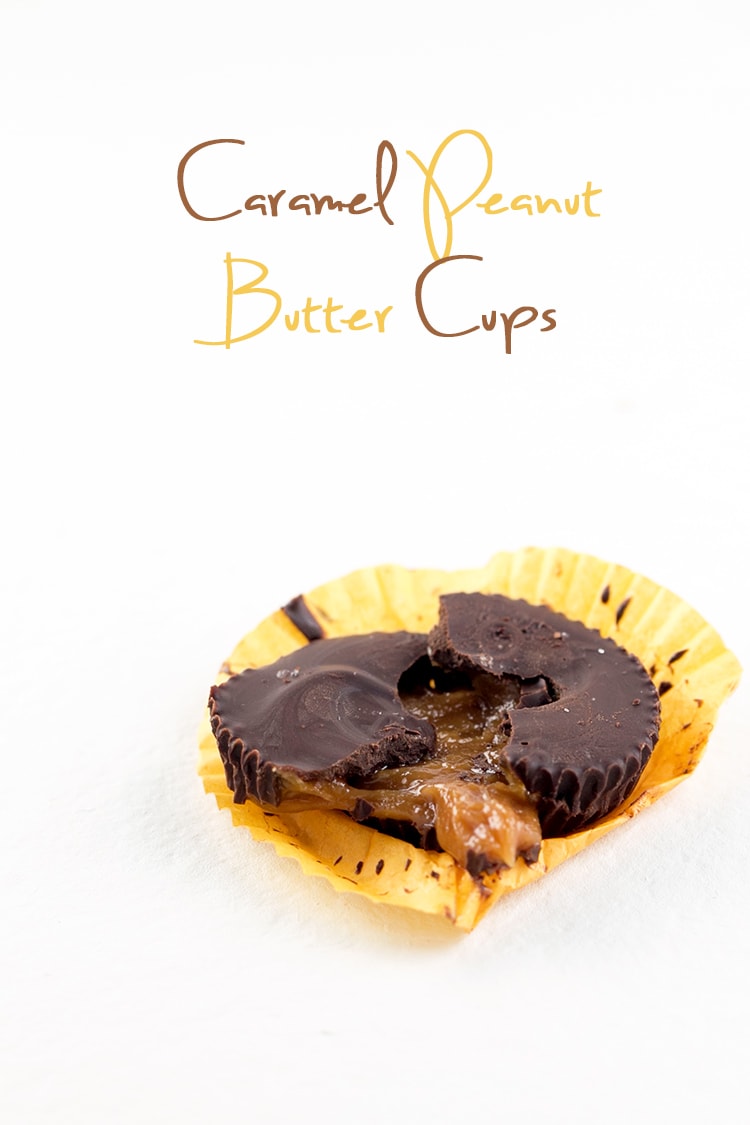 Does that look good? It does, doesn't it? Don't let my rubbish photos fool you – they taste fantastic. I'd always choose a fuc*king terrible photo of  an awesome recipe over a perfect photo of a fuc*ing terrible recipe. Too much of that shyt on the internet these days. Now back to how these Caramel Peanut Butter Cups taste – awesome, duh. (Levan ate 5 in a row, so they must be good. He's very picky. I'm pretty sure he's man-o-pausing).
Crisp on the outside and gooey on the inside, it's the kind of candy that leaves its mark all over your face…kind of like some men. But once again, I digress. All I have to say is, make these. I am very proud of this recipe – it's great! That means a lot coming from a mopey, unmotivated, pessimistic depressive like me. Ahem. Anyway, like I said, try them out and let me know what you think of them! As always, scroll down for the full recipe!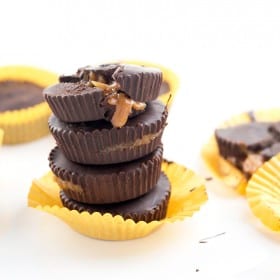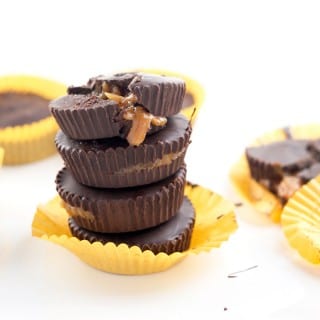 5 Ingredient Vegan Caramel Peanut Butter Cups
Vegan Caramel Peanut Butter Cups - 5 ingredients, dairy free, simple to make, super delicious.
Ingredients
1/2

cup

Cane Sugar

3

tablespoons

Water

1/2

cup

cold full fat Coconut Cream*

Generous pinch of Fleur De Sel

1/2

cup

smooth Peanut Butter

7

oz

Vegan Dark Chocolate
Instructions
In a small heavy bottomed pan, combine sugar and water. Pour water evenly over surface of sugar so that all your sugar is wet. You don't need to stir. You really shouldn't stir caramel or your sugar most probably will crystallize and you will cry.

Place pan on heat and bring to a boil. Once it has come to a boil, leave it to continue cooking on low to medium heat until you achieve an amber/golden caramel. It will start to smell dark and toasty!

Take off the heat immediately and pour in your coconut cream. Whisk, whisk, whisk, till no lumps of sugar remain. Everything should be nice and dissolved, but if it isn't, place the pot back on a very low heat and whisk till everything is smooth.

Whisk peanut butter and fleur de sel into caramel and transfer to a bowl. Let caramel cool till slightly thickened.

Meanwhile, line a mini cupcake tin with patty liners.

Once caramel has thickened, melt chocolate over a double boiler. Once melted, coat the base and sides of your liners with melted chocolate. You can use a paintbrush, I just use a teaspoon.

Once you have coated all your liners, leave tray in the fridge for a few minutes or till chocolate has hardened. Once hardened, fill your chocolate cases with caramel. Refer to photos if you're unsure of how much caramel to spoon in!

Once you have filled all the cases with caramel, spoon more chocolate over the top of each and tap the tray lightly to flatten tops. Make sure the chocolate is covering the entire top surface of each caramel peanut butter cup.

Leave in the fridge for 15 minutes for chocolate to harden. Once ready, peel of liner and enjoy!

These Caramel Peanut Butter Cups should be stored in the refrigerator and are best served chilled, as the chocolate has not been tempered.
Notes
* I buy coconut cream in a tin, but if you only have access to coconut milk - fret not. Chill your tin of coconut milk for a few hours and then scoop out the thick, solidified coconut fat that forms at the top of the tin - this is coconut cream. You can use the thinner coconut milk that's leftover in a soup or some other dessert.