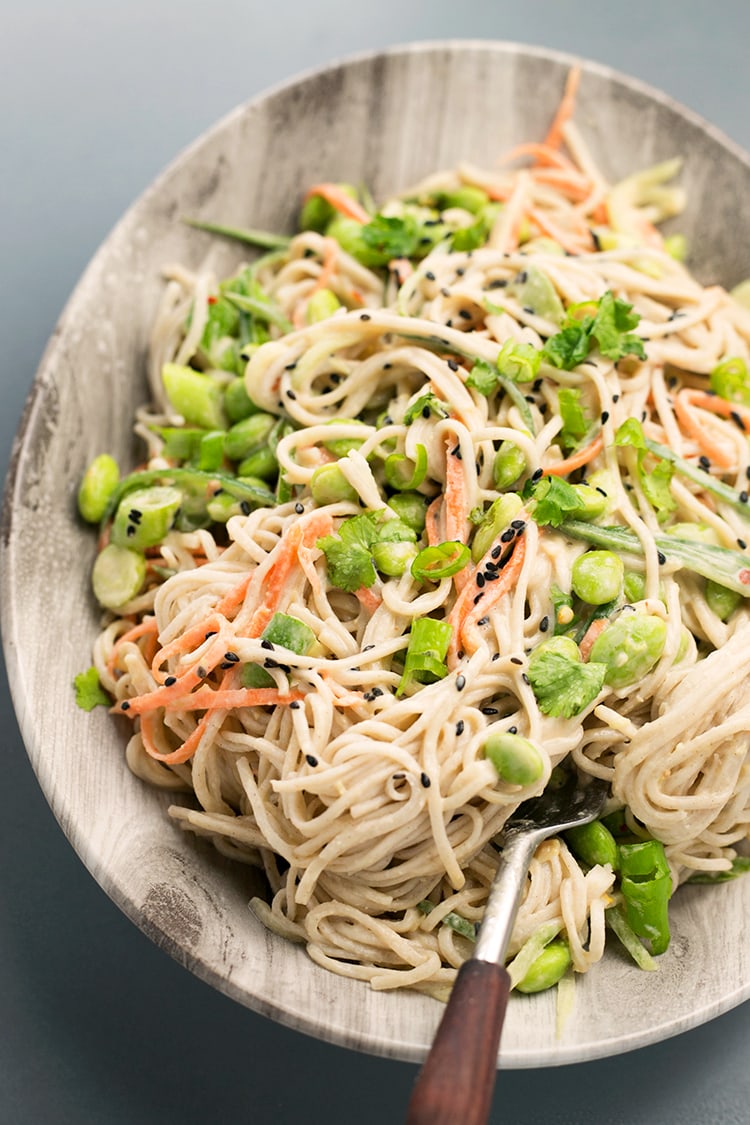 Hello everyone!Who doesn't love Soba Noodles? I love the plain version, the green tea version, the kind where it comes dipped in a cold broth….I could go on forever. And how healthy are Soba Noodles? Made from Buckwheat, Soba Noodles are a lower calorie alternative to regular pasta, are crazy high in Magnesium and are totally Gluten Free. Sounds like trendy hipster worthy food, doesn't it? Well, today I have graced you with my royal presence to share with you the recipe for my Miso Tahini Soba Noodles. You may repay me in either cash, cheque or credit.
I like to think of this recipe as bastardized Japanese food. I'm not sure how often the Japanese have their Soba Noodles tossed in a Miso Tahini dressing, but who cares. I do, however, know that the Japanese utilize Neri Goma (sesame paste, quite similar to tahini) quite often, so I can't be too off track, right? My Miso Tahini Soba Noodles are combined with julienned carrot, julienned cucumber and sprinkled with black sesame seeds. Keeping with my pseudo Japanese theme, I decided to toss in some lovely Edamame into the recipe as well. I love Edamame! We go through a lot of that sh!t in this house.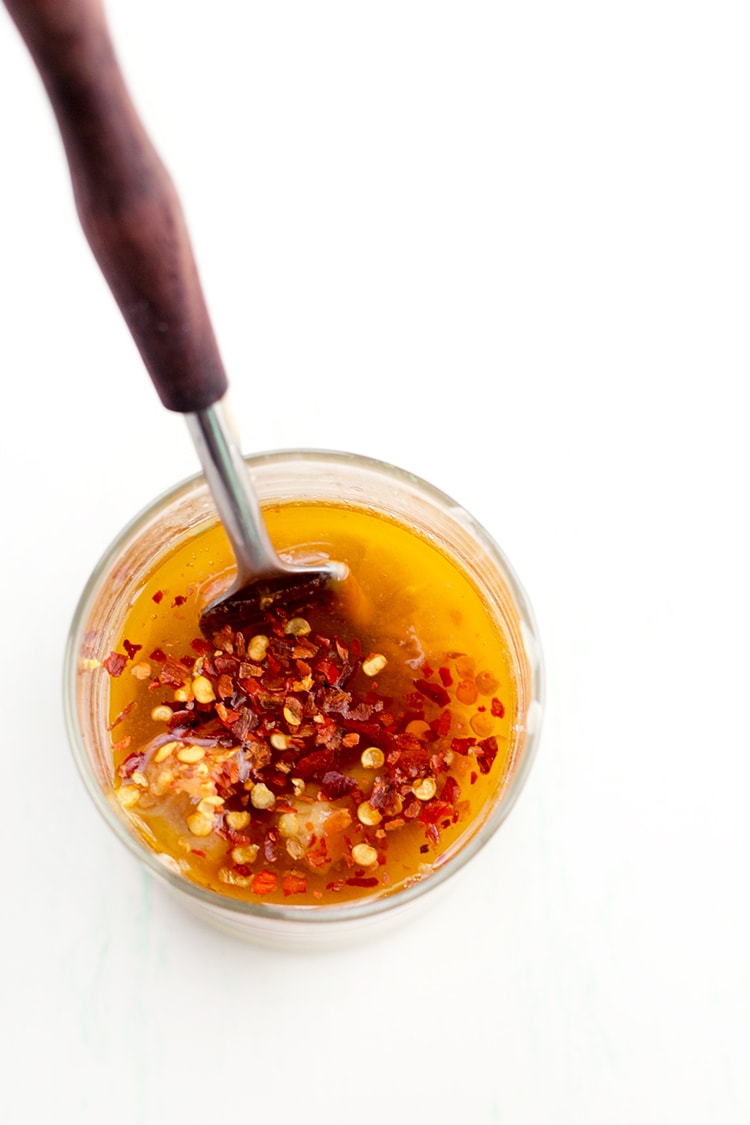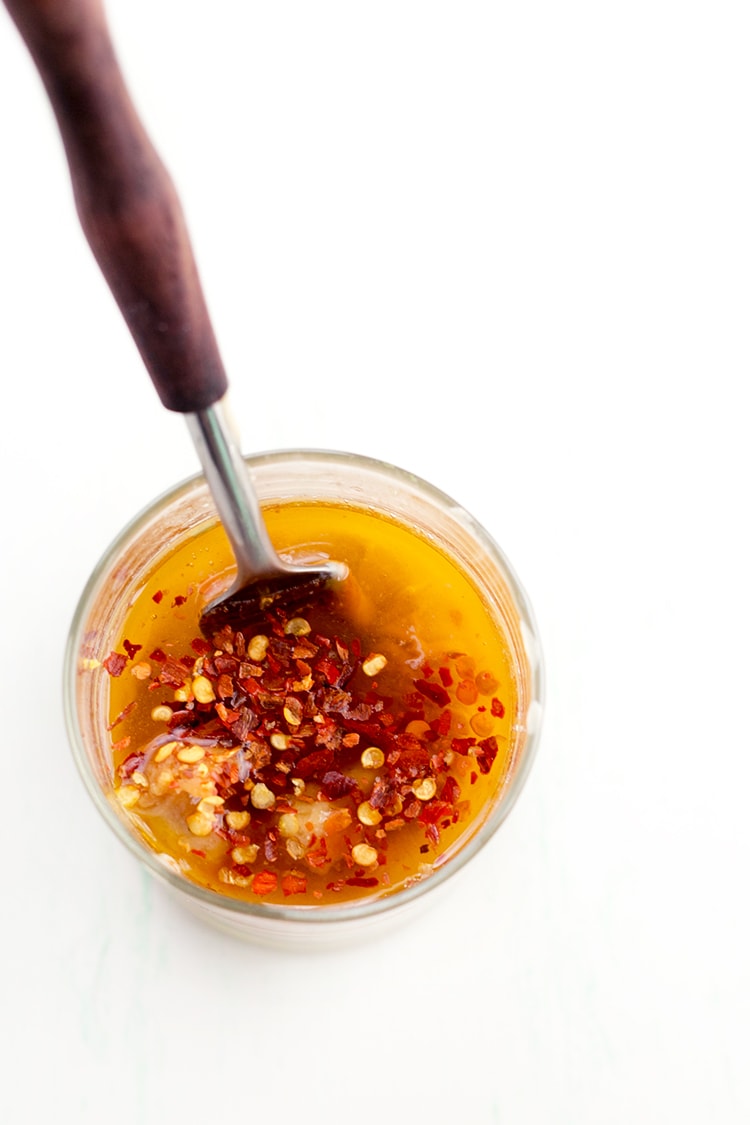 Now lets talk about the Miso Tahini Dressing. It is sh*tballs delicious and so easy to make. All you need is some Shiro Miso (white miso), Sesame Oil, Mirin, Maple Syrup, Salt, Ginger, Water, Red Pepper Flakes and of course, Tahini. This stuff is good enough to drink with a straw…but then again I say that about every damn dressing recipe I post. I ought to slap myself.
FREE EBOOK SERIES! 5 SECRETS FOR FOOLPROOF VEGAN DESERTS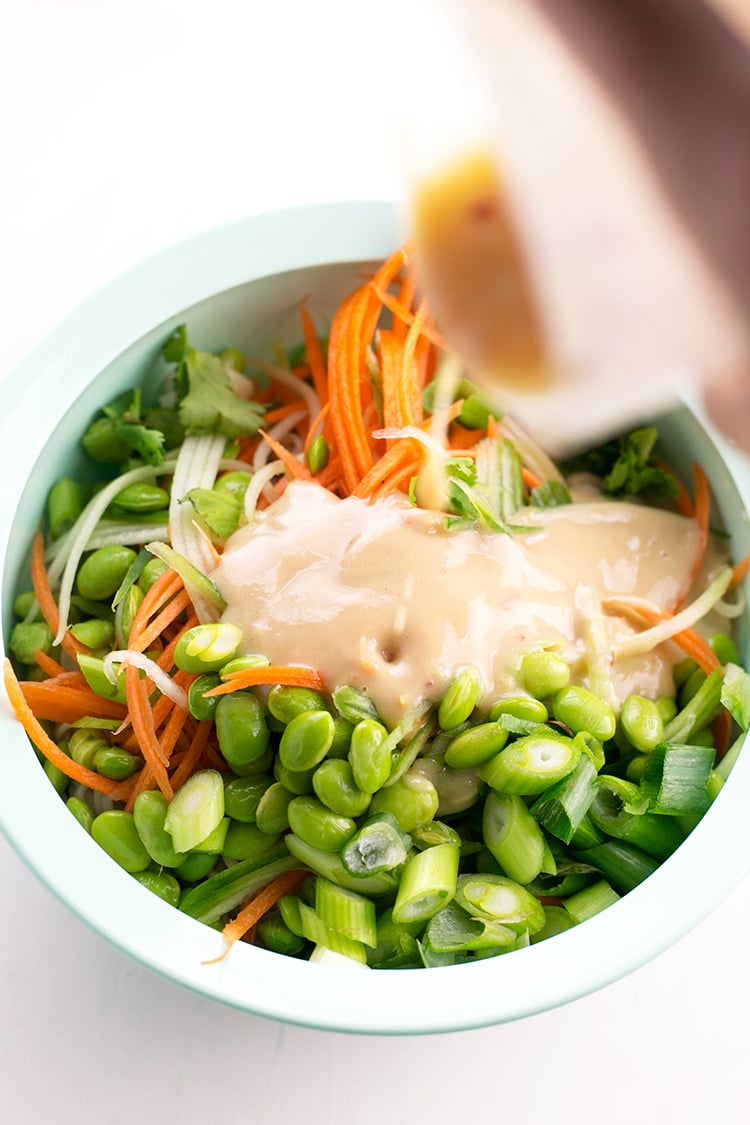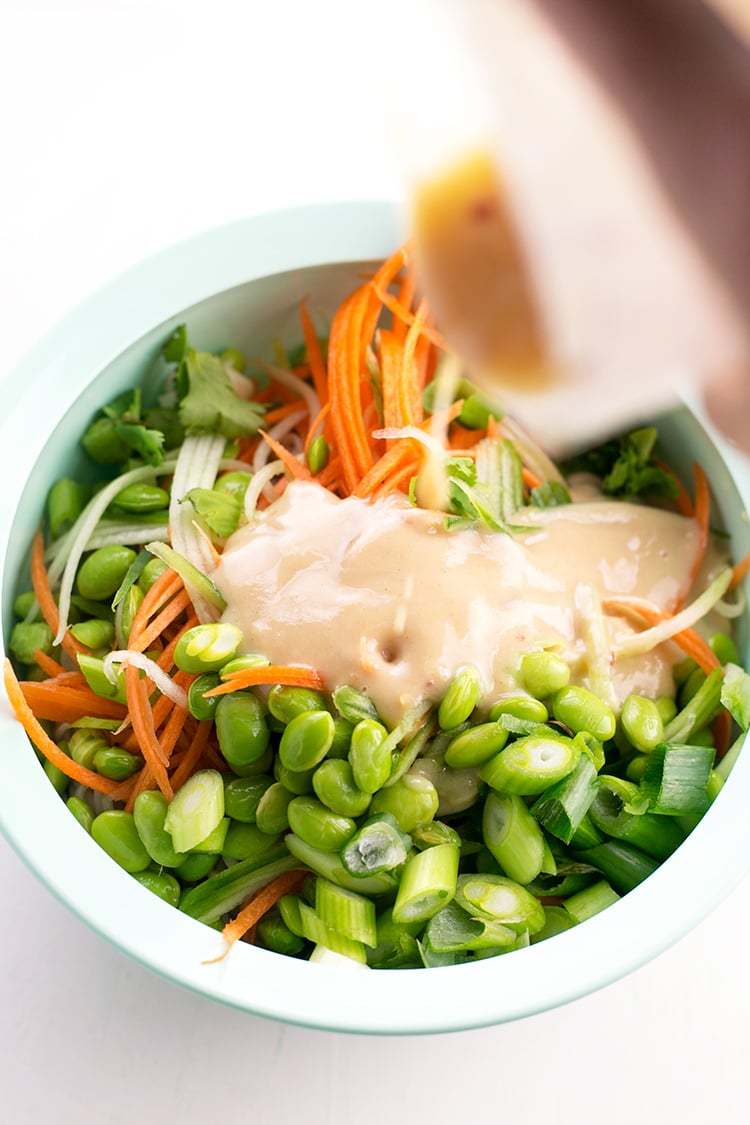 The great thing about Soba Noodle dishes is that they are often very versatile – you can eat them warm and fresh, or you can chuck the leftovers in the refrigerator and eat it cold for tomorrow's lunch. I personally enjoy having them in-between, at room temperature – that's how I have most of my salad-type dishes. I truly believe that at room temperature, flavors pop and shine through so much better than when a dish is cold. Unless we're talking about Pizza of course, but I'll save the pizza rambling for another day when I'm on the higher end of the bipolar spectrum.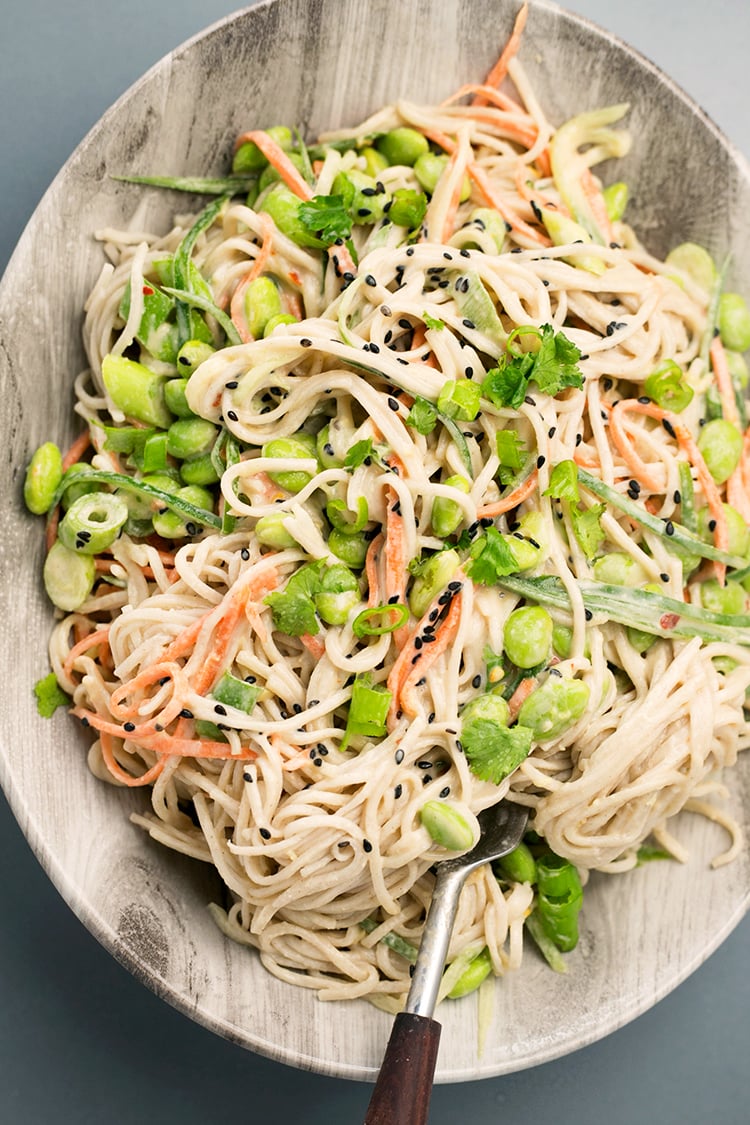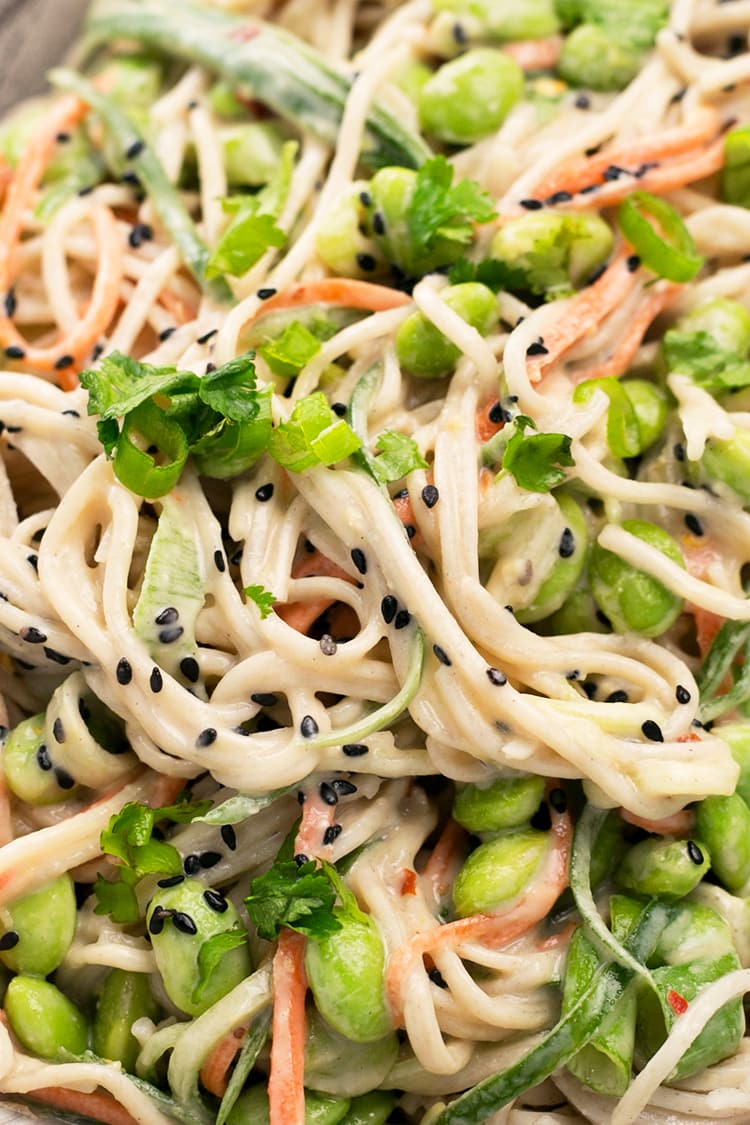 Looks pretty good, eh? Well, it is. And you know me, I tell no lies. So be sure to check out my recipe for these Miso Tahini Soba Noodles at the bottom of the post! They're Vegan, Gluten Free, Bullsh*t Free, blahde blahdeey blah. Just make them, your tummy will thank you.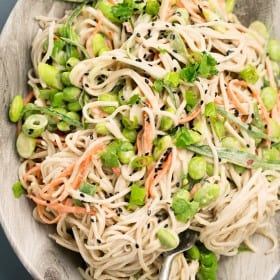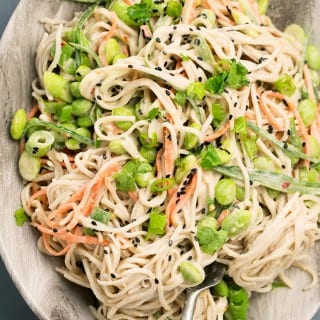 Miso Tahini Soba Noodles
Japanese inspired Soba Noodles with edamame, carrot and cucumber - tossed in a delicious Miso Tahini Dressing. Vegan and Gluten Free.
Ingredients
6

oz

100% Buckwheat Soba Noodles

1

small Carrot

julienned

1/2

a Cucumber

julienned

1/2

cup

shelled Edamame

1

tablespoon

Black Sesame Seeds

2

Spring Onions

chopped

Miso Tahini Dressing:

1

teaspoon

freshly grated Ginger

1 1/2

teaspoons

Sesame Oil

1/4

cup

Hulled Tahini

1

tablespoon

+ 1 teaspoon Shiro Miso

White Miso

1/2

teaspoon

Japanese Red Pepper Flakes

1

tablespoon

Mirin

1

teaspoon

Maple Syrup

1/4

teaspoon

Salt

1/2

cup

+ 1 tablespoon warm Water
Instructions
Bring a pot of water to a boil. Cook Soba Noodles until tender. This will take about 4 minutes, don't overcook it!

Once cooked, drain into a colander and rinse through with cold water. Transfer noodles to a large bowl filled with ice water whilst you prepare the dressing. This ensures that the strands don't clump up together.

Prepare dressing by combining all ingredients in a bowl and whisking till smooth.

Thoroughly drain Soba Noodles from ice water and toss into a large mixing bowl, along with julienned Carrot, julienned Cucumber, chopped Spring Onions and Black Sesame seeds. Dress noodles with prepared Miso Tahini Dressing and toss to combine. Enjoy!
Notes
Leftovers can be kept in the refrigerator and enjoyed cold or at room temperature.
Try using Green Tea Soba Noodles (Cha Soba) for a tasty variation of this recipe.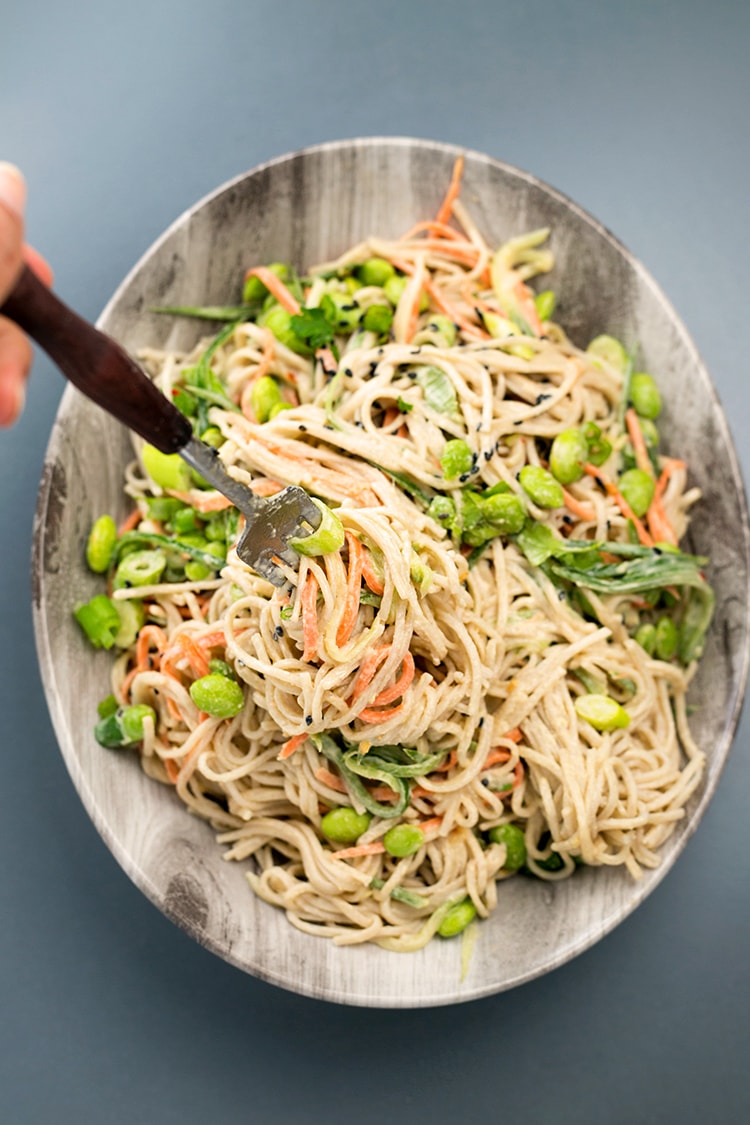 (Here's a shout out to Levan's new gaming blog Games Like Zone. Check it out if you're a fan of video games :))