Who doesn't love a good Veggie burger? I know I do. I'll be honest though, a lot of the time, I'm too lazy to make them from scratch. I usually end up going to the Organic section of the supermarket and pick up pre-made Lentil/Chickpea/Whatever Vegan Burgers. Once in a while, when I'm in the mood to wash dishes, I make my own, like the time I made those Black Pepper Burgers. Loads of people loved that sh!t. Thank you. That was ages ago, though. We're in new times now. The time of the Maple Dijon Tofu Burger. Praise be to the lord.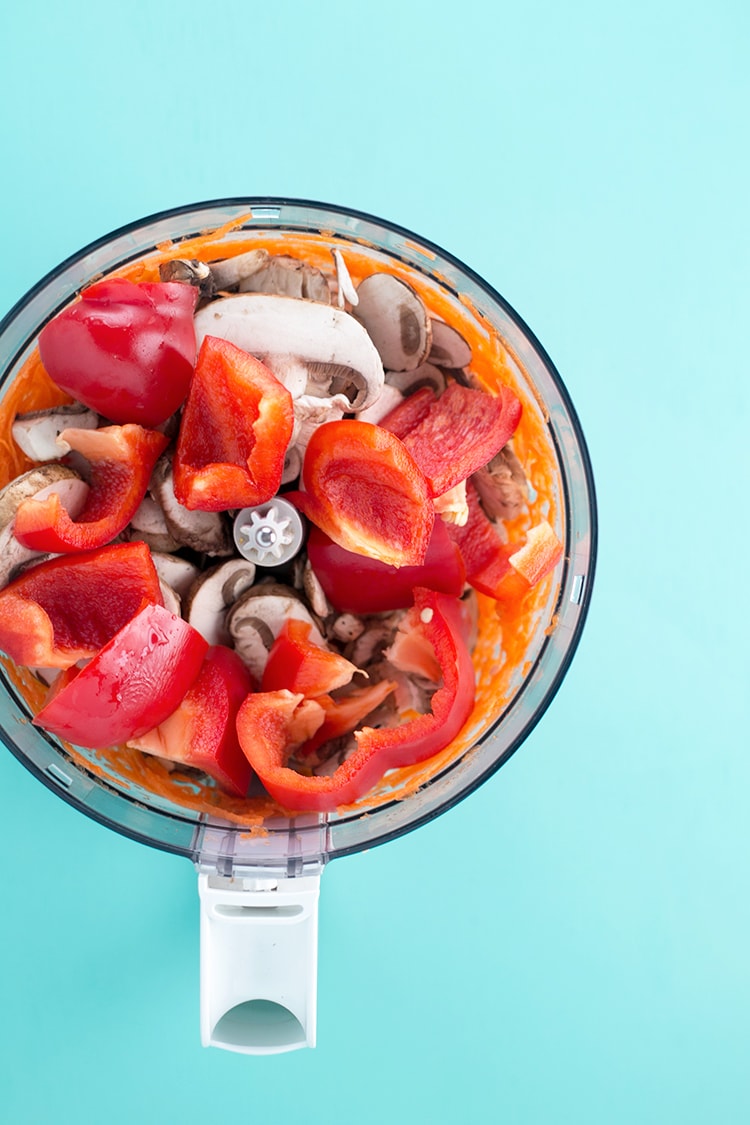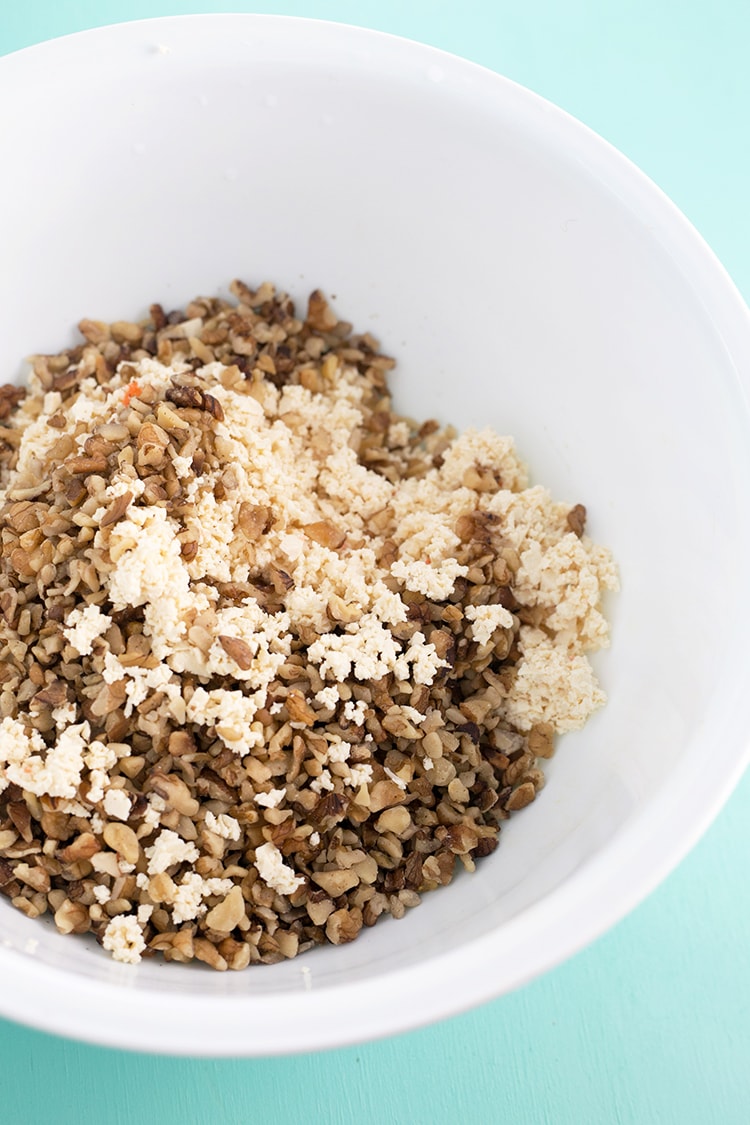 This Tofu Burger recipe I've concocted is perfect for lazy folk such as myself. Minimal chopping is required, so you can use the saved time watching sh*tty TV shows whilst waiting for your burgers to cook. The food processor is your savior when it comes to these Tofu Burgers. You break your tofu up in it, chop your Mushrooms, Peppers and Carrots up in it, you even process the sh*t out of the onions in it. Maximum taste, minimum crying. I already cry enough on a daily basis when I wake up to the mess my cats have made. No need to cry whilst chopping onions!
FREE EBOOK SERIES! 5 SECRETS FOR FOOLPROOF VEGAN DESERTS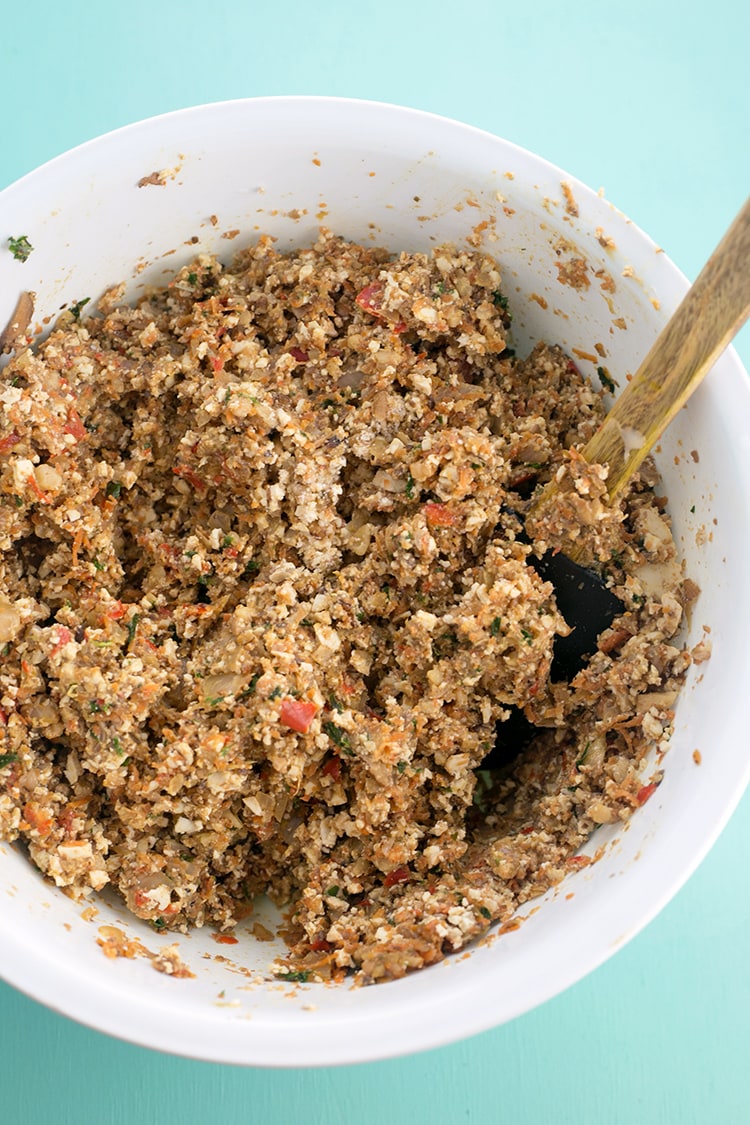 Lots of Veggie Burgers contain Beans, Lentils or Chickpeas in them. This recipe tells said ingredients to hit the road and never come back. Let's be honest here, lentil and chickpea burgers get really boring, really fast. My burgers are held together with Tofu (if you haven't already figured that out by now), Walnuts, Tahini and Gluten Free Bread Crumbs. Once everything is combined and baked, you end up with a meaty, delicious hunk of a burger that will rival any beef burger there is out there. Wait, actually, any Vegan Burger beats a Beef Burger. Duh!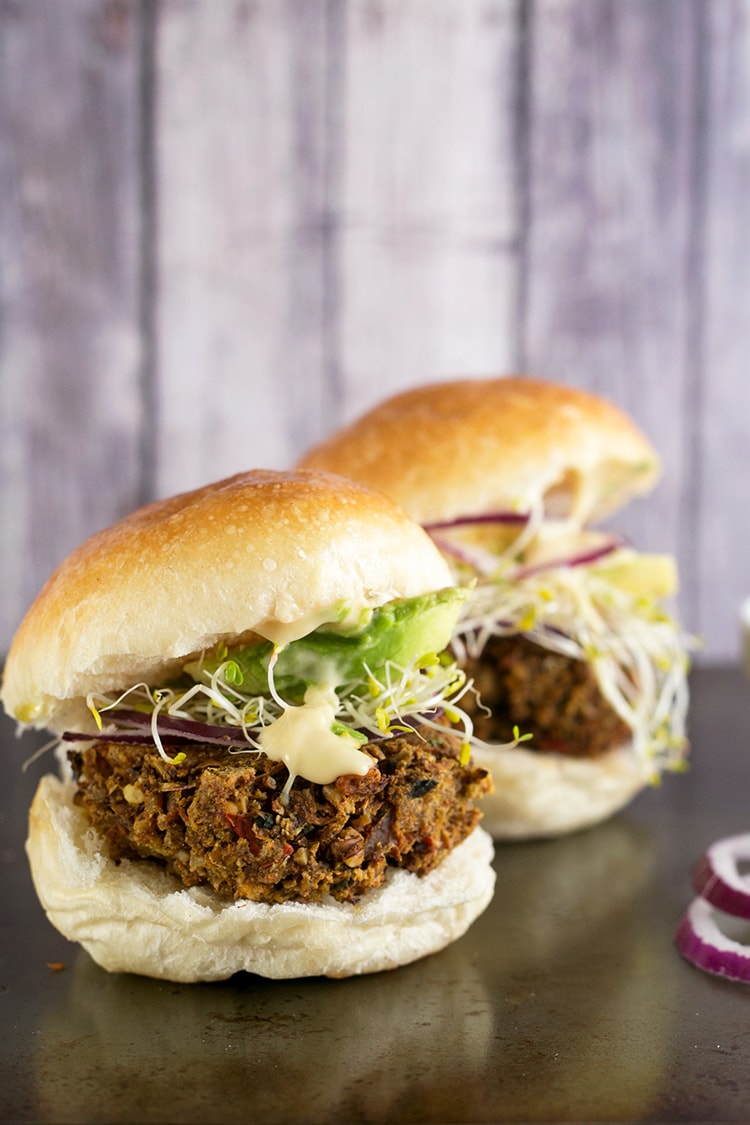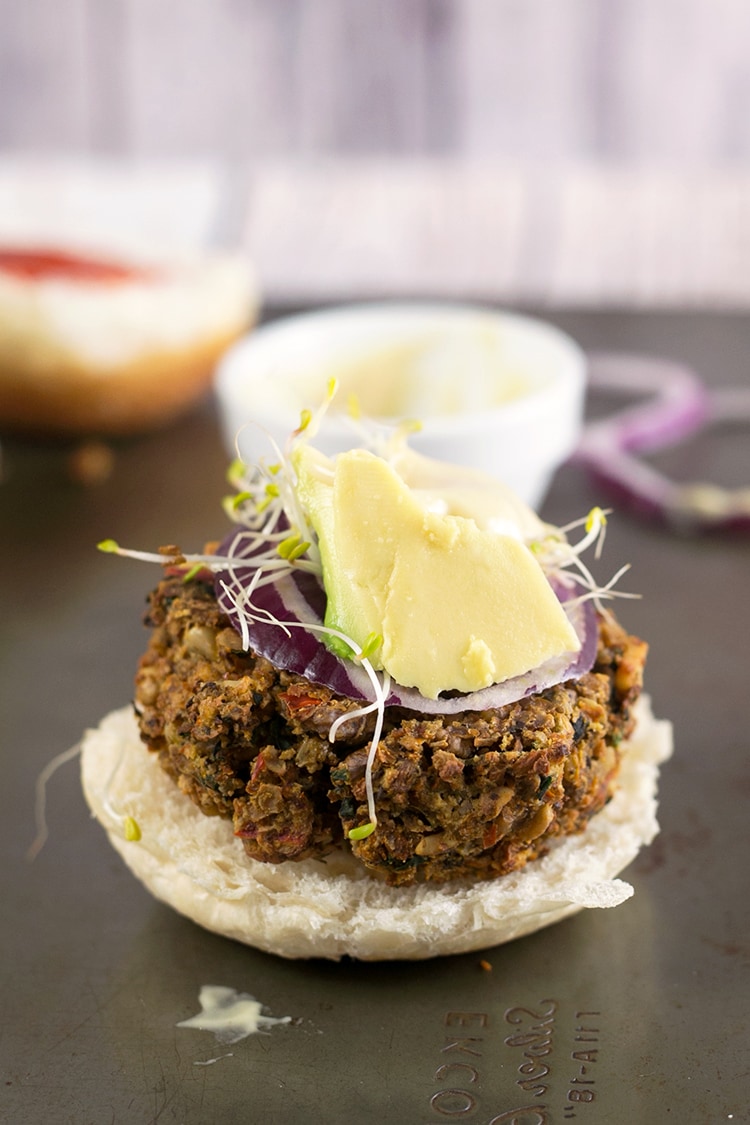 The pièce de résistance on these burgers has got to be my Maple Dijon Mayonnaise. It is so easy to make, tastes awesome, and adds a warm mustardy kick to each bite..similar to the kick you'll get when you go up to some random person on the street and try to give them a love bite. Ahhh, sweet, beautiful pain. 3 ingredients go into the Maple Dijon Mayonnaise. Maple Syrup, Dijon Mustard, and Vegan Mayonnaise. Betcha never could have guessed that, ey? In case you're wondering, I use this vegan mayonnaise. I've tried lots, and this one is the best I've found thus far.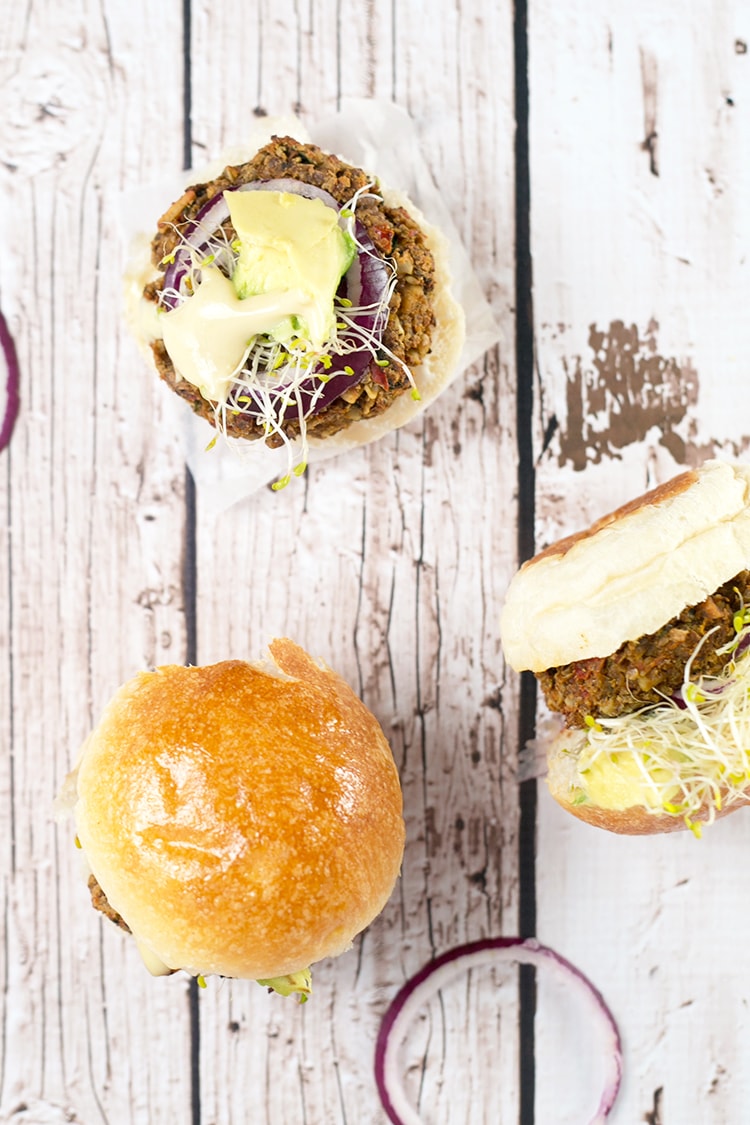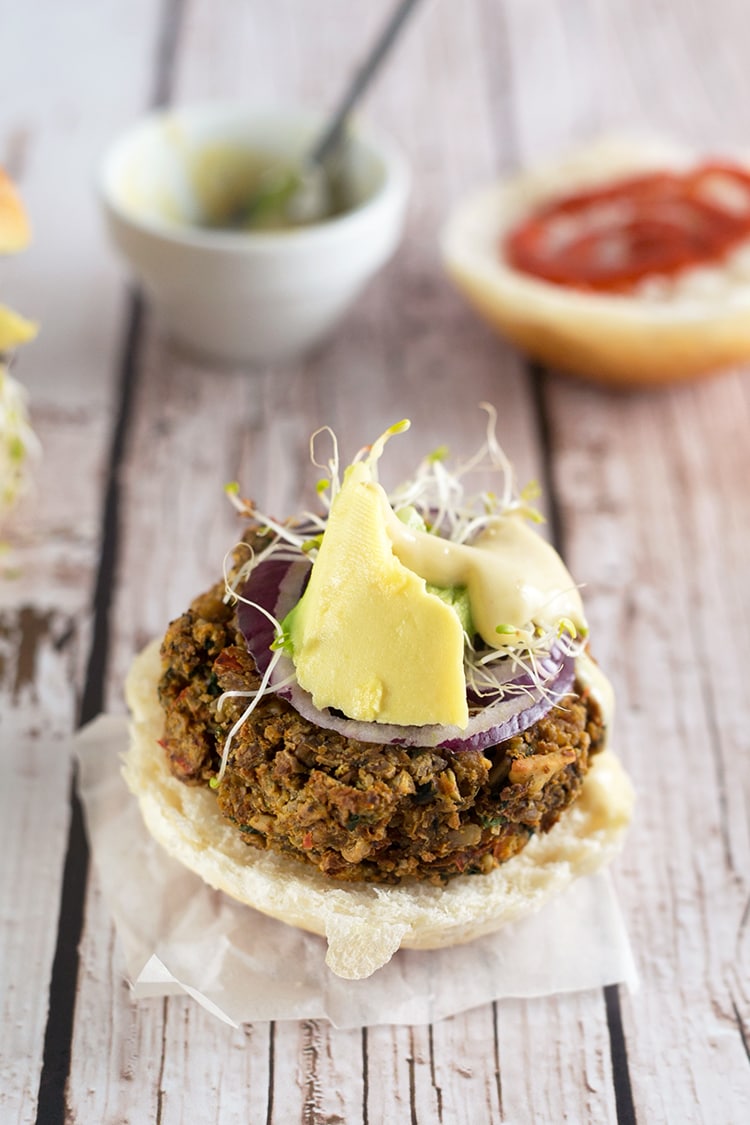 My Tofu Burger recipe feeds an army, so if you've got a family, it's the perfect recipe for you. We don't have a family, cats can't eat stuff with onions in it, so like the sad folk we are, we live off these burgers for 3 days. Wehh. I suppose there could be worst things in life. These burgers are even better sandwiched between a halved Bread Roll (gluten free if necessary) and then topped with some raw Red Onion, Sprouts and Avocado – but feel free to use whatever condiments and add ins you fancy. Ketchup. Just sayin'.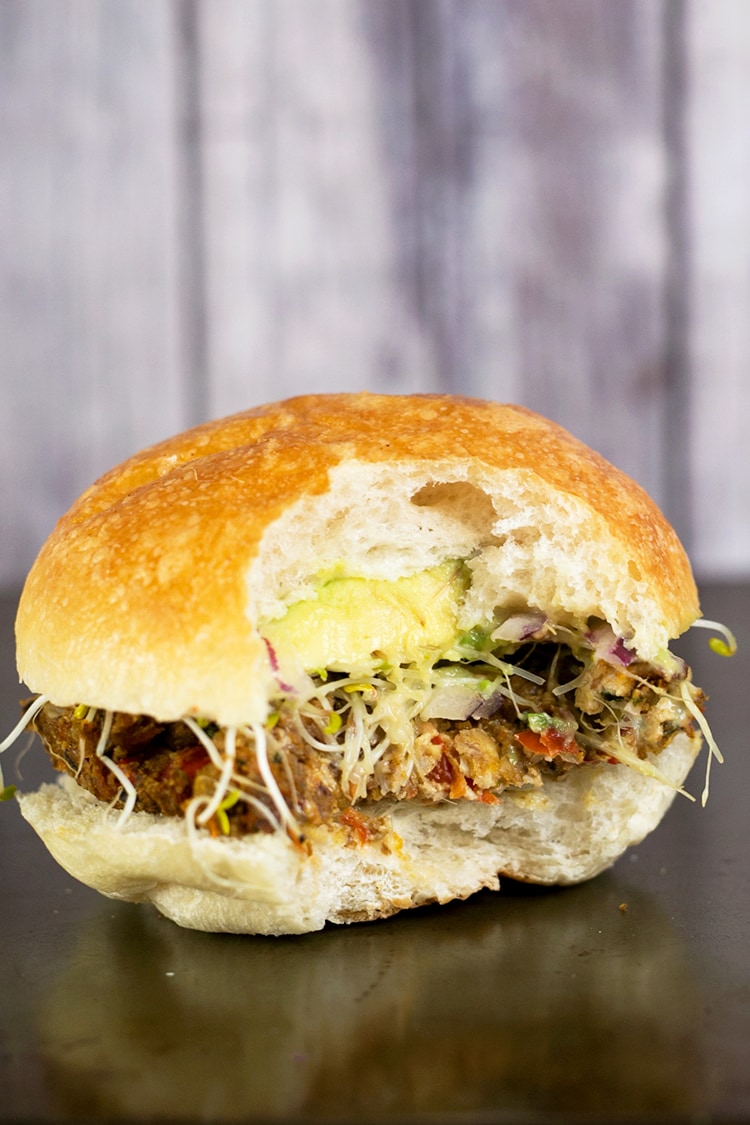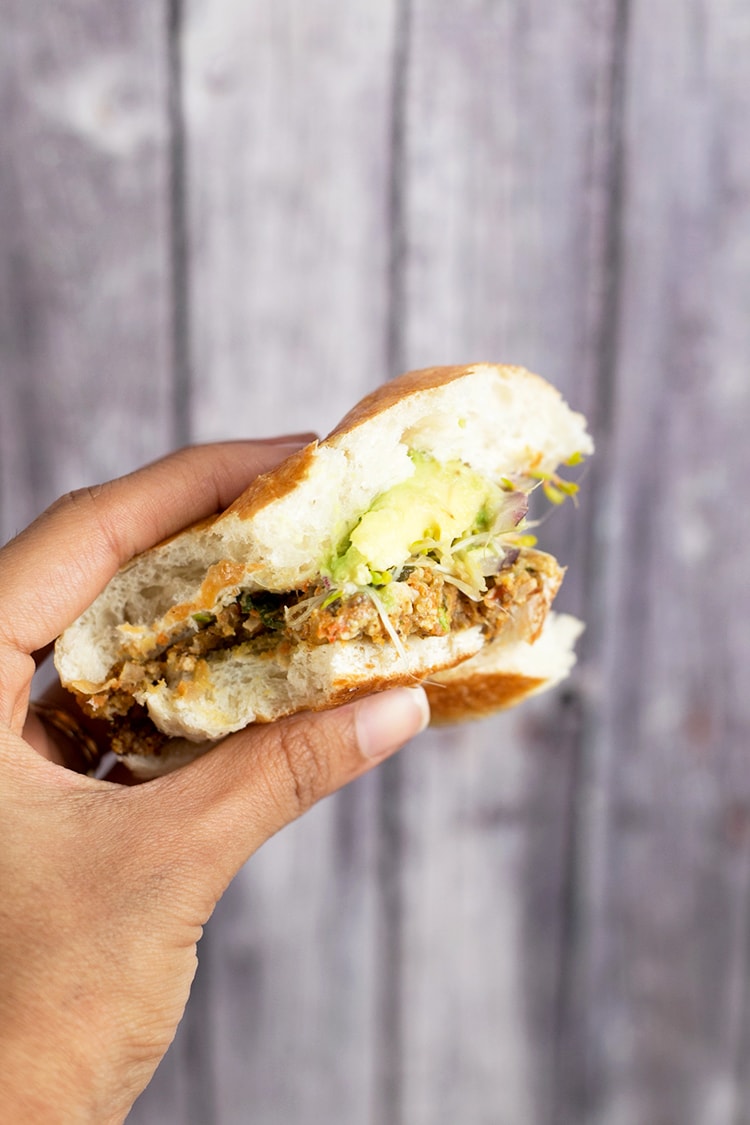 Ooooh look at those Sprouts, they look like Medusa's hair. Scroll down for the full recipe for my Maple Dijon Tofu Burgers. It's Gluten Free, Vegan, Sh*t Free and Bean Free! Enough of the damn beans, I say! Let me know if you try it out, and don't forget to hashtag #crazyvegankitchen on Instagram if you do! My feed moves really quickly, and I don't wanna miss out on any of the stuff you guys post.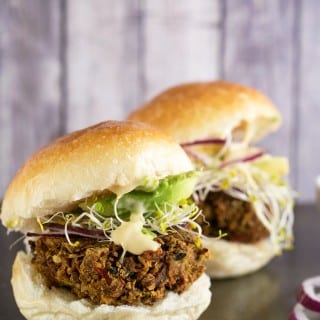 Maple Dijon Tofu Burgers
Maple Dijon Tofu Burgers - a healthy veggie burger made with Tofu and Walnuts, served with a Maple Dijon Mayonnaise.
Ingredients
Tofu Burger:
14

oz block

Extra Firm Tofu

1

White Onion

2

teaspoons

Oil

1

large

Carrot

1

large

Red Bell Pepper

roughly cut into large chunks

1

cup

Mushrooms

sliced

1/4

teaspoon

Salt

1

teaspoon

Oregano

1/3

cup

Basil

chopped

1/2

cup

walnuts

chopped

1

tablespoon

Liquid Aminos

2

teaspoons

Dijon Mustard

1

teaspoon

Salt

to taste

4

tablespoons

Almond Butter

1/2

cup

Gluten Free Breadcrumbs
Instructions
Preheat oven to 375 degrees.

In your food processor, start off by processing the tofu till it turns into a fine crumble. Pour into a large mixing bowl and set aside.

Cut White Onion into large chunks and then process until it is finely chopped.

Heat 2 teaspoons oil in a skillet and add chopped onion to it. Stir and let the onion sweat on low heat for 4-5 minutes.

Meanwhile, grate Carrot using the food processor's shredding blade. To grated Carrot, add Red Bell Pepper and Mushrooms. Process on pulse till everything has been chopped very finely, but not until it's a mush.

Add veggie mixture to the onions in the skillet and stir well. Add Salt and Dried Oregano and continue cooking uncovered until all the liquid that the mushrooms have released has evaporated, about 10 minutes. Once it has evaporated, take mixture off the heat and add chopped Basil in.

Combine the entire mixture with the crumbled tofu in your mixing bowl.

Add the Walnuts, Liquid Aminos, Dijon Mustard, and Tahini or Almond Butter to the mixture and stir well. Taste for seasoning and adjust.

Stir bread crumbs into the mixture and make sure you mix it well.

Form mixture into burger patties. This recipe makes about 12 Sliders, or 8 large burgers.

Place burgers on a baking sheet lined with non stick paper and bake for 30 minutes on one side. Flip, and bake for another 15 minutes.

Whilst baking, prepare Maple Dijon Mayonnaise by combining all ingredients together and mixing.

Once burgers are ready, place a patty in a toasted and halved gluten-free bun, top with veggies of your choice and slather sauce on. Enjoy!
Nutrition
Serving:
1
serving
Calories:
150
kcal
Carbohydrates:
9
g
Protein:
5
g
Fat:
11
g
Saturated Fat:
1
g
Trans Fat:
1
g
Sodium:
395
mg
Potassium:
208
mg
Fiber:
2
g
Sugar:
3
g
Vitamin A:
1471
IU
Vitamin C:
19
mg
Calcium:
45
mg
Iron:
1
mg