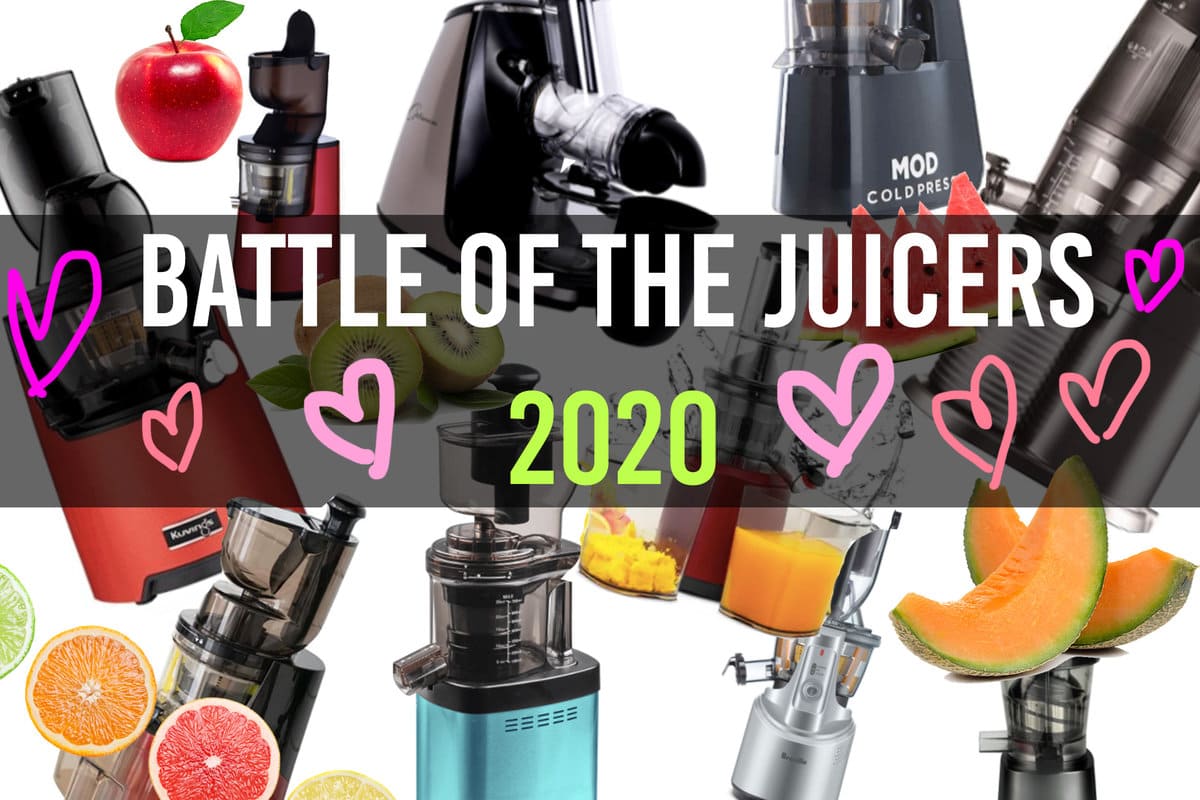 Have you ever thought of purchasing a juicer for your home kitchen? Perhaps you're someone who has had a bad experience with juicers in the past. I get you – so many appliances on the market today are low in quality, a pain to clean and just end up collecting dust in the garage. Thankfully, over the years, a number of companies have really upped their game when it comes to slow juicers.
To me, the makings of a good slow juicer are the following: easy to clean, high juice yield, dry pulp and minimal preparation prior to juicing. If a juicer doesn't have any one of these features, it's a big fat "no" from me! Another thing that turns me off is an incredibly exorbitant price, so rest assured that this list will offer a variety of differing price points in order to appeal to the masses.
Today, we have a look at the best slow juicers in Australia for the year 2020. If you're looking for a quality juicer, I promise that any one of these juicers will be great value for money and are promised to last you years and years.
FREE EBOOK SERIES! 5 SECRETS FOR FOOLPROOF VEGAN DESERTS
Let's get your juice on with the best slow juicers~
1. Optimum H3000 2nd Generation Horizontal Slow Juicer
Optimum is a brand that has stood the test of time, even when other brands seemingly come and go. The H3000 is a horizontal slow juicer, which may not be a common sight to most. Having personally tried both horizontal and vertical slow juicers, I really do enjoy the ease of cleaning that a horizontal juicer offers me. I personally think that the H3000 is one of the easiest juicers to clean, and this is coming from someone who has owned 4-5 juicers in the last decade.
The H3000 is a 76mm wide mouth juicer that allows you to throw whole apples and oranges in without needing to chop them up prior. It also comes with an incredibly cool heating function that allows you to make homemade nut and soy milk AND heat them too. This is a great feature that can be used to make fresh baby food as well.
The H300 boasts an incredibly powerful 300W motor along with a world class vacuum function and cup that comes with the H3000 – this allows you to store leftover juice safely by removing all the air in the cup to prevent oxidation and deterioration of your juice. I must say at $489, the H3000 has got to be the best value for money out of all the juicers on this list. To me, this one is the winner.
Price: $489 AUD
Warranty: Lifetime Domestic Warranty on Motor, 5 Years on Parts
Purchase Here
Watch the Optimum H3000 in action:
2. Kuvings EVO820 Evolution Cold Press Juicer
The Kuvings EVO820 Evolution is a beast of a machine with a 82mm wide chute which is slightly larger than the H3000. This one however, as you can see, is a vertical slow juicer and boasts a 240W motor that is sure to crush the life out of your fruits and vegetables! This isn't as powerful as the H3000, but is certainly powerful enough to extract a high juice yield. The EVO820 does have a unique "O" shaped flip gate similar to the H3000 that allows for whole apples and oranges to be thrown in without prior chopping.
One of the downsides of the EVO820 is that it is pretty exorbitantly priced at $899 which is a rather large sum that many may not be willing to fork out for a juicer. Especially not when it doesn't come with a vacuum or heating function. Kuvings is of course, an incredibly reputable brand with thousands of loyal customers who might look past the price point. It all depends on how much you are willing to spend. Personally, $899 for a juicer is a little steep.
Price: $899 AUD
Warranty: 20 years warranty on motor 5 years on parts
Purchase Here
Watch the EVO820 in action:
3. Optimum 400 Evolve
The Optimum 400 Evolve Big Mouth Juicer is yet another contender from Froothie, but this time it's a vertical juicer. Labelled the "King of Juicers", the 400 crushes your produce at 33rpm which mimics hand juicing, for the best quality juice imaginable. It also is one of the quietest juicers on the market at a measly <66dB, which can be a helpful feature for those who enjoy an early morning juice and don't want to wake the entire family up.
The 400 also boasts a Vacuum function, similar to it's H3000 big brother, and is an incredibly affordable $479. Optimum is definitely winning when it comes to price factor whilst offering a myriad of various features that most brands do not have. Similar to the Kuvings, it has a 85mm feeding chute that allows for whole apples and oranges. They've also eliminated the internal basket which helps with cleaning and cuts down the amount of time you have to spend scrubbing fruit fibre out of your machine.
Price: $479 AUD
Warranty: Lifetime Domestic Warranty on Motor, 5 Years on Parts
Purchase Here
Watch the Optimum 400 Evolve in action:
4. Hurom H200 Cold Press Juicer
The Hurom H200 is a behemoth of a machine, and in my opinion possibly one of the bulkiest looking juicers on this list. However, it does feature a built in pulp container which can be very helpful in reducing the amount of mess on your countertop. The H200 is the first juicer in Hurom's innovative range of Cold Press Juicers that incorporates a complete juicing system of chopping and juicing.
Its new 'Mega Hopper' aka wide feeding chute, enables whole fruit and vegetables to be inserted without chopping, similar to the H3000, 400 Evolve and Kuvings. If you're looking for a juicer that is going to sit inconspicuously in your kitchen, this may not be the one for you. Price wise, it's on the steep end…not as expensive as Kuvings, but certainly a lot more expensive than Optimum.
Price: $764 AUD
Warranty: 10 Year Warranty on Motor
Purchase Here
Watch the Hurom 200 in action:
5. Optimum 600M Cold Press Juicer
The Optimum 600M is the most affordable juicer from Optimum and has been around for quite a while. It's got an impressive 4.5/5 stars on Product Review and is one of the more compact juicers on this list. At only $294, it's an absolute steal and perfect for anyone who is not looking to invest big bucks in a juicer but is still looking for a quality machine.
The 600M boasts a low speed of 40 to 45rpm which isn't as gentle as the 400 Evolve, but still ensures that the loss of nutrients is kept to a minimum. The 600M is the Optimum juicer with the least functions and features and doesn't come with vacuum technology or a wide feeding chute. However, at a $249 price, you can't really complain about this one considering there are some juicers on this list with similar features but at triple the price.
Price: $294 AUD
Warranty: 5 years on Motor & 5 Years on Parts
Purchase Here
Watch the Optimum 600M in action:
6. Mod Cold Press Juicer
The Mod Cold Press Juicer is comes in at #6 with a wide feeding chute, 240w motor and multifunction blank attachment that can make frozen fruit sorbets and ice cream.Price wise, $499 is in the mid-range and in my opinion a great price for all that the juicer offers. Is it as competitive as the Optimum juicers? Probably not, but it's another great juicer that is worth mentioning on this list.
Price: $499 AUD
Warranty: 20 years on Motor & 5 Years on Parts
Purchase Here
Watch the Mod in action: https://youtu.be/ztht_jmuyrs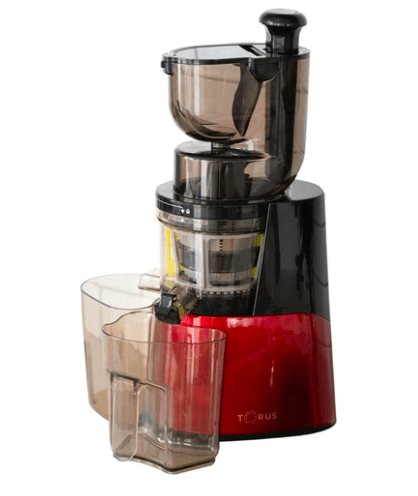 7. Torus T5500 Pro Big Mouth Slow
Not gonna lie, I've never heard of Torus before. However, after doing some in depth research, it seems that they're a leading brand of juicers that for some reason I've never heard of before?! The Torus 5500 comes in at an affordable $399 and also boasts a 80mm wide feeding chute and has a more than decent 250w motor. In terms of extra features and functions, the Torus leaves much to be desired, but at $399 and 4.9 stars on Product Review, it still seems to be an incredible option amongst consumers.
Price: $399 AUD
Warranty: 8 years on Motor
Purchase Here
Watch the Torus in action: https://youtu.be/eR_NH6HRhd8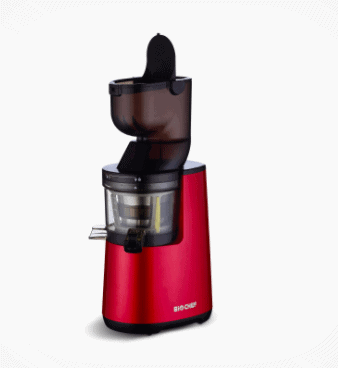 8. Biochef Atlas Pro Whole Slow
The Biochef Atlas Pro Whole Slow Juicer is another wide mouthed juicer that boasts an 80mm opening that allows you to throw basically anything in there, similar to most of the juicers on this list. The Atlas is a sleek looking machine and offers 40rpm which is a lot better than Mod, but not as good as the Optimum Evolve. The website claims it has the largest feeding chute of any cold press juicer on the market but as we have seen, that is not the case. In fact, it is the Optimum Evolve that has the largest feeding chute on this list in particular, so -10 points for bold claims. Price wise, it's a very affordable $279 which makes up for a lack of functions.
Price: $279 AUD
Warranty: Lifetime on Motor and 5 Years on parts
Purchase Here
Watch the Biochef in action: https://youtu.be/QvPKwTH7ywI
9. Breville The Big Squeeze
Breville produces a bunch of various kitchen appliances, but made its name for juicers a while back thanks to the documentary "Fat, Sick and Nearly Dead". For a while, they were the leaders in centrifugal juicers (ie, blending and extracting juice), but were soon overshadowed by giants like Hurom, Kuvings and Optimum. The Big Squeeze is Breville's attempt at a slow juicer, and it boasts all the basic functions that you'd expect a slow juicer to have. Would I pay $679 for bog standard juicer with no extra features? Probably not. That's why this one gets last second last place on the best slow juicers list!
Price: $679 AUD
Warranty: 10 Year Limited
Purchase Here
Watch the Breville 200 in action: https://youtu.be/To8xgA7IZAA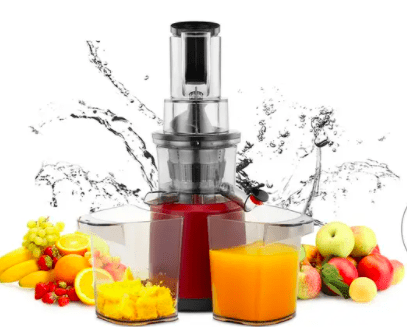 10. Kogan Cold Press Slow Juicer
And finally, the budget pick for cold press juicer is a spot taken up by none other than Kogan. The Kogan Cold Press Slow Juicer has an impressive 76mm chute and 240w motor power, which is an honourable mention considering it only costs. You can't really ask for more when you are spending under 100 dollars. It's got a 4.7 star rating on the Kogan website, and in my opinion I'd probably choose the Kogan over the Breville. But that's just me 😉
Price: $89.99 AUD
Warranty: 1 Year
Purchase Here
Watch the Kogan in action: https://youtu.be/S5ODwHPkvhA
——–
And there you have it – 10 of the best juicers in 2020. Depending on your budget and expectations, I'm certain you'll find at least one juicer on this list that will fit your needs. I personally have a Kuvings and an OptimumH3000 (yes, I'm an appliance hoarder), and have also owned a Hurom in the past. I can say they're all amazing (except for Breville lol) – but of course, this is my personal opinion. I was not sponsored or paid by any of these brands cos I keep it real. Peace out!
Pssst: Need some juice recipes? Click here.