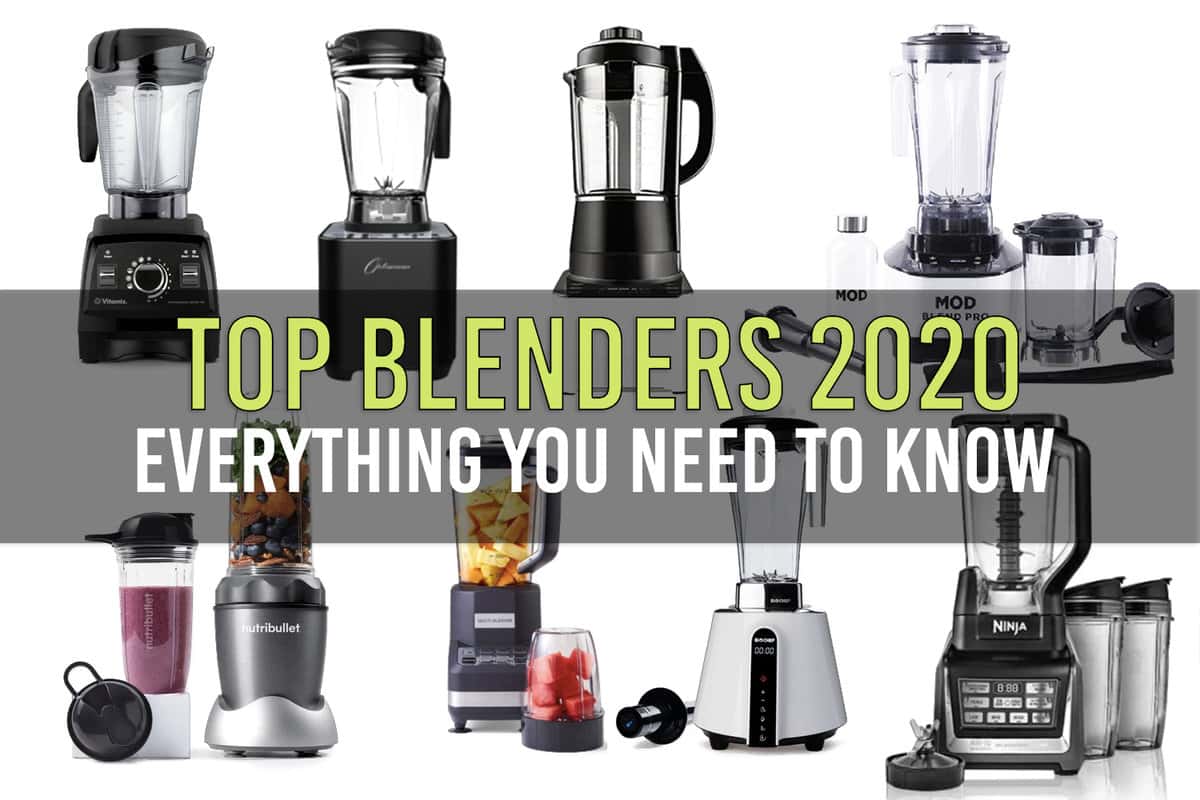 Are you looking for a blender that will last you a lifetime? Sick and tired of bullsh*t appliances that break down after one or two months? I KNOW I AM! In the last 5 years, there has been an exponential increase in demand for quality commercial grade blenders for domestic use. You may have gawked at some of the blenders that you have seen being used in cafes, restaurants and juice chains, only to wonder if you too could have a powerful beast of a blender in your home kitchen. This is what inspired me to write this article on the top 15 blenders in 2020.
Thankfully, there are a number of amazing brands that manufacture high speed, top quality blenders in Australia that are suitable for both commercial and domestic use. Whether you're looking for ultra-smooth smoothies, homemade nut butters or simply an all rounded appliance that can tackle any recipe, we're sure there is a blender on this list that you'll enjoy. Let's get right into it:
FREE EBOOK SERIES! 5 SECRETS FOR FOOLPROOF VEGAN DESERTS
The top 15 Blenders in 2020
1. Optimum G2.6 Platinum Series
First on the list of top blenders in 2020 is the Optimum G2.6 Platinum Series. If there was a blender that was sent down from heaven, it's got to be this one. The G2.6 is a beast of a machine that boasts a 2400W motor, 2 litre jug and 6 blade stainless steel assembly. The G2.6 is by far the most powerful blender by Optimum to date, and can process nut butters, smoothies and so much more in literal seconds.
The G2.6 tackles both wet and dry, meaning you can make your own Almond Meal, flours and process other pulses for cheap and easy. It comes with a digital panel and six pre-programmed settings that include Milkshake, Smoothie, Bisque, Sauce, Mash, and Vegetables. This machine works flawlessly and grinds just about anything in just a few seconds. If there is only ONE blender you're looking to buy, I highly recommend the Optimum G2.6 – the be all and end all of blenders in 2020.
Price: $598 AUD (limited time offer)
Warranty: Lifetime
Watch the Optimum G2.6 in action:
2. Vitamix Professional Series 750
Vitamix is one of the most popular brands of blenders in recent years, and with good reason too. The Vitamix Professional Series 750 in particular, is one of their latest additions to the range. It comes with a commercial-grade 2.2-peak horsepower motor that is able to blend the toughest ingredients.
It comes with a 1.8litre jug, which is a tad shy from the 2 litres that the Optimum G2.6 offers. However, 1.8litres is more than enough for everyday practical use in a domestic setting. The 750 also boasts 5 pre-programmed settings that include Smoothies, Hot Soups, Frozen Desserts, Purées, and Self-Cleaning. This is one short of the Optimum G2.6 that has pre-programmed settings for Bisque and Mash. However, if you're not the most adventurous cook, the 750 is ideal.
The Vitamix 750 is more compact than its classic predecessor, and a much better fit for home kitchens as it doesn't take up as much space as previous models. It is also significantly cheaper than previous classic models, making it a great option for those who don't want to spend thousands of dollars on a good blender.
Price: $599.95 AUD
Warranty: 7 Years
Watch the Vitamix Pro 750 in action: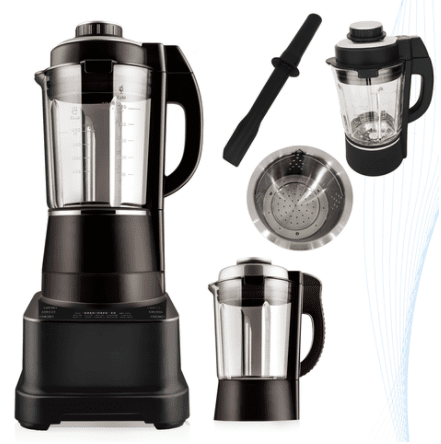 3. Optimum Evolve
At number 3 we have yet another contender from Optimum, this time with the Optimum Evolve Blender. This Blender comes with 2 glass jugs – as opposed to many other brands that only offer plastic jugs. The benefits of a glass jug is that it doesn't dull over time and can handle piping hot soups, nut milks and other hot ingredients. It also boasts 2400w max motor power, meaning it can handle almost anything you throw into it.
The Evolve comes with a Hot Jug and a Cold Jug. The Hot Jug boasts an internal steaming basket that allows you to cook rice, vegetables and other grains with the blender's pre-programmed "Steam" setting. The other 7 pre-programmed settings include Smooth Soup, Chunky Soup, Crushed Ice, Smoothie, Baby Food, Nut Milk and Raw Soup.
The Evolve is by far the most versatile blender on its list thanks to its multiple functions, but the one thing that TRULY stands out about this blender is its voice control function. Yes, you read that right. Voice control. You can talk to this blender with a range of command phrases and you can even hook it up via bluetooth to your smartphone or tablet. The Evolve is truly an out of this world blender and harnesses the power of technology like none other.
Oh, not to mention the vacuum function that sucks all air out of the blender prior to blending in order to prevent foamy smoothies or overly aerated ingredients. The vacuum also serves as a way to reduce oxidation of veggies and fruits in order to preserve the maximum amount of phytonutrients. Woohoo!
Price: $899 AUD
Warranty: Lifetime
Watch the Optimum Evolve in action:
4. Blendtec Classic 575
You may remember Blendtec from their oh so popular "Will It Blend?" series in the late 2000's. I mean, who doesn't remember how they blended an iPhone? My heart cries. The Blendtec Classic 575 is a commercial grade blender that is also suitable for domestic purposes. It boasts a 1560w motor, which in comparison to the other blenders on this list may seem a little lacklustre.
The 575 has a plastic jug and comes with 5 incremental speeds + Pulse and two timed cycles that free your hands for other kitchen tasks while creating a wide range of recipes, including soups, bread dough, and ice cream. You simply choose a 60- or 90-second setting and let your blender do the rest. Again, in comparison to the myriad of pre-set programmes that the Vitamix and Optimum blenders offer, the Blendtec does pale slightly in comparison.
However, it is still a fantastic blender that is used by many commercial establishments such as Boost and is a relatively compact blender that is easy to fit into most kitchen decor.
Price: $699 AUD
Warranty: 8 Years
Watch the Blendtec in action:
5. Breville The Boss BBL915
Breville is a popular brand in Australia and has recently upped their game in the blender department. Once upon a time, all you could expect from a Breville was a semi-decent blender that was overshadowed by giants such as Optimum and Vitamix. Fast forward to 2020 and Breville The Boss BBL915 takes its place as the fifth contender on this list.
The Breville Boss®features a high velocity ProKinetix® blade and bowl system that pulverizes virtually any combination of ingredients. It also comes with 12 speed settings and a large 2 litre shatter proof jug. The Boss also has several one touch settings similar to the other blenders on this list.
In terms of aesthetics, The Boss, in my opinion, has a long way to go. It's somewhat bulky design and kitschy silver exterior look a little like what you'd expect to see in your grandma's kitchen in the 90s. While it certainly is a good blender, it's in no way the sexiest looking one which may prove to be a problem for those who want their kitchen to SHINE.
Price: $799 AUD
Warranty: 7 Years
Watch The Boss in action:
6. Optimum 9200A 2nd Generation
Optimum does it once again, with its third contender on this list. The Optimum 9200A 2nd Generation was rated #1 blender on Product Review and Choice, so you know this one's a good one. The people have spoken!
The 9200A boasts a 6 blade assembly and a powerful 2611W power which blows Blendtec out of the water. I'm pretty sure that the 9200 has been one of Froothie's top sellers year after year, and I personally know at least 5 people who have one sitting on their kitchen counter. The 9200A makes Nut Butter, Crushed Ice, Smoothies, Soups, Frozen Fruit Ice Cream, Juice and also boasts commercial functions such as a Proprietary Carbon Brush Motor and Intelligent Overload Protection.
The most impressive bit of the 9200A has got to be its price – at a shockingly low $398, this blender is an absolute STEAL. GO GET ONE!
Price: $398 AUD
Warranty: 10 Years
Watch the Optimum 9200A in action: https://youtu.be/yZk-laoNwi0
7. Vitamix 5200
The Vitamix 5200 is the classic Vitamix that you've probably seen over the years. This is actually the first ever high speed blender that I purchased in 2014, and it still works absolutely perfectly now in 2020. I've made countless raw cheesecakes, smoothies and milkshakes in this bad boy and it has never let me down.
The 5200 easily blends frozen drinks and creamy desserts in minutes and has an adjustable variable speed to achieve a variety of textures. The dial can be rotated at any point during the blend, so you're in complete control. The blades in the Vitamix container reach speeds fast enough to create friction heat, bringing cold ingredients to steaming hot in about six minutes. Whilst you can indeed make soups in this, it is no comparison to the soups made in the Optimum Evolve as the Evolve actually steams ingredients prior to blending.
Price: $449.95 AUD
Warranty: 7 Years
Watch the 5200 in action: https://youtu.be/I6Fo0udCzqI
8. Biochef Living Food Vacuum Blender
I've gotta say, Biochef is not a brand I'm too familiar with, but it seems to have rave reviews all over the internet. The Biochef Living Food Vacuum Blender is a versatile, high-performance blender that offers a powerful, 1680w commercial motor. You also have the option of standard or vacuum blending that is complete with a 6-pronged, Japanese Stainless Steel blade system.
The Vacuum Blending Accessory, which comes as a separate attachment, quickly and quietly removes the air from the jug prior to blending, which preserves the nutrition, flavour and colour of the ingredients as well as resulting in a smoother, richer, foam-free texture. This is very similar to the Optimum Evolve, and another great feature of the Biochef. In terms of design, I really love the shape of the Biochef's base as I've never quite seen a blender that looks like it. It would be the perfect addition to any modern kitchen!
Price: $579 AUD
Warranty: 10 Years on Motor, 7 Years on Parts
Watch the Biochef in action: https://youtu.be/t7LrAR4i80U
9. Ninja HB150
Ninja is another popular brand that has been around for years and is loved by many. The Ninja HB150 has the regular crushing power you would expect from a Ninja with an added ability to cook ingredients like proteins and vegetables.
The 150 has an 800-watt precision heating element boils in minutes to unlock and amplify flavours in every drink, soup, and sauce. This is similar to the Optimum Evolve that heats ingredients up prior to blending. Additional features include 12 intelligent programs for blending and cooking possibilities at the touch of a button. The HB150 also comes with a 1000w motor which is impressive, but unfortunately nowhere near the power of a Vitamix or Optimum blender.
However, the Ninja HB150 is very modestly priced at a more than affordable $399, which may make it a better option for those who aren't looking to break the bank when purchasing a blender.
Price: $399 AUD
Warranty: 1 year
Watch the Ninja HB10 in action: https://youtu.be/XDleOqmerlI
10. Nutribullet Blender Combo 1000
Unless you've been living under a rock, you've probably heard of the NutriBullet. The Nutribullet is the ultimate compact blender that is ideal for anyone who isn't looking for something that is too high end but still in search of quality.
The Nutribullet Blender Combo 1000 comes with multiple speeds, a pulse function, extraction capabilities and a vented lid to accommodate hot ingredients. The 1000 is a full-sized unit that gives you more capacity, more power, and more versatility than the standard Nutribullet and allows you to blend and extract a much wider range of dishes and recipes.
Don't worry though, the Combo 1000 still comes with the classic NutriBullet 700ml cup for ease and portability, along with a 500ml travel cup, tamper and pitcher lid with lid cap.
Price: $229 AUD
Warranty: 1 year
Watch the Nutribullet 1000 in action: https://youtu.be/unZr8o2b9MQ
11. Omniblend-V
The Omniblend-V comes with a 1.5litre jug, which is a little smaller than most of the other blenders on this list. However, OmniBlend V has both automatic and manual controls which allows users to set & forget. The OmniBlend-V is an extremely versatile food preparation machine that can be used for smoothies, soups, nut butters, nut milk, ice cream, grind grains into flour, coffee beans & more.
Similar to the Optimum Blenders, the Omniblend-V also comes with a 6 blade assembly, powerful 2238W motor and metal drive sockets that apply all power directly to the blades, eliminating slippage and premature wear that is usually seen with plastic drive couplings.
All in all, the Omniblend-V is a fantastic mid-range priced blender that gives you top of the range power and is also a great first time high speed blender for anyone who is new to the blender game.
Price: $479 AUD
Warranty: 1 Year
Watch the Omniblend-V in action: https://youtu.be/tw5w02hIORo
12. Phillips High Speed Vacuum Blender HR3756/00
Don't knock it till you try it – some may assume that Phillip's has no place in the high speed blender race, but they've really upped their game with the HR3756/00. This blender comes with 3 pre-programmed settings that include Smoothie, Pulse and Ice Crushing. Whilst this is far less than most of the blenders on this list, I've got to give props to Phillip's for offering a blender with 1400w at a reasonable price. 1400w is more powerful than the Ninja, and almost as powerful as the Blendtec, which puts it in between these more popular brands. Bravo Phillips!
This blender also comes with vacuum technology which sucks the oxygen out of the jar before blending. This is very similar to the Optimum Evolve and Biochef blenders mentioned in this list, which impresses me a fair bit considering Phillip's notoriety as our usual run of the mill appliance brand.
Price: $429 AUD
Warranty: 2 years
Watch the HR3756 in action: https://youtu.be/yxsZU-pghk4
13. Sunbeam PB8080 Two Way
Sunbeam is another brand that one may not expect much from, but they're here to wow us with the Sunbeam PB8080 Two Way Blender. This bay boy comes with an extra wide 9cm reversible blade system that changes the direction of the blade motion to make sure all ingredients get drawn into the vortex for a smoother and more even blend. PB8080 also comes with 7 functions that let you choose from 3 pre-programmed recipes (Smoothie, Chop/Salsa and Milkshake) or 4 manual settings. This blender also comes with a 1100W motor, which isn't the highest on this list but is more than one would expect from a Sunbeam appliance. At $199, this is the second cheapest blender on this list and honestly if you're someone with a limited budget, I'd recommend this in a heartbeat.
Price: $152 AUD
Warranty: 1 year
Watch the Sunbeam PB8080 in action: https://youtu.be/6lpQGn4dXeQ
14. Mod Blend Pro
You may have seen an ad by Mod on Facebook or Instagram recently. They're an upcoming brand that sells a range of juicers and blenders. The Mod Blend Pro is one of their most popular blenders and includes 5 intelligent pre-set programs, instant pulse and touch swipe multi power, all effortlessly controlled from a stylish digital display.
This is one of the few blenders on this list that boasts a digital display, the others being the Optimum G2.6 and Evolve. Whilst this isn't a "must-have" feature, I do enjoy the sleek look of a digital display.
The Mod Pro also comes with a generous 2 litre jug and a cool little drink flask that I actually think looks sleek AF. In terms of power, it boasts a 3.5 horsepower motor which beats even the Vitamix 750. Honestly pretty impressive for a $399 blender!
Price: $399 AUD
Warranty: 5 years
Watch the Mod Blend Pro in action: https://youtu.be/jmaiY5DZDkU
15. KMART Digital Blender
Last but not least, our token budget pick – every article needs one in my opinion. I've heard rave reviews about Kmart appliances, from their toasters to their air fryers, pie makers and waffle makers. I must say, the Kmart Digital Blender is of course, with no surprise, the cheapest blender on this list. Now, in no way am I saying it compares to any of the other blenders on this list, but if you're someone with a budget under $100, this may be the ideal option for you.
For a cheap blender, you get 10 pre-set functions, ice crushing function, 1 grinding cup, 1 lid and 2 blades. In terms of power, all you're going to get is 700w, but hey, for $49.00, you can't really complain or expect more. Aesthetically, I'm actually quite impressed by the sleek design of this blender and I think it looks more expensive than the Breville Boss (sorry Breville). It's got a full 5 star rating on the Kmart website, so hey, BRAVO K MART, you made it into the top 20 blenders in 2020 list!
Price: $49 AUD
Warranty: 1 year
———
And there you have it – a comprehensive list of the top blenders in 2020! Most of these blenders will carry their "best blender" title way past 2020 I'm sure. With a wide range of options in terms of price, power, speed and versatility, I hope that this article has helped you decide which blender is the best for you!