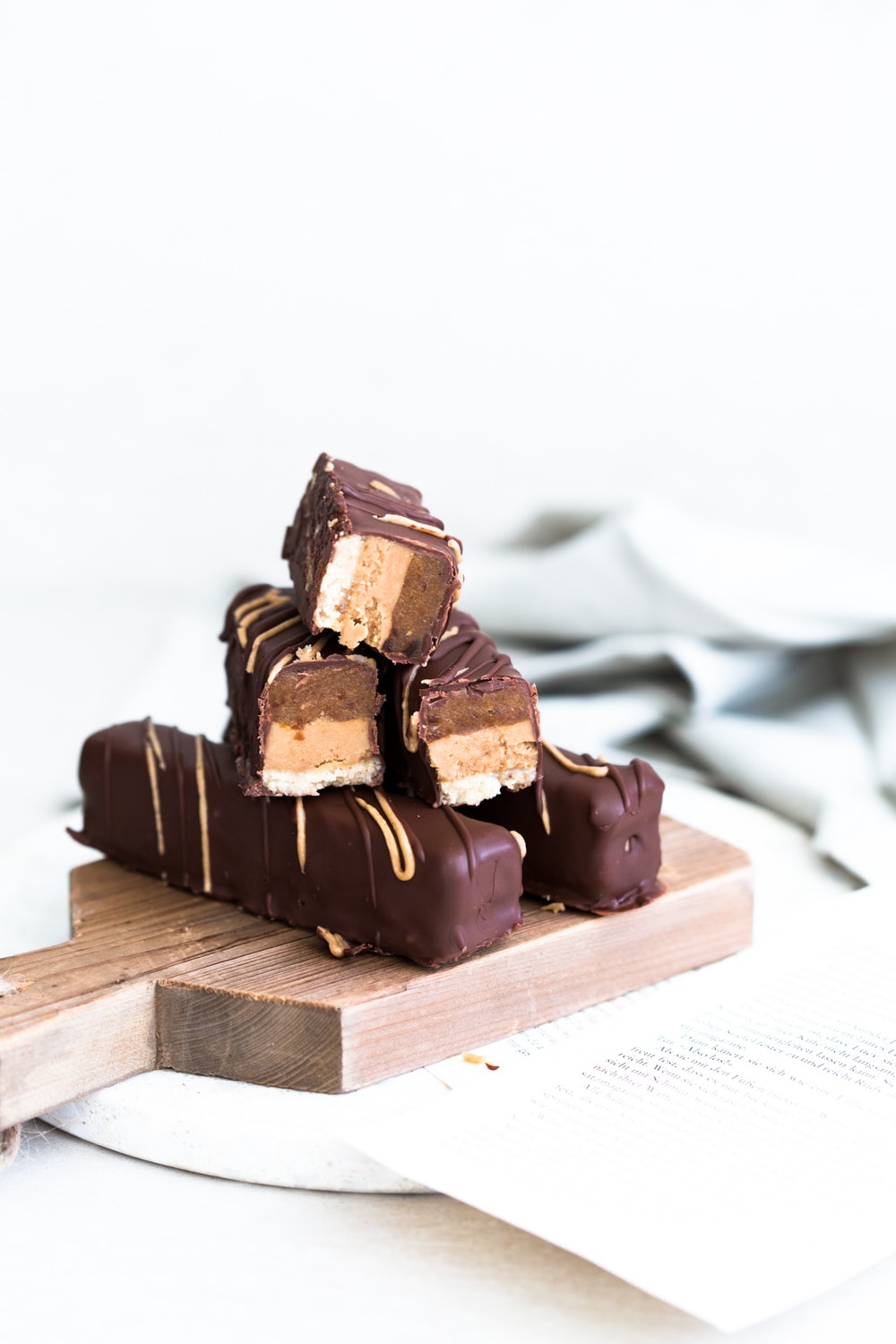 I love a Twix bar, I must admit. Twix was probably one of my favourite chocolate bars as a kid, but hey who am I kidding, anything would have pleased my lazy ass 10 year old self. Anything with calories was music to my ears, beats to my heart and tingles in my coochie. Today, I bring you a combination of 2 of my favorite things of all time – the Twix bar meets my arch nemesis, Biscoff Spread. These Vegan Twix Bars are Gluten Free, Dairy Free (duh lol), and sandwiched with a generous layer of Biscoff Spread.
What is Biscoff Spread?
Biscoff Spread, aka Cookie Butter if you're a Trader Joe's junkie, is a spread that is made from Speculoos cookie crumbs and is a common alternative to nut butter and chocolate spreads. I'm pretty sure it originated somewhere in Europe (not bothered enough to do the Google research), but trust me when I say it is bloody delightful. I usually end up sticking my fingers into a jar at 2am like a complete and utter monster, but that is a story for another day. Note, Biscoff Spread is NOT Gluten Free, so if you want a GF version of these Twix Bars, make them with the suggestions I've made in the next section!
What If I Don't Like Biscoff or am Gluten Intolerant?
Hey, no worries, if you don't like Biscoff or if you're Gluten Intolerant. You are more than welcome to leave it out and you will have a delicious plain Vegan Twix Bar that you can chomp down on. Some other options that you can use include:
FREE EBOOK SERIES! 5 SECRETS FOR FOOLPROOF VEGAN DESERTS
Peanut Butter 
Chocolate Spread (Vego is a great Vegan one)
Sunflower Butter 
How Do I Make Vegan Twix Bars?
Simple as pie, except it's not pie, it's a Vegan Twix bar recipe.
Step 1: Combine Almond Meal and a bunch of other fun ingredients (Refined Coconut Oil, Agave Nectar, Vanilla, Sea Salt) until it form a nice dough, and then pat into a 8×8 inch square tin that is lined with baking paper. If you're insane and love a challenge, don't line the tin. Instead, you can just rub your face into the tin and call yourself the Twix monster.
Step 2: Freeze the Almond base for 10 minutes and then top with a generous layer of melted Biscoff Spread. Pop back into the freezer whilst you make a simple caramel out of blended Medjool Dates, Almond Butter, Sea Salt, bish bash bosh.
Step 3: Spread caramel onto your Biscoff layer and then pop the tin into the freezer for anywhere between 4-6 hours, ideally overnight.
Step 4: Once frozen, slice into bars and dip in melted Vegan Dark Chocolate.
How Do I Store Vegan Twix Bars?
Well, kept in the freezer these bastards will last till the world ends (which at the current rate we are going at, is September). In the fridge, these bars will store in an air-tight container for up to 1 week. I suggest keeping the ones you want to eat in the fridge so that the caramel remains soft and gooey, and storing the rest for later in the freezer.
What Else Do I Need To Know?
Nothing, bro. Don't you love how I don't give you a long ass story about my husband and kids (don't have either) or about how the winter season really gets me feeling creative and inspired to stick rhinestones on my vagina? Well, onto the recipe then! Hope you enjoy these Vegan Twix Bars with Biscoff Spread as much as my thighs loved them. Peace and love! Don't forget to hit me up on Instagram and slide into my DMs too, god knows I'm bored as hell.
Similar Recipes You May Enjoy:
Vegan Snickers Bars
Vegan Bounty Balls 
Vegan Snickers Ice Cream Bars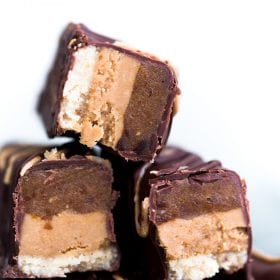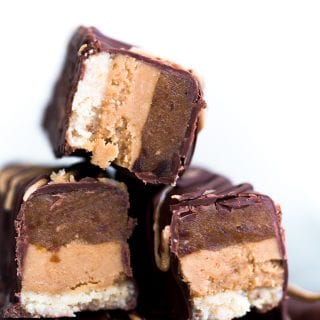 Vegan Twix Bars with Biscoff Spread
Delicious Vegan Twix Bar with date caramel and a generous layer of Biscoff Spread in the middle. Gluten Free and (almost) Refined Sugar Free.
Ingredients
Almond Base:
150

g

Ground Almonds

60

g

Refined Coconut Oil

50

g

Agave Nectar or Rice Malt Syrup

1

teaspoon

Vanilla Extract

Generous pinch of Sea Salt
Biscoff Layer:
180

g

Biscoff Spread

smooth variety
Date Caramel:
250

g

Medjool Dates

weighed after pitting

90

g

Almond Butter

or Peanut Butter/Sunflower Butter

20

g

Refined Coconut Oil

1

teaspoon

Vanilla Extract

Generous pinch of Sea Salt
Chocolate Coating:
200

g

Vegan Dark Chocolate*

2

tablespoons

melted Refined Coconut Oil
Instructions
Line an 9x5 inch loaf tin with baking paper and set aside.

In a large bowl, combine all ingredients for the almond base. Once a dough forms, press into the bottom of your lined tin and pop in the freezer for 10 minutes.

Melt your Biscoff Spread in the microwave for a few seconds until viscous runny. Pour over the prepared base and pop back into the freezer.

Soak Dates in warm water for 5 minutes and then drain thoroughly.

Combine Dates into a high speed blender (I used my Optimum G2.6 by Froothie) with the remainder of the caramel ingredients and blend until smooth.

Spread caramel over your Biscoff layer and then pop into the freezer for at least 4-6 hours, ideally overnight.

Remove bars from the freezer and cut into 8 thin slices that resemble a Twix bar.

To coat, melt your chocolate and stir coconut oil in. Quickly dip your bars into the chocolate to coat them completely. The chocolate will set almost instantly, so work quick.

Place on a parchment lined tin until you have coated all your bars in chocolate.

Enjoy immediately, or store in the fridge for later.
Notes
*You will not use all 200g of the chocolate, but you need enough to be able to easily coat the bars. Pour remainder of your chocolate onto parchment and allow to set. Break up and store for some other use.
Nutrition
Serving:
1
g
Calories:
294
kcal
Carbohydrates:
38
g
Protein:
4
g
Fat:
15
g
Saturated Fat:
3
g
Sodium:
1
mg
Potassium:
303
mg
Fiber:
3
g
Sugar:
29
g
Vitamin A:
47
IU
Calcium:
59
mg
Iron:
1
mg