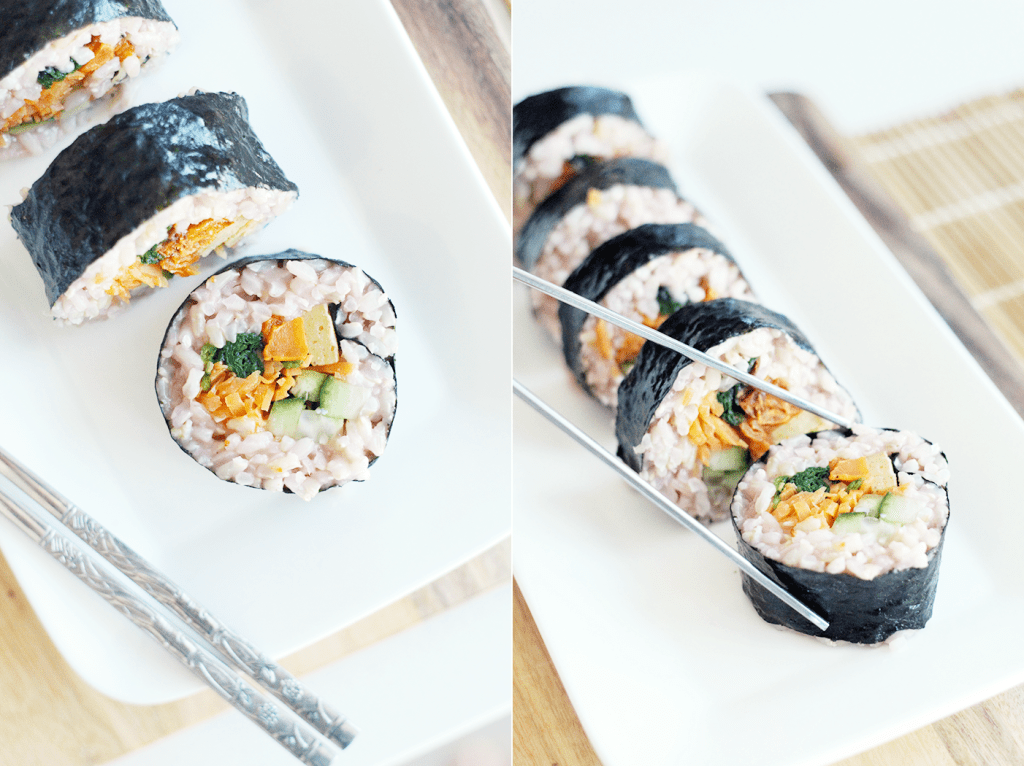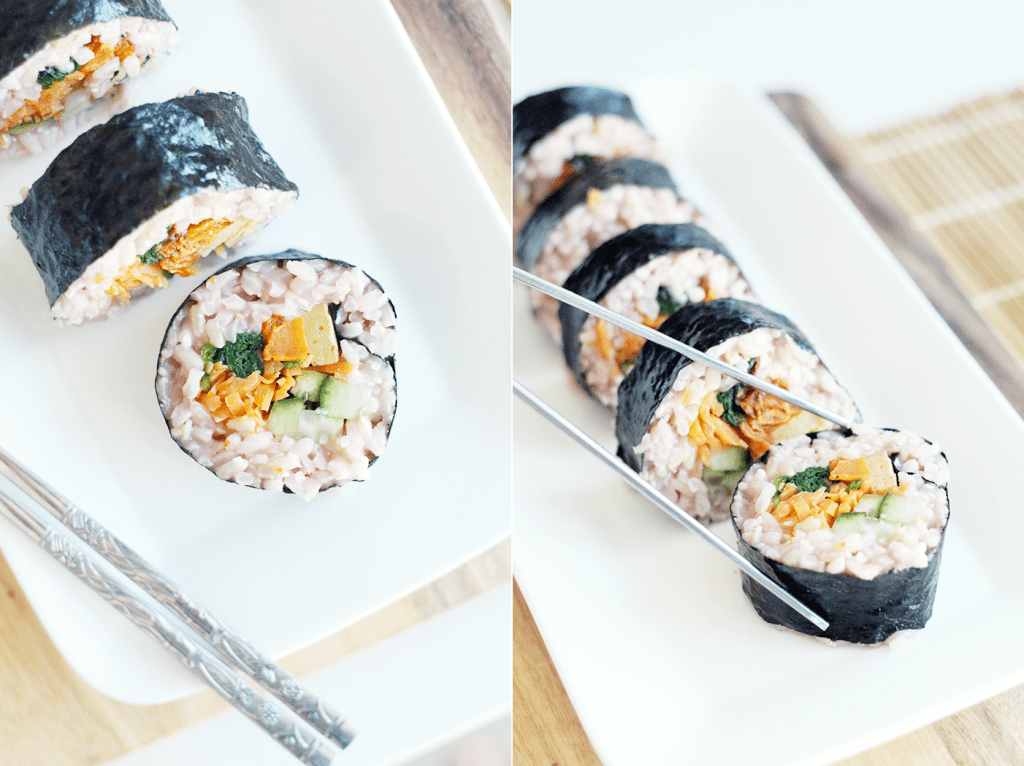 Ever heard of Kimbap? Well, I haven't. Not till my korean friend in high school gave it and gave me a long educational lecture on how it differs from Japanese sushi, that is. Now I'm a Kimbap genius. Thank you, random friend whom I no longer speak to. Kimbap is the korean version of a sushi roll, which incorporates sesame oil into the sticky rice and usually isn't seasoned with vinegar the way sushi always is (although my wife was a little cheeky and did add a little vinegar to the rice).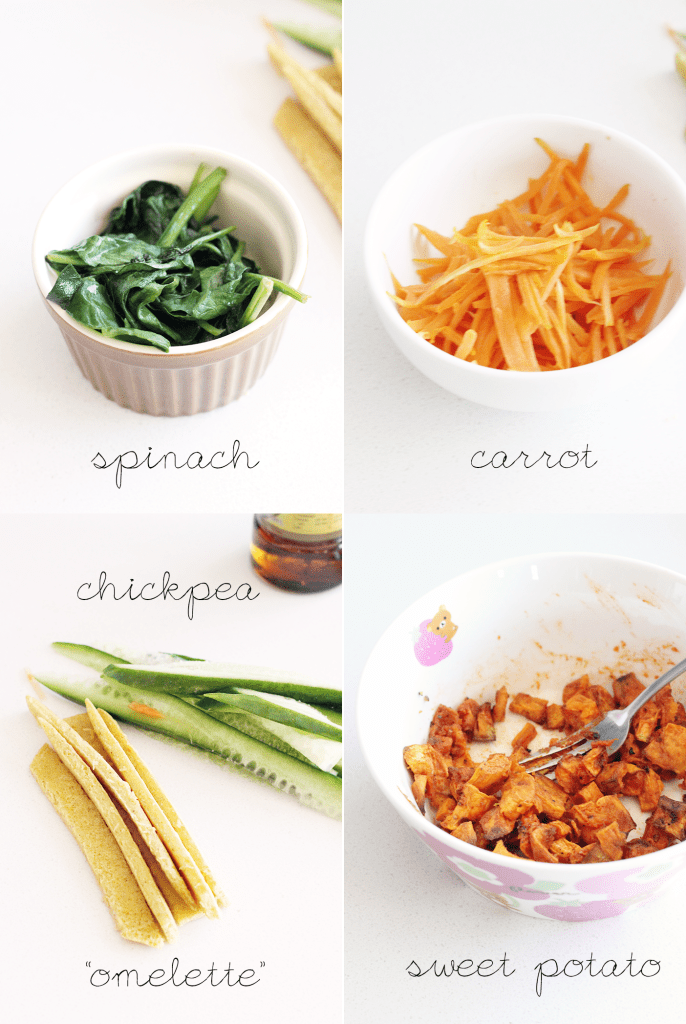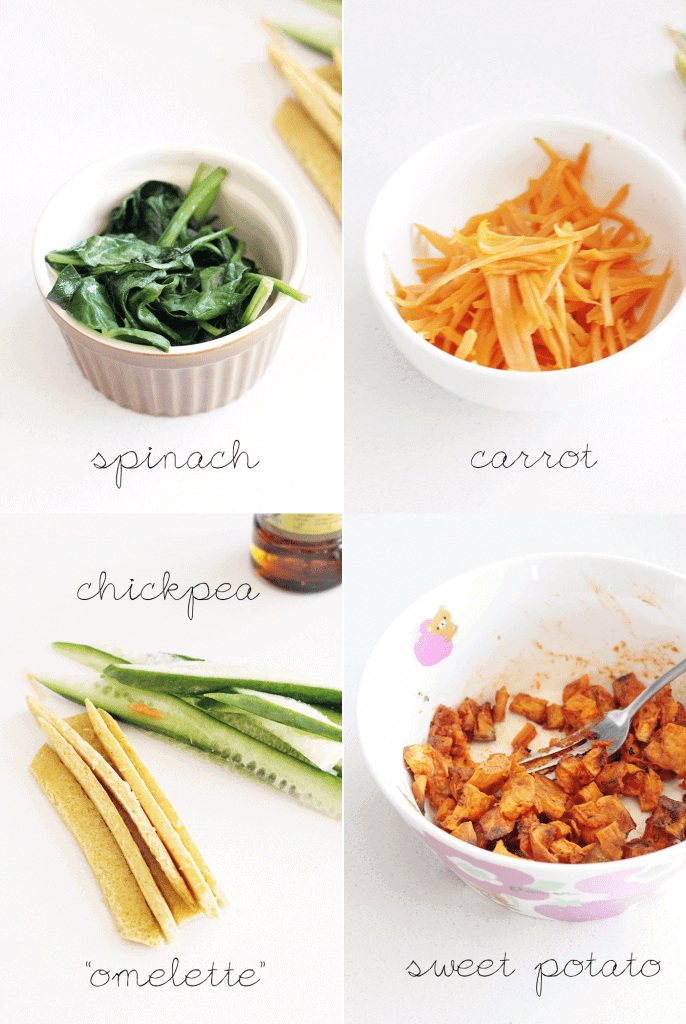 Typically filled with Bulgogi [korean bbq beef] and various other meats, it is usually sold on the streets of Korea and is pretty damn tasty. I decided to make a vegan version today, filled with cucumber, spinach, carrot, chickpea omelette and roasted gochujang sweet potato. I also tried my hand out at using brown rice instead of white rice too, and added a little beet juice to it to give it a lovely purple hue. Brown rice isn't known to be sticky so that was initially a worry, as she wasn't sure if the Kimbap would stay intact or fall apart into a just as delicious Kimbap salad.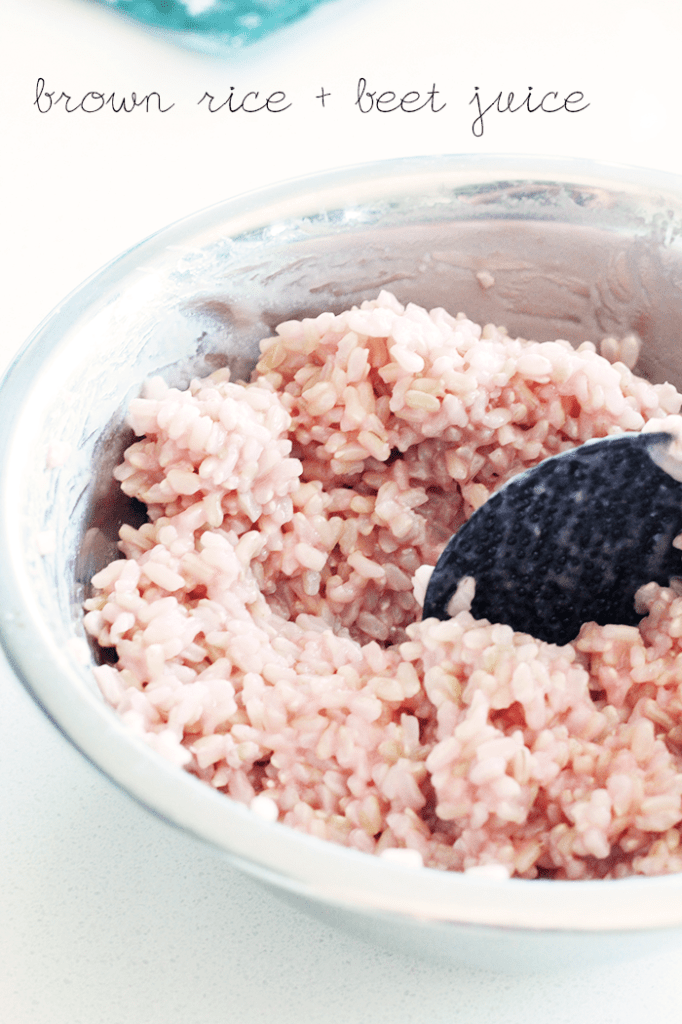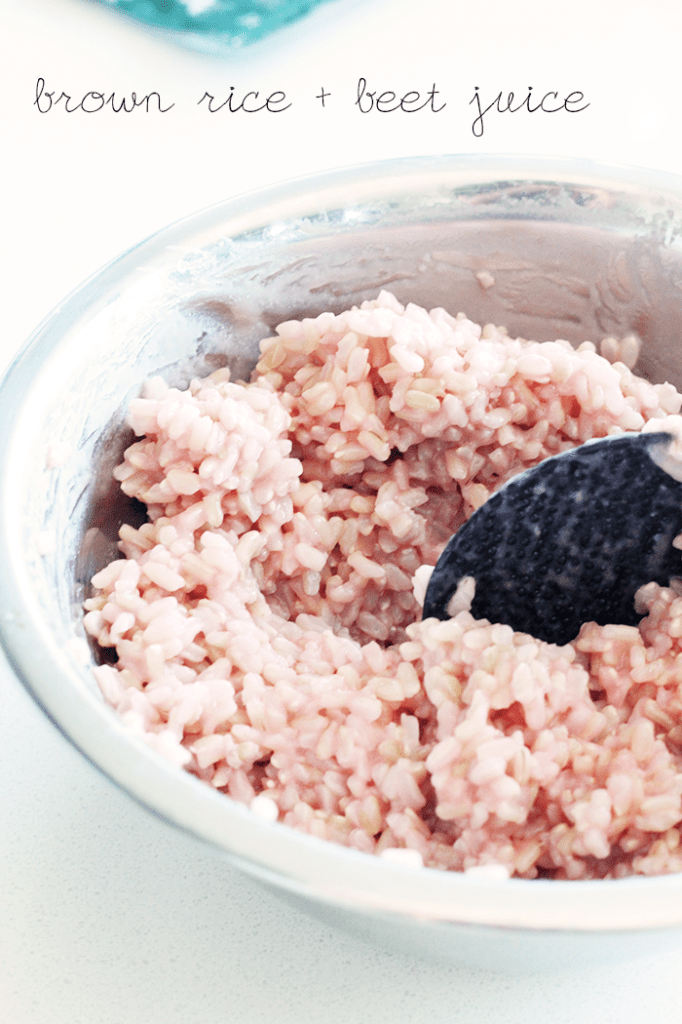 Thankfully, after a little manhandling and lots and lots of cursing, the rice turned out sticky enough to work with and made perfect little Kimbap rolls. I'll leave you the instructions on how to achieve this in the recipe box below 😀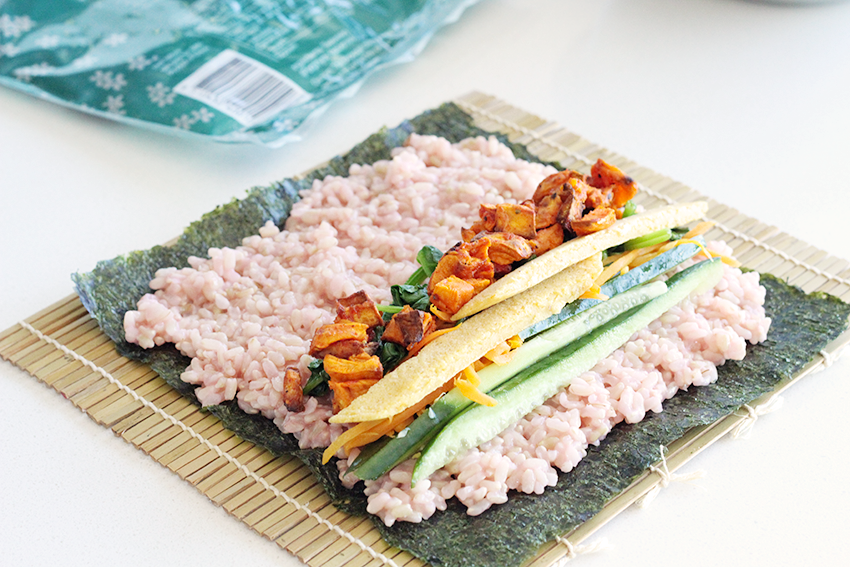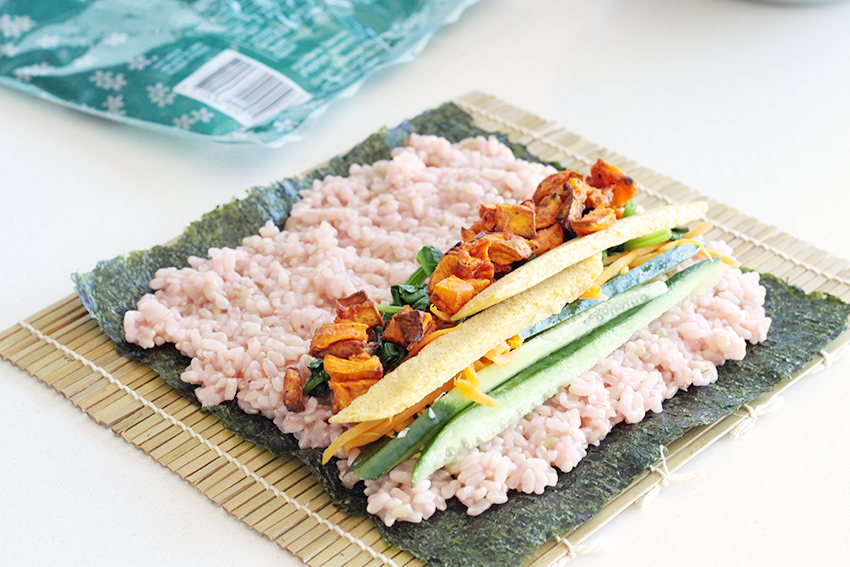 You don't have to fill your rolls with what I use, so use whatever ingredients you fancy, but do give the Gochujang Sweet Potato a try – it is deeeeeeelish. It's sweet, spicy, salty, and robust enough to make you not miss any of the meat that is usually in Kimbap!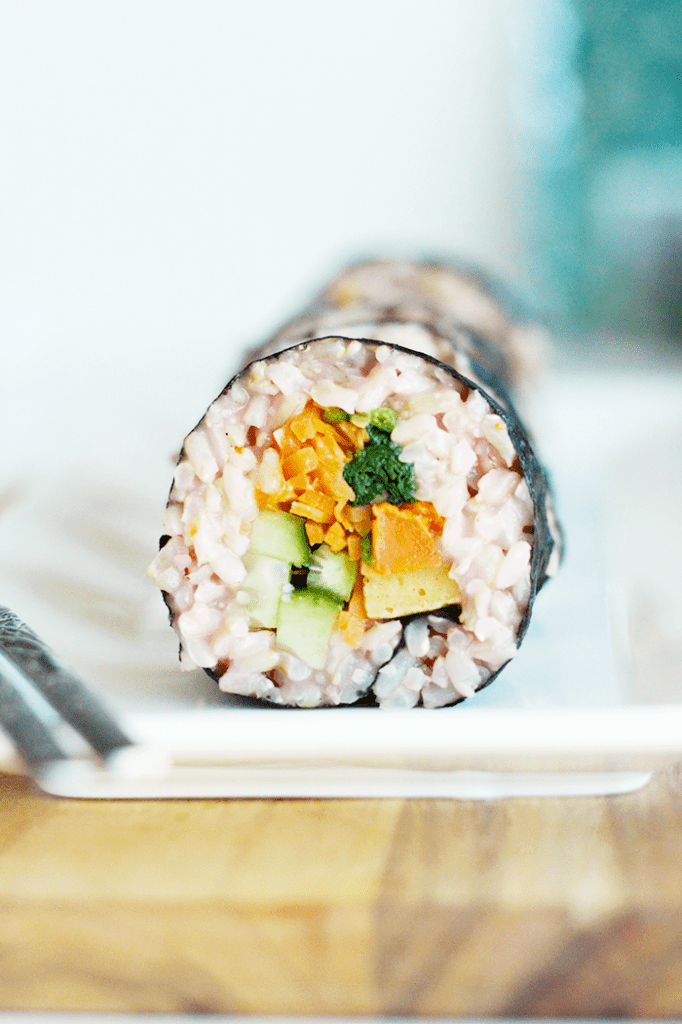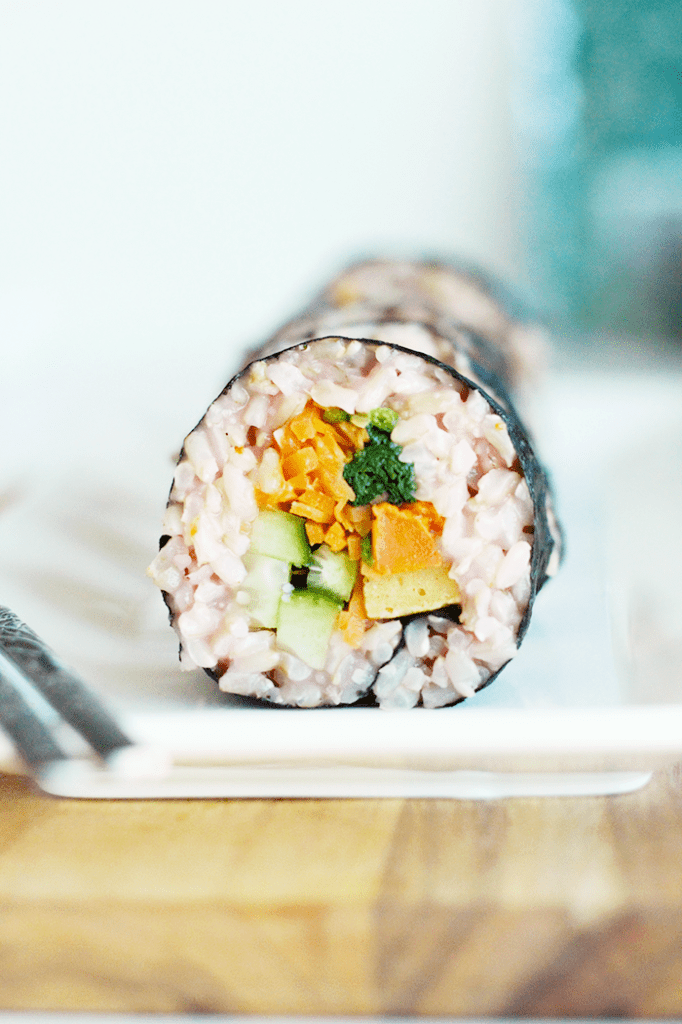 Well, the time has come for me to stuff my face, so I'll leave you with the recipe for our yummy, nutritious and deliciously vegan Brown Rice Kimbap! Adieu for now!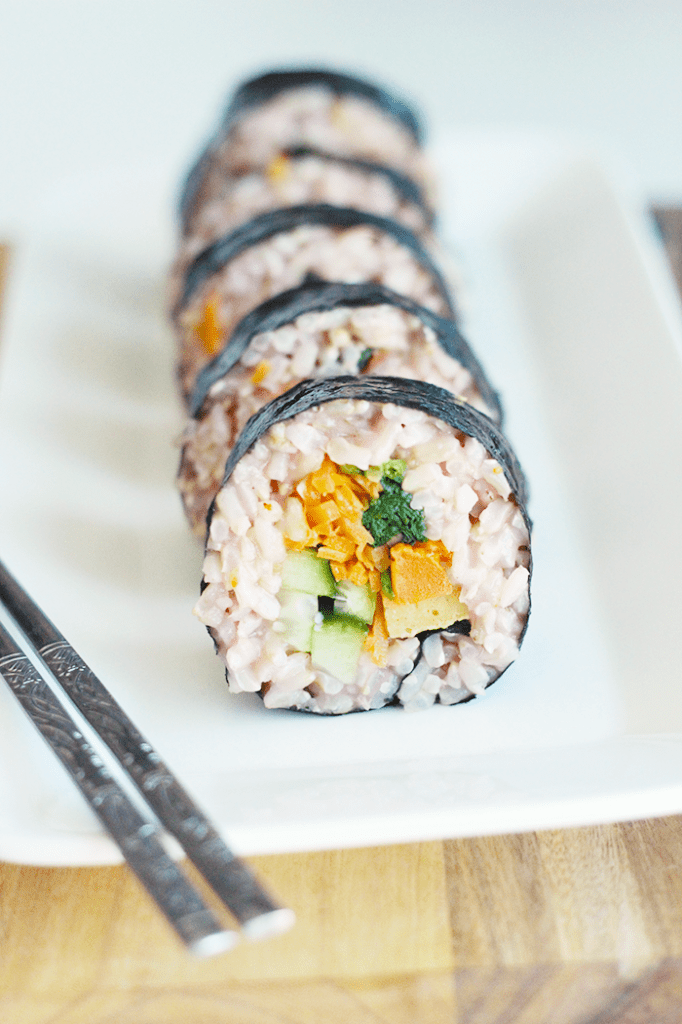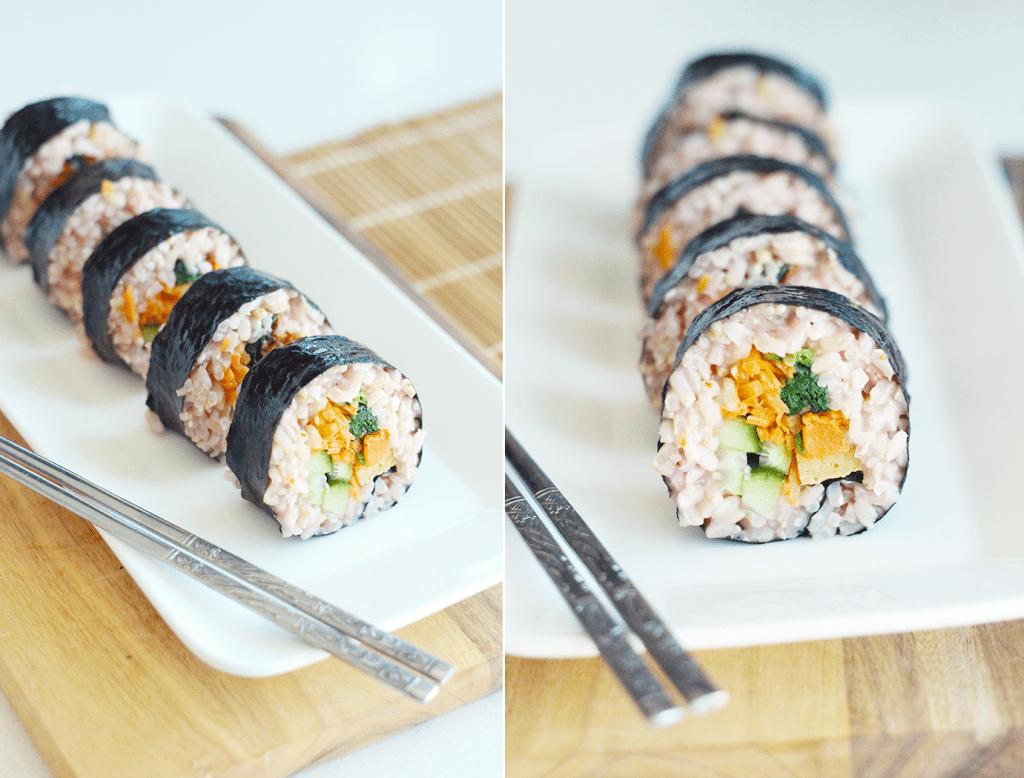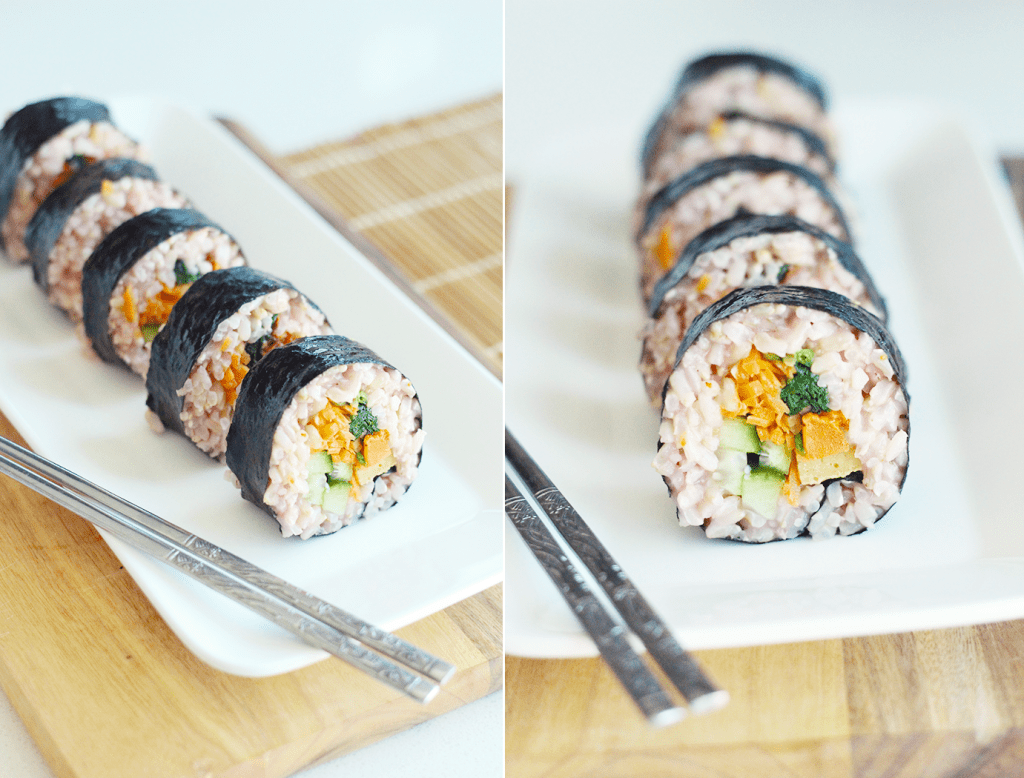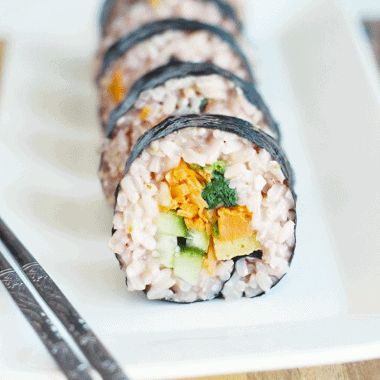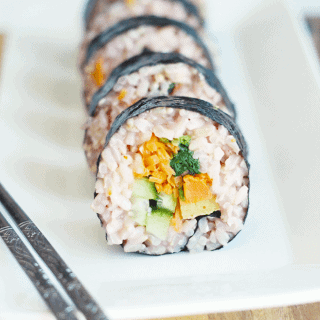 Brown Rice Kimbap
Ingredients
For the rice

1

cup

Short Grained Brown Rice

2

cups

Water

2

tablespoons

Rice Vinegar

1

tablespoon

Mirin

1 1/2

teaspoons

Agave Nectar

1/2

teaspoon

Sesame Oil

1

tablespoon

cold-pressed Beet Juice

Nori Sheets

For the Gochujang Sweet Potato:

1/2

a large Sweet Potato

diced

1

teaspoon

Sesame Oil

Salt/Pepper

1

tablespoon

Gochujang

2

teaspoons

Water

For the Chickpea Omelette:

4

tablespoons

Chickpea Flour/Besan

4

tablespoons

Water

1/4

teaspoon

Black Salt

Kala Namak *

For the Veggies:

2

cups

Baby Spinach

1/2

a Carrot

grated

1

small Cucumber

cut into strips

2

teaspoons

Sesame Oil

Salt
Instructions
Rinse your brown rice in water till the water runs almost clear, and then leave your rice to drain in a sieve for half an hour before cooking it.

In a small bowl, combine your rice vinegar, mirin agave nectar and beet juice. Whisk to dissolve. Set aside.

After 30 minutes of draining your rice, combine with 2 cups of water in a deep saucepan. Bring to a boil and then turn down to a simmer, cover with a lid and cook for 35 minutes. Do not open the lid in between!

After 35 minutes, turn heat off but keep your pot on the hob, covered, for another 15 minutes.

Transfer rice to a bowl and pour vinegar mixture in straight away. Using a paddle, "cut" and "fold" vinegar into rice whilst rotating the bowl at the same time. At this point, I use a mini fan to blow cool air into the rice - this helps it cool rapidly and get sticky. Continue folding, cutting and mixing with the mini fan turned on until your rice is completely cool and sticky.

To assemble your rolls, place a nori sheet, shiny side down on a bamboo mat. Using wet hands, press rice down onto your seaweed and cover most of the sheet with it, leaving a 1 inch border nearest to you. Fill with prepared fillings and roll, jelly roll style. Leave your rolls for 5 minutes before cutting them

Finally, brush some sesame oil on the top of your Kimbap rolls and use a very sharp knife to make clean, beautiful cuts.

For Gochujang Sweet Potato:

Preheat oven to 200 degrees celsius. Combine diced sweet potato, salt, pepper, and sesame oil in a bowl. Toss to coat and then transfer to a baking tray and roast for 45 minutes, till soft.

Once the sweet potato is cooked, immediately transfer it into a bowl and toss it with Gochujang and water, crushing to mash some of the sweet potato slightly. Set aside to cool.

For Chickpea Omelette:

Combine chickpea flour, water and black salt in a bowl. Whisk till smooth, and set aside for ten minutes. After 10 minutes, fry as you would a normal omelette, in a non stick pan. Once cooked, cut into strips and set aside.

For Veggies:

Using 1 teaspoon of sesame oil, sautee carrots with some salt in a pan for 2 minutes. Set carrots aside and repeat the same process with your baby spinach and remaining 1 teaspoon of oil.
Notes
Black salt imparts an "eggy" flavor to food, but if you cannot find it, use regular sea salt. It is usually available at Indian grocery stores.
[yumprint-recipe id='7′]