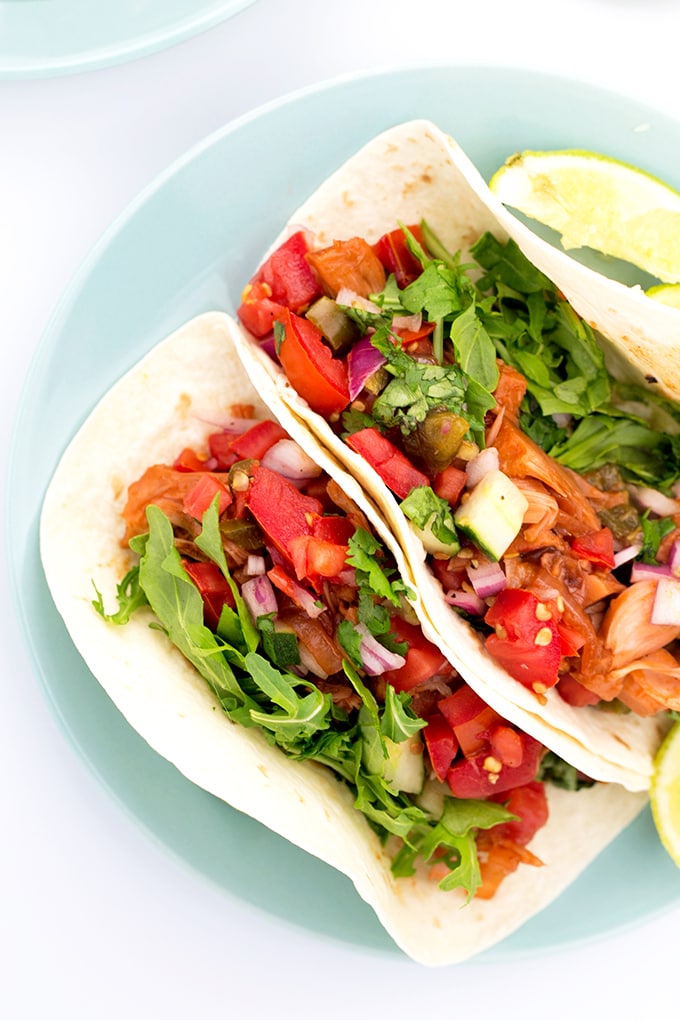 I'm sure that if you are an avid Pinterest junkie you would have heard about the seemingly magical fake chicken made out of Young Jackfruit by now. Guess who's late on the trend? Yours truly, as always. I'm such a rebel. Today's recipe (if you haven't already read the damn title – ha) is for Vegan BBQ Pulled Jackfruit Tacos… With a side of homemade Guacamole and Pico De Gallo. Winner.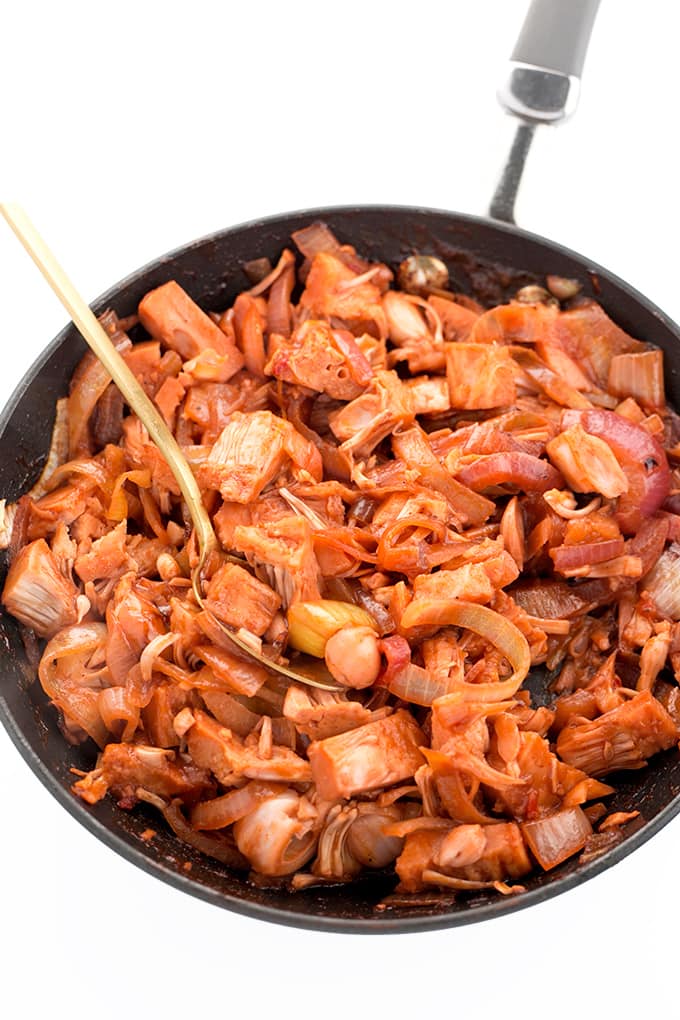 Now, let's cut the bullsh*t. I'm sick of blogs that rave on about how Young Jackfruit tastes "JUST LIKE MEAT OMG OMG OMG MIND BLOWN". Please get phucked. Young Jackfruit, once cooked down, does get stringy in texture, very similar to pulled pork or chicken. I'll give you that. It tastes pretty damn delicious as well. But no, it doesn't really taste like meat. It just tastes like fu*king delicious food that you should make and shove into your belly.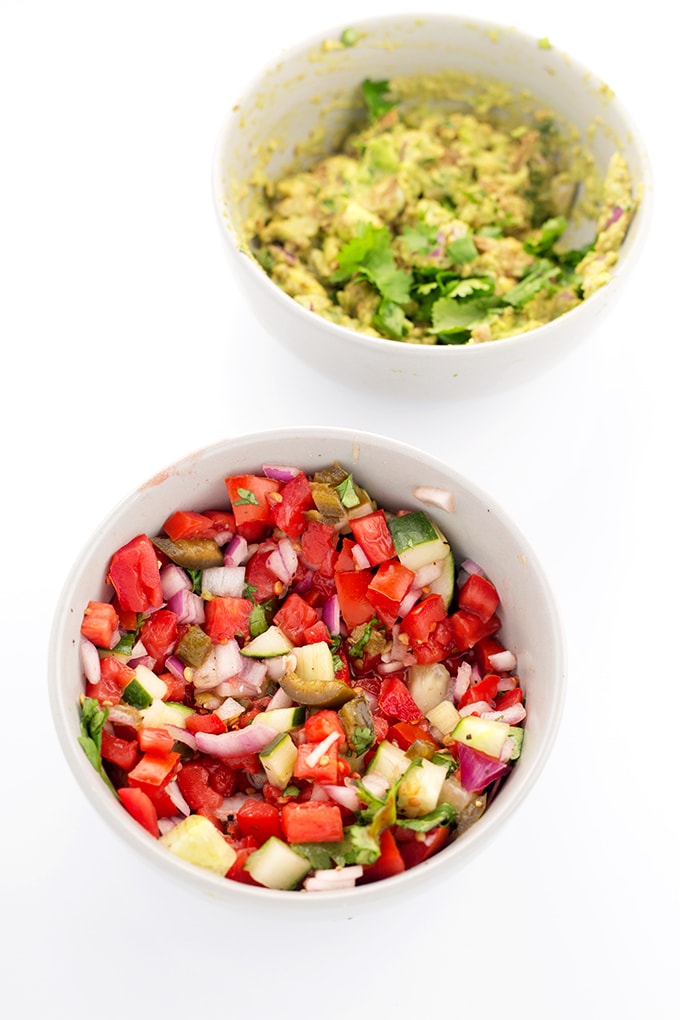 These Vegan BBQ Pulled Jackfruit Tacos are easy as pie to make. First off, I cook my Young Jackfruit with a fair bit of Onions, Taco Seasoning and Vegan BBQ Sauce. Then come the sides that are made in literally 5 minutes. We have a quick Guacamole (Avocado, Red Onion, Lime, Cilantro) and a zesty Pico de Gallo (Tomato, Red Onion, Cilantro, Lime, Salt and a little untraditional addition of Cucumber because I can). Hey Presto! You now have Tacos!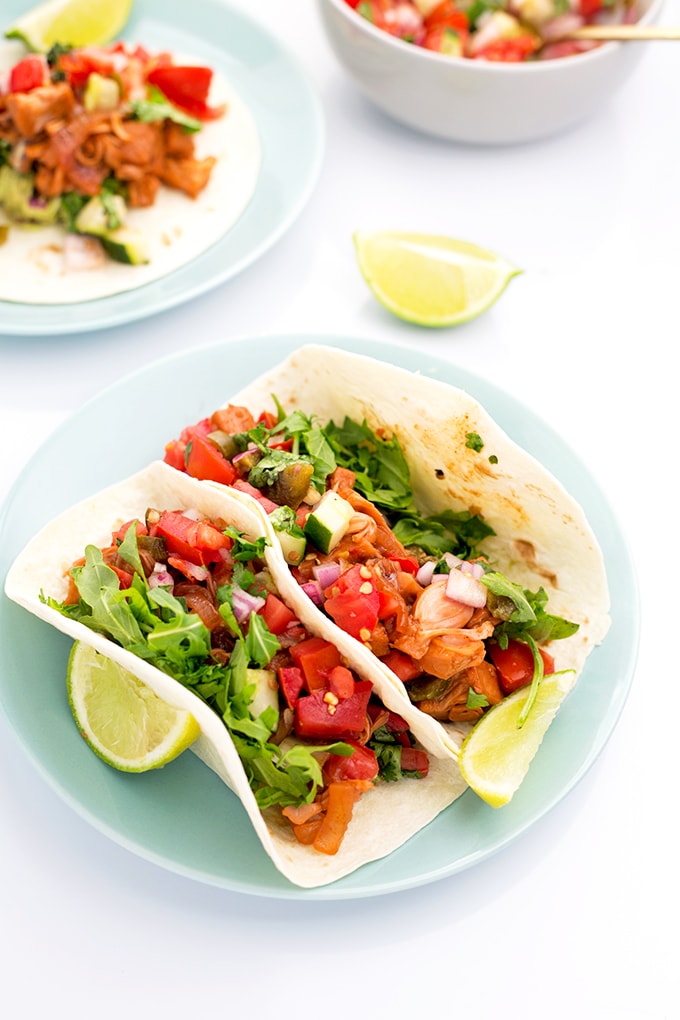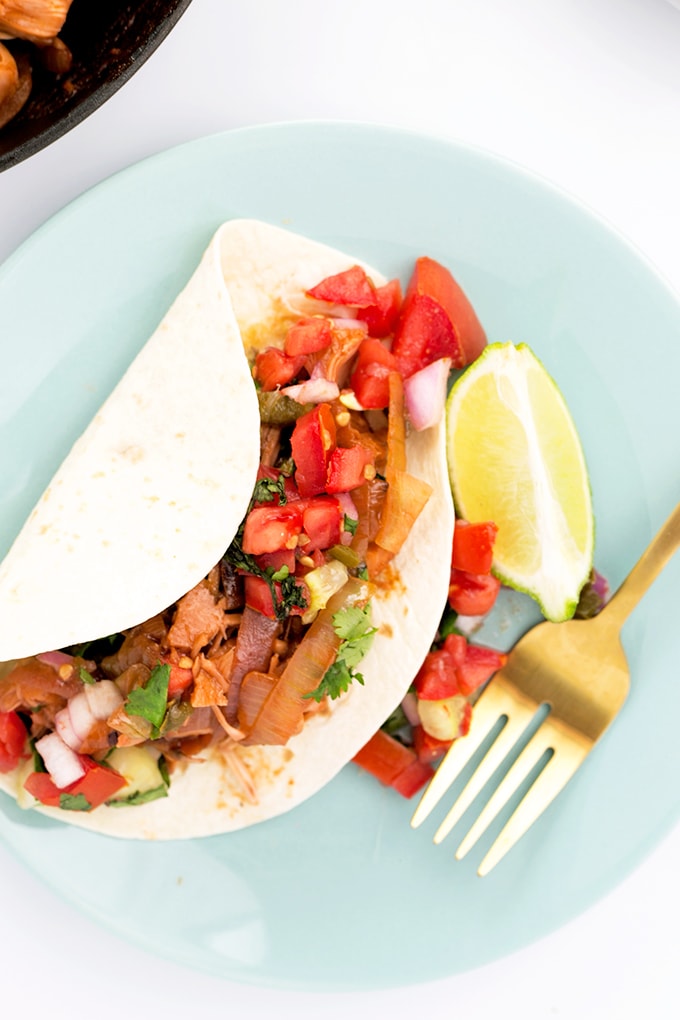 Who says Vegan Tacos have to taste sad and weak? They really don't. If you're keen on a little Mexican that doesn't taste like utter fast food crap, have a go at my Vegan BBQ Pulled Jackfruit Tacos. You won't regret it! (And a moment of silence for the poor Baby Jackfruit that sacrificed his life for this tasty delight). Ciao.

Crazy Vegan Kitchen
Serves 6
Vegan BBQ Pulled Jackfruit Tacos
Vegan BBQ Pulled Jackfruit Tacos with Pico De Gallo and Guacamole. Quick, easy, tastes bloody awesome.
10 minPrep Time
30 minCook Time
40 minTotal Time
Ingredients
BBQ Pulled Jackfruit:
1 10oz can Young Jackfruit in Brine, drained
1 tablespoon Vegetable Oil
1/2 a Red Onion, sliced into crescents
1 White Onion, sliced into crescents
2 teaspoons Taco Seasoning
1/2 cup Vegan BBQ Sauce


Pico De Gallo:
2 Medium Roma Tomatoes, diced
1/4 of a Red Onion, diced
1 tablespoon finely chopped Jalapeño
2 teaspoons fresh Lime Juice
1/4 cup chopped Cilantro
Salt/Pepper, to taste


Guacamole:
1 Avocado
1/4 of a Red Onion, diced
Juice of 1/2 a Lime
1/4 cup chopped Cilantro
Salt/Pepper, to taste


To Serve:
Soft Taco shells
Chopped Lettuce
Chopped Cilantro
Vegan Sour Cream (optional)
Instructions
To make Pulled Jackfruit, heat oil in a pan. Sautee red and white onion till soft, and continue to cook until just slightly caramelised, about 10 minutes on low heat. Add drained jackfruit chunks to the pan and stir well.
Stir in Taco Seasoning and BBQ Sauce. Stir to coat jackfruit pieces and then cover with a lid and cook on low heat for 30 minutes, checking every 10 minutes to make sure it is not burning. Once cooked, use two forks and tear Jackfruit pieces up until it resembles pulled Pork/Chicken.
Prepare Pico de Gallo by combining all ingredients in a bowl.
Prepare Guacamole by combining all ingredients in a bowl and mashing with a fork.
To serve, heat soft taco shells and fill with Guacamole, Lettuce, Pulled Jackfruit and Vegan Sour Cream if you are using it (I didn't). Top with Pico de Gallo and extra chopped Cilantro. Enjoy whilst Netflix and Chilling.
7.8.1.2
74
https://www.crazyvegankitchen.com/vegan-bbq-pulled-jackfruit-tacos/