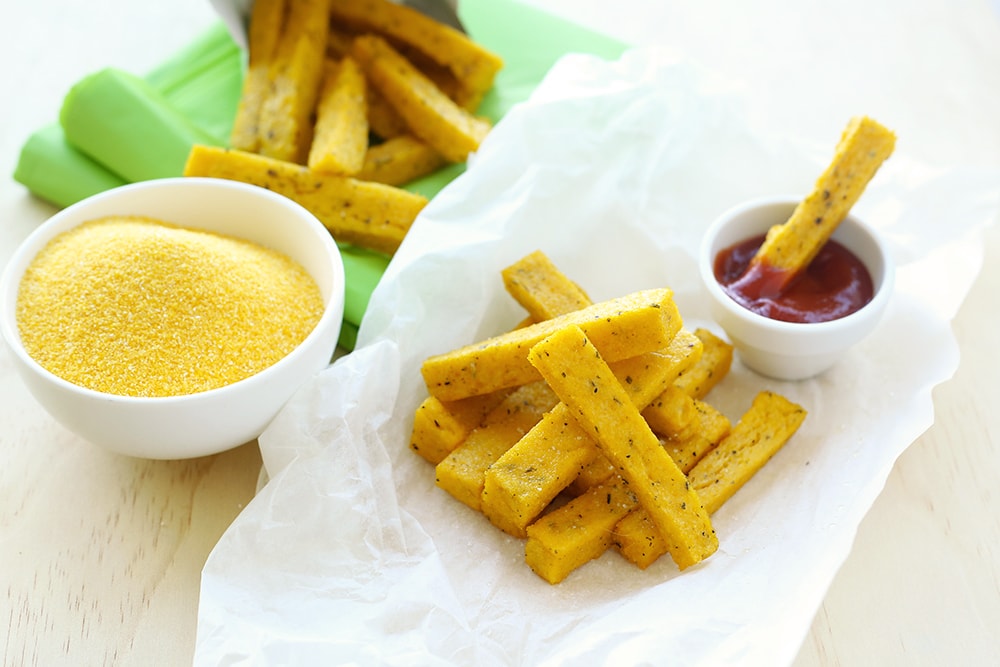 I'M ALIVE! If anyone has even noticed, we've gone AWOL for the past month. Why? I had a boob-job is why. Peace, love and mammories. I did try my best to keep up with blog updates during my down time, but the pain was pretty much unbearable. I tried reaching for the pepper shaker but almost fainted on the floor. Gasp. Oh well, whatever ya'll! The important thing is that I'm back again with a brand new easy recipe for baked polenta fries (or polenta chips, depending on where you're from but who cares)! And, yes, this baked polenta fries recipe is also vegan – and they won't make you a fat a$$ on a segway!
Looking at these photos you may THINK that these baked polenta fries / chips look and taste a lot like 'normal' tater based french fries. Well, sorry to burst your bubble but they don't (and anyone who tells you that they're similar is a lying scumbag)! In fact, these polenta fries / chips are almost completely different to traditional french fries… but are still just as tasty and satisfying. I absolutely love these vegan polenta fries / chips cause they're really crispy on the outside yet creamy on the inside, and are also nicely seasoned with dried mixed herbs, nutritional yeast, garlic & onion powder, and a few other yummy ingredients.The best part? This recipe for baked polenta fries / chips is also really healthy… so look no further if you're a picket fence mum looking to treat your screaming annoying kids with some guilt-free snacks. These polenta fries will shut them up, for sure! For a while, anyway. (You should get them an Xbox One if you're really looking to silence them for years). I love Xbox. I like shooting and killing humans… virtual ones anyway.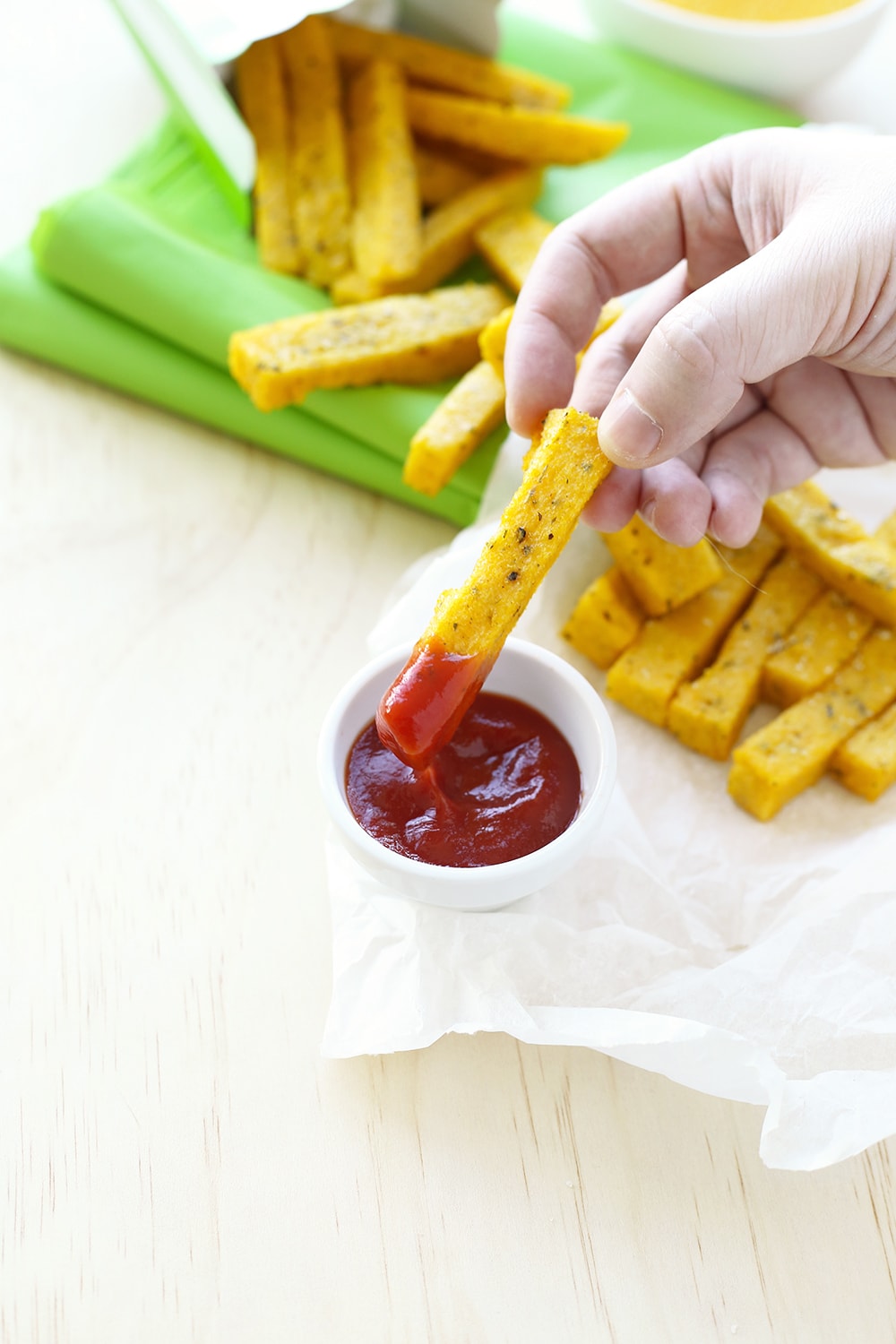 (Suggestion: If you're looking to weaponise your vegan recipes, try cutting these polenta fries / chips up into larger blocks or chunks and bake them till their rock solid. You should be able to smack annoying people around with them to great effect!)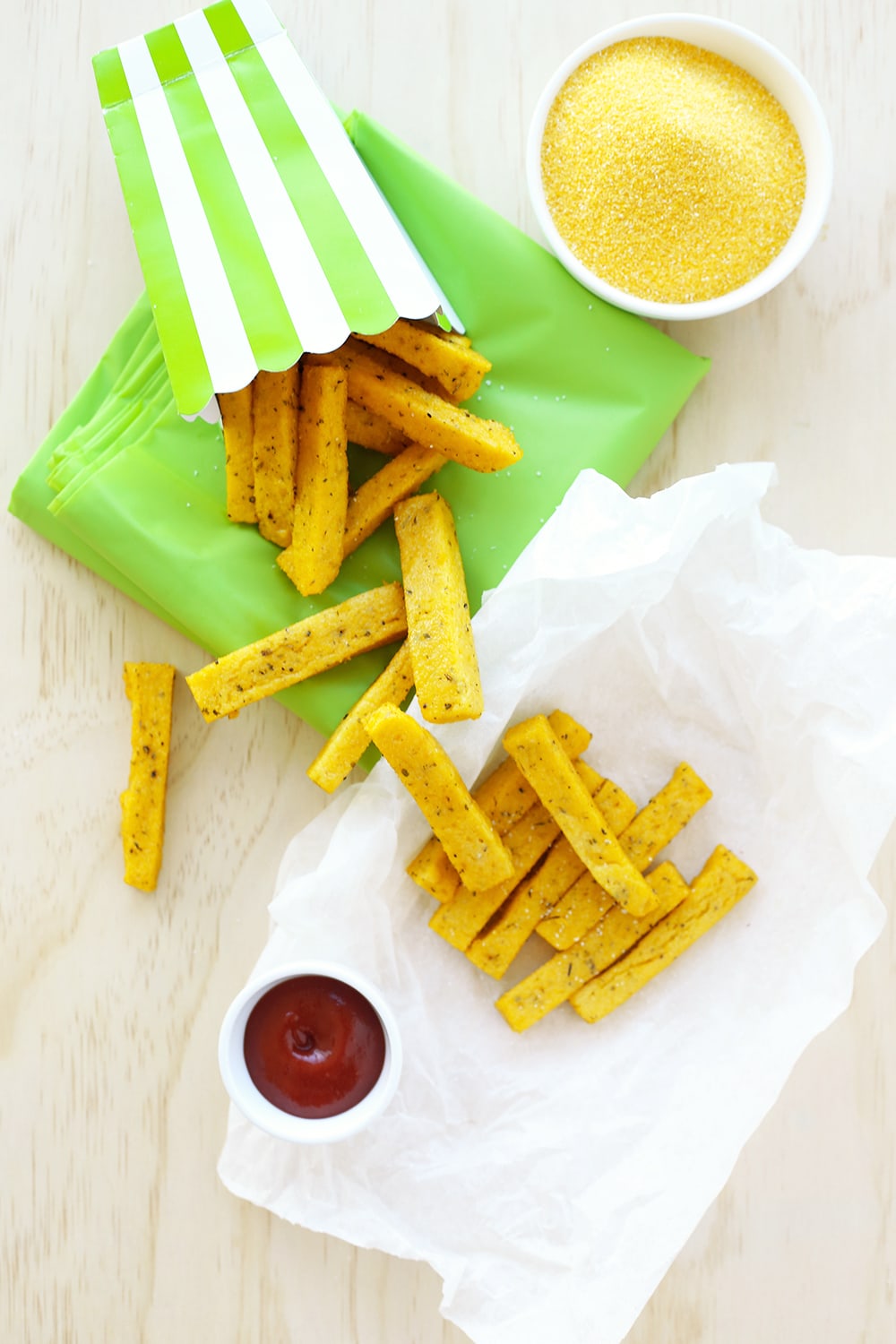 Here's the vegan recipe for my baked polenta fries / chips! Enjoy and feel free to leave me your comments & feedback!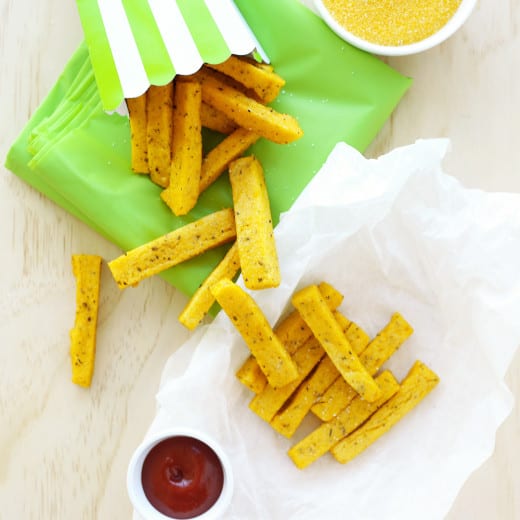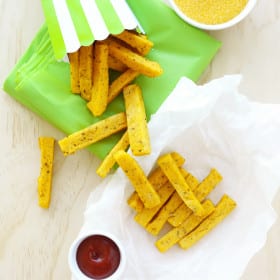 Baked Polenta Chips / Fries
Easy Baked Polenta Fries / Chips Recipe - healthy, vegan, seasoned with dried mixed herbs, nutritional yeast, garlic & onion powder, and other yummy ingredients!
Ingredients
1 1/2

cups

Polenta

3

cups

Vegetable Stock

2

tablespoons

Olive Oil

2

tablespoons

Nutritional Yeast

1/2

teaspoon

Paprika

1

teaspoon

Dried Parsley

1

teaspoon

Dried Mixed Herbs

1

teaspoon

Garlic Powder

1/2

teaspoon

Onion Powder

1/2

teaspoon

Sugar

Salt/Pepper to taste
Instructions
In a large pot, bring vegetable stock to a boil with olive oil, nutritional yeast, paprika, dried parsley, dried mixed herbs, garlic powder, onion powder and sugar.

Once it comes to a boil, gradually stream polenta in whilst whisking. Continue whisking until you end up with a very thick mass of polenta. At this point of time you can taste and season to your liking.

Pour cooked polenta into a 8x8 inch, plastic wrap lined baking pan, or any other vessel you have around the kitchen. Smoothen surface and leave to set for an hour or until polenta is cold and firmed up.

Preheat oven to 190 degrees Celsius. Line a baking sheet with nonstick baking paper and brush lightly with a very very thin layer of oil.

Turn your polenta "block" out onto a cutting board and cut into fry-like shapes. Place polenta on prepared baking tray in a single layer without pieces touching each other. Bake for 30 minutes and then flip them over and bake for another 10 minutes or so.

Remove from oven, sprinkle with sea salt if you desire, and enjoy with some ketchup or marinara sauce!