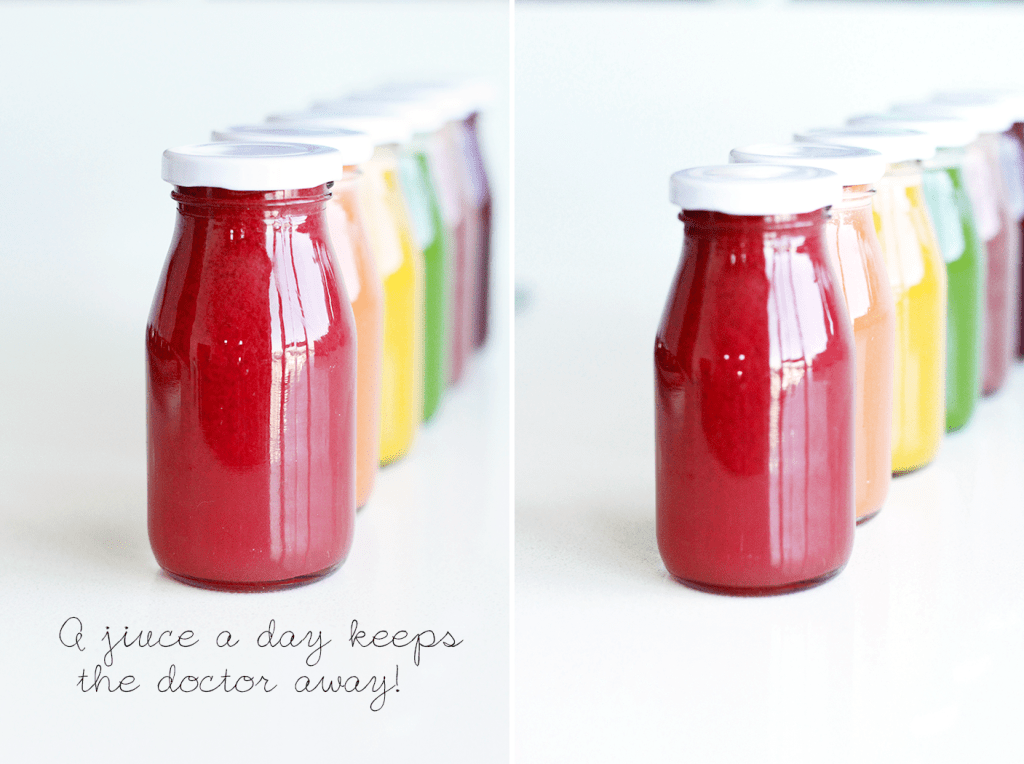 The time has come for us to stay away from baked goods and creamy treats… well, for a week at least! Making  delicious and amazing treats day after day can eventually lead to a calorific coma and tightening waist band. In light of that, I've decided to change things up a little with some healthy juice recipes – rainbow colored style! FYI, I usually do a cold pressed juice cleanse once in a while – awesome sh!t.
Scroll down for my Cold Pressed Rainbow Juice Recipes + Juicer reviews! A special double feature post today! 😀 I've also added a little link at the bottom of our juice recipes if you're keen on buying the cute little milk bottles shown in the photographs! Juicing for health + classy vintage presentation? Yes, please!
Disclaimer: Some of the links in this post are Amazon affiliate links, which means we earn a commission if you purchase anything through those links, at no ex4tra cost to you. My wife and I have used all of the products listed and recommend them based on our 100% first-hand experiences.
FREE EBOOK SERIES! 5 SECRETS FOR FOOLPROOF VEGAN DESERTS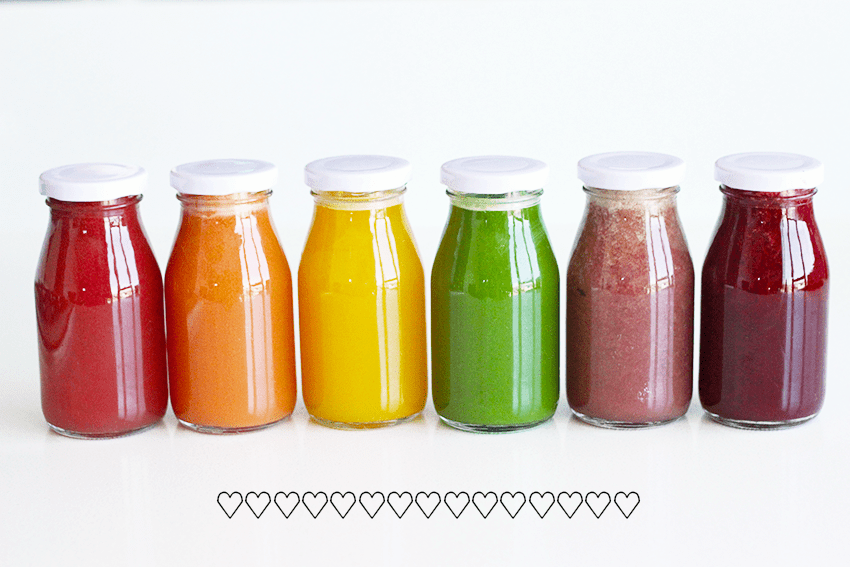 Here's a little general information about COLD-PRESSED juices. You can juice using any darn juicer, but we're big fans of using a cold-pressed juicer because juices are hydraulically extracted, providing the highest quality and freshest tasting juice possible. Very little heat is emitted through the machine (mainly because it crushes fruit and veggies instead of blending them), and because of that, enzymes and nutrients are retained at their highest form in your juice! A little science class for you on this lovely Sunday afternoon!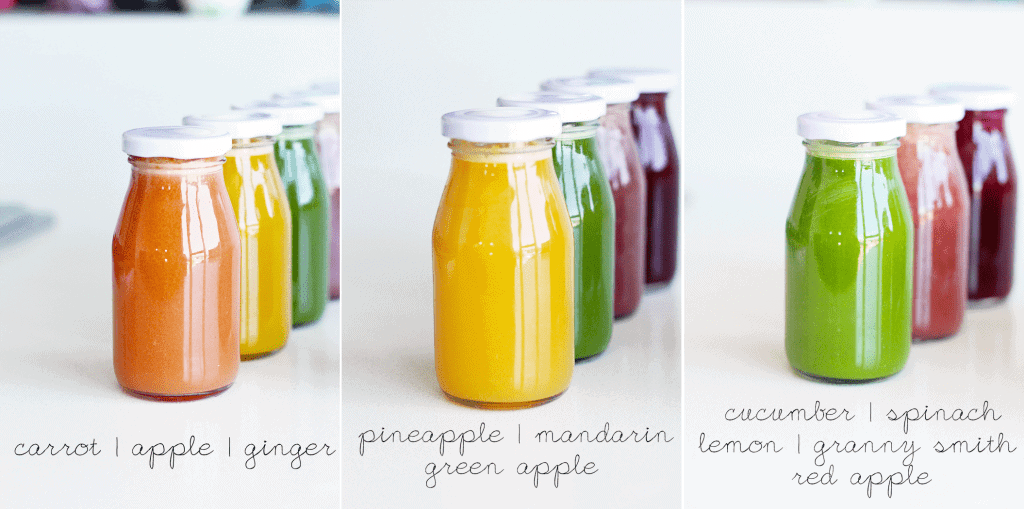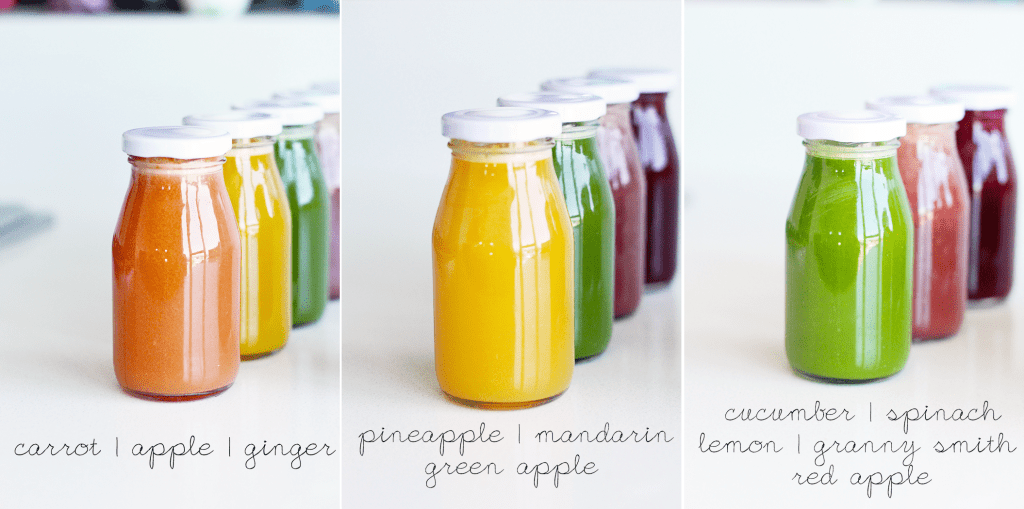 I decided on a rainbow theme for today's blog post, and spent all morning making these juices! Okay, no, it actually only took 15 minutes to make these super healthy recipes + half an hour of cleaning up. She made Strawberry Mojito, Carrot Gingerale, Pineapple Paradise, Green Ranger, Blooooberry Juice and Ruby Red Juice. All cute names she came up with before going to bed last night!
To anyone who hasn't tried making juice at home: don't fear it! It's easy, simple, and AFFORDABLE…especially if you shop at a farmer's market. (We love going to the South Melbourne Market which is just 2 minutes away from our apartment.)  I never do understand why people pay exorbitant amounts for bottles of the stuff at juice bars. Cray cray!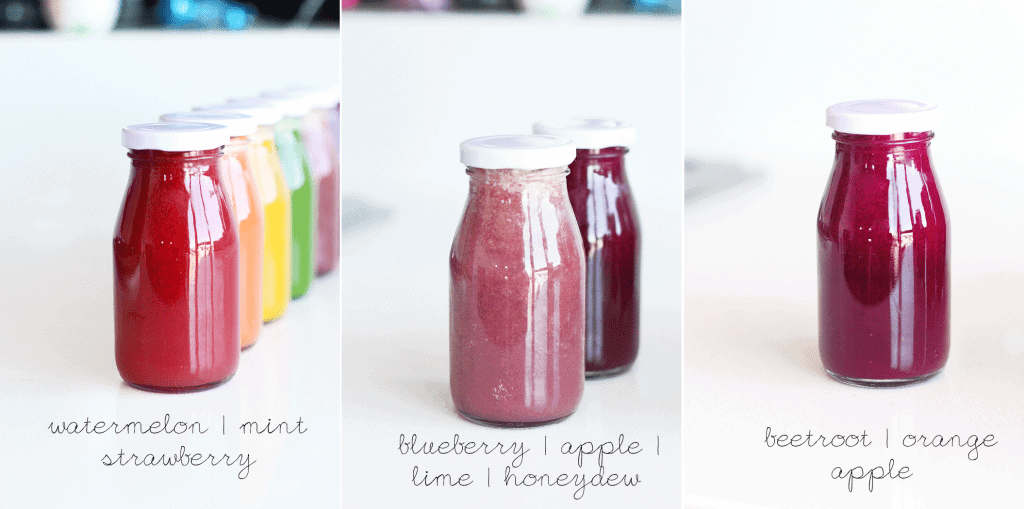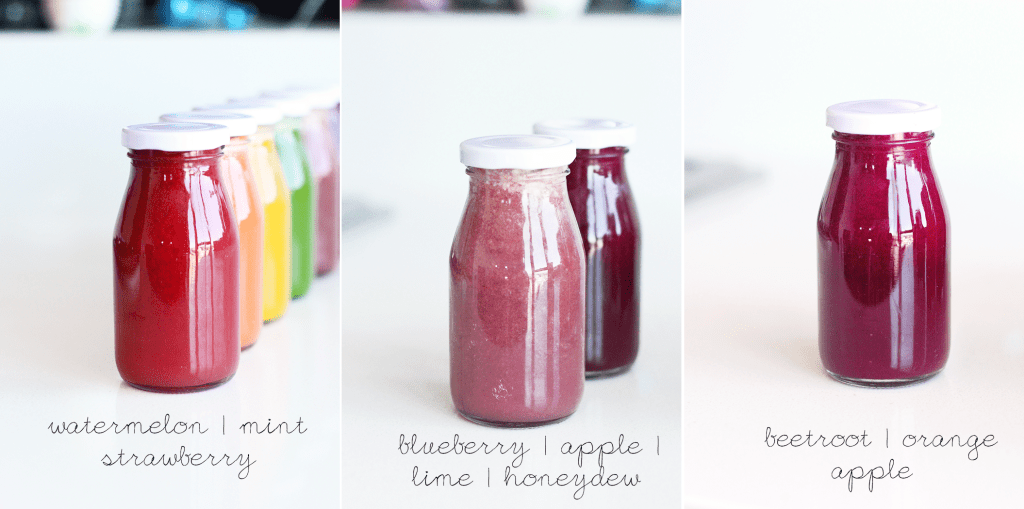 I definitely recommend purchasing a Cold-Press juicer if you can. They're slightly costly, but it's a great investment if you love juice because it'll save you lots of money in the long run (i.e. Store bought juices, healthy or not, are really expensive!) And who doesn't like saving money? I personally own two cold pressed juicers and I've written up little short reviews on both of them for you below. I hope that these reviews may help you in your decision on which juicer to buy! Personally, I feels that these two cold pressed juicers are the best on the market within their price range; I've used them both for the longest time. You can click on the Amazon links to purchase them and/or find out more information from other satisfied customers.
Pros: Compact, fits in most cupboards and isn't an eyesore on the kitchen counter. Also, this cold pressed juicer produces quite a lot of juice from a small quantity of fruit. Minimal amount of pulp left inside the machine if you juice according to instructions (ie, rotate fruit whilst juicing).
Cons: You need to cut fruit up into a bazillion pieces because the feed shoot is pretty small. Quite a significant amount of pulp comes out with the juice as well, so it's best to use a strainer to remove all bits of fiber from your juice
Pros:  HUGE feed chute, with the ability to take on whole apples and other fruit which saves a LOT of prep time. Also, this juicer is very very quiet, even more so than the Hurom. Produces similar amount of juice as the Hurom. The cold pressed juicer also comes with a handy cleaning brush which does the job a lot better than the small brush provided with the Hurom Juicer.
Cons: Takes up a considerable amount of space due to its larger size, which also means that clean up takes a longer while. You have to be careful and make sure you've washed pulp out of the machine as it tends to find a way to still stay in the machine even after rinsing.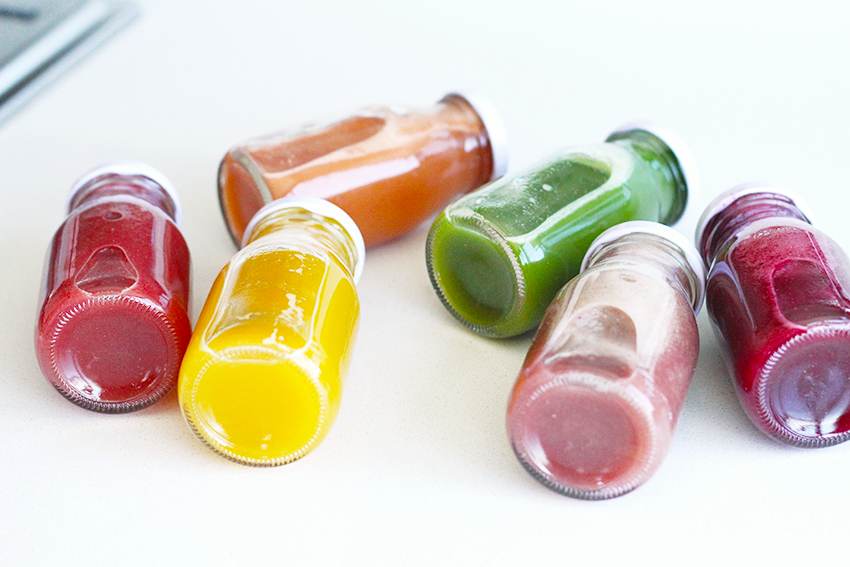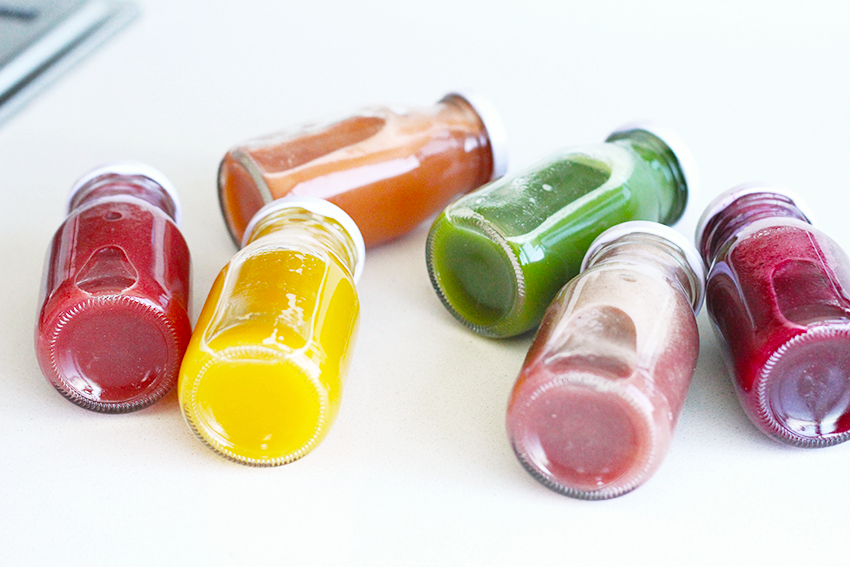 Cold pressed juicers – too expensive?
If these cold-pressed juicers are outside of your budget, you may think about getting a centrifugal juicer instead. Of course, they aren't AS good as medium/high-end cold-pressed juicers, but they will nonetheless do a more than adequate job for you. Personally, in terms of cost-benefit, it is better to buy a good quality centrifugal juicer over a cheap cold-pressed one, as the latter will more than likely break down on you in a matter of months (on regular use). For centrifugal juicers, my wife strongly recommends the Breville JE98XL Juice Fountain Plus 850-Watt Juice Extractor
. She has used it personally and loves it! Most of the reviews on Amazon speak for themselves anyway. 🙂 It's all four / five star stuff!
PS: We were not paid to review any of these machines (although we are part of Amazon's affiliate program). Most of all, we wanted to share some honest first-hand insights and perhaps help you decide on what juicer suits your needs more! 
_____
And finally, here's the recipe for my various Cold Pressed Rainbow Juices! My personal favourite is 'Carrot Gingerale'! There's a 'bite' to it that just hits the spot for me. Try them all! Why? Cause they taste great and they're healthy for you too, duh!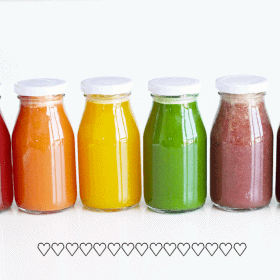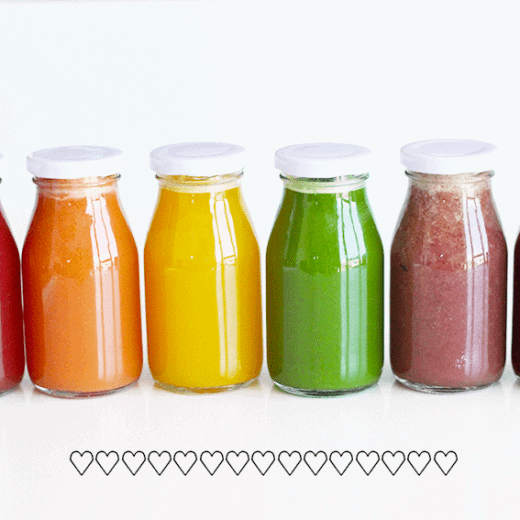 Rainbow Juices
Ingredients
Strawberry Mojito:

8

Strawberries

1/4

of a Watermelon

2

sprigs of Mint

Carrot Gingerale:

1

large Carrot

1

thumb Sized knob of Ginger

1 1/2

large Red Apples

Pineapple Paradise:

1/2

a Sweet Pineapple

1/2

a Granny Smith Apple

1

large Mandarin Orange

Green Ranger:

1

medium Sized Lebanese Cucumber

1/2

a Granny Smith Apple

1/2

a Red Apple

1/2

cup

Baby Spinach

1

Tbsp

chopped Parsley

1/2

a small Lemon

rind taken off

Bloooooberry Juice:

125

g

punnet of Blueberries

1

large Red Apple

1

thumb sized piece of Beetroot

1

cup

Chopped Honeydew

Ruby Red:

1

small Beetroot

1

Large Red Apple

1

Mandarin Orange
Instructions
Thoroughly wash all your produce before putting through a cold-press juicer. You can leave the skin on all fruit and vegetable as it adds a lot of extra nutrition to your juice.
Notes
Buy and use organic produce when juicing. However, if you cannot afford to do so, you can spray your fruit and veggies with apple cider and wash them well before juicing 🙂
EDIT: Also, because quite a few people have asked, you can get your very own set of those nifty bottles we used in the photos on Amazon here! Great bargain price for a dozen of them!
Feel free to leave us your comments / opinions on some of your favourite healthy juices and juicers! <3 You can even drop an image of your own original Cold Pressed Rainbow Juices! Cheers!