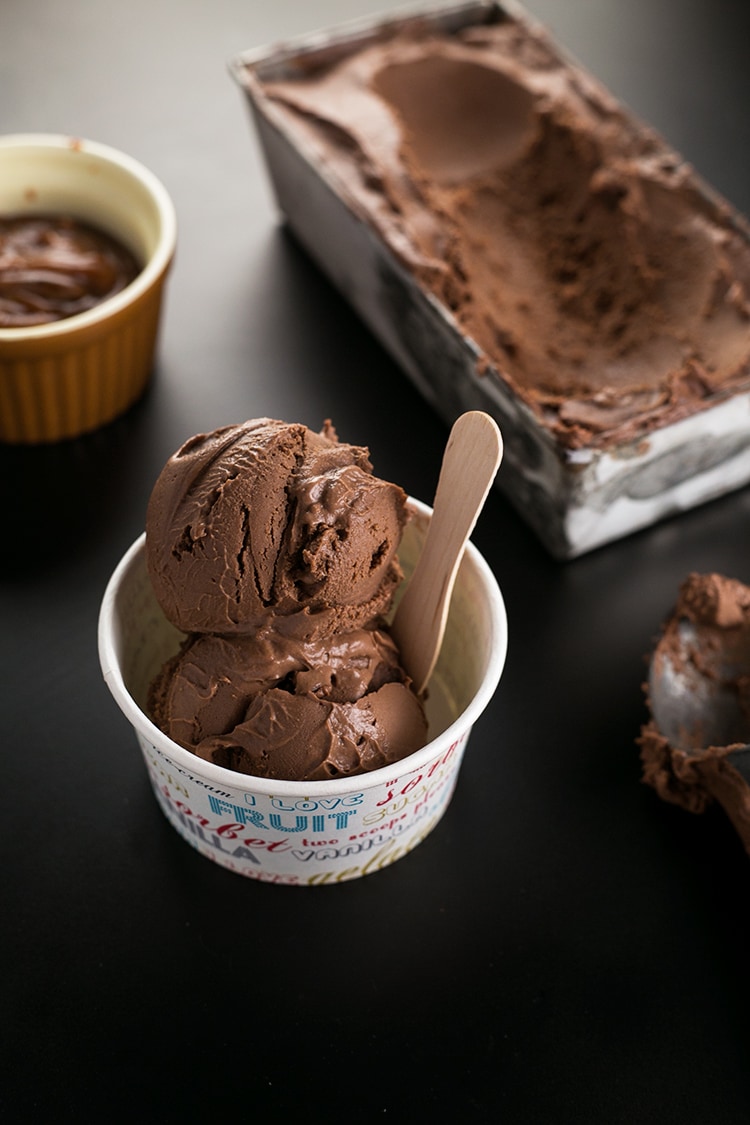 Ice cream, ice cream, we all scream for ice cream! WRONG. Only children do that. Adults don't have to scream for it, we just walk to the freezer, grab some of this Vegan Chocolate Ice Cream and stfu because our mouths are filled with so much ice cream that we are incapable of talking anymore. Now that I've gotten that off my chest…let's talk about my ice cream adventures of the past.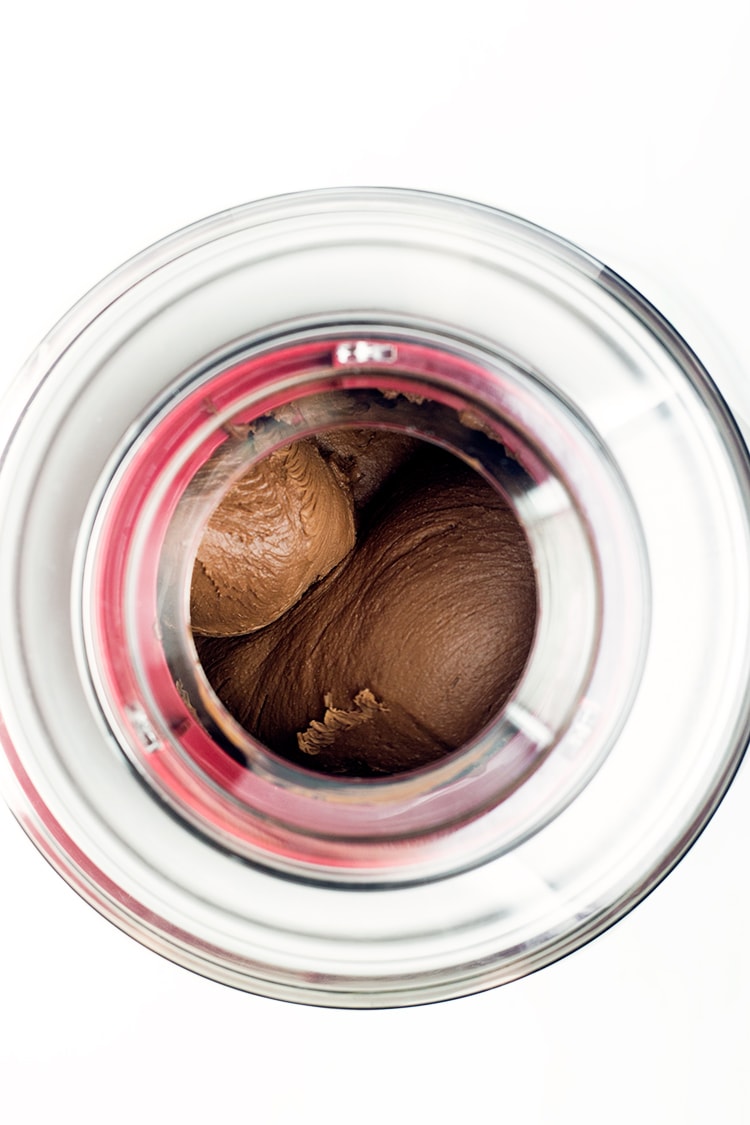 Back in the day, when I used to consume dairy, I was also consumed (so punny) with the desire to perfect ice cream making. A lot of homemade ice creams end up rock hard, unscoopable, and speckled with ice crystals. Now that's just sh*tty. I spent 2 years trying out every method of ice cream making, researching into the science of ice cream yadda yadda yadda. Eventually, I cracked it! I made perfect ice cream! I even invested in a Compressor ice cream machine because I was churning batch after batch for people who wanted to buy some of the crazy flavors I made. And then… I went Vegan. I could no longer use dozens of egg yolks to make my ice cream, well, creamy. I couldn't use cream, milk, I basically couldn't use my perfect ice cream base recipe anymore. Bummer.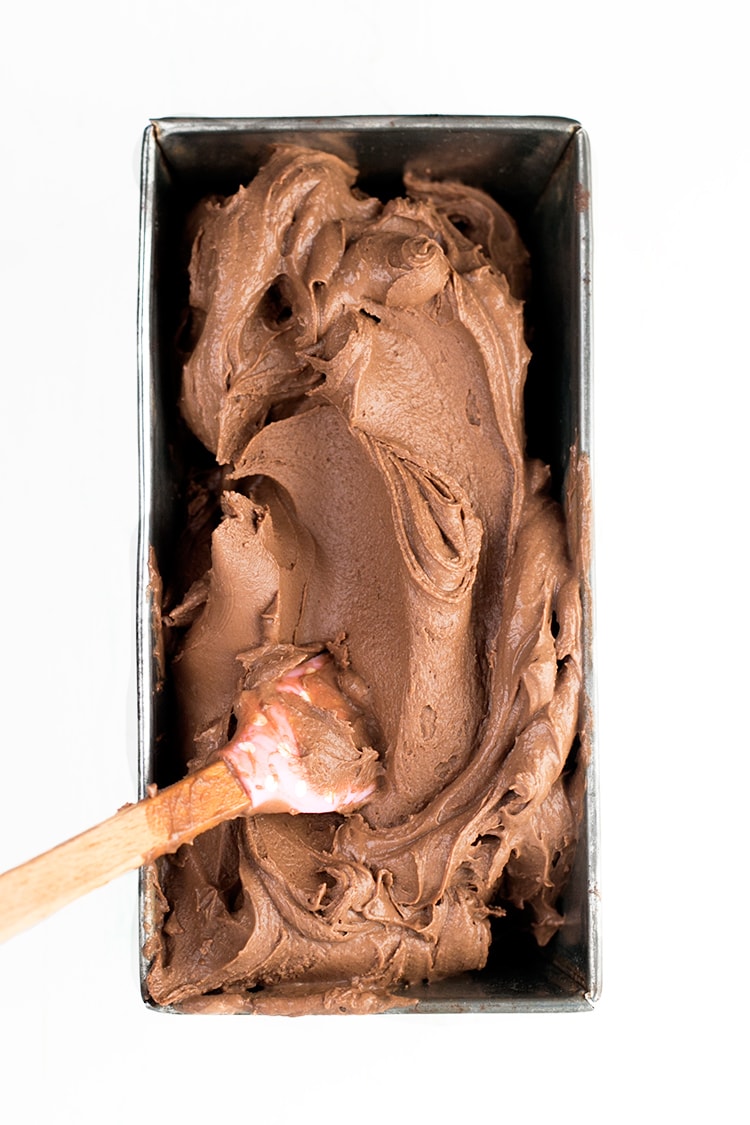 FREE EBOOK SERIES! 5 SECRETS FOR FOOLPROOF VEGAN DESERTS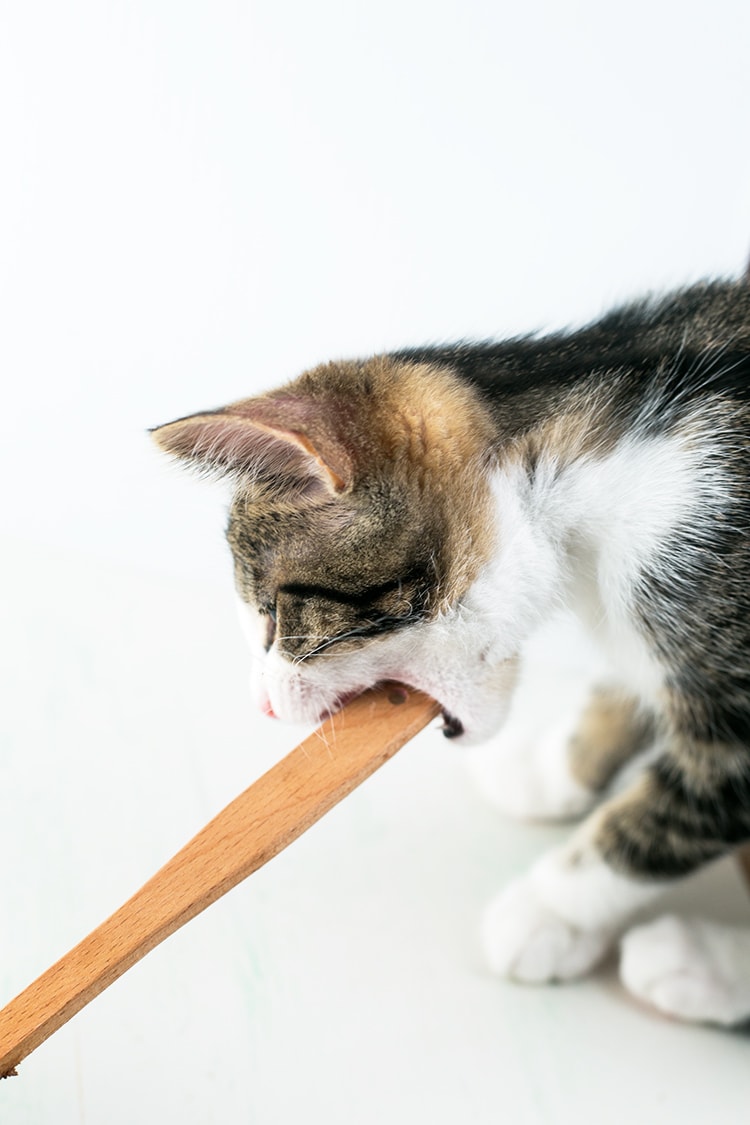 I put off ice cream making for 2 years, simply because I didn't want to spend more time trying to craft a good Vegan ice cream recipe. I have lots of other sh*t to do. Well, since the website was recently down for 3 entire weeks and I had a bunch of free time to myself, I decided, why not just try making vegan ice cream for the f*ck of it? And so I did. I had to make this Vegan Chocolate Ice Cream recipe twice because the first batch was just an epic failure. Live and learn, buddies, live and learn. After a bit of tweaking around, I'm confident I've produced a very creamy dreamy Vegan Chocolate Ice Cream recipe!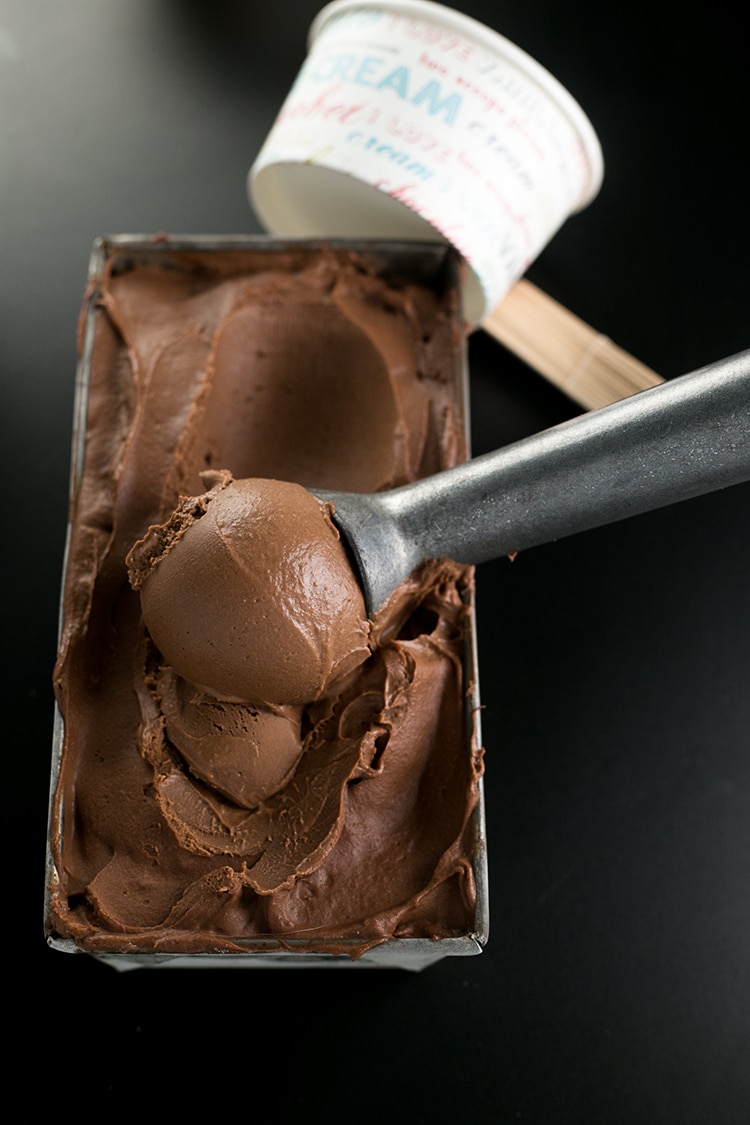 Now, just to let you know – this recipe is not one of those trendy 3 ingredient recipes. It has about 9 ingredients in it. But honestly, sometimes more is more. You get what you put into it. 9 is not that many anyway, in my opinion. Especially when the ingredients are the things most vegans already have at home. What I can guarantee you however, is that it will be some of the best ice cream you've had, vegan or not.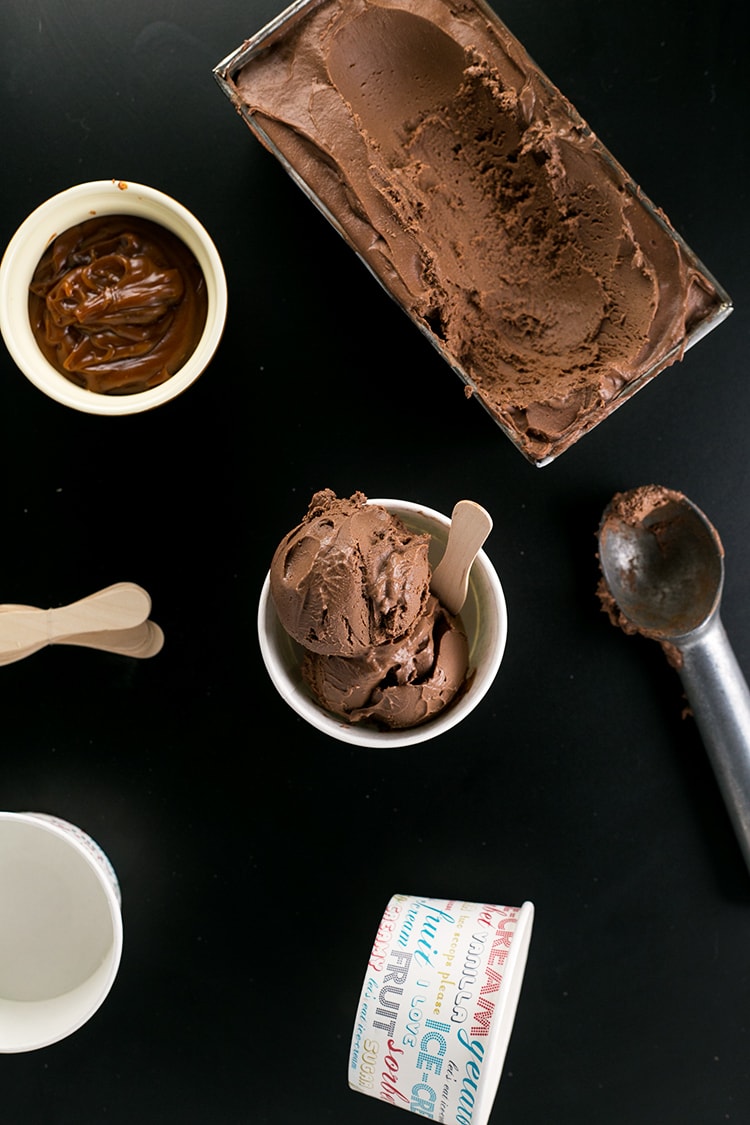 What I've done is I've converted one of my eggless non-vegan ice cream recipes into a vegan version with a slight few differences to make up for the lack of cream or milk in it. I use homemade Cashew milk, Coconut Cream, Coconut Milk, Vanilla Extract, Xanthan Gum, Cocoa, Dark Chocolate, Salt and Instant Espresso. Then comes the magic ingredient – Cornstarch. Cornstarch, along with Xanthan Gum, makes this Vegan Chocolate Ice Cream ultra creamy and ice crystal free. It's like magic. I won't get into the science of if because I'll bore you to instant KO.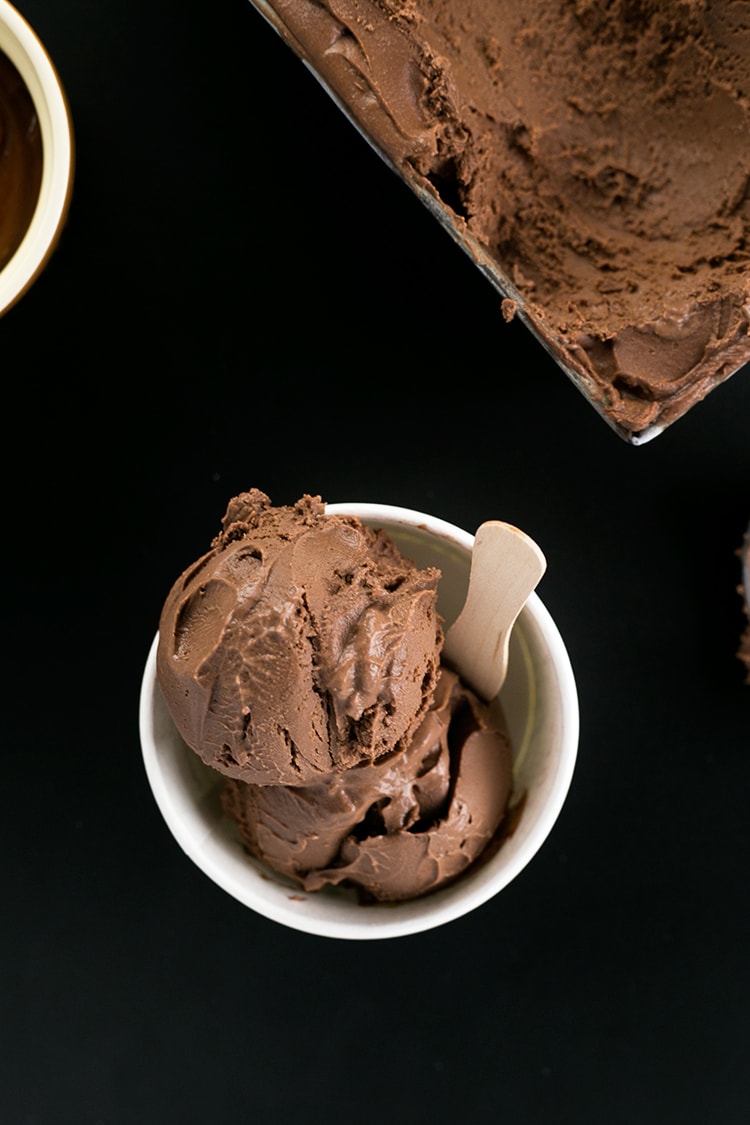 As for the Instant Espresso and Salt, DO NOT leave this out! Chocolate recipes always benefit from a tiny bit of coffee and salt. You don't taste either in the final result, but you will taste it when it's not there. Chocolate without salt or coffee is like sex without foreplay. Not worth your time. Doh. Actually, sex in general is not worth your time when instead you could be shoving Vegan Chocolate Ice Cream down your gob. The pleasure of a tub of ice cream lasts for days, and you don't have to bother with the awkward post-sex chit chat.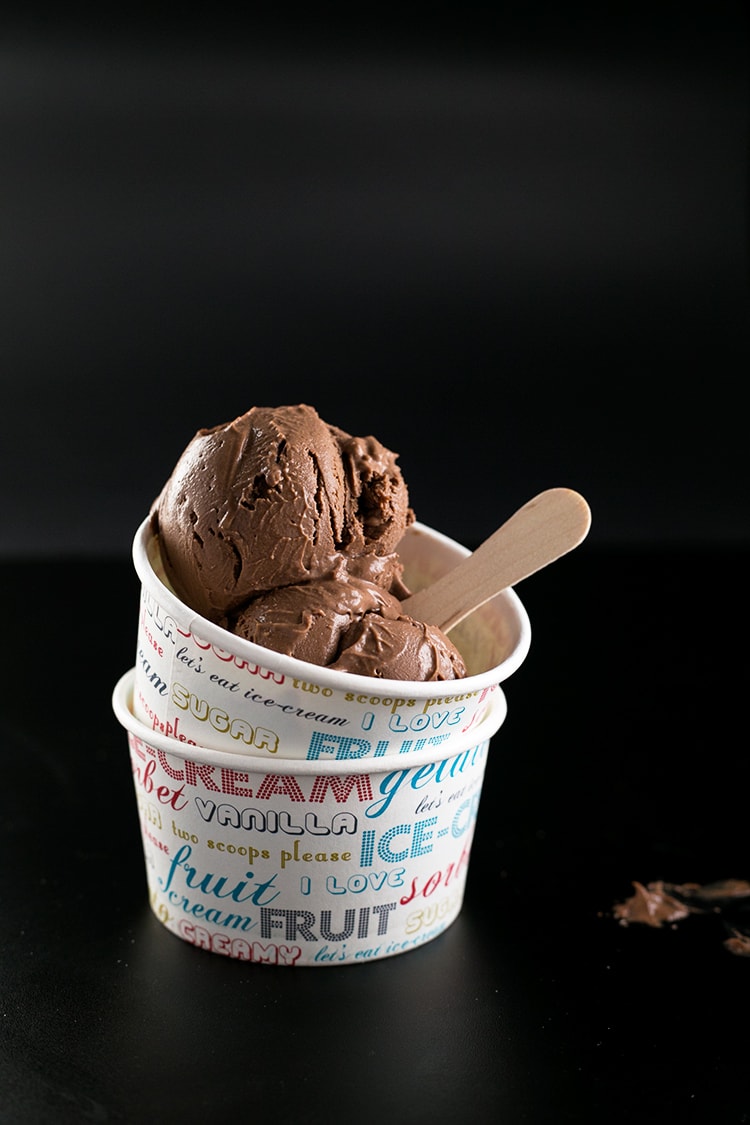 Look how creamy this sh*t is! Yummo. Now, I make my Vegan Chocolate Ice Cream in a normal Cuisinart tabletop ice cream maker. Perhaps some of you don't own ice cream makers, but fret not! There is a simple solution, so no need to go looking for a blade to cut your wrists. You can make the Vegan Chocolate Ice Cream base, chill in the fridge over night and then transfer to a freezing container. Once transferred, pop into the freezer, take it out every 45 minutes and use a handheld electric mixer (or a whisk if you have arms of steel) to whizz it up. Once you've done that, place the container back into the freezer. Repeat this process about 3 or 4 times, and then leave the ice cream to set firm for a few hours after before devouring.
So, my sexy men and women, start making ice cream. You won't regret it. Scroll down for the full recipe, as always. How many times do I have to say this? I feel like I'm talking to myself. But there's nothing wrong with talking to yourself. Vegan Chocolate Ice Cream. Creamy, dreamy, sexy, love.
P.S: No cats were allowed to eat any chocolate in the production of this post. Don't give your pets chocolate! They will die! 🙁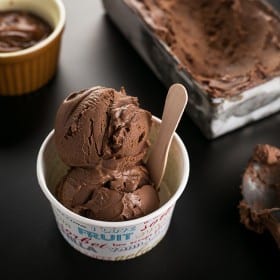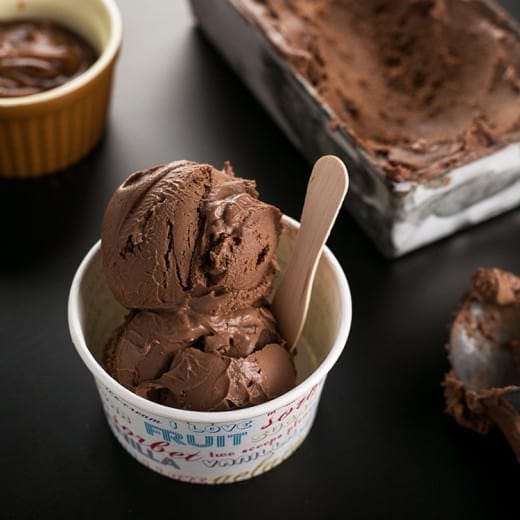 Creamiest Vegan Chocolate Ice Cream
Creamiest Vegan Chocolate Ice Cream - homemade, ultra creamy and scoopable chocolate ice cream made with cashews and coconut milk. Vegan and Gluten Free.
Ingredients
3/4

cup

Cashews

1 1/2

cups

Water

1/4

teaspoon

Xanthan Gum

1/2

teaspoon

Instant Espresso

2

Tablespoons

Cocoa Powder

1/4

teaspoon

Salt

1

teaspoon

Vanilla Extract

1

cup

Coconut Cream

1/2

cup

Coconut Milk

1/2

cup

Cane Sugar

6

oz

Dark Chocolate

Vegan

2

Tablespoons

Cornstarch
Instructions
In a blender, combine Cashews, Water, Xanthan Gum, Instant Espresso, Ccocoa Powder, Salt, Vanilla Extract, Coconut Cream and Coconut Milk. Blend on high till everything is nice and smooth.

Pour out all of this mixture into a saucepan, leaving 1 cup of it behind.

To the filled saucepan, add Sugar and Dark Chocolate. Stir over low heat until chocolate and sugar have fully melted and mixture is warm.

To the remaining 1 cup of liquid, whisk in Cornstarch till dissolved. Gradually stream this mixture into the saucepan whilst whisking non stop. Once everything has been incorporated, whisk away until the mixture comes to a soft boil. This is to cook out the cornstarch and thicken the mix. But, remember to whisk whisk whisk so no lumps form!

Once it has come to a soft boil, turn heat off and transfer mixture into a bowl or measuring cup. Cover with cling film and make sure to press it against the surface of the mixture so a skin does not form.

Cool to room temperature and then churn in ice cream maker. Alternatively, if you do not have an ice cream maker, follow steps for manual churning mentioned in my post.

Once out of the ice cream maker, place in an airtight ice cream or tupperware box, cover, and freeze to allow it to further firm up.
Notes
* Before churning, the mixture will be very thick - this is normal. It is just the cornstarch thickening up. Whisk to loosen up first if you think it is too solid to chuck into the ice cream maker.
* Try to not cut down the amount of sugar in the recipe - ice cream needs a certain amount of sugar to inhibit it from freezing rock solid.
*If your freezer is really really cold, your ice cream may need to sit out for 10 minutes on the counter to soften up so that it is scoopable. My freezer is set to a higher temperature, so I do not need to do that.