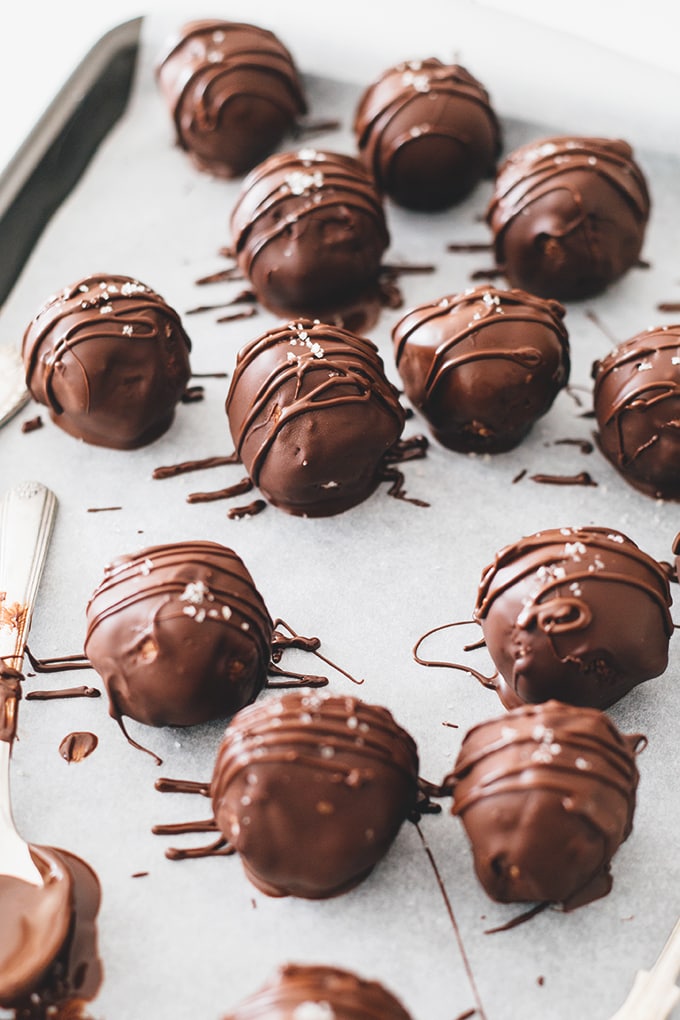 For those who don't know what a Bounty Bar is, it is a chocolate bar that is quite similar to Mounds – a moist and sweet coconut filling draped in luscious milk chocolate. Bounty was always one of my Dad's favourite chocolate bars from as far back as I can remember – there would always be a massive stash of them in the refrigerator, which no one was allowed to touch. When I was younger, I wasn't really a fan of Coconut, so Bounty wasn't my thing. Fast forward to now and I absolutely adore all things Coco-nutty, so these Vegan Bounty Bites are a must have!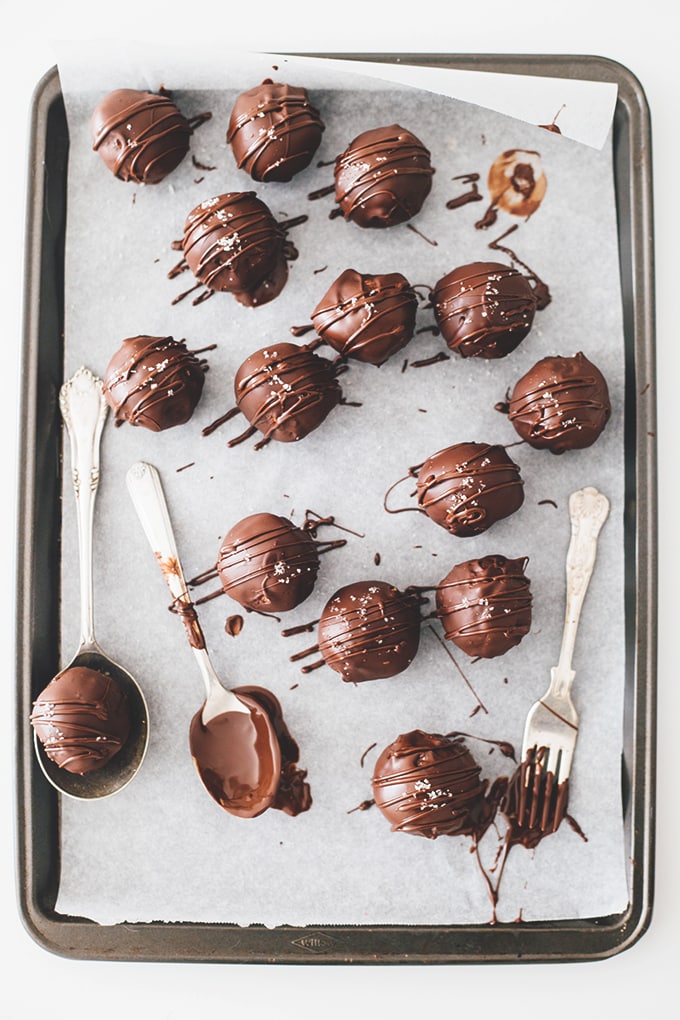 My Easy Vegan Bounty Bites are so freaking simple to make – so it's the perfect thing to get up to in the kitchen with yo kids or with a bunch of friends. I start off with making the sweet coconut filling for these Vegan Bounty Bites, which consists of just a few simple ingredients – Desiccated Coconut, Almond Meal, Maple Syrup, Vanilla Extract, Coconut Cream, Coconut Oil and Sea Salt.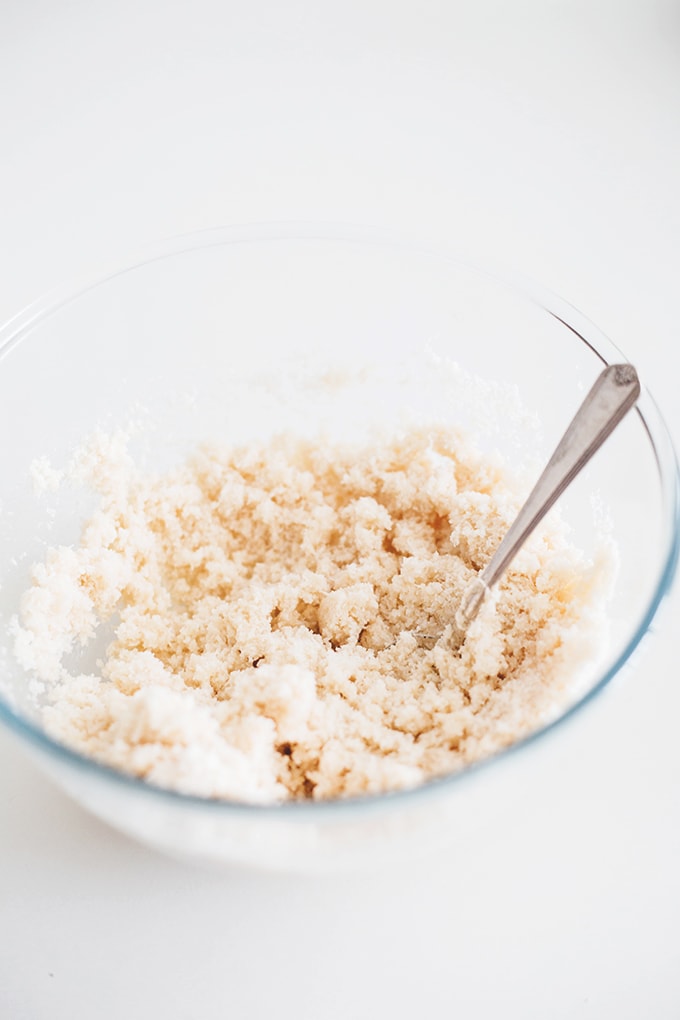 Do keep in mind that Desiccated Coconut is a DRY product, which you should be able to find in the baking aisle of any decent supermarket (it's not sweetened or moist in any way). Another thing to note is that when you cook or bake with Coconut, Salt is an absolute MUST. From as far as I can recall, back in Asia, any recipe that contained Coconut or Coconut Milk/Cream always stressed on how much salt was necessary to bring out the most flavor out of the coconut as possible. It's the little things that count 😀
FREE EBOOK SERIES! 5 SECRETS FOR FOOLPROOF VEGAN DESERTS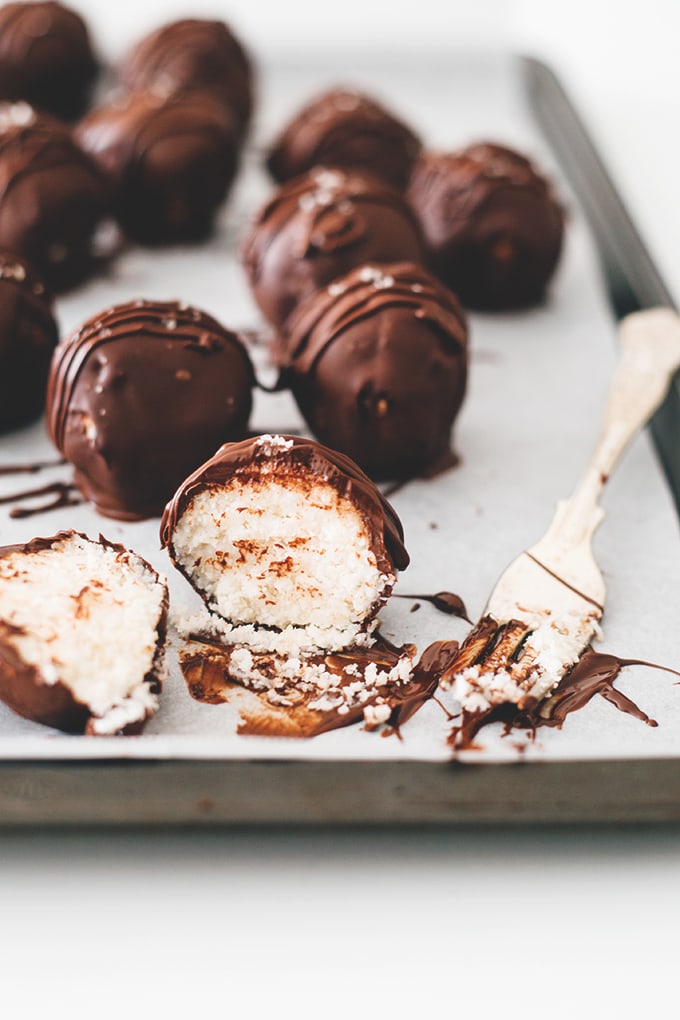 Now, once the coconut mixture for these Vegan Bounty Bites is prepared, you'll want to roll them into balls and place them in the freezer to harden for a minimum of 8 hours, or even better, overnight. Once frozen, you can choose to either coat the coconut balls in Vegan Dark Chocolate, Vegan Milk Chocolate or my Chocolate Coating which I used in my Vegan Snickers recipe. If you opt to use the glaze, ensure that you have let it cool down and given it time to thicken before coating your Bounty Balls in it. Because I am an absolute lazy pig, this time round I took the easy route and coated by Bounty Bites in store-bought Vegan Dark Chocolate.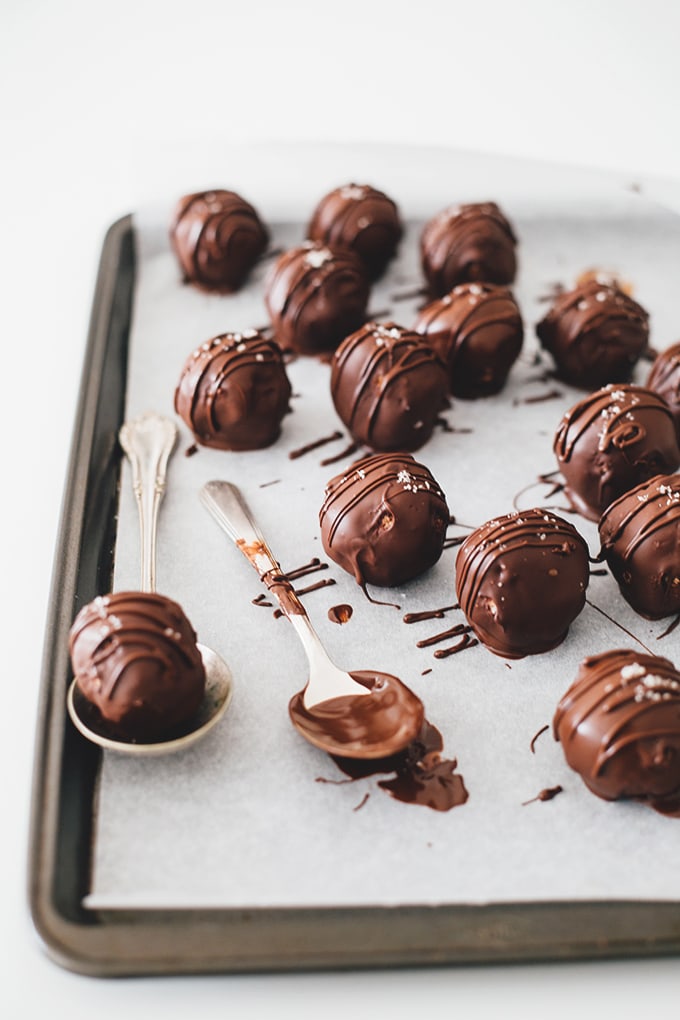 These Vegan Bounty Bites are ready almost immediately after coating in Chocolate since they are pre-frozen, which is always a good thing! No need to wait before popping balls into your mouth! This recipe is Dairy Free, Gluten Free, Refined Sugar Free (if you use the Chocolate Glaze Recipe) and taste just as good as the real thing, so scroll down to grab the full recipe.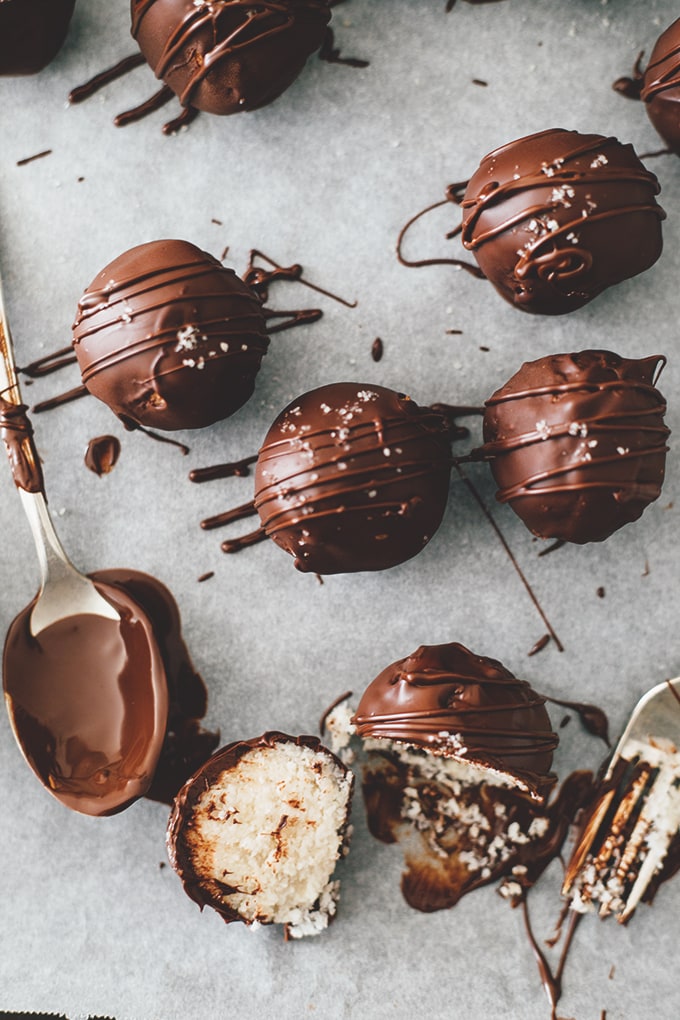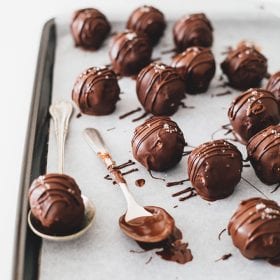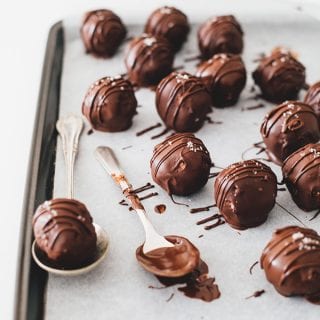 Vegan bounty balls
Delicious Vegan Bounty Bar Bites made with 100% All Natural Ingredients and Covered In Vegan Dark Chocolate. Dairy Free/ Gluten Free/ Refined Sugar Free.
Ingredients
2

cups

Desiccated Coconut

1/2

cup

Almond Meal

1/4

cup

Maple Syrup

1/4

cup

Coconut Oil

Melted

1/4

cup

Coconut Cream

1/4

teaspoon

Sea Salt

1

teaspoon

Pure Vanilla Extract

1

cup

dark chocolate

for coating
Instructions
In a mixing bowl, combine Desiccated Coconut, Almond Meal, Maple Syrup, Coconut Oil, Coconut Cream, Sea Salt and Vanilla Extract.

Mix well until you attain a sticky mixture that can be formed into balls. If your mixture is too dry, add a tiny bit of extra Coconut Cream to it until it comes together. Alternatively, if too dry, add some extra Almond Meal or Desiccated Coconut until the right consistency is attained.

Shape mixture into balls and place on a parchment lined plate or baking tray.

Freeze balls for at least 8 hours or if possible, overnight.

Melt your Chocolate of choice, or prepare your Chocolate Coating recipe and let it cool until thickened.

Once ready, remove coconut balls from the freezer.

With the help of a fork, coat each ball in a generous coating of Chocolate or Glaze. Chocolate should harden almost immediately. Repeat with remaining balls.

Repeat the coating process once more and then decorate with Sea Salt or Desiccated Coconut and then store in the refrigerator.
Nutrition
Serving:
1
serving
Calories:
194
kcal
Carbohydrates:
13
g
Protein:
3
g
Fat:
16
g
Saturated Fat:
11
g
Trans Fat:
1
g
Cholesterol:
1
mg
Sodium:
46
mg
Potassium:
170
mg
Fiber:
4
g
Sugar:
7
g
Vitamin A:
5
IU
Vitamin C:
1
mg
Calcium:
26
mg
Iron:
2
mg