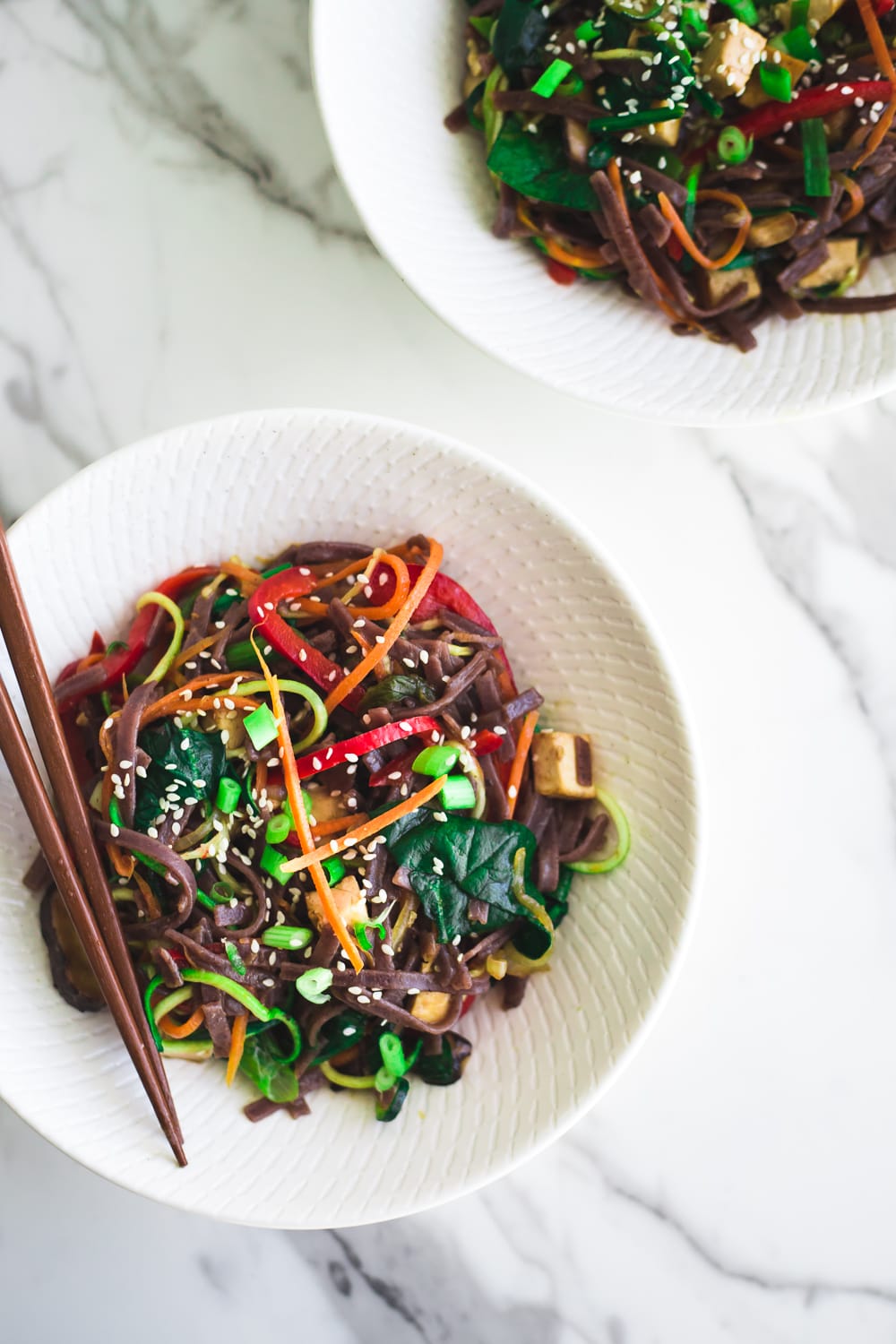 Korean Food is something that everyone likes. Seriously, who doesn't like Korean Food? I know all of you do, considering my Vegan Bibimbap is one of my most pinned and shared posts like, ever! You can't hide from me! Well, today I bring to the table yet another Korean dish – a recipe for the super popular Healthy Vegan Japchae Noodles. Vegan, of course. I'm a sucker for Noodles, so this is one of the recipes that I make pretty often, especially because it's affordable, easy to make and can be adapted to anyone's tastebuds.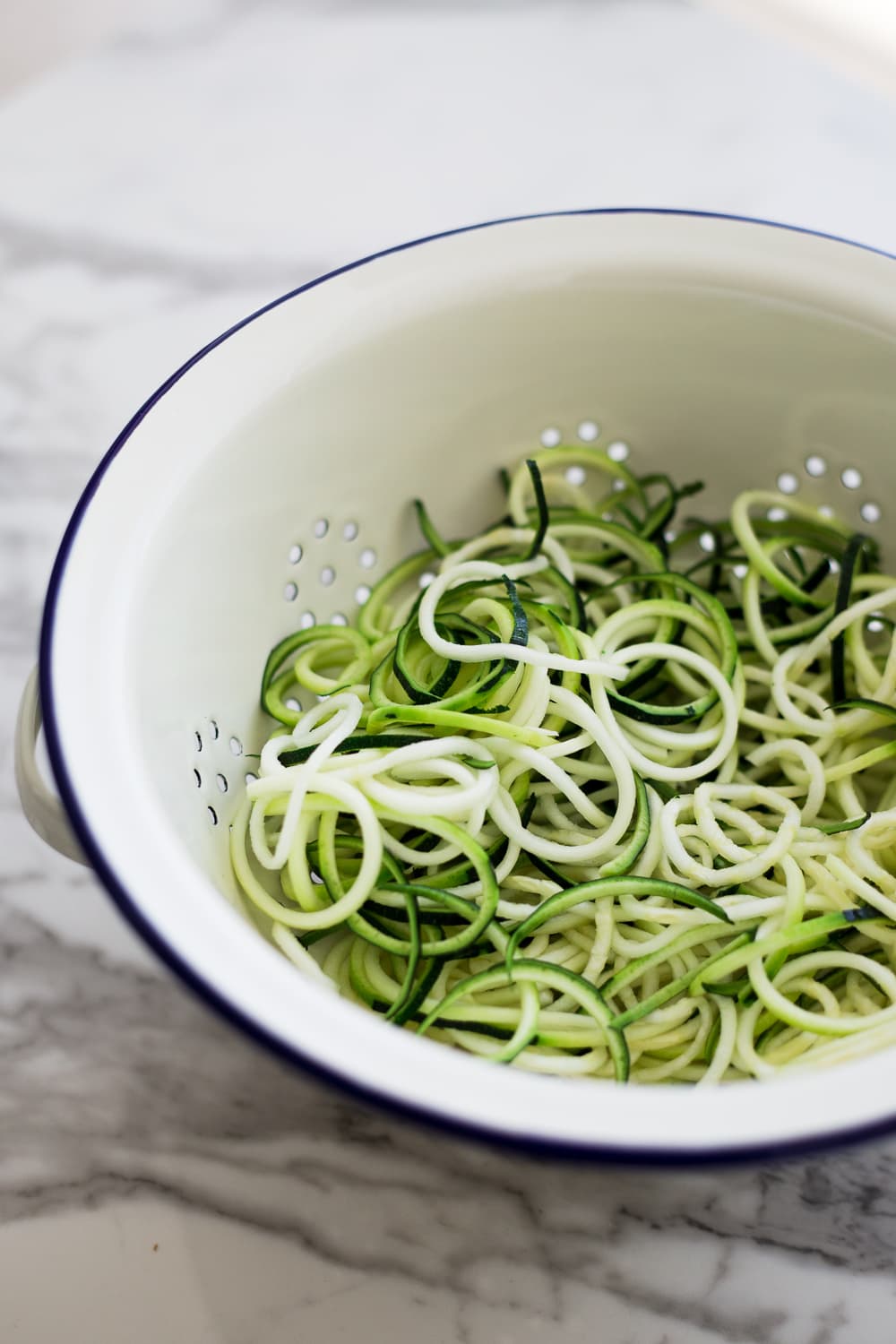 Now, what makes this goddamn recipe Healthy? Well, a couple of years ago, I used to make a Vegan Zucchini Noodle Japchae on the regular. Zucchini Noodles are awesome, and they really fill you the fu*k up without adding too much girth to your thighs and tummy. Of course, there is nothing traditionally Korean about using Zucchini Noodles, so for this particular recipe, I use half Zucchini Noodles (like in my Aglio E Olio) and half Black Rice Noodles. But hey, wait a minute, Japchae is made with Sweet Potato Starch Noodles (Dangmyeon), you may say. Well, you're right. But guess what? I don't follow rules, and you shouldn't either. Suck it.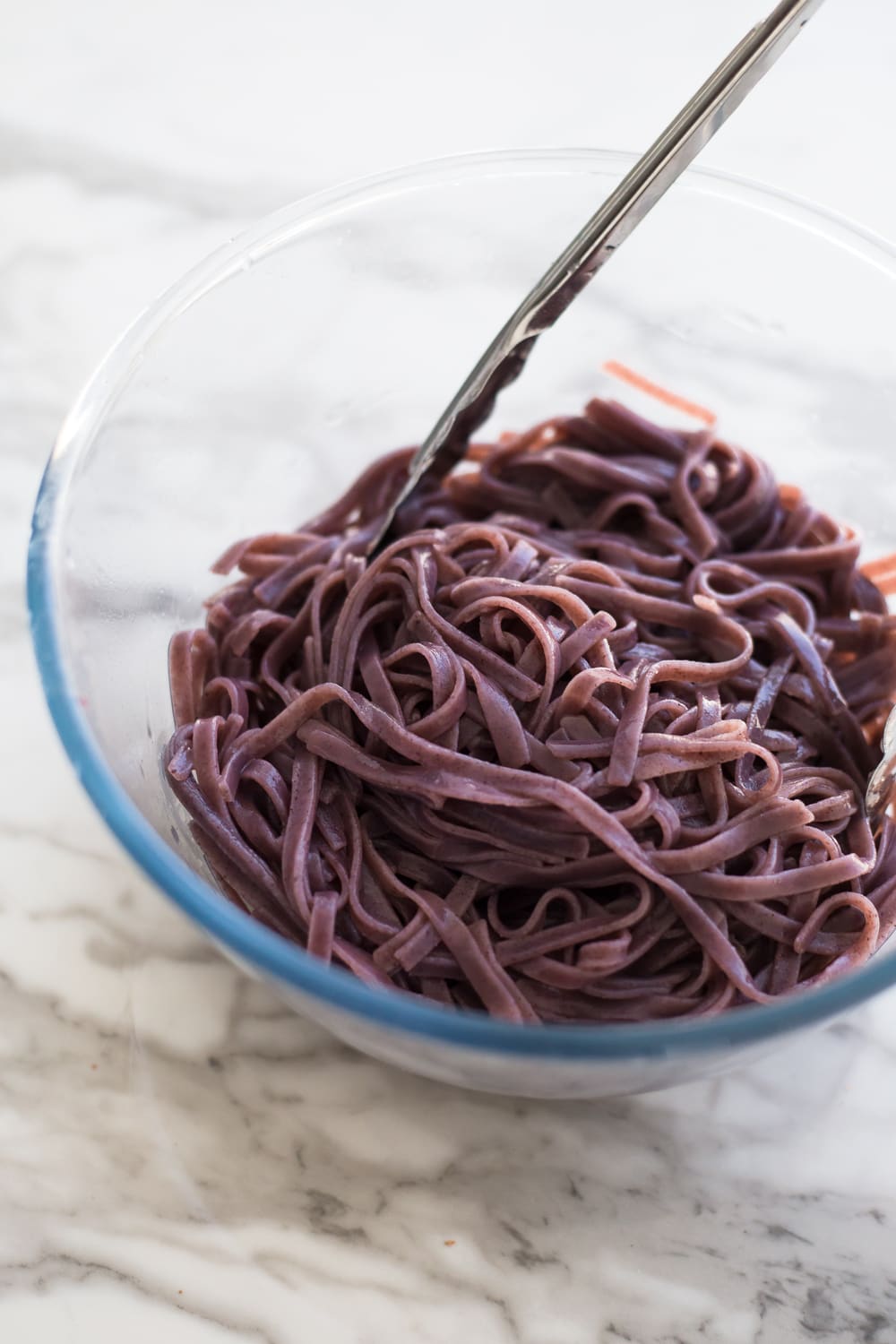 Whilst most Vegan and Vegetarian Japchae recipes do use Dangmyeon, I know that it is not exactly something you can find in a normal supermarket. So technically, I am doing you a great bloody favor by giving you other noodle options.  You can go on the hunt at an Asian Grocer for Dangmyeon, or you can use Glass Noodles as a replacement. I, however, being the badass piece of crap rebel that I am, decided to use Black Rice Noodles which I bought at the health store last week. Black Rice Noodles, are, as its name suggests, made out of Black Rice. Mind blown.
FREE EBOOK SERIES! 5 SECRETS FOR FOOLPROOF VEGAN DESERTS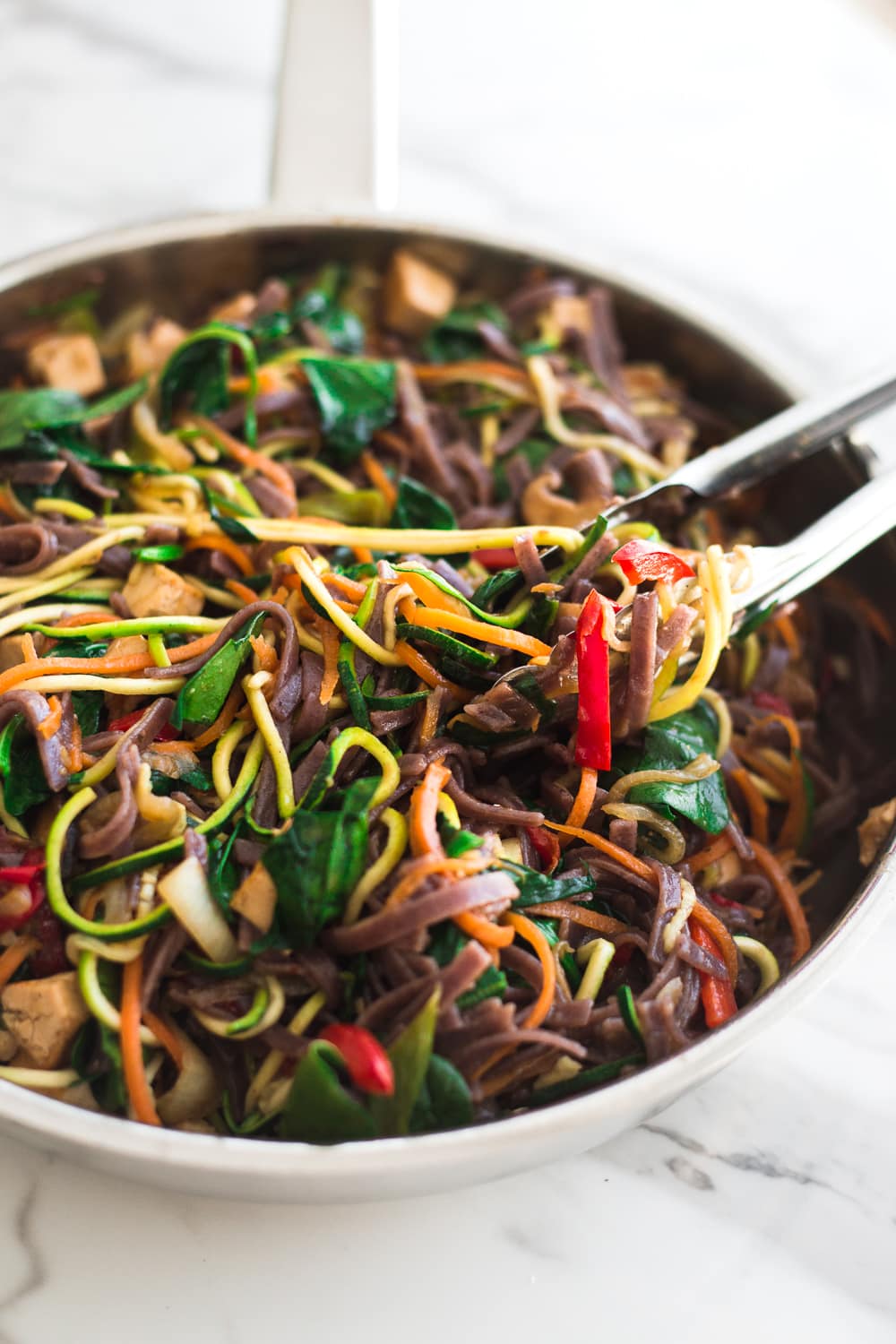 First, you'll wanna boil up your Black Rice Noodles (or noodles of choice) until tender, and then set them aside. Whilst the noodles are cooking, you can spiralise your Zucchini…or if you're a rich fu*k, you can buy them already spiralised at some up-market grocery store. Once all that is done, it's time to get cooking.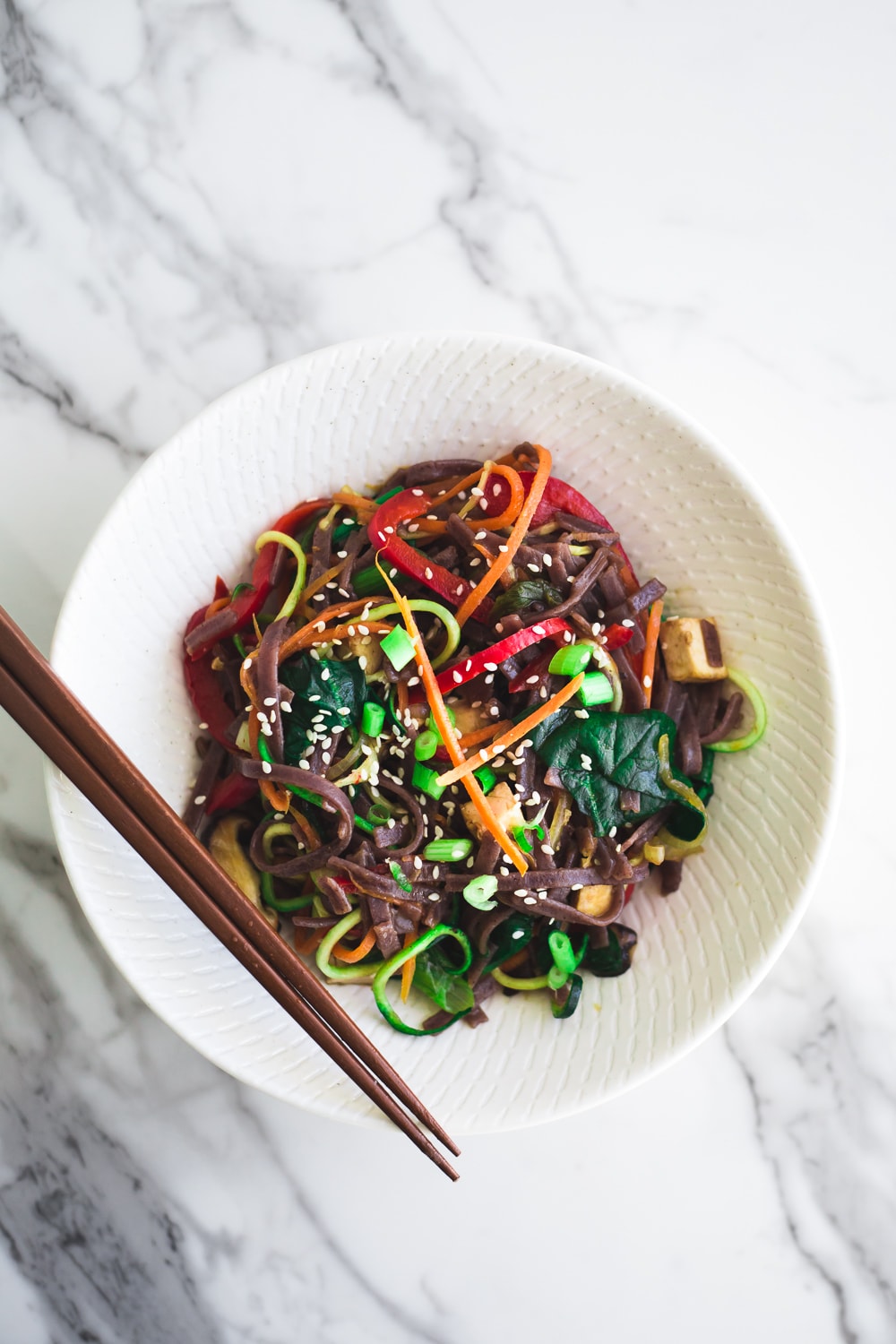 The ingredients for these Healthy Vegan Japchae Noodles are pretty basic –  Onion, some Spring Onions, Shiitake Mushrooms, Carrot, Red Pepper and Fried Tofu… aka Sh*t you probably already have at home. Well, we'll sautee all that sh*t up, add both our Noodles and Zoodles to it, and then finally dress the whole thing with the Japchae Sauce. Japchae Sauce is simply Soy Sauce, Garlic, Sesame Oil, Brown Sugar. Not Rocket Science! Last but not least, chuck some Spinach and Sesame Seeds in there and you're done!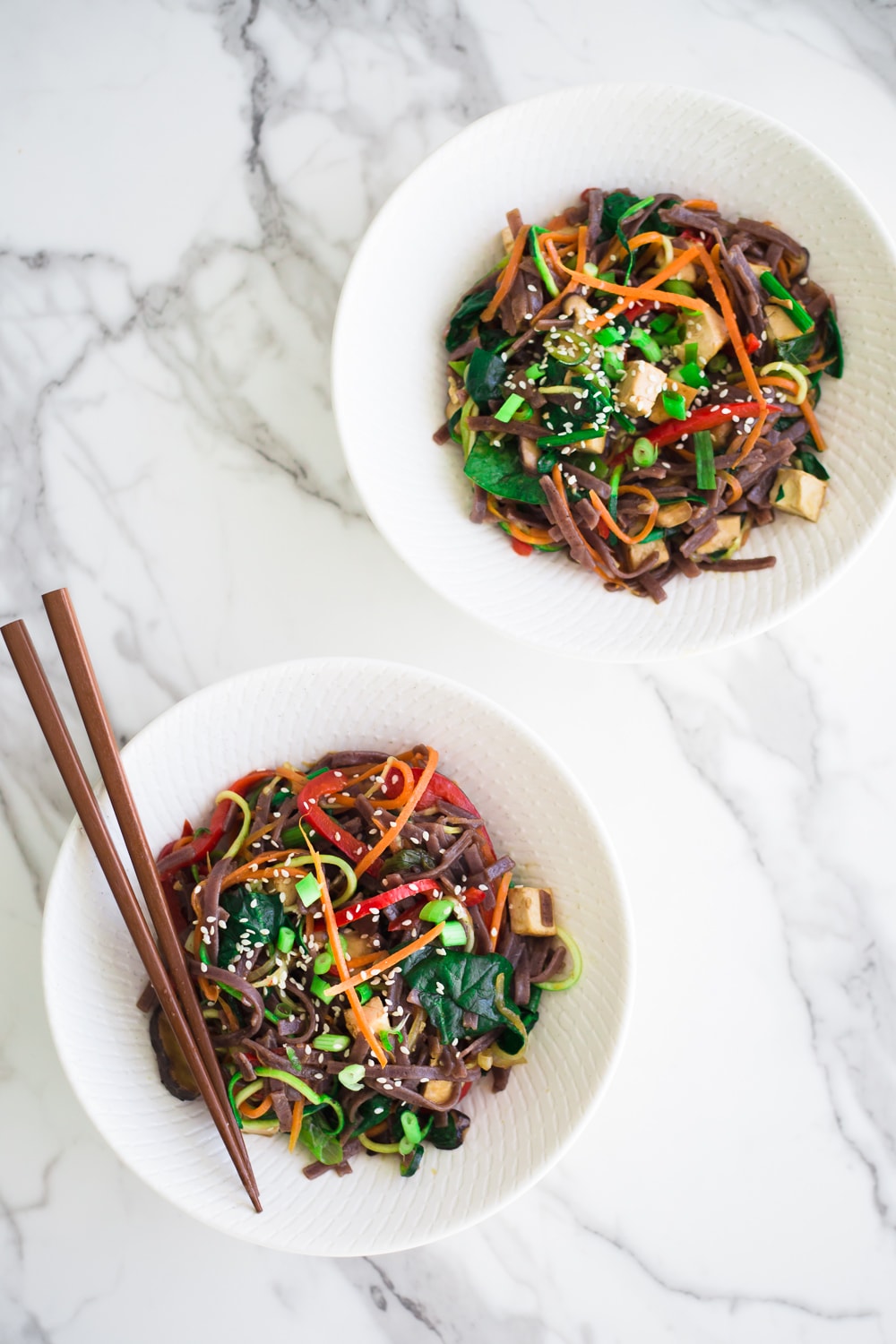 Traditionally, Koreans would cook all the vegetables one by one for Japchae Noodles, but at some point you're going to have to realize that tradition and me aren't the best of friends. My parents wanted me to be a Chef and have 2 kids. All I have are 5 cats and a divorce at 26…you have to laugh at your own misery. My version of Vegan Japchae Noodles is healthier, comes together quickly, is Gluten Free, loaded with Veggies and proper delicious. Scroll down for the full recipe!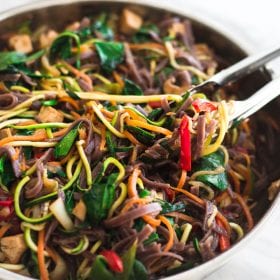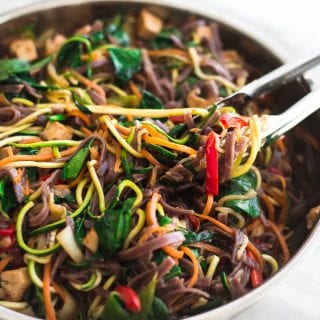 Vegan Japchae Noodles
Healthy Vegan Japchae Noodles - a lighter version of a Korean classic, made with Black Rice Noodles and Spiralized Zucchini. Loaded with Veggies and a delicious Soy-Based sauce.
Ingredients
Japchae Noodles:
6

oz

Dry Black Rice Noodles

cooked and drained

4

oz

Zucchini

spiralized

1

tablespoon

Vegetable Oil

2

cloves

Garlic

minced

1

large

Yellow Onion

sliced

1

large

Carrot

julienned

4

oz

Fried Tofu

cubed

1/2

large

Red Bell Pepper

sliced

3

Spring Onions

sliced on the diagonal

5 -6

Large

Shiitake Mushrooms

sliced

1

bunch

Spinach

chopped with hard stems discarded

1

teaspoon

White Pepper

to taste

1

tablespoon

White Sesame Seeds

Toasted, for garnish
Instructions
In a bowl, combine all the ingredients for the Japchae Sauce. Whisk and set aside. Boil Noodles, drain them and spiralize your Zucchini. Set aside.

Once you have all your Veggies chopped, sliced and prepared, it's time to cook!

In a large pan, heat up Vegetable Oil. Fry Onion and Garlic for a minute or two, until translusent.

Add julienned Carrots and cubed Fried Tofu to the pan and cook for a further 1 minute. Be careful and try to not break the tofu up.

Add Red Bell Pepper, Spring Onions and sliced Shiitake Mushrooms to the pan and cook for 3-4 minutes, until all the veggies are tender but still hold a crunch.

Add drained Black Rice Noodles and Zucchini Noodles to the pan, Toss to combine and then pour your Japchae Sauce into the pan along with the chopped Spinach and continue to toss and cook for another minute or so.

Once everything is heated through and Spinach has wilted, turn heat off.

Season with White Pepper and taste your noodles. If they need more Soy or Sugar, now is the time to add that in and mix through.

Serve topped with more chopped Spring Onions and scatter with Toasted Sesame Seeds.
Notes
You can use Dangmyeon (Sweet Potato Noodles) instead if you want a more traditional dish.
Nutrition
Serving:
1
serving
Calories:
158
kcal
Carbohydrates:
18
g
Protein:
7
g
Fat:
8
g
Saturated Fat:
4
g
Sodium:
1344
mg
Potassium:
798
mg
Fiber:
5
g
Sugar:
9
g
Vitamin A:
11767
IU
Vitamin C:
61
mg
Calcium:
143
mg
Iron:
4
mg