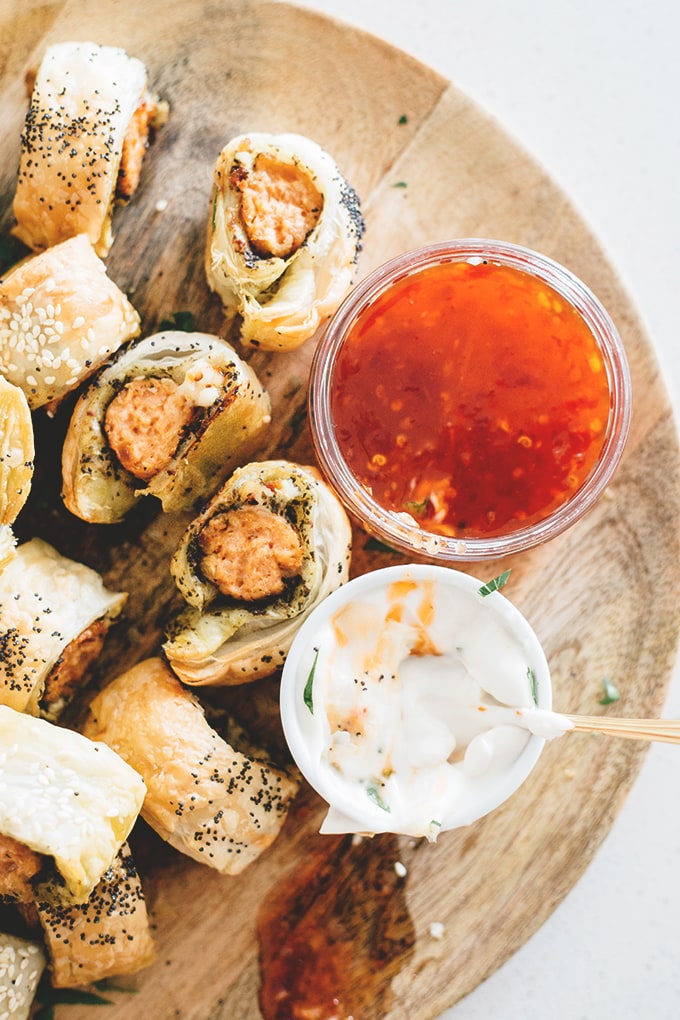 Sausage Rolls, Sausage Rolls, who doesn't love a Sausage Roll? And by Sausage Rolls I mean Vegan Sausage Rolls of course! Sausage is good for all of us! Everyone needs a little sausage in them once in a while! Today's recipe is for a bunch of lip-smacking Fancy Vegan Sausage Rolls. Why fancy? Because I add a little Vegan Pesto, Sun Dried Tomato and Vegan Mozzarella into them. CLASS!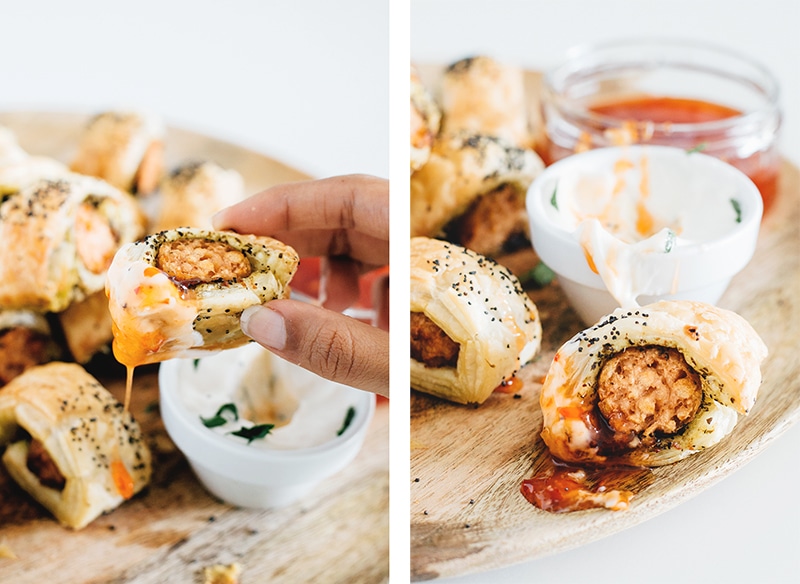 These Vegan Sausage Rolls are the easiest things you could ever make, and are the perfect appetizers for your Christmas or New Years party. I start off with some Vegan Puff Pastry, Vegan Pesto, Sun Dried Tomato slivers, Vegan Mozzarella (I use Notzarella), and of course, not forgetting the Vegan Sausages. My choice for this recipe are the Linda McCartney Vegan Sausages because they are bomb!
To make this Vegan Sausage Roll recipe, all you have to do is cut your pre-rolled sheets of Puff Pastry into 4 squares, and then spread your Vegan Pesto all over each square. In goes your Vegan Sausage, slices of Sun Dried Tomato, thin slices of Vegan Mozzarella and you're ready to roll!
FREE EBOOK SERIES! 5 SECRETS FOR FOOLPROOF VEGAN DESERTS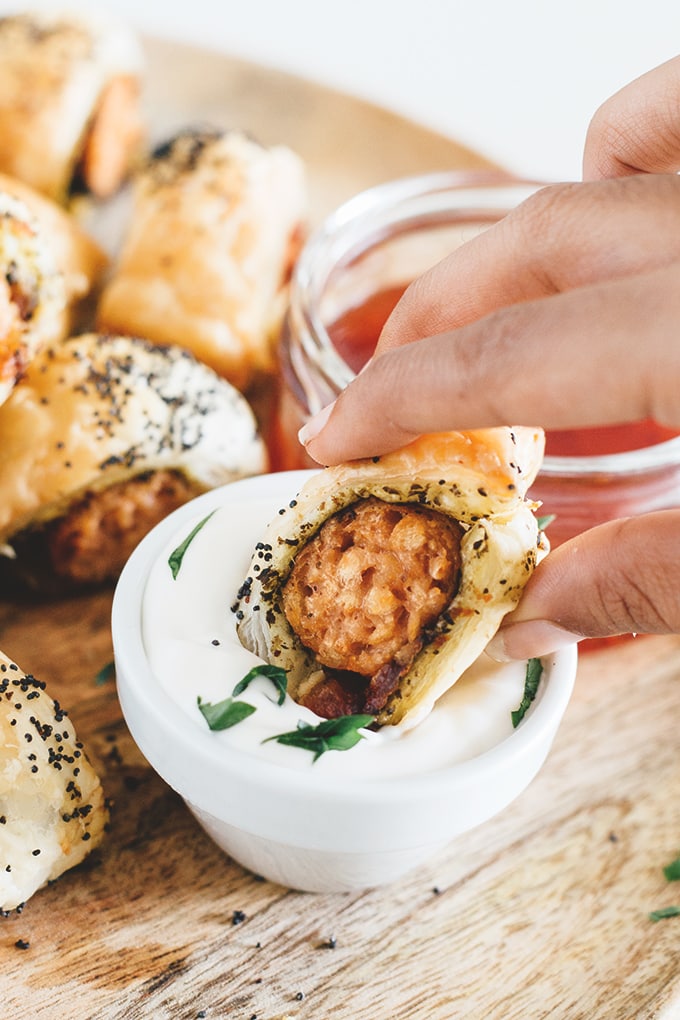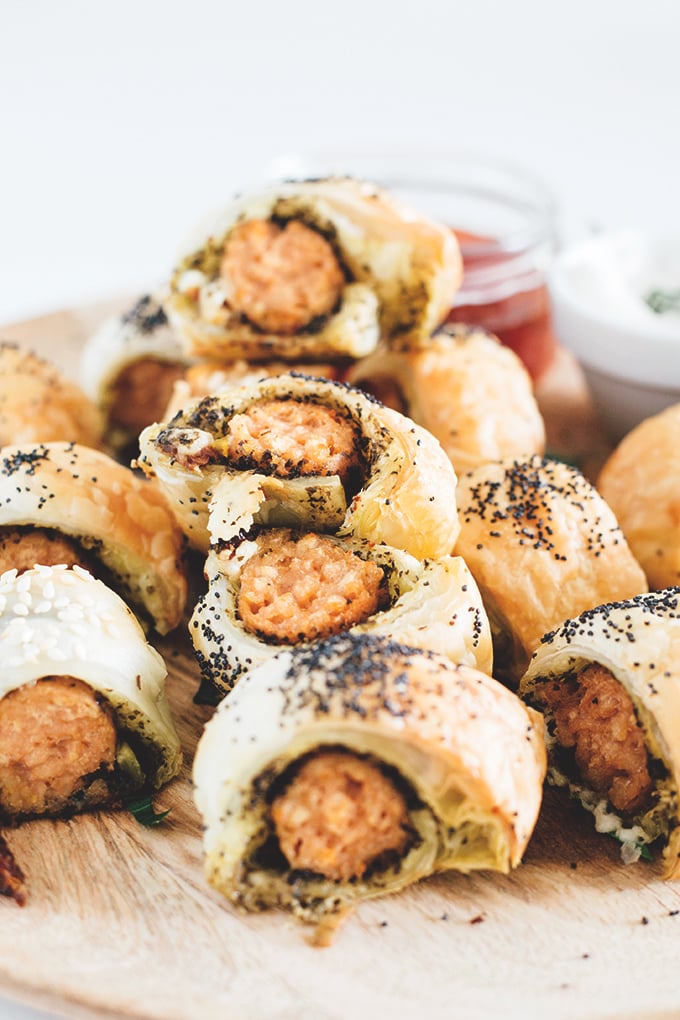 Once everything is rolled up, I cut each toll into 4 little sausage roll shapes and then place them on a baking tray. Before baking, I brush some olive oil on the top of the Sausage Rolls and sprinkle the surface with Poppy Seeds on some, and Sesame Seeds on the others. Into the oven they go for 15-20 minutes or until golden brown, and hey presto, VEGAN SAUSAGE ROLLS! These Sausage Rolls taste best when dipped into some Vegan Mayonnaise (I use Vegenaise) and Sweet Chilli Sauce. Alternatively, you could go old school and dip them into good ol' Tomato Ketchup. My Fancy Vegan Sausage Rolls are simple to make, ready in under half an hour and a cheeky treat for everyone. Scroll down for the full recipe!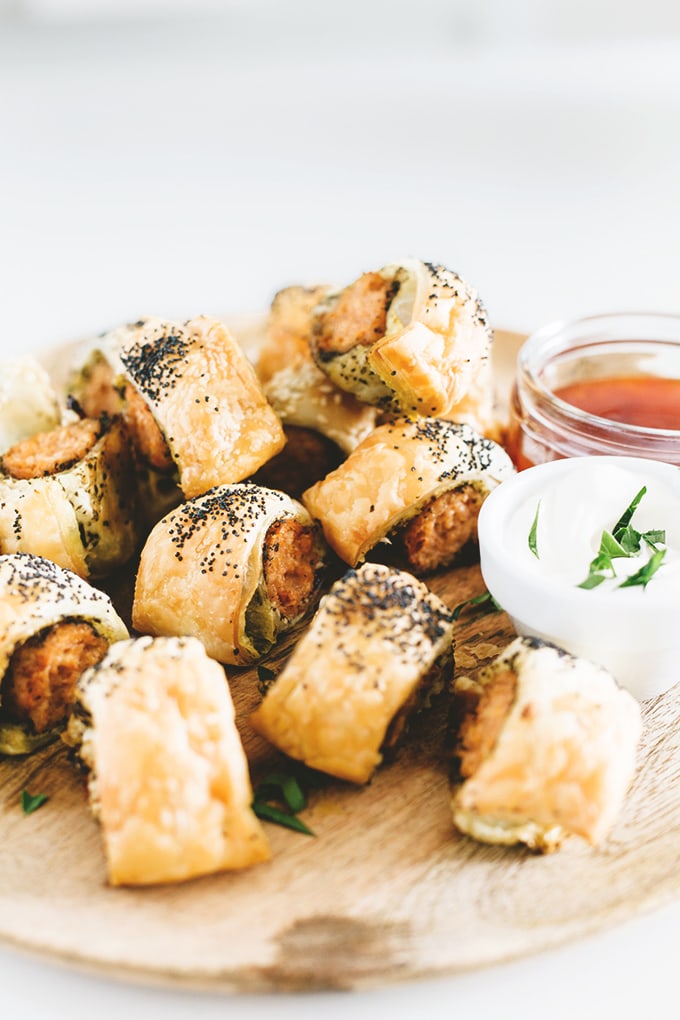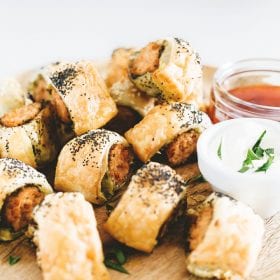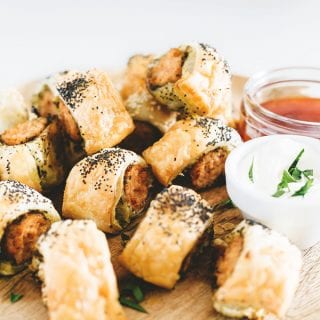 Vegan Sausage Rolls
Fancy Vegan Sausage Rolls - Vegan Sausage Rolls with Pesto, Sun Dried Tomato and Vegan Mozzarella. A quick Christmas appetizer for your friends and family. Easily done in under 30 minutes.
Ingredients
2

sheets

Puff Pastry

1/4

cup

Vegan Pesto

2

Sun Dried Tomatoes

sliced into slivers

1

ounce

Vegan Mozzarella

8

vegan sausages

thawed

1

tablespoon

Olive Oil

sesame seeds

for garnishing
Instructions
Preheat oven to 180 degrees celsius. Line a large baking tray with non-stick baking paper.

Meanwhile, cut each 8x8 inch square of thawed puff pastry into 4 squares. You should end up with 8 equal squares.

On each square, spread about a teaspoon of Vegan Pesto all over the surface of the pastry. Place 1 thawed Vegan Sausage on the side of the square closest to you.

Add some slivers of Sun Dried Tomato and Vegan Mozzarella next to the Vegan Sausage.

Roll the whole piece of pastry up, jelly roll style, away from you. Make sure the seam sits under the entire sausage roll.

Cut each roll into 4 equal pieces and place on a baking tray. Repeat process with remaining 7 pieces of Puff Pastry.

Before baking, brush some olive oil on the surface of each little sausage roll and sprinkle with Sesame Seeds and Poppy Seeds.

Chuck tray into oven and bake for 15-20 minutes or until golden and crispy.

Serve warm with Vegan Mayonnaise/Sweet Chilli Sauce or Ketchup.
Nutrition
Serving:
1
serving
Calories:
91
kcal
Carbohydrates:
7
g
Protein:
1
g
Fat:
6
g
Saturated Fat:
2
g
Sodium:
47
mg
Potassium:
14
mg
Fiber:
1
g
Sugar:
1
g
Vitamin A:
1
IU
Vitamin C:
1
mg
Calcium:
2
mg
Iron:
1
mg