Every once in a while, I want something fruity to drink besides the usual homemade 'rainbow' juice, simply because I'd much rather spend 30 minutes on the Xbox instead of spending it cleaning out a juicer and trying to yank celery fibers out with a skewer. (You're probably not supposed to use a skewer, but I'm cool like that). Enter this amazingly quick, but just as refreshing Fruit Water.
Now, making flavoured Fruit Water is by no means rocket science. You choose whatever fruit or herbs you like, add it to some icy filtered water (or even sparkling water if you're a fancy piece of…..), let it sit for a couple minutes to infuse and hey presto, you've got your very own homemade, natural, refined sugar free, infused Fruit Water. It's also great to have first thing in the morning instead of your usual caffeine hit to wake your digestive system up. This jar of fruit water is also damn pretty to look at and would make a great table centerpiece for family gatherings, office parties, and other gag-worthy social activities that make you feel less like a loser. 😉
My choice of fruit this time round was a couple of sliced strawberries, orange slices, cucumber, mint and kiwi. And yes, you can eat the fruit in your fruit water after. Just get yourself a pretty skewer and you're set. You don't need to be a genius to figure that out 🙂 I'll leave you with our healthy recipe for flavoured Fruit Water (though you don't really need one!).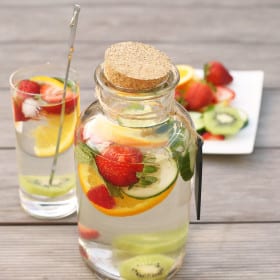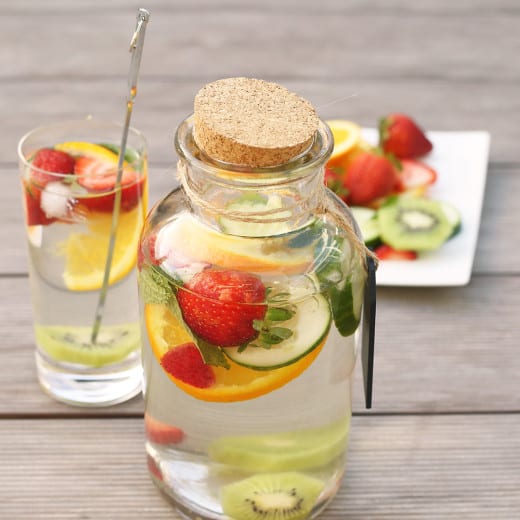 Refreshing Fruit Water
Ingredients
1

litre Distilled Water

Still/Sparkling

1

punnet of Strawberries

sliced

2

Kiwis

sliced

1

large Orange

sliced

3

sprigs fresh Mint

1

small Cucumber

sliced
Instructions
In a large jar, combine water with sliced fruit and herbs. Leave in the fridge to nfuse for 10-15 minutes, and then enjoy!
Notes
You can make your own variations based on whatever flavors/fruit you desire.
FREE EBOOK SERIES! 5 SECRETS FOR FOOLPROOF VEGAN DESERTS