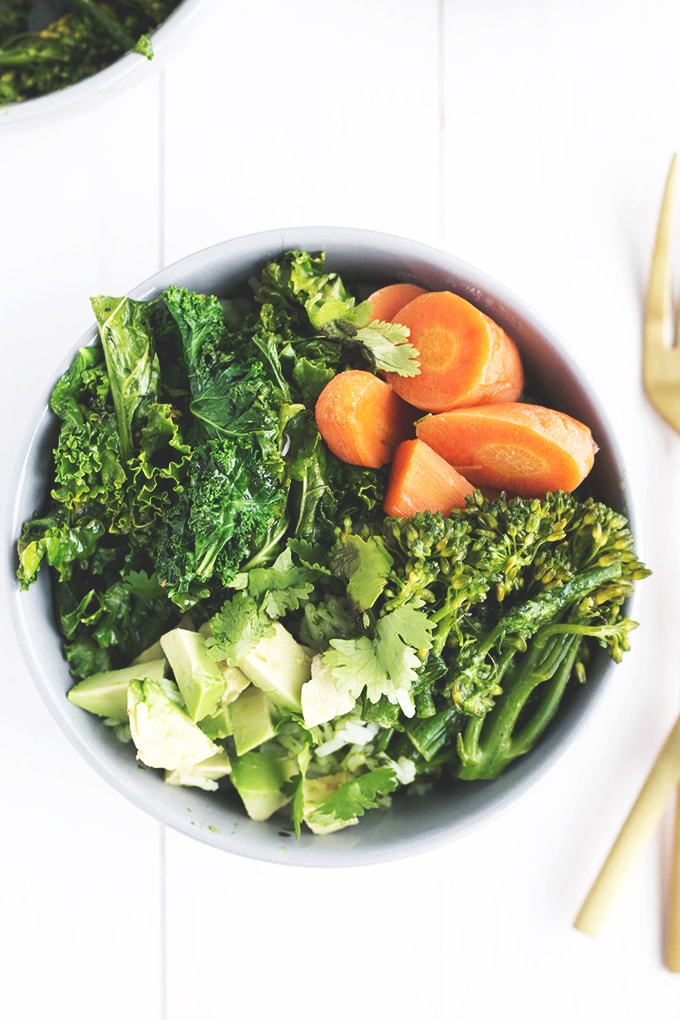 Green Detox Bowl? Right. Detox dishes probably seem a weird thing at this time of the year. It's Christmas! Time to stuff our faces silly until we explode like a piñata. Not. I don't believe in festive gorging, or gorging of any sort at any time throughout the year. (Plus, it's Summer right now in Australia…so you can't blame me for wanting to shed those last 10lbs!).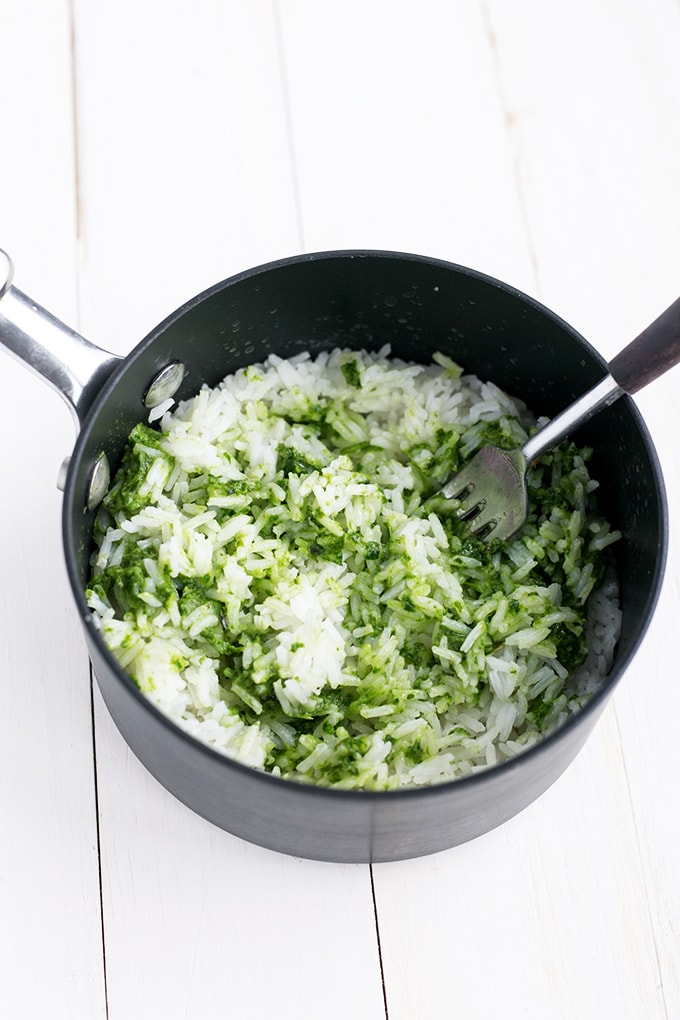 Today's recipe for this Green Detox Bowl couldn't get any simpler. It's so simple, you could probably make it with your eyes closed. Blindfold yourself if you have to, but don't come at me if you chop a finger or two off by accident.
FREE EBOOK SERIES! 5 SECRETS FOR FOOLPROOF VEGAN DESERTS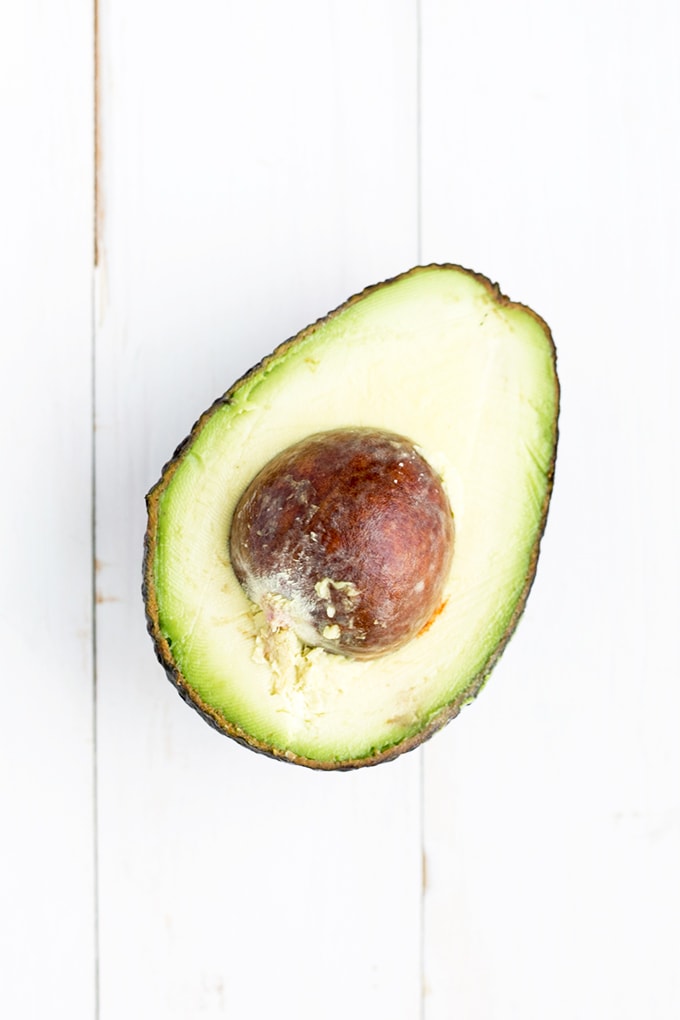 The main recipe for this dish is my Thai Basil and Coriander "Pesto". I call it Pesto because it's green. Doh. It is made with Baby Spinach, Thai Basil, Coriander, Olive Oil, Avocado, Salt, Sugar and Lime Juice. Simple! Once blended, this tasty pasty (ha) is stirred into cooked Rice, which then turns GREEN.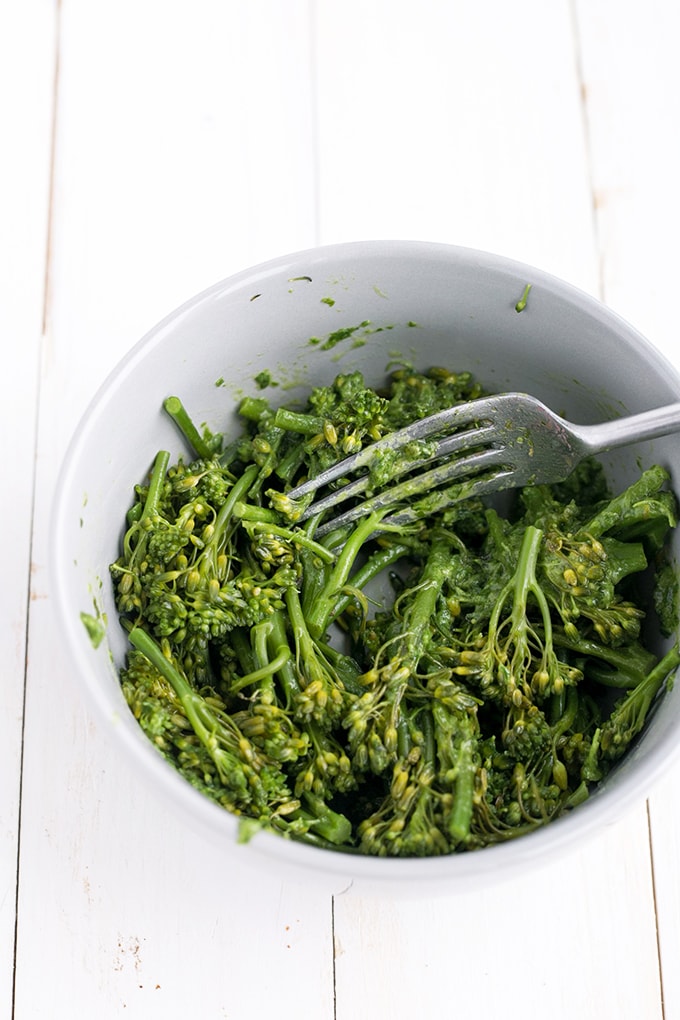 The little additions on top of your Green Detox Bowl are Sauteed Lemon Kale, Broccolini which has been tossed in the Pesto as well, Steamed Carrot and Avocado. Pretty healthy, pretty simple, and all achievable in under 15 minutes.
So if you're keen on an easy, fuss free, healthy dinner sometime this week, try out this Green Detox Bowl. You're not gonna get like super skinny immediately after eating it or anything, but positive thinking (and delusion) goes a long way. Scroll down for the full recipe, and catch you next time.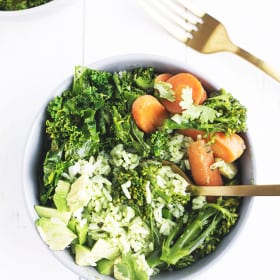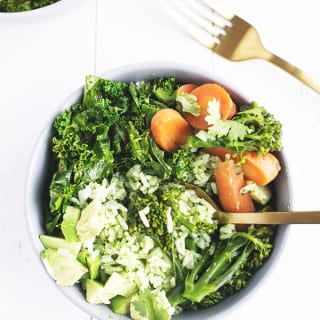 Green Detox Bowl with Thai Basil Pesto
Green Detox Bowl - Thai Basil and Coriander Pesto stirred into rice, topped off with Sauteed Lemon Kale, Broccolini, Carrot and Avocado.
Ingredients
Thai Basil Pesto:

1/3

cup

chopped Coriander

1/4

cup

chopped Thai Basil

1/2

cup

packed Baby Spinach

1/2

teaspoon

Sea Salt

1

teaspoon

Cane Sugar

3

tablespoons

Extra Virgin Olive Oil

1/4

of a ripe Avocado

1 1/2

cups

cooked Rice

still warm

1/2

an Avocado

cubed

1

Carrot

chopped roughly and steamed till tender

1

small bunch of Broccolini

steamed till tender

1

teaspoon

Oil

1

cup

chopped Kale

Zest of 1/2 a lemon

Tiny pinch of Sea Salt
Instructions
Prepare Thai Basil Pesto by blending all ingredients together in a food processor for a minute. You still want to be able to see flecks of the herbs, so don't blend it till its super smooth. Set aside.

To warm cooked rice, stir in 4 tablespoons of your Thai Basil Pesto and stir till mixed through.

To steamed Broccolini, stir in 2 tablespoons of your Thai Basil Pesto and stir through.

Place rice in a bowl, top with Broccolini, Carrot and Avocado.

At the last minute, heat a pan with oil and cook Kale with Lemon Zest and Salt till just wilted. Transfer wilted Kale to your super massive bowl of food and enjoy.