I love tie-dye. I have tie-dye clothing, towels, underwear, plates, and a tie-dye cat. Alright, maybe not the last one. Even with all these psychedelic belongings in my arsenal, I still felt that something was missing in my life. That something was this Healthy Tie Dye Fruit Smoothie. What is a Tie-Dye Smoothie, you ask? Well, it's basically 4 different kinds of healthy fruit smoothies, all poured into one glass. Yup, idiot-proof. Life is now tie-dye complete. Speaking of how awesome Tie-Dye is, let's have a look at some of the awesome people I found on the internet who also love their Tie-Dye: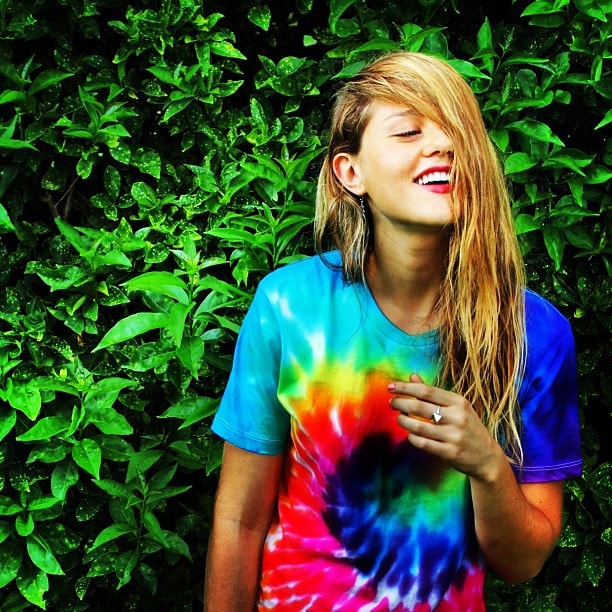 Look at this random celebrity whom I've never heard of, totally not posing and laughing in such a natural way that it made her entire head of hair flip over on its own to cover her face. Surely this is what we all look like when we are amused, right? Wrong. This kind of awesome sh!t only happens when you're decked out in Tie-Dye.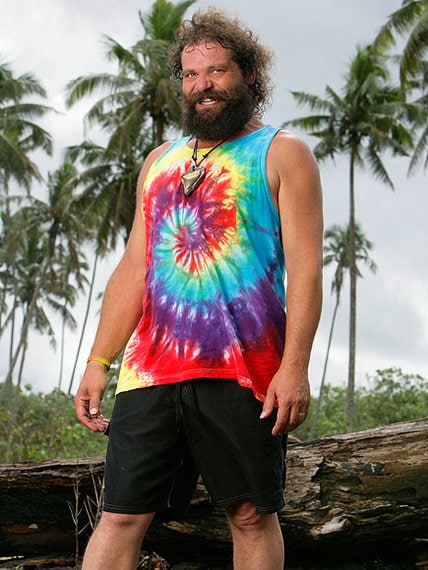 And here we have Rupert from Survivor. Rupert has been a contestant on Survivor at least 4 times thus far, but has never once won the damn game. Some may say it's because he's just not good enough. Wrong. He's too good for Survivor because, Tie-Dye.
FREE EBOOK SERIES! 5 SECRETS FOR FOOLPROOF VEGAN DESERTS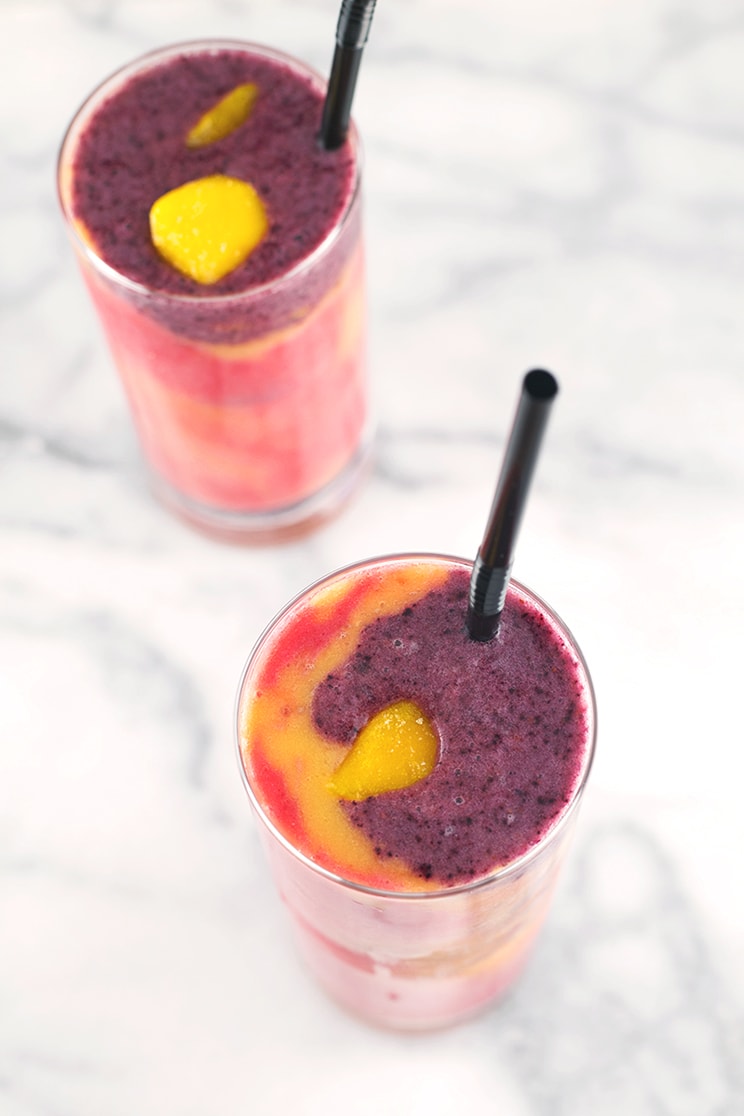 Anyway……my Healthy Tie-Dye Fruit Smoothie consists of a Raspberry-Strawberry Smoothie, a Carrot Ginger Smoothie, a Mango Smoothie, and a Blueberry Smoothie. First I start off with a neutral "white" Smoothie base that consists of just 2 ingredients: Coconut Water and Bananas. I then divide my base into 4 parts and use that it as the liquid component for my various fruit add-ins.
Look at that colorful, frothy, gorgeous b!tch of a smoothie! I know what you're thinking: making four smoothies for the final product of one smoothie just seems a tedious waste of time…well, not true. All you have to do for each "color" is blend your ingredients in a Vitamix for a mere couple of seconds, rinse the jug with water, blend again and repeat! All in all it took be about 7 minutes to prepare 2 portions of this Healthy Tie-Dye Fruit Smoothie. That's faster than having to wait for a fast food Breakfast order to arrive. A few minutes spent to make something beautiful and healthy for yourself is time well spent, I say.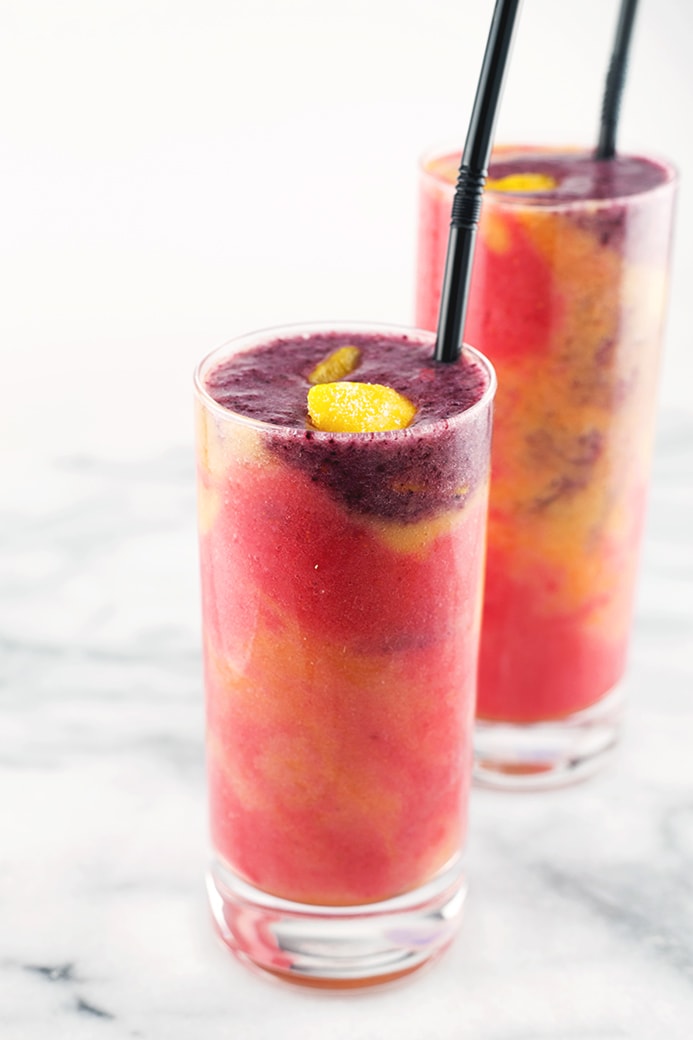 Well now that you've been enlightened on how great Tie-Dye is, I'll invite you to scroll down and check out the full recipe for my Healthy Tie Dye Fruit Smoothie. It's gorgeous, easy to make, full of vitamins and fiber, virtually fat-free, has no added sweeteners and is Gluten Free and Vegan. Try making it for breakfast this week, and if you do, don't forget to tag us on Instagram or hashtag your photos with #mywifemakes so that we don't miss out on them. We try to look at and comment on every single one we find! Sorry if we've missed out on any of your photos!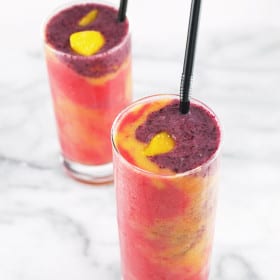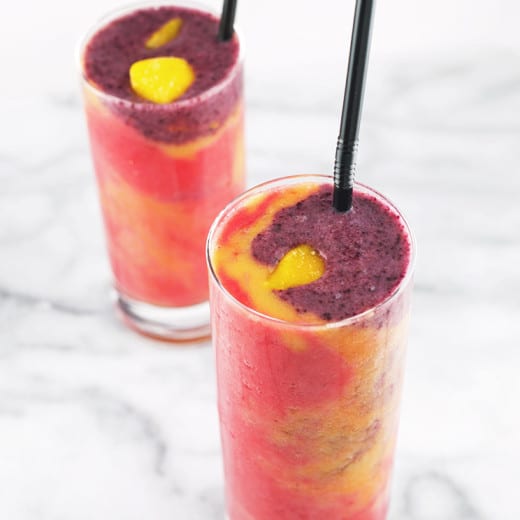 Healthy Tie-Dye Smoothie
Healthy Tie Dye Fruit Smoothie - 4 delicious coconut water based fruit Smoothies in one glass.
Ingredients
Banana Smoothie Base:

1 1/2

Large Bananas

1 1/2

cups

Unsweetened Coconut Water

Raspberry Strawberry Smoothie:

1/4

up Frozen Raspberries

1/3

cup

Frozen Strawbwerries

1/4

of your Banana Smoothie Base

Carrot Ginger Smoothie:

1/2

a Carrot

diced

1/4

inch

piece of Ginger

peeled

1/4

of your Banana Smoothie Base

[b]Mango Smoothie:

[/b]1/2 cup Frozen Mango

1/4

of your Banana Smoothie Base

Blueberry Smoothie:

1/3

cup

Frozen Blueberries

1/4

of your Banana Smoothie Base
Instructions
Prepare your Banana Smoothie Base: Blend bananas and coconut water in a Vitamix on High for a few seconds, or until smooth. Pour into a measuring jug and set aside.

Blend Individual Smoothies: Place ingredients for each smoothie in your Vitamix Jug, along with 1/4 of your Banana Smoothie base. Blend on high till smooth, and then divide equally into 2 glasses.

Rinse Vitamix jug out and repeat this process for all flavors. Pouring each layer on top of another to creates a Tie-Dye effect.